Apricot Almond Marzipan Stollen is an unconventional version of a classic German fruit bread with a special, rich and decadent filling!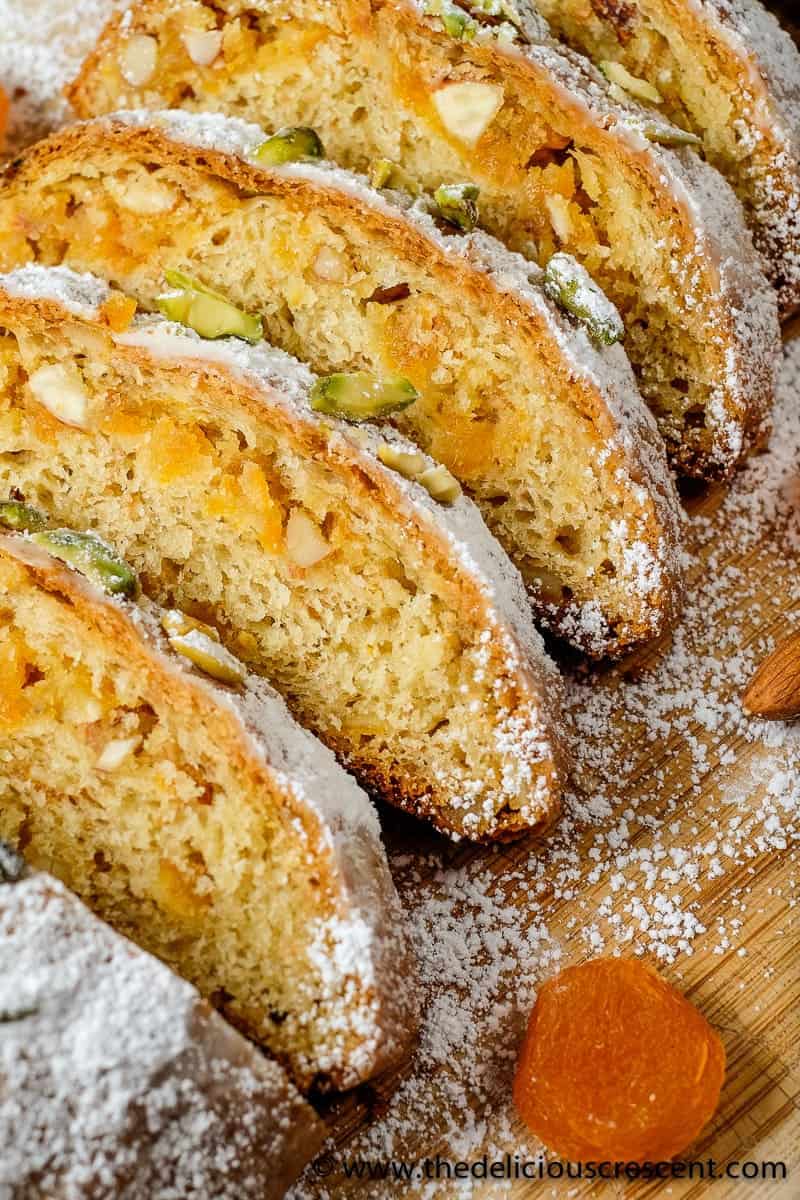 Stollen
Stollen has a unique place among the world's best baked treats. And that is for a good reason, of course! It is absolutely stunning, scrumptious and addictive. And a rapturous delight for a passionate baker.
I first learned to make this years ago from my mother in law. I have sampled a variety of Stollen at her place and have myself made it numerous times over the years.
This time around I wanted to try a slightly different version. Typically the standard recipe uses raisins, almonds, candied citrus etc. and in terms of richness there is a variety - light, medium and rich. Dresden Stollen is one variety that is quite rich and is an absolute must try.
Apricot Almond Marzipan Stollen
The apricot almond marzipan stollen here, is not too light in terms of the amount of fat used, and it also has a rich filling with marzipan. However I have used dried apricots instead of raisins for a different flavor experience. In place of using a plain marzipan filling, I have used a filling of dried apricots, marzipan, almonds and I loved it.
Interestingly enough, apricots have 20% less carbohydrates compared to raisins. Although, I must say that my choice of apricots for the filling was driven by a desire to create something different and yet exciting.
This marzipan stollen recipe suggests the use of light olive oil or butter for the dough. Traditionally butter is used and when you make Stollen once in a while, by all means make it the way you would like to enjoy it.
But for those who are on a diet due to health reasons or personal choices, using the oil actually does not make a big dent in the taste. Because this recipe still uses some ghee or butter for the sweet coating on the top which is what hits the palate first.
You may notice that ghee is an unusual ingredient here. I chose to use it as it has a richer flavor than butter. In Germany they use something called butterschmalz, a pure butter fat, that is more similar to ghee. I also sneaked in some wheat bran with no impact on taste.
More Baking Recipes:
★ DID YOU MAKE THIS RECIPE? PLEASE COMMENT AND GIVE IT A STAR RATING BELOW!
Apricot Almond Marzipan Stollen
Apricot almond marzipan stollen is an unconventional version of a classic German fruit bread with a special, rich and decadent filling!
Print
Save
Saved!
Ingredients
APRICOT ALMOND MARZIPAN FILLING
Instructions
Preheat oven to 500° F.


In a mixing bowl take the warm milk and sprinkle the yeast over it. Then scatter the sugar on the top. Allow it to stand in a warm dark place for about 10 to 15 minutes until the yeast bubbles/foams up on the surface.


Sift the flour into the bowl. Then add the bran, sugar, vanilla, salt, cardamom, anise, candied orange peel, egg and oil or ghee. Gradually incorporate all the ingredients together.

Knead it well by hand for about 5 minutes. If using a stand mixer start the kneading process at the low setting initially and advance to the higher setting and knead for 5 minutes.

Cover the dough and let it rise to double its size. This may take time. And it may vary between 1 to 2 hours or more. Make sure to give it time to rise nicely.

Since this is a rich dough it may benefit from additional boosters to help it rise as mentioned in the "Notes" section below.

Meanwhile, combine the filling ingredients very well. It may feel slightly sticky at this point. Then set it aside in the refrigerator.


Once the dough has doubled in size, transfer it to a lightly floured work surface and roll it out into a 10 X 5 inch rectangle, using as little flour as possible.


Next, shape the apricot marzipan filling into a 10 inch cylindrical log and place it in the center of the rolled out Stollen dough and gently flatten it over the dough into a 10 X 3.5 inch rectangle leaving some dough showing along the long edges of the rectangle.


Alternatively, if the filling feels more firm, you may roll it into a 10 X 3.5 inch rectangle between two sheets of wax paper.

Remove the wax paper on the top and discard. Using the wax paper below the filling carefully flip and transfer the filling on top of the dough.

From the long side of the dough roll it up tightly into a Stollen shape, making sure to seal the edges well. Carefully transfer the Apricot Almond Marzipan Stollen onto a baking sheet lined with a parchment paper.

Allow the Stollen to rise very well. It may take 30 minutes to an hour for the second rise. Make sure to check the tips in the notes section.

Lower the oven temperature to 325 degrees F. Once the Stollen has risen well, bake it for about 40 to 45 minutes until it is nicely brown.

Immediately after taking out the Apricot Almond Marzipan Stollen from the oven, brush half the melted ghee all over and dust with confectioners sugar.

If you wish you may sprinkle some thinly sliced pistachios. Repeat brushing with remaining ghee and dusting confectioners sugar.

Allow the apricot almond marzipan stollen to cool completely and slice it preferably the next day after it has set and firmed up very well.
Notes
Warm milk: 120 – 130 degrees F (50 – 54 degrees C), check yeast package instructions.

Important steps to ensure success with this recipe:

Let the yeast foam up well before adding other ingredients.

Give enough time to let the dough double in bulk in the first rise. Allow it to rise in a warm environment.

Give sufficient time to let the prepared Stollen double in bulk once again in the second rise.

Placing the apricot almond marzipan stollen in an oven that has not been preheated and with a pan of hot water one level below the container/baking sheet will help the dough rise better. Do not keep the hot water too close to the dough.

Commercial almond paste has a higher percentage of almonds and lower percentage of sugar as compared to marzipan, so I prefer to use that. However, it does not have the characteristic rose water added to marzipan. So if using almond paste, you may add some rose water as indicated in the ingredients to give it the typical marzipan flavor. Otherwise almond paste simply has almond flavor.

Readymade ghee is available in Indian grocery stores or online. But it can be easily prepared at home.

To prepare ghee, melt unsalted butter and allow it to simmer at a low setting. Allow the milk solids settled at the bottom of the pan to toast to a light brown. Strain the light golden liquid ghee from the top.
Nutrition
Serving:
1
Slice
|
Calories:
230
kcal
|
Carbohydrates:
31
g
|
Protein:
5
g
|
Fat:
11
g
|
Saturated Fat:
3
g
|
Cholesterol:
25
mg
|
Sodium:
20
mg
|
Potassium:
176
mg
|
Fiber:
3
g
|
Sugar:
15
g
|
Vitamin A:
228
IU
|
Vitamin C:
1
mg
|
Calcium:
42
mg
|
Iron:
1
mg