Get ready to savor some salty and creamy Ayran with an incredible foamy top. A healthy, refreshing and delicious yogurt beverage, this is a great source of nutrients and probiotics.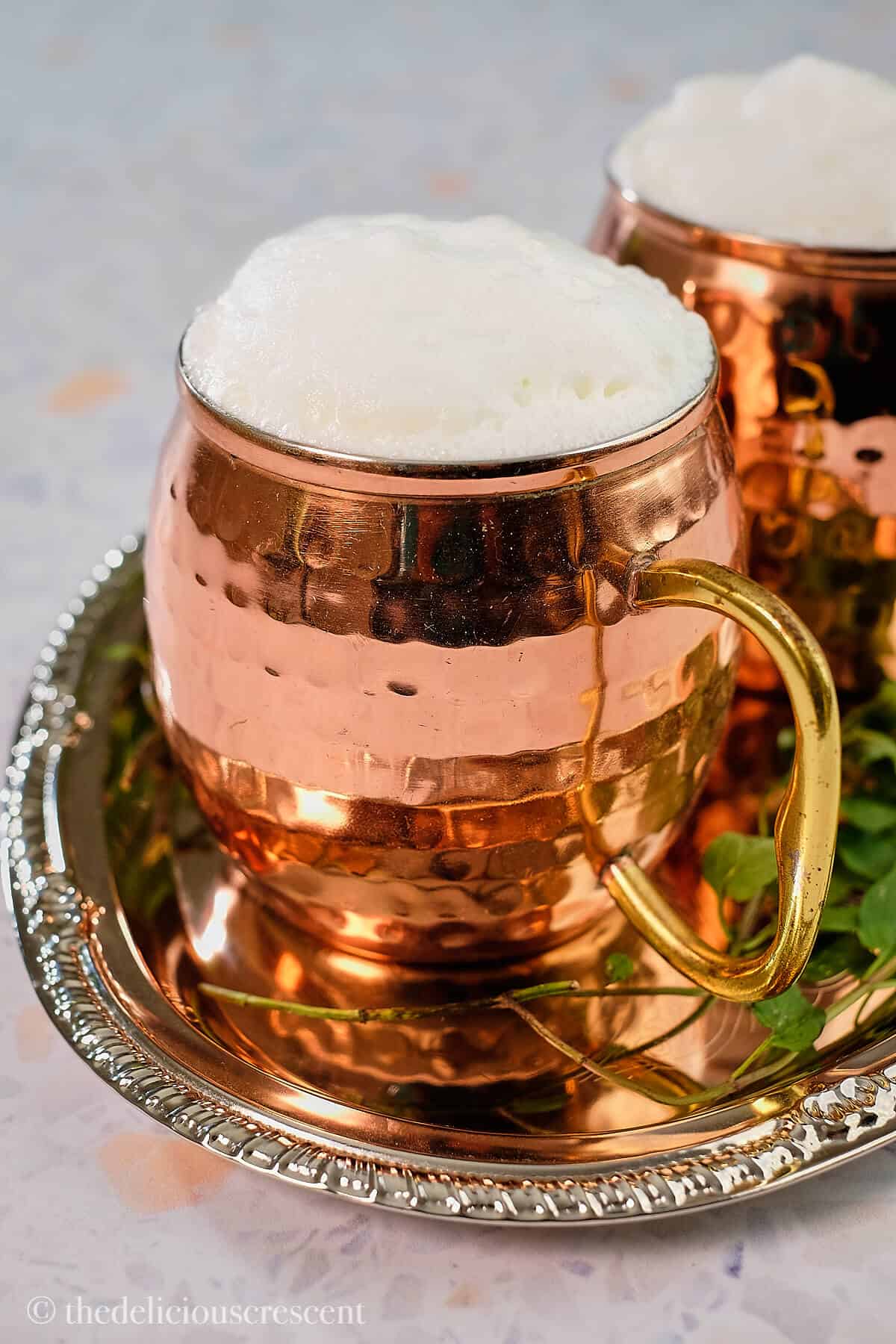 Ayran Turkish Yogurt Drink
Ayran is a creamy savory yogurt drink that is very popular in Turkey. Enjoyed chilled and with ice, this is always served with meals at home and restaurants in Turkey.
Yogurt based beverages are a pretty common item on daily menus across the middle east to the Indian subcontinent. We have previously shared our doogh recipe, a Persian yogurt drink, that is a favorite among our readers.
Doogh and ayran are made with the same basic ingredients, however there are subtle differences. I have found ayran to be thicker, which also makes it feel more creamy. It is relatively less tangy than doogh.
While both are fizzy drinks, ayran is often served with its characteristic foamy top. And this Turkish beverage is typically enjoyed plain, whereas doogh is often flavored with herbs, rose petals and such.
What Do You Need
Yogurt, Water, Salt
That is all you need to make this good homemade drink! I would recommend a few more things to take it up a notch.
Sparkling mineral water: This will add a nice fizz to your yogurt drink.
Mint: Stir in whole mint leaves, chill and discard leaves. Dont blend yogurt with fresh leaves. Alternatively stir in dried mint.
What Kind of Yogurt To Use
This drink has an amazing creamy flavor and taste.
Full fat homemade yogurt that is slightly tangy works best.
The high fat content in Turkish yogurts also helps with foam development when the drink is blended at high speed.
Choose only plain yogurt without added sugars or flavors.
This may not be traditional, but adding a dash of cream while blending this beverage, helps with the foam and creaminess even further. Especially if using reduced fat yogurt, definitely try that.
How To Make Foamy Ayran
A thick layer of foam on top of this yogurt drink is not just for looks, it also provides an interesting mouthfeel and consistency. Just like the difference between plain milk coffee versus cappuccino with its foam on top.
Blend full fat yogurt and salt in a pitcher using an immersion hand blender.
Stir in sparkling water and blend again, until foamy on the top.
Serve it chilled.
One trick to make more foam is to run an electric milk frother in some creamy yogurt diluted with sparkling water and add that extra foam on top.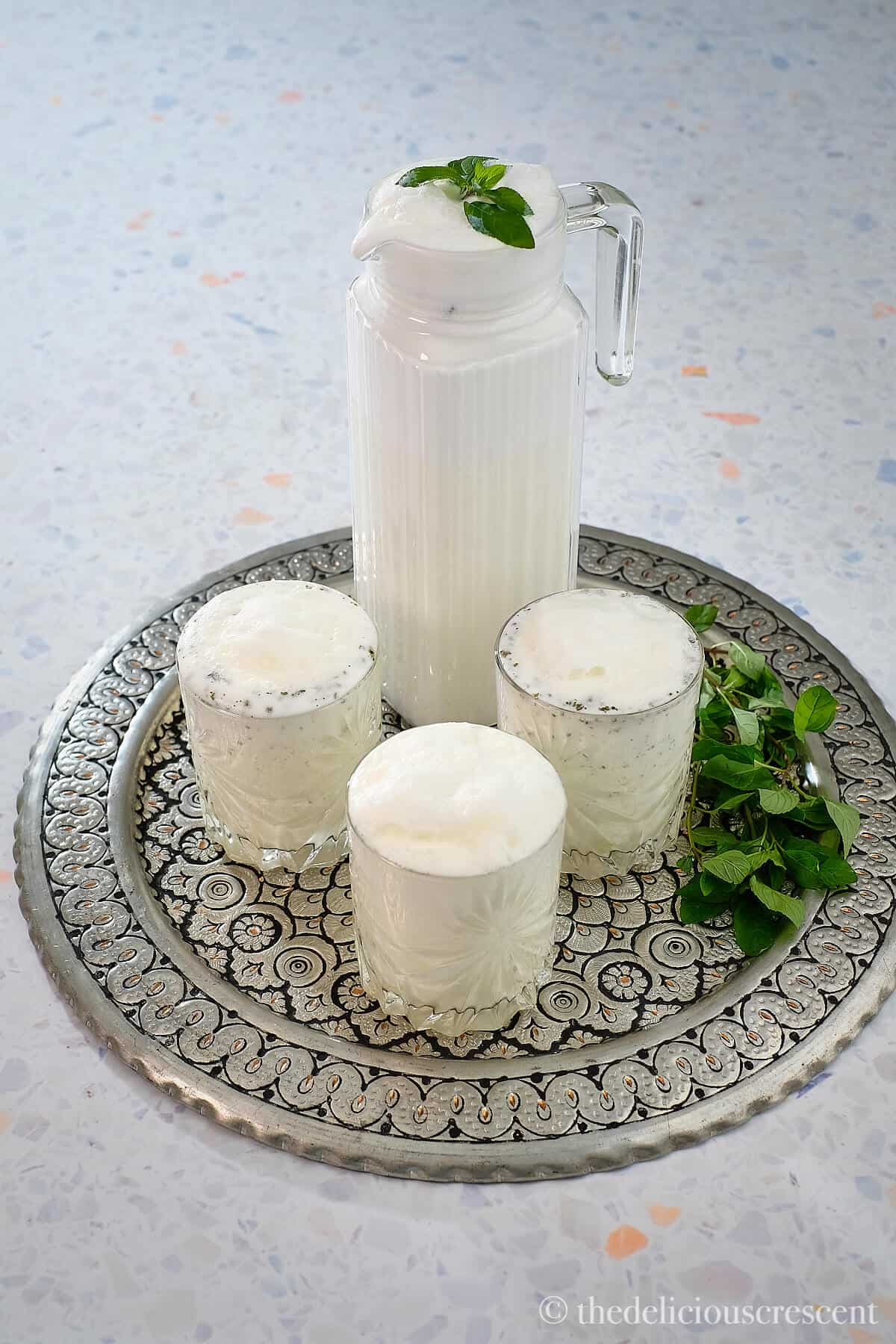 Homemade Yogurt For Ayran
The easy way to make it is using a yogurt maker and following the manufacturers instructions.
Otherwise, bring full fat milk to a boil and cool it to 110 degrees F. Then stir in ½ a cup of fresh yogurt per one quart or liter of milk. Use a fast moving brand of yogurt with active cultures.
Cover with a lid and wrap towels around the dish and let it ferment in a warm place for about 8 to 9 hours to make yogurt that is not too sour. Over fermentation will make the yogurt very sour for this drink. You may try fermenting the yogurt in an oven that has not been pre-heated.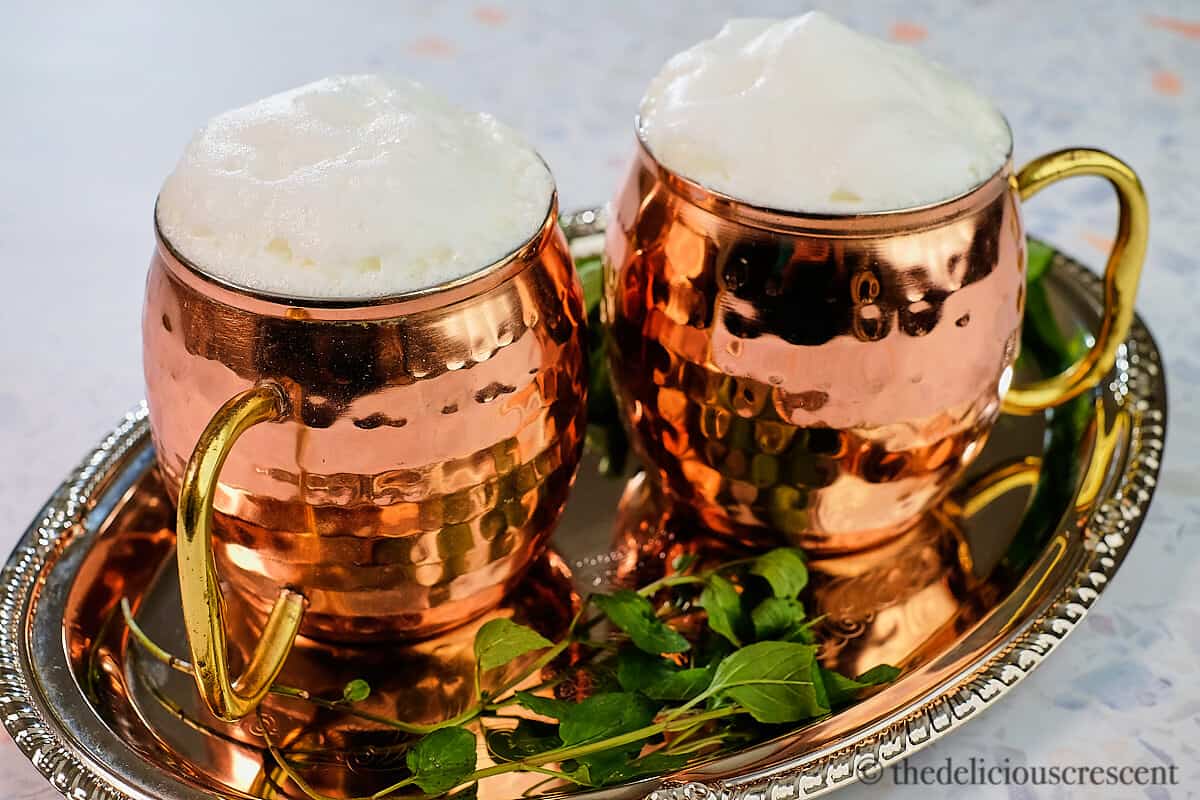 Ayran Health Benefits
This yogurt beverage is a good source of high quality protein, calcium, potassium, magnesium, vitamin B 6 and vitamin B 12.
It provides gut friendly probiotics. Therefore, it is beneficial for gastrointestinal conditions such as, constipation, irritable bowel disease, diarrhea, lactose intolerance, etc.
Regular consumption of yogurt based drinks with active cultures may support the immune system, better weight management, aid in prevention of osteoporosis and lower the risk of high blood pressure.
As a dairy beverage with low amount of lactose, this may be a better choice for a lactose intolerant person.
It is gluten free, vegetarian, egg free, soy free and nut free.
How To Serve It
Serve it on some ice in clear glasses or copper mugs with lots of foam on top. Flavor it with mint if you like.
What To Serve With It
It goes well with Mediterranean and middle eastern meals. My favorite picks to enjoy this yogurt beverage with are:
More Beverage Recipes
★ DID YOU MAKE THIS RECIPE? PLEASE COMMENT AND GIVE IT A STAR RATING BELOW!
Zaalouk (Moroccan Eggplant Dip)
Zaalouk is an amazingly delicious Moroccan salad or dip made with roasted eggplants. Easy to make, it tastes great with toasted bread. And gets even better the next day.
Print
Instructions
Preheat oven to 400˚F. Prick the eggplants with a fork in couple spots and place them on a parchment paper lined baking sheet. Bake for

35 to 45 minutes

until the skin turns darker and shrinks. Check foot notes for grilling, broiling or stove top options.

The eggplants should be cooked through completely in the center. To check, press the back of a fork on the eggplant. It should compress easily all the way into the center without any resistance.

Cut through the eggplant skin and scoop out the soft cooked flesh and mash it with a fork and set aside.

Chop the tomatoes into small pieces, discarding some seeds if you wish. See note below for peeled and deseeded tomatoes.

Heat 2 tablespoons olive oil in a saucepan at medium setting. Add the chopped tomatoes, minced garlic, paprika, cumin, cayenne or chili powder, ⅓ teaspoon salt and cook until tomatoes are softened, stirring in between, about

15 to 20 minutes

.

Add the mashed eggplants and cilantro. Continue to cook over low heat for another

10 to 15 minutes

, stirring occasionally, mashing it if needed, into a thick but slightly textured dip like consistency.

Stir in lemon juice and salt. Adjust as per taste, let it cool and transfer to a bowl, cover and refrigerate it overnight before serving.

Take the zaalouk from the refrigerator about

30 minutes

before serving and let it come to room temperature. Drizzle with remaining olive oil. Garnish with cilantro and red pepper flakes if you prefer.

Chunky Zaalouk: To make a chunkier but less traditional zaalouk, insert garlic cloves into eggplant and roast it in the oven at 400˚F, along with the tomatoes. Chop the eggplants and tomatoes. Add the spices, herbs, half the olive oil, salt and mash it up to desired consistency. Drizzle olive oil and serve.
Notes
Cooking Eggplants:

Grill: Roast eggplants on charcoal or gas grill for 20 to 30 minutes, turning them slowly in between, until skin turns darker and shrinks.
Broil: Cut eggplants lengthwise into halves and place the cut side down on a foil lined baking sheet. Place on the second rack and broil until skin turns darker and shrinks, about 20 minutes.
Stovetop: Peel the eggplants completely, only some stripes or leave the skin on if you don't mind it. Cut the eggplants into small pieces. Steam on high heat until soft or cook in a pan with some water until soft and mushy.

Easy Zaalouk: Combine all ingredients with ⅓ cup of water and cook it over stove top until softened. Mash it up well and drizzle olive oil.
Peeled and deseeded tomatoes: If you prefer, you can blanch the tomatoes. Cut a small cross on the surface of tomatoes and dump them in hot boiling water. After a minute, pick out the tomatoes and peel the skin, cut them into halves and deseed. Chop them into small pieces.
Use more tomatoes if you want the dip to be saucy. You may even try using a little bit of tomato paste to give it thickness.
Leftovers: Can be refrigerated for 4 to 5 days. You can freeze zaalouk for couple months. Thaw and reheat. Adjust the consistency, evaporating or adding water as needed. Check the seasoning as well.
Nutrition facts not including any added salt.
For other variations, tips and serving suggestions, scroll up the page to the blog post.
Nutrition
Calories:
77
kcal
|
Carbohydrates:
6
g
|
Protein:
1
g
|
Fat:
6
g
|
Saturated Fat:
1
g
|
Polyunsaturated Fat:
1
g
|
Monounsaturated Fat:
4
g
|
Sodium:
5
mg
|
Potassium:
280
mg
|
Fiber:
3
g
|
Sugar:
4
g
|
Vitamin A:
526
IU
|
Vitamin C:
9
mg
|
Calcium:
15
mg
|
Iron:
1
mg
Ayran (Turkish Yogurt Drink)
Get ready to savor some salty and creamy Ayran with an incredible foamy top. A healthy, refreshing and delicious yogurt beverage, this is a great source of nutrients and probiotics.
Print
Ingredients
Optional
2

teaspoons

dried mint

or 2 tbsp fresh mint leaves
Instructions
Mint Flavored
Stir in dried mint into Aryan.

If using fresh mint, then add leaves to the beverage and let it steep for an hour. Discard leaves before serving.
Notes
Add a dash of cream while blending to make it more creamy and for more foam.
Ayran can be refrigerated and used couple days.
Recommend sparkling mineral water bottled in glass.
Nutrition
Serving:
1
Cup
|
Calories:
96
kcal
|
Carbohydrates:
7
g
|
Protein:
5
g
|
Fat:
5
g
|
Saturated Fat:
3
g
|
Cholesterol:
21
mg
|
Sodium:
380
mg
|
Potassium:
244
mg
|
Sugar:
7
g
|
Vitamin A:
156
IU
|
Vitamin C:
1
mg
|
Calcium:
195
mg
|
Iron:
1
mg