Banana nut ice cream, inspired by the famous chunky monkey ice cream is irresistibly delicious. So creamy, luscious and flavorful, this also uses less cream to give you the same indulgent taste.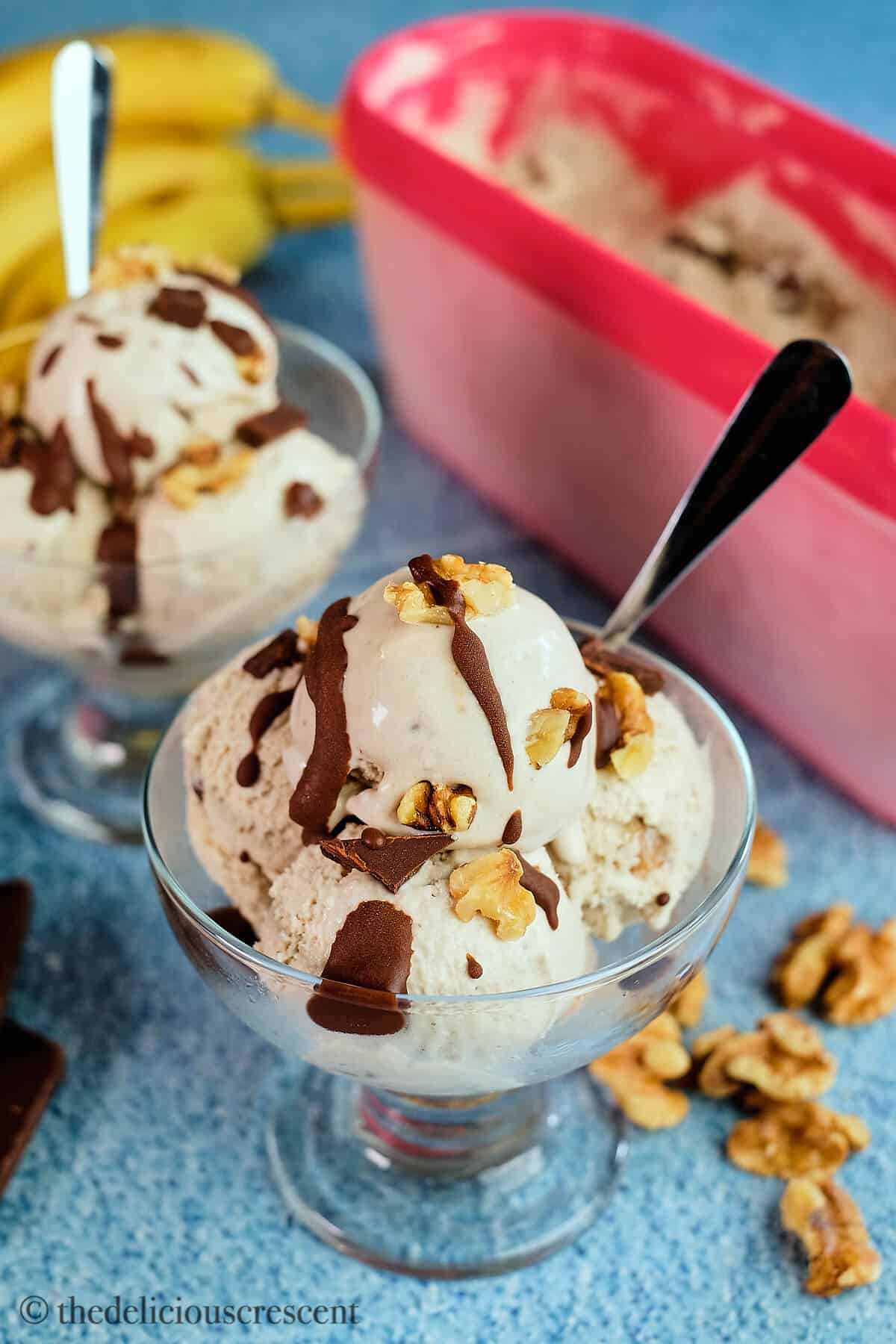 Chunky Banana Ice Cream
Ben and Jerry's chunky monkey ice cream used to be my favorite when I was studying at Purdue university. Walking down the campus streets, I would invariably stop by to get this famous treat.
I wanted to recreate that incredible tasting ice cream at home. And so was born my homemade chunky banana ice cream with walnuts and chocolate chunks.
Why This Recipe Works
Bananas are a boon for any ice cream recipe. They naturally sweeten it, while also giving that amazing creamy texture. So it's like a double bonus. You can reduce the amount of cream as well as sugar, and still have a rich and creamy ice cream.
Another trick I use with this ice cream, is blending in walnuts to make the ice cream base richer. This works well with the flavors of the recipe too. And can do wonders for other recipes such as our incredible healthy hot chocolate.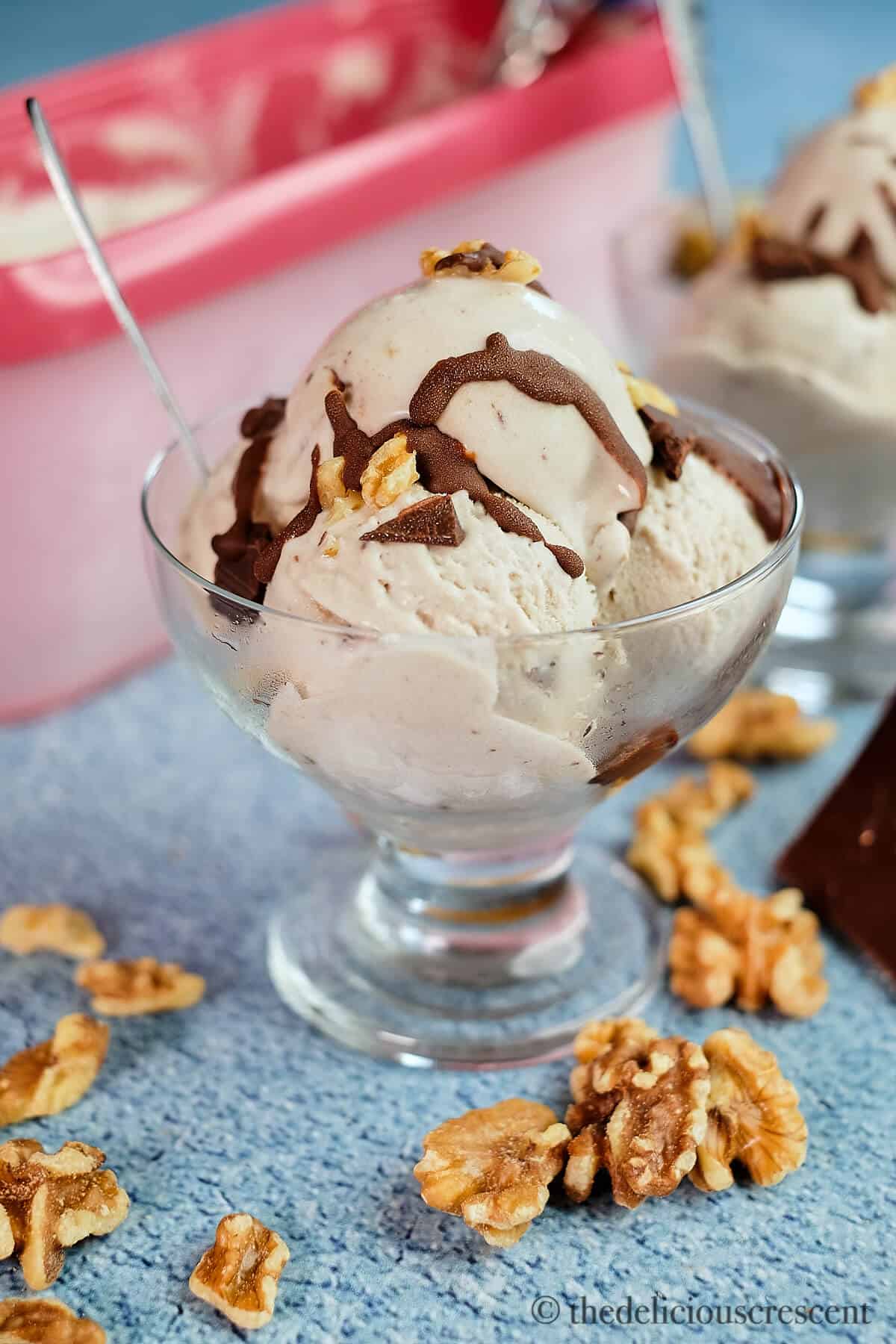 Ingredients
Bananas, Walnuts, Cream, Milk, Honey or Sugar, Corn Starch, Salt, Vanilla, Chocolate
Bananas: Choose ripe and flavorful fruits, which will give you optimal sweetness, texture and taste.
Walnuts: Shelled walnuts that taste fresh will give a nice creamy milk. You may use toasted and chopped walnuts as an add-in at the end of the ice cream cycle.
Milk: It is better to use whole milk for this recipe, as we are using less cream.
Honey: You may use honey or sugar. Choose honey that does not have a strong flavor. I have not tried maple syrup, but that may work as well.
Chocolate: I use semi-sweet chocolate to make the sauce for the swirl. Bitter-sweet chocolate can work too.
Pro Tips
Sweetener: It is important to use the right amount of sugar or honey to achieve a smooth ice cream. This ingredient cannot be lowered in an ice cream recipe beyond a certain level without compromising the taste.
Cream and Walnuts: For this banana ice cream, the fat content is provided by cream and pulverized walnuts. Use the optimal amount for a creamy texture.
Corn Starch: Most often eggs are used to thicken the ice cream base. I have found that corn starch works very well for this recipe as it also includes bananas which provide an extra boost to creaminess.
Ice Cream Machine: For a fluffy and creamy result, with no ice crystal formation, try to use the best ice cream machine you can buy in the market. The slow churning of the ice cream mixture ensures optimal air incorporation for amazing homemade ice cream.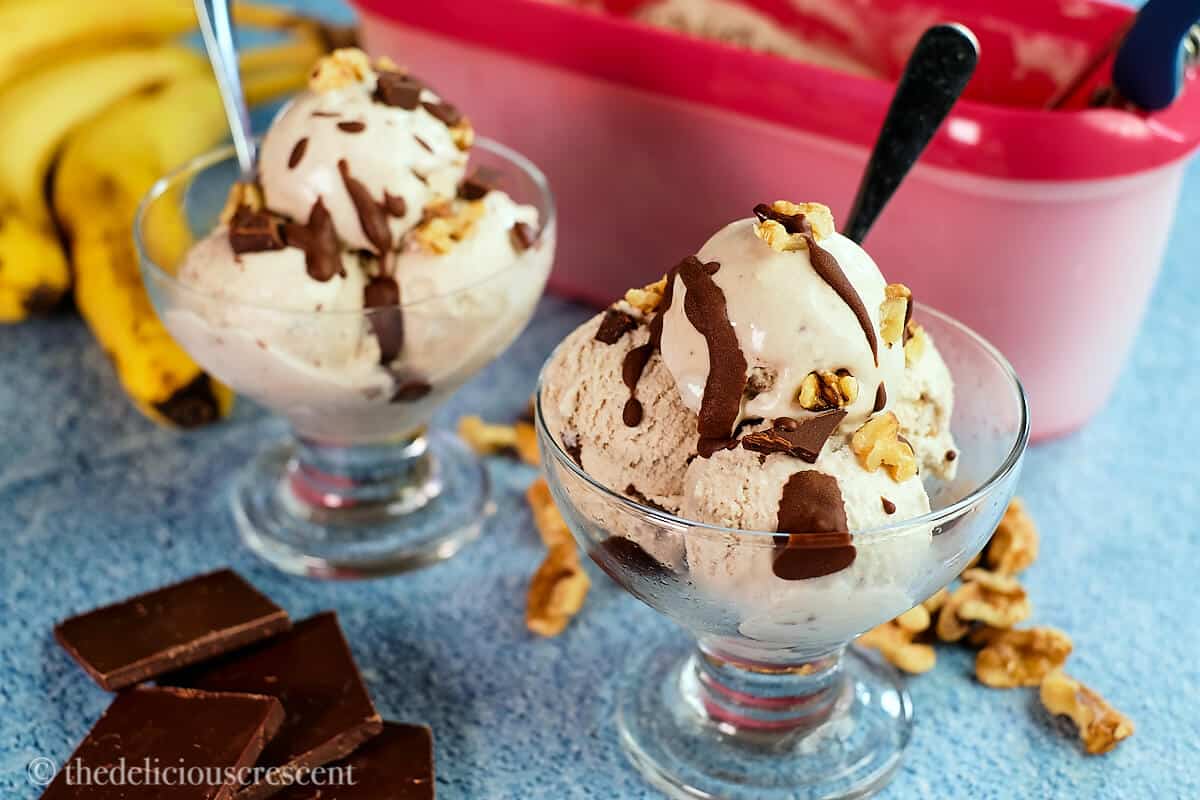 Variations
This banana ice cream is vegetarian, gluten free, egg free, low sodium and soy free. Below are a few ideas, some of which I have not tried.
Vegan/Dairy free: Try coconut milk instead of dairy milk; coconut cream instead of heavy cream.
Refined Sugar Free: Use maple syrup or honey instead of sugar. Although these sweeteners will add sugar, they do provide some nutrients.
Nut Free: Replace walnut milk with one cup cream. And skip adding chopped walnuts.
Flavor Variation: Use toasted almonds or hazelnuts instead of walnuts. Add toasted coconut flakes.
Storage
To prevent ice crystal formation, place a piece of parchment paper on top of the ice cream and store in an airtight ice cream container. Store it in the door section of your freezer as the temperature is slightly warmer and that will keep the ice cream softer.
Serving Suggestions
Thaw the ice cream a bit at room temperature or in the refrigerator to soften its texture before serving.
This ice cream is great as it is but you can jazz it up even further. By serving with wafers, more roasted nuts or crushed praline, chopped fruits, and chocolate or caramel sauce. Enjoy it in a cone or a waffle cup.
Nutrition Facts
For an ice cream, this is as healthier as it can get while still keeping it very indulgent. And it includes several nourishing ingredients.
This recipe is sweetened with bananas. The natural sugars from this fruit come along with several other nutrients. Bananas are an excellent source of fiber, potassium, vitamin C, vitamin B 6 and magnesium.
Walnuts provide healthy fats — monounsaturated and polyunsaturated fats, fiber and protein. They are also a good source of certain minerals — copper, manganese, magnesium. These nuts are rich in omega-3 fatty acids, and therefore are a great choice to include in your diet.
More Banana Based Recipes
★ DID YOU MAKE THIS RECIPE? PLEASE COMMENT AND GIVE IT A STAR RATING BELOW!
Zaalouk (Moroccan Eggplant Dip)
Zaalouk is an amazingly delicious Moroccan salad or dip made with roasted eggplants. Easy to make, it tastes great with toasted bread. And gets even better the next day.
Print
Instructions
Preheat oven to 400˚F. Prick the eggplants with a fork in couple spots and place them on a parchment paper lined baking sheet. Bake for

35 to 45 minutes

until the skin turns darker and shrinks. Check foot notes for grilling, broiling or stove top options.

The eggplants should be cooked through completely in the center. To check, press the back of a fork on the eggplant. It should compress easily all the way into the center without any resistance.

Cut through the eggplant skin and scoop out the soft cooked flesh and mash it with a fork and set aside.

Chop the tomatoes into small pieces, discarding some seeds if you wish. See note below for peeled and deseeded tomatoes.

Heat 2 tablespoons olive oil in a saucepan at medium setting. Add the chopped tomatoes, minced garlic, paprika, cumin, cayenne or chili powder, ⅓ teaspoon salt and cook until tomatoes are softened, stirring in between, about

15 to 20 minutes

.

Add the mashed eggplants and cilantro. Continue to cook over low heat for another

10 to 15 minutes

, stirring occasionally, mashing it if needed, into a thick but slightly textured dip like consistency.

Stir in lemon juice and salt. Adjust as per taste, let it cool and transfer to a bowl, cover and refrigerate it overnight before serving.

Take the zaalouk from the refrigerator about

30 minutes

before serving and let it come to room temperature. Drizzle with remaining olive oil. Garnish with cilantro and red pepper flakes if you prefer.

Chunky Zaalouk: To make a chunkier but less traditional zaalouk, insert garlic cloves into eggplant and roast it in the oven at 400˚F, along with the tomatoes. Chop the eggplants and tomatoes. Add the spices, herbs, half the olive oil, salt and mash it up to desired consistency. Drizzle olive oil and serve.
Notes
Cooking Eggplants:

Grill: Roast eggplants on charcoal or gas grill for 20 to 30 minutes, turning them slowly in between, until skin turns darker and shrinks.
Broil: Cut eggplants lengthwise into halves and place the cut side down on a foil lined baking sheet. Place on the second rack and broil until skin turns darker and shrinks, about 20 minutes.
Stovetop: Peel the eggplants completely, only some stripes or leave the skin on if you don't mind it. Cut the eggplants into small pieces. Steam on high heat until soft or cook in a pan with some water until soft and mushy.

Easy Zaalouk: Combine all ingredients with ⅓ cup of water and cook it over stove top until softened. Mash it up well and drizzle olive oil.
Peeled and deseeded tomatoes: If you prefer, you can blanch the tomatoes. Cut a small cross on the surface of tomatoes and dump them in hot boiling water. After a minute, pick out the tomatoes and peel the skin, cut them into halves and deseed. Chop them into small pieces.
Use more tomatoes if you want the dip to be saucy. You may even try using a little bit of tomato paste to give it thickness.
Leftovers: Can be refrigerated for 4 to 5 days. You can freeze zaalouk for couple months. Thaw and reheat. Adjust the consistency, evaporating or adding water as needed. Check the seasoning as well.
Nutrition facts not including any added salt.
For other variations, tips and serving suggestions, scroll up the page to the blog post.
Nutrition
Calories:
77
kcal
|
Carbohydrates:
6
g
|
Protein:
1
g
|
Fat:
6
g
|
Saturated Fat:
1
g
|
Polyunsaturated Fat:
1
g
|
Monounsaturated Fat:
4
g
|
Sodium:
5
mg
|
Potassium:
280
mg
|
Fiber:
3
g
|
Sugar:
4
g
|
Vitamin A:
526
IU
|
Vitamin C:
9
mg
|
Calcium:
15
mg
|
Iron:
1
mg
Chunky Banana Nut Ice Cream
Banana nut ice cream, inspired by the famous chunky monkey ice cream is irresistibly delicious. So creamy, luscious and flavorful, this also uses less cream to give you the same indulgent taste.
Print
Ingredients
Chocolate Swirl (optional, recommended)
Instructions
Creamy Walnut Milk: In a high speed blender such as Vitamix, blend one cup of walnuts with one cup of milk until very smooth. Pour the mixture through two layers of cheesecloth or a nut bag. It will take time to pass through the cloth. Just stir occasionally to dislodge solids lining the cloth.

Transfer nut milk back to

blender

, add bananas and blend it until very smooth.

Dissolve corn starch in ¼ cup milk and stir well until smooth.

Take the remaining milk and honey (or sugar) in a 

large saucepan

 and bring it to a boil over medium high heat.

Lower the heat and 

whisk

 in the corn starch-milk mixture, stirring constantly. Simmer until it reaches a thin custard consistency or coats the back of a spoon. Take the pan off the heat and let it cool on an ice bath (by setting the saucepan in a larger bowl partially filled with ice and water).

Stir in vanilla, salt, nut-banana mixture and heavy cream until well combined.

Chill the mixture in refrigerator for several hours/overnight or over an ice bath.

Freeze the mixture in your ice cream maker according to the manufacturer's instructions. Add the chopped walnuts and chopped chocolate in the end just when the ice cream is starting to set.
Notes
Storage: Place a piece of parchment paper on top of the ice cream and store in an airtight container to prevent ice crystal formation. If possible, store it in the door section of your freezer as the temperature there is slightly warmer.
Choose ripe bananas. If using honey, make sure it does not have a strong flavor.
For other variations and serving suggestions, scroll up the page to the blog post.
Nutrition
Serving:
0.5
Cup
|
Calories:
253
kcal
|
Carbohydrates:
23
g
|
Protein:
4
g
|
Fat:
17
g
|
Saturated Fat:
6
g
|
Trans Fat:
1
g
|
Cholesterol:
27
mg
|
Sodium:
65
mg
|
Potassium:
237
mg
|
Fiber:
2
g
|
Sugar:
17
g
|
Vitamin A:
327
IU
|
Vitamin C:
3
mg
|
Calcium:
67
mg
|
Iron:
1
mg
More Summer Treats