Try this Zereshk Polo, a stunning Persian barberry rice dish. With fluffy basmati rice, tangy red barberries, aromatic spices, and nutty toppings, it's a flavorful and festive delight. Serve it with saffron chicken for a truly lavish Persian feast.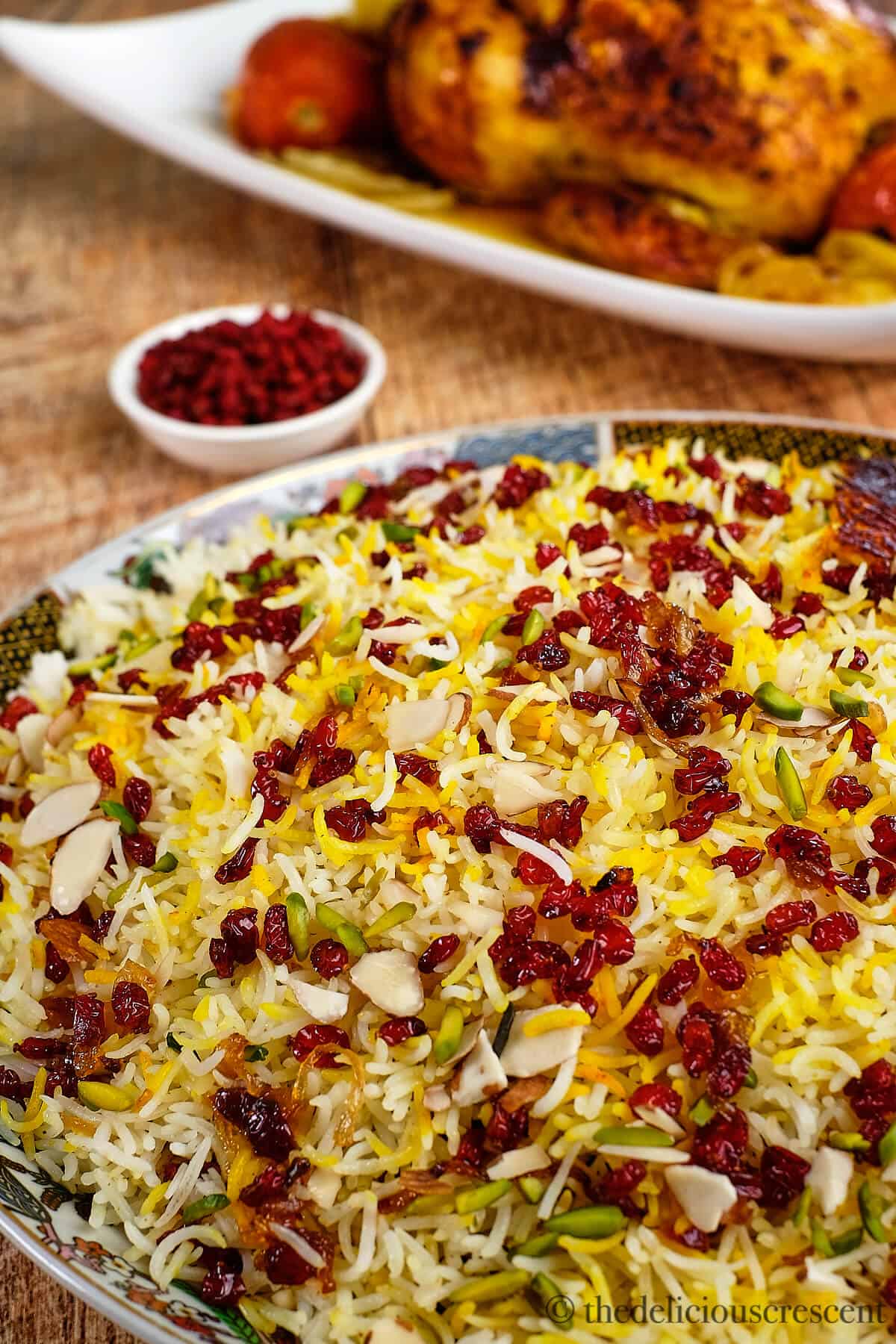 What is Zereshk Polo?
Zereshk Polo, also known as Persian Barberry Rice, is a mouth-watering and visually enticing dish with a rich history. It is made with fluffy basmati rice, barberries, onions, saffron, spices, almonds, pistachios, and sugar.
The fragrant spices and vibrant colors make it a favorite among Persian rice dishes. Often served with saffron chicken, it shares some common elements with Persian jeweled rice (morasa polo). Its flavors also work well in vegan recipes like lentil cranberry rice.
"Zereshk" means barberries, and "Polo" means rice in Persian. And this lovely dish with the saffron chicken makes a great centerpiece for festive occasions.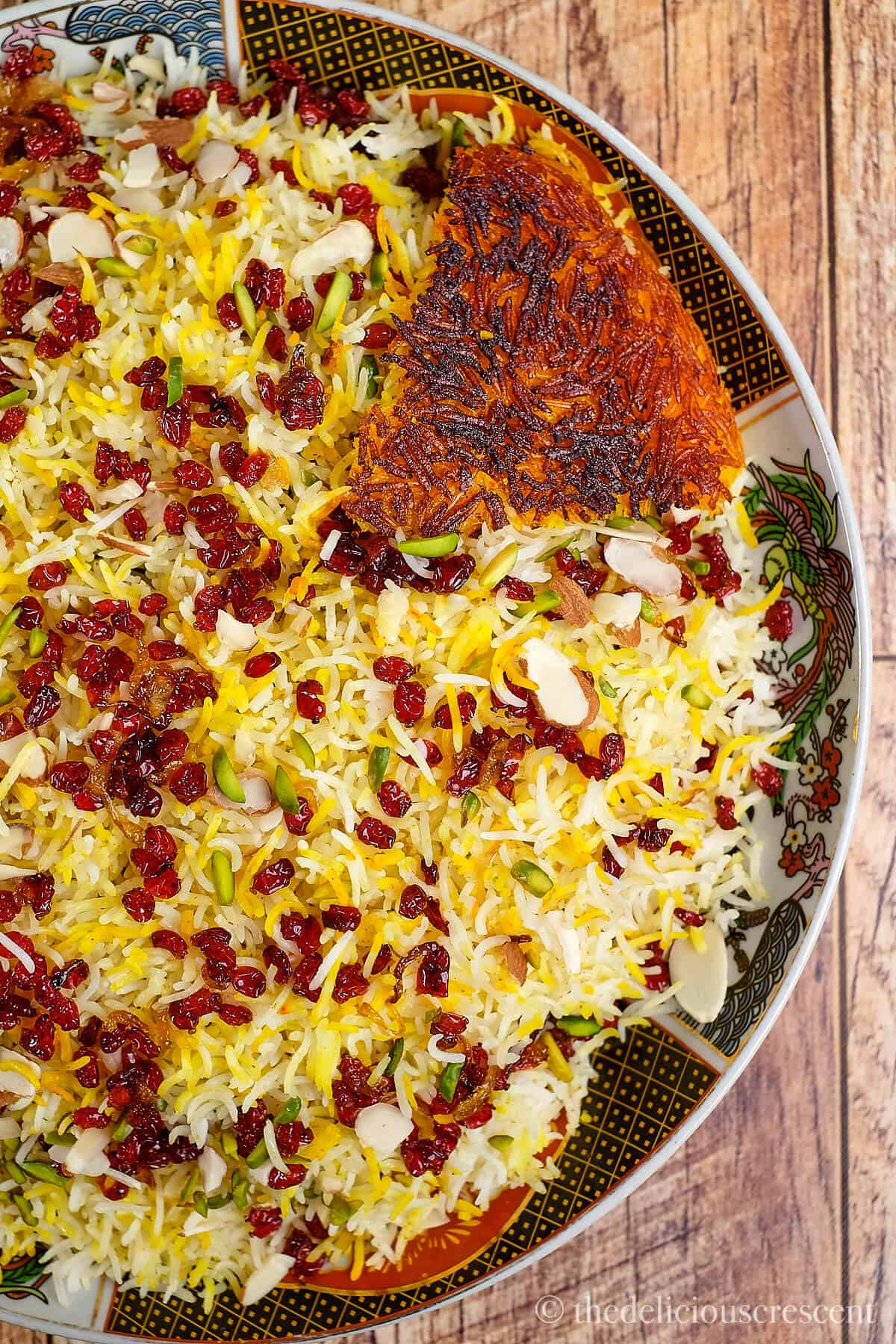 Barberries are a staple in the Persian kitchen, adding a tangy burst of flavor and stunning red hue that complements the rice's natural sweetness. Don't be intimidated by its appearance; assembling this dish is surprisingly simple, resulting in a truly delightful and delicious creation.
Overall, zereshk polo is a dish that deserves a place in any rice lover's repertoire, a celebration of unbeatable flavors and textures from Persian cuisine.
Recipe Ingredients
Here are the ingredients and substitutes.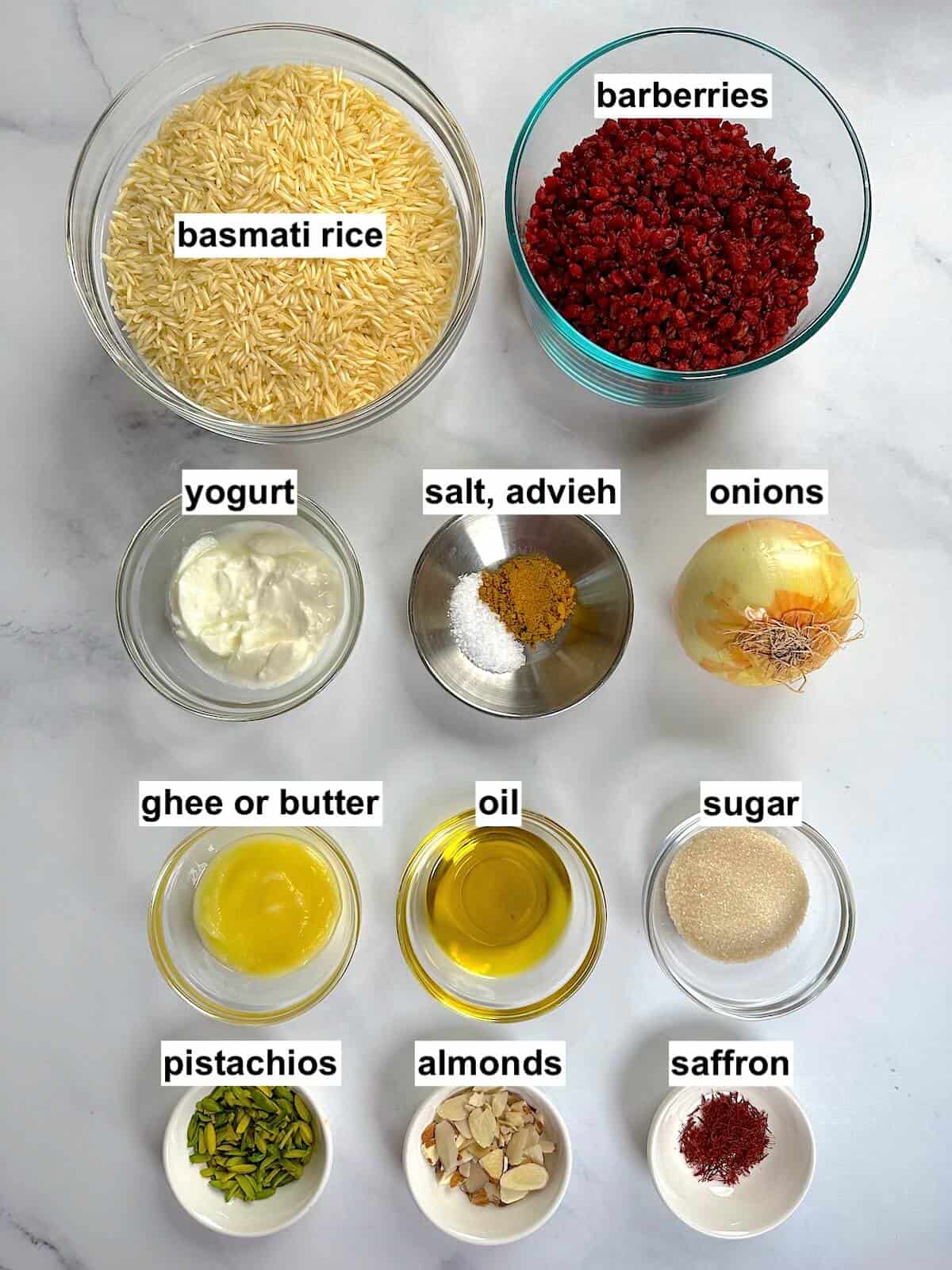 Rice: For perfect Persian rice, use high-quality, aged, long grain basmati rice from a reputable brand. Consult your local Indian grocer for the best variety in any brand, which is also usually the most expensive.
Saffron: Choose premium saffron as mentioned in the saffron recipes article. Though it may be expensive, you only need a small amount for great flavor. Grind it finely with a mortar and pestle to extract maximum flavor.
Yogurt: To make a rice crust (tahdig), use couple of tablespoons of regular yogurt (not Greek yogurt). However, we don't need it for making a flatbread crust.
Cooking Oil, Butter or Ghee: Ghee or butter is traditional and the preferred choice in restaurants. For a lighter version, you can opt for olive oil or avocado oil.
Spices: Use Persian spice blend, advieh, which can be found at Middle Eastern stores or online. For rice (polo), use the specific advieh blend or use khoresh advieh blend in smaller amounts. Alternatively, you can create a substitute by combining coriander, cinnamon, cumin, black pepper, cardamom, and turmeric in a 1:1:½:½:¼:¼ ratio.
Sweetener: This recipe uses sugar, but honey can be used as a substitute.
Onions: Yellow onions will work well.
Barberries: These tangy-sweet berries, known as "zereshk" in Persian, are available in their dried form at Persian and Middle Eastern stores. If you can't find barberries, try using finely chopped dried cranberries or dried sour cherries.
Nuts: Slivered or sliced almonds and pistachios add a delicious bite.
Garlic: Choose fresh and firm garlic.
Lemon: We use lemon juice for marinade and lemon quarters for stuffing the chicken. Choose bright organic lemons.
Bay Leaves: Add them to the stuffing.
Chicken: I use skin-on whole chicken, but you can also cut it up into pieces. Leg quarters or drumsticks work well too, and Cornish game hens will make a nice presentation. Skin-on chicken roasts beautifully, keeping the chicken moist and tasty. Remove the skin before eating to reduce fat content.
How To Make Zereshk Polo
**Here is a brief overview. Full recipe is at the end of the blog post.
Roast Chicken: Marinate chicken overnight. Remove from fridge, drizzle melted butter, and season it. Stuff it, tie the ends and tuck the wing tips. Roast it until well cooked.
Prepare Barberries: Clean and rinse dried barberries. Fry onions until golden brown. Add barberries and stir. Then add sugar.
Preparing the rice: You can cook rice using a traditional pot method or a rice cooker.
Preparing the tahdig (rice crust): To make rice tahdig, spread a mixture of cooked rice, yogurt, and saffron water over oil or butter in a pot to form a golden brown crust.
Steaming the rice: Top with remaining cooked rice, advieh in between layers, sprinkle saffron water, cover and steam it for 15-20 minutes.
Layering and garnishing: Assemble the dish by layering the cooked saffron rice with the barberry mixture. Top with nuts.
Top Tips
Barberries: To avoid staining the rice, cook the barberries briefly and add them in the final assembling step. Take the pan off the heat promptly to prevent burning.
Pistachios: Soak the pistachios briefly to soften the exterior for easy peeling, ensuring you get bright green nuts. Be cautious not to soak them for too long, as they may become too soft.
Cooking Onions: Saute the onions until well-cooked, achieving a light golden brown color with crisp edges. Cast iron cookware works best for even heat distribution, and be vigilant to prevent burning, especially towards the end of cooking.
Let the Chicken Marinate: For the most flavorful saffron chicken, allow it to marinate overnight, ensuring the spices and flavors permeate the meat thoroughly.
Monitor Roasting Time: Keep a close eye on the chicken while roasting to prevent overcooking. Test for doneness using a meat thermometer or by ensuring the juices run clear.
What To Serve With Barberry Rice?
Variations
This Persian rice is gluten free (with a rice crust), egg free and soy free. If using a flatbread crust, it would not be gluten-free. Below are some ideas you can try.
Vegan/Dairy Free: Use only oil and skip butter or ghee. Don't use dairy based yogurt for making the tahdig. Skip the chicken and use roasted cauliflower steaks.
Vegetarian: Serve the rice without chicken.
Other Meats: You could also try pan kebabs or salmon kabobs.
Add Vegetables: Try adding roasted eggplant, potatoes, or shiitake mushrooms.
Lower Carb/Grain free: You could try replacing basmati rice with cauliflower rice.
Healthier: Replace white basmati rice with brown basmati rice, adjusting the cooking time and amount of water as per package instructions. You could even try combinations with wild rice or quinoa.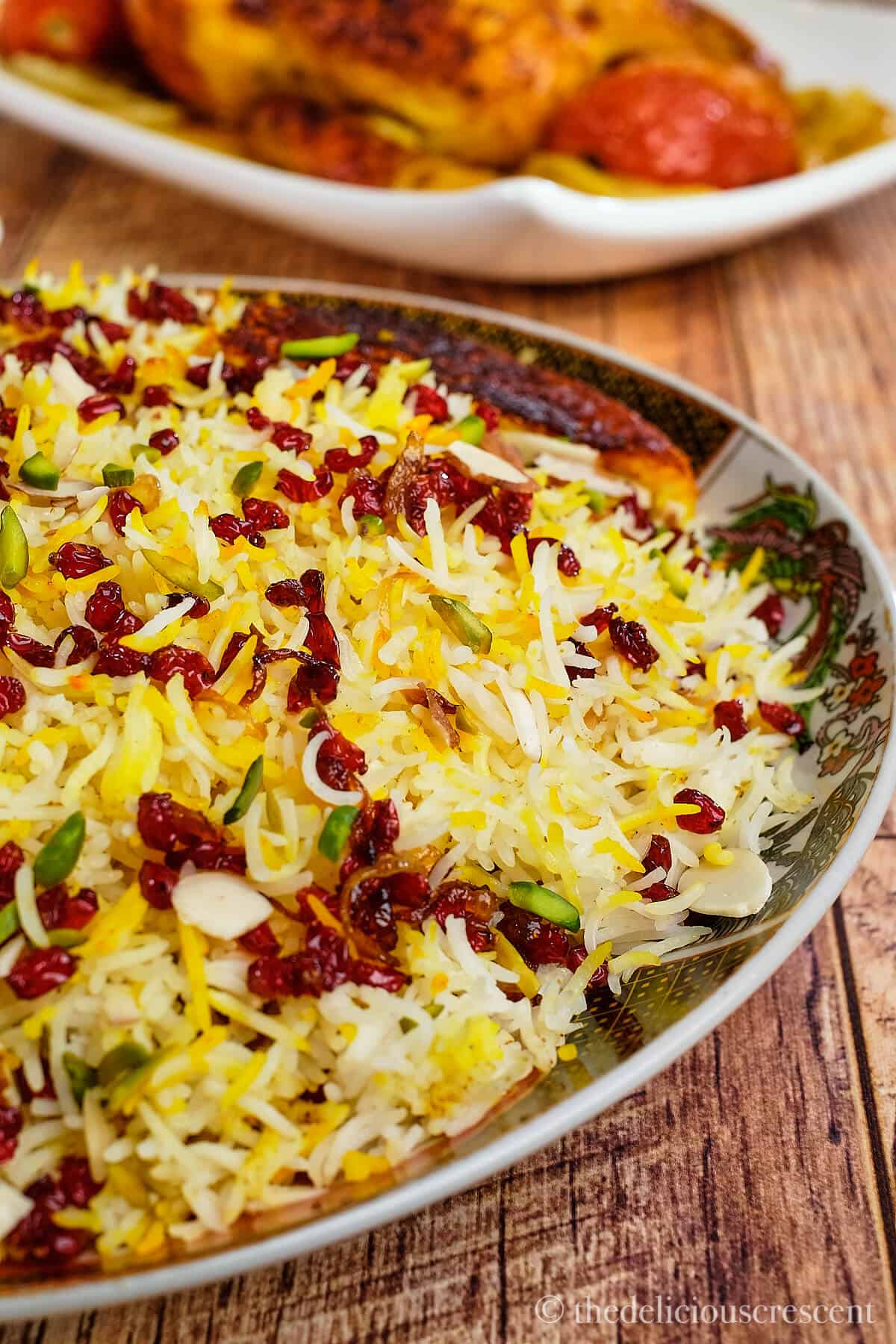 Recipe FAQs
What are the benefits of barberries?
Barberries are nutritious berries, boasting high levels of vitamin C and iron. Additionally, they are abundant in beneficial compounds, particularly berberine, which exhibits powerful antioxidant properties. These berries have been linked to numerous health benefits, including blood sugar regulation, support for digestive health, and anti-inflammatory effects, making them a valuable addition to a balanced diet.
Can I make Zereshk Polo ahead of time?
Yes, you can prepare Zereshk Polo ahead of time and reheat it before serving. Store the cooked rice and barberry mixture separately in the refrigerator and assemble them just before serving.
How long can I store leftover Zereshk Polo?
Leftover Zereshk Polo can be stored in an airtight container in the refrigerator for up to 3 to 4 days. To maintain the best quality, reheat it in the oven or microwave. The rice might take on some color from the berries, but the flavors will still be delicious. Garnish with fresh barberries and nuts.
Can I freeze Zereshk Polo?
While it's possible to freeze Zereshk Polo, keep in mind that freezing might affect the texture and color of the rice. If you plan to freeze it, store the rice and barberry mixture separately and thaw them thoroughly before reheating and serving.
How do I achieve a perfect tahdig (crispy rice crust)?
For a perfect golden and crispy tahdig, choose a non-stick or well-seasoned cast iron pot to prevent sticking. Spread sufficient butter or oil and the rice mixture evenly for uniform crispiness. Cook tahdig over low to medium heat for 30 to 45 minutes, watching carefully to avoid burning. Position the pot appropriately for even heat distribution. Place a damp kitchen towel between the pot and lid to absorb excess steam. Carefully loosen the edges with a spatula to release the crust easily.
More Barberry Recipes
★ DID YOU MAKE THIS RECIPE? PLEASE COMMENT AND GIVE IT A STAR RATING BELOW!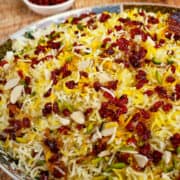 Zereshk Polo (Persian Barberry Rice)
Try this Zereshk Polo, a stunning Persian barberry rice dish. With fluffy basmati rice, tangy red barberries, aromatic spices, and nutty toppings, it's a flavorful and festive delight. Serve it with saffron chicken for a truly lavish Persian feast. I've provided separate ingredient lists for chicken and rice, if you want to make plain barberry rice. Note that some ingredients are common to both recipes.
Print
Ingredients
Saffron Chicken
3

lbs

whole chicken

bone-in, skin-on

1

teaspoon

Advieh

Persian spice mix or combine ground coriander and cumin

¾

teaspoon

black pepper

freshly ground

1

tablespoon

salt

divided

3

large yellow onions

1 for marinade, 1 peeled and quartered, 1 sliced thick

6

cloves

garlic

halved

2

tablespoons

lemon juice

plus more for serving

2

tablespoons

olive oil

plus more for drizzling

1

teaspoon

saffron

ground and dissolved in 2 tablespoons hot water

2

tablespoons

melted butter

1

organic lemon

quartered
Barberry Rice
2

cups

dried barberries

or finely chopped dried cranberries

¼

cup

olive oil

or avocado oil

2½

tablespoons

ghee

butter or oil

1

large yellow onion

thinly sliced

2

tablespoons

sugar

or 1 tablespoon honey

3

cups

basmati rice

rinsed well and drained, see note

1

teaspoon

salt

2 tablespoons if using traditional method

½

teaspoon

saffron

ground and dissolved in 2 tablespoons water

2

tablespoons

yogurt

for rice crust

1

teaspoon

advieh

Persian spice mix or combine ground cumin, cardamom and turmeric

2

tablespoons

almonds

slivered or sliced

2

tablespoons

pistachios

slivered or sliced
Instructions
Saffron Chicken
Preheat the oven to 430°F. Pat the chicken dry and loosen the skin. Mix advieh, black pepper, and 2 teaspoons salt and rub the spices inside, outside, into the flesh, and under the skin. In a food processor, grind 1 onion, half the garlic and lemon juice. Strain the mixture. Add olive oil, saffron water and ¾ teaspoon salt. Drizzle ⅔ of the marinade over and inside the chicken, then refrigerate overnight.

Remove the chicken

30 minutes

before cooking. Drizzle melted butter and half the remaining marinade inside and outside the chicken. Sprinkle with salt and pepper. Stuff the cavity with quartered onion, remaining garlic, lemon, and bay leaves. Tie the drumstick ends with string and tuck the wing tips under the chicken.

Place chicken breast-side up on a bed of onion slices in a greased roasting pan and pour remaining marinade. Roast in the middle rack of the oven for

1 hour and 30 minutes

or until the internal temperature reaches 165°F, basting at 30 minutes and 1 hour. Let it rest before serving with pan juices.
Prepare Barberries
Remove tiny stems from dried barberries and place in a colander. Immerse the colander in cold water for 

20 minutes

, allowing sand to settle. Rinse thoroughly and drain.

In a cast iron skillet, heat 1 tablespoon oil and 1 teaspoon ghee. Add onions and sauté until light golden brown, stirring occasionally, about 15 to 20 minutes. Tip: Add a pinch of salt while cooking the onions. Add barberries and cook for less than

1 minute

. Watch carefully as the berries burn easily. Stir in sugar and cook for

1 more minute

. Transfer the barberry mixture to a plate.
Cook Rice (2 Ways)
Rinse rice 4-5 times with water until it is clear and not starchy. Drain well. Choose one of the methods below.

Traditional Method: In a large pot, bring 10 cups of water with 2 tablespoons of salt to a rolling boil. Add basmati rice and boil for

4-5 minutes

until soft, stirring occasionally. Drain in a colander and set aside.

Rice Cooker Method: In a rice cooker, bring 4 cups of water to a boil. Add 1 teaspoon salt, 3 tablespoons olive oil, 1 teaspoon ghee and basmati rice. Stir and cook just until all water is absorbed. DO NOT let the rice steam until it is fully done. In my rice cooker this process takes about 

15 to 20 minutes

. Transfer cooked rice immediately to another pan.
Rice Crust (optional, skip to next step if not making this)
Melt 2 tablespoons of butter or oil in a non-stick pot or Persian rice cooker bowl. Combine ½ cup of cooked rice with yogurt and 2 teaspoons of saffron water. Spread a ¼-inch-thick layer of rice-yogurt mixture over melted butter in the pot. 

Tip: Adjust the amount of oil, rice, yogurt and saffron based on the pot size.
Steam The Rice
Layer the remaining cooked white rice in the pot, sprinkling advieh in between. Tip: Drizzle 3 tablespoons of oil on top if using the traditional cooking method.

Sprinkle saffron water all over and create holes in the rice with a wooden spoon. Cover with a lid and steam for

15-20 minutes

. After steaming, turn off the heat and let it rest for

5 minutes

. Scoop out some saffron rice from the top and set it aside.
Serve
On a serving platter, assemble cooked rice and barberry mixture in several alternating layers. Top with almonds, pistachios, and reserved saffron rice. Serve with the rice crust (tahdig) on the side if prepared.
Notes
Persian spice mix Advieh and barberries (zereshk) are available at Persian or Middle Eastern stores or online. Substitute advieh with a mild Mediterranean or Middle Eastern spice mix.
Rice: Check package for cooking times or test a small quantity first. Look for premium long-grain basmati rice brands like India Gate, Royal, or Zebra at Indian grocery stores.
Traditional method: Parboil rice for 4 to 5 minutes, drain when it still retains shape with soft tips and a white dot in the center.
Rice cooker method: Use 1¼ to 1¾ cups water per cup of rice, depending on the rice's age.
Oven Method:

Preheat oven to 350°F. Heat 2 tablespoons of olive oil or butter in an oven-proof dish. Spread saffron rice-yogurt mixture.
Place remaining cooked rice alternating with sprinkle of advieh. Drizzle oil or butter and remaining saffron water. Cover with parchment paper, foil and seal well. Bake for an hour until steam builds up well.
The crust (tahdig) should be golden. If using a glass dish, you can check the base.

Make Ahead/Storage: Have saffron water, cleaned barberries, and nuts ready a day ahead. Layer rice and barberries only before serving. This rice does not freeze well if stored along with barberries.
Grinding Saffron: Use a mortar and pestle to grind saffron threads with a pinch of salt or sugar into a fine powder.
Nutrition facts are approximate and not including tahdig.
Check the full blog post for more about ingredients, expert tips, serving suggestions, recipe FAQs and variations.
Nutrition
Serving:
1
Cup
|
Calories:
404
kcal
|
Carbohydrates:
53
g
|
Protein:
12
g
|
Fat:
16
g
|
Saturated Fat:
4
g
|
Polyunsaturated Fat:
2
g
|
Monounsaturated Fat:
7
g
|
Trans Fat:
0.1
g
|
Cholesterol:
36
mg
|
Sodium:
479
mg
|
Potassium:
195
mg
|
Fiber:
1
g
|
Sugar:
3
g
|
Vitamin A:
109
IU
|
Vitamin C:
7
mg
|
Calcium:
32
mg
|
Iron:
1
mg
More Rice Recipes
This post was first published on July 5, 2016 and has been updated with improvements in pictures, tips, FAQs and additional enhancements.