Barley porridge with blueberries is a tasty and wholesome breakfast topped with nutrient rich berries, walnuts, dates and a drizzle of honey. This is sure to give you a healthy and happy start to take on the challenges of the day!!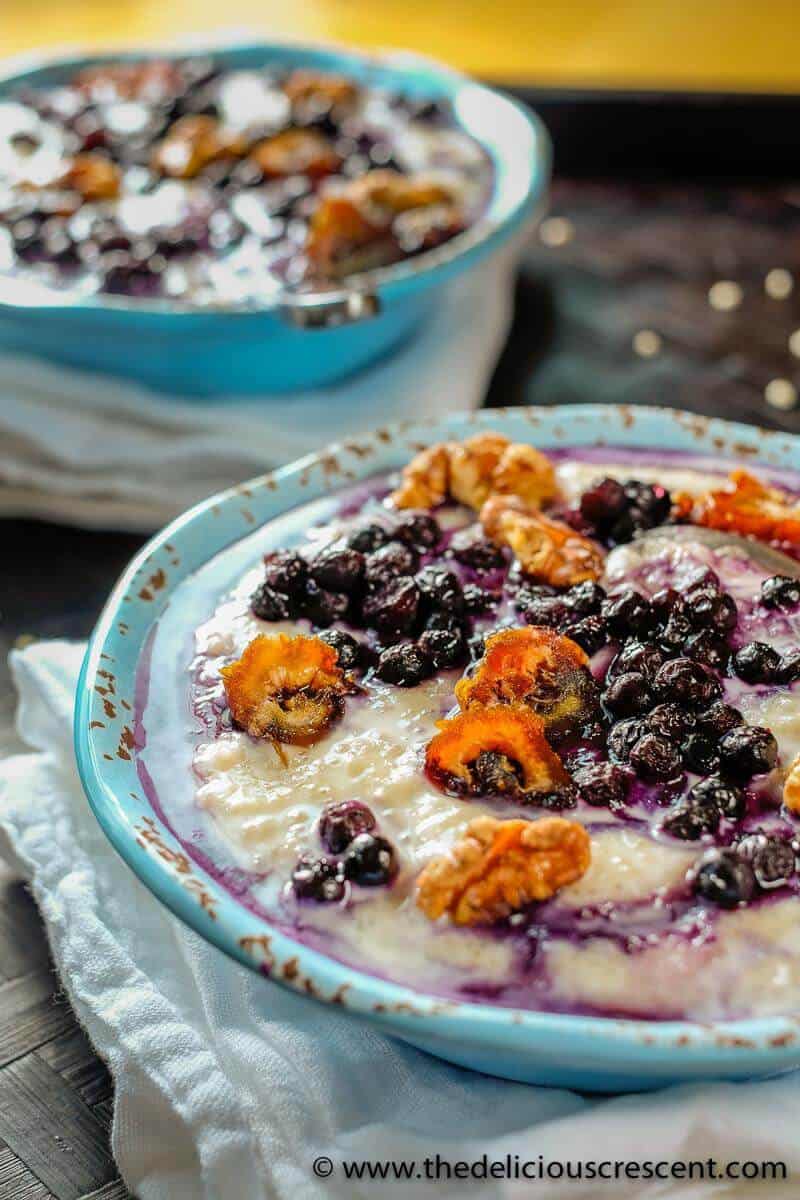 What Is Talbina?
This barley porridge is inspired by Talbina, a whole grain porridge of middle eastern origin that is prepared with ground barley, milk and honey. In the recipe here I have further added roasted blueberries, walnuts and dates.
Pro Tips
I find it easiest to just grind the barley and store it in a container. Whenever I need to make some porridge I just scoop out some ground barley.
When cooking the barley porridge, I first like to cook it with a little bit of water to make a thick paste and then add the milk and cook it further. I feel this helps cook the porridge better.
If you want to speed up the cooking time you can mix in some water or milk and pre-soak it.
You could even soak the ground barley overnight in milk and cook it quickly to make your overnight porridge.
Using a slow cooker to make the porridge would also be a great idea. It will result in a really creamy texture, kind of like rice pudding.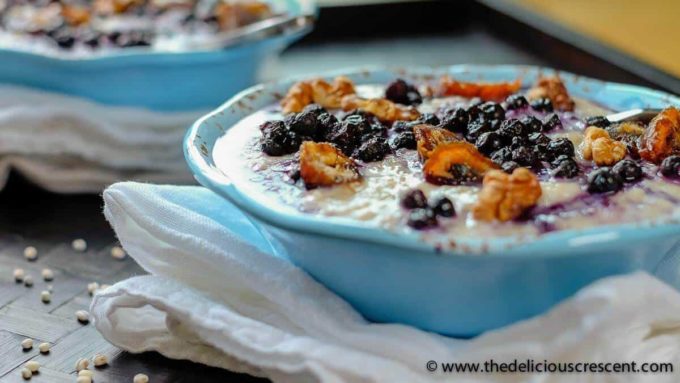 Is Barley Good for Health?
Barley has several nutritional benefits. It is rich in Beta Glucan, the same fiber that is in oats. Beta Glucan is well known for its cholesterol lowering effect. It is very beneficial for intestinal health. It provides bulk for regularity and facilitates the production of short chain fatty acids that maintain a healthy colon.
When consumed regularly as part of a healthy diet, it can be protective against heart ailments, cancers, diabetes and such. Barley has been shown to promote better blood sugar control and insulin response.
And I cannot say enough about the antioxidant rich blueberries and walnuts, that are an excellent source of omega-s fatty acids, phytonutrients, antioxidants and known for anti-inflammatory potential.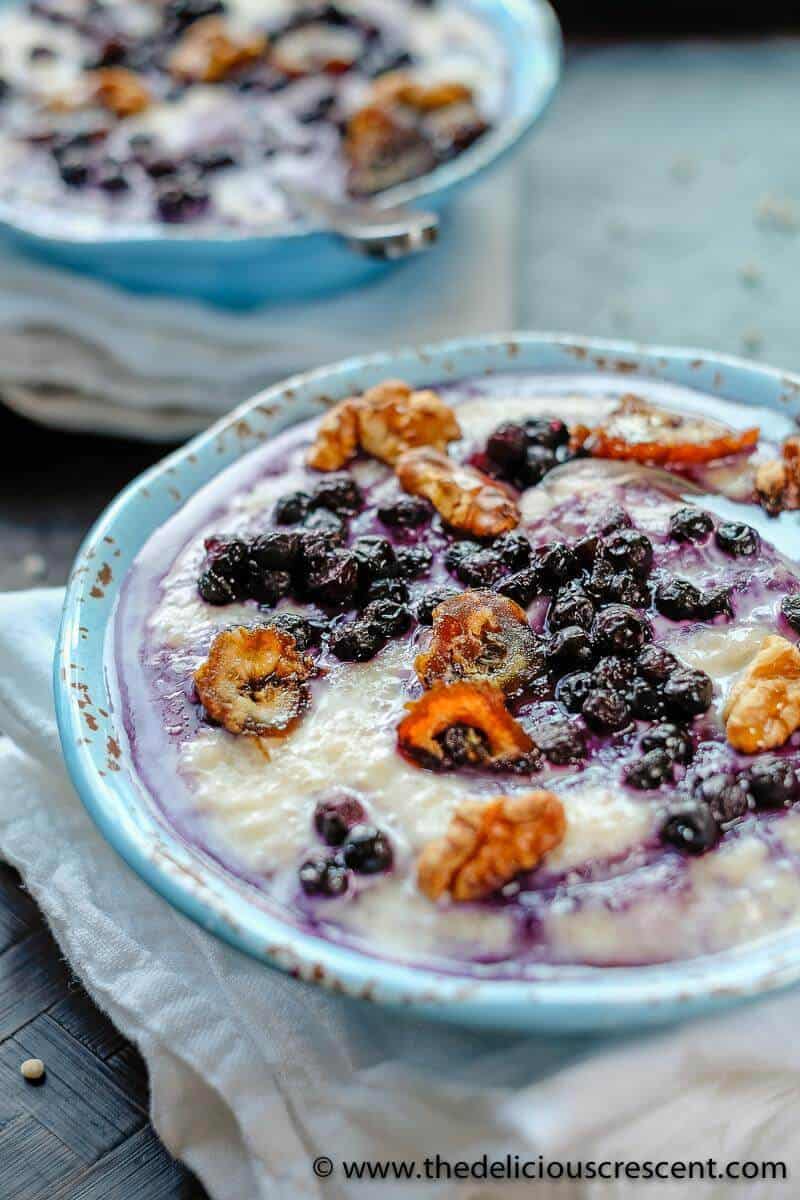 Is Barley Porridge Good for Weight Loss?
This porridge is so satiating and filling. Therefore it can be effectively included in a weight loss regimen, keeping honey to a minimum. Actually the blueberries, milk and small amount of dates are all sweet enough.
Barley porridge is a great alternative to oatmeal and works very well as a hearty breakfast. For more nutrition information about barley check out this post on Persian Creamy Barley Soup.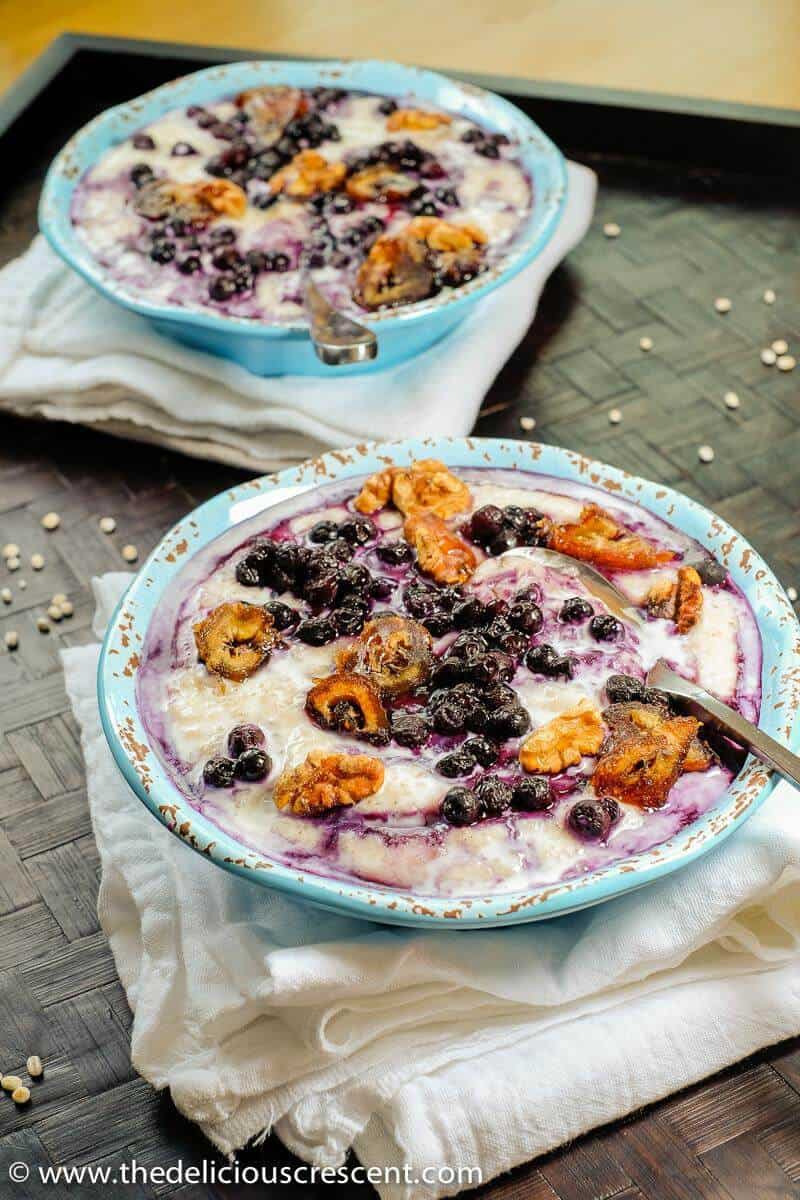 More Healthy and Tasty Breakfast Ideas:
★ DID YOU MAKE THIS RECIPE? PLEASE COMMENT AND GIVE IT A STAR RATING BELOW!
Zaalouk (Moroccan Eggplant Dip)
Zaalouk is an amazingly delicious Moroccan salad or dip made with roasted eggplants. Easy to make, it tastes great with toasted bread. And gets even better the next day.
Print
Instructions
Preheat oven to 400˚F. Prick the eggplants with a fork in couple spots and place them on a parchment paper lined baking sheet. Bake for

35 to 45 minutes

until the skin turns darker and shrinks. Check foot notes for grilling, broiling or stove top options.

The eggplants should be cooked through completely in the center. To check, press the back of a fork on the eggplant. It should compress easily all the way into the center without any resistance.

Cut through the eggplant skin and scoop out the soft cooked flesh and mash it with a fork and set aside.

Chop the tomatoes into small pieces, discarding some seeds if you wish. See note below for peeled and deseeded tomatoes.

Heat 2 tablespoons olive oil in a saucepan at medium setting. Add the chopped tomatoes, minced garlic, paprika, cumin, cayenne or chili powder, ⅓ teaspoon salt and cook until tomatoes are softened, stirring in between, about

15 to 20 minutes

.

Add the mashed eggplants and cilantro. Continue to cook over low heat for another

10 to 15 minutes

, stirring occasionally, mashing it if needed, into a thick but slightly textured dip like consistency.

Stir in lemon juice and salt. Adjust as per taste, let it cool and transfer to a bowl, cover and refrigerate it overnight before serving.

Take the zaalouk from the refrigerator about

30 minutes

before serving and let it come to room temperature. Drizzle with remaining olive oil. Garnish with cilantro and red pepper flakes if you prefer.

Chunky Zaalouk: To make a chunkier but less traditional zaalouk, insert garlic cloves into eggplant and roast it in the oven at 400˚F, along with the tomatoes. Chop the eggplants and tomatoes. Add the spices, herbs, half the olive oil, salt and mash it up to desired consistency. Drizzle olive oil and serve.
Notes
Cooking Eggplants:

Grill: Roast eggplants on charcoal or gas grill for 20 to 30 minutes, turning them slowly in between, until skin turns darker and shrinks.
Broil: Cut eggplants lengthwise into halves and place the cut side down on a foil lined baking sheet. Place on the second rack and broil until skin turns darker and shrinks, about 20 minutes.
Stovetop: Peel the eggplants completely, only some stripes or leave the skin on if you don't mind it. Cut the eggplants into small pieces. Steam on high heat until soft or cook in a pan with some water until soft and mushy.

Easy Zaalouk: Combine all ingredients with ⅓ cup of water and cook it over stove top until softened. Mash it up well and drizzle olive oil.
Peeled and deseeded tomatoes: If you prefer, you can blanch the tomatoes. Cut a small cross on the surface of tomatoes and dump them in hot boiling water. After a minute, pick out the tomatoes and peel the skin, cut them into halves and deseed. Chop them into small pieces.
Use more tomatoes if you want the dip to be saucy. You may even try using a little bit of tomato paste to give it thickness.
Leftovers: Can be refrigerated for 4 to 5 days. You can freeze zaalouk for couple months. Thaw and reheat. Adjust the consistency, evaporating or adding water as needed. Check the seasoning as well.
Nutrition facts not including any added salt.
For other variations, tips and serving suggestions, scroll up the page to the blog post.
Nutrition
Calories:
77
kcal
|
Carbohydrates:
6
g
|
Protein:
1
g
|
Fat:
6
g
|
Saturated Fat:
1
g
|
Polyunsaturated Fat:
1
g
|
Monounsaturated Fat:
4
g
|
Sodium:
5
mg
|
Potassium:
280
mg
|
Fiber:
3
g
|
Sugar:
4
g
|
Vitamin A:
526
IU
|
Vitamin C:
9
mg
|
Calcium:
15
mg
|
Iron:
1
mg
Barley Porridge with Blueberries
Barley porridge with blueberries is a tasty and wholesome breakfast topped with nutrient rich berries, walnuts, dates and a drizzle of honey. This is sure to give you a healthy and happy start to take on the challenges of the day!!

Print
Servings:
1
bowl of porridge
Ingredients
¼

cup

pearl barley

coarsely ground

½

cup

water

or milk

1

cup

milk

reduced fat

1

tbsp

walnuts

chopped

1

tbsp

dates

chopped

2

tbsp

blueberries

or more (oven roasted)

Honey

to taste
Instructions
Process barley in nut grinder until it is slightly coarse.

In a sauce pan, dissolve barley in water and mix it well. Cook the mixture just briefly.


Add 1 cup of milk and cook it on medium just like cooking steel cut oats. More milk may be added for the desired consistency.


Meanwhile roast the blueberries in a single layer in an oven-proof

baking dish

at 400°F for about

8-10 minutes

, until the blueberries just start to release their juices.

Sprinkle the walnuts and dates. Spoon over the blueberries with its juices.


Drizzle with honey to taste.

Notes
VARIATIONS
Dairy Free Barley Porridge: Make porridge with almond milk, hazelnut milk, cashew milk, soymilk etc.
Vegan Barley Porridge: Use nut milks listed above or soy milk and skip honey.
High Protein Barley Porridge: Top the porridge with a scoop of ricotta cheese, and/or hemp seeds.
Rich and Creamy Barley Porridge: Top it with a dash of heavy cream or nut butters.
Other Toppings for Barley Porridge: fruit compote, fresh fruit, roasted nuts, ground cinnamon, baked apples or pears, maple syrup, brown sugar etc.
For more tips and serving suggestions check out the blog post above.
NUTRITION FACTS
*Phosphorus 334 mg
Nutrition
Serving:
1
bowl
|
Calories:
393
kcal
|
Carbohydrates:
67
g
|
Protein:
14
g
|
Fat:
9
g
|
Saturated Fat:
3
g
|
Polyunsaturated Fat:
4
g
|
Monounsaturated Fat:
2
g
|
Cholesterol:
18
mg
|
Sodium:
122
mg
|
Potassium:
612
mg
|
Fiber:
10
g
|
Sugar:
25
g
|
Vitamin A:
240
IU
|
Vitamin C:
2.9
mg
|
Calcium:
298
mg
|
Iron:
1.5
mg
This post was first published on 4th January, 2016 and has been updated.