Spring Onion Paratha is a whole grain, flavor packed, scrumptious Indian flatbread. Wholesome, with good amount of protein and fiber. Gouda Cheese, bell peppers (capsicum) and spring onions come together in this wonderful and easy flatbread.
Pair it with a Walnut Chutney or a Greek yogurt dip with grated garlic and dill for a splendid nutritious meal!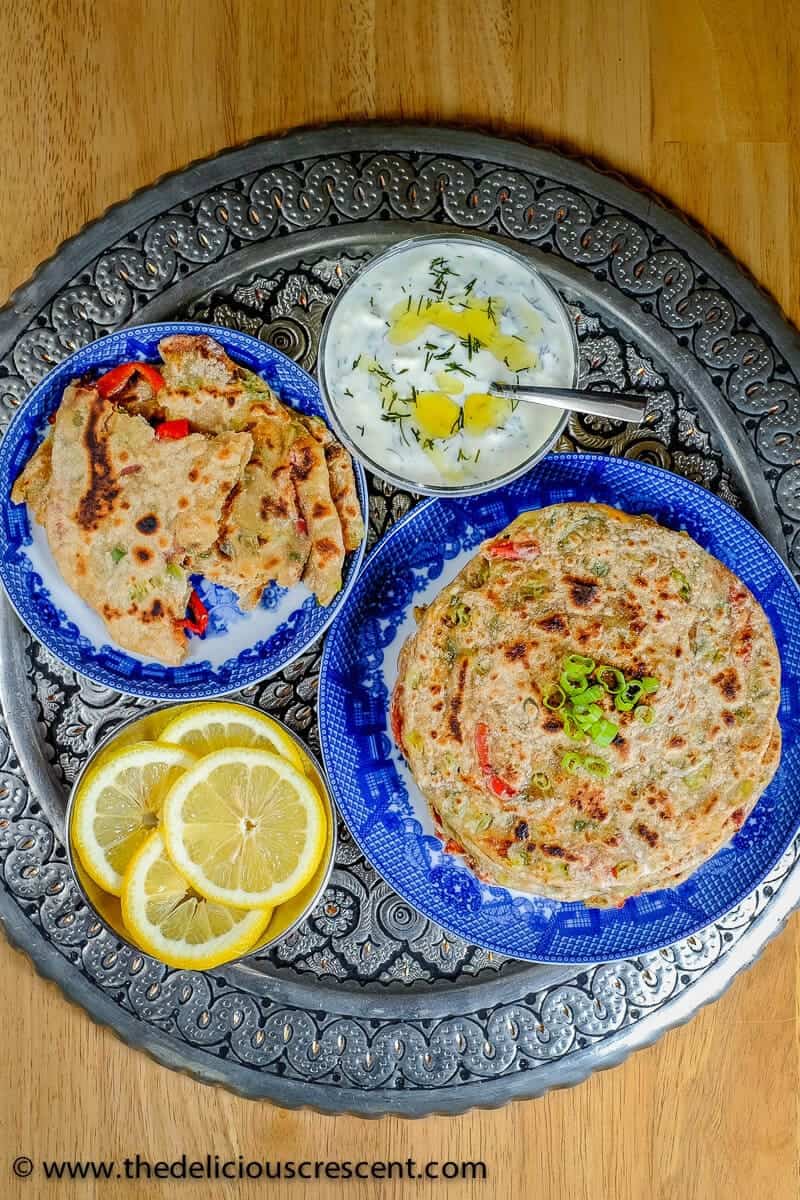 Spring Onion Paratha
I love making breads. And I have been making traditional flatbread since my childhood. In fact that was one of my first attempts at cooking, as I mention in this post on my Omelette Paratha.
If you like making bread from scratch and rolling out dough, try this popular naan recipe - Persian Barbari Bread. If you have not made flat bread before, don't let the process intimidate you. A few tries and you are on to making a healthy home made sumptuous dish for yourself and your family. Just start with this cheesy green onion paratha. And then the possibilities are endless!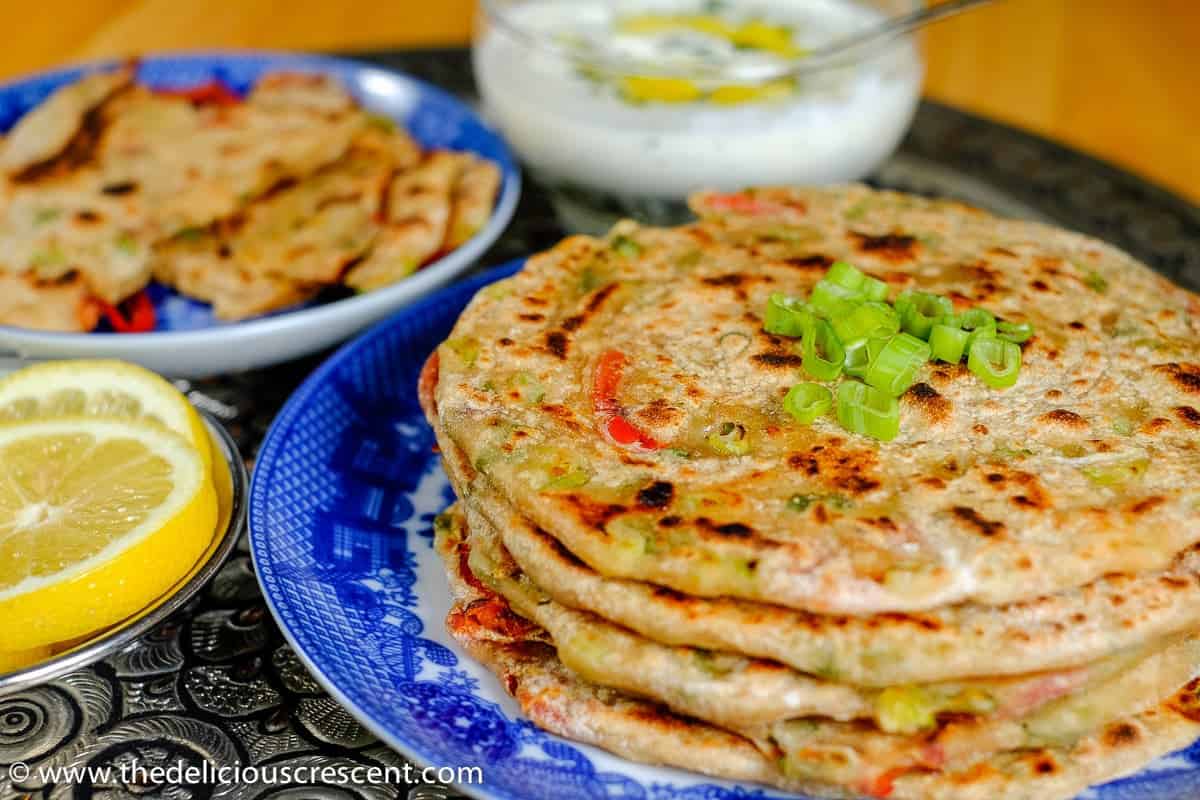 Health Benefits: Green Onions
Green onions (young spring onions) are low in calories and carbohydrates but are a rich source of vitamins, minerals and phytochemicals. They are an excellent source of vitamin K, thereby contributing to bone health. Green onions are also a good source of vitamin C.
This leafy green vegetable is actually what is harvested before letting them further grow the onion bulbs. Along with other allium vegetables, green onions contain bioactive compounds that are cancer protective.
Apart from the sulfur compounds; carotenes, flavonoids, lutein and zeaxanthin contribute to the anti cancer potential of green onions. Some of these phytochemicals are also beneficial for eye health.
Here is another flatbread recipe featuring a vegetable of the allium family - Sumac caramelized onion mini musakhan, where I discuss more about the health benefits of onions.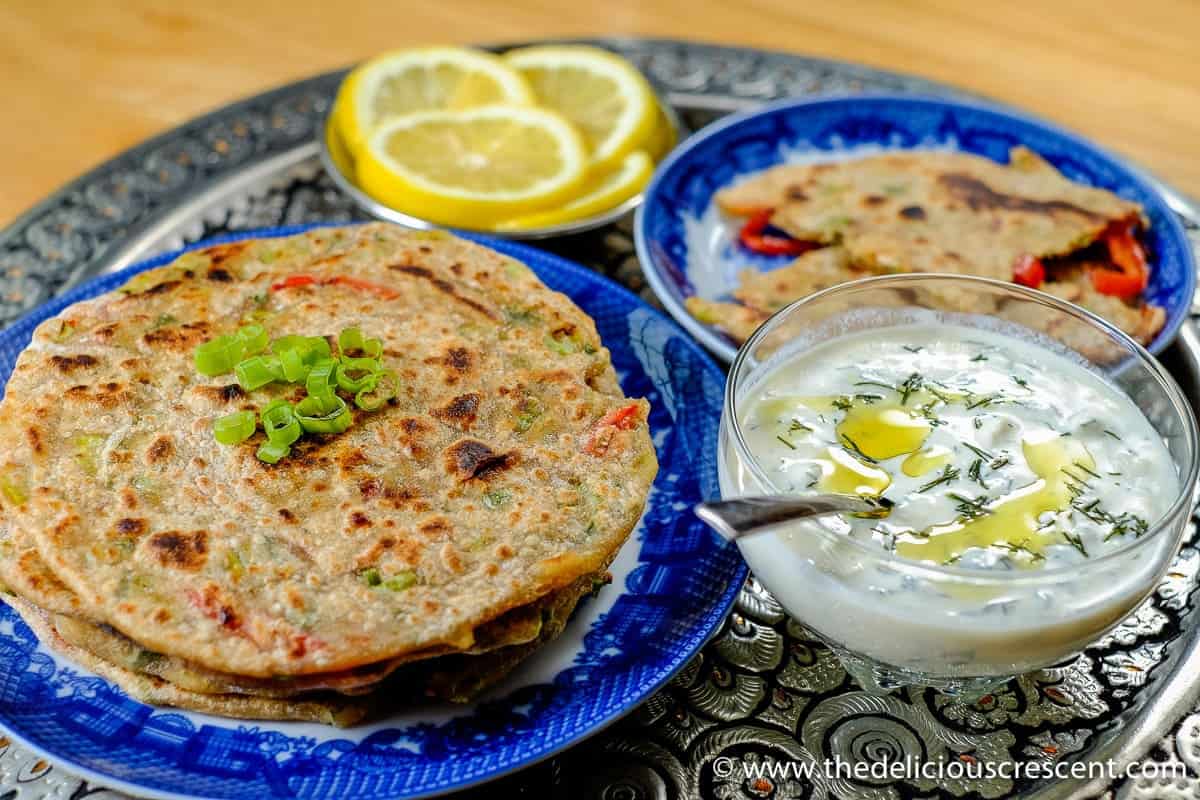 Paratha Variations
In this Spring Onion Paratha recipe I have used red bell peppers, but if you want something more pungent you may try cayenne, jalapeño, anaheim peppers etc.
Also you could use red onions, leeks or vidalia sweet onions instead of green onions. Just make sure to chop them finely and saute along with the peppers.
For cheese, I have used grated Gouda cheese, but you can substitute with similar cheese, paneer (Indian cottage cheese) or Feta cheese.
More Indian Recipes:
Other Flatbreads Recipes:
★ DID YOU MAKE THIS RECIPE? PLEASE COMMENT AND GIVE IT A STAR RATING BELOW!
Zaalouk (Moroccan Eggplant Dip)
Zaalouk is an amazingly delicious Moroccan salad or dip made with roasted eggplants. Easy to make, it tastes great with toasted bread. And gets even better the next day.
Print
Instructions
Preheat oven to 400˚F. Prick the eggplants with a fork in couple spots and place them on a parchment paper lined baking sheet. Bake for

35 to 45 minutes

until the skin turns darker and shrinks. Check foot notes for grilling, broiling or stove top options.

The eggplants should be cooked through completely in the center. To check, press the back of a fork on the eggplant. It should compress easily all the way into the center without any resistance.

Cut through the eggplant skin and scoop out the soft cooked flesh and mash it with a fork and set aside.

Chop the tomatoes into small pieces, discarding some seeds if you wish. See note below for peeled and deseeded tomatoes.

Heat 2 tablespoons olive oil in a saucepan at medium setting. Add the chopped tomatoes, minced garlic, paprika, cumin, cayenne or chili powder, ⅓ teaspoon salt and cook until tomatoes are softened, stirring in between, about

15 to 20 minutes

.

Add the mashed eggplants and cilantro. Continue to cook over low heat for another

10 to 15 minutes

, stirring occasionally, mashing it if needed, into a thick but slightly textured dip like consistency.

Stir in lemon juice and salt. Adjust as per taste, let it cool and transfer to a bowl, cover and refrigerate it overnight before serving.

Take the zaalouk from the refrigerator about

30 minutes

before serving and let it come to room temperature. Drizzle with remaining olive oil. Garnish with cilantro and red pepper flakes if you prefer.

Chunky Zaalouk: To make a chunkier but less traditional zaalouk, insert garlic cloves into eggplant and roast it in the oven at 400˚F, along with the tomatoes. Chop the eggplants and tomatoes. Add the spices, herbs, half the olive oil, salt and mash it up to desired consistency. Drizzle olive oil and serve.
Notes
Cooking Eggplants:

Grill: Roast eggplants on charcoal or gas grill for 20 to 30 minutes, turning them slowly in between, until skin turns darker and shrinks.
Broil: Cut eggplants lengthwise into halves and place the cut side down on a foil lined baking sheet. Place on the second rack and broil until skin turns darker and shrinks, about 20 minutes.
Stovetop: Peel the eggplants completely, only some stripes or leave the skin on if you don't mind it. Cut the eggplants into small pieces. Steam on high heat until soft or cook in a pan with some water until soft and mushy.

Easy Zaalouk: Combine all ingredients with ⅓ cup of water and cook it over stove top until softened. Mash it up well and drizzle olive oil.
Peeled and deseeded tomatoes: If you prefer, you can blanch the tomatoes. Cut a small cross on the surface of tomatoes and dump them in hot boiling water. After a minute, pick out the tomatoes and peel the skin, cut them into halves and deseed. Chop them into small pieces.
Use more tomatoes if you want the dip to be saucy. You may even try using a little bit of tomato paste to give it thickness.
Leftovers: Can be refrigerated for 4 to 5 days. You can freeze zaalouk for couple months. Thaw and reheat. Adjust the consistency, evaporating or adding water as needed. Check the seasoning as well.
Nutrition facts not including any added salt.
For other variations, tips and serving suggestions, scroll up the page to the blog post.
Nutrition
Calories:
77
kcal
|
Carbohydrates:
6
g
|
Protein:
1
g
|
Fat:
6
g
|
Saturated Fat:
1
g
|
Polyunsaturated Fat:
1
g
|
Monounsaturated Fat:
4
g
|
Sodium:
5
mg
|
Potassium:
280
mg
|
Fiber:
3
g
|
Sugar:
4
g
|
Vitamin A:
526
IU
|
Vitamin C:
9
mg
|
Calcium:
15
mg
|
Iron:
1
mg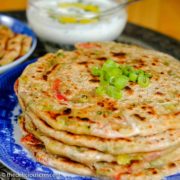 Spring Onion Paratha Stuffed
Stuffed Spring Onion Paratha is a whole grain, flavor packed, scrumptious Indian flatbread. Wholesome, with good amount of protein and fiber. Gouda Cheese, bell peppers (capsicum) and spring onions come together in this wonderful and easy flatbread. Pair it with a Walnut Chutney or a Greek yogurt dip with grated garlic and dill for a splendid nutritious meal!

Print
Course :
Breakfast, Brunch, Main Course
Ingredients
Instructions
Make The Dough
Mix ½ cup water, 1 cup flour and ¼ teaspoons salt. Then add ½ teaspoon oil and knead it for about 5 minutes into a smooth dough. I use a KitchenAid

stand mixer

to make the dough and it works great (but you would need to double the recipe for that).

Divide the dough into four portions and shape them into round balls.

Make The Stuffing
Heat two teaspoons of oil in a

skillet

and sauté the chopped red bell peppers with ginger, ajwain, green chilies and garam masala and set aside.
Make The Stuffed Paratha
Roll a dough ball into a 6 inch round disc. Sprinkle 2 tablespoons of grated cheese, 2 tablespoons of chopped green onions and 1 tablespoon of sautéed red bell peppers.


From one side roll the disc into a cylindrical shape.


Then fold it into a coil shape.


Roll it out into a 6 inch round layered bread, using a little flour for dusting as needed.

Cook The Paratha
Heat a

skillet

at medium setting. The

skillet

is ready for cooking when you can feel the heat while holding your palm 3 inches above the skillet.

Place the stuffed flat bread and allow it to cook for about 1 to 2 minutes. Flip it over and cook another 1 to 2 minutes until light golden brown.


Flip it over. Use about ¼ teaspoon of oil for each side while cooking the stuffed paratha to doneness and golden brown.


Repeat the above steps for the remaining three stuffed breads. May serve this stuffed paratha with yogurt dip, chutney, pickles or ketchup.

Notes
The dough can easily be made in a stand mixer, but you may need to double the quantity of the ingredients, depending on the size of the stand mixer.
Durum whole wheat flour (Atta), ajwain (carom seeds) and garam masala are available at Indian grocery stores or online.
Nutrition
Serving:
1
Paratha
|
Calories:
206
kcal
|
Carbohydrates:
26
g
|
Protein:
8
g
|
Fat:
9
g
|
Saturated Fat:
3
g
|
Cholesterol:
11
mg
|
Sodium:
247
mg
|
Potassium:
242
mg
|
Fiber:
5
g
|
Sugar:
2
g
|
Vitamin A:
1534
IU
|
Vitamin C:
50
mg
|
Calcium:
93
mg
|
Iron:
2
mg
Save
Save