These chicken koftas are different, so delicious and full of aromatic spices. You can grill, broil, fry or bake these succulent meatballs. Serve it with rice, in a curry sauce or as wraps for a great weeknight dinner.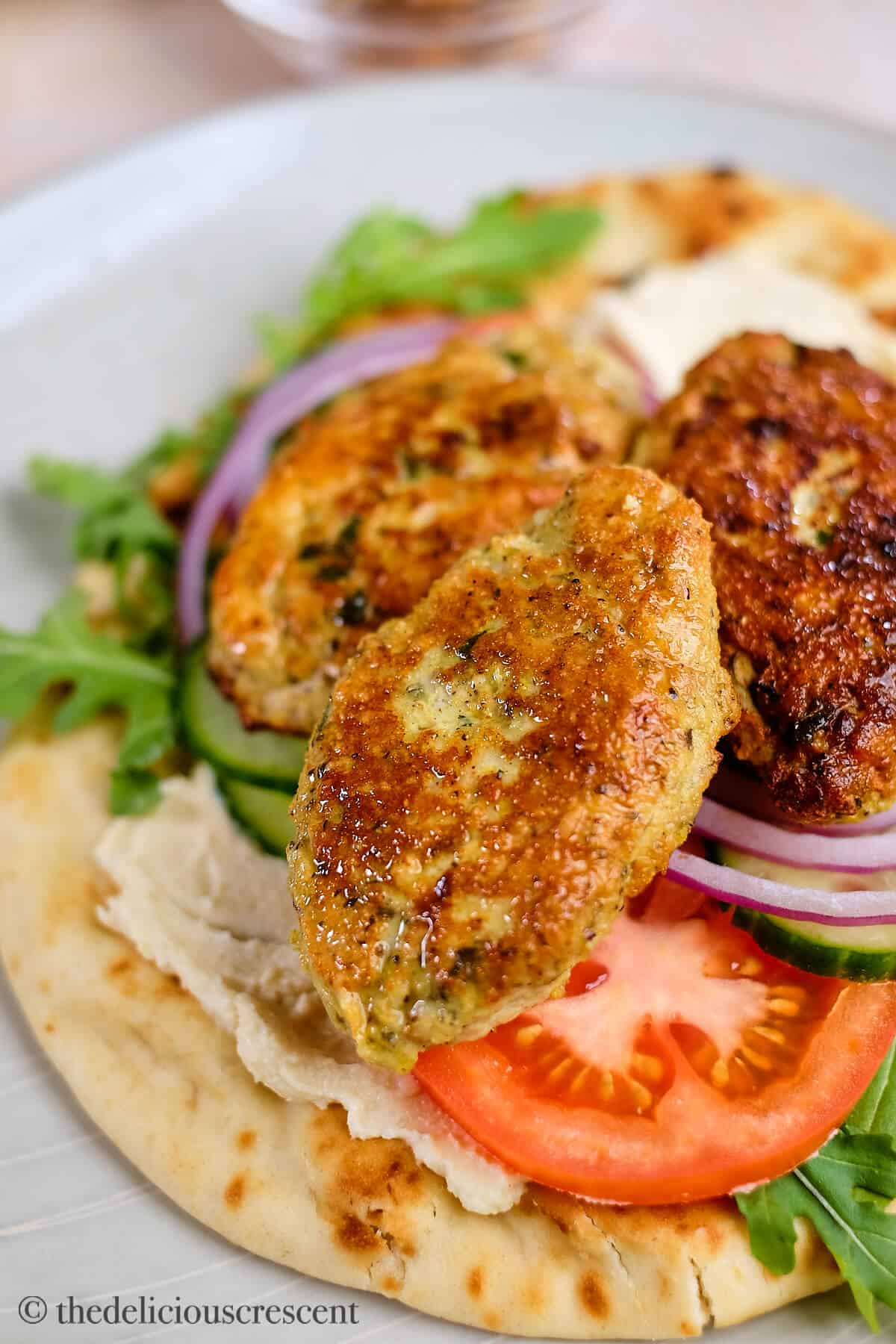 Chicken Koftas With a Difference
Literally everyone likes chicken and everyone likes meatballs. Why? Because they are easy, affordable and liked by most people. And yet how often we find chicken koftas (aka meatballs) that are dull, dry, tasteless and boring.
But not anymore, with these amazing chicken koftas that are juicy and packed with flavor. I teach you so many fine details and tricks to master the techniques to serve the best chicken koftas ever to your family and friends.
What is Chicken Kofta?
Koftas are basically meatballs. From eastern Europe to the Indian subcontinent, the word 'kofta' is used to refer to meatballs made with ground meat, aromatics, spices and herbs. And in this case, we are making it with ground chicken so we call them chicken koftas.
The Flavors
For the flavor profile, I decided to go with Indian style rather than middle eastern or Mediterranean, because chicken is so much milder in flavor than red meat. And therefore it takes on bold flavors beautifully.
Although middle eastern and Mediterranean koftas are tasty, the Indian style recipe here uses more flavor elements such as ginger, chili peppers, garam masala, turmeric, etc, which gives the chicken koftas a more robust and bolder taste. Try it to taste the difference!
Especially, these extra flavor elements are very useful when making koftas using less oil on stove top or under broiler. When grilling, we have a better advantage with fast cooking and browning that takes place at high heat (Maillard reaction) and imparts delicious complex flavors.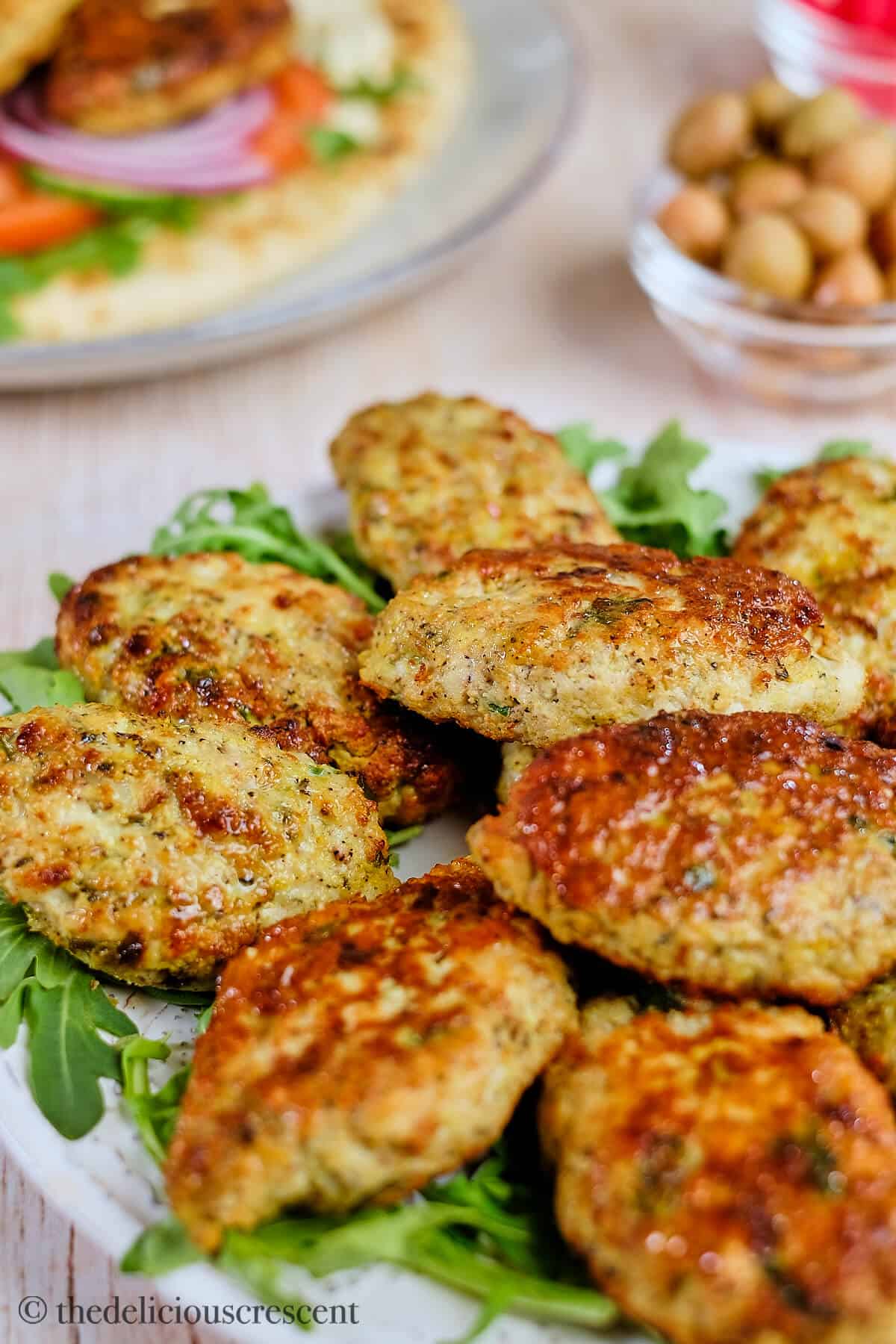 The Cooking Technique
Now you can take these chicken koftas and grill them to make chicken kofta kabobs. So, essentially when we grill meat, we refer to it as kabobs. Such as the ground beef kofta kabobs prepared to make this kofta curry. But if we grill chicken meat chunks, we simply refer to it as chicken kabobs.
The cooking technique is as important as the flavor elements used to make the chicken kofta mixture. Often, many Indian kofta recipes overcook the meat, stripping the juices and resulting in dry meatballs. So the cooking time and temperature is very important as I further explain below.
Ingredients for Chicken Kofta
Here are some useful notes about the ingredients.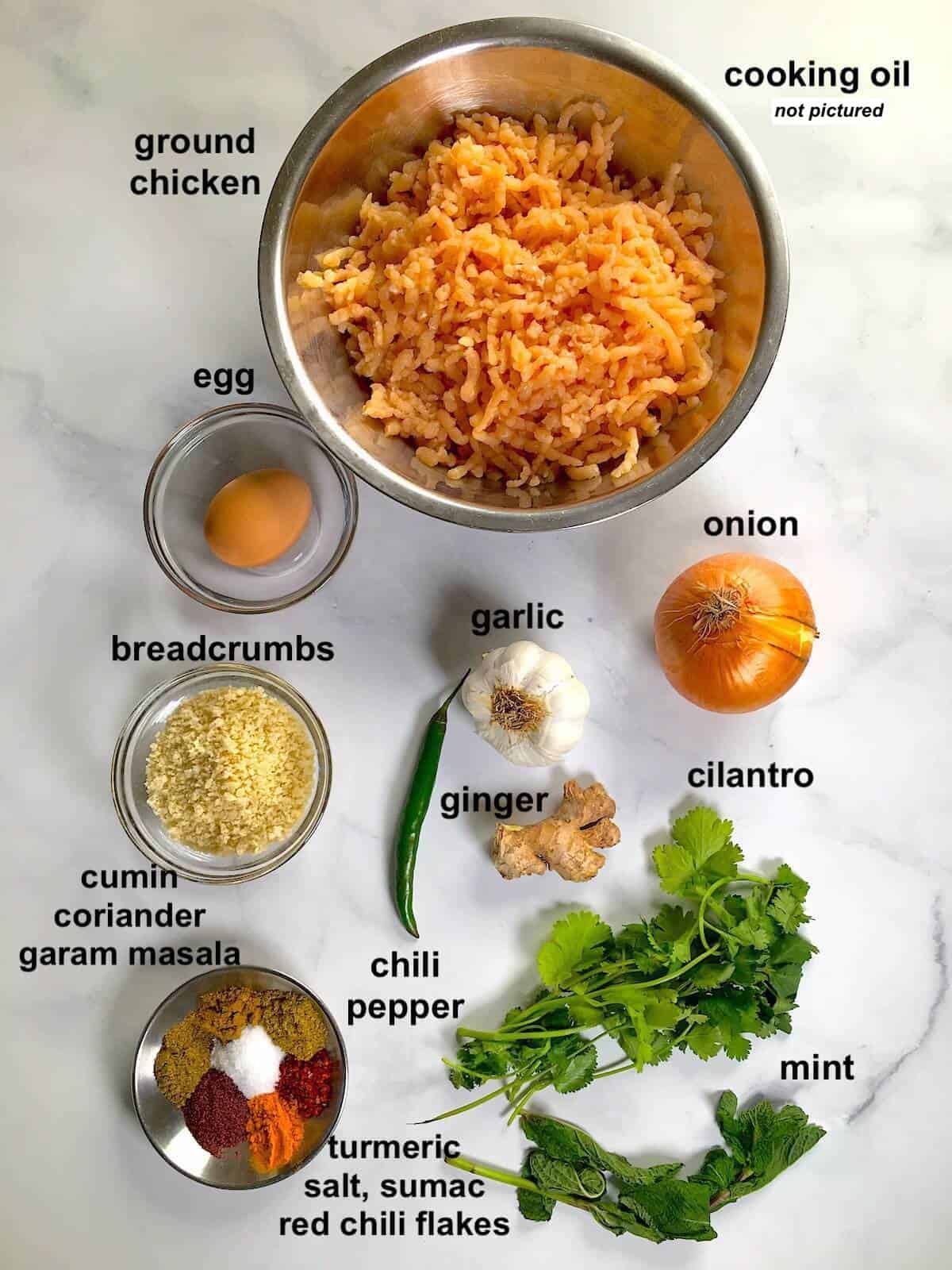 Ground Chicken: Use thick ground chicken rather than very finely ground chicken for better texture and control in retaining the juices. I grind the meat using my KitchenAid meat grinder plate disc with larger holes.
Onion: This is mainly for flavor. I grate the onions and squeeze the juices as much as possible, because ground chicken is more tender. So we don't need more juicy ingredients, unlike the red meat koftas where I may actually retain some onion juices for better consistency and juiciness.
Chili Peppers: This adds a nice flavor along with some heat. Remove the seeds to lower the heat. Serrano peppers are hot and Jalapeños are milder.
Herbs: I use a combination of cilantro and mint for that Indian touch. You can use fresh mint, but I often like to use dried mint. For a variation, try dill weed instead of cilantro.
Spices and seasonings: Garam masala, ground cumin, ground coriander, turmeric and salt. I use sumac to add a hint of tart taste. And red chili flakes for heat with texture. But you can use Aleppo pepper for less heat without compromising the flavor.
Sumac and Aleppo pepper are not typical in Indian cooking, but are my additions. You can try using some crushed cumin seeds and coriander seeds for texture and flavor. This approach is used in some Indian kebab recipes.
Egg: This is mainly for binding the ingredients. You can use a whole egg or two egg whites. The yolk does add some fat to chicken meat as it is relatively lean. In the recipe here, we use oil to add fat, so using only egg whites will also work.
Oil: We need this as the cooking medium, to impart flavor and juiciness. Chicken has less fat than red meats, so use the right amount of oil while frying for juicy koftas. And we need some oil for brushing while grilling and broiling. I use avocado oil.
Breadcrumbs: I use Panko breadcrumbs for giving the koftas body, tender texture and binding.
How To Make Chicken Kofta
**Brief overview here. Full recipe is at the end of post.
Mix all the kofta ingredients until just combined.
Divide the mixture into 8 portions and shape them into smooth round, oval or cylindrical koftas, about 1 to 1½ inch thick.
Shallow fry at medium high heat, broil at high heat or grill the koftas. Read more about cooking time and temperature below.
Serve immediately for optimal juiciness, flavor and texture. When it is fresh, the surface is crisp and the inside is juicy.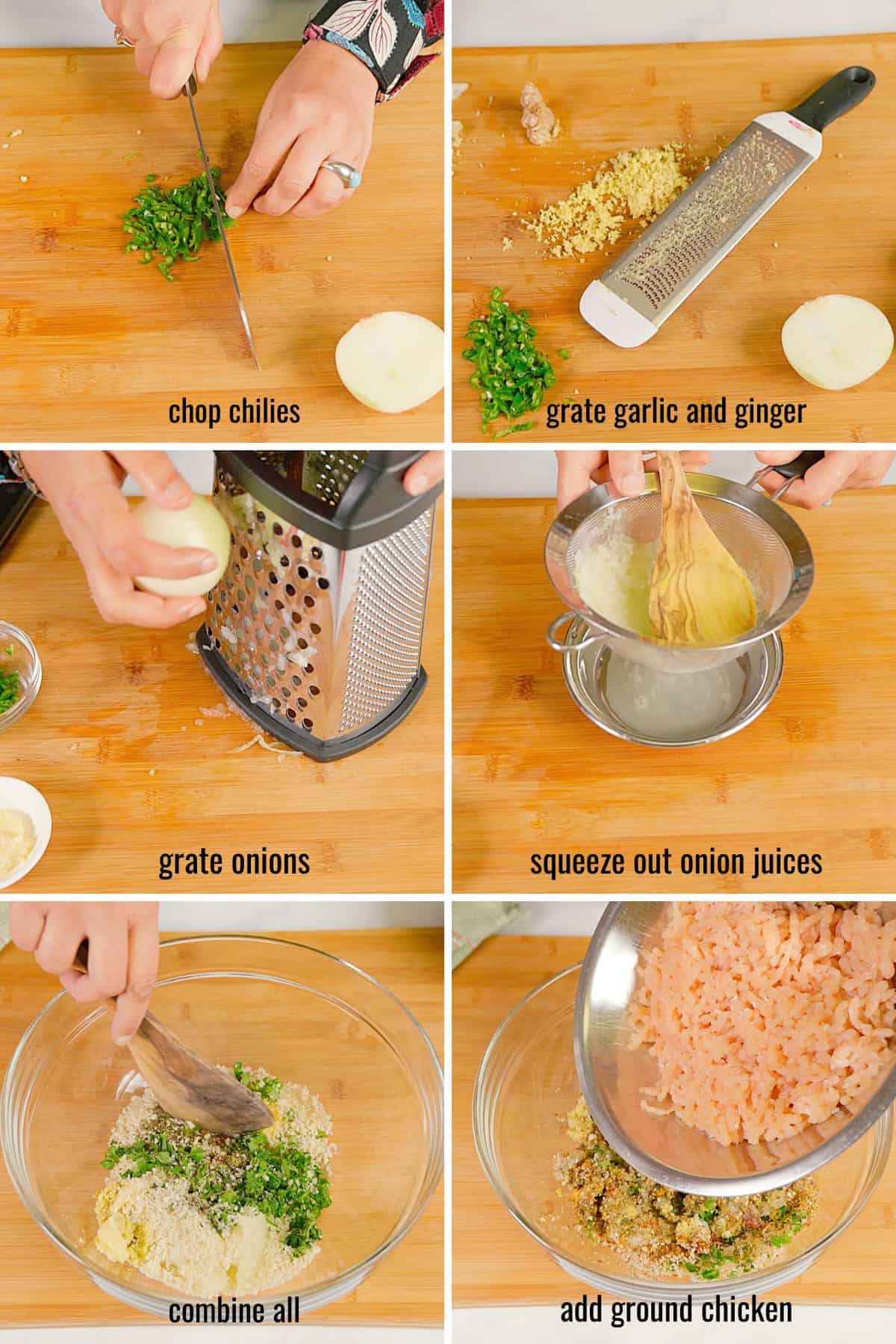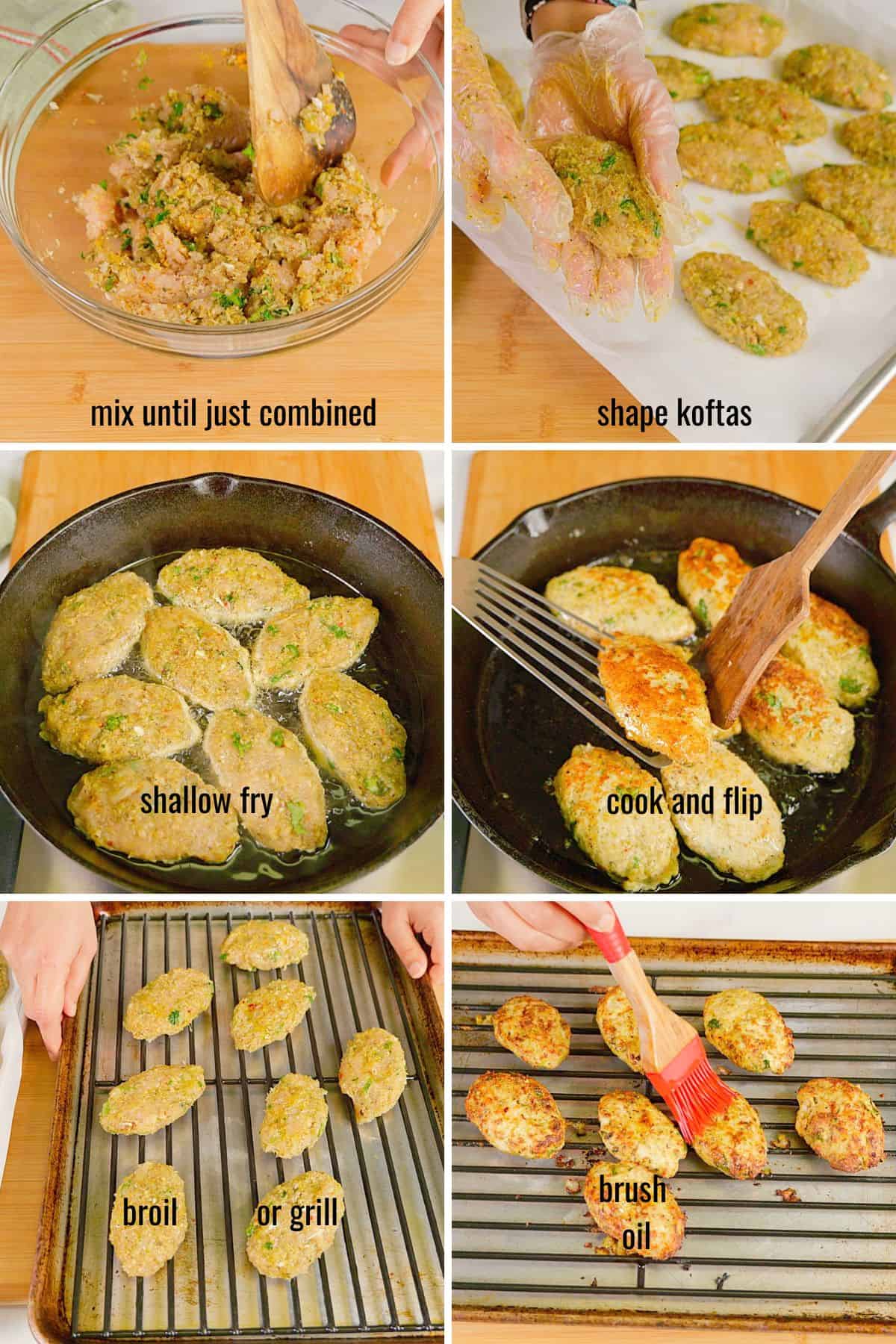 Top Tips
Keep kofta mixture moist like dough. Squeeze out juices from grated onions very well before adding. Chicken koftas tend to be softer than other meats, so we don't need to add extra juices.
Moisten hands with water or use food-safe gloves to shape the koftas easily.
Shape them into 1 to 1½ inch thick patties. Thickness influences juiciness. But too thick can leave it uncooked inside.
Use skewers only when grilling. And try metal skewers, as they heat the koftas from inside as well. For stove top and oven methods, skip using wooden skewers.
We need optimal amount of oil for juicy koftas and easy release of the patties. While broiling and grilling, brush oil on both sides of the koftas as well as on the broiler pan and grill grates.
Cook koftas quickly and at high heat. About 4 minutes on each side. Longer cooking time means the temperature is not ideal, so the inside of the kofta will dry out.
When shallow frying, use enough oil to coat one side of the patties and heat sufficiently at medium high in a cast iron skillet. This will ensure quick cooking and minimal oil absorption.
Space apart the koftas so that it is easy to flip.
Generally speaking, fried koftas tend to be a bit juicier than the broiled version, unless you have an awesome oven. But grilled koftas will be the most juicy, while using less oil.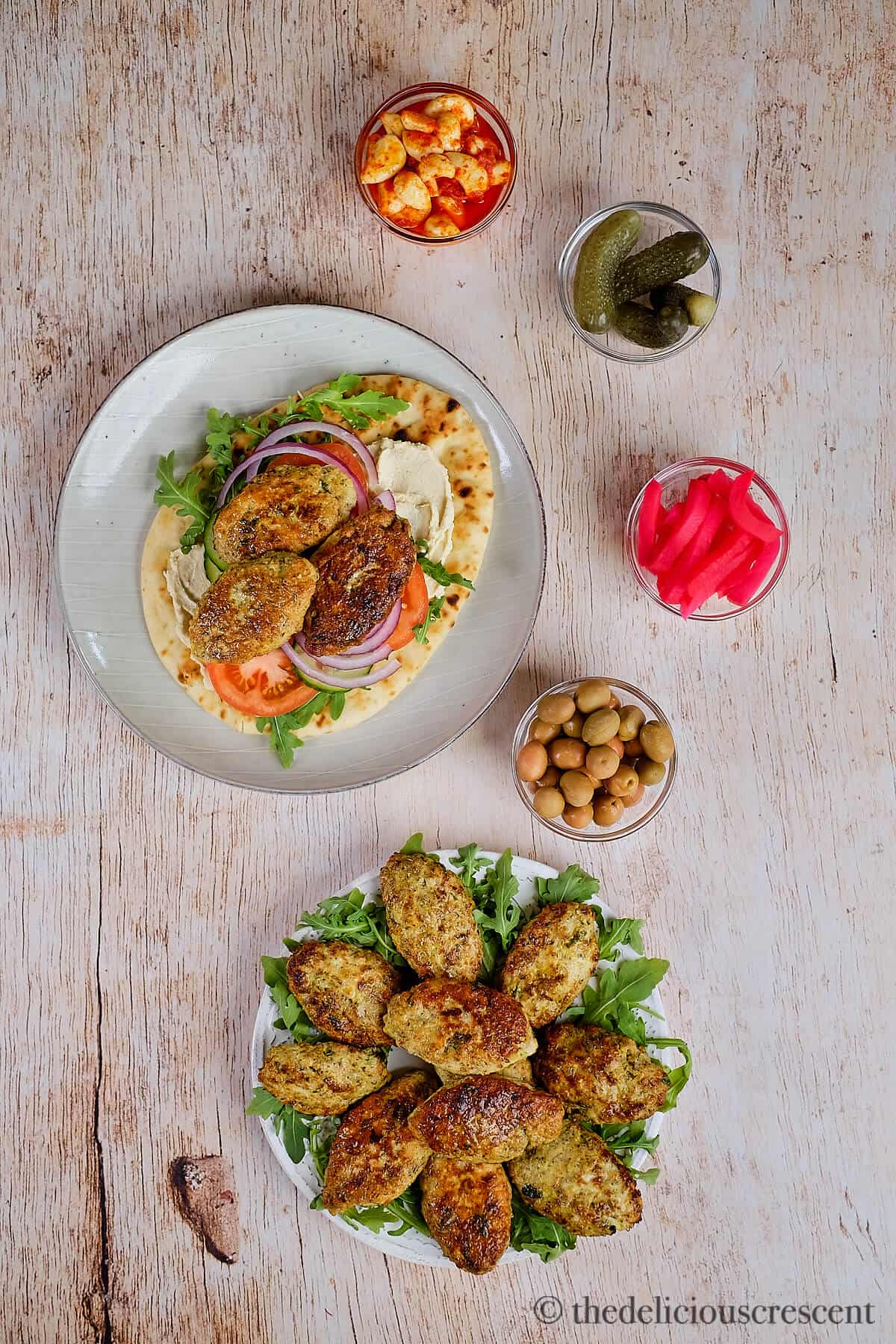 How To Serve
These can be served in the traditional way or used as meatballs in other recipes.
With Rice or Bread (dill rice, jeweled rice, whole wheat naan) along with roasted vegetables (oven roasted okra, Asian roasted eggplant), chana dal, tomato cucumber salad, pickles, olives, etc.
Sandwiches: You can fill pita pockets with koftas, vegetables, dressing and pickles. Or make wraps with lavash.
Appetizers: Dip koftas in bread crumbs and shallow fry. Make them plain or stuff them with a small piece of mozzarella cheese to make an interesting snack.
Non traditional way would be to re-purpose these in other recipes where you can use meatballs, such as with pasta.
Meal Planning and Storage
Chicken koftas are great for a make ahead menu item. Make the mixture one or two days ahead and refrigerate.
Freeze meatballs raw or cooked, in freezer-safe bags, with parchment paper in between layers. Thaw and cook as per instructions. Refrigerate cooked koftas for 4 days or freeze them for 2 to 3 months.
You can thaw and reheat on stove top, in microwave or oven, with a sprinkle of water.
Thaw previously cooked and frozen koftas and place them on top of cooked rice and reheat for perfectly moist koftas.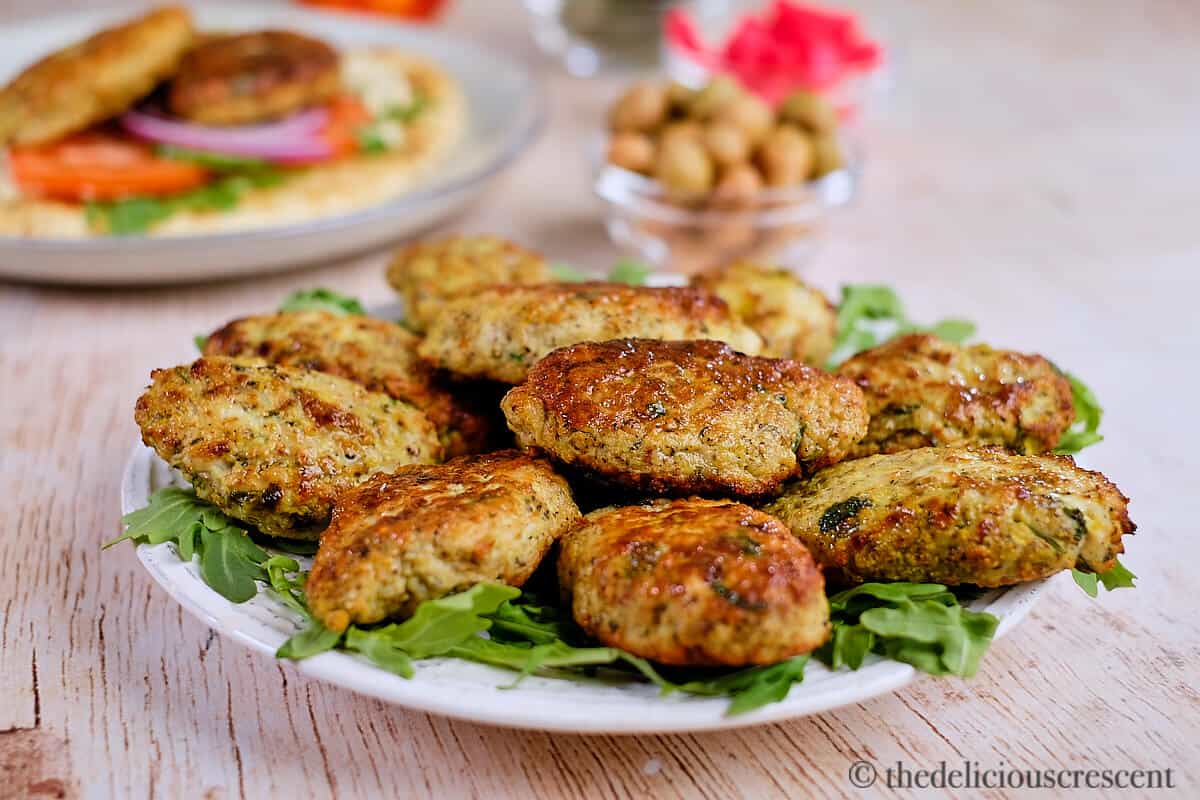 Recipe FAQs
Can I cook koftas on indoor grill?
Yes, you surely can make these in an indoor grill. Just be sure to look at the cooking tips we use for keeping the koftas juicy.
Can I make chicken kofta mixture using a food processor?
Place chicken thigh chunks, finely chopped onions/herbs and other ingredients in a food processor. Use short pulses to process the mixture until just combined, making sure to retain some texture.
How to make chicken kofta curry
Make the curry sauce as we did for this kofta curry. Broil, grill or shallow-fry chicken koftas, add to the sauce and simmer for 10 minutes.
Is chicken kofta healthy?
It really depends on how it is prepared. Grilled or broiled chicken koftas are reliably healthy. Whereas, when shallow frying, it would be important to maintain the oil absorption at a minimum to keep them light.

Chicken is an excellent source of protein and a great alternative to red meat. It also provides niacin, phosphorus, selenium and vitamin B6. These koftas are low carb, high protein, dairy free, nut free and soy free. Check out the variations for gluten free and egg free options below.
Variations
Gluten free: Replace the breadcrumbs with 2 tablespoons of chickpea flour (preferably made with roasted chickpeas).
Egg Free: Skip the egg and use more breadcrumbs or chickpea flour if needed for binding.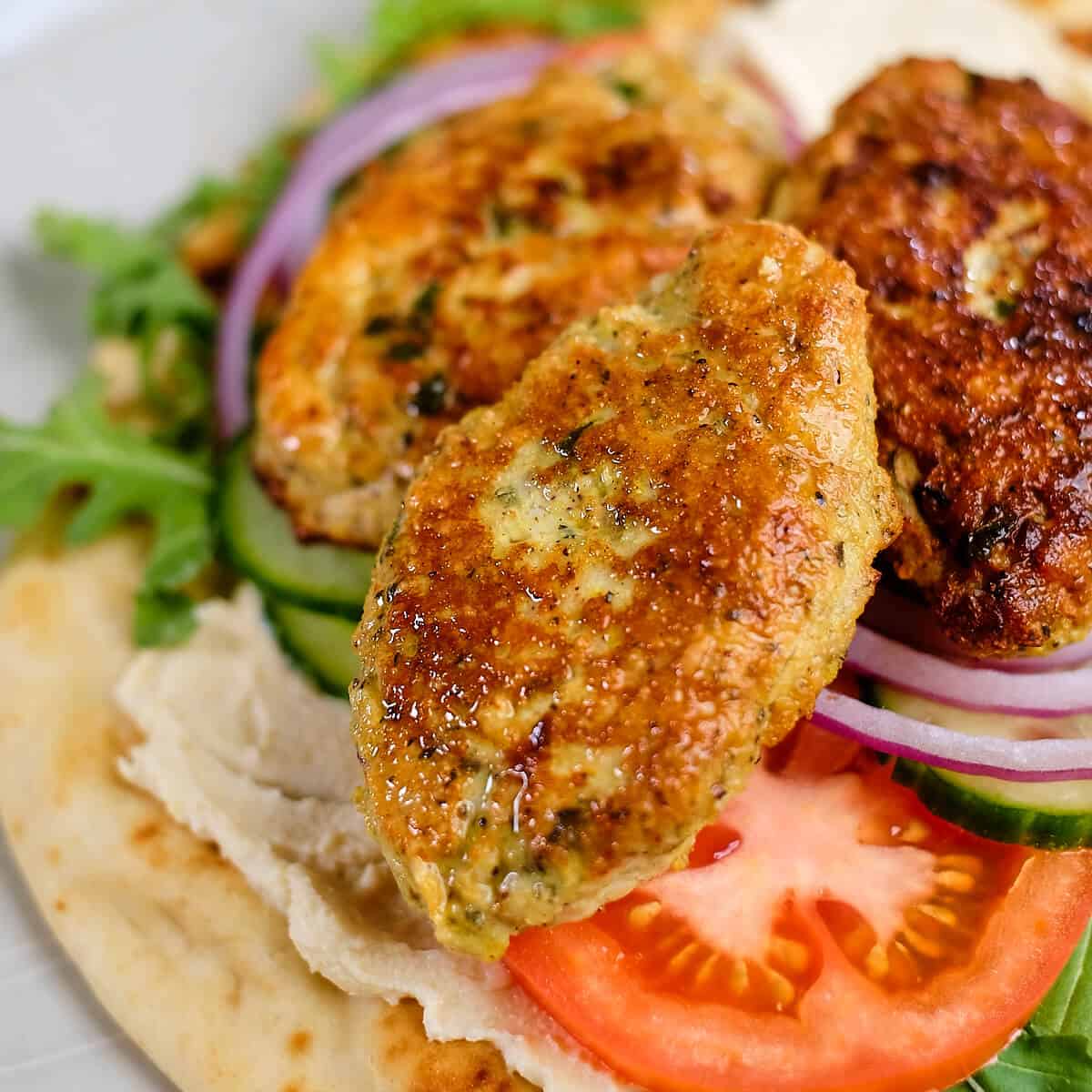 More Ground Meat Recipes
★ DID YOU MAKE THIS RECIPE? PLEASE COMMENT AND GIVE IT A STAR RATING BELOW!
Chicken Kofta Recipe
These chicken koftas are different, so delicious and full of aromatic spices. You can grill, broil, fry or bake these succulent meatballs. Serve it with rice, in a curry sauce or as wraps for a great weeknight dinner.
Print
Save
Saved!
Ingredients
1

pound

ground chicken

preferably from chicken thighs

1

small onion

grated, ⅓ cup, squeeze out the juices well

1

large egg

first use half and then as needed

4

tablespoons

panko bread crumbs

or 2 tablespoons chickpea flour, as needed

3

tablespoons

chopped cilantro

1½

tablespoons

chopped mint

or 2 teaspoons dry mint

1

chopped chili pepper

jalapeño, cayenne or serrano, remove seeds for less heat

1½

teaspoons

grated garlic

1½

teaspoons

grated ginger

¾

teaspoon

salt

½

teaspoon

garam masala

½

teaspoon

ground cumin

½

teaspoon

ground coriander

½

teaspoon

sumac

½

teaspoon

red pepper flakes

or red chili powder

¼

teaspoon

turmeric

¼

cup

avocado oil

for frying
Instructions
Make Koftas
In a medium bowl, mix all the ingredients for koftas until just combined. Do not knead or overmix. Chill the mixture.

Shape 8 smooth and oval koftas, about 1 to 1½ inch thick.

Tip: If the mixture is sticky, wet your hands with some water.

Choose any one of the cooking methods below.
Shallow Fry
The koftas can be pan fried in two batches in a cast iron skillet that has enough room for four patties.

Heat 3 tablespoons of oil in the skillet at medium high. Once the oil is hot enough, slide the koftas and lower the heat to medium.

Shallow fry one side and flip it before it becomes too brown. Then you may flatten the patty slightly, using a flat flip spatula. Let the other side brown a little. Flip it again and fry both sides until dark brown.

So, you will end up frying both sides twice. It should take about

4 minutes

cooking time for each side.

Add remaining oil to the skillet and repeat with the other koftas.

Once done, transfer to a plate lined with paper towels.
Broiling
Brush some oil on a broiler pan (or a baking sheet with a rack insert) and arrange the patties on it, spacing them apart. Then brush some oil on the koftas.

Place the pan in the top rack about 5 inches away from the broil element.

Broil meatballs on high for about 

5 to 6 minutes

, flip and broil for another

3 to 4 minutes

 until nicely brown.

The broiling time may differ with each oven, so be sure to check initial progress.
Grilling
The koftas can be grilled using an indoor griddle, outdoor charcoal or gas grill. Make sure to grease the grates well. Arrange the koftas on the grill and cook each side for about

4 to 5 minutes

, flipping in between. Tip: Refrigerate koftas while heating up the grill.
Serve
Enjoy the koftas with rice or flat bread, salad and pickles.
Notes
Use grated onion or grated zucchini for soft and juicy meatballs.
Meatballs should be broiled or grilled quickly at high temperature to only brown the meat well on the exterior. If it takes too long, then the meatballs can become dry.
Replace the breadcrumbs with chickpea flour to make gluten free koftas.
Wooden Skewers:  If using these, soak them in water for at least 15 minutes prior to use. This will help prevent the skewers burning in the oven.
Air Fryer: You can also use an air fryer to cook these just as in an oven.
Meal Planning/Storage:

Make the mixture one or two days ahead and refrigerate.
Freeze koftas raw or cooked, in freezer-safe bags, with parchment paper in between layers. Thaw and cook as per instructions.
Refrigerate cooked koftas for 4 days or freeze them for 2 to 3 months.
Thaw and reheat in microwave, stove top or oven, with a sprinkle of water.

Nutrition facts adjusted for approximate amount of oil.
Check blog post above for more tips, variations, and FAQs, etc.
Nutrition
Calories:
150
kcal
|
Carbohydrates:
6
g
|
Protein:
12
g
|
Fat:
9
g
|
Saturated Fat:
2
g
|
Polyunsaturated Fat:
2
g
|
Monounsaturated Fat:
5
g
|
Trans Fat:
0.04
g
|
Cholesterol:
69
mg
|
Sodium:
319
mg
|
Potassium:
350
mg
|
Fiber:
1
g
|
Sugar:
1
g
|
Vitamin A:
119
IU
|
Vitamin C:
2
mg
|
Calcium:
25
mg
|
Iron:
1
mg
More Chicken Recipes