Chocolate almond cake is so decadent and to-die-for. Intensely chocolatey with a hint of almond flavor, this cake is wrapped in a layer of raspberry jam and topped with a smooth ganache icing. A must-try recipe for all chocolate lovers!
Almond Flour Chocolate Cake
This popular gluten-free chocolate cake is known by a variety of names - Torta Caprese, Queen Mother's Cake (with extra icing) and such. The cake itself is easy, although it does take time to make. And is absolutely worth it.
I have tried some recipes and reviewed many others. Some of them resulted in a dry cake, too dense, fudgy, excessively collapsed in the center and/or too much cracking on the top.
So I decided to explore ways to improve the cake structure, its' final presentation and enhance the flavor. The result is an amazing cake with a complex flavor - combination of chocolate, almond, raspberry and coffee.
My testing led to an improved cake preparation method. Just a hint of almond extract added to the batter rounded off the almond flavor. Brushing raspberry jam on the cake added a nice flavor, sweetness and moisture. Adding honey in the ganache enhanced the texture and shelf life of the icing.
Ingredients
Almond Flour, Baking Chocolate, Eggs, Butter, Sugar, Heavy Cream, Raspberry Jam, Coffee Powder, Almond Extract, Honey, Salt, Lemon Juice, Baking Soda
Eggs: Use large eggs that are at room temperature. The size of the eggs matters and if that is changed it will impact how much of the dry ingredients will be needed. Separate the eggs carefully, making sure to use clean bowls and utensils. Even the smallest drop of yolks can interfere with whipping of egg whites.
Raspberry Jam: I used a jam made with fresh berries and fruit juices. You could try orange, apricot, cherry or strawberry too. The jam should be smooth, not chunky.
Honey: Use 2 tablespoons of honey if making the ganache with bittersweet chocolate.
Coffee Powder: This intensifies the chocolate flavor. You may use decaffeinated coffee powder, if you prefer. Skip or reduce it if using bittersweet chocolate for ganache.
Almond Extract: Just a hint of this flavor brings out the nice almond taste. If you don't like almond, try vanilla or orange zest and use a jam that complements those flavors.
Measurements
Measuring the ingredients correctly is very important for baking. Invest in a kitchen scale for baking. Cakes such as this turn out better with metric measurements.
What Type of Chocolate to Use
Use best quality baking chocolate, such as Ghirardelli. Do not use eating chocolate as it does not melt very well.
For making the ganache, my personal preference is dark chocolate (< 60% cocoa). I find semi-sweet chocolate to be ideal. Bitter sweet chocolate has a higher percentage of cocoa and may be too bitter for a cake.
High quality chocolate chips, such as Nestle or Ghirardelli are an option, but baking chocolate bars are the best.
Almond Flour Vs. Ground Roasted Almonds
Almond flour is an easy and convenient solution for making a traditional almond chocolate cake. However, some people with a discerning taste, prefer making this cake using freshly ground almonds.
Toast almonds at 350 degrees F for about 10 minutes until light golden and fragrant. Cool the nuts and combine with ⅓ of the sugar in the recipe. Then process the almonds until very fine, but stop before it starts to become butter. The sugar helps to keep the mixture dry and free flowing.
Step By Step Overview
*Full recipe at the end of post.
Whip the egg whites with sugar until stiff peaks form. I love my KitchenAid stand mixer for this.
2. Melt chocolate with butter.
3. Whip egg yolks until thick, pale and stable. Stir in the melted chocolate-butter mixture.
4. Add almond flour in 3 batches, adding just enough whipped egg whites to soften batter. Carefully fold in remaining egg whites into the batter.
5. Transfer batter to springform pan and bake.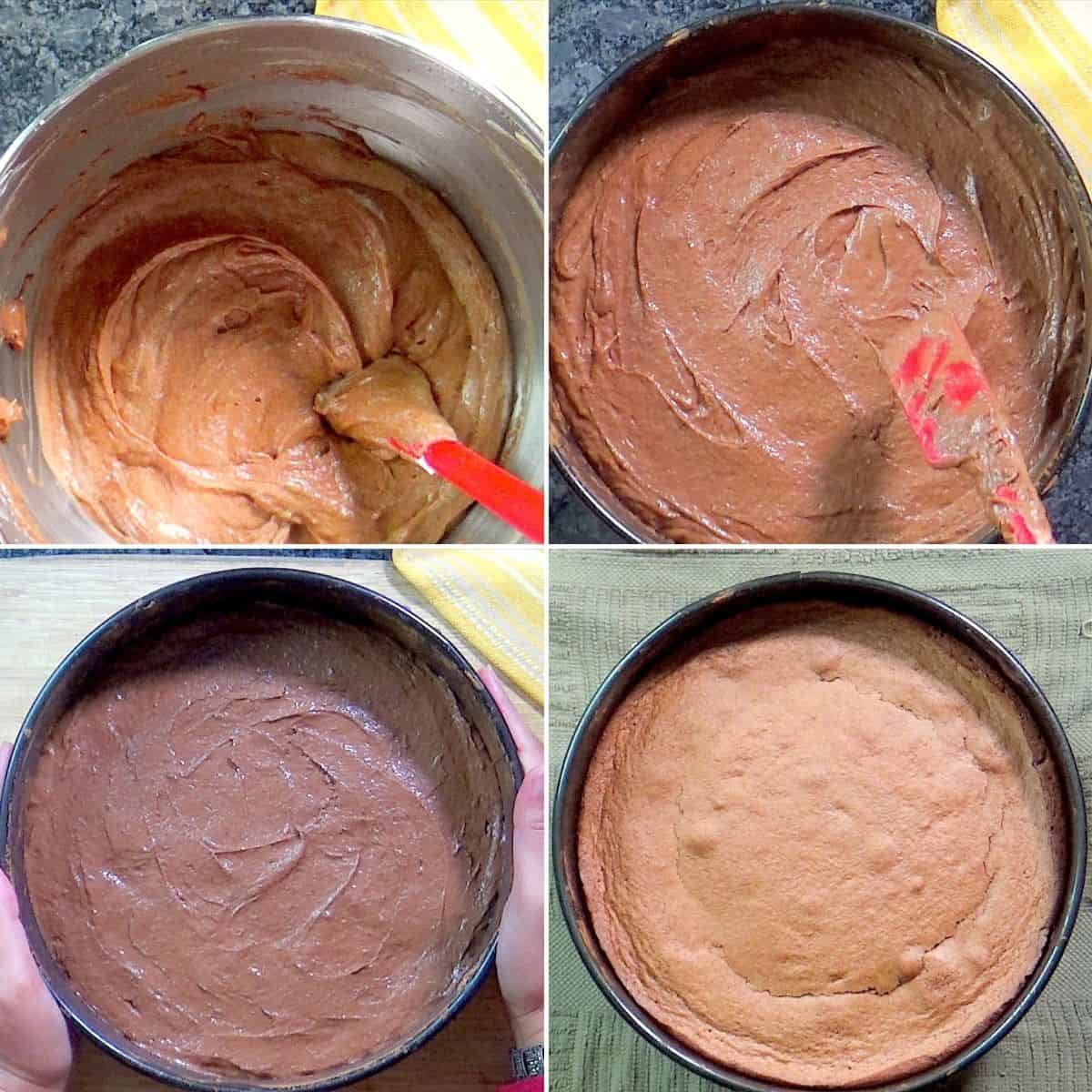 6. Make jam syrup and chocolate ganache.
7. Level off the cake on the top using a sharp long knife. Invert it and place on a cake plate. A nice cake lifter comes in handy for this.
8. Spread jam syrup and followed by ganache icing. An offset spatula is useful for this.
9. Decorate with chopped almonds, fresh raspberries and chocolate curls.
How to Make The Best Ganache
Choose the chocolate according to tips mentioned above.
Chop the chocolate very small and do NOT let the cream come to a rolling boil. Stir the ganache with a wooden spoon or spatula.
If you do use bittersweet chocolate, I would add an extra tablespoon of honey for the ganache recipe and also increase the amount of heavy cream to 1 cup.
Adding a little bit of honey improves the taste, texture, appearance and keeping quality of the ganache for this recipe.
Better Leavening and Cake Structure
To get optimal leavening and structure for the cake I whipped the egg whites and yolks separately. The egg whites were whipped to stiff peaks, trapping a lot of air, but also making it a bit more stable. That alone would not be sufficient to support the heavy ingredients in this recipe.
For best results, I also whipped up the yolks with some sugar. That helped trap even more air. The sugar makes the egg foam more stable and sturdy. This step gives the cake crumb a tender texture, while strengthening the cake batter. I also added a little bit of baking soda.
These alterations gave me a cake that didn't sink in the middle or crack a lot on the top, unlike most other almond flour chocolate cake recipes.
Storage
You can store it covered with a cake dome, at room temperature for about 3 days. Ganache icing works best in the cooler months of the year. You can refrigerate the cake for a week or as per the expiry date for the cream used. This cake freezes very well. Just thaw to room temperature and enjoy it.
Make Ahead
The cake can be made a day ahead, but peel the parchment paper only before icing it.
Nutrition Facts
This is a gluten free, soy free and vegetarian cake. It is pretty rich, but even a small slice is so satisfying. Serve it with lots of fresh raspberries.
You will end up using only about ⅔ to ¾ of the icing, as the rest drips off the cake. Even that is quite rich. This cake can also be enjoyed without the icing.
You can use the leftover ganache to make truffles. And if you like truffles, try my healthier avocado truffle version too.
If you want to lower the amount of butter, you may be able to use 4 ounces butter plus 3 tablespoons oil for the cake batter.
More Chocolate Based Recipes
★ DID YOU MAKE THIS RECIPE? PLEASE COMMENT AND GIVE IT A STAR RATING BELOW!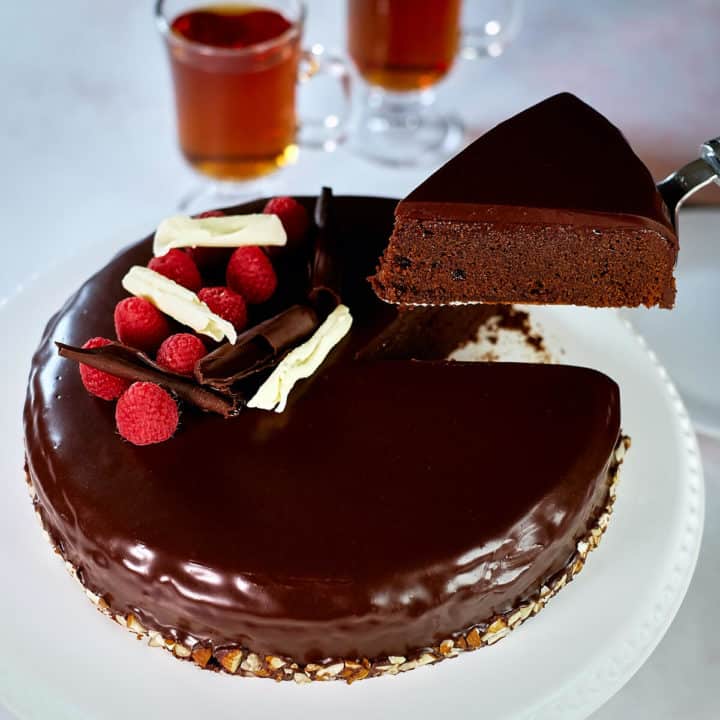 Chocolate Almond Cake
Chocolate almond cake is so decadent and to-die-for. Intensely chocolatey with a hint of almond flavor, this cake is wrapped in a layer of raspberry jam and topped with a smooth ganache icing. A must-try recipe for all chocolate lovers!

Print
Cuisine :
American, European
Ingredients
Instructions
BAKE THE CAKE
Prep Baking Pan: Preheat the oven to 350°F. Prepare a 9-by-3-inch springform pan by applying butter to the sides and bottom of the pan. Fit a round parchment paper in the bottom and apply butter on it again. Dust the sides of the pan with cocoa powder if needed. Set it aside.

Whip Egg Whites: Take a stand mixer with clean bowl and attachments. Add egg whites, salt and lemon juice in the bowl and whisk at low speed until foamy. Gradually add half of the sugar. Increase the speed and continue to beat until the whites hold stiff peaks. Do not over beat.

Refrigerate: Transfer the whipped egg whites to another clean bowl and store in refrigerator while proceeding with the next steps.

Melt chocolate with butter in a bowl set over a saucepan with simmering water. Cover until melted partially, then uncover and stir until fully melted and smooth. Stir in almond extract. Remove from heat and let it cool until tepid or room temperature.

Whip Egg Yolks: Take egg yolks and remaining sugar in the stand mixer bowl and whisk at low speed until foamy. Increase the speed and whip the mixture into a pale, thick and stable foam.

Add Chocolate: On low speed, gradually add the melted chocolate-butter mixture to the whipped egg yolks, making sure it is fully incorporated.

Make Batter: Combine almond flour and baking soda. Then sift it into the chocolate-butter-yolk mixture in 3 batches, adding whipped egg whites only as needed, to lighten up the batter. Finally fold in all the whipped egg whites evenly, scraping the bottom of bowl, until incorporated. Do not fold or stir excessively.

Transfer the batter into the prepared pan and level it off with a spatula. Tap the pan and rotate it briskly from one side to another to even out the batter.

Bake for

40 to 50 minutes

, until a cake tester inserted comes out clean. The cake may crack a bit on the top and that's ok.
CAKE ASSEMBLY
Remove the cake from oven and let it cool for

50 to 60 minutes

. Gently release the ring and allow the cake to cool completely.

Level Cake: The cake will not sink too much in the middle. However, using a long and sharp knife, cut the edges if needed to make it level.

Invert Cake: Place a small flat plate or cake lifter over the cake and invert it carefully and slide it on a cake plate that has been lined with four strips of parchment paper (3 by 12 inches) on four sides and overlapping at the corners. The cake is now upside down. Remove the paper lining on the top of the cake.

Make sure that the paper strips are all around the cake to keep the icing off the plate. You may use a cake-decorating turntable or a lazy susan, if you wish.

Raspberry Jam Syrup: Heat jam in a small sauce pan with 1 tablespoon of water and reduce it to very thick honey like consistency. Pour it over the cake and spread it on top and sides.

Ganache: Heat the cream in a medium saucepan at medium heat just until it begins to boil. Add the chopped chocolate and coffee powder. Stir for one minute and remove pan from heat. Then stir until fully melted and smooth. Add the honey. Let it stand at room temperature, uncovered, stirring in between, for

10 to 15 minutes

, until it reaches a thick pouring consistency. Watch this stage carefully, so that it doesn't become too thick to spread.

Icing: Pour the ganache slowly over the top of the cake, starting in the middle. Gently swirl a bit to let the icing disperse on top and trickle a bit on the sides of the cake (the icing on the sides should be a much thinner layer than the top). You may not need to smooth the ganache on the top if done swiftly but gently. If needed, smooth the top using a long metal spatula. Then smooth the sides.

Remove the strips of parchment paper carefully. Decorate with fresh raspberries and chocolate curls.
Notes
Bittersweet Chocolate for Ganache: Use 2 tablespoons honey while making the ganache. Skip or reduce the coffee powder.
Measurements: I have listed ingredients both in American cups and metric measures (weight). And weighing the ingredients is more precise.
Using Toasted Almonds: Toast the almonds at 350 degrees F, in a single layer on a baking sheet for 10 to 12 to minutes, until light golden and fragrant. Set aside to cool. Process the almonds with ¼ cup of the sugar (use remaining sugar — half for whites, half for yolks) in a food processor until the nuts are fine and powdery. Be sure to process the nuts as fine as possible but stop before it turns into butter.
More Moist Cake: Use 5 ounces unsalted butter, plus 2 tablespoons of any neutral tasting oil.
Gluten Free: Make sure to check labels for any gluten ingredients or use gluten free versions.
Chocolate Curls: Check how to make the chocolate curls.
Storage: Cover with a cake dome and store at room temperature for about 3 days. The icing is best in the cooler months of the year. Refrigerate leftovers for a week or as per expiry date for the cream. This cake freezes very well. Just thaw to room temperature and enjoy it.
Make Ahead: The cake can be made a day ahead, but peel the parchment paper only before icing it.
The serving size is a generous portion for a rich cake. A much smaller slice is still very satisfying especially with fresh raspberries.
Nutrition
Serving:
1
Wedge
|
Calories:
383
kcal
|
Carbohydrates:
26
g
|
Protein:
7
g
|
Fat:
29
g
|
Saturated Fat:
14
g
|
Cholesterol:
97
mg
|
Sodium:
83
mg
|
Potassium:
165
mg
|
Fiber:
3
g
|
Sugar:
19
g
|
Vitamin A:
493
IU
|
Vitamin C:
1
mg
|
Calcium:
61
mg
|
Iron:
2
mg
More Cake Recipes