How about some Doogh, a refreshing fizzy yogurt drink flavored with mint, rose or other pleasing herbs to soothe and nourish you? This healthy fermented beverage is a good source of probiotics and nutrients.
Serve it with Persian Dill Rice, Kabob Koobideh and some Barbari Bread.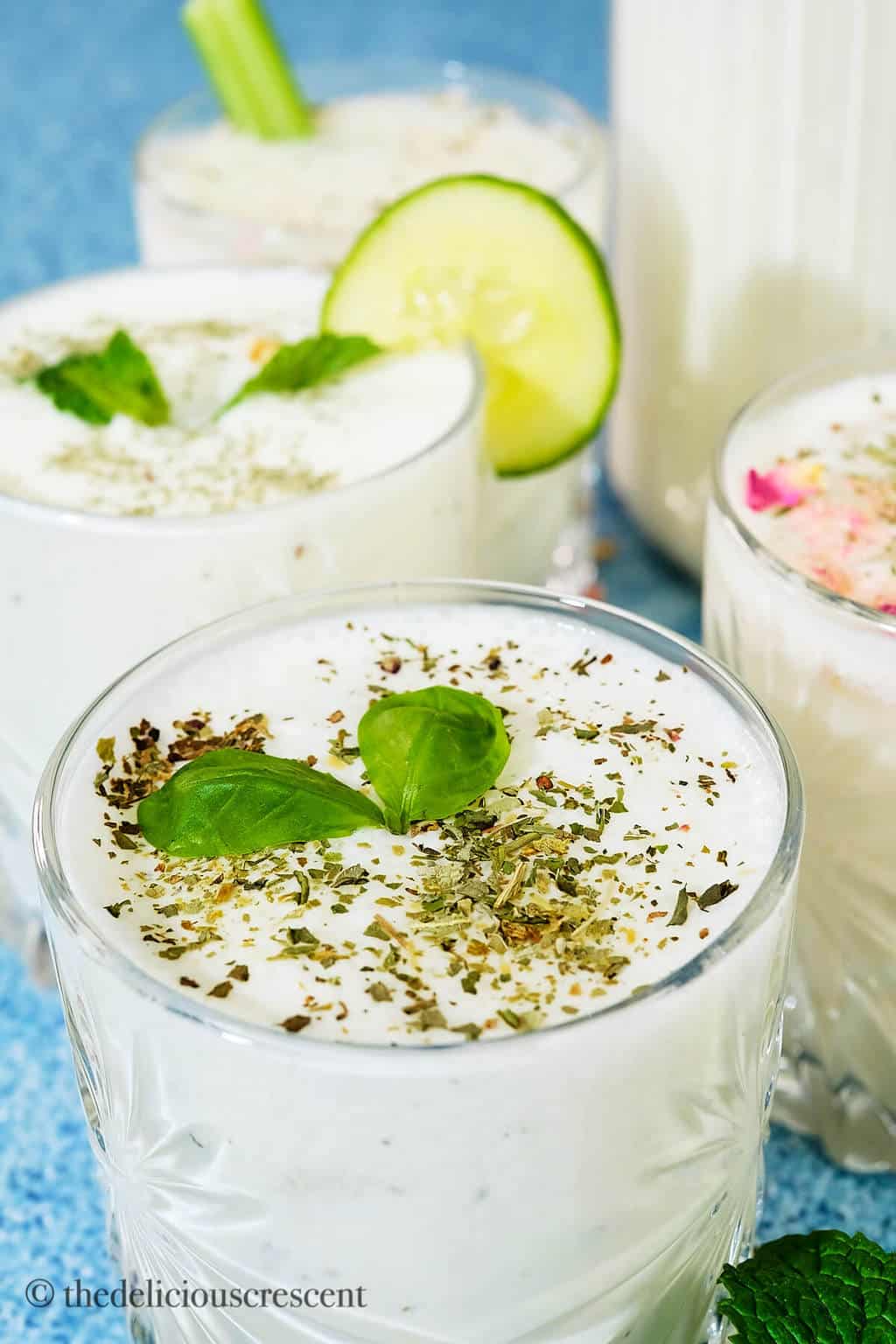 Doogh Yogurt Drink
Doogh is a chilled, fizzy and savory yogurt based drink that is popular in Iran, and can easily be called the national drink. It is the quintessential accompaniment with Persian meals, and is made with yogurt, herbs and some water or sparkling mineral water.
Often flavored with mint, it can also be made with other delightful flavors. It is served with lots of ice and is sometimes carbonated, and referred to as Persian coke or yogurt soda. This beverage is a bit similar to salty Indian lassi drink.
Light, cold and refreshing doogh balances other warm dishes that are heavier or spicy.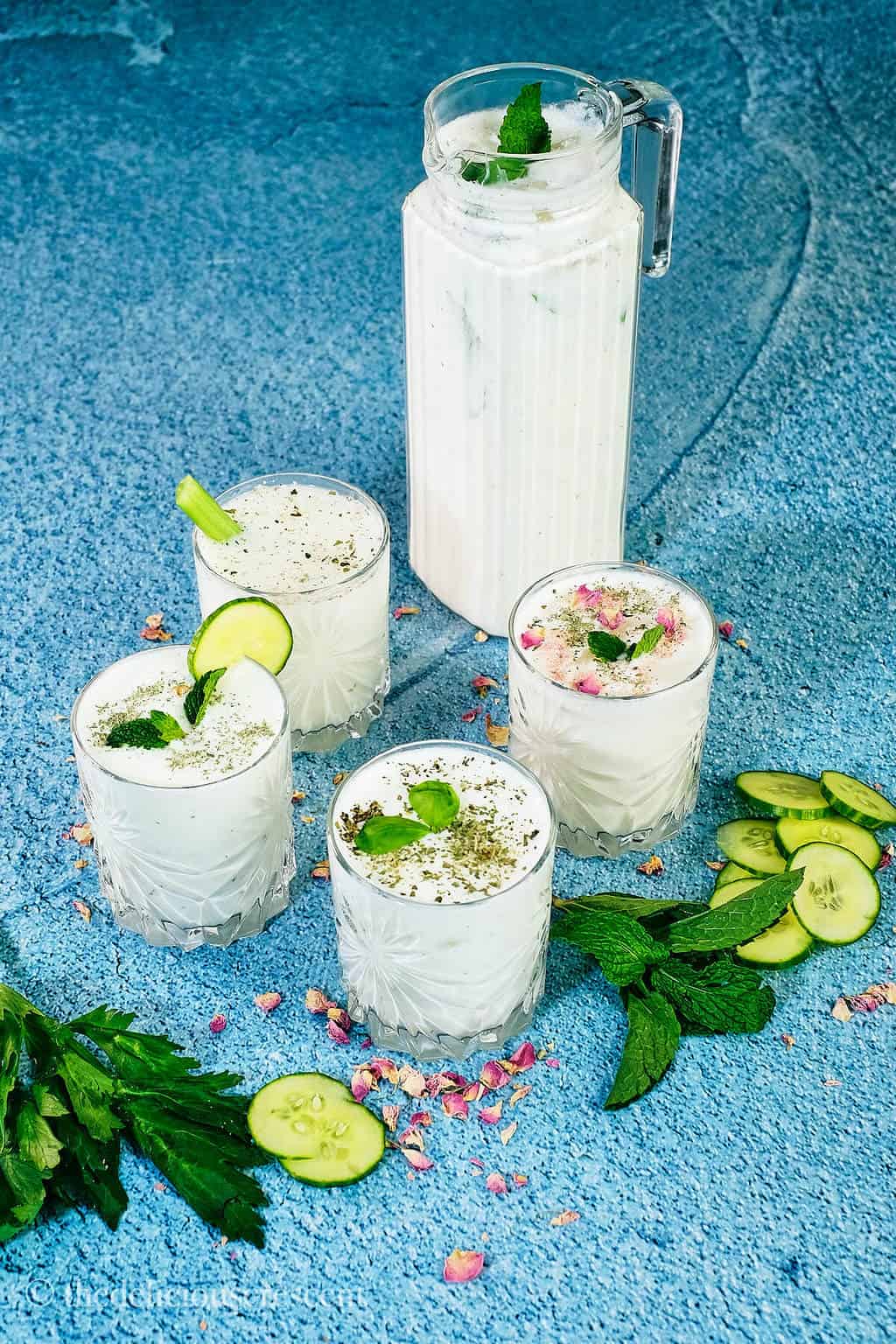 What Do You Need
Traditionally it is made with highly fermented yogurt, containing a variety of probiotic strains. The intensely sour yogurt used in Persian cuisine may be a bit unusual to some. But this drink can be made using yogurt that suits your taste too. Creamy, fizzy, cool and flavored!
Highly fermented yogurt gives a natural fizz to the drink, but that is not so common outside of Iran. Therefore, using sparkling mineral water works well to make the drink.
Typically doogh is flavored with dried mint. But the rose and mint flavor combination tastes great too. In fact, these sweet flavors may appeal to those who aren't used to the idea of a savory yogurt drink.
Cucumber and mint combination is more common in the Afghan cuisine. Then I have also included an aromatic blend of mint, basil, celery and mountain mint, that is often served in my family.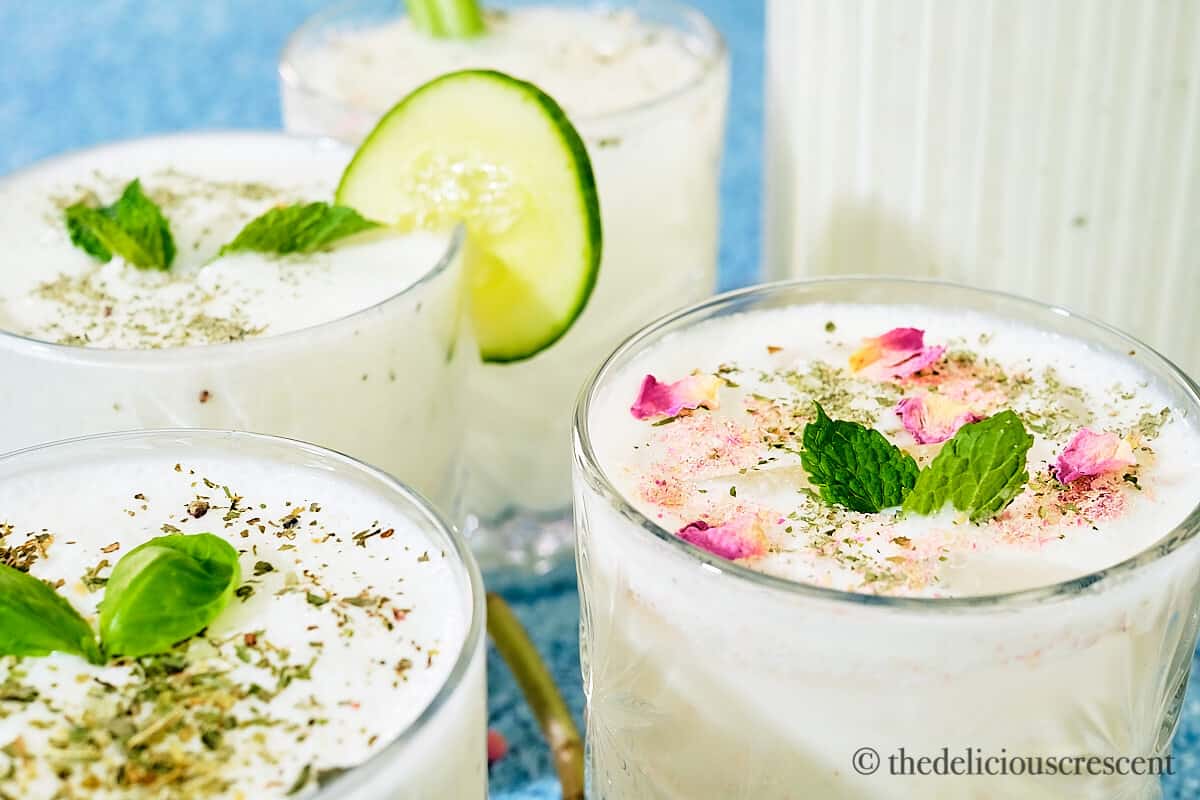 How to Make Doogh
Blend yogurt and salt in a pitcher until smooth using an immersion hand blender.
Stir in dried mint and sparkling water and whisk well.
Serve it chilled.
How to Make Homemade Yogurt
There are different ways to make yogurt. The easiest and fool-proof way is to make it in a yogurt maker. Just follow the manufacturers instructions.
To make it the traditional way, bring milk to a boil and cool it down to 110 degrees F and stir in about ½ a cup of fresh yogurt starter per one quart or liter of milk. Choose yogurt starter with active cultures from a fresh stock of a fast moving brand.
Close the dish with a lid and wrap some towels around it and let it ferment in a dry and warm place for 6 hours to make yogurt that is not tart. Longer fermentation time of over 12 to 24 hours will result in a very sour yogurt, for making it in the traditional Persian style. In cooler climatic conditions, place the yogurt dish in an oven that has not been pre-heated.
Persians, middle easterners and some eastern Europeans love the intensely tangy taste of doogh, laban and similar yogurt drinks. To get a really tangy and creamy yogurt, you can use Bulgarian yogurt as a starter (Trimona brand available at local grocery stores). Some middle eastern stores also carry sour yogurt. Combining different yogurt starters is also an option.
Test the time and conditions best suited for yogurt making in your own home. With a few trials you will be able to figure out the best method for yourself.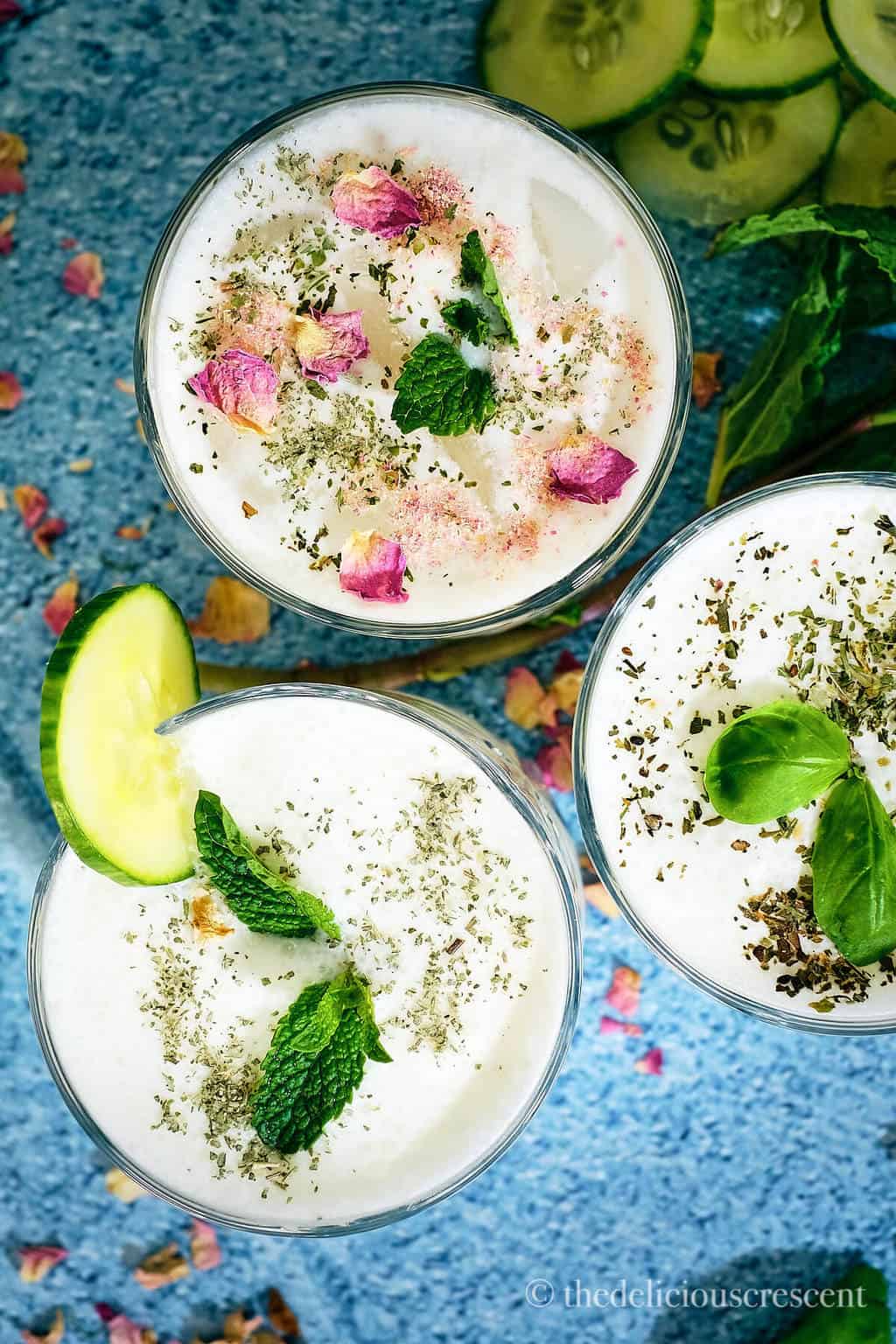 Doogh Health Benefits
This Yogurt based drink provides high quality protein, calcium, vitamin B 6, vitamin B 12, potassium and magnesium.
It is a good source of probiotics, the healthy bacteria that benefit the gut. So, this drink with active cultures is beneficial for gastrointestinal conditions such as, constipation, diarrhea, irritable bowel disease, lactose intolerance, etc.
Certain probiotic strains may also boost the immune system.
Regular consumption of yogurt and yogurt based drinks such as doogh, will help with prevention of osteoporosis, lowering the risk of high blood pressure and better weight management.
Do make sure to buy yogurt with active cultures and that which does not have added sugars.
This beverage has a low amount of lactose, and so may be better tolerated by a lactose intolerant person.
Dried mint is an excellent source of antioxidants.
This drink is vegetarian, gluten free, egg free, soy free and nut free.
Variations
Try it with some kefir added to the yogurt, for a different flavor and additional probiotic strains.
Make it sweet with a dash of maple syrup or honey, especially for the option made with rose and mint. However, that would not be traditional Persian.
More Persian Recipes:
More Beverage Recipes:
★ DID YOU MAKE THIS RECIPE? PLEASE COMMENT AND GIVE IT A STAR RATING BELOW!
Doogh Recipe (Persian Yogurt Drink)
How about some Doogh, a refreshing fizzy yogurt drink flavored with mint, rose or other pleasing herbs to soothe and nourish you? This healthy fermented beverage is a good source of probiotics and nutrients.
Print
Ingredients
Garnish
Organic Rose Petals, Fresh Mint, Fresh Basil, Cucumber Slices
Instructions
Classic Doogh
Add the yogurt and salt to a pitcher and blend it until smooth using an immersion hand blender. If you are working with smooth yogurt then simply using a whisk is enough. The yogurt should become really smooth and creamy before adding the water.

Then stir in the dried mint. Add sparkling water and whisk it all well.

If using fresh mint, then simply add the leaves to the doogh and let it steep for at least an hour. Discard the leaves before serving.
Rose and Mint
Use 2 tsp dried mint and 2 tsp dried rose powder for flavoring the doogh.
Mint, Basil and Celery
Use a combination of 1 tsp dried mint, 1 tsp dried basil, 1 tsp dried celery (crushed finely) or celery salt and 1 tsp of any other dried mint variety (I used a special Persian mountain mint).

If using fresh herbs, then just add the leaves to the doogh and allow to steep for at least an hour. Discard the leaves before serving.
Cucumber and Mint
Blend yogurt with cucumber in a high speed blender until it is very smooth. Stir in dried mint, salt and whisk in mineral water.

For more intense cucumber flavor, leave the peel on for ¼ to ½ of the cucumber, making sure to use organic. You may need less water due to the inclusion of cucumber. Start with 2 cups of water and adjust as needed.
Notes
If using fresh herbs, the quantity should be about 4 times the dried herb (1 tsp dried herb = 4 tsp fresh herb). Steep the whole leaves in doogh.
Garnish with dried rose petals, fresh herbs and cucumber slices.
Add about ¼ tsp black pepper for each quart doogh if you prefer.
Make a lot of doogh at a time and refrigerate to use for few days.
Preferably use sparkling mineral water bottled in glass.
Nutrition
Serving:
1
cup
|
Calories:
79
kcal
|
Carbohydrates:
9
g
|
Protein:
6
g
|
Fat:
2
g
|
Saturated Fat:
1
g
|
Cholesterol:
7
mg
|
Sodium:
413
mg
|
Potassium:
304
mg
|
Fiber:
1
g
|
Sugar:
9
g
|
Vitamin A:
108
IU
|
Vitamin C:
2
mg
|
Calcium:
234
mg
|
Iron:
1
mg
Keywords :
Doogh, Doogh Drink, Doogh Nutrition Benefits