This tomato curry is a delicious Indian dish with eggs in a spicy and saucy tomato gravy. It is low carb, gluten free, antioxidant rich and with good protein. It is healthy and easy to make.
Serve it with Chicken Biryani and add Korma and Kofta Curry on your list to try.
Hyderabadi Tomato Curry With Eggs
In the south of India, Hyderabad is famous for its mixed rice dish known as Biryani, which is rice prepared along with meat/chicken or vegetables.
It is often served with rich gravy side dishes such as Baghare Baingan (an eggplant curry) or Mirch ka Salan (curried chili peppers). But it is occasionally served with this Hyderabadi Tomato curry.
This is a much healthier and lighter alternative to the other rich curries. And the vegetables do not get so much fried and over cooked, thereby retaining more of the nutrients. Plus, this easy tomato curry is a refreshing change from the more frequently served side dishes previously mentioned.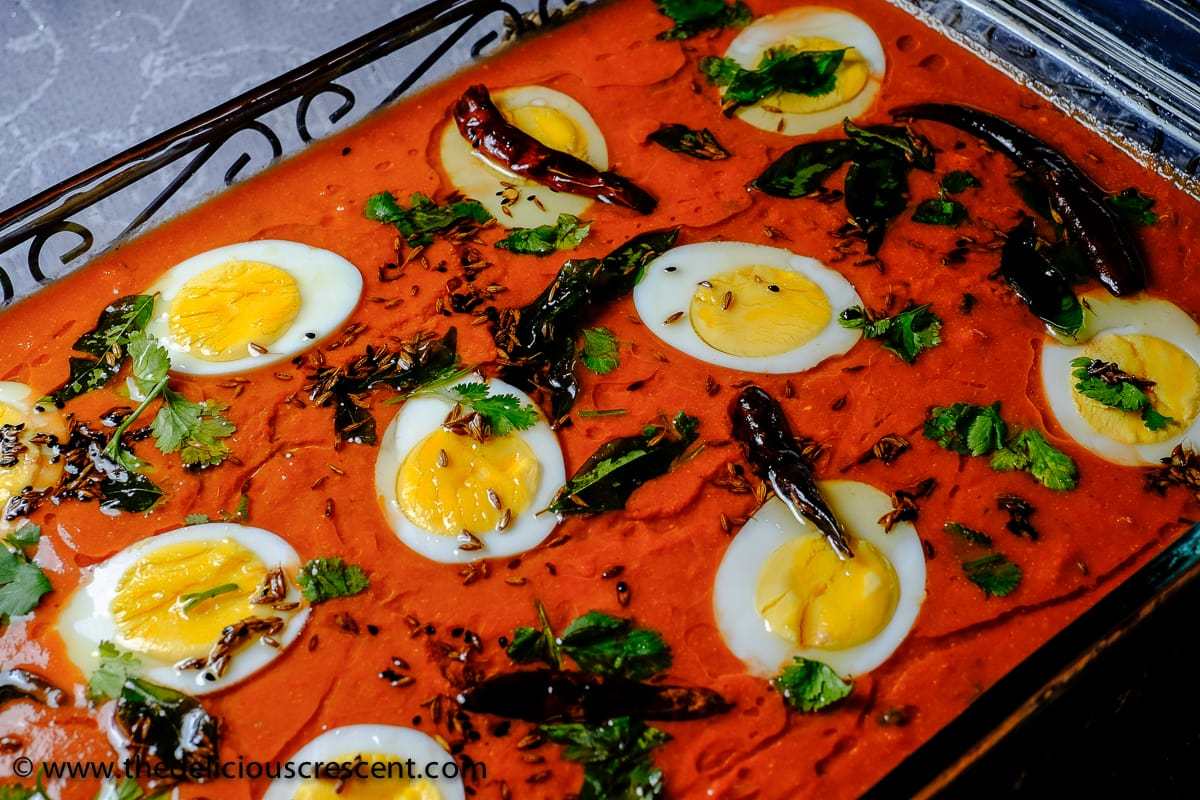 Pro Tips
It is in the process of seasoning the oil with the typical south Indian spices, that the dish acquires its pungent, spicy and unique southern taste. I think that this curry tastes even better a day later, as the flavors are nicely absorbed and meld well.
This spicy and saucy Tomato Egg Curry would pair perfectly with my Easy Hyderabadi Chicken Biryani but it may also be served with other rice dishes or Nan bread. I love eating this along with some yogurt-onion salad, known as Raita in India!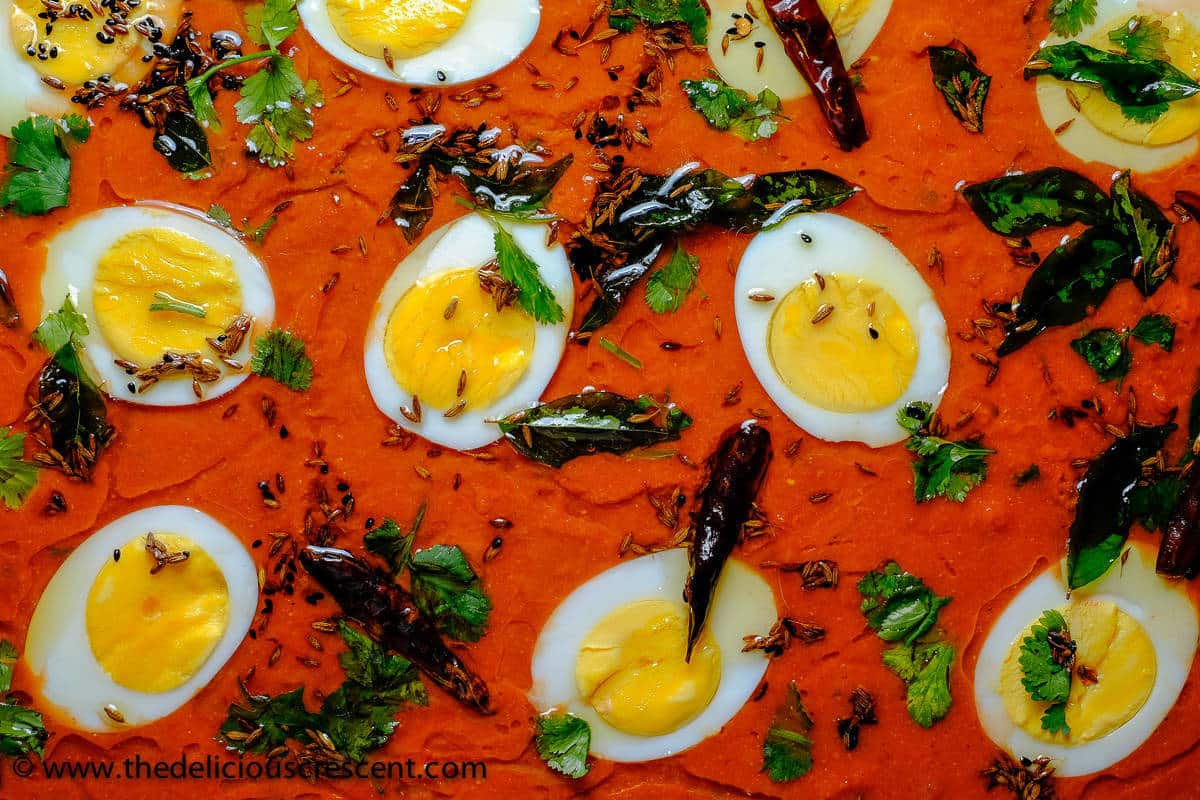 Health Benefits
Tomatoes are antioxidant rich and are a great source of the cancer fighting phytochemical - lycopene. And eggs are a power house of nutrition, providing satisfying high quality protein, antioxidants and such.
You can read more about eggs in my post about Moroccan style poached eggs and tomatoes in my post about Kofta Kebab Masala.
This is a dish that is typically chosen to be served on festive occasions, so it does use some oil for the seasoning. The eggs also add to the fat content of the dish - one large egg contributes 5 g of total fat. But I have cooked the curry in polyphenol rich olive oil and the fat from the eggs is also mostly unsaturated.
More Egg Recipes:
More Indian Recipes:
★ DID YOU MAKE THIS RECIPE? PLEASE COMMENT AND GIVE IT A STAR RATING BELOW!
Zaalouk (Moroccan Eggplant Dip)
Zaalouk is an amazingly delicious Moroccan salad or dip made with roasted eggplants. Easy to make, it tastes great with toasted bread. And gets even better the next day.
Print
Instructions
Preheat oven to 400˚F. Prick the eggplants with a fork in couple spots and place them on a parchment paper lined baking sheet. Bake for

35 to 45 minutes

until the skin turns darker and shrinks. Check foot notes for grilling, broiling or stove top options.

The eggplants should be cooked through completely in the center. To check, press the back of a fork on the eggplant. It should compress easily all the way into the center without any resistance.

Cut through the eggplant skin and scoop out the soft cooked flesh and mash it with a fork and set aside.

Chop the tomatoes into small pieces, discarding some seeds if you wish. See note below for peeled and deseeded tomatoes.

Heat 2 tablespoons olive oil in a saucepan at medium setting. Add the chopped tomatoes, minced garlic, paprika, cumin, cayenne or chili powder, ⅓ teaspoon salt and cook until tomatoes are softened, stirring in between, about

15 to 20 minutes

.

Add the mashed eggplants and cilantro. Continue to cook over low heat for another

10 to 15 minutes

, stirring occasionally, mashing it if needed, into a thick but slightly textured dip like consistency.

Stir in lemon juice and salt. Adjust as per taste, let it cool and transfer to a bowl, cover and refrigerate it overnight before serving.

Take the zaalouk from the refrigerator about

30 minutes

before serving and let it come to room temperature. Drizzle with remaining olive oil. Garnish with cilantro and red pepper flakes if you prefer.

Chunky Zaalouk: To make a chunkier but less traditional zaalouk, insert garlic cloves into eggplant and roast it in the oven at 400˚F, along with the tomatoes. Chop the eggplants and tomatoes. Add the spices, herbs, half the olive oil, salt and mash it up to desired consistency. Drizzle olive oil and serve.
Notes
Cooking Eggplants:

Grill: Roast eggplants on charcoal or gas grill for 20 to 30 minutes, turning them slowly in between, until skin turns darker and shrinks.
Broil: Cut eggplants lengthwise into halves and place the cut side down on a foil lined baking sheet. Place on the second rack and broil until skin turns darker and shrinks, about 20 minutes.
Stovetop: Peel the eggplants completely, only some stripes or leave the skin on if you don't mind it. Cut the eggplants into small pieces. Steam on high heat until soft or cook in a pan with some water until soft and mushy.

Easy Zaalouk: Combine all ingredients with ⅓ cup of water and cook it over stove top until softened. Mash it up well and drizzle olive oil.
Peeled and deseeded tomatoes: If you prefer, you can blanch the tomatoes. Cut a small cross on the surface of tomatoes and dump them in hot boiling water. After a minute, pick out the tomatoes and peel the skin, cut them into halves and deseed. Chop them into small pieces.
Use more tomatoes if you want the dip to be saucy. You may even try using a little bit of tomato paste to give it thickness.
Leftovers: Can be refrigerated for 4 to 5 days. You can freeze zaalouk for couple months. Thaw and reheat. Adjust the consistency, evaporating or adding water as needed. Check the seasoning as well.
Nutrition facts not including any added salt.
For other variations, tips and serving suggestions, scroll up the page to the blog post.
Nutrition
Calories:
77
kcal
|
Carbohydrates:
6
g
|
Protein:
1
g
|
Fat:
6
g
|
Saturated Fat:
1
g
|
Polyunsaturated Fat:
1
g
|
Monounsaturated Fat:
4
g
|
Sodium:
5
mg
|
Potassium:
280
mg
|
Fiber:
3
g
|
Sugar:
4
g
|
Vitamin A:
526
IU
|
Vitamin C:
9
mg
|
Calcium:
15
mg
|
Iron:
1
mg
Tomato Curry with Eggs
This Tomato Curry is a delicious Indian dish with eggs in a spicy and saucy tomato gravy and is low carb, antioxidant rich and with good protein.

Print
Ingredients
Garnish
1

tablespoon

cilantro

chopped
Instructions
Place the diced tomatoes or crushed tomatoes, ½ teaspoon cumin powder, ¼ teaspoon fenugreek seed powder, 3 to 4 curry leaves and ¼ tablespoon ginger garlic paste in a cooking pot.

If using fresh tomatoes, add ½ cup water. Bring it all to a boil. Simmer until cooked very well. Once cooked, blend it into a puree. Adjust texture as per preference.


Heat ½ tablespoon olive oil in a

cooking pot

. Then add the sliced onion and fry until golden brown. Add ginger garlic paste and stir for couple minutes.

Next, add the prepared tomato puree, chili powder and turmeric powder.


Blend the ground sesame and chickpea flour with enough water to make a smooth paste. Stir the paste into the tomato curry and mix well. Add salt to taste. And lemon juice if you prefer.


Add enough water to achieve a saucy consistency. Bring it to a boil and then simmer for about 15 minutes until it is well cooked.


If you prefer to serve the curry in a different dish, then transfer the prepared sauce to that dish. Arrange the eggs on top of the tomato sauce.


For seasoning (baghar), heat the olive oil. Once the oil is hot, add the red chilies, seasoning seeds and curry leaves in the order listed. Allow the chilies and curry leaves to brown and the seeds to pop a little. Pour the seasoning oil with all the ingredients over the sauce and eggs.


Stir some of the seasoning oil into the sauce and simmer gently for 5 to 10 minutes to let the seasoning infuse into the sauce. If the serving dish is oven safe, the final step may be done in the oven at 350ºF.

Garnish with cilantro leaves if you prefer.

Notes
The suggested serving size is for serving with plain rice or naan. When served with biryani, half the portion per serving of biryani is suggested.
Nutrition
Serving:
1
cup sauce with 1 egg
|
Calories:
198
kcal
|
Carbohydrates:
12
g
|
Protein:
9
g
|
Fat:
13
g
|
Saturated Fat:
3
g
|
Cholesterol:
164
mg
|
Sodium:
81
mg
|
Potassium:
526
mg
|
Fiber:
3
g
|
Sugar:
6
g
|
Vitamin A:
1823
IU
|
Vitamin C:
76
mg
|
Calcium:
79
mg
|
Iron:
2
mg