Fesenjan is an amazingly delicious Persian stew. It's made by gently simmering tender, braised chicken in a sweet and tangy sauce created from ground walnuts and pomegranate molasses. Perfect for special occasions or when you want an extraordinary culinary experience!
Chicken Stew with Walnut and Pomegranate Sauce
Fesenjan, also known as Fesenjoon, is a very popular Persian chicken stew. With its origins in northern Iran, this traditional dish features two locally beloved ingredients — walnuts and pomegranate.
The combination of the nuttiness from walnuts with tangy sweet taste of pomegranates yields a sauce that is spectacular. My first encounter with this remarkable stew was decades ago in New York City, and I've been hooked ever since.
In fact, it was one of the first distinctly Persian dishes that I was introduced to, before my fascinating journey into Persian cuisine. Along with Ghormeh Sabzi, the much cherished Persian stew, fesenjan is celebrated for its unique taste.
Tradition and Adaptations
While chicken is the typical choice for fesenjan, certain regions in Iran prepare it with ground meatballs, and for special occasions, duck becomes a delectable option. Some people here in the US, even adapt the recipe using turkey.
This stew is perfect during the fall and winter holidays, coinciding with pomegranate season. In a season dominated by poultry dishes, fesenjan naturally stands out as a delightful choice to please your family and friends.
Further, you don't need to be a culinary expert or a native Persian to master this recipe and create an authentic rendition. I also share some variations below to suit your dietary preferences.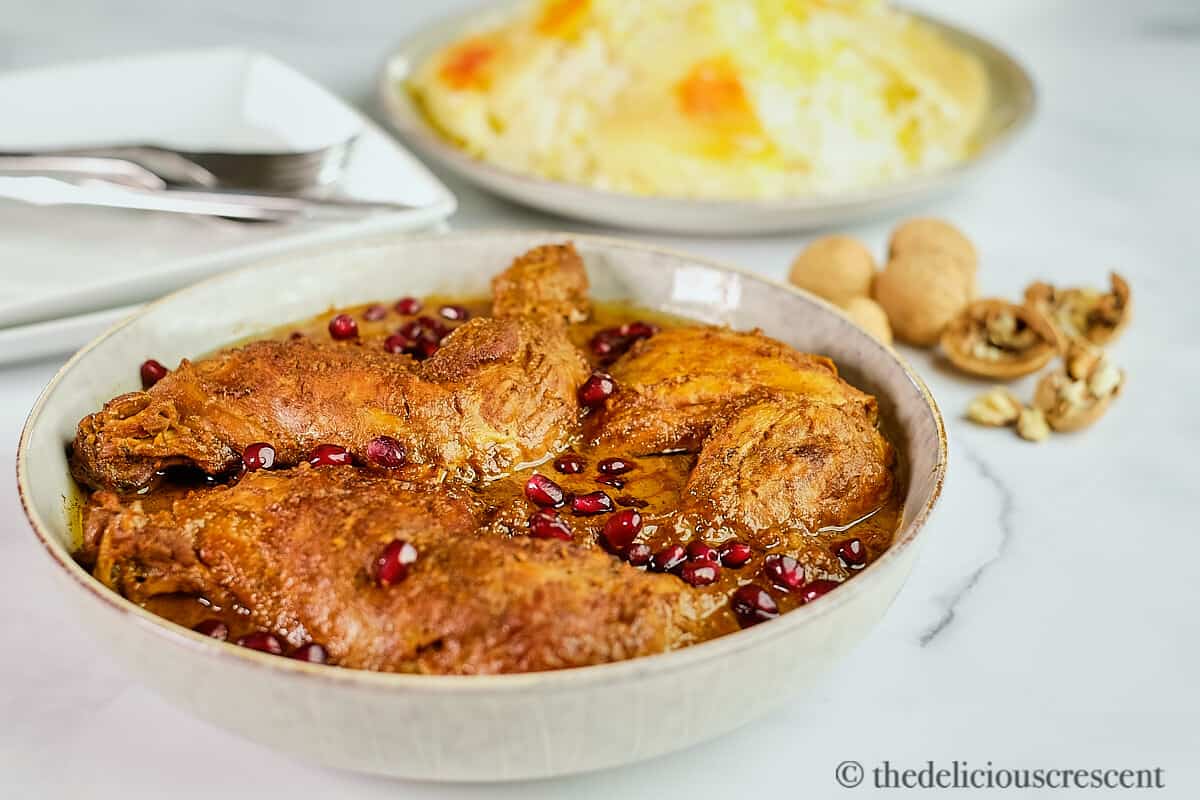 Recipe Ingredients
The ingredients are easily available at local, middle eastern and mediterranean grocery stores or online.
Chicken: Choose bone-in chicken for great flavor. I use skinless leg quarters, either whole or cut into two pieces. Chicken breast will not give similar succulent results. You can also make the stew with meatballs. And duck is an option for special occasions.
Pomegranate Molasses or Concentrate: This thick sauce made from pomegranate juice adds a sour and sweet taste. Lebanese brands are more tangy, while Iranian ones are sweeter. You can use a mix of both, or add some sugar to sour molasses. Alternatively, make it at home using pomegranate juice.
Walnuts: Opt for fresh, shelled walnuts, avoiding any rancid ones. Roasting can enhance the nutty flavor, but you can use them raw too. Grind them until very fine - like sand. Use the pulse option on your food processor and don't let it turn into nut butter.
Saffron: Be sure to use high-quality saffron. For more information about saffron, refer to this post on saffron tea.
Turmeric, Cinnamon, and Black Pepper: Turmeric contributes a warm, earthy flavor and imparts a lovely background color. Cinnamon adds a sweet aroma, although it's optional. Ground black pepper provides a touch of heat.
Sugar, Honey, or Maple Syrup: This is optional. Use it only to adjust the sweet and sour taste to your preference.
Pomegranate Arils: Use fresh arils to garnish the stew, for lovely appearance and a nice crunch.
Cooking Oil: Any oil without a strong aroma will work. The goal is to let the walnut flavor shine.
Water: This works fine for bone-in chicken. But, if using chicken breast or meatballs, try using chicken stock for added flavor.
How to Make Fesenjan
**Here's a brief overview of the step-by-step process. For the complete recipe, please refer to the end of this blog post.
Prep Walnuts: Toast walnuts in a skillet over medium-high heat until aromatic. Grind the cooled nuts until they're very fine, like a fine sandy texture. Some people grind them into a paste, but I find their texture complements the smooth pomegranate molasses. Plus, the nuts gradually cook down, releasing their oils and flavor.
Bloom Saffron: Grind the saffron into a powder, dissolve in hot water and let it soak.
Sear Chicken: Quickly sear both sides of the chicken over high heat until they turn a lovely brown color only on the surface. We don't want to cook the chicken completely at this stage. Even the type of cookware you use makes a difference as we discuss in our post about chicken tomato stew. Quality cast iron cookware works well.
Saute Onions: Cook until the onions turn light golden brown, and their edges begin to slightly crisp up.
Add Other Ingredients: To the chicken and sauteed onions, add salt, pepper, turmeric, cinnamon, and stir. Add ground walnuts, pomegranate molasses mixed with water, saffron water, and sugar.
Cook Stew: Stir and simmer at low heat until the chicken is very well done, stirring ocsasionally, so that it doesn't burn or stick to the bottom. The sauce should be rich, brown, sweet and sour, thick (not watery), so that you can taste the flavors. Some oil will trickle to the surface. Slow cooking is the key here.
Adjust Consistency and Seasonings: Finally, adjust sauce consistency, with warm water. If the sauce is not thick enough, separate the chicken and cook the sauce until thickened. Season to your taste, adding pomegranate molasses to make it more sour or use sugar to sweeten it.
Serve: When ready to serve, garnish the stew with fresh pomegranate arils.
What to Serve With Fesenjan
Here are some serving suggestions to enhance your experience.
How To Meal Prep and Store
Make Ahead: Prep the chicken in advance and refrigerate it. Grind the walnuts and prepare the saffron water in advance too. Have the pomegranate molasses and fresh pomegranate arils readily available.
Storage: This stew can be refrigerated for up to 4 days. Leftovers can be frozen for up to 3 months. Thaw and reheat, adding water as needed to maintain the consistency.
Variations
The recipe here is gluten free, high protein, egg free, dairy free and soy free. Here are some variations, some of which I have not tried out myself.
Vegan or Vegetarian Fesenjan: Make this stew using 3 cups of cooked chickpeas instead of chicken. Add it after cooking the sauce for about 1 hour and simmer for extra 10 minutes.
Holidays and Feasts: Fesenjoon prepared with roasted chicken or duck is great for festive times. You can even make a whole roast and serve it with the sauce around. For a change, try making this stew with meatballs.
With Eggplant: Roast eggplant in the oven, as we did for this eggplant salad, and use it instead of chicken. I have been told it tastes absolutely fantastic.
Other Substitutes for Chicken: Try using roasted butternut squash, pumpkin, sautéed tofu or mushrooms.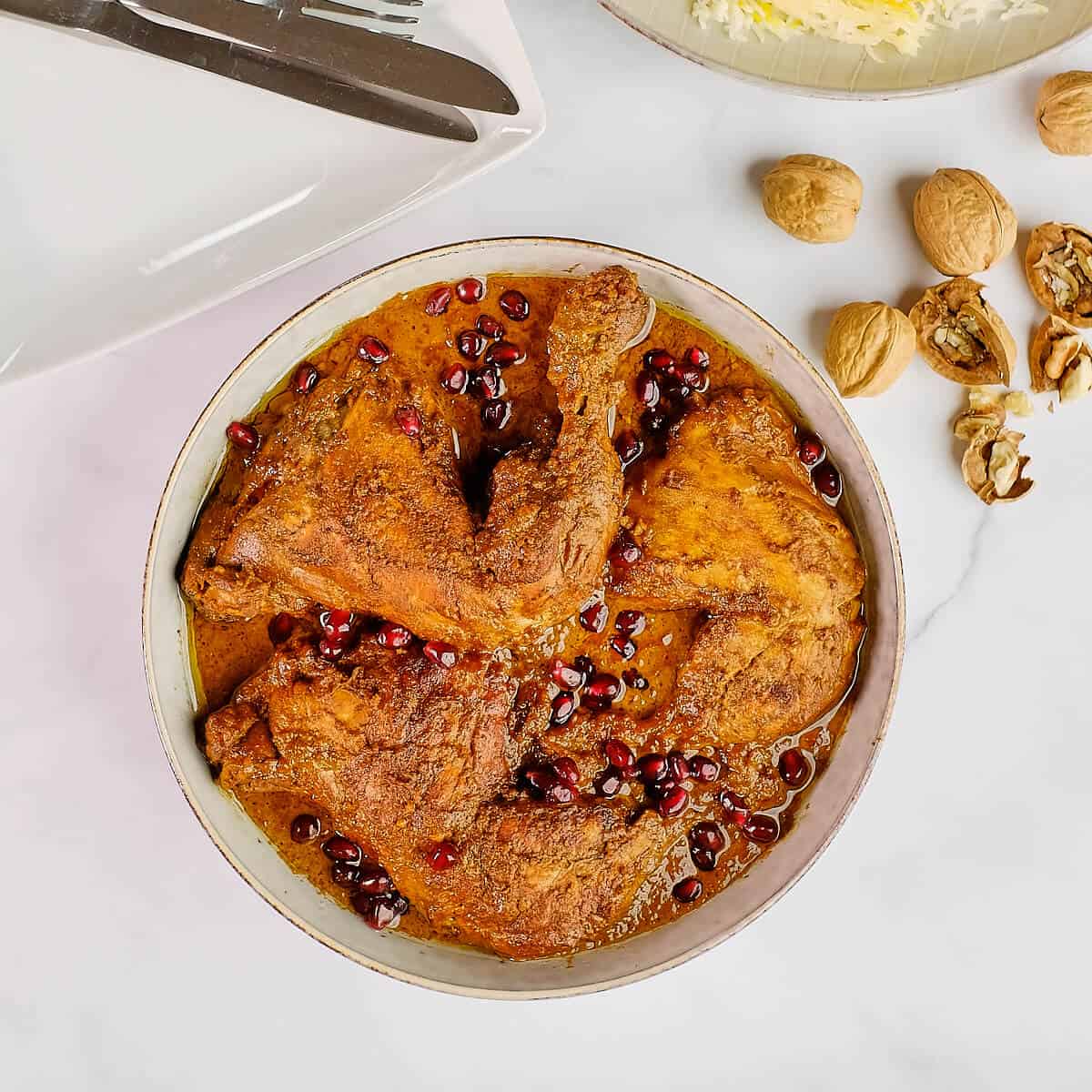 Nutrition Facts
Fesenjoon is a rich stew that is loaded with nutrients. It is made with lots of omega-3 rich walnuts. And the pomegranate molasses, if it had been processed well to retain the phytonutrients, should enhance the nutrition potential even further.
The protein source most often used is chicken, which is a high quality protein and a great alternative to red meat. It also provides selenium, phosphorus, niacin and vitamin B6.
More Chicken Recipes
More Persian Stew Recipes
★ DID YOU MAKE THIS RECIPE? PLEASE COMMENT AND GIVE IT A STAR RATING BELOW!
Fesenjan (Persian Chicken Stew)
Fesenjan is an amazingly delicious Persian stew. It's made by gently simmering tender, braised chicken in a sweet and tangy sauce created from ground walnuts and pomegranate molasses. It's perfect for special occasions or when you want an extraordinary culinary experience.
Print
Save
Saved!
Instructions
Toast the walnuts: Place the walnuts in a skillet over medium-high heat and toast until aromatic, stirring in between, about

10 minutes

, or toast them in the oven at 350°F. Let them cool, then grind them in a food processor until very fine, using the pulse setting. But do not let it become a paste.

Bloom saffron: Using a mortar and pestle, grind the saffron with a pinch of salt until powdered. Dissolve it in hot water and soak for

15 to 20 minutes

.

Prepare the chicken: Cut the chicken leg quarters into halves if you prefer. Pat the pieces dry.

Sear the chicken: Heat the olive oil in a Dutch oven over medium-high heat. Place the chicken pieces in a single layer, making sure not to overcrowd the pot. Raise the heat to high and brown both sides, about

3 to 5 minutes

each side. The goal is to brown only the surface without fully cooking the chicken. Remove the chicken and set it aside.

Sauté onions: In the same oil, sauté the onions with a pinch of salt, stirring occasionally until they turn light golden brown, about

15 minutes

.

Cook the stew: Add the chicken back to the pot, followed by salt, pepper, turmeric, cinnamon, and stir. Add ground walnuts, pomegranate molasses with water, saffron water, and sugar.

Simmer: Combine everything, cover, and simmer over low heat, stirring occasionally, until the chicken is very tender and almost falls off the bone, for about

1 to 1½ hours

. Add water (¼ cup at a time) if the sauce becomes too thick, making sure it doesn't burn or stick to the bottom.

Adjust seasonings: The sauce should be thick and dark brown, tasting sweet and sour. Adjust salt, pepper, pomegranate molasses, and sugar to your taste.

Serve: Skim off any excess oil, transfer the stew to a serving dish, and sprinkle fresh pomegranate arils on top. Serve hot with Persian saffron rice and salads.
Notes
Roasting the walnuts is optional but enhances the flavor.
Skinless leg quarters work best for chicken. Duck is great for special occasions.
Meatballs can also be used — first cook sauce for about 45 minutes, then add meatballs and simmer for additional 15 minutes. Check other variations in the blog post above.
Storage: Fesenjan keeps well in the refrigerator for 3 to 4 days and freezes nicely. Reheat, adding some water if needed.
Pomegranate molasses can be found in Middle Eastern stores, online, or specialty food stores. Adjust the amount to your taste - start with

½

cup if this is new to you.
Homemade pomegranate molasses: Boil 4 cups of pomegranate juice. Simmer for 45 minutes to an hour, reducing it to one-fourth in volume. Add two pinches of salt while simmering. Sweeten with 2 to 3 tablespoons of maple syrup, honey, or sugar. Adjust tartness with about 2 tablespoons of lemon juice.
Flavor: You can add 1 to 2 pinches of nutmeg if desired. Using chicken stock instead of water can enhance the flavor.
Oil: You can skim off about half of the cooking oil used, as the walnuts release some oil.
Nutrition
Serving:
2
oz chicken plus sauce (approx)
|
Calories:
395
kcal
|
Carbohydrates:
18
g
|
Protein:
16
g
|
Fat:
30
g
|
Saturated Fat:
5
g
|
Polyunsaturated Fat:
14
g
|
Monounsaturated Fat:
9
g
|
Trans Fat:
1
g
|
Cholesterol:
76
mg
|
Sodium:
300
mg
|
Potassium:
317
mg
|
Fiber:
2
g
|
Sugar:
10
g
|
Vitamin A:
65
IU
|
Vitamin C:
3
mg
|
Calcium:
37
mg
|
Iron:
1
mg