A spectacular Persian stew of braised chicken simmered in a thick, rich and mouth watering sauce made with ground walnuts and pomegranate molasses. Fesenjan is great for holidays, weekends or when you crave something special.
Persian Chicken Stew
Fesenjan or Fesenjoon is a much loved Persian chicken stew that is invariably part of restaurant menus, feasts and family dinners. With its roots in northern Iran, this elegant stew is prepared using the locally popular food ingredients — walnuts and pomegranate.
Although this stew is usually prepared with chicken, in some areas of Iran, it is made with ground meatballs. And for special occasions, duck is a great option. In fact, there are some who have adapted this recipe to make it with turkey.
It is the perfect stew for festive times, and with holidays abounding in fall and winter, when it is also pomegranate season. And at a time when poultry dishes are also popular, this dish should be a natural pick to please your family and friends.
The first time I ever tasted this amazing stew, was decades ago in New York City. Ever since I have been hooked.
Braise the bone-in chicken for succulent and flavorful results.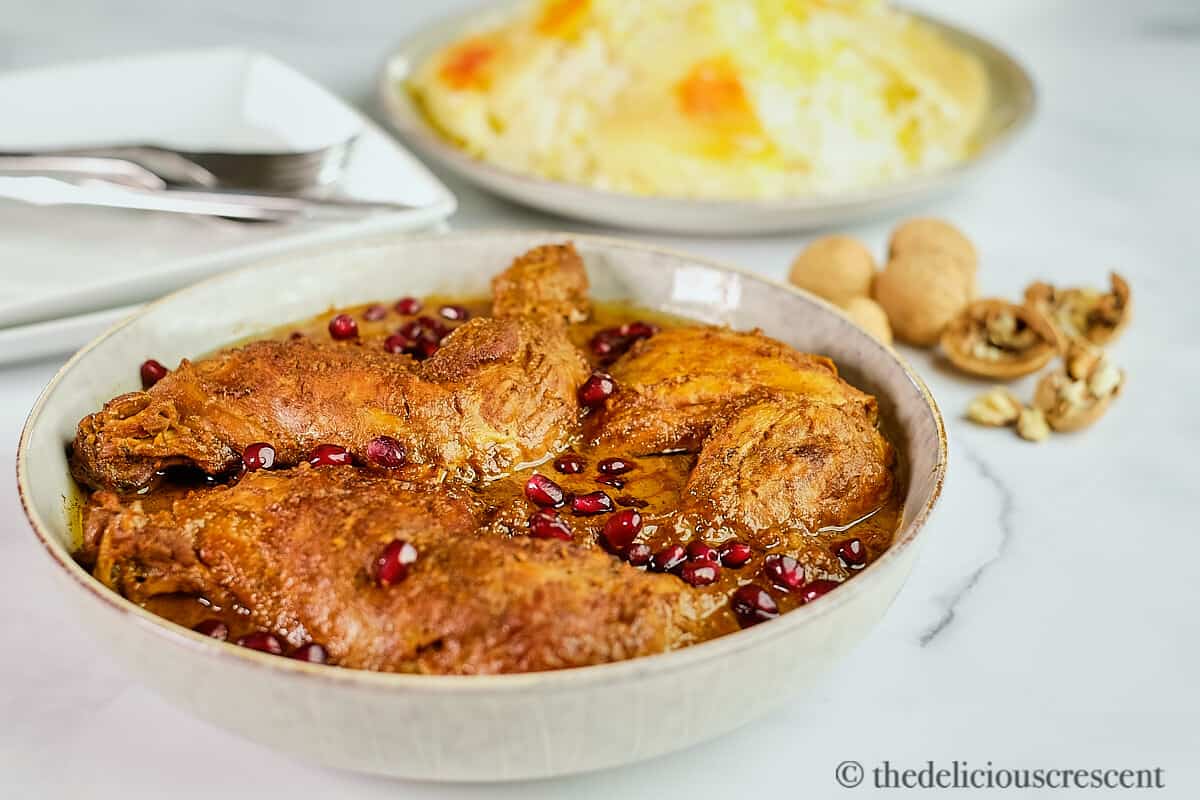 Ingredients
Walnuts, Saffron, Chicken, Onion, Olive Oil, Pomegranate Molasses, Salt, Pepper, Turmeric, Sugar or Honey, Pomegranate arils
Walnuts: Use shelled walnuts that are fresh and not turned rancid. Roasting enhances flavor, but using them raw is also ok. The nuts should not be processed coarse or too fine into a paste. Using the pulse option on your food processor helps control the texture.
Saffron: Make sure to use high quality saffron. For more about saffron, check this post about Saffron tea.
Chicken: Choose bone-in chicken. I use skinless leg quarters, as it is or cut into two pieces.Chicken breast can be used but will not give the same succulent results. Instead of chicken you can also try meatballs with ground chicken, turkey, lamb, veal or beef. Duck may be an option for festive times.
Pomegranate Molasses: This ingredient can be easily found at Middle eastern and Mediterranean grocery stores, Whole Foods and other specialty food stores. Alternatively it can be made at home using pomegranate juice.
Sugar, Honey or Maple Syrup: This is an optional ingredient. And can be used to balance the tartness from the pomegranate molasses to adjust the sweet and sour taste to suit your preference.
Pomegranate Arils: Use some fresh pomegranate arils to garnish the stew for a lovely appearance and a delightful crunch.
Fesenjoon prepared with roasted chicken or duck is great for festive times.
How to Make It
*Full recipe at the end of blog post.
Roast walnuts at 350 degrees Fahrenheit. Process the cooled nuts until very fine.
Grind saffron, dissolve in hot water and soak.
Brown both sides of the chicken leg quarters at high heat.
Saute onions until light golden brown.
Add chicken pieces back with salt, pepper, turmeric, pomegranate molasses with water, walnuts, saffron water and sugar.
Stir and simmer at low heat until chicken is very well done.
Adjust sauce consistency and season to your taste.
Top with pomegranate arils and serve with saffron rice and salads.
Make Ahead/Meal Prep
Prepare chicken ahead of time and refrigerate. Grind walnuts and make saffron water ahead as well. Make sure you have pomegranate molasses and fresh pomegranate arils ready. And you could also plan to add a great pomegranate dip with some of these ingredients.
Vegetarian Fesenjan
You can make this stew vegetarian or vegan using 3 cups of cooked chickpeas instead of chicken. Add it after cooking the sauce for about 1 hour and simmer for extra 10 minutes.
Eggplant roasted in the oven, as done in this eggplant salad recipe, can be used to replace chicken, to make amazingly delicious vegan Fesenjan. I have been told it tastes absolutely fantastic.
Other options to try are using sautéed tofu or mushrooms. You can add some butternut squash to any of the above options to add a nice twist.
These non-traditional vegan stews can be served with Persian saffron rice, quinoa or whole wheat naan.
What to Serve Along
Nutrition Facts
This is a rich stew that is loaded with nutrients. It is made with lots of omega-3 rich walnuts. And the pomegranate molasses, if it had been processed well to retain the phytonutrients, should enhance the nutrition potential even further.
The protein source most often used is chicken, which is a high quality protein and a great alternative to red meat. It also provides selenium, phosphorus, niacin and vitamin B6.
The recipe here is gluten free, high protein, egg free, dairy free and soy free. Lower the salt to make it low sodium.
More Chicken Recipes
★ DID YOU MAKE THIS RECIPE? PLEASE COMMENT AND GIVE IT A STAR RATING BELOW!
Fesenjan (Persian Chicken Stew with Walnuts and Pomegranate)
A spectacular Persian stew of braised chicken simmered in a thick, tangy and mouth watering sauce made with ground walnuts and pomegranate molasses. Fesenjan is great for holidays, weekends or when you crave something special.
Print
Instructions
Toast the walnuts in a skillet at medium high heat, stirring often or spread the walnuts on a baking sheet and toast in the oven at 350°F for about

10 minutes

. Allow to cool the nuts and grind in a food processor until very fine, using the pulse option to prevent from becoming a paste.

In a mortar and pestle, grind saffron with a pinch of salt until powdered. Then dissolve it in hot water and soak for 

15 to 20 minutes

.

Cut the chicken leg quarters into halves if preferred. Pat the pieces dry.

Heat the olive oil in a dutch oven at medium high. Place the chicken pieces in a single layer making sure not to crowd the bottom of the pot. Raise the heat to high and brown both sides,

3 to 5 minutes

each side. The idea is to only brown it on the surface and not cook the chicken meat inside. Remove the chicken pieces and set aside.

In the same oil, sauté onions with a pinch of salt, stirring in between, until light golden brown, about

15 minutes

.

Add the chicken pieces back to the pot, followed by salt, pepper and turmeric. Combine pomegranate molasses with water and add to the pot. Then add ground walnuts, saffron water and sugar.

Stir everything well, cover and simmer at low heat, for about

1 to 1½ hours

, stirring often, until chicken is cooked very tender and almost falls off the bone.

Add water, ¼ cup at a time, if the sauce turns too thick. Make sure that it does not burn or stick at the bottom.

The sauce should be thick and dark brown in color. It should taste sweet and sour. Adjust the seasonings — salt, pepper, pomegranate molasses and sugar to your taste.

Skim off any excess oil collected on the top and transfer to a serving dish. Scatter fresh pomegranate arils on the top. Serve the stew hot with Persian saffron rice and salads.
Notes
Walnuts: roasting the nuts is not mandatory but does enhance the flavor.
Chicken: I use skinless leg quarters. Chicken breast will not give the same succulent results. Duck is great for festive times. Another option is meatballs with ground chicken, turkey, lamb or veal — first cook sauce for about 45 minutes, then add meatballs and simmer for additional 15 minutes.
Storage: Fesenjan will keep well in the refrigerator for 3 to 4 days. This stew freezes very well too. Add some water if needed to adjust consistency while reheating. 
Pomegranate Molasses: Is available at middle eastern stores, online and at specialty food stores. The brands may vary in how thick, tart and sweet they are. So adjust the amount used accordingly. Adjust the sweet and sour taste of the stew with additional sugar, maple syrup or honey as per the tartness of the molasses.
Homemade Pomegranate Molasses: Bring 4 cups of pomegranate juice to a boil, lower the heat and simmer for about 45 minutes to one hour until reduced to one-fourth in volume. While simmering, add two pinches of salt. Add 2 to 3 tablespoons of maple syrup, honey or sugar to sweeten it to your taste. Use about 2 tablespoons lemon juice to adjust the tartness.
Other Spices: This is optional, but you could add ¼ teaspoon ground cinnamon. And also 1 to 2 pinches of nutmeg if you wish.
To enhance the flavor even further, use chicken stock instead of water for the cooking liquid.
You can skim off about half the oil used for cooking, as the walnuts will also release some oil. So, nutrition facts are approx.
Scroll to the blog post above for more tips and details about ingredients. 
Nutrition
Serving:
2
oz chicken plus sauce (approx)
|
Calories:
395
kcal
|
Carbohydrates:
18
g
|
Protein:
16
g
|
Fat:
30
g
|
Saturated Fat:
5
g
|
Polyunsaturated Fat:
14
g
|
Monounsaturated Fat:
9
g
|
Trans Fat:
1
g
|
Cholesterol:
76
mg
|
Sodium:
300
mg
|
Potassium:
317
mg
|
Fiber:
2
g
|
Sugar:
10
g
|
Vitamin A:
65
IU
|
Vitamin C:
3
mg
|
Calcium:
37
mg
|
Iron:
1
mg
More Persian Recipes