Spicy fish cakes (fish patties) crispy outside, soft in the center, these richly flavored spicy patties are a terrific appetizer. Easy, healthier, low carb and made with salmon. Freezes beautifully!
We love making fish recipes such as Tuna Melt Crescent Ring and Spicy Tuna Salad with Chipotle.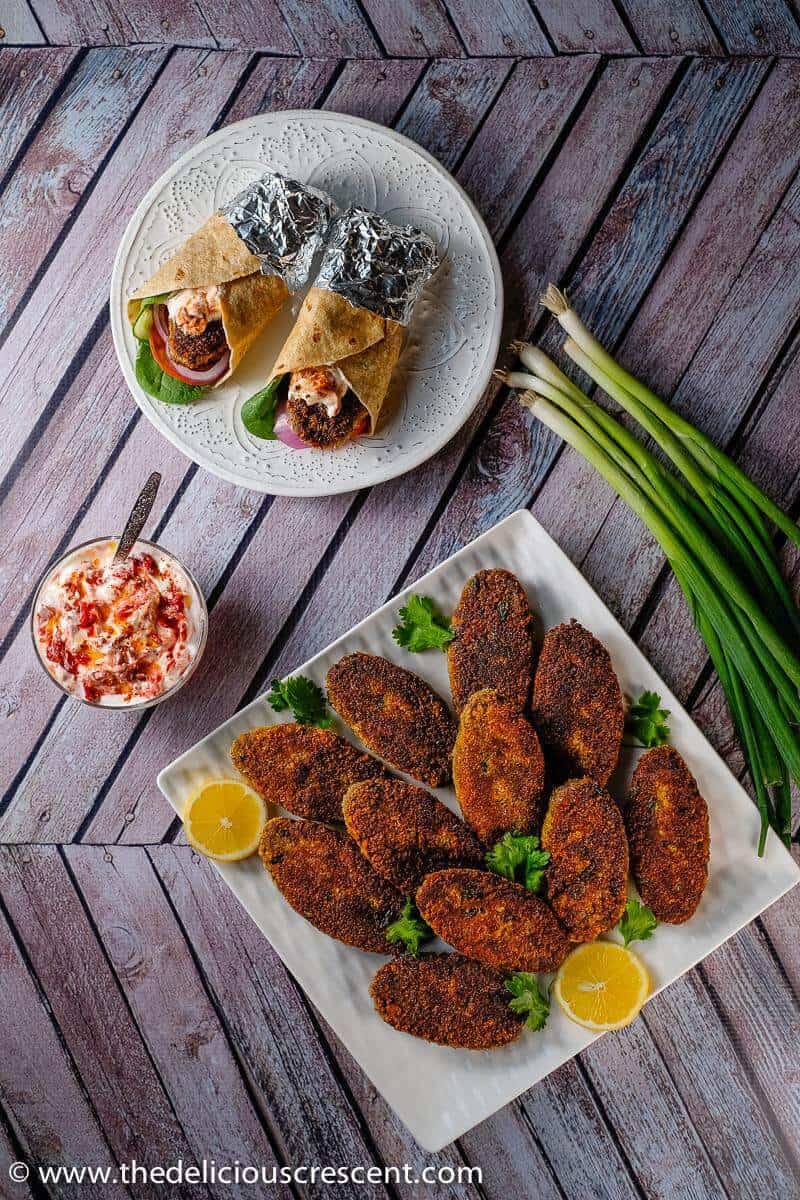 Spicy Fish Cakes (Fish Patties)
These spicy fish patties are made with minced fish, spices and herbs. They taste absolutely fantastic and are great for picky eaters who try to avoid fish.
I bet you have someone like that in your family and you can easily slide some fish into their diet with these spicy fish patties. Of course, pair these shallow fried patties with something light, like whole grain bread or plain rice and lots of veggies.
A great spicy seafood recipe to try: EASY MASALA SHRIMP FRY
What to Serve With It?
Spicy fish cakes taste pretty good with mint chutney, sliced onion and some lemon juice sprinkled on them. They can be served with rice or flat bread. But these no potato fish cakes would also work well in wraps and sandwiches with some sandwich spread, lettuce, tomatoes and onions.
Pro Tips
It is important to make a careful selection of fish to avoid harm from pollutants. A resource that provides excellent consumer guides is Seafood Watch. You may also checkout their app.
When it comes to salmon, I would recommend choosing the wild caught fish. Canned fish can also come in handy. You may use the above resource to help you choose the right options.
Other than salmon, you could try using tuna, a chunky firm fish that would work well for these patties.
When crumbling the fish, make sure to retain a coarse flaky texture and avoid blending it into a fine paste. Even if you were to use a food processor to combine the ingredients, be sure to just give a few short pulses so that the mixture is not ground up too fine.
When using fresh salmon to make the spicy fish cakes, I prefer to steam it first, rather than sautéing. Otherwise the fish may become too dry.
The fish cake mixture should not be dry and crumbly, rather it should be moist but not too wet.
You can use crushed corn flakes or coarse almonds instead of bread crumbs for gluten free fish cakes.
Freeze And Use
These spicy fish cakes can also be frozen before frying or after frying. They can be frozen for up to 2 months. Just thaw them a few minutes and fry the patties or warm up the pre-cooked fish cakes in the oven or in a skillet.
Are Salmon Patties Healthy?
These spicy fish cakes are prepared with salmon as it is chunky, firm and flaky in texture. Salmon is a source of good quality protein and heart healthy unsaturated fats.
Specifically, salmon is a great source of the long chain omega 3 fatty acids. And is also a good source of other nutrients, such as B vitamins, selenium, vitamin D, potassium and phosphorus.
Regular consumption of fatty fish such as salmon has been associated with a lowered risk of heart disease, diabetes and obesity. Salmon has less saturated fat content than other animals protein sources, such as beef or chicken. Therefore, intake of salmon is conducive to maintaining healthy cholesterol levels.
Further, research studies have revealed beneficial effects of Salmon consumption on the brain and cognitive process. As such, it has been connected with a lower risk of depression, psychoses, dementia, cognitive deficits and ADHD.
Hence, inclusion of at least two servings of fatty fish per week as part of a healthy diet is highly recommended.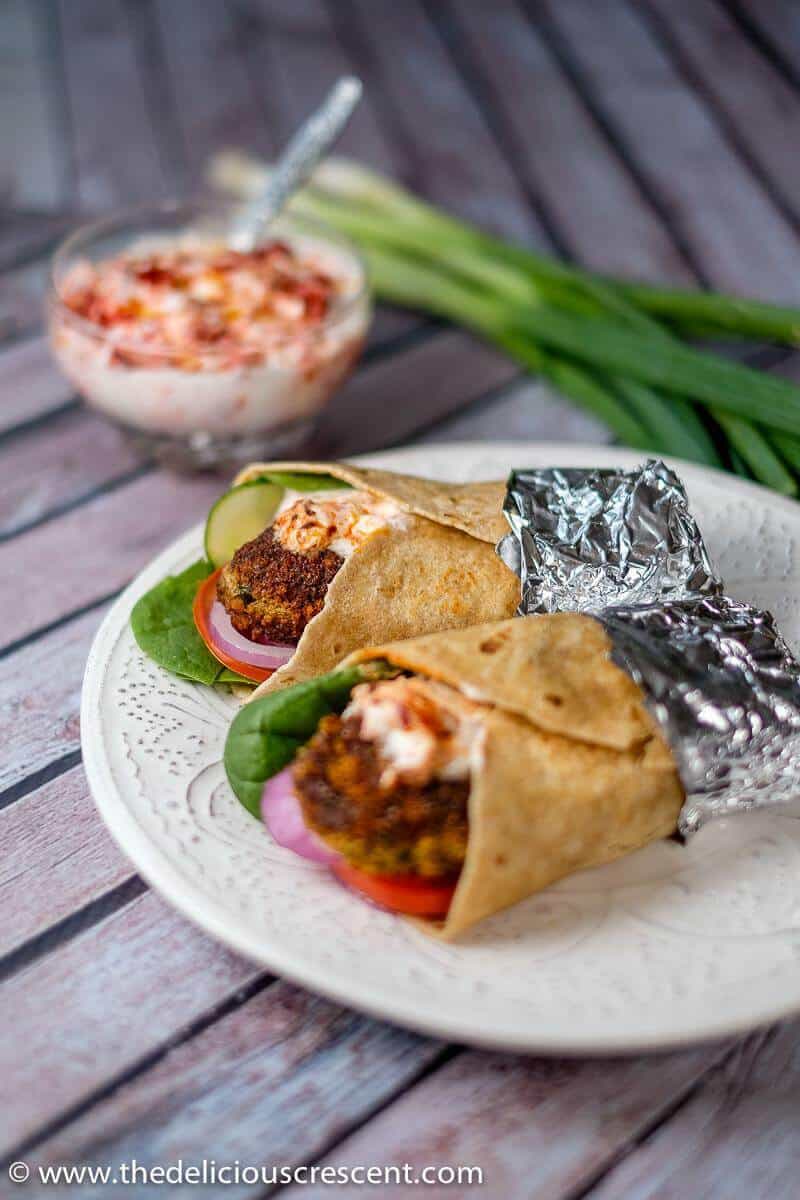 More Appetizers and Snack Recipes:
★ DID YOU MAKE THIS RECIPE? PLEASE COMMENT AND GIVE IT A STAR RATING BELOW!
Zaalouk (Moroccan Eggplant Dip)
Zaalouk is an amazingly delicious Moroccan salad or dip made with roasted eggplants. Easy to make, it tastes great with toasted bread. And gets even better the next day.
Print
Instructions
Preheat oven to 400˚F. Prick the eggplants with a fork in couple spots and place them on a parchment paper lined baking sheet. Bake for

35 to 45 minutes

until the skin turns darker and shrinks. Check foot notes for grilling, broiling or stove top options.

The eggplants should be cooked through completely in the center. To check, press the back of a fork on the eggplant. It should compress easily all the way into the center without any resistance.

Cut through the eggplant skin and scoop out the soft cooked flesh and mash it with a fork and set aside.

Chop the tomatoes into small pieces, discarding some seeds if you wish. See note below for peeled and deseeded tomatoes.

Heat 2 tablespoons olive oil in a saucepan at medium setting. Add the chopped tomatoes, minced garlic, paprika, cumin, cayenne or chili powder, ⅓ teaspoon salt and cook until tomatoes are softened, stirring in between, about

15 to 20 minutes

.

Add the mashed eggplants and cilantro. Continue to cook over low heat for another

10 to 15 minutes

, stirring occasionally, mashing it if needed, into a thick but slightly textured dip like consistency.

Stir in lemon juice and salt. Adjust as per taste, let it cool and transfer to a bowl, cover and refrigerate it overnight before serving.

Take the zaalouk from the refrigerator about

30 minutes

before serving and let it come to room temperature. Drizzle with remaining olive oil. Garnish with cilantro and red pepper flakes if you prefer.

Chunky Zaalouk: To make a chunkier but less traditional zaalouk, insert garlic cloves into eggplant and roast it in the oven at 400˚F, along with the tomatoes. Chop the eggplants and tomatoes. Add the spices, herbs, half the olive oil, salt and mash it up to desired consistency. Drizzle olive oil and serve.
Notes
Cooking Eggplants:

Grill: Roast eggplants on charcoal or gas grill for 20 to 30 minutes, turning them slowly in between, until skin turns darker and shrinks.
Broil: Cut eggplants lengthwise into halves and place the cut side down on a foil lined baking sheet. Place on the second rack and broil until skin turns darker and shrinks, about 20 minutes.
Stovetop: Peel the eggplants completely, only some stripes or leave the skin on if you don't mind it. Cut the eggplants into small pieces. Steam on high heat until soft or cook in a pan with some water until soft and mushy.

Easy Zaalouk: Combine all ingredients with ⅓ cup of water and cook it over stove top until softened. Mash it up well and drizzle olive oil.
Peeled and deseeded tomatoes: If you prefer, you can blanch the tomatoes. Cut a small cross on the surface of tomatoes and dump them in hot boiling water. After a minute, pick out the tomatoes and peel the skin, cut them into halves and deseed. Chop them into small pieces.
Use more tomatoes if you want the dip to be saucy. You may even try using a little bit of tomato paste to give it thickness.
Leftovers: Can be refrigerated for 4 to 5 days. You can freeze zaalouk for couple months. Thaw and reheat. Adjust the consistency, evaporating or adding water as needed. Check the seasoning as well.
Nutrition facts not including any added salt.
For other variations, tips and serving suggestions, scroll up the page to the blog post.
Nutrition
Calories:
77
kcal
|
Carbohydrates:
6
g
|
Protein:
1
g
|
Fat:
6
g
|
Saturated Fat:
1
g
|
Polyunsaturated Fat:
1
g
|
Monounsaturated Fat:
4
g
|
Sodium:
5
mg
|
Potassium:
280
mg
|
Fiber:
3
g
|
Sugar:
4
g
|
Vitamin A:
526
IU
|
Vitamin C:
9
mg
|
Calcium:
15
mg
|
Iron:
1
mg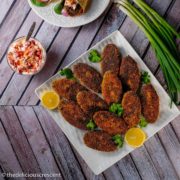 Spicy Fish Cakes (Fish Patties)
Spicy fish cakes (fish patties) crispy outside, soft in the center, these richly flavored spicy patties are a terrific appetizer. Easy, healthier, low carb and made with salmon. Freezes beautifully!

Print
Instructions
Fish Cake Mixture
Crumble the canned or steamed fish into smaller pieces. Add the grated onion, chickpea flour, cilantro, chili peppers, garlic, chopped mint, curry powder, cumin, coriander, paprika, turmeric, red pepper flakes and one egg to the fish.

And mix it all up very well into a smooth and moldable mixture. Canned fish will have some added salt, so add more salt only if needed.
Make The Fish Cakes
Divide the fish cake mixture into 12 to 16 portions. Roll each portion and flatten into an oval disc. Keep the shaped patties aside.


Set up the items for breading the patties. Beat the egg. Spread the bread crumbs in a flat plate.


Dip each salmon patty in the beaten egg and then dip it in the bread crumbs, making sure to coat all around in each step.


Press the patty gently to make sure the bread crumbs are nicely set on it. Keep the prepared fish cakes aside.
Fry the Fish Cakes
The fish cakes may be shallow fried in two batches in a skillet that has enough room for six to eight patties.


For each batch, heat 4 tablespoons oil in the

skillet

on medium high. Once the oil is hot enough, slide six to eight fish cakes and lower the heat to medium and shallow fry both sides for 2 to 3 minutes each until golden brown. Once done, transfer to a plate lined with paper towels.

Serve these spicy fish cakes in a platter with some onion and lime slices. May serve these as an appetizer, side dish, snack or they can be used to make sandwiches.

Notes
If the frying is done right at the optimum temperature and if not reusing the same oil, the absorption of oil can be kept to the minimum.

The shami kababs can be breaded and frozen a day ahead. Prior to frying, thaw the kababs. Frozen kababs can also be kept for a longer time for later use, especially in freezers that do not form ice crystals on the kababs.

Alternatively the shami kababs can be fried and wrapped in parchment paper and packed in freezer safe bags and frozen. Just thaw them and heat in a toaster oven, conventional oven or on a skillet.

Roasted chickpea flour, ginger garlic paste, dried mint, garam masala, turmeric, ground cumin and ground coriander are available at Indian and Middle eastern grocery stores or online.

May choose alternative oils for those with allergies.

Nutrition facts based on plain salmon and not including added salt.
For more tips and serving suggestions check out the

blog post

above.
Nutrition
Serving:
1
fish cake
|
Calories:
139
kcal
|
Carbohydrates:
5
g
|
Protein:
13
g
|
Fat:
7
g
|
Saturated Fat:
1
g
|
Cholesterol:
52
mg
|
Sodium:
52
mg
|
Potassium:
362
mg
|
Fiber:
1
g
|
Sugar:
1
g
|
Vitamin A:
680
IU
|
Vitamin C:
1
mg
|
Calcium:
20
mg
|
Iron:
1
mg
More Fish Recipes