These grilled lamb chops are absolutely mouth watering and delicious. Marinated in a flavorful Persian style sauce, nicely seared on the outside and juicy inside, these are perfectly grilled to give you the much celebrated Persian gastronomic experience.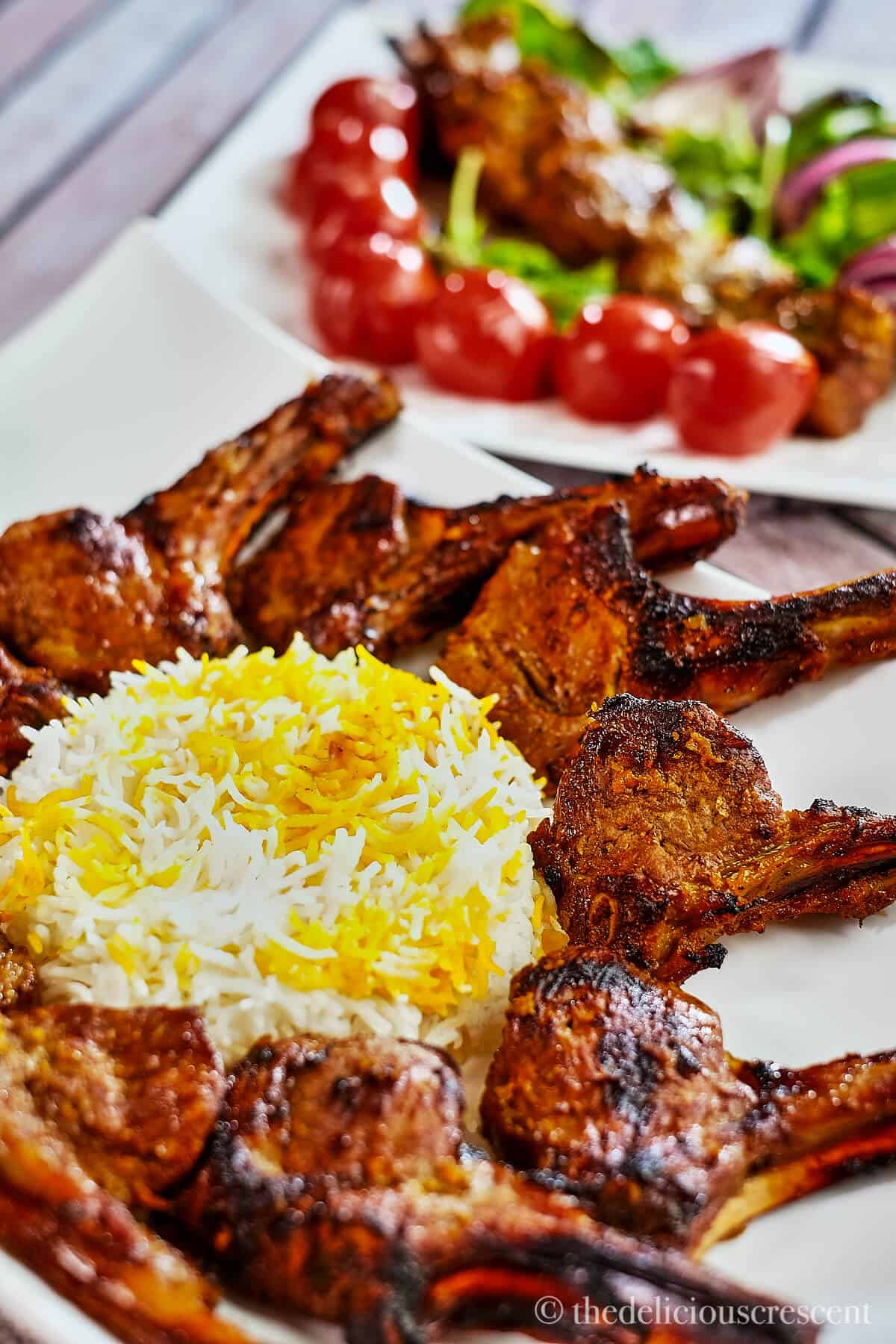 Persian Lamb Chops (Shishlik)
If you ever had the opportunity to enjoy some of the world famous Persian grilled meats, you ought to be smitten by it forever. The marinade I use here is guaranteed to give you the incredible experience you had at your favorite Persian restaurant.
Coupled with the choice of one of the best meats for grilling — lamb chops — and seasoned grilling techniques, you have a winner that will make it to your favorite recipes. It will be a crowd pleaser for sure!
Ingredients
Lamb Chops, Saffron, Onion, Olive Oil, Lemon Juice, Yogurt, Garlic, Citrus Zest, Salt, Pepper
Lamb Chops: Choose lamb rib chops that are about one inch thick. You may use loin chops too, but you would have to increase the cooking time by 2 to 3 minutes on each side.
Lamb rib chops that are already cut and ready for the grill are available at grocery stores. But you can also buy rack of lamb and cut out individual chops.
Saffron: Use high quality saffron. To learn more about saffron, check this post about Saffron tea.
Lemon Juice: Be careful of how much lemon juice you add to the marinade and basting mixture. If you use too much, it can make the meat too tangy.
How to Make it
*Full recipe at the end of blog post.
Combine marinade ingredients, coat lamb chops well and marinate for at least 12 hours in the refrigerator. Make the basting mixture.
Preheat the grill. Arrange meat directly on the grate or threaded on skewers. Place vegetable skewers as well.
Grill the chops for 4 to 5 minutes on each side until meat is seared on the outside but juicy inside. Baste all skewers with basting mixture.
Serve with rice, flatbreads, pickles and sumac.
Make Ahead / Meal Prep
Prep the meat ahead as per instructions in the recipe and refrigerate. Make saffron water and basting mixture ahead. You can combine all ingredients for the marinade in advance, except onion and garlic. As these vegetables should be grated fresh and added to the marinade just before mixing with meat.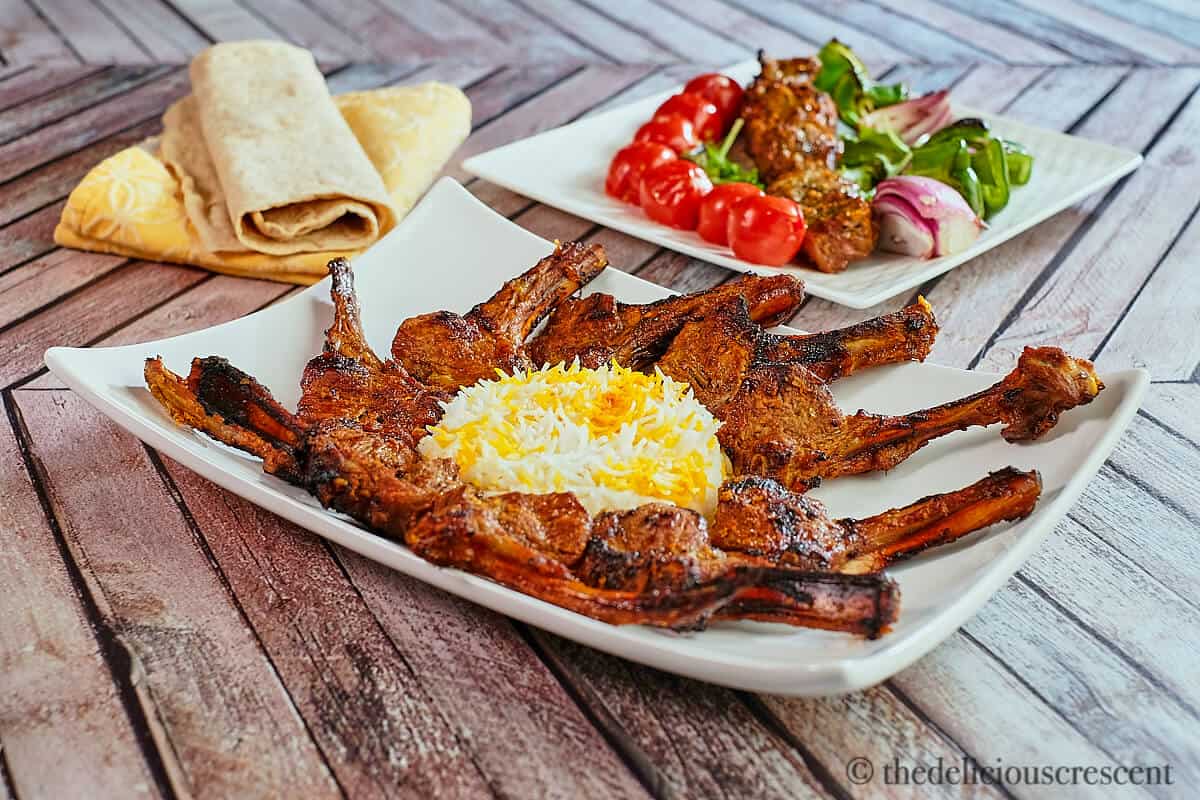 What to Serve Along
Lamb Nutrition Facts
Lamb is an excellent source of high quality protein and vitamin B-12. It is also a source of niacin, zinc, selenium, phosphorus and Iron.
However, it is recommended that red meats, such as lamb should be consumed only in moderation, because a diet rich in red meats may increase the risk of certain chronic diseases.
Grass fed lamb would be a good choice. It is more lean and is a better source of omega-3 fatty acids and conjugated linoleic acid. And both of these nutrients are associated with several health benefits.
The recipe here is low carb, gluten free, high protein, egg free, nut free and soy free. Lower the salt to make it low sodium.
More Grilling Recipes
★ DID YOU MAKE THIS RECIPE? PLEASE COMMENT AND GIVE IT A STAR RATING BELOW!
Grilled Lamb Chops (Persian Style, Shishlik)
These grilled lamb chops are absolutely mouth watering and delicious. Marinated in a flavorful Persian style sauce, nicely seared on the outside and juicy inside, these are perfectly grilled to give you the much celebrated Persian gastronomic experience.
Print
Save
Saved!
Ingredients
2

lbs

lamb rib chops

½

teaspoon

saffron

ground and dissolved in 2 tablespoons hot water

1

onion

large, grated

3

garlic cloves

grated

½

cup

plain yogurt

2

tablespoons

lemon juice

1

tablespoon

olive oil

2

teaspoons

grated zest

lemon or orange

2

teaspoons

salt

1

teaspoon

ground black pepper
Vegetables (optional)
Bell peppers

quartered

Red onions

quartered

Tomatoes

roma
Instructions
Pre-Preparation
Using a mortar and pestle, grind the saffron threads with a pinch of salt until powdered. Dissolve this in hot water and soak for 15 to 20 minutes.

Trim any excess fat from the lamb chops. Using a meat mallet, lightly pound the thicker portions of the meat to help tenderize the meat.

In a large bowl, combine the marinade ingredients — 1½ tablespoons saffron water, grated onion, grated garlic, yogurt, lemon juice, olive oil, salt and pepper. Add the lamb chops, toss to coat well and marinate for at least 12 hours in the refrigerator.

Leave the lamb out for about 15 minutes at room temperature, prior to grilling.
Ready The Grill
Preheat the charcoal grill about 30 minutes before grilling. We recommend using hardwood charcoal and not briquettes for perfect flavor. The grill is ready when the flame has subsided, coals glow uniformly and covered with some ash.



Tip: A small fan or hair dryer may be useful. Check this tutorial for more about charcoal grilling.

Alternatively, grill lamb chops using nicely oiled grates on gas grill at medium heat, for 7-10 minutes. See note for oven baking option.
Prepare Meat and Arrange on Grill
Meanwhile, thread the lamb chops on ½ inch wide metal skewers making sure to pass the skewer through the thick portion of the meat. You will need to rest the bones on a separate skewer while placing it on the grill.

Thread the vegetables as well on additional skewers. (if using wooden or bamboo skewers, soak them in water at least 30 minutes before using).

Arrange the skewers spacing them apart, directly over the grill without the grate, about 4 inches above the glowing coals, making sure to use another skewer to support the bones. Tip: Alternatively you can place the lamb chops directly on a grate, without threading on the skewers.

Place the vegetable skewers together on one side of the grill.
Grilling
To make the basting mixture, combine olive oil, saffron water, lemon juice, salt and pepper.

Grill the chops for 4 to 5 minutes on each side, flipping them a few times, until the meat is nicely seared on the outside but pink and juicy on the inside. Baste all skewers with basting mixture while grilling and at the end.

Avoid cooking the lamb chops too close to the heat source or they will burn on the outside and remain uncooked inside. Do not cook at very low heat and for too long, otherwise they will become dry and overcooked.

Serve the grilled lamb chops and vegetables with lavash, rice, pickles and sumac on the side.
Notes
Stove top/Oven:

Brush a cast iron grill pan or skillet with olive oil and heat at medium high. Place the lamb chops in one layer, spacing them apart. Sear both sides on high heat until golden brown, about 2 minutes.
Continue to cook on the stove at medium or transfer the skillet to an oven preheated at 400 degrees Fahrenheit, and bake for 10 to 15 minutes until well done. Lesser time for medium or medium-rare.
The chops can also be broiled in the oven about 5 minutes per side for medium, more time for well done.

Storage: Grilled lamb chops will keep well in the refrigerator for couple days. Sprinkle some water and reheat quickly.
Marinade without yogurt: You can skip the yogurt and increase the lemon juice to ¼ cup and grate extra ½ onion. Do not use too much lemon juice or the meat will become tangy.
Butter for basting: Traditional recipes use some butter or ghee in the marinade for basting the kebabs. This imparts a rich flavor while the fat drops off during grilling. Some recipes combine butter and olive oil.
Dried herbs: You can sprinkle some dried mint or thyme on the lamb chops before grilling for a flavor twist. Though this is not traditional.
Well done, medium or rare: This is really personal preference. Even well done lamb chops can be juicy as long as you don't cook it for too long and very low temperature.
If you prefer, wrap the bones of Frenched lamb chops with aluminum foil to keep them from burning.
Scroll to the blog post above for more tips and details about ingredients.
Nutrition facts are approximate as marinade is discarded.
Nutrition
Serving:
4
oz
|
Calories:
212
kcal
|
Carbohydrates:
1
g
|
Protein:
23
g
|
Fat:
12
g
|
Saturated Fat:
4
g
|
Cholesterol:
75
mg
|
Sodium:
258
mg
|
Potassium:
313
mg
|
Fiber:
1
g
|
Sugar:
1
g
|
Vitamin C:
1
mg
|
Calcium:
19
mg
|
Iron:
2
mg
More Lamb Recipes