Persian jeweled rice, also known as Morasa Polo, is a stunning rice dish that is a delicious celebration of textures, flavors and colors. A true masterpiece, this recipe with fluffy basmati rice, spices, dried fruits, nuts and exotic aromas will absolutely mesmerize you!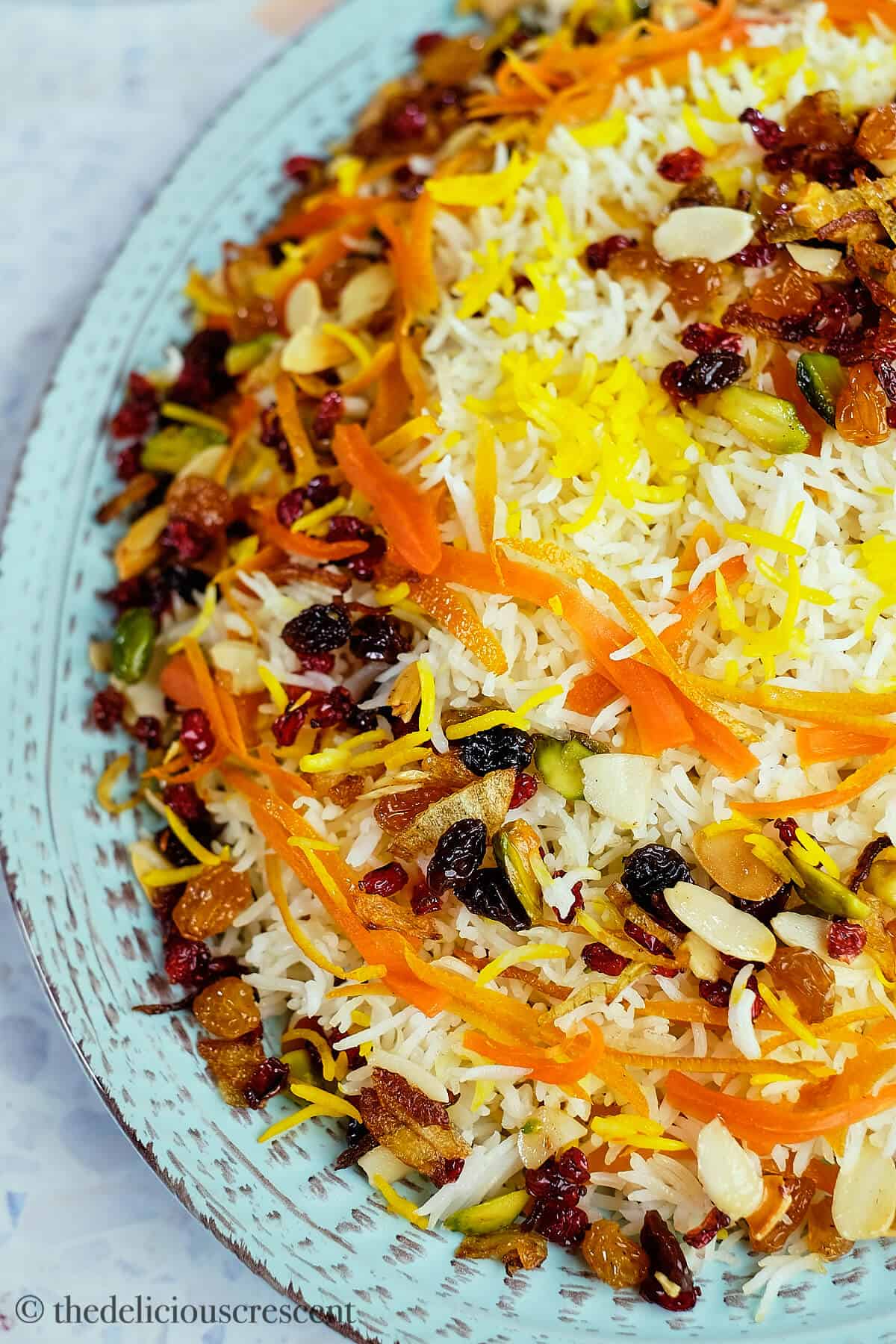 What is Morasa Polo?
Persian jeweled rice, known as Morasa Polo, or Javaher Polo, is a mouth-watering and regal Persian dish that has been popular since ancient times. It is made with fluffy basmati rice, saffron, almonds, pistachios, carrots, orange peel, barberries, spices, aromatics, and sugar, all of which come together to create a vibrant and flavorful dish.
Javaher Polo shares some common elements with zereshk polo and is often accompanied by saffron chicken. Its flavors also work well in vegan recipes such as cranberry rice with lentils.
The fragrant spices, vibrant colors, and layers of interesting textures make jeweled rice one of the most celebrated Persian dishes. In fact, "Javaher" means jewels, and "Polo" means rice in Persian, as this dish is truly fit for royalty and often graces the tables at weddings as a centerpiece.
With its bright red barberries and green Persian pistachios, jeweled rice looks like a stunning masterpiece studded with rubies and emeralds. But, don't let its grand appearance intimidate you. This dish is actually quite easy to assemble, and once done, you will be proud of having created such a lovely and delicious dish.
Overall, jeweled rice is a dish that deserves a place in any food lover's repertoire. Its flavors and textures are simply unbeatable, and it's a true celebration of Persian cuisine.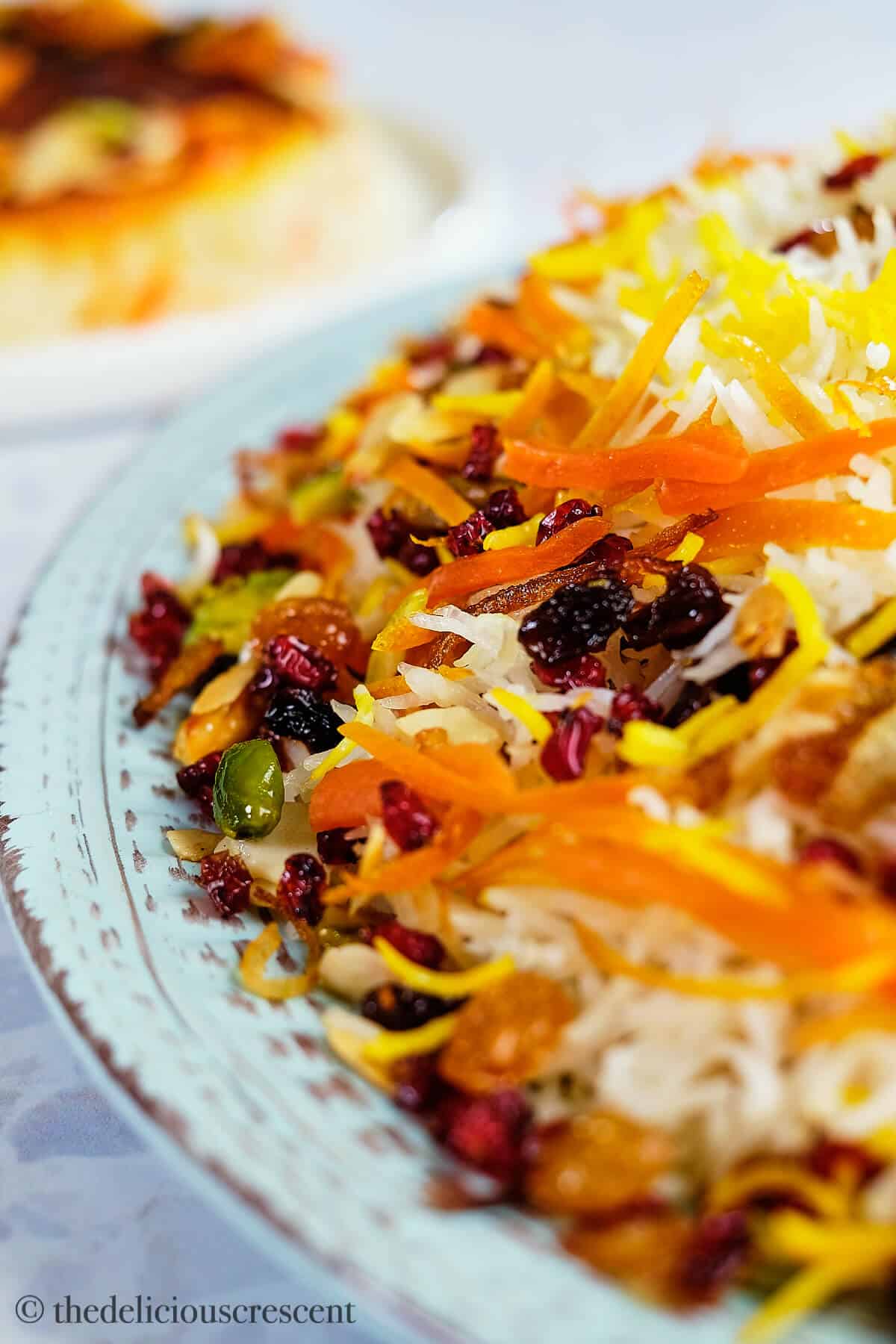 Perfect Jeweled Rice
There are various methods to prepare Persian jeweled rice. The traditional way, typically served at weddings and Persian restaurants, involves using high quality basmati rice, original saffron, and ghee or butter for restaurant quality taste.
However, to make it lighter, you can substitute olive oil for the main rice recipe and use ghee or butter for the crunchy rice crust (tahdig) or just drizzle on top.
If you prefer to use a rice cooker, I will also provide instructions on how to make this dish with one. If you love Persian rice, definitely invest in a Persian rice cooker to create outstanding rice dishes with ease.
Recipe Ingredients
The ingredients for this Persian rice recipe are readily available, but I've also included some substitute options.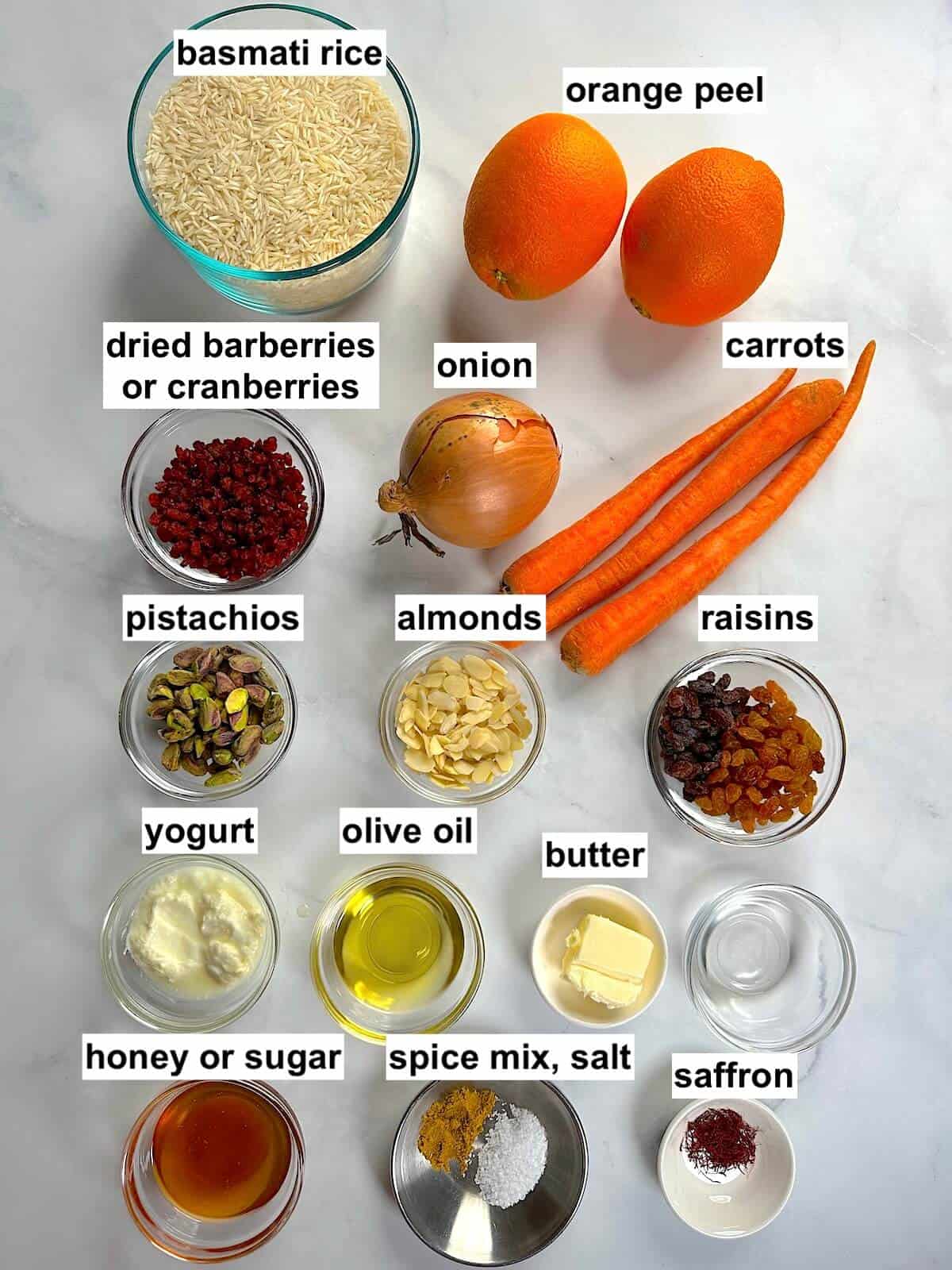 Rice: The key to making the perfect Persian rice is to use the best quality, aged, long grain basmati rice from a popular brand. Ask your local Indian grocer for the best variety in any brand, which is typically also the most expensive.
Saffron: Opt for premium saffron as described in the saffron tea article. Though pricey, only a small quantity is required, and the flavor is unparalleled. Grind it to a fine powder using a mortar and pestle to extract maximum flavor.
Yogurt: If you want to make a rice crust (tahdig), use a couple of tablespoons of regular yogurt (not Greek yogurt). But you can also make it without yogurt. I don't use it for making a flatbread crust.
Cooking Oil, Butter or Ghee: Ghee or butter is traditional and more common in restaurants, but you can use olive oil or avocado oil for a lighter version.
Spices: Use Persian spice blend, advieh, available at Middle Eastern stores or online. For polo (rice), use the specific advieh blend or use khoresh advieh blend in small amounts. You can also make a substitute by combining coriander, cinnamon, cumin, black pepper, cardamom, and turmeric in a 1:1:½:½:¼:¼ ratio.
Sweetener: This recipe uses sugar like shirin polo, but honey can be used as a substitute. Shirin polo is sweeter than this dish.
Onions: Yellow onions will work well.
Orange Peel: You'll need finely slivered orange peel for this recipe, so pick organic oranges. Using a peeler just peel the orange skin leaving the white pith behind.
Carrots: Cut these into matchstick-like pieces or julienne them. It adds color, texture and flavor and pairs well with the orange peel. You can also use store-bought pre-shredded carrots, usually placed in salad and vegetable section.
Barberries: These tangy-sweet berries are known as "zereshk" in Persian and are available in their dried form at Persian and Middle Eastern stores. If you can't find barberries, you can substitute with finely chopped dried cranberries.
Dried Fruit and Nuts: We need raisins, and I use a combination of golden and dark raisins. You can also add sliced apricots. Slivered or sliced almonds and pistachios add a delicious crunch.
Orange blossom water or Rose water: This is optional but recommended. Try soaking saffron in orange blossom water, as it intensifies the orange flavor.
Chicken (Optional): If you want to add protein, you can use bone-in skin-on chicken that is whole or cut up into pieces. Cornish game hens also make a nice presentation. Skin-on chicken roasts beautifully keeping the chicken moist.
How to Make Jeweled Rice
Make this flavorful Persian-style rice dish with the various components.
Prepare Barberries: Start by cleaning and rinsing dried barberries.
Preparing the saffron water: Grind saffron and soak in orange blossom water or plain water.
Orange Peel and Carrots: Cook slivered orange peel with julienned carrots and honey.
Preparing the rice: You can cook rice using a traditional pot method or a rice cooker.
Preparing the garnish: Fry onions until golden brown, and candy a mixture of dried fruit and nuts with honey.
Preparing the crust: To make rice tahdig, spread a mixture of cooked rice, yogurt, and saffron water over oil or butter in a pot to form a golden brown crust. Use sufficient oil or butter at the bottom of a non-stick pot for best results.
Layering and steaming the rice: Assemble the dish by layering the cooked rice with the orange-carrot mixture and then steaming it for 15-20 minutes.
Serving and garnishing: Serve it by layering it with fried onions and the dried fruit-nut mixture.
Saffron Chicken: You can also add an optional chicken component.
Top Tips
Barberries: To prevent staining the surrounding rice, cook the berries briefly and add them in the final step. Be careful not to burn them by taking the pan off the heat quickly.
Crunchy Nuts: Toast nuts until crisp and add dried fruit just before garnishing to prevent them from absorbing moisture.
Pistachios: Soak briefly to soften the exterior to loosen the peel. If you soak it too long, it will take longer to crisp the nuts later on.
Candied dried fruit and Nuts: Drizzle thick honey for a candied touch while keeping nuts crispy.
Frying Onions: Saute until well-cooked, light golden brown with crisp edges. Cast iron cookware works the bests as it retains heat better and watch carefully to prevent burning, especially towards the end.
Traditional method: Boil rice for 4 to 5 minutes and drain when parboiled, retaining shape, with soft tips and white dot in the center.
Rice cooker method: The amount of water needed can vary from 1¼ to 1¾ cups water per cup of rice, depending on the age of the rice. Check rice cooker method video for this lentil and rice with cranberries.
What to Serve With Morasa Polo?
Variations
This Persian rice is gluten free (with a rice crust), egg free, soy free and vegetarian (without optional chicken). If using a flatbread crust, it would not be gluten-free. Below are some ideas you can try.
Vegan/Dairy Free: Use only oil and skip butter or ghee. Don't use dairy based yogurt for making the tahdig. Skip the chicken and use roasted cauliflower steaks.
Other Meats: You could also try beef kabobs or lamb chops.
Add Vegetables: Try adding roasted shiitake mushrooms or eggplant.
Topping: Try garnishing with pomegranate arils.
Lower Carb/Grain free: You could try replacing basmati rice with cauliflower rice.
Healthier: Replace white basmati rice with brown basmati rice, adjusting the cooking time and amount of water as per package instructions. You could even try combinations with wild rice or quinoa.
Recipe FAQs
What are some tips for achieving the perfect texture in Persian Jeweled Rice?
For best results, use the appropriate amount of water and oil, and avoid overcooking the rice. Pay close attention to the cooking time and use a wide pot, stirring gently. For additional tips, please refer to the biryani recipe FAQs.
What are the health benefits of Persian Jeweled Rice?
Persian Jeweled Rice is loaded with nutritious carrots, orange peel, nuts and dried fruits. You can further improve the nutrition value by using brown rice. Adding chicken will also increase the protein content of the recipe.
Is basmati rice better for making Persian rice recipe?
Yes, basmati rice is the preferred long grain rice for making Persian rice recipes. This is because the rice grains hold their shape better, and don't stick together, resulting in fluffy long grain rice, which is the hallmark of Persian rice. Also, this rice variety has a nice subtle aroma.
Why do Persians soak rice?
Soaking rice enhances the texture and integrity of rice grains by absorbing the water and expanding. The grains become longer, stronger and also have an improved ability to stay fluffy.
How to make tahdig with flatbreads such as lavash?
Heat 2 tablespoons of olive oil or butter in a wide non-stick dutch oven. Spread the oil or butter evenly and sprinkle few drops of saffron water. Place the lavash or tortillas to fit the base of the pan. Assemble the rice and orange-carrot layers according to the recipe.
More Persian Recipes
★ DID YOU MAKE THIS RECIPE? PLEASE COMMENT AND GIVE IT A STAR RATING BELOW!
Persian Jeweled Rice (Morasa Polo)
Persian jeweled rice, also known as Morasa Polo, is a stunning rice dish that is a delicious celebration of textures, flavors and colors. A true masterpiece, this recipe with fluffy basmati rice, spices, dried fruits, nuts and exotic aromas will absolutely mesmerize you!
Print
Save
Saved!
Ingredients
½

cup

barberries

or dried cranberries

2

organic oranges

for 1 cup slivered orange peel

2

carrots

peeled and julienned or 1½ cups shredded carrots

⅓

cup

honey

or ½ cup sugar

3

cups

basmati rice

rinsed well and drained, see note

1

teaspoon

salt

⅓

cup

olive oil

or avocado oil

1

large yellow onion

thinly sliced

2½

tablespoons

butter

or ghee

¼

cup

almonds

slivered or sliced

¼

cup

pistachios

slivered or sliced

½

cup

raisins

½

teaspoon

saffron

ground and dissolved in 2 tablespoons orange blossom water or plain water

2

tablespoons

yogurt

1

teaspoon

advieh

Persian spice mix, or combine ground cumin, cardamom and turmeric
Instructions
Barberries
Remove tiny stems from dried barberries and place them in a colander. Immerse the colander in a bowl of cold water for

20 minutes

until sand settles at the bottom. Rinse thoroughly, drain and set aside.
Orange Peel and Carrots
Peel the orange skin leaving the white pith behind. With a sharp knife, finely cut the orange peel into long slivers.

In a medium saucepan, add slivered orange peel and 1 cup of water. Bring to a boil, lower heat, and simmer for

2 minutes

. Drain to remove bitterness..

To the same saucepan, add julienned carrots and cook for

2 minute

over low heat. Add ¼ cup of honey and 2 tablespoons of water. Cook until slightly softened, for about

1 minute

, stirring often. Drain excess juices and set aside.
Cook Rice (2 Ways)
Rinse rice 4-5 times with lots of water until it is clear and not starchy. Drain well. Choose one of the two methods below.

Traditional Method: In a large cooking pot, bring 10 cups of water with 2 tablespoons of salt to a rolling boil. Add basmati rice and boil at medium-high to high heat for

4-5 minutes

until soft, stirring occasionally. Drain rice in a colander and set aside.

Rice Cooker Method: In a rice cooker, bring 4 cups of water to a boil. Add 1 teaspoon of salt, 3 tablespoons of olive oil, and basmati rice. Stir. Cook only until all water is absorbed. It is important to NOT let the rice steam until it is fully done. In my rice cooker the whole process takes about 

15 to 20 minutes

. Transfer cooked rice immediately to another pan.
Fried Onions
In a cast iron skillet, heat remaining oil until shimmering. Add onions and sauté until light golden brown, stirring occasionally, about

15 to 20 minutes

. Using a slotted spoon, transfer onions to a plate. Wipe skillet clean.
Dried Fruit and Nuts
To the same skillet, add ½ tablespoon of butter and let it melt. Add nuts and sauté until toasted and crisp, about

2-3 minutes

. Transfer nuts to plate.

Add raisins and sauté for 1 minute. Then add barberries and cook for under 1 minute. Watch carefully as the berries burn easily.

Add the nuts back to the skillet and drizzle 1½ tablespoons of honey and stir for 1 minute. Transfer dried fruit and nut mixture to plate.
Rice Crust (optional, skip to next step if not making this)
Melt 2 tablespoons of butter or ghee in a non-stick pot or Persian rice cooker bowl. Combine ½ cup of cooked rice with yogurt and 2 teaspoons of saffron water. Spread ¼ inch thick layer of rice-yogurt mixture over melted butter in pot. Tip: Adjust the oil, rice, yogurt and saffron used according to the pot size.
Assemble Layers
Stir ¼ cup of cooked rice with a teaspoon of saffron water and set aside. Place remaining cooked white rice and most of the orange peel-carrot mixture in several alternating layers, sprinkling advieh in between. Drizzle 3 tablespoons oil if rice was cooked with traditional method.

Sprinkle saffron water all over and make several holes in rice with a wooden spoon. Steam rice and orange-carrot layers together for

15-20 minutes

.
Serve
Once the rice is ready (steaming), turn off the heat and let it rest for

5 minutes

. Lightly mix the layers. Plate rice on a serving platter, alternating with fried onions and dried fruit-nut mixture. Top with more fried onions, slivered orange peel and carrots, dried fruit-nut mixture. Scatter some saffron rice on top. Serve the rice crust (tahdig) if prepared, on the side.
Chicken (optional)
In an ovenproof baking dish, combine chicken with onions, garlic, cumin, turmeric, olive oil, salt, pepper and saffron. Cook the chicken on the stove or in the oven, until fork tender and then brown it. To do this on stove top, evaporate all the juices, drizzle some oil and brown the chicken on all sides. Alternatively, broil in the oven at high heat. For stove-top method, cut up chicken for easier browning.
Notes
Rice: Check package for cooking times or test with a small quantity first. Look for premium long grain basmati rice brands at an Indian grocery store such as India Gate, Royal or Zebra.
Persian spice mix Advieh and barberries (zereshk) are available at Persian or Middle Eastern stores or online. Substitute advieh with mild Mediterranean or Middle Eastern spice blend.
Traditional method: Boil rice for 4 to 5 minutes and drain when parboiled, retaining shape, with soft tips and white dot in the center.
Rice cooker method: Use 1¼ to 1¾ cups water per cup of rice, depending on the age of the rice. Check the video for this lentil and rice with cranberries. 
Oven Method:

Preheat oven to 350°F.
Heat 2 tablespoon of olive oil or butter in oven proof dish such as a Pyrex baking dish.
Spread oil or butter, saffron water, rice-yogurt mixture or flatbreads to fit the base of the pan.
Arrange rice and orange peel-carrots in alternating layers, drizzle oil or butter and remaining saffron water all over.
Cover with parchment paper, foil and seal well. Bake for an hour, until steam builds up well.
If making the crust (tahdig) it should be golden. If using a glass dish, you can check the base.
Let it rest a few minutes before serving.

Make Ahead/Storage: Have the saffron water, orange peel, carrots, dried fruit and nuts ready 2 days ahead. Mix the dried fruits and nuts only before garnish. The jeweled rice freezes beautifully. Just thaw and reheat.
Grinding Saffron: Using a mortar and pestle, grind the saffron threads with a pinch of salt or sugar into a fine powder.
Check the full blog post above for more about ingredients, tahdig, tips, serving suggestions, recipe FAQs and variations.
Nutrition
Calories:
365
kcal
|
Carbohydrates:
60
g
|
Protein:
5
g
|
Fat:
12
g
|
Saturated Fat:
3
g
|
Polyunsaturated Fat:
2
g
|
Monounsaturated Fat:
7
g
|
Trans Fat:
0.1
g
|
Cholesterol:
6
mg
|
Sodium:
209
mg
|
Potassium:
216
mg
|
Fiber:
2
g
|
Sugar:
9
g
|
Vitamin A:
1793
IU
|
Vitamin C:
5
mg
|
Calcium:
43
mg
|
Iron:
1
mg
More Rice Recipes