Koshari, the famous Egyptian national dish, is made with rice, lentils, pasta and chickpeas. With a variety of textures, sauces and flavors, it is a taste to savor. See what makes this humble, healthy and vegan recipe such a winning treat!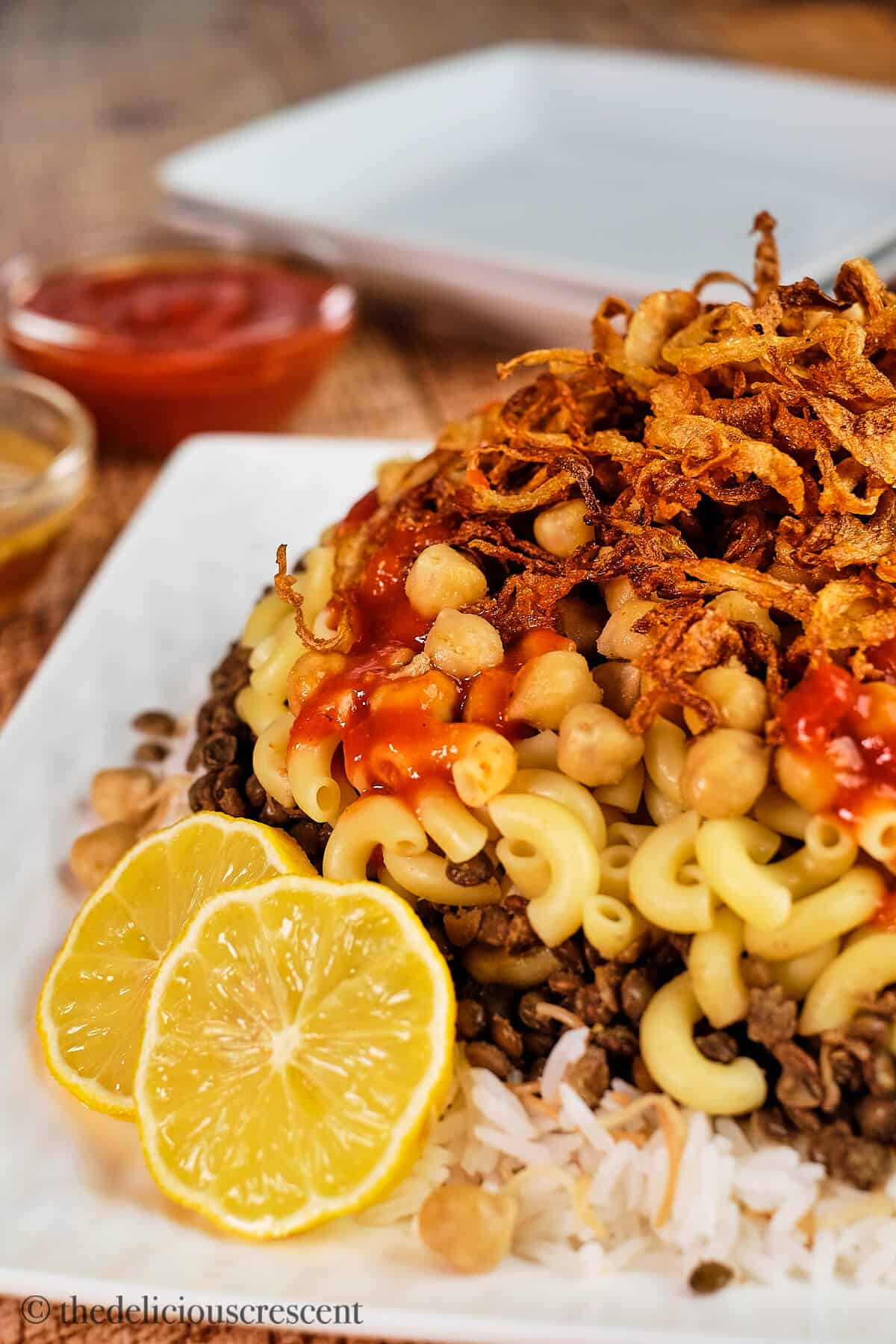 Koshari - The Egyptian Rice Dish
Known as koshary, koshari or kushari, this simple rice is a popular street food in Egypt and also touted as its national dish.
It is composed of layers of cereal/grain (rice and pasta), layers of plant protein (chickpeas and lentils), zesty sauces (tomato and garlic), all topped with a glorious fried onion layer. The various elements together create an amazing mouthfeel and taste.
All you need are some pantry staples and it is also a great way to use up leftovers. Although it is a pretty simple recipe to put together, it does require time and more dishes are used in the process.
The Story
Apparently koshari was created in mid-19th century and is a pretty innovative recipe. The story goes that an Indian rice and lentil dish known as khichdi was brought to Egypt during the British rule. That appealed to Egyptians so much, that they took inspiration from it and created their own masterpiece.
It is also a recipe that has a combination of mediterranean and middle eastern elements. Another popular dish with similarities is the Arabic Mujadara, a rice-lentil recipe.
A variety of textures, colors, sauces and flavors come together to make this amazing Egyptian feast.
Recipe Ingredients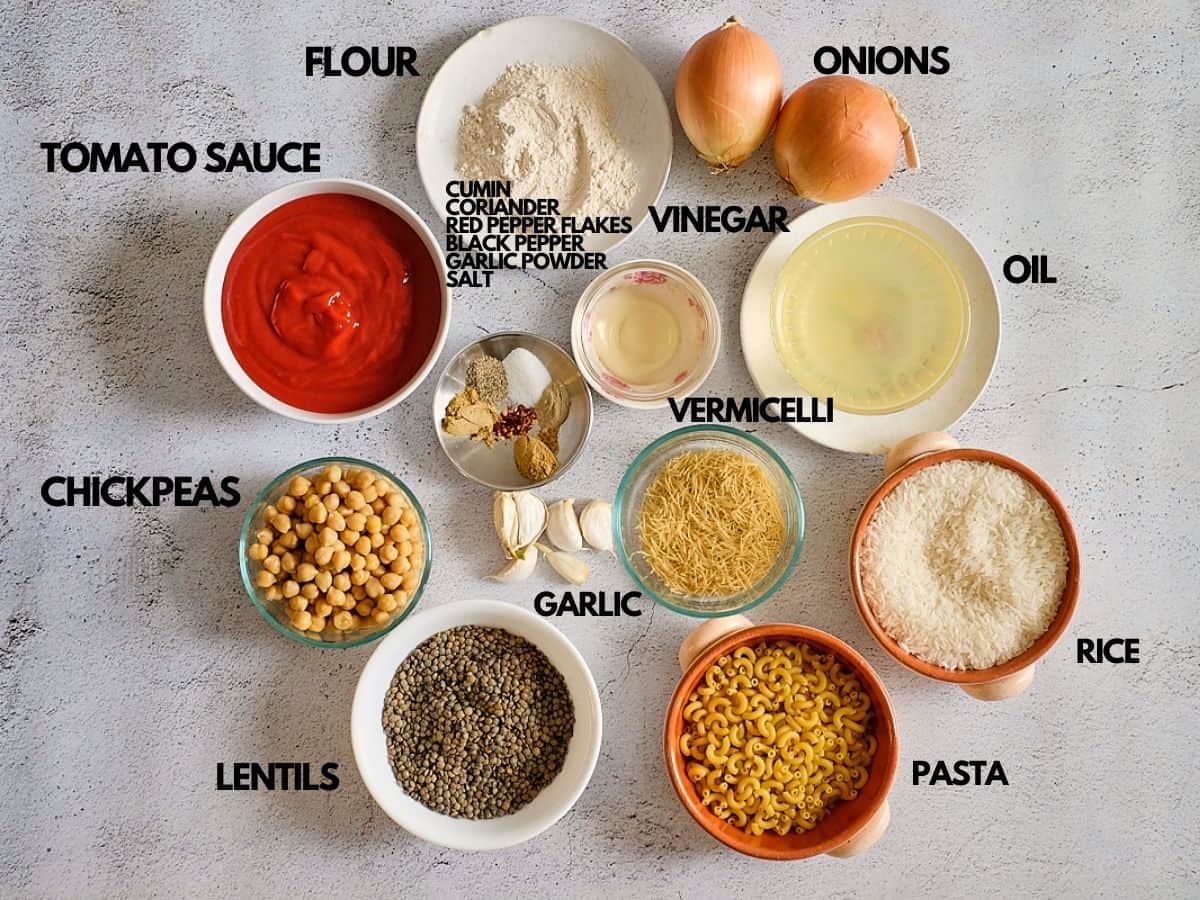 Onions: I peel large yellow onions and slice them thin using my mandolin slicer.
Cooking Oil: Sunflower oil is what I use for frying the onions. But you may use any neutral tasting oil with high smoking point.
All Purpose Flour: Sprinkle flour all over the onions to make really crispy onions.
Rice: I chose jasmine rice as I prefer longer grain texture and it also has a nice aroma. However, typically small or medium grain is used.
Vermicelli (optional): I add some of this to the rice layer for another interesting textural element that is sometimes found in mediterranean rice recipes.
Lentils: Here I used French green lentils as they hold their shape when cooked. Typically brown lentils are used, which are easily available.
Pasta: Small bite-sized pasta is suitable for this dish. I chose elbow pasta but ditalini is another option.
Chickpeas: To simplify the process I use canned chickpeas. But you can also soak dried chickpeas overnight and cook it.
Tomato Sauce: This is the easiest and most common choice for making the sauce. But I prefer to use crushed tomatoes. Some people also use diced tomatoes in juice, but for this recipe that may be too chunky.
Garlic: We need fresh garlic to make the garlic vinegar.
Spices: I use ground cumin, ground coriander and red chili flakes. Use chili flakes as per preference.
White Vinegar: Flavorless white vinegar is the best for making the sauce. Mildly flavored vinegars are also not suitable.
Garlic Powder (optional): I use this to flavor the chickpeas. Skip it if you don't have it.
Salt and Pepper: Use it to season the dish as per your taste.
Lemon Juice (optional): You can add this to the garlic vinegar, or simply use more vinegar.
How to Make Koshari
*Full recipe at the end of blog post.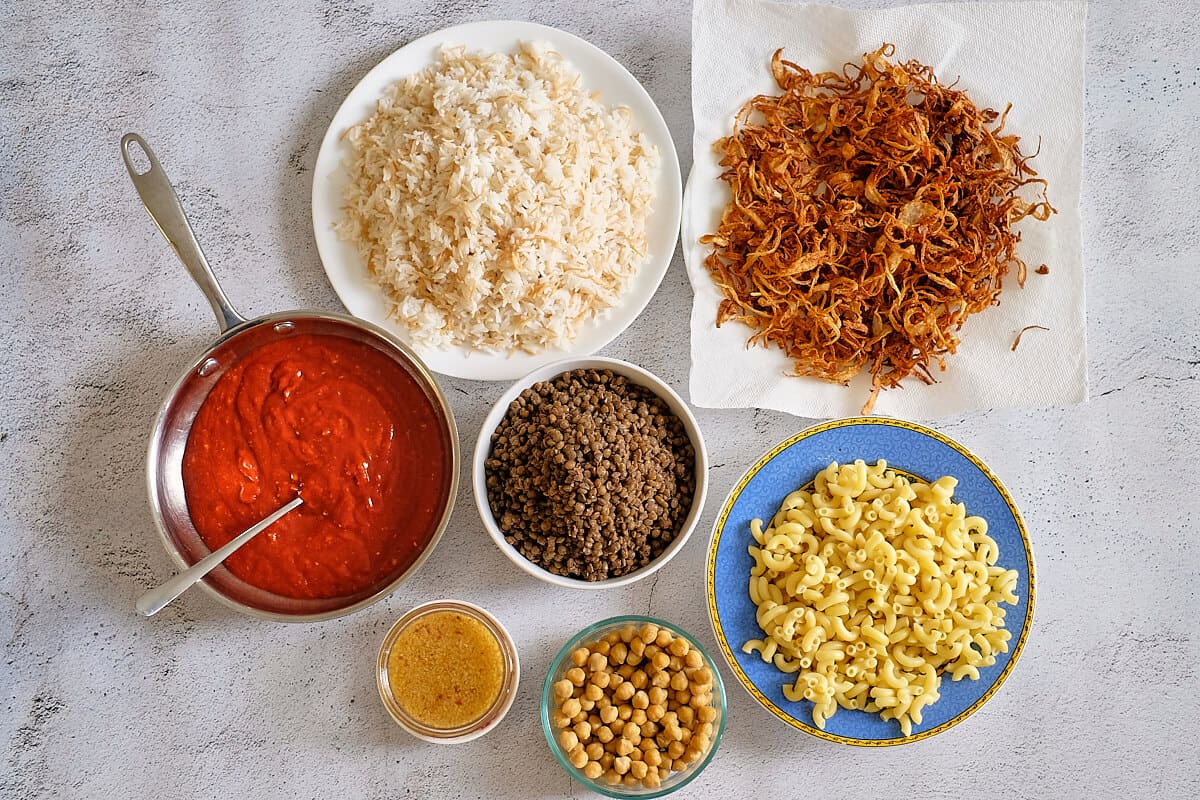 Crispy Onions: Fry the sliced onions in oil heated at medium-high.
Lentils: Cook lentils with onion oil, cumin and salt.
Rice with vermicelli: Saute vermicelli in onion oil. Add rice, water and salt and cook it.
Pasta: Cook elbow pasta in boiling salted water until al dente.
Chickpeas: Season chickpeas with onion oil, garlic powder and cumin.
Sauces: Saute garlic in onion oil and add chili flakes, coriander and cumin. Divide it into two parts.

Tomato Sauce: To first half of it add tomato sauce, salt and pepper to taste.
Garlic Vinegar: To the other half add vinegar, water, more cumin, salt and pepper.
How to Serve It
You can assemble all the layers in a large serving platter.
The other option is to serve all the individual components separately. Let the people assemble their own koshari bowls as per their preference.
What to Serve Along
This Egyptian rice is enjoyed as a meal by itself. But if you want to add more items on the side then these are my suggestions.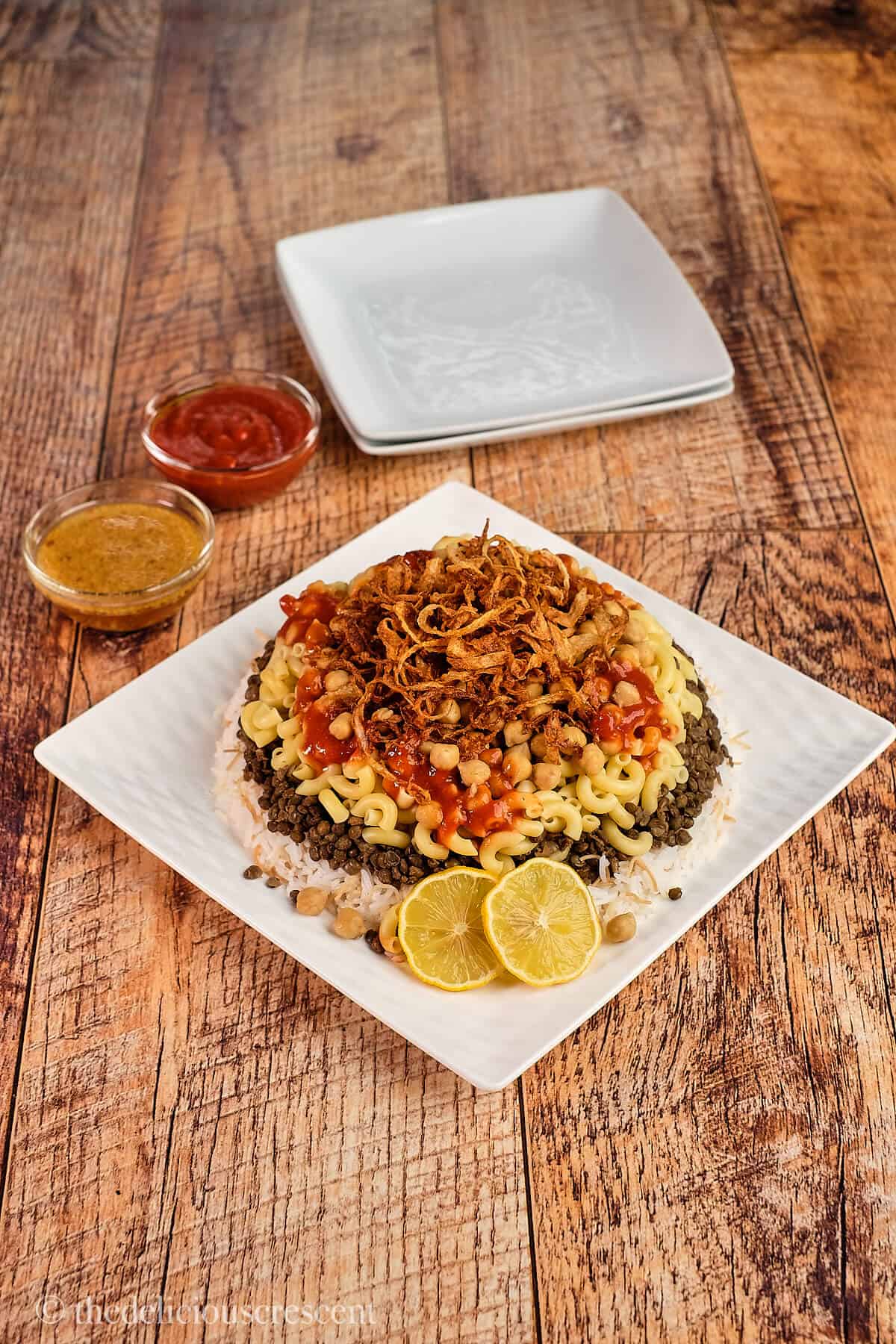 Koshari is a great choice for entertaining guests. It is something different and everyone can make their own plate as per their taste.
Variations and Tips
Koshari is vegan, dairy free, egg free, nut free and soy free.
Add Meat: Meat lovers could perhaps layer strips of beef, lamb or chicken that have been spiced and sautéed.
Healthier: Use brown rice or wild rice and whole wheat or lentil pasta.
Add Flavor: Instead of using ground cumin and ground coriander you could use baharat, a readymade middle-eastern spice blend. You may also use MSG-free vegetable bouillon cubes in cooking water or use chicken stock to cook the rice, lentils and pasta.
Lower Carb: This is a carb loaded dish. However, you can replace rice with cauliflower rice. You may also opt for lentil based pasta which has more protein. It is not going to lower the carbs a great deal, but will add extra vegetables, protein and a different flavor to the dish.
Gluten Free: Use rice flour for fried onions. Choose lentil or chickpea based pasta.
Make Ahead
Mediterranean Kushari is perfectly suited for making ahead and meal planning. Literally all the layers in this recipe can be prepared a couple days before. I would try to make the crispy onions as close to serving time as possible for optimal texture.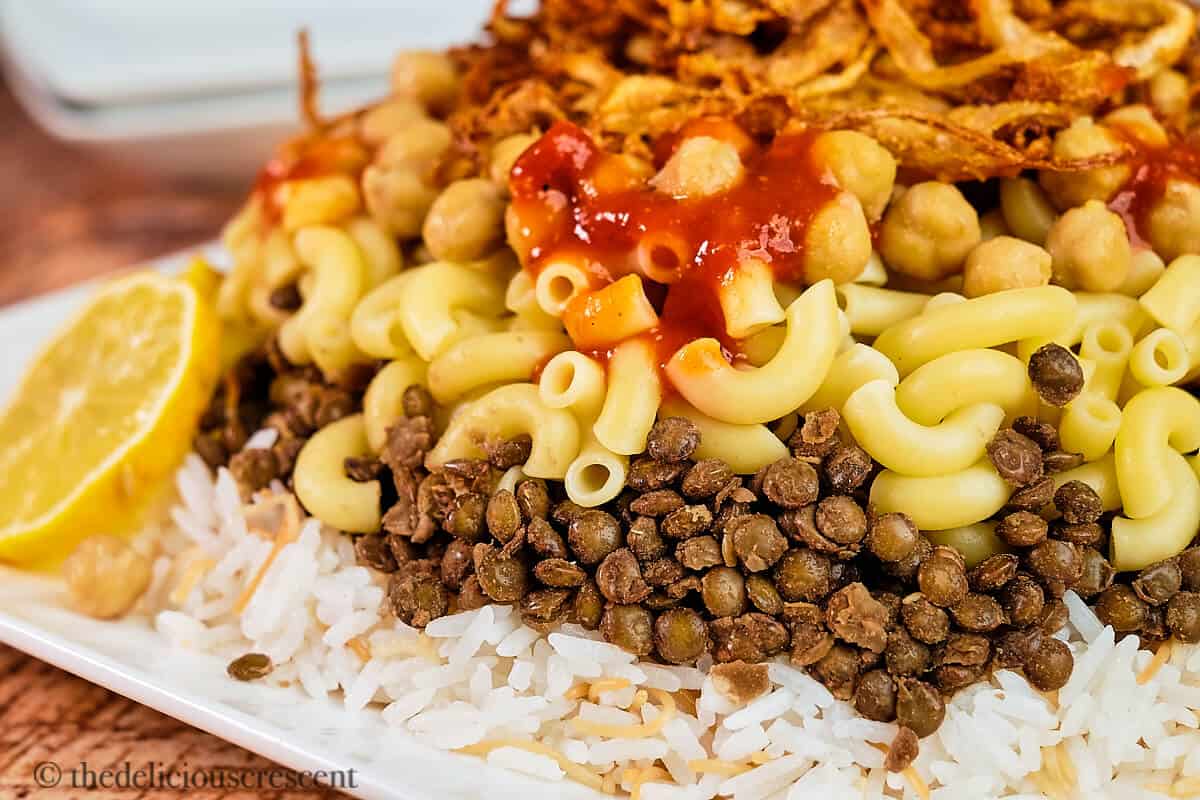 Storage and Leftovers
Leftovers can be safely refrigerated for 4 to 5 days. Reheat in microwave or on stove top, adding a sprinkle of water. Top it with crispy onions and sauces.
You may store this Egyptian rice in freezer safe containers for up to 2 or 3 months. Freeze the different components (rice, lentils, pasta, etc.) separately. Make crisp onions fresh.
Nutrition Facts
Koshari is a healthy and filling meal all by itself. It is a carb rich dish, so enjoy it in moderation and add some vegetables on the side.
The plant proteins — lentils and chickpeas — are a great source of fiber, protein, folic acid, iron, phosphorus, manganese and B vitamins. As good sources of soluble fiber and antioxidant nutrients, lentils and chickpeas are also heart healthy.
More Mediterranean Recipes
★ DID YOU MAKE THIS RECIPE? PLEASE COMMENT AND GIVE IT A STAR RATING BELOW!
Koshari (Egyptian National Dish)
Koshari, the famous Egyptian national dish, is made with rice, lentils, pasta and chickpeas. With a variety of textures, sauces and flavors, it is a taste to savor. See what makes this humble, healthy and vegan recipe such a winning treat!
Print
Save
Saved!
Ingredients
Instructions
Crispy Fried Onions
In a wide frying pan, heat oil over medium-high.

Tip: To check if it is ready, hold your palm about 3 inches above the surface of oil, you should feel the heat.

In a large bowl take the sliced onion and sprinkle two pinches of salt, then toss with flour to coat. Shake off any excess flour.

Fry onions in batches until crisp golden brown. Do not crowd the pan. Drain on paper towel lined plates and set aside.


Koshari
Rice: In a cooking pot, heat 1 tablespoon onion oil, add vermicelli and saute until light golden brown. Add rice, 3 cups water and ⅔ teaspoon salt. Bring it to a boil, lower the heat and let it cook for

15 minutes

until steam builds up well.

Lentils: In a saucepan, take lentils, 3 cups water, 1 teaspoon oil, ½ teaspoon cumin, ½ teaspoon coriander, ½ teaspoon pepper, ⅓ teaspoon salt and bring it to a boil. Lower the heat and let it cook for

15 to 20 minutes

until all the lentils are well cooked but do not turn mushy. They should still have a nice bite and texture. Drain any excess water and set aside.

Chickpeas: In a small skillet heat 2 teaspoons onion oil. Add drained chickpeas, ½ teaspoon coriander, garlic powder and stir it

couple minutes

. Turn off the heat and set aside. Tip: Seasoning the chickpeas in this manner is optional.

Pasta: In a cooking pot take 6 cups of water, 2 teaspoons salt, a drizzle of oil and bring it to a rolling boil. Add pasta and let it cook uncovered for

8 to 10 minutes

until al dente (check time on package). Drain the pasta and set it aside.
Sauces
Heat 2 tablespoons onion oil in a saucepan. Add grated garlic and saute

1 to 2 minutes

but do not let it turn brown. Then add 1 teaspoon cumin, 1 teaspoon coriander, chili flakes and stir it well. Transfer half of this mixture into a small bowl.

Tomato Sauce: To the remaining mixture in the saucepan, add tomato sauce and simmer

5 minutes

, stirring often. Season with salt and pepper. Set aside.

Garlic Vinegar: To the other half in the bowl, add 2 tablespoons vinegar, ¼ cup water, ½ teaspoon cumin (optional) and stir. Season with salt and pepper. Add more lemon juice or vinegar and water to make more sauce as per taste.
Assemble (3 options)
Simple presentation: On a large platter layer in the following order: rice-vermicelli, lentils, pasta, chickpeas, dollops of tomato sauce, crisp onions. Serve garlic vinegar and hot sauce on the side.

Individual Portion: Take a single-serving size bowl and plate the layers in the above order, making sure to lightly press it down with a spatula after each layer. Place a serving plate and flip the bowl and release it. Top with onions and serve with sauces.

Self Service: Serve all the components in different bowls and let the guests serve themselves as per preference.
Notes
Cooking Time and Texture: Do not overcook the rice, pasta, lentils and chickpeas. They should hold shape and not turn mushy. Follow package instructions.
Rice: Typically small or medium grain is used, but here I used jasmine rice as per preference. Follow package instructions for cooking time and water needed.
Lentil Water: Some recipes use the water drained after cooking lentils to prepare the rice, which gives it a brown color.
Baharat: This middle-eastern spice blend can be used to substitute ground cumin and ground coriander.
Hot sauce known as shatta in middle-east can be served on the side along with the other sauces.
Readymade Crispy Onions: Asian stores have fried shallots and American groceries have fried onions in cans.
Make Ahead: You can make ahead all the layers of this dish, expect try to make fried onions closer to serving time.
Leftovers: Refrigerate leftovers for up to 4 days or freeze up to 3 months. Warm it up before serving.
Make it Easy: Cook the rice and lentils together in one step. Or add pasta also to it. This is easier but the best textural results are achieved when each layer is cooked separately.
Nutrition facts are approximate and do not include salt absorbed while cooking pasta and that which is added to sauces, and is also adjusted for oil absorbed while frying and amount of flour used. Use low sodium canned and jarred products. 
For more information on ingredients, variations and serving suggestions, scroll up the page to the blog post.
Nutrition
Serving:
1
Cup
|
Calories:
317
kcal
|
Carbohydrates:
52
g
|
Protein:
11
g
|
Fat:
7
g
|
Saturated Fat:
1
g
|
Polyunsaturated Fat:
1
g
|
Monounsaturated Fat:
6
g
|
Sodium:
479
mg
|
Potassium:
476
mg
|
Fiber:
9
g
|
Sugar:
4
g
|
Vitamin A:
217
IU
|
Vitamin C:
6
mg
|
Calcium:
40
mg
|
Iron:
3
mg
More Rice Recipes