The best Persian Kotlet you will ever have. Superbly spiced and flavored, these are pan fried to juicy perfection. One of my favorite Persian recipes, you can serve this with a side, as an appetizer or in sandwiches. Make ahead and freezer friendly too.
Celebrate your Persian experience with our popular Dill Rice and Salad Shirazi.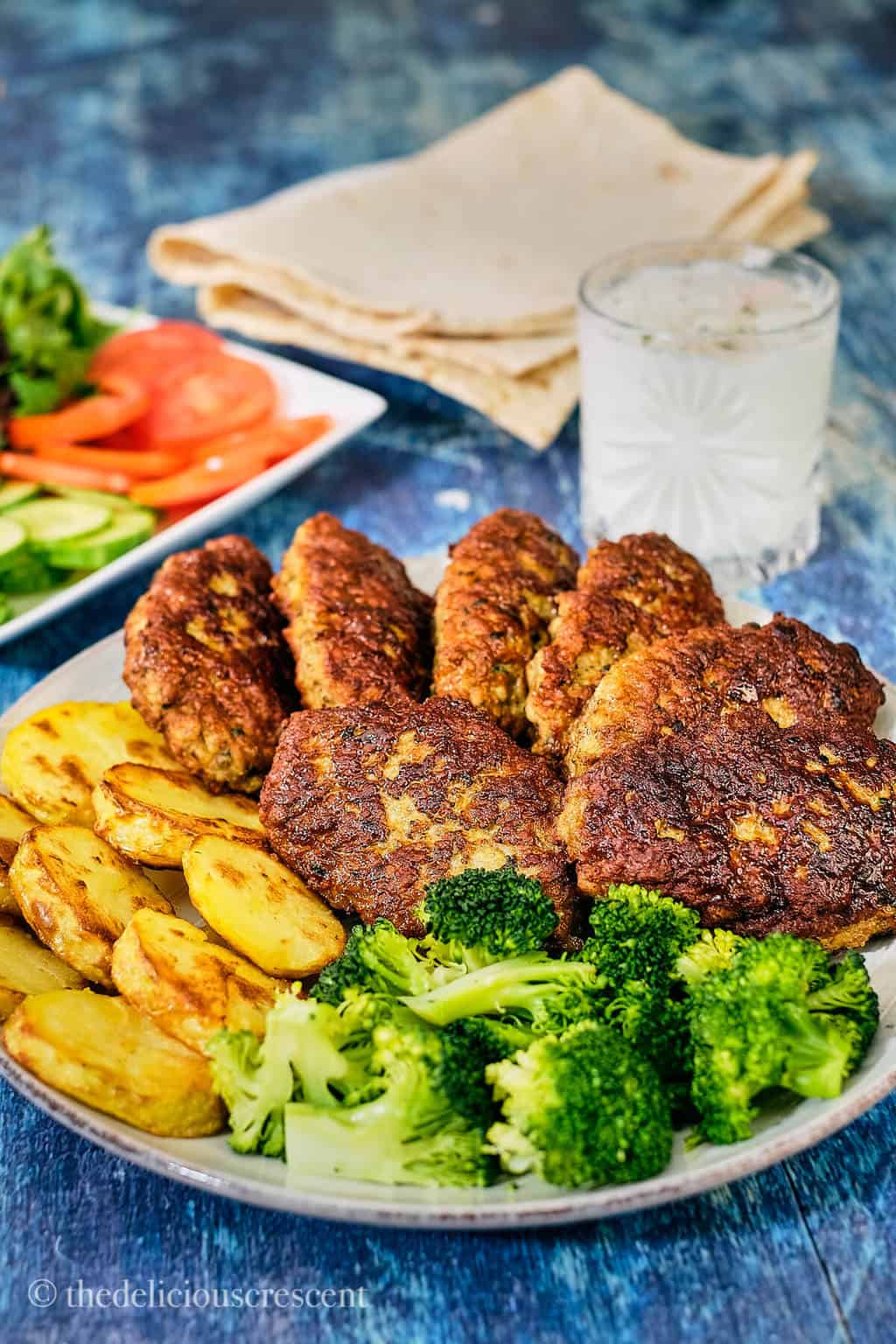 What is Kotlet?
Persian Kotlet's are meat patties made with ground meat, eggs, grated onion, herbs, spices and potatoes or breadcrumbs. The shaped patties are traditionally pan fried, but they can also be broiled to make it healthier.
Versions of kotlet can be found around the world and known by a variety of names – patties, pan kababs, frikadellen and such.
World's Best Persian Kotlet
Persian kotlets are justly famous for their incredible taste. But my father in law makes the best kotlet I have ever had.
Most common kotlet recipes use grated potatoes for binding. They are delicious, but the recipe used in our family utilizes a combination of bread crumbs and chickpea flour for binding, along with more aromatics.
As I said, my father in law makes the best kotlet in the whole world. Here I am sharing his recipe. But really, if you want to have the world's best kotlet, then you must have the one he makes. The magic is in those hands and the love, warmth, affection that comes with it.
Ingredients
Ground meat: Most commonly made with ground beef or lamb, you can also use veal, goat, turkey and chicken.
Breadcrumbs and chickpea flour: If you don't have chickpea flour, then use breadcrumbs
Eggs, Onion, Garlic, Spices, Herbs
How to Make It (full recipe at end of post)
Combine all the kotlet ingredients and knead well into a smooth mixture for 5 minutes. Let it rest.
Shape 10 to 12 oval or round patties and set aside.
Heat oil at medium high, then pan fry the patties at medium, until brown and well done on both sides.
Alternatively they may also be broiled.
Pro Tips
Grated onion imparts a nice flavor and also makes them soft and moist.
Replace the breadcrumbs with chickpea flour to make gluten-free kotlets. Or use two grated cooked potatoes.
Kotlet in Oven: Broil the patties to make them healthier, as some fat is released and that can be discarded. It should be done quickly and at high temperature to brown the meat well on the exterior and keep them juicy. If it is not done at the right temperature and it takes too long, then they can become dry.
What Type of Meat to Use?
Kotlets are basically pan fried flattened meatballs and so are made with ground meat, most often ground beef or lamb. But beef and lamb can also be combined, which brings together the robust flavor of beef with the tenderness of lamb.
Veal, goat, turkey and chicken thigh meat are other options. If using ground chicken breast, add some oil in the mixture for a moist kotlet.
90 percent lean meat works fine. Just be sure to keep the meat mixture moist enough with sufficient eggs, grated onions and the binding agents such as grated cooked potatoes, breadcrumbs or chickpea flour.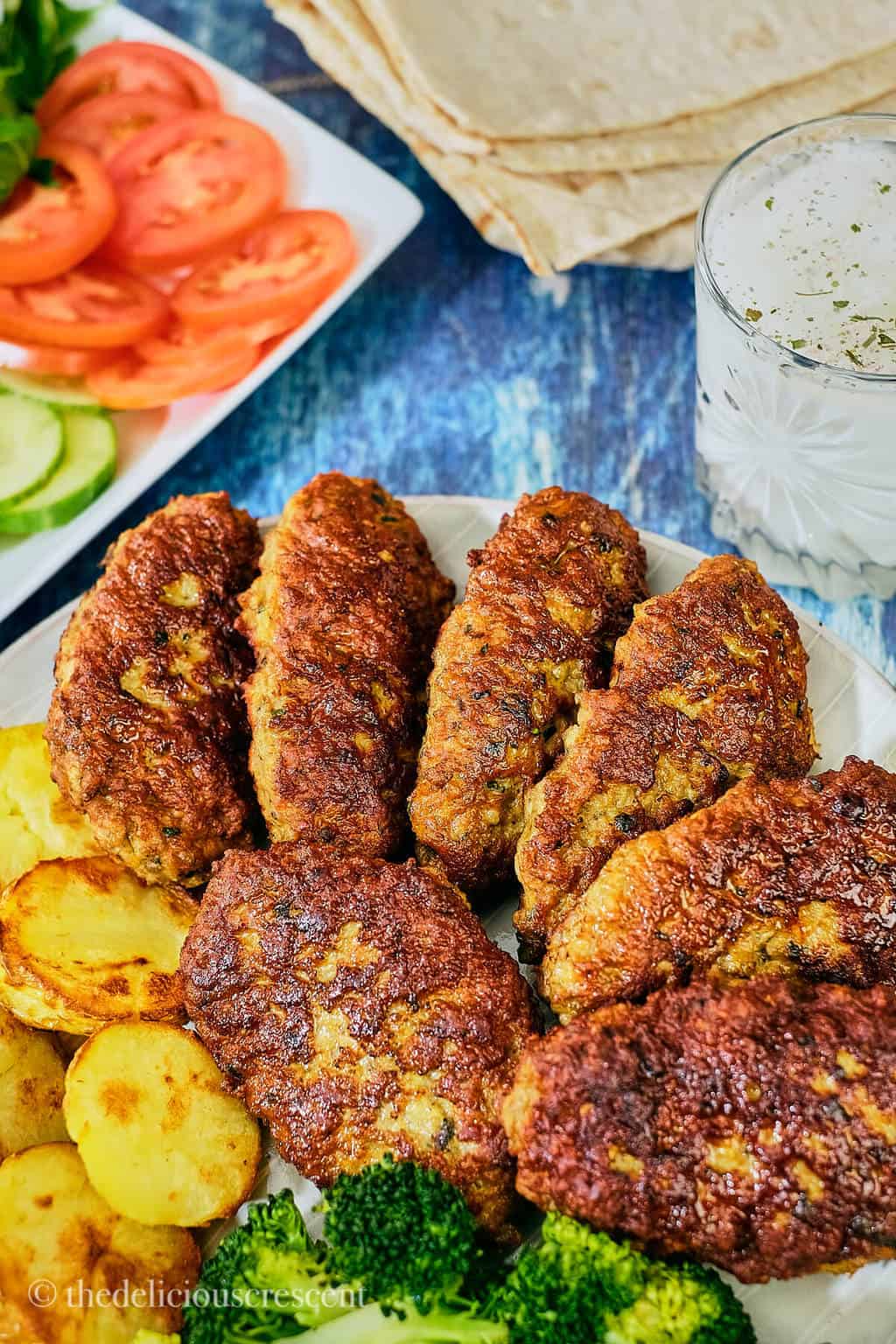 What to Serve with Kotlets?
Kotlets are typically served with steamed saffron rice or flatbreads, cooked vegetable sides, fresh salads and doogh.
Use these patties to make sandwiches, filled pitas and wraps with salad vegetables and suitable condiments.
Small sized cutlets can be served as an appetizer or snack with mini buns.
Make Ahead and Meal Prep
Meat patties can be made ahead and frozen, before or after frying. Thaw and follow with rest of the recipe. The meat mixture can be made ahead and refrigerated.
Some Nutrition Facts
Lamb and beef are a great source of protein with all the essential amino acids. And are a good source of some B vitamins (B12, niacin, B6), selenium, zinc and iron.
However, it is recommended that red meats, should be consumed in moderation, because a diet rich in red meats can increase the risk of some chronic diseases.
Grass fed meats are more lean and of relatively superior nutrition quality. Such meats are also a better source of conjugated linoleic acid and omega-3 fatty acids, both of which are associated with several health benefits.
Use lean meat and the broiling method will also help drain some of the fat. And make them with turkey or chicken, those are delicious too.
More Ground Meat Recipes:
More Persian Recipes:
★ DID YOU MAKE THIS RECIPE? PLEASE COMMENT AND GIVE IT A STAR RATING BELOW!
Zaalouk (Moroccan Eggplant Dip)
Zaalouk is an amazingly delicious Moroccan salad or dip made with roasted eggplants. Easy to make, it tastes great with toasted bread. And gets even better the next day.
Print
Instructions
Preheat oven to 400˚F. Prick the eggplants with a fork in couple spots and place them on a parchment paper lined baking sheet. Bake for

35 to 45 minutes

until the skin turns darker and shrinks. Check foot notes for grilling, broiling or stove top options.

The eggplants should be cooked through completely in the center. To check, press the back of a fork on the eggplant. It should compress easily all the way into the center without any resistance.

Cut through the eggplant skin and scoop out the soft cooked flesh and mash it with a fork and set aside.

Chop the tomatoes into small pieces, discarding some seeds if you wish. See note below for peeled and deseeded tomatoes.

Heat 2 tablespoons olive oil in a saucepan at medium setting. Add the chopped tomatoes, minced garlic, paprika, cumin, cayenne or chili powder, ⅓ teaspoon salt and cook until tomatoes are softened, stirring in between, about

15 to 20 minutes

.

Add the mashed eggplants and cilantro. Continue to cook over low heat for another

10 to 15 minutes

, stirring occasionally, mashing it if needed, into a thick but slightly textured dip like consistency.

Stir in lemon juice and salt. Adjust as per taste, let it cool and transfer to a bowl, cover and refrigerate it overnight before serving.

Take the zaalouk from the refrigerator about

30 minutes

before serving and let it come to room temperature. Drizzle with remaining olive oil. Garnish with cilantro and red pepper flakes if you prefer.

Chunky Zaalouk: To make a chunkier but less traditional zaalouk, insert garlic cloves into eggplant and roast it in the oven at 400˚F, along with the tomatoes. Chop the eggplants and tomatoes. Add the spices, herbs, half the olive oil, salt and mash it up to desired consistency. Drizzle olive oil and serve.
Notes
Cooking Eggplants:

Grill: Roast eggplants on charcoal or gas grill for 20 to 30 minutes, turning them slowly in between, until skin turns darker and shrinks.
Broil: Cut eggplants lengthwise into halves and place the cut side down on a foil lined baking sheet. Place on the second rack and broil until skin turns darker and shrinks, about 20 minutes.
Stovetop: Peel the eggplants completely, only some stripes or leave the skin on if you don't mind it. Cut the eggplants into small pieces. Steam on high heat until soft or cook in a pan with some water until soft and mushy.

Easy Zaalouk: Combine all ingredients with ⅓ cup of water and cook it over stove top until softened. Mash it up well and drizzle olive oil.
Peeled and deseeded tomatoes: If you prefer, you can blanch the tomatoes. Cut a small cross on the surface of tomatoes and dump them in hot boiling water. After a minute, pick out the tomatoes and peel the skin, cut them into halves and deseed. Chop them into small pieces.
Use more tomatoes if you want the dip to be saucy. You may even try using a little bit of tomato paste to give it thickness.
Leftovers: Can be refrigerated for 4 to 5 days. You can freeze zaalouk for couple months. Thaw and reheat. Adjust the consistency, evaporating or adding water as needed. Check the seasoning as well.
Nutrition facts not including any added salt.
For other variations, tips and serving suggestions, scroll up the page to the blog post.
Nutrition
Calories:
77
kcal
|
Carbohydrates:
6
g
|
Protein:
1
g
|
Fat:
6
g
|
Saturated Fat:
1
g
|
Polyunsaturated Fat:
1
g
|
Monounsaturated Fat:
4
g
|
Sodium:
5
mg
|
Potassium:
280
mg
|
Fiber:
3
g
|
Sugar:
4
g
|
Vitamin A:
526
IU
|
Vitamin C:
9
mg
|
Calcium:
15
mg
|
Iron:
1
mg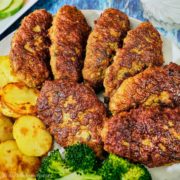 Kotlet (Persian Meat Patties)
The best Persian Kotlets you will ever have. Superbly spiced and flavored, they are pan fried to juicy perfection. One of my favorite Persian recipes, you can serve this with a side, as an appetizer or in sandwiches. Make ahead and freezer friendly too.
Print
Instructions
Place all the ingredients in a mixing bowl. Mix and knead it well for 

5 minutes

, like you would knead dough. The consistency should not be too dry nor too wet, must be easy to shape. Let it rest for half hour. Tip: Squeeze the juice from the grated onion and add it back later only as needed.

Divide the meat mixture into 10 to 12 portions. Roll each portion and flatten into an oval disc. Keep the shaped patties aside.

The kotlet may be pan fried in two batches in a 

skillet

 that has enough room for six patties.

For each batch, heat 4 tablespoons oil in the 

skillet

 at medium high. Once the oil is hot enough, slide six meat patties and lower the heat to medium.

Shallow fry one side and flip it before it becomes too brown. Then you may flatten the patty slightly, using a flat flip spatula. Let the other side brown a little. Flip it again and fry both sides until dark brown.

So, you will end up frying both sides twice. It should take at least

5 minutes

total cooking time on each side. Some people do cook the kotlets longer on a low medium heat.

Once done, transfer to a plate lined with paper towels.



Kotlet in Oven (Broiling Method)
Place the kotlets on a baking sheet lined with parchment paper and broil it at high for about 

5 minutes

on each side, until nicely brown.

The broiling time may differ with each oven, so make sure to check initial progress.

For very lean meats, chicken and turkey, brush or spray some oil on both sides of the patties, prior to broiling,
Notes
If patties are fried at optimum temperature and you don't reuse the same oil, then oil absorption can be kept at minimum.
Make Ahead: The kotlet mixture or shaping of cutlets can be done a day ahead.
Frozen Kotlet: These can also be kept frozen for couple months to use later. Freeze the patties before or after frying. Pack in freezer safe bags with parchment paper in between stacked layers. Thaw and use. Reheat pre-cooked kotlets in a toaster oven, conventional oven or on a skillet.
Roasted fine chickpea flour, dried mint, advieh, kebab spice, turmeric, ground cumin and ground coriander are available at Indian and Middle eastern grocery stores or online.
Replace the breadcrumbs with chickpea flour to make it gluten free. Or use two grated cooked potatoes.
Nutrition facts are for broiled kotlet. If the kotlets are fried then it is approximately: 163 kcal, 13 g total fat, 5 g saturated fat. Some oil will be absorbed back by paper towels.
Nutrition
Serving:
1
kotlet
|
Calories:
126
kcal
|
Carbohydrates:
4
g
|
Protein:
8
g
|
Fat:
9
g
|
Saturated Fat:
4
g
|
Cholesterol:
55
mg
|
Sodium:
251
mg
|
Potassium:
45
mg
|
Fiber:
1
g
|
Sugar:
1
g
|
Vitamin A:
250
IU
|
Vitamin C:
2
mg
|
Calcium:
19
mg
|
Iron:
1
mg