Kuku Sabzi, the famous Persian herb frittata packed with fragrant herbs is so fluffy, light, delicious and nutritious. Great for lunch, brunch, as a side dish or anytime. Try the easy appetizer style too.
Vegetable packed egg based recipes like Kuku Kadoo (with Zucchini) and Persian style Mushroom Frittata are quite versatile.
Kuku Sabzi
Fresh herb kuku is a traditional dish that is especially popular around Persian new year, which occurs at the onset of spring. The abundance of herbs used in the recipe not only celebrates the season but also symbolizes rebirth. And the eggs are symbolic for fertility.
It is packed with a variety of herbs with just enough eggs to hold all the finely chopped herbs into a flavorful and nourishing dish. Typically parsley, cilantro, chives and dill are used, but you may choose to use leeks, green onions or other fragrant and tender greens. This recipe can be a great way to use up leftover herbs.
Addition of walnuts and barberries gives it a festive look, flavor and texture, but is optional. Kuku tastes absolutely fantastic, is somewhat like a less eggy frittata with some resemblance to a crustless quiche.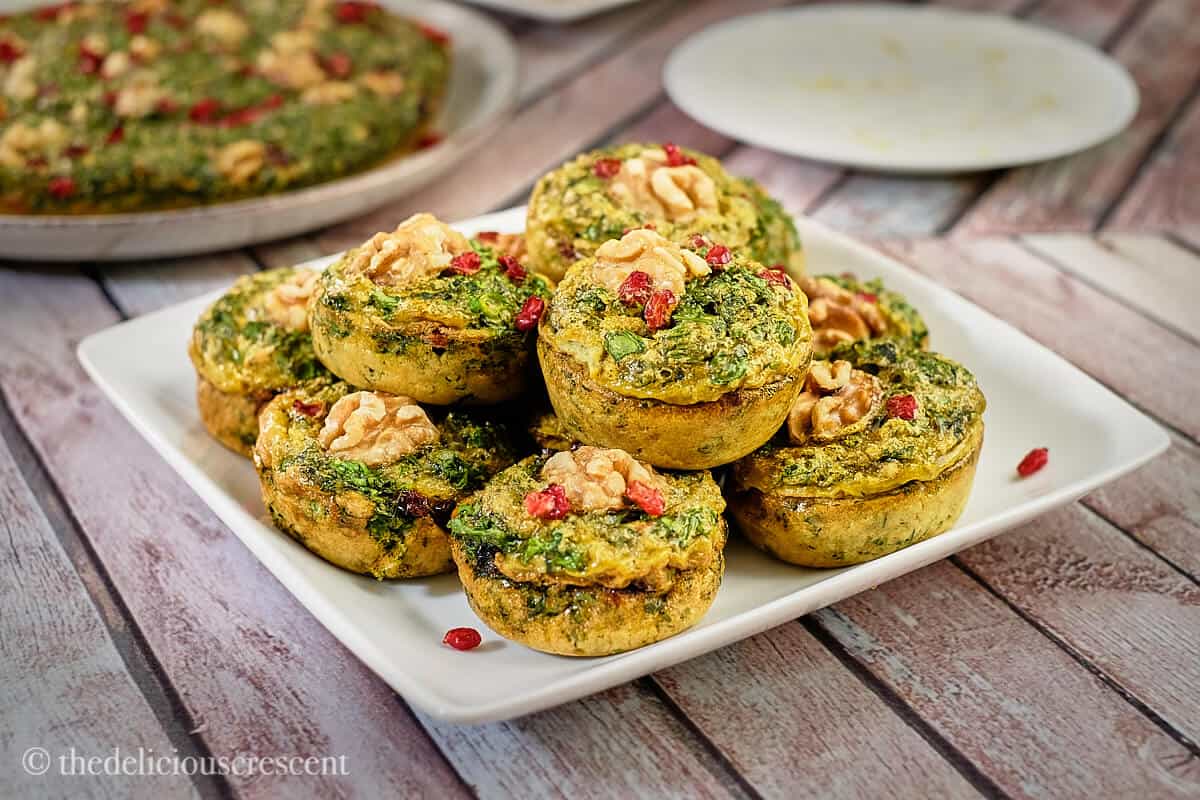 What You Need
Advieh: Try the advieh used for rice. If not, use the one for khoresht or a mild middle eastern or Mediterranean mixed spice blend.
Eggs: Traditional kuku uses less eggs and more herbs or vegetables than frittata. In the recipe here I give a range, for those who prefer more eggs like a frittata.
Barberries: These are red jewel like Persian berries that are light and tangy. Chopped unsweetened dried cranberries can be used as a substitute.
Walnuts: Chopped walnuts add a richness and nice crunch to the dish.
Herbs: Most commonly cilantro, chives, parsley and dill are used. But you may try using other fragrant herbs too. Do use some dried fenugreek. It adds that characteristic Persian taste. Make a note how you measure the herbs.The yield from a cup of loosely packed herbs will be much lower than a cup of finely chopped and packed herbs.
Garlic: If using garlic chives, you can skip garlic.
Olive oil: I prefer extra virgin olive oil but you may use regular olive oil too.
Butter or Ghee: Traditionally kuku is made with ghee (clarified butter). But in this recipe I have used olive oil in the pan and some butter on top of the kuku. In fact, brown butter or ghee drizzled on the top will add an incredible flavor.
Use grass fed dairy, it's healthier
How to Prepare the Herbs
The star of the dish is no doubt the herbs. Most people find the preparation of herbs difficult, but trust me, its well worth the effort using them fresh.
Rinse herbs and spin them in a salad spinner. You want the herbs to be dry without holding lots of water. And then chop the herbs very finely.
If you don't want to chop, you can try using the food processor, but I don't recommend it. If you do opt for it, only use the pulse action to finely chop the herbs, making sure it doesn't turn into a mush.
Frozen herbs will not work well as they hold too much moisture.
How to Make It
Heat olive oil or butter in a baking dish placed in the oven.
In a mixing bowl, combine baking powder, advieh, salt, pepper and flour. Add eggs and whisk them well.

Then add grated garlic, finely chopped herbs, dried fenugreek, half the barberries and mix thoroughly.

Pour egg-herb mixture in baking dish, top with barberries, chopped walnuts and bake uncovered for 20 minutes.

Remove the dish from oven, spread butter or ghee on the top and bake until golden brown.

Alternatively you can bake the kuku in a muffin style for 15 minutes.
Variations
It is already low carb, vegetarian and soy free.
Gluten Free: Use rice flour or corn starch instead of all purpose flour.
Dairy free: Use only oil and no butter or ghee.
Nut Free: Skip the walnuts.
How to Serve Kuku
Traditionally it is served with yogurt, lavash or Persian saffron rice and pickles.

But you could make wraps and sandwiches using sour cream, labneh or any suitable sandwich spread and pickles.

Panini sandwiches or warm wraps.

The muffin style can be served as an appetizer or snack. Add feta or goat cheese for a variation.
Health Benefits
This frittata is packed with flavorful herbs that are rich with phytochemicals known for anti-inflammatory benefits; a good source of chlorophyll, known for anti-carcinogenic properties and a source of vitamin K, vitamin A & vitamin C.
Then the herbs are paired with a powerhouse of nutrition — eggs that are an excellent source of high quality protein and contain antioxidants such as, lutein and zeaxanthin, which are protective for the eyes.
How to make it with dried herbs
It tastes best with fresh herbs. But there are readymade dried kuku sabzi mixes available online and at Persian grocery stores.
If using your own dried herbs, then use about one-fourth the quantity specified for fresh herbs in the recipe.
Take herbs in a sieve and immerse in a bowl of lukewarm water. Soak the herbs for 20 minutes, drain and squeeze out the water. Proceed as you would with the fresh herbs.
You could also mix fresh herbs with dried herbs.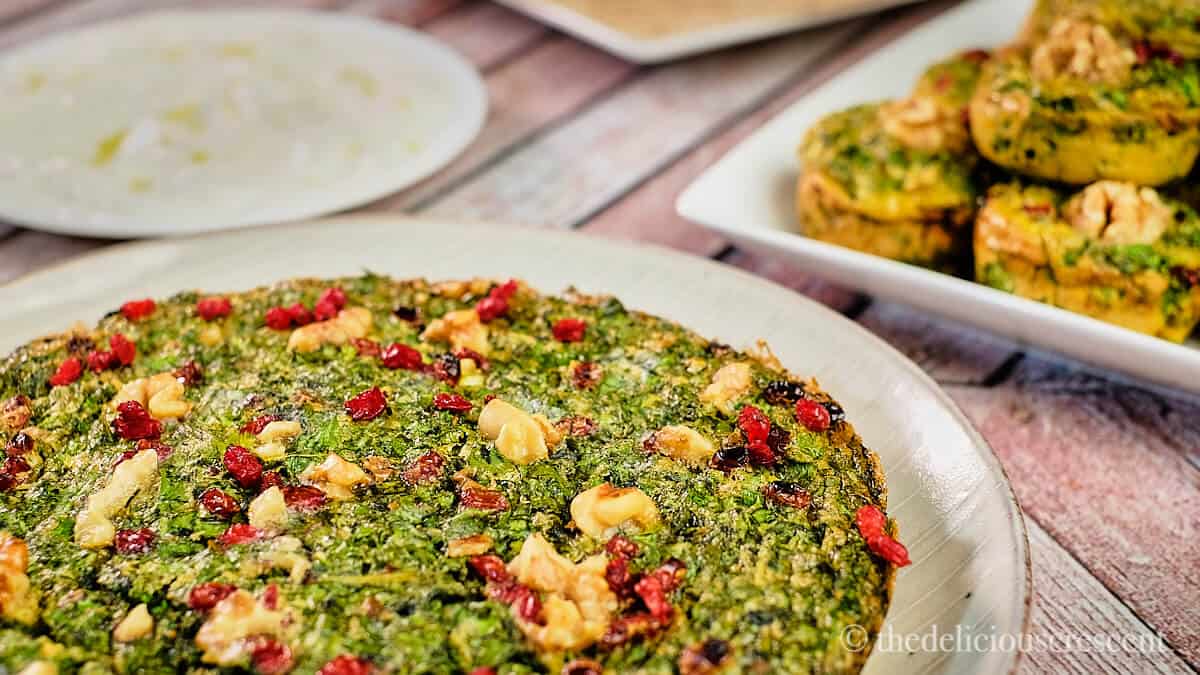 Pro Tips and Notes
More Persian Recipes:
★ DID YOU MAKE THIS RECIPE? PLEASE COMMENT AND GIVE IT A STAR RATING BELOW!
Kuku Sabzi (Persian Herb Frittata)
Kuku Sabzi, the famous Persian herb frittata packed with fragrant herbs is so fluffy, light, delicious and nutritious. Great for lunch, brunch, as a side dish or anytime. Try the easy appetizer style too.
Print
Instructions
Preheat oven to 375 degrees F. Position the rack in the middle of oven.

Add olive oil or butter on a parchment paper lined 8-inch baking dish and place in the preheated oven for about

10 minutes

.

In a

mixing bowl

, combine baking powder, advieh, salt, pepper and flour. Add two eggs and stir well to incorporate the spices. Then add the remaining eggs and

whisk

them well.

Add the grated garlic, finely chopped herbs, dried fenugreek and half the barberries to the whisked eggs and stir well into a smooth and even mixture. Adjust seasoning if needed.

Pour the egg-herb mixture in the heated

baking dish

and scatter the remaining barberries and chopped walnuts on the top.

Bake it uncovered for about

20 minutes

. Remove the dish from oven, spread butter, ghee or olive oil on the top and return it to the oven and bake for another

5 to 10 minutes

until golden brown on top.

The center needs to be well set but tender. Don't overcook the kuku. Let it cool for

5 minutes

.Tip: Alternatively you can bake the kuku in a muffin style. That will need about

15 minutes

of total baking.

Stovetop: To cook it on the stove, heat oil in a 8 to 9 inch skillet and pour the herb-egg mixture. Spread it evenly, cover and cook over low-medium heat for about

15 minutes

until set. Flip it on a plate and slide it back into the skillet and cook it other side until golden, adding butter as needed. Alternatively you can cut the kuku into wedges and flip them.

Run a knife around the herb frittata to loosen from the pan. You may serve it in the dish or invert it onto a plate and slide it on a

serving platter

with the top of kuku facing up.
Notes
Use 8 eggs if you prefer it a bit eggy like a frittata. I use 6 eggs for traditional kuku and 8 eggs for muffin style to keep them more moist.
For the appetizer style kuku, you can add some crumbled feta or goat cheese. Add two-thirds of it into the mixture and the rest on the top. The muffin style and addition of cheese is not traditional in Persian cuisine.
Dried fenugreek leaves are available at Indian, Persian and middle eastern grocery stores.
Barberries (zereshk) and advieh are available at Persian/middle eastern grocery stores or online. Advieh may be substituted with a 'mild' middle-eastern or eastern Mediterranean spice blend.
To clean the barberries, remove the tiny stems and place them in a colander and immerse in a bowl of cold water for 20 minutes. Let all the sand settle in the bottom of bowl and rinse thoroughly.
If you like to add a sweet & sour touch, some barberries can be sautéed with butter or oil and with sugar or honey and sprinkled on the top before serving.
Storage and Leftovers: Keep in refrigerator for 3 to 4 days or freeze up to two months. Thaw and reheat loosely covered in an oven or in a skillet.
Make ahead: Prepare the herbs and refrigerate. Whisk eggs with all other ingredients except baking powder. Combine eggs, herbs and baking powder just prior to cooking.
To make brown butter or ghee check out the baklava recipe.
Nutrition
Serving:
1
wedge
|
Calories:
132
kcal
|
Carbohydrates:
5
g
|
Protein:
5
g
|
Fat:
10
g
|
Saturated Fat:
3
g
|
Cholesterol:
127
mg
|
Sodium:
202
mg
|
Potassium:
206
mg
|
Fiber:
1
g
|
Sugar:
1
g
|
Vitamin A:
1660
IU
|
Vitamin C:
19
mg
|
Calcium:
72
mg
|
Iron:
2
mg
Keywords :
Baked Omelette, Kookoo Sabzi, Kuku Sabzi