Lentils and rice with cranberries is an aromatic Persian style dish that is a bit tangy, subtly sweet and savory. Easy, healthy and gluten free this flavorful one pot meal is packed with plant protein and fiber. Vegan option.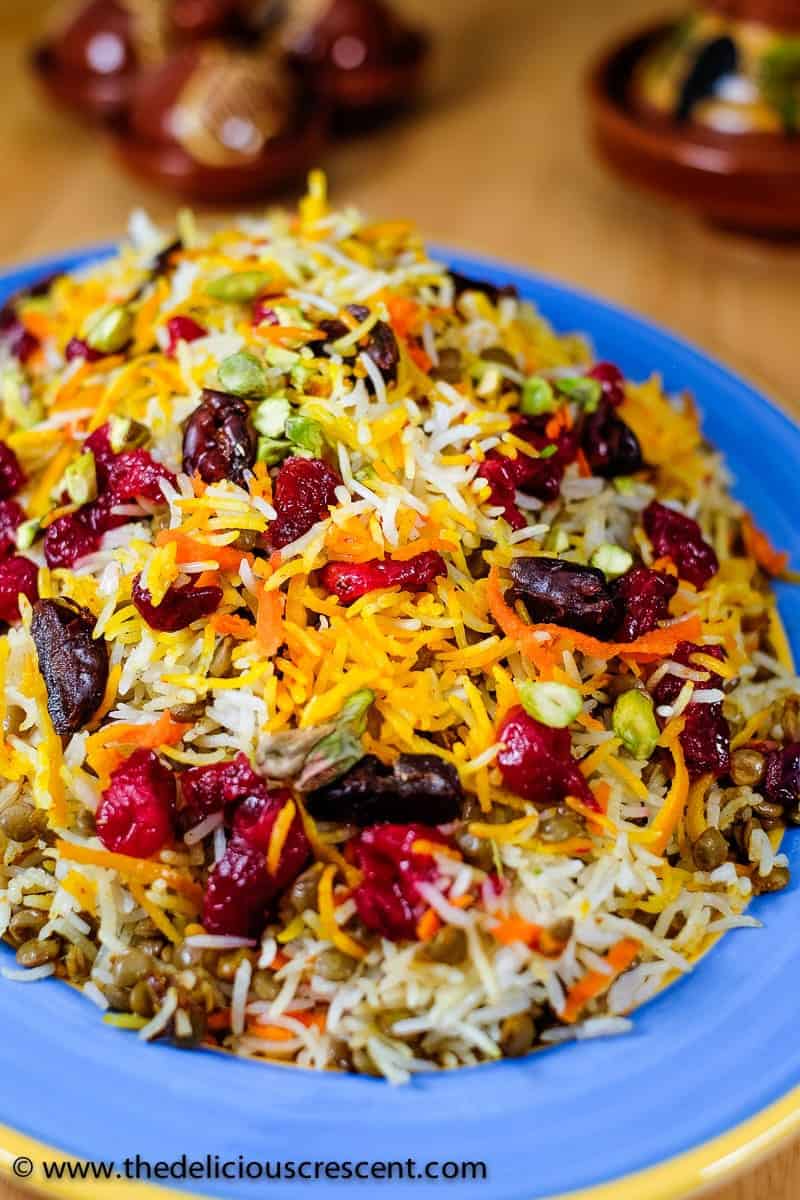 INSPIRED BY PERSIAN ADAS POLO
This lentils and rice recipe is actually inspired by the traditional Adas polo, a Persian lentil rice. I often used to make that with some barberries (Zereshk).
Since cranberries are more easily available I tried the version here using them. Then I dressed up the creation with some carrots, orange rind, pistachios and dates.
You May Also Like These Rice Recipes:
Are Lentils Good for You?
Lentils are packed with protein, fiber, folic acid, manganese, iron, phosphorus and phytochemicals.
They are also  a good source of soluble fiber, which helps lower cholesterol levels. Regular consumption of lentils is associated with lowering the risk of obesity and heart disease.
As lentils are a good source of dietary fiber, they help maintain intestinal health, regularity and satiety. They provide good amount of bulk  and are suitable for weight loss diets.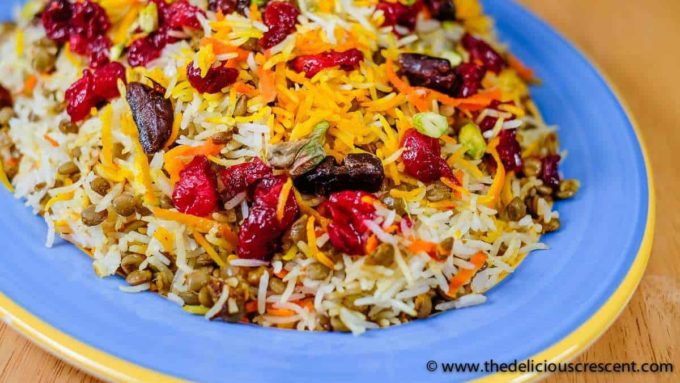 Are Cranberries Good For You?
Cranberries have been referred to as a super food as they are high in nutrients and antioxidants. They are a good source of vitamin C, fiber, manganese, vitamin K, and vitamin E.
The health benefits of cranberries include – lower risk of urinary tract infections, improved immune function, cancer prevention, and decreased blood pressure.
It is the high level of proanthocyanidins in cranberries that help prevent the bacteria from sticking to the urinary tract, thereby mitigating the infection.
Tips for Cooking Lentils and Rice with Cranberries
Lentils are of many kinds; quick and easy to prepare. Here, I have used the green lentils, as they cook to a firm texture without falling apart. I especially like French green lentils.
I have used orange rind in this recipe but you may substitute with orange zest if you wish.
The recipe below provides instructions for making the cranberry rice in a rice cooker or a conventional cooking pot. Alternatively, the rice and lentil layers may be placed in an oven proof dish, covered and then baked at 350 degrees F for about one hour.
If you wish to make the rice crust (tahdig), then butter or oil the over proof dish and spread the rice-yogurt mixture, making sure to adjust the amount of oil, rice, yogurt and saffron needed to coat the bottom of the pan in a thick layer.
The store bought dried cranberries are too sweet with a lot of sugar in them. I prefer to make my own. Doing this lowers the added sugar by 40%.
I simply mix some cranberries with honey or maple syrup and bake them for about half hour. It will definitely release some juices, but just let it rest for a while.
I typically leave the baked berries on the baking sheet for a day and then slowly loosen them using a fork. Viola, I have sweeter cranberries that are still a little moist and work in a recipe like this one. They also look gorgeous like jewels!
So, whether it is festive time or not, deck up your dinner table with this mouth watering Persian style lentils and rice with cranberries!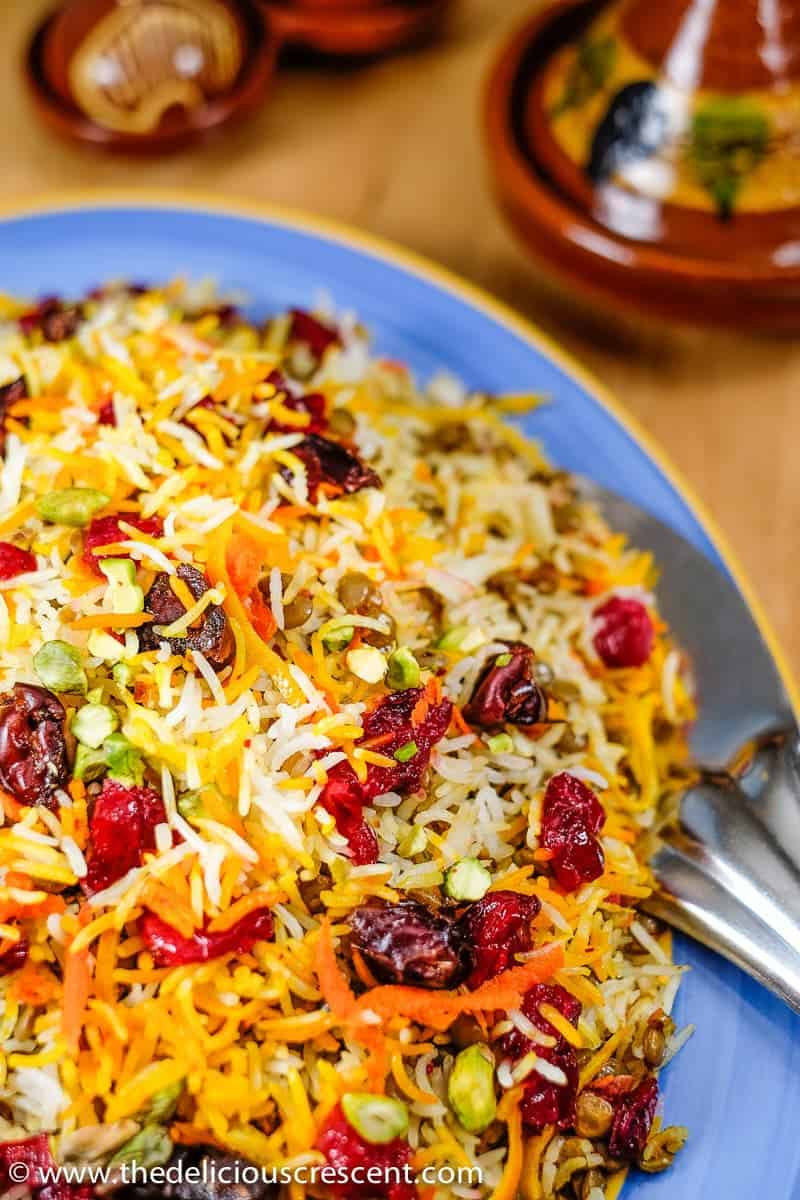 Photography above: bijansviewfinder.com
★ DID YOU MAKE THIS RECIPE? PLEASE COMMENT AND GIVE IT A STAR RATING BELOW!
Tag a photo of your creation at #thedeliciouscrescent on Instagram.
Join me on Pinterest, Facebook, Twitter, YouTube and Google+ for latest updates. 
This post was first published on 8th January, 2017
Persian Style Lentils and Rice with Cranberries
Lentils and rice with cranberries is an aromatic Persian style dish that is a bit tangy, subtly sweet and savory. Easy, healthy and gluten free this flavorful one pot meal is packed with plant protein and fiber. A great thanksgiving side (vegan option, ingredient substitutions).
Keyword:
Adas Polo, Cranberry Rice, Lentil Rice
INGREDIENTS
1½

cups

cranberries

fresh, (or 3/4 cup dried cranberries soaked in water)

1

tbsp

honey

or maple syrup (for fresh cranberries)

2

tbsp

orange rind

organic, slivered (or orange zest)

1¼

cups

lentils

3/4

tsp

salt

(adjust as needed)

4

tbsp

olive oil

(including one tbsp for optional rice crust)

1

onion

medium, thinly sliced

2 to 3

cloves

garlic

grated

1

tsp

advieh*

(Persian spice mix)

1/2

tsp

cumin

ground

1/2

tsp

turmeric

1/4

tsp

black pepper

1/2

cup

carrot

shredded

1¾

cups

basmati rice

white, rinsed*

1/2

tsp

saffron

(powdered and dissolved in 2 tbsp hot water)

3

tbsp

yogurt

(optional for rice crust)

2

tbsp

pistachios

toasted, sliced

2

tbsp

dates

chopped (optional)
INSTRUCTIONS
HOW TO MAKE SWEETENED DRIED CRANBERRIES
Rinse the fresh cranberries and blot them dry with a paper towel. Add the maple syrup or honey and stir well to coat the cranberries.

Spread the berries out on a parchment paper lined baking sheet and bake at 350 degrees F for 30 minutes. Ideally let the baked cranberries rest a day and loosen them out using a fork.
SLIVERED ORANGE RIND
Scrub and wash organic oranges really well. Wipe them dry. Peel very thin layers of the orange surface, without the pith. Cut thin slivers of the orange rind.

Put the slivered orange rind in a sauce pan and cover with water. Bring it to a boil, then lower the heat and simmer for about

10 minutes

. Drain the orange rind and use.

Alternatively you may use grated orange zest.

HOW TO COOK LENTILS
Cook the lentils in about 2½cups of water and 1/4 tsp of salt. Once well done, drain the lentils and set aside.

Heat 2 tbsp olive oil at medium setting in a cooking pot. Add the sliced onions and sauté few minutes. Then add the grated garlic and continue to sauté until the onions are light golden brown. Add the cooked lentils and stir.

Then add all the spices (advieh through black pepper) and stir well. Mix in the cranberries, shredded carrots and slivered orange peel. Simmer 2 to 3 minutes.
HOW TO COOK RICE (Rice cooker or Traditional method)
Rice cooker: cook the rice with 2 ¼ cups of water, 1 tbsp oil and 1/2 tsp salt.

Traditional method

- boil 6 cups of water and 1 tbsp salt. Add the white basmati rice and let it boil at medium high to high heat for

5-6 minutes

until the rice grains are soft. Be sure to stir the rice while it is cooking. Drain the rice well in a colander and set aside.
FINAL ASSEMBLY: LAYER RICE AND LENTILS
RICE CRUST (optional): If you would like to prepare the rice crust (tahdig) add a tbsp of oil or butter to a heavy bottomed cooking pot or a "Persian" rice cooker and spread it. Take about 1/2 cup of cooked rice and mix it with the yogurt and 2 tsp of saffron water.

Spread the rice-yogurt mixture over the oil in the pot to make the rice crust.

Tip: The amount of rice used for the rice-yogurt mixture is suggested for a pot that has a 6 to 7 inch diameter base. Adjust the oil, rice, yogurt and saffron used according to the size of the pot used.

Mix 1/4 cup of cooked rice with a tsp of saffron water and set aside for garnish.

Next, place the remaining cooked white rice and the lentil cranberry mixture in several alternating layers.

Sprinkle saffron water all over.

[If you cooked the rice by the traditional method, then be sure to also sprinkle the remaining tbsp of oil on the top at this stage].

If using a

Persian rice cooker

, just steam the rice and lentil layers together for

15 to 20 minutes

.

Traditional method: turn up the heat to medium high for about 10 minutes and then reduce the heat to the low setting and simmer for about 20 minutes or more until the steam builds up well.

Once the rice is ready, turn off the heat. Gently and lightly mix the layers of the Persian lentils and rice.

Plate the prepared rice on a serving platter. Garnish with shredded carrots, orange rind, cranberries, pistachio slices and dates if you prefer. The rice crust if prepared, may be served on the side.
RECIPE NOTES
To make the optional rice crust you will need to use a conventional heavy bottomed cooking pot, a non stick pot or a Persian rice cooker.
Cooking time and water used for white basmati rice may vary with the age of rice.
Rinse the basmati rice several times, until the water is clear and not starchy.
The amount of water added while cooking the rice is very important to the final texture of this recipe.
It is important to keep in mind the additional moisture from the other ingredients added to this Persian lentils and rice dish such as the cooked lentils and onions. Therefore, in the first step, the rice should be cooked in a way to yield a fluffy rice, but holds its shape well and is not too wet and delicate.
Persian spice mix (Advieh) recipe is on the blog. Ready made advieh is available at Persian or middle eastern grocery stores or online.
May use a middle eastern or Mediterranean mixed spice as a substitute.
For more tips, check out the blog post above.
NUTRITION FACTS
*Phosphorus 199 mg
* The suggested amount of salt is just a guideline and may need to be adjusted. Check for any added salt in spice mixes and other ingredients and adjust.
Nutrition Facts
Persian Style Lentils and Rice with Cranberries
Amount Per Serving (0 g)
Calories 315
Calories from Fat 63
% Daily Value*
Total Fat 7g 11%
Cholesterol 0mg 0%
Sodium 206mg 9%
Potassium 416mg 12%
Total Carbohydrates 55g 18%
Protein 10g 20%
* Percent Daily Values are based on a 2000 calorie diet.