This is the best maple ice cream, loaded with pecans candied with maple syrup, for a double dose of maple flavor. You don't need any eggs to make this delicious and creamy homemade ice cream.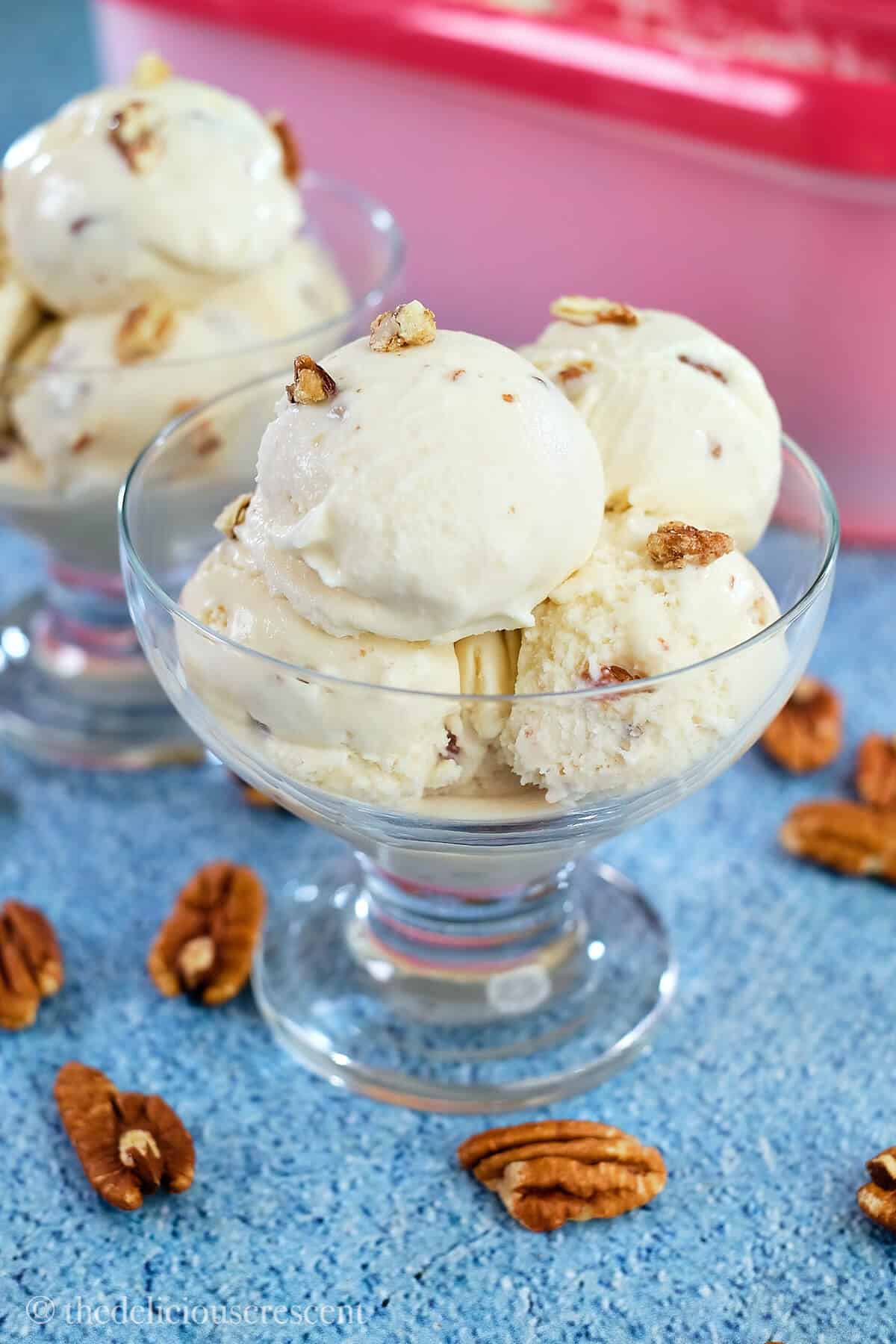 Maple Ice Cream
Real maple syrup, lots of pecans, cream and milk come together to give you a luscious dessert that is so easy to make. Maple syrup and pecans are a match made in food heaven. And cream takes on the caramel-like flavor of maple syrup so beautifully.
But most homemade ice cream recipes use eggs, which often deters home cooks from making delicious ice creams to their taste. I have an easy trick I use that has consistently given great results.
Cornstarch is my secret for perfect ice cream base thickening. The results shine in the popularity of our mango gelato and Persian ice cream, and it's also a great with green tea ice cream.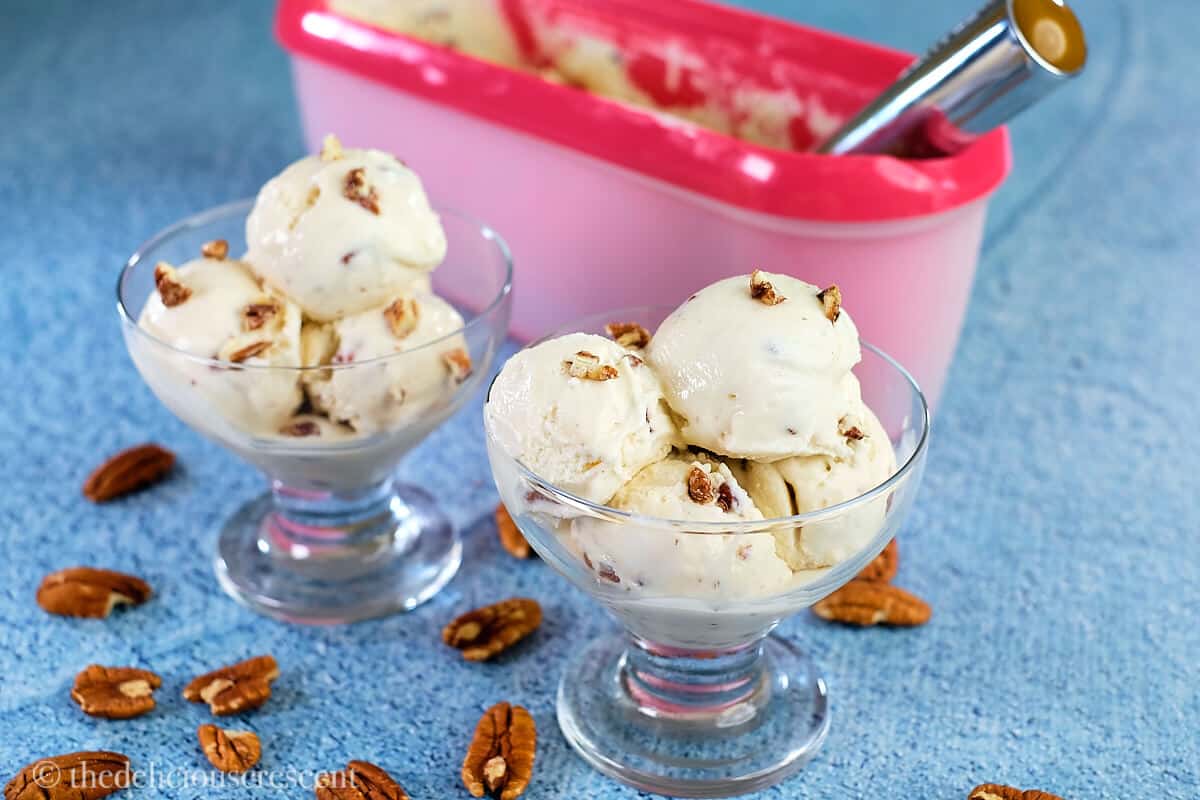 Why This Recipe Works
This ice cream is sweetened only with maple syrup, which may appeal to those who want to avoid refined sugar. More importantly this natural sweetener, also adds an incredible flavor.
We also have a double dose of maple syrup. The ice cream base is sweetened with maple syrup, but in addition to that, we load the ice cream with pecans that are candied with maple syrup. Which also add a crunchy nuttiness.
And you can easily make the ice cream a bit healthier with some of my cool tricks, while still keeping it very delicious.
Recipe Ingredients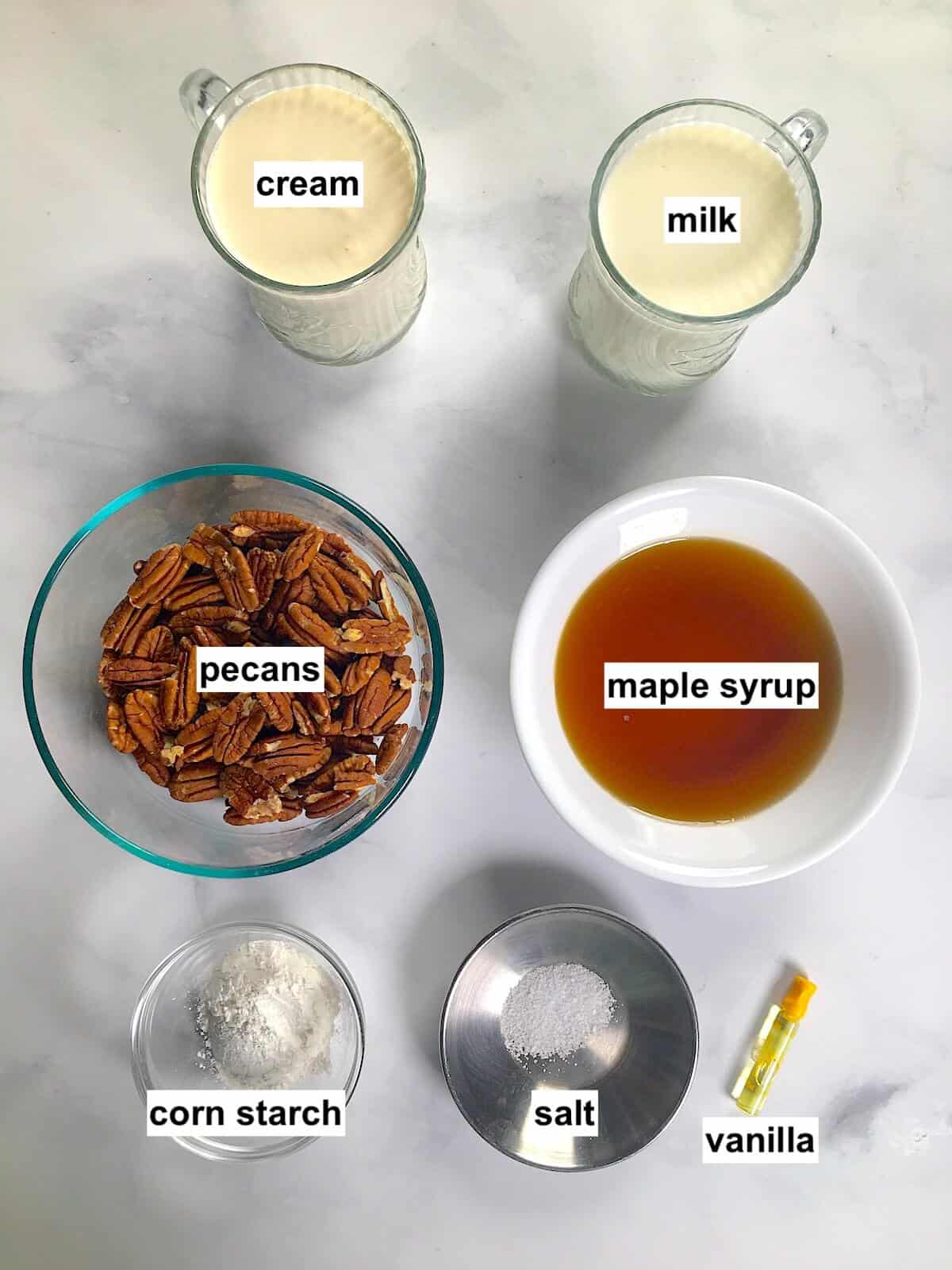 Milk: For this dairy based ice cream, use whole milk. If using plant based milk, make sure that it is rich, thick and creamy.
Heavy Cream: We need this for the standard maple ice cream recipe. But check below under "variations" for other alternatives and cool tricks for making it lighter.
Maple syrup: We use this for both sweetening the ice cream as well for making the candied pecans. For more on types of maple syrup and how to choose, check out the recipe FAQs below.
Corn Starch: To make this maple ice cream with no eggs, I thicken the milk with corn starch or vanilla custard powder (Bird's brand). And it helps distribute the fat pretty well.
Vanilla: It adds a subtle background flavor. You can use vanilla extract, vanilla sugar or vanilla bean.
Salt: A pinch of salt enhances the sweetness and flavor of the ice cream.
Pecans: Choose shelled pecans that taste fresh. But the nuts from stores with a high turn over and store in freezer for longer shelf life. You can make this maple ice cream with walnuts as well.
How To Make Maple Ice Cream
Brief overview below. **Full recipe at the end of blog post.
Custard: Cook the custard with milk and corn starch. Add maple syrup.
Ice Cream Base: Combine the cooled custard with vanilla, salt and cream. Chill the mixture.
Freeze: To make simple maple ice cream, churn the ice cream in the machine as per manufacturers instructions.
With Maple Pecans: Toast pecans and cool. Combine nuts with maple syrup and cook until well coated. Cool, chop nuts and add to the ice cream as it is setting at the end.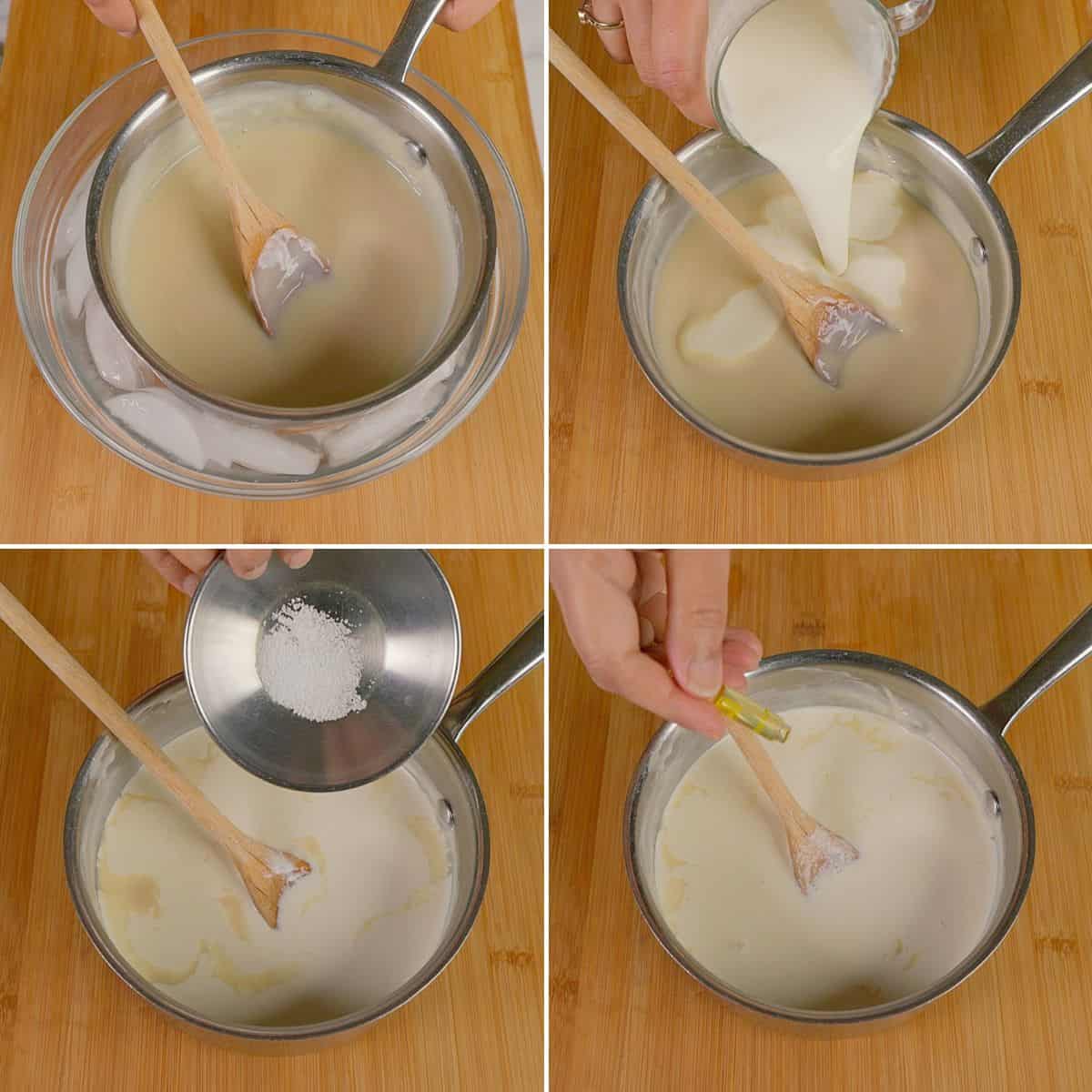 Top Tips
Sweetener: Use the right amount of maple syrup to minimize ice crystals and get a smooth ice cream texture. It is not advisable to lower the amount of maple syrup as it will alter the creamy taste. You can however try experimenting with allulose, as I discuss below under "variations".
Cream: Use the optimal amount of heavy cream for a creamy texture. You need cream and sugar for a creamy ice cream result.
Corn Starch: Usually eggs are used to thicken homemade ice cream base. I have found that corn starch works very well for making ice cream at home.
Gelatin: You can further improve the texture of the ice cream by adding a teaspoon of gelatin per quart of the mixture. Follow the specific instructions for that.
Ice Cream Machine: If you like ice creams, try to invest in the best ice cream machine you can find in the market. That will give you a fluffy and creamy ice cream, with no ice crystal formation.The process of slow churning helps incorporate optimal amount of air into the ice cream mixture for amazing homemade ice cream.
Denser Ice Cream: Use the gelato setting for a denser, creamier and more flavorful result.
Serving Suggestions
Thaw the ice cream at room temperature or in the refrigerator to soften it before serving.
Enjoy this maple ice cream in different ways.
Serve it plain.
With wafers, in a cone or a waffle cup.
Add chopped fruits.
Drizzle chocolate sauce.
Variations
Maple ice cream is vegetarian, gluten free, egg free, low sodium, refined sugar free and soy free. Below are a few ideas, some of which I have not tried.
Vegan/Dairy free: You can try full fat coconut milk instead of dairy milk but it will add a mild coconut flavor. Replace heavy cream with coconut cream. Other plant based milk can be used as long it is rich and creamy.
Allulose: Sugar, maple syrup or honey is very important to give that creamy texture to ice cream. But if you want to skip the calories and carbs, but still get the same creamy result, you can try allulose. This is a new sweetener that is gaining popularity. It is a natural sugar that does not get digested, but functions like sugar in an ice cream recipe.
Less Maple Syrup: If you want a more subtle maple flavor, use maple syrup only for the ice cream base or the pecans. You can sweeten the ice cream base with honey or sugar. And make the candied pecans with sugar or honey as well.
Nut Free: Skip adding the maple pecans.
Flavor Variation: Use walnuts instead of pecans. Maple walnut ice cream also tastes amazing and gives almost similar results.
Add Spice: You can add a 1 large cinnamon stick or 8 cardamom pods to the milk while cooking it. Remove the spices before proceeding with the recipe.
Healthier:

Try enriching the milk by blending it with 1½ cups walnuts or pecans, as we did for our banana nut ice cream. And then lower the cream to 1 cup.
You can sweeten the ice cream base with one over ripe banana as we did in the same ice cream recipe above. It will also add some creaminess. Then lower the amount of maple syrup to ½ cup. But remember that this will also add a subtle banana flavor too.
To make it lighter, you can lower the amount of nuts or skip it entirely.
Storage
Store ice cream in an airtight ice cream container and place a piece of parchment paper on the top. This will help prevent ice crystal formation. Keeping it in the door section of your freezer will keep the ice cream softer, as the temperature is slightly warmer.
Equipment
Ice Cream Maker: If you want to make ice cream anytime, try ICE-100 Cuisinart model with a built-in compressor. You will not need to freeze the ice cream bowl and will not need to chill the mixture overnight.
Ice Cream Container: I love the double-walled Tovolo ice cream tubs that keep the ice cream soft, while minimizing ice crystal formation.
Recipe FAQs
What kind of maple syrup is best for ice cream?
There are four grades of maple syrup - grade A golden color with delicate taste, grade A amber color with rich taste, grade A- dark color with robust taste and very dark with strong taste. Use grade A dark color maple syrup (previously known as grade B), as it has a robust maple flavor. If you prefer a subtle flavor, use the grade A golden color maple syrup.
Is maple syrup better than sugar? 
Maple syrup is not sugar-free. It still adds about the same amount of sugar to the recipe. So, it is considered a slightly healthier alternative as it contains some nutrients such as vitamins, minerals, antioxidants and phytochemicals. But the effect of maple syrup.
Nutrition Facts
Ice cream is a treat to be enjoyed in moderation. Checkout the "variations" section above for some cool tricks to make it lighter or healthier.
This ice cream is sweetened with maple syrup, which does add sugar to the recipe, but it also provides some phytochemicals and minerals such as manganese and copper. And it is a good source of phenolic compounds such as those found in tea, flaxseed, berries, tomatoes, and whole wheat.
Pecans provide healthy fats — monounsaturated and polyunsaturated fats and fiber. They are also a good source of certain phytonutrients, zinc, beta carotene and vitamin E.
More Recipes With Maple Syrup
★ DID YOU MAKE THIS RECIPE? PLEASE COMMENT AND GIVE IT A STAR RATING BELOW!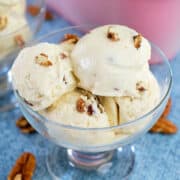 Maple Pecan Ice Cream
This is the best maple ice cream, loaded with pecans candied with maple syrup, for a double dose of maple flavor. You dont need any eggs to make this delicious and creamy homemade ice cream
Print
Save
Saved!
Servings:
12
(½ cup servings)
Ingredients
Maple Pecans (optional, recommended)
Instructions
Dissolve corn starch in ½ cup milk and stir well until smooth. Take the remaining milk in a large saucepan and bring it to a boil over medium high heat. Lower the heat and whisk in the corn starch-milk mixture, stirring constantly. Simmer until it reaches a thin custard consistency or coats the back of a spoon.

Stir in maple syrup. Take the pan off the heat and let it cool on an ice bath (by setting the saucepan in a larger bowl partially filled with ice and water).

Add vanilla, salt and heavy cream. Stir until well combined.

Chill the mixture in refrigerator for several hours/overnight or over an ice bath.

If making plain maple ice cream, freeze the mixture in your ice cream maker according to the manufacturer's instructions.
With Maple Pecans
If adding the nuts, you can make candied pecans while chilling the ice cream base.

Preheat the oven to 350°F. Spread the pecans on a baking sheet and bake it in the center rack until lightly toasted, about

8 to 10 minutes

. Allow to cool.

In a small saucepan, combine maple syrup with pecans and salt, using a wooden spoon, and over medium heat stir well. Continue to cook until the nuts are well coated with maple syrup, starts to caramelize and dry up in the bottom of the pan, about

2 to 3 minutes

. Transfer the candied nuts to a plate, allow to cool completely and chop the nuts coarsely.

Add the chopped pecans in the end just when the ice cream is starting to set.
Notes
Storage: Place a piece of parchment paper on top of the ice cream and store in an airtight container to prevent ice crystal formation. If possible, store it in the door section of your freezer as the temperature there is slightly warmer.
Make Ahead: The candied maple pecans can be made up to 2 days ahead and stored at room temperature in an airtight container.
If your machine has an ice cream bowl, be sure to freeze it for 24 hours before using it.
Nutrition facts for plain maple ice cream without pecans.
For other variations and serving suggestions, scroll up the page to the blog post.
Nutrition
Serving:
0.5
Cup
|
Calories:
178
kcal
|
Carbohydrates:
17
g
|
Protein:
2
g
|
Fat:
12
g
|
Saturated Fat:
7
g
|
Polyunsaturated Fat:
1
g
|
Monounsaturated Fat:
3
g
|
Cholesterol:
37
mg
|
Sodium:
70
mg
|
Potassium:
120
mg
|
Fiber:
0.01
g
|
Sugar:
14
g
|
Vitamin A:
487
IU
|
Vitamin C:
0.2
mg
|
Calcium:
79
mg
|
Iron:
0.1
mg
More Ice Cream Recipes