Moroccan carrot salad is quick, easy and scrumptious. This salad made with tender steamed carrots and flavored with spices and herbs is as delicious as it looks.
It makes a great side dish with couscous and lamb stew, dill rice or create your own combination.
A Spiced Carrot Salad
Sweet carrots are beautiful, delicious and nutritious. From tasty carrot pancakes to a pretty topping for barley soup to adding a nice texture to sprouts salad, carrots are a versatile vegetable to use.
In Morocco they have amazing warm salads. Nicely flavored and prepared, these salads are as much a treat as they are nourishing.
For this recipe, I combine steamed carrots with warm spices and aromatic herbs. Next, I toss it with lemon juice, olive oil and toasted sesame seeds.
Our Moroccan eggplant salad is already a huge hit with our readers. And now I share the next installment of a quick and easy Salatat Al Jazar, that will surely impress your family.
Ingredients
Carrots, Olive oil, Lemon Juice, Honey, Salt, Pepper, Garlic, Spices, Herbs, Sesame Seeds
Lemon juice: Use it as per preference. If you don't like sour carrots then use less.
Extra virgin olive oil is the best to use for this salad.
Spices: paprika, ground cumin, ground coriander, ground black pepper, cayenne pepper, sumac, pinch of cinnamon or cardamom (optional).
Herbs: I like using a combination of cilantro, parsley and green onions. You could try basil too.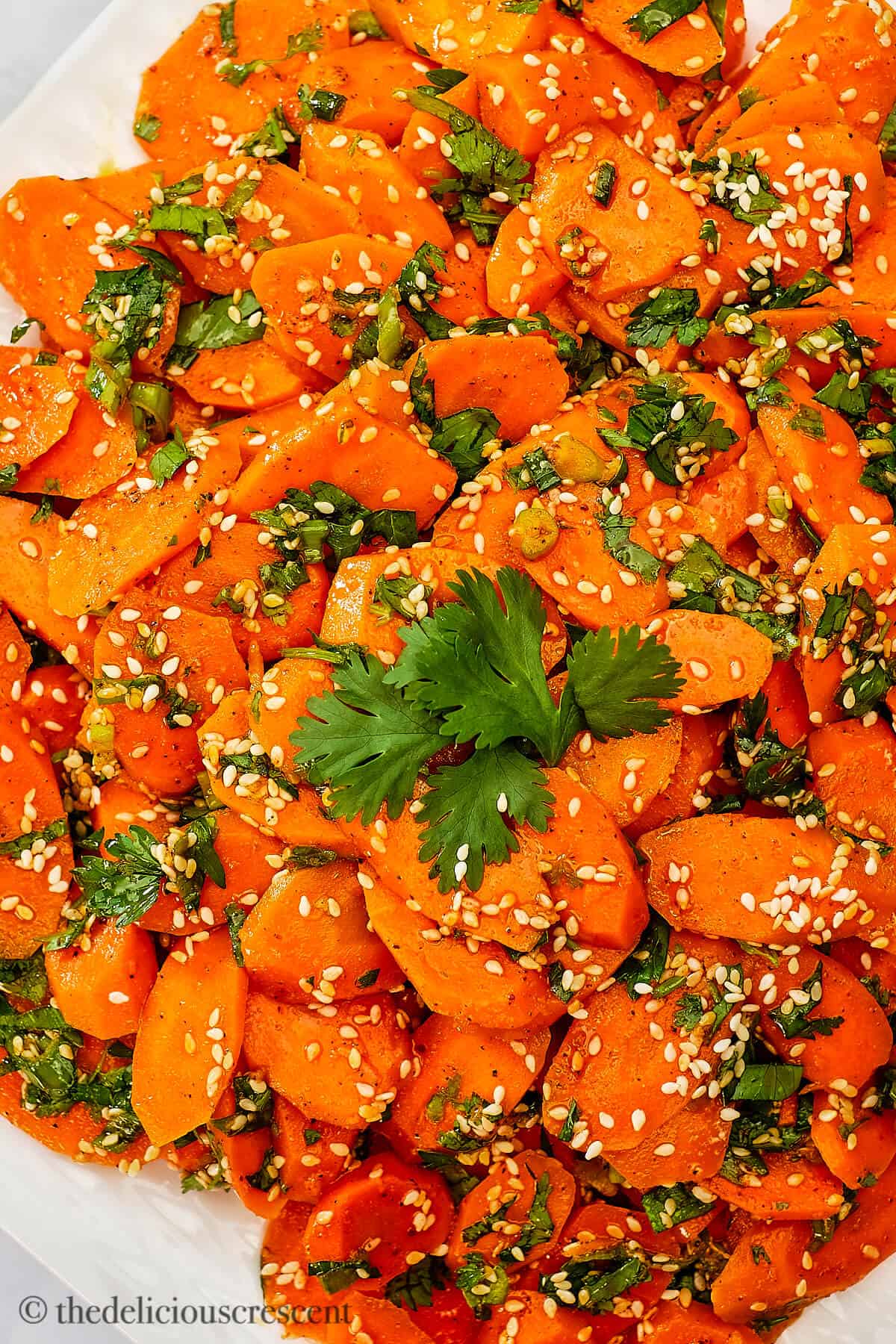 How to Select Carrots
Choose firm carrots that are bright orange in color and with smooth skin.
Do not use carrots with black tops or those that are limp.
And select medium sized carrots of similar size.
Overly mature and thick carrots may be tough and dry.
Uniform sized carrot slices will cook evenly
How to Cut Carrot Medallions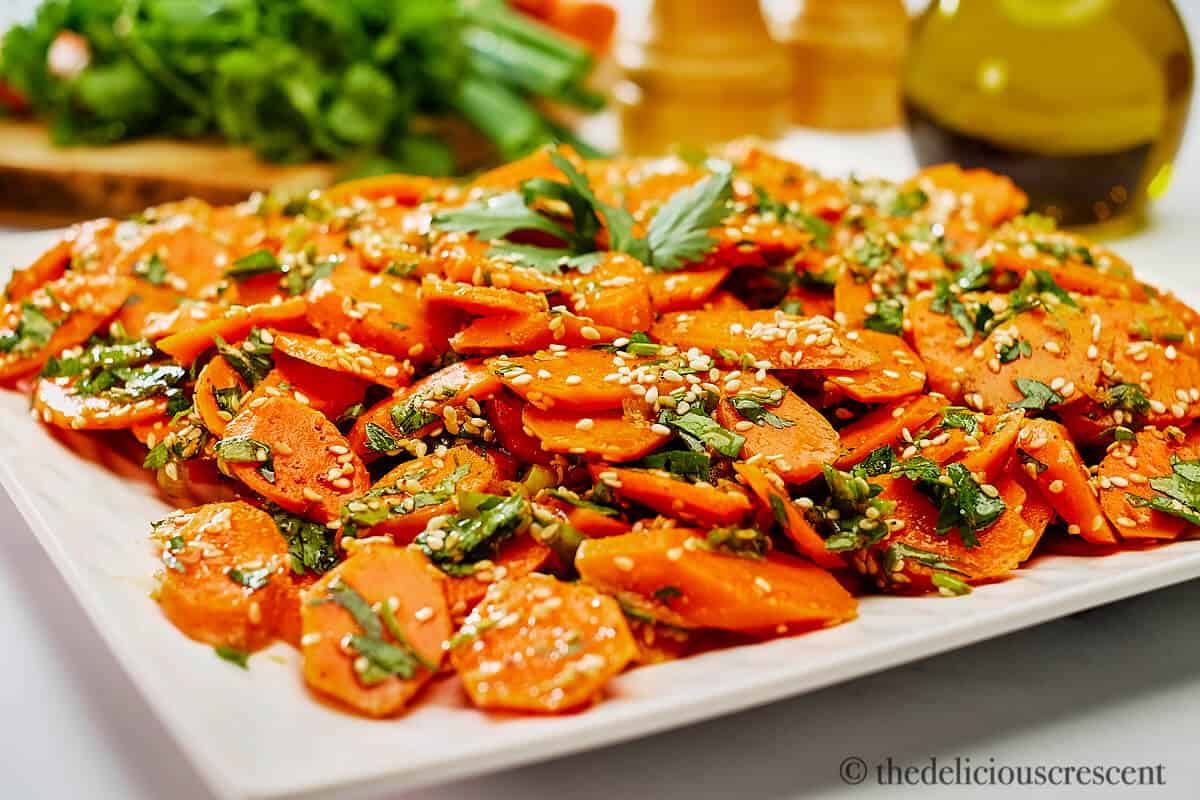 Variations
This salad is vegan, gluten free, dairy free, egg free, nut free, soy free.
Flavor add-ins: Add feta cheese, coconut flakes instead of sesame seeds, chopped jalapeños, other toasted seeds, other herbs — basil, thyme.
Textures: Shred or make different cuts of carrots. You could also try using a spiralizer.
Meal Prep and Storage
You can prepare it one to two days ahead. The longer you marinate, the better the taste.
Alternatively, you can just prepare carrots and dressing separately and refrigerate. Assemble the salad as needed.
This salad will stay good for 3 to 4 days in the refrigerator.
You can freeze the leftovers. Thaw and warm it up lightly.
Warm carrots absorb flavors better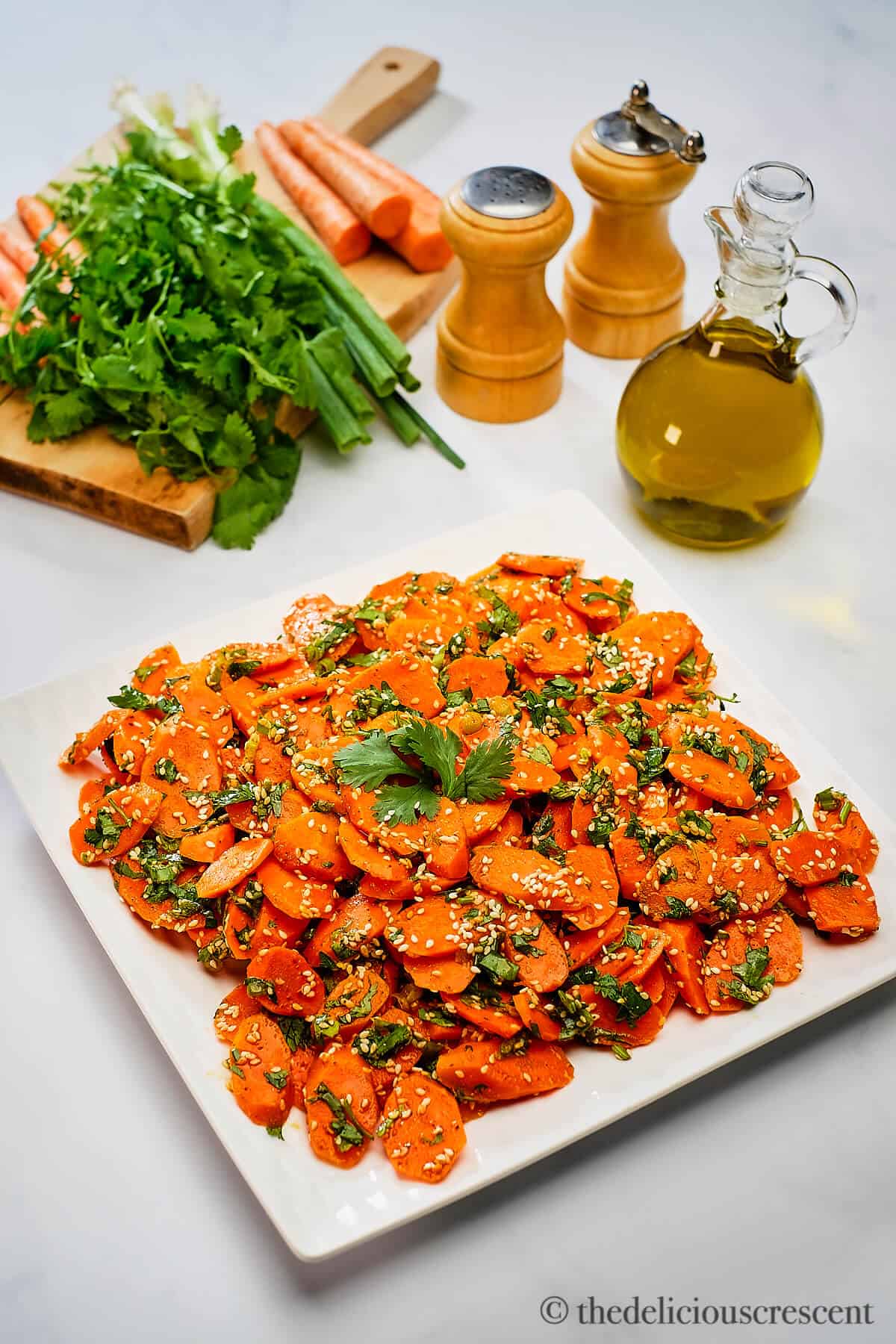 How to Serve
This is a great dish for anytime of the year but especially fits in with a holiday menu.
Serve it as a side dish or a starter. I prefer to eat this warm but you can also serve it at room temperature.
What You Can Serve It With
Rice dishes or lemon cauliflower rice. It would taste great with braised lamb shanks or holiday dishes such as roasted goose. Serve it with pan seared cod and creamed yellow squash or mashed potatoes.
Carrot Health Benefits
Carrots are a good source of beta carotene, fiber, potassium, vitamin K and antioxidants.
The main type of fiber in carrots is soluble fiber which can lower blood sugar levels, improve gut health and blood cholesterol levels. A common antioxidant in carrots is lutein, which is good for eye health.
Other health benefits of this root vegetable include lower risk of cancer and it is great for weight management diets.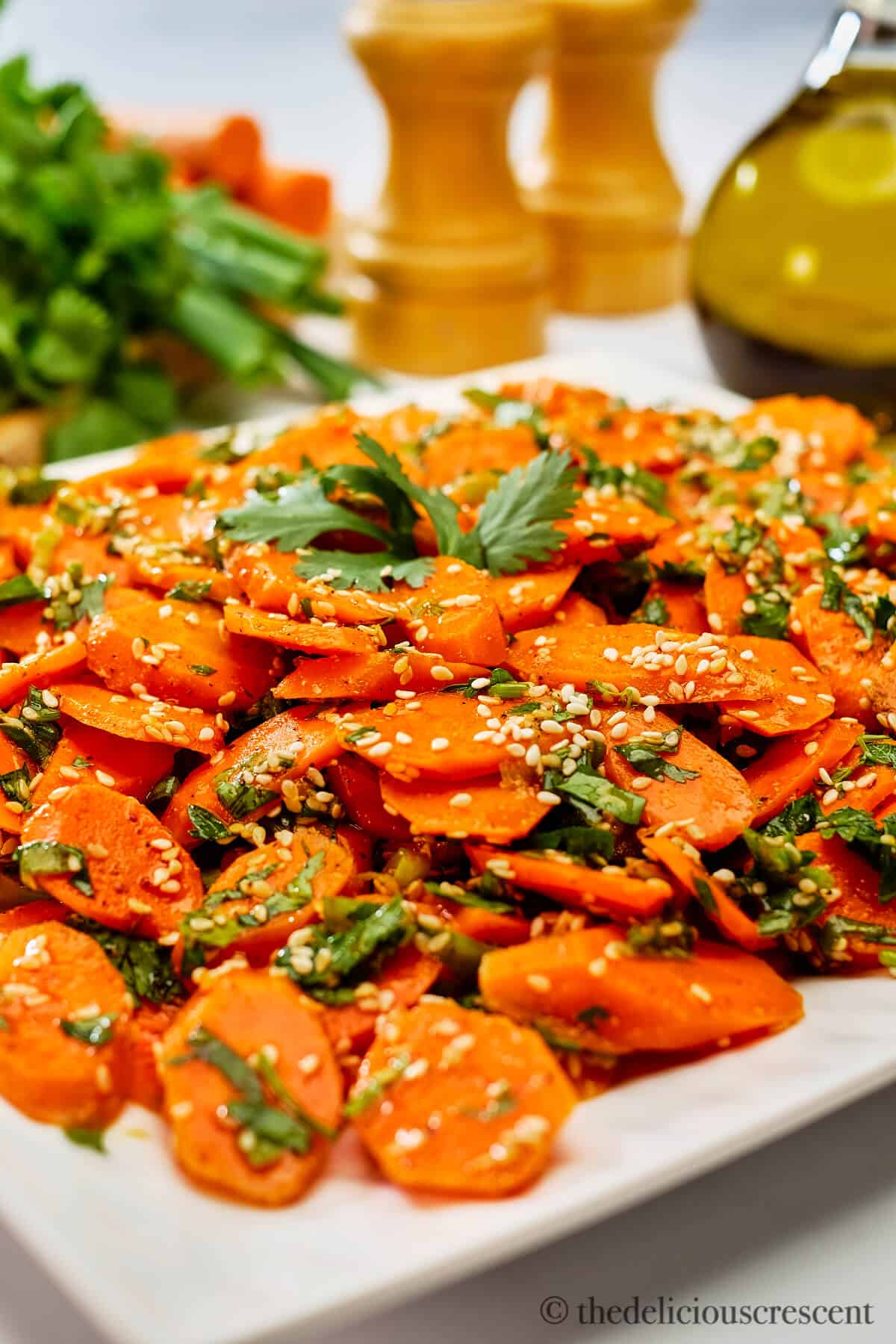 ★ DID YOU MAKE THIS RECIPE? PLEASE COMMENT AND GIVE IT A STAR RATING BELOW!
Zaalouk (Moroccan Eggplant Dip)
Zaalouk is an amazingly delicious Moroccan salad or dip made with roasted eggplants. Easy to make, it tastes great with toasted bread. And gets even better the next day.
Print
Instructions
Preheat oven to 400˚F. Prick the eggplants with a fork in couple spots and place them on a parchment paper lined baking sheet. Bake for

35 to 45 minutes

until the skin turns darker and shrinks. Check foot notes for grilling, broiling or stove top options.

The eggplants should be cooked through completely in the center. To check, press the back of a fork on the eggplant. It should compress easily all the way into the center without any resistance.

Cut through the eggplant skin and scoop out the soft cooked flesh and mash it with a fork and set aside.

Chop the tomatoes into small pieces, discarding some seeds if you wish. See note below for peeled and deseeded tomatoes.

Heat 2 tablespoons olive oil in a saucepan at medium setting. Add the chopped tomatoes, minced garlic, paprika, cumin, cayenne or chili powder, ⅓ teaspoon salt and cook until tomatoes are softened, stirring in between, about

15 to 20 minutes

.

Add the mashed eggplants and cilantro. Continue to cook over low heat for another

10 to 15 minutes

, stirring occasionally, mashing it if needed, into a thick but slightly textured dip like consistency.

Stir in lemon juice and salt. Adjust as per taste, let it cool and transfer to a bowl, cover and refrigerate it overnight before serving.

Take the zaalouk from the refrigerator about

30 minutes

before serving and let it come to room temperature. Drizzle with remaining olive oil. Garnish with cilantro and red pepper flakes if you prefer.

Chunky Zaalouk: To make a chunkier but less traditional zaalouk, insert garlic cloves into eggplant and roast it in the oven at 400˚F, along with the tomatoes. Chop the eggplants and tomatoes. Add the spices, herbs, half the olive oil, salt and mash it up to desired consistency. Drizzle olive oil and serve.
Notes
Cooking Eggplants:

Grill: Roast eggplants on charcoal or gas grill for 20 to 30 minutes, turning them slowly in between, until skin turns darker and shrinks.
Broil: Cut eggplants lengthwise into halves and place the cut side down on a foil lined baking sheet. Place on the second rack and broil until skin turns darker and shrinks, about 20 minutes.
Stovetop: Peel the eggplants completely, only some stripes or leave the skin on if you don't mind it. Cut the eggplants into small pieces. Steam on high heat until soft or cook in a pan with some water until soft and mushy.

Easy Zaalouk: Combine all ingredients with ⅓ cup of water and cook it over stove top until softened. Mash it up well and drizzle olive oil.
Peeled and deseeded tomatoes: If you prefer, you can blanch the tomatoes. Cut a small cross on the surface of tomatoes and dump them in hot boiling water. After a minute, pick out the tomatoes and peel the skin, cut them into halves and deseed. Chop them into small pieces.
Use more tomatoes if you want the dip to be saucy. You may even try using a little bit of tomato paste to give it thickness.
Leftovers: Can be refrigerated for 4 to 5 days. You can freeze zaalouk for couple months. Thaw and reheat. Adjust the consistency, evaporating or adding water as needed. Check the seasoning as well.
Nutrition facts not including any added salt.
For other variations, tips and serving suggestions, scroll up the page to the blog post.
Nutrition
Calories:
77
kcal
|
Carbohydrates:
6
g
|
Protein:
1
g
|
Fat:
6
g
|
Saturated Fat:
1
g
|
Polyunsaturated Fat:
1
g
|
Monounsaturated Fat:
4
g
|
Sodium:
5
mg
|
Potassium:
280
mg
|
Fiber:
3
g
|
Sugar:
4
g
|
Vitamin A:
526
IU
|
Vitamin C:
9
mg
|
Calcium:
15
mg
|
Iron:
1
mg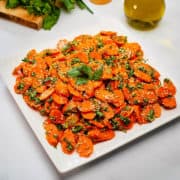 Moroccan Carrot Salad
Moroccan carrot salad is quick, easy and scrumptious. This salad made with tender steamed carrots and flavored with spices and herbs is as delicious as it looks.
Print
Instructions
Slice carrots into uniform sized medallions or rounds. If the carrots are thicker, cut them into half before slicing.

Place carrot slices in the top basket of a steamer and steam the vegetable for about

10 to 15 minutes

until quite tender but still retaining shape. Make sure they don't over cook and fall apart.Tip: Alternatively, boil carrot slices in a large pot of salted water for

20 minutes

and drain very well.

While the carrots are cooking, take a

large mixing bowl

and

whisk

olive oil, lemon juice, honey, grated garlic, paprika, sumac, ground cumin, ground coriander, cinnamon or cardamom, black pepper and salt.

Then add the warm carrot slices, cilantro, parsley, green onions and toss it all together. Sprinkle with sesame seeds.

Serve the salad warm or at room temperature.
Notes
Adjust the spice levels as per taste.
Make the salad simpler by using 1 tablespoon readymade harissa and skip the individual spices. Harissa is a blend of spices such as cumin, coriander, fennel, sumac, etc.
Nutrition
Serving:
1
Cup
|
Calories:
129
kcal
|
Carbohydrates:
14
g
|
Protein:
2
g
|
Fat:
8
g
|
Saturated Fat:
1
g
|
Sodium:
299
mg
|
Potassium:
392
mg
|
Fiber:
4
g
|
Sugar:
7
g
|
Vitamin A:
19252
IU
|
Vitamin C:
11
mg
|
Calcium:
64
mg
|
Iron:
1
mg
More Salad Recipes: