Harira is a thick and wholesome Moroccan soup, that is enjoyed all year round. Easy to make, this flavorful one-pot soup can be made in plenty and is a crowd pleaser.
Moroccan Harira Soup
Harira is the most popular Moroccan soup, that is typically served to break the fast during Ramadan, but is also enjoyed throughout the year. This savory soup is usually prepared with chickpeas, fava beans, lentils, herbs, tomatoes and lamb.
However, there are many regional variations of this soup. And even versions adapted to the season, as the month of Ramadan rotates through seasons, following the lunar calendar.
The characteristic aspect of harira soup is it's smooth and creamy consistency. In fact, the word 'hareer' means 'silk' in Arabic. And to get that velvety texture, harira is thickened with flour (durum wheat, barley, all purpose, corn etc) or beaten eggs.
Chunky with meat and beans, harira is prepared with a silky-smooth and flavorful tomato base like our khichda.
Harira Ingredients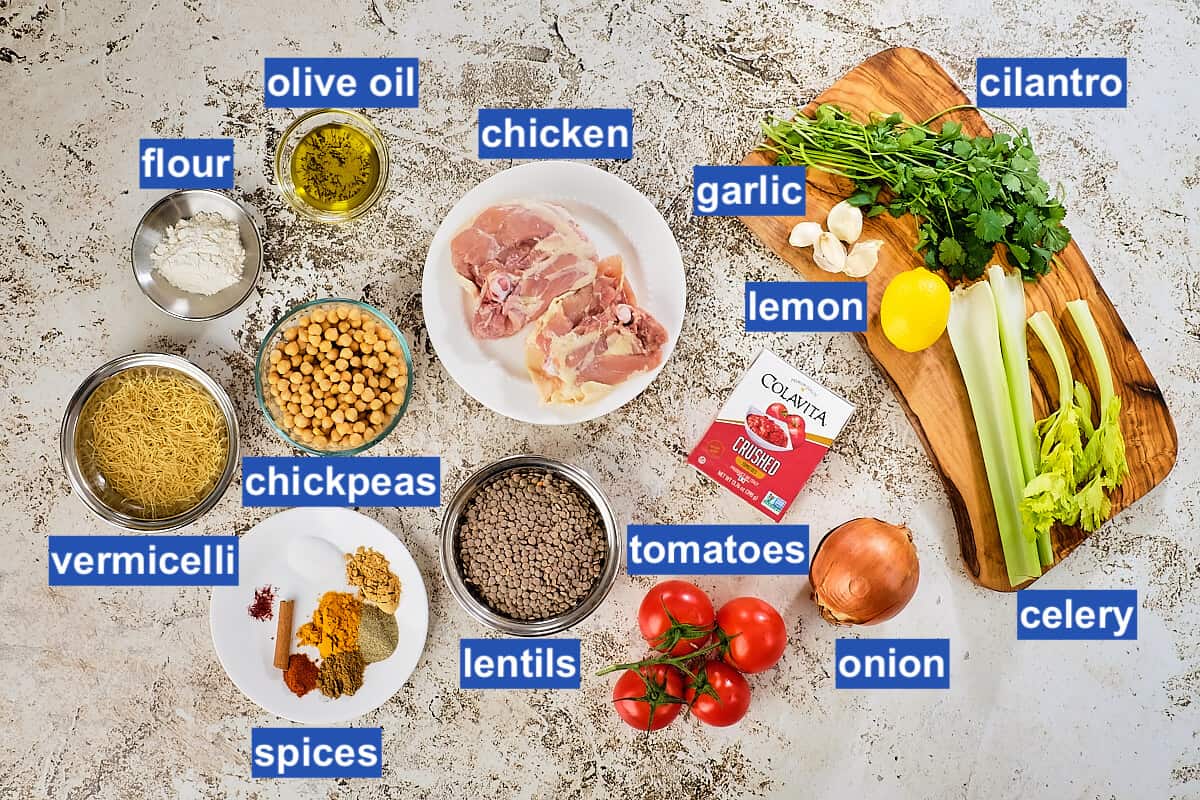 Here are some useful notes about ingredients.
Meat: I chose chicken for availability. But you can use lamb, beef, veal or even fish. Be sure to use bone-in meat or cook with bone broth or stock. Also, vegetarian and vegan options below.
Beans: Dried legumes such as lentils, chickpeas and fava beans are typical. I use canned chickpeas for ease. See recipe notes for dried chickpea instructions.
Tomatoes: Crushed or canned tomatoes makes it easier. But you can also use fresh vine-ripe tomatoes along with some tomato paste.
Pasta: Vermicelli is the traditional option. But, if you want a thicker texture, use capellini pasta. For a delicate texture, try angel hair pasta. Rice can be used as well.
Thickeners: Durum whole wheat or all purpose flour can be used. Also, check below under "variations" for gluten free options. Some recipes use whisked eggs as a thickener.
Aromatics: Onion, garlic, ginger, celery and herbs.
Spices: Black pepper, cumin, turmeric, cayenne, cinnamon and saffron.
Ghee: This adds a rich and nutty flavor. Alternatives are smen (fermented butter), grated parmesan cheese. Alternatively, cook with marrow bones and add the marrow back to the soup.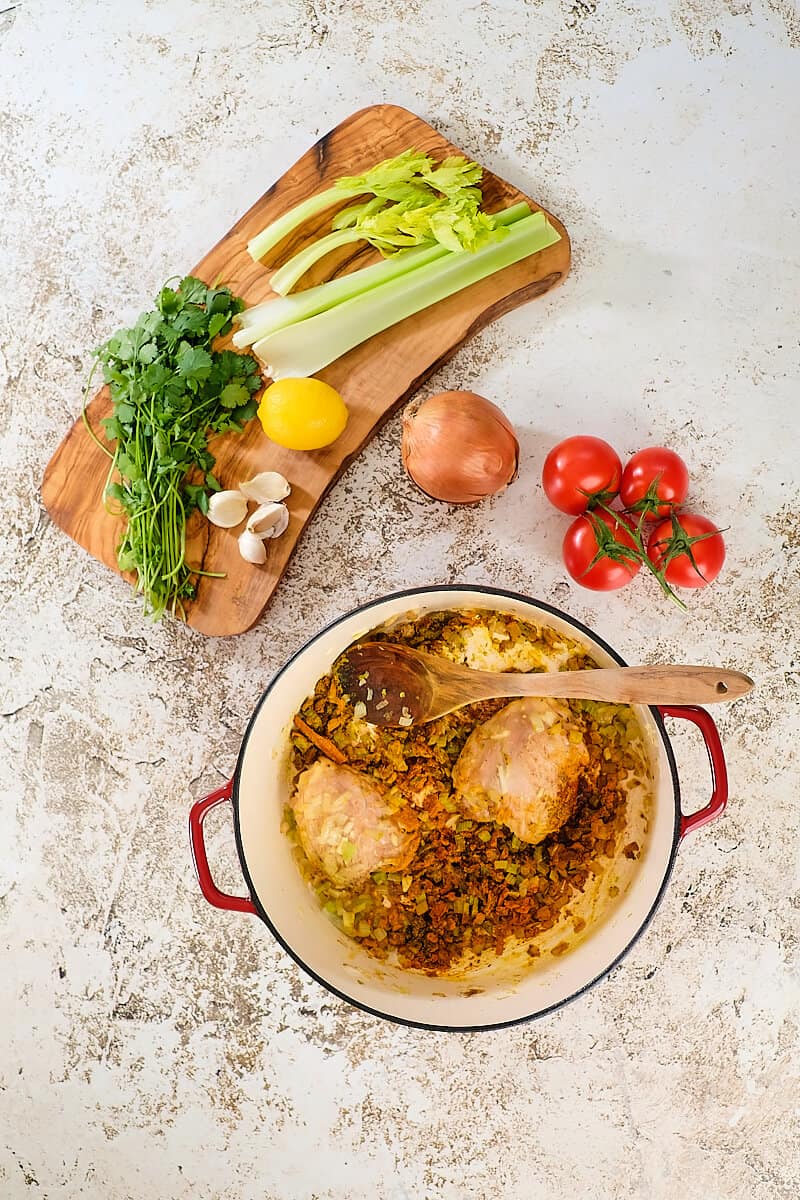 How To Make Harira
**Below is a brief overview. Full harira recipe is at the end of post.
Chicken: Heat oil and brown the chicken.
Aromatics and Spices: Add onion, celery, garlic, ginger, black pepper, turmeric, cumin, cayenne, cinnamon and cook 2 minutes.
Simmer Soup: Then add salt, tomatoes, water, lentils, herbs and simmer until lentils are soft.
Adjust: Use more water and seasonings as needed.
Beans and Pasta: Add chickpeas and pasta. I cook the pasta until al dente for texture. Cook more if you like it softer.
Thicken: Make flour paste and add to simmering soup.
Serve: Add lemon juice, saffron water, remaining herbs, ghee and serve it hot.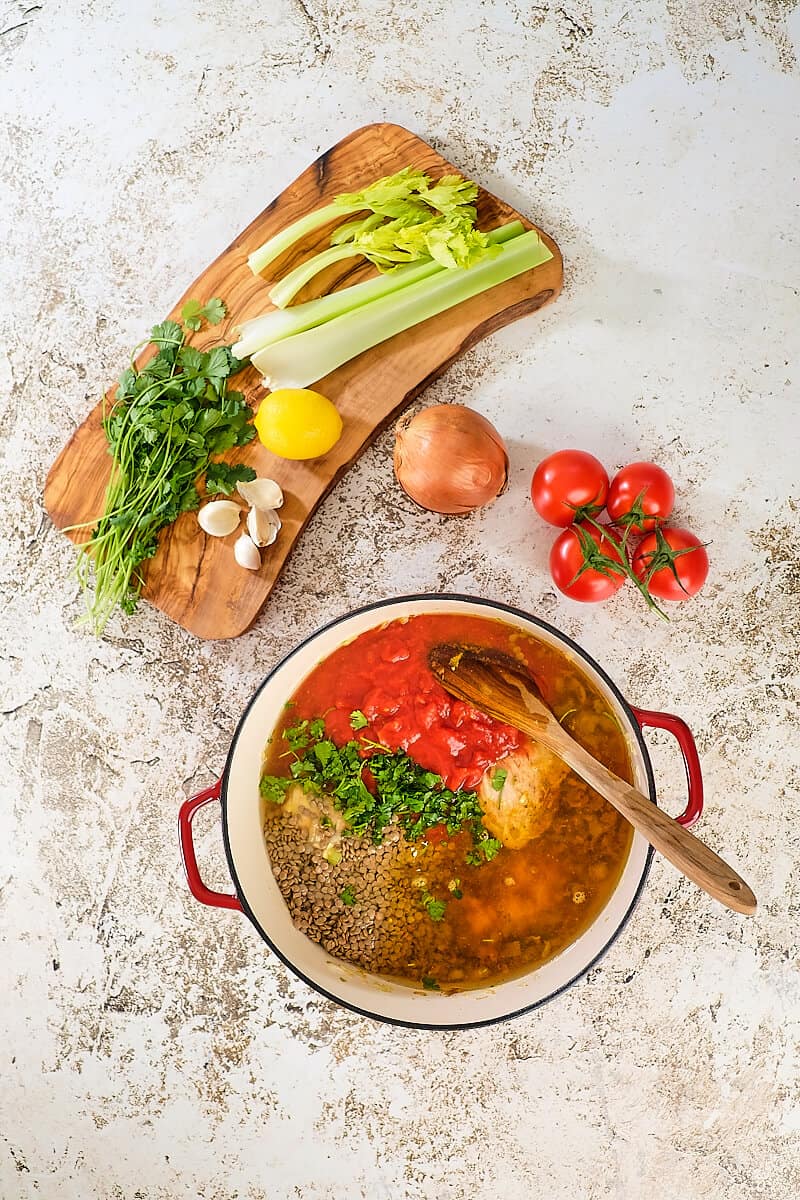 What to Serve Along Harira
You can serve this soup just as it is with some crusty bread.
Or serve it in smaller portions as part of a multi-course meal.
Check the FAQ below for how to serve during Ramadan.
Top Tip
The most important thing is to get that silky smooth consistency. So thicken the soup appropriately, adjusting the amount of flour or liquid used. And add the flour paste gradually, while stirring simultaneously.
Variations
This soup is egg free, nut free and soy free. And I have not tried all the options below.
Vegan: Replace the meat with lentils and make it vegetarian and vegan for an equally delicious version. Do nut use ghee and try nutritional yeast for added flavor.
Gluten Free: Use gluten-free pasta or rice. For thickening, try rice flour, chickpea flour or a combination with corn starch (3 parts rice or chickpea flour + 1 part corn starch). Other flour options are GF flour, corn, sorghum and millet. Corn starch or tapioca starch work as well.
Higher Protein: Ladle warm soup into individual oven-safe serving bowls. Add an egg to each bowl and bake until the egg whites are set, about 10 minutes.
Dairy Free: Do not add ghee. Cook the soup with marrow bones, scoop out the marrow and stir it into the soup.
Low Sodium: Use low-sodium canned products. Lower the amount of salt. And use more herbs and seasoning.
Meal Prep and Storage
This soup tastes even better the next day when the flavors have melded together. Be sure to check recipe notes for more information.
Common Questions
What do you Serve with Harira?
Traditionally it is served to break the fast during Ramadan, with Moroccan bread, dates, figs and chebakia (sesame and honey cookies). Serve some harissa and lemon wedges on the side, to use as needed.
What else can I use to thicken Harira?
Instead of flour, whisk 2 eggs with 2 tablespoons water and juice of 1 lemon. Add a ladle of cooking liquid to the eggs, stirring constantly. Pour the egg mixture slowly into the soup, while stirring, and do not let it boil. Turn off the heat.
Can I Skip the Ghee for this Soup?
Traditionally smen (Moroccan preserved butter) is used. Instead of ghee or smen, try grated parmesan cheese for a nutty and rich flavor. For a dairy-free version, cook the soup with marrow bones, scoop out the marrow and stir it into the soup.
How To Make Harira in Instant Pot or Slow Cooker?
For instant pot, use the saute mode for browning the chicken. Add the other ingredients and cook it under pressure. In a slow cooker, let it cook for 3 to 4 hours on high setting, or 5 to 6 hours on low setting.
Nutrition Facts
Harira is yet another traditional favorite that is also healthy and filling. It is a wholesome dish that provides a good amount of high quality protein, plant protein, fiber and complex carbohydrates.
Beans are an excellent source of protein, dietary fiber, B vitamins and some minerals. The slow digesting carbohydrates and high fiber in beans support better blood sugar levels.
The tomatoes, herbs, spices and other vegetables further boost the flavor and nutrient potential of this soup.
Harira is cooked with healthy extra virgin olive oil. You can lower the amount of saturated fat by skipping the ghee and trimming off all the fat from meat or chicken.
More Moroccan Recipes
★ DID YOU MAKE THIS RECIPE? PLEASE COMMENT AND GIVE IT A STAR RATING BELOW!
Moroccan Harira Recipe
Harira is a thick and wholesome Moroccan soup, that is enjoyed all year round. Easy to make, this flavorful one-pot soup can be made in plenty and is a crowd pleaser.
Print
Save
Saved!
Ingredients
3

tablespoons

extra-virgin olive oil

¾

pound

chicken leg quarters

or lamb shoulder with bone, cut into smaller pieces

1

large onion

finely diced, about 2 cups

2

stalks

celery with tender leaves

chopped

4

garlic cloves

minced

2½

teaspoons

ground ginger

(dried ginger powder)

1½

teaspoons

ground black pepper

1½

teaspoons

turmeric

2

teaspoons

ground cumin

⅓

teaspoon

cayenne pepper

or chili powder

1

cinnamon stick

or ¼ teaspoon ground cinnamon

1

teaspoon

salt

more as needed

4

cups

crushed tomatoes

canned or diced fresh tomatoes

8

cups

water

or stock, more as needed

1

cup

green lentils

or brown lentils, rinsed

⅓

cup

chopped cilantro

parsley or combination

1

15-ounce

canned chickpeas

drained, see note

¼

pound

vermicelli

broken into 1-inch pieces, or ½ cup rice

2

tablespoons

flour

durum whole wheat or all purpose

¼

cup

lemon juice

¼

teaspoon

saffron

ground and dissolved in 2 tablespoons hot water

1

tablespoon

ghee

Lemon wedges
Instructions
Heat olive oil in a large cooking pot over medium-high. Pat dry chicken pieces, transfer to pot in a single layer and brown on both sides at high heat.

Add diced onion and cook until softened and translucent, stirring occasionally, about 10 minutes. Stir in celery, garlic, ginger, black pepper, turmeric, cumin, cayenne, cinnamon and cook for

2 minutes

.

Then add salt, crushed tomatoes, water, lentils, half the herbs and bring it to a boil. Lower the heat and simmer until lentils are cooked soft, about

30 minutes

.

De-bone the chicken and discard the bones. Shred the chicken and add it back to the soup. Add more liquid as needed to keep the soup consistency thick but pourable. Taste and adjust seasonings.

Next add canned chickpeas and pasta to the soup. And cook until pasta is al dente, about

5 to 10 minutes

. (see notes)

In a small bowl, take the flour and add water, little by little, to make a thin paste. Add this flour paste gradually to the simmering soup, while stirring continuously. The consistency of the soup should be thick and velvety.

Stir in lemon juice as per taste. Top the soup with saffron water, remaining herbs and ghee. Serve it hot with lemon wedges on the side.
Notes
Boneless Meat: Cut boneless chicken, lamb or beef in ½ inch pieces and add extra bone or use bone broth or stock.
Vegetarian: Substitute chicken/meat with 1 cup red lentils.
Dried Chickpeas: Soak 1 cup dried chickpeas overnight in water with a pinch of baking soda and drain. Add it to the cooking pot with the chicken and cook.
Pasta: Traditionally vermicelli is used. But angel hair pasta or capellini pasta are alternatives. The latter has a more prominent texture. If planning to freeze the soup, cook pasta separately and add before serving.
Other Vegetables: You can add some chopped carrots as well. If using fresh tomatoes, add 1 to 2 tablespoons tomato paste to thicken the soup.
Meal Prep: Chop all vegetables and cook the beans if using the dried version. The soup can also be cooked a day or two ahead and refrigerated.
Storage: Refrigerate harira for 4 to 5 days. You can freeze soup for 2 to 3 months. Thaw and reheat on stove top or in microwave, adding water if too thick.
Check blog post above for more tips, variations, and FAQs, etc.
Nutrition
Serving:
1
Cup
|
Calories:
171
kcal
|
Carbohydrates:
20
g
|
Protein:
8
g
|
Fat:
7
g
|
Saturated Fat:
2
g
|
Polyunsaturated Fat:
1
g
|
Monounsaturated Fat:
4
g
|
Trans Fat:
1
g
|
Cholesterol:
20
mg
|
Sodium:
264
mg
|
Potassium:
382
mg
|
Fiber:
5
g
|
Sugar:
3
g
|
Vitamin A:
217
IU
|
Vitamin C:
9
mg
|
Calcium:
45
mg
|
Iron:
2
mg
More Soup Recipes