The perfect restaurant style homemade naan bread recipe after many trials! I share all my tips and tricks for this surprisingly easy recipe so you can start making them at home.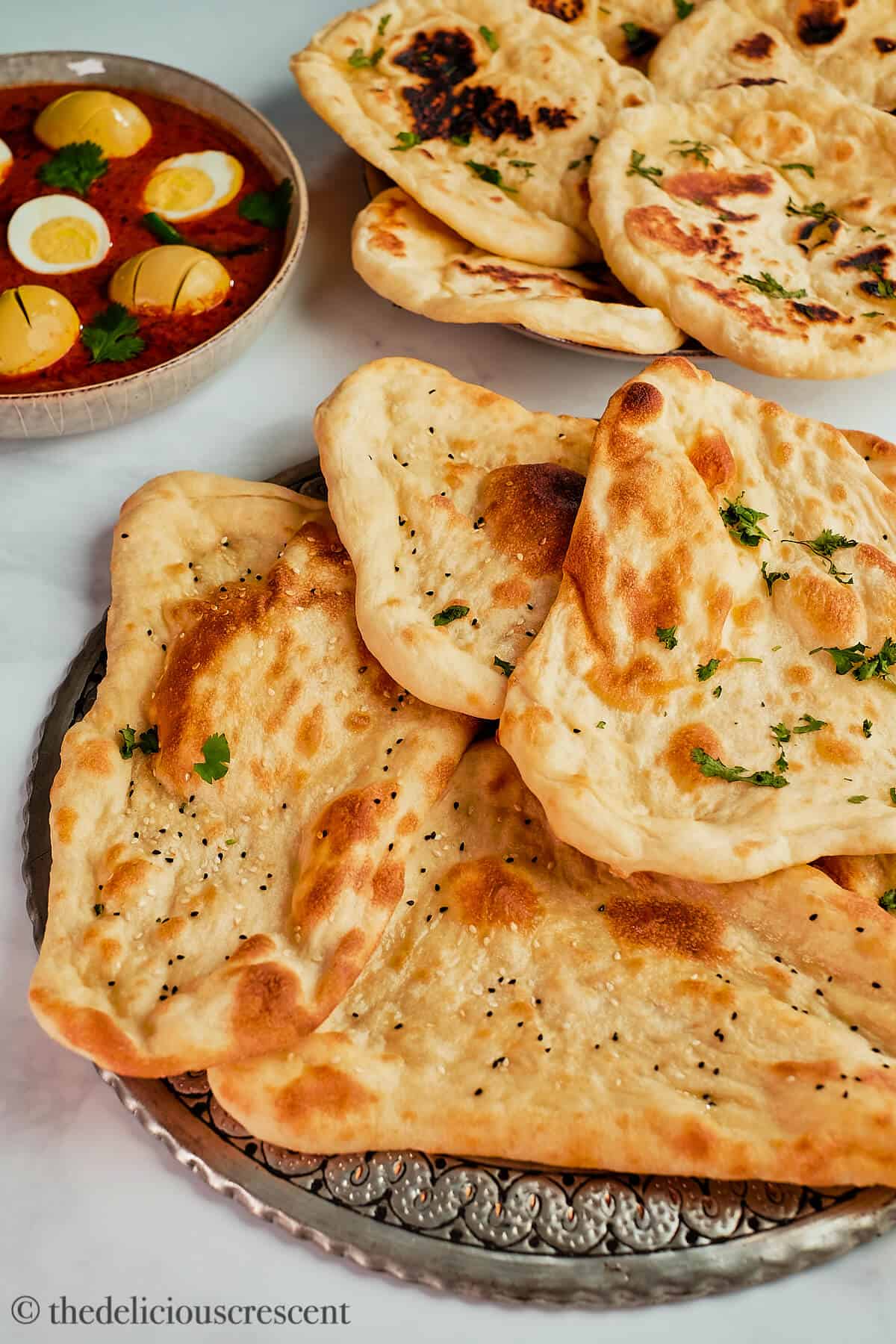 Restaurant Style Naan
Naan is a popular flatbread of the Indian subcontinent, served along side rich curries and gravies. With its origin in old Persian cuisine, the Indian naan belongs to a family of flatbreads that have evolved in various ways and span from the middle east to far east. The word "naan" means "bread" in Persian language.
For instance, nan-e barbari, nan-e sangak and nan-e taftun are the popular flatbreads of Iran. On the other hand, the famous varieties of the Indian sub continent include garlic, butter, Peshawari, Kashmiri, paneer etc. But for today we will focus on the plain version.
Traditionally baked in a super hot clay tandoor oven, the hand stretched dough is slapped onto the walls of tandoor, where it sticks and bakes quickly at a very high heat from hot charcoal or wood fires. Our recipe is adapted to create similar results in your home oven.
Most of the widely available recipes will give you soft, pillowy flatbreads very much like the pocket-less middle eastern flatbreads made with a richer dough. Also delicious, but not exactly like the Indian flatbread.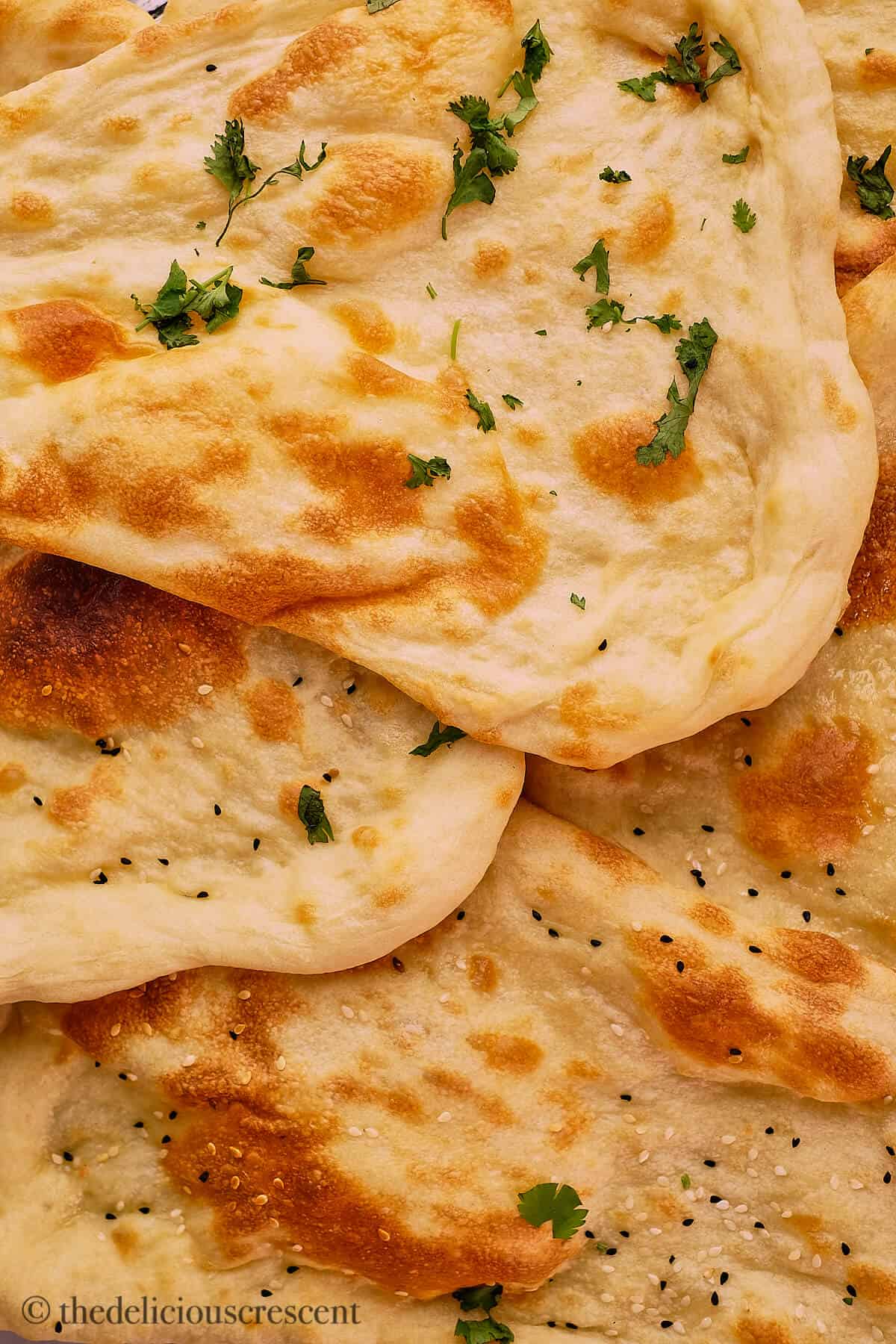 So, what is the perfect naan that we have come to love at the Indian and Pakistani restaurants?
The Perfect Naan Is
Light and airy.
Soft puffy bubbles on top with brown blisters.
Delicate, tender, moist and cloth like on the top (easy to tear and mop up a delicious curry or wrap around a sizzling tandoori chicken leg).
But a crisper surface on the other side.
Hand stretched (its easy, don't worry) and does not have a uniform appearance.
Ingredients You Need
The basic ingredients for making homemade naan are as follows.
Milk, Yogurt and Egg: These make the dough rich and soft.
Bread Flour: I use King Arthur brand. The higher percentage of protein is helpful for good gluten development. If you end up using all purpose flour, adding some vital gluten can help.
Optional: Garlic, cilantro, butter or ghee are optional toppings.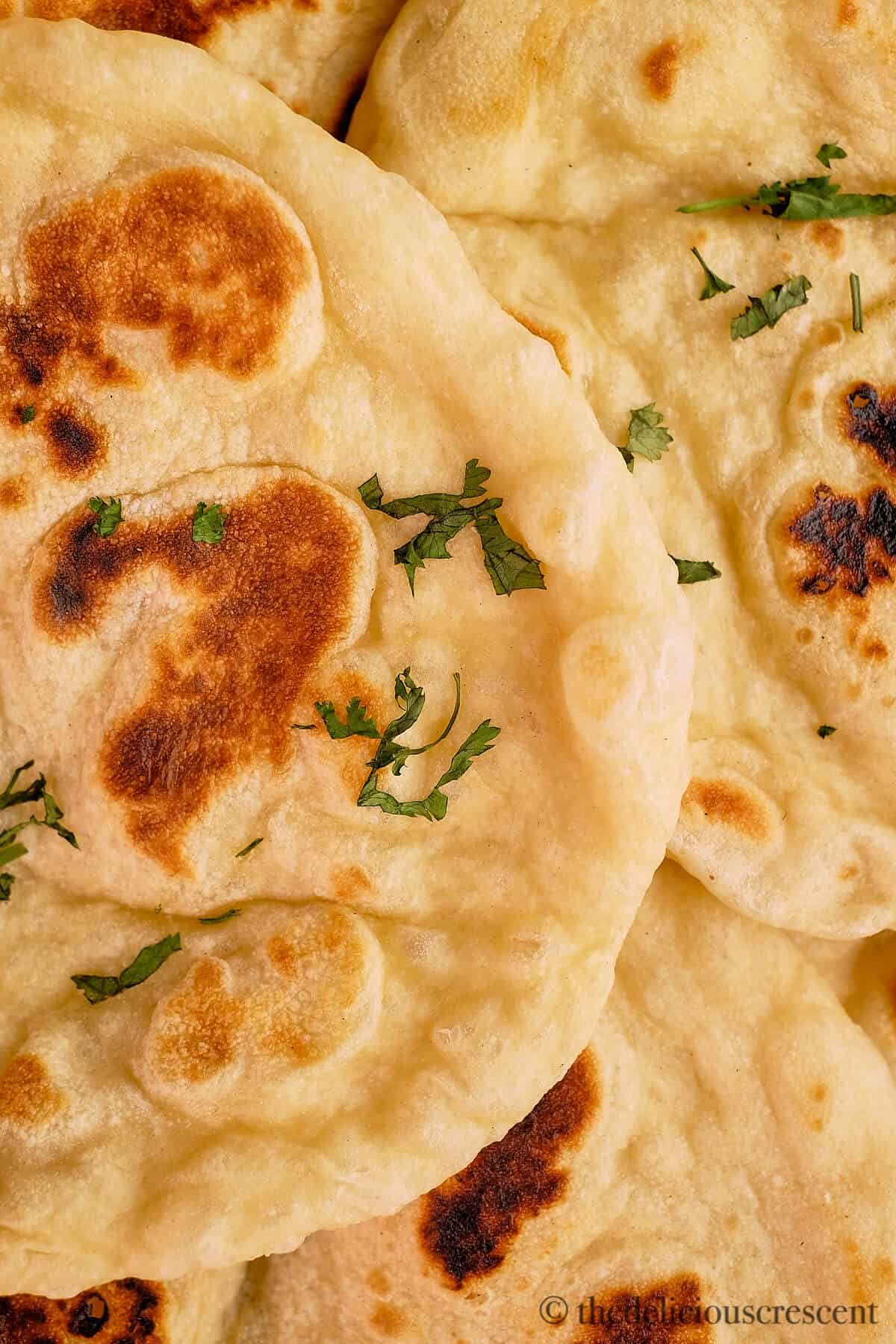 How To Make Homemade Naan
**Below is a brief overview. Full recipe is at the end of post.
First Hydration: Make yeast foam. Combine most of the flour with other ingredients and allow to rest, so that flour absorbs liquid very well. Add remaining flour, little at a time to use it minimally.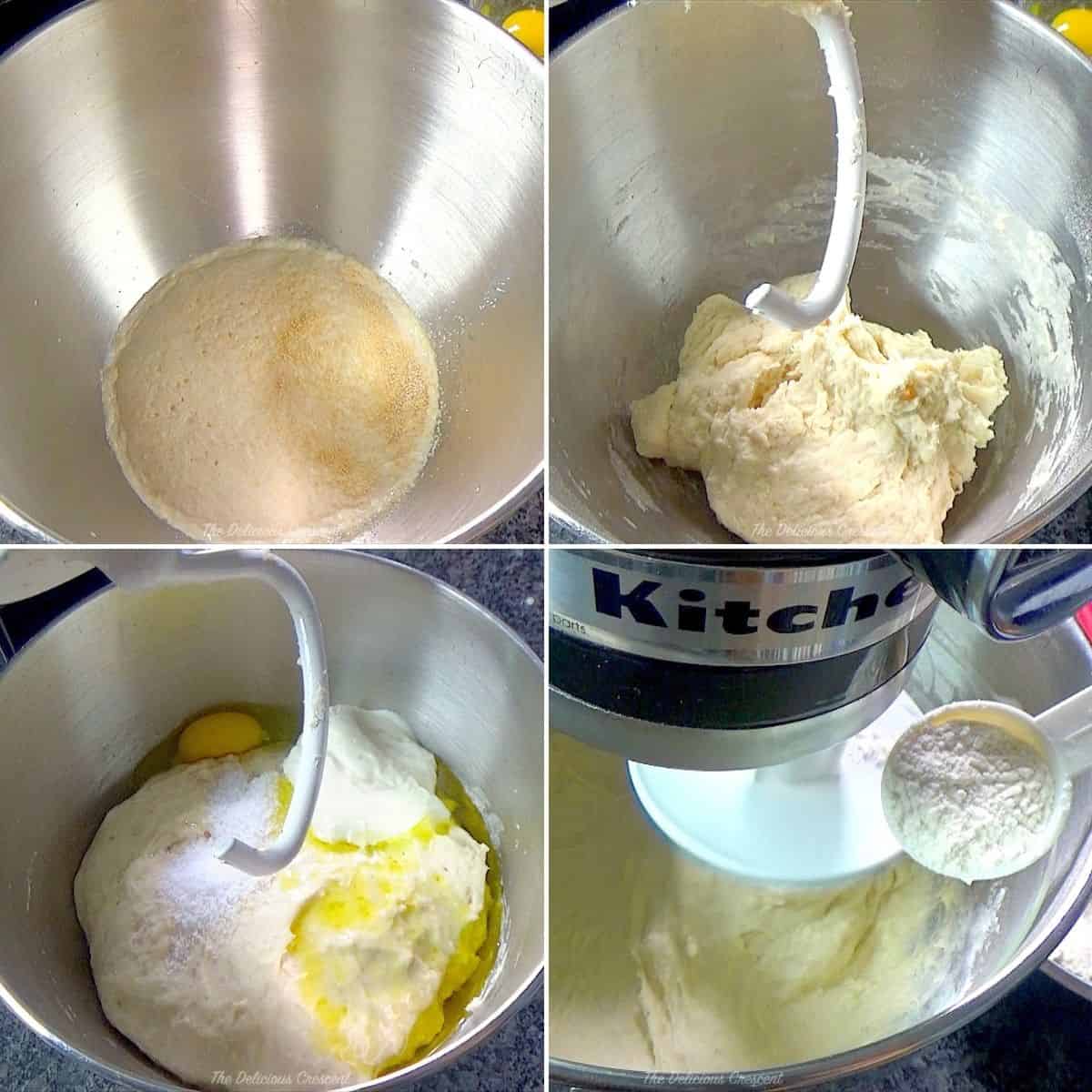 Final Dough: Knead the dough. It should stretch without tearing. Place in an oiled bowl and let it rise until double in bulk.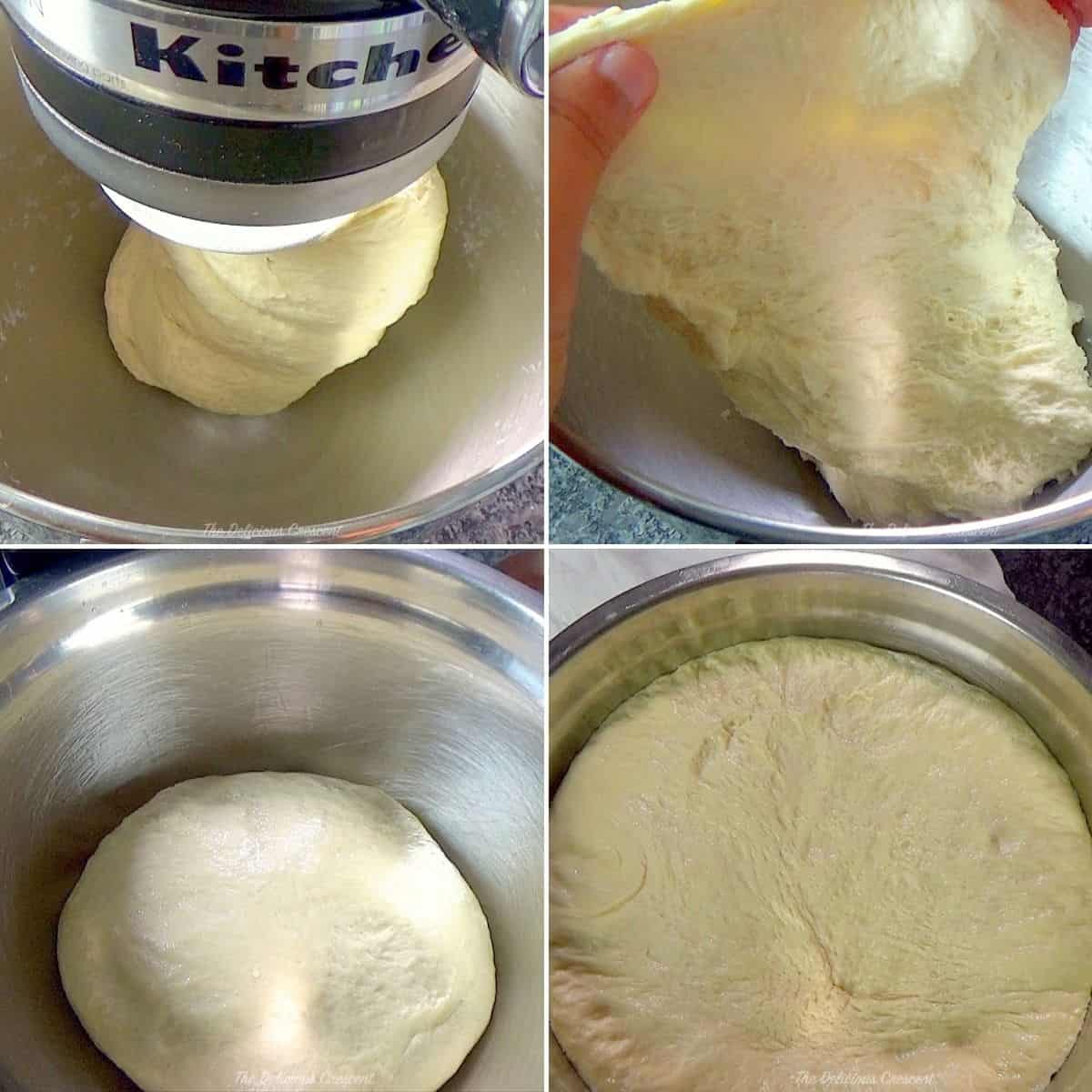 Making Naan: Portion and shape dough into round balls. Cover with kitchen towel and let it rest. Hand shape the flatbread. Holding the wider side transfer to oven and bake.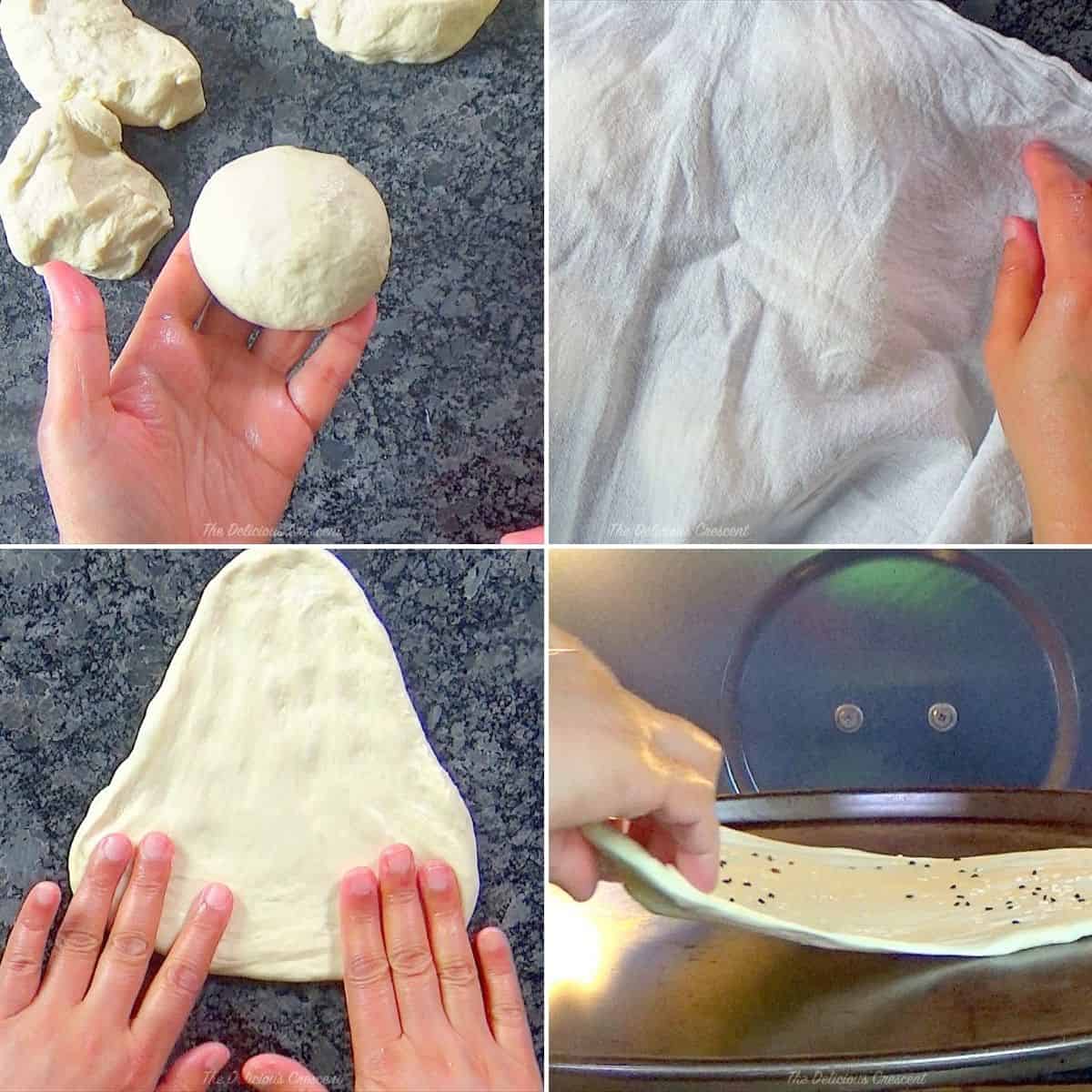 Garlic Butter Brush: Heat grated garlic with melted butter and strain. Brush hot naan with butter. Nice cross section of the flatbread.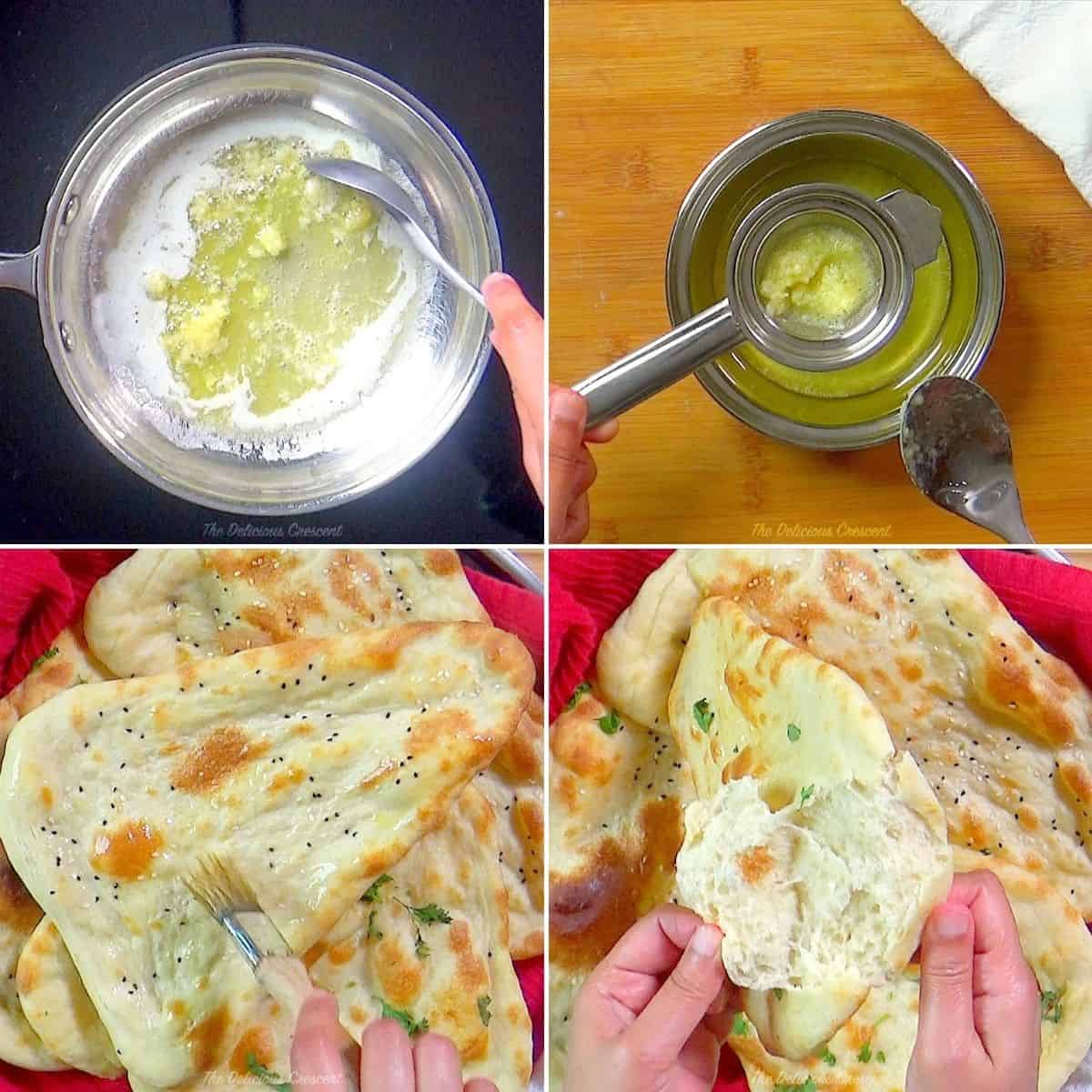 Skillet Naan: Roll out the dough and place on preheated skillet. Flip when bubbles appear. Cook on both sides, brush with butter and top with cilantro.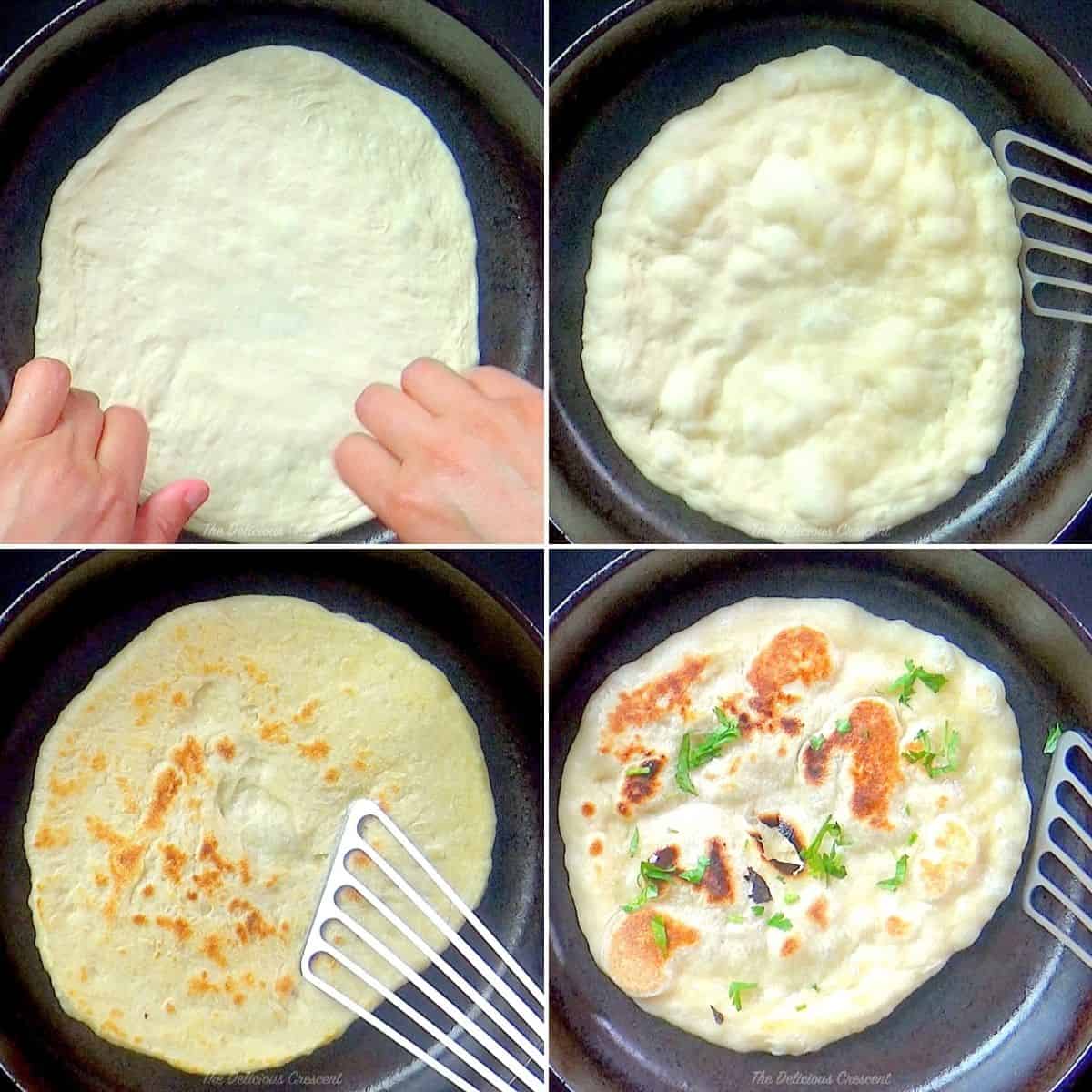 Recipe FAQs
How To Make Naan Dough?
The dough should be sticky and rich similar to the one used for brioche. It should be stretchy, so gluten development is essential. 

The key to a perfect naan dough is when you can easily hand stretch your nicely raised pillowy soft dough balls.

If the dough has even slightly less liquid and more flour, it will turn out dense and you will not be able to hand stretch it. Then you will need to use a rolling pin and the resulting flatbreads will still be tasty but not of restaurant quality.
Any Tips for Oven Naan?
Fresh dough, that is sticky and stretchy is perfect for oven. It should be preheated at the highest possible setting for half hour and then baked quickly at that heat level. 
Any Tips for Stovetop Naan?
To make it on stove top, the best results come from using a cast iron skillet or carbon steel pan due to the high heat and also for those beautiful brown spots. A day old refrigerated dough has slightly less moisture and works great for stove top naan. 
Is Naan Healthier than Bread?
Actually the word 'naan' means bread. However, any naan or bread can be healthy by choosing the right ingredients. Using more whole grain flour will make the naan healthier. But it requires specific techniques to make it taste good as we describe in our whole wheat naan recipe.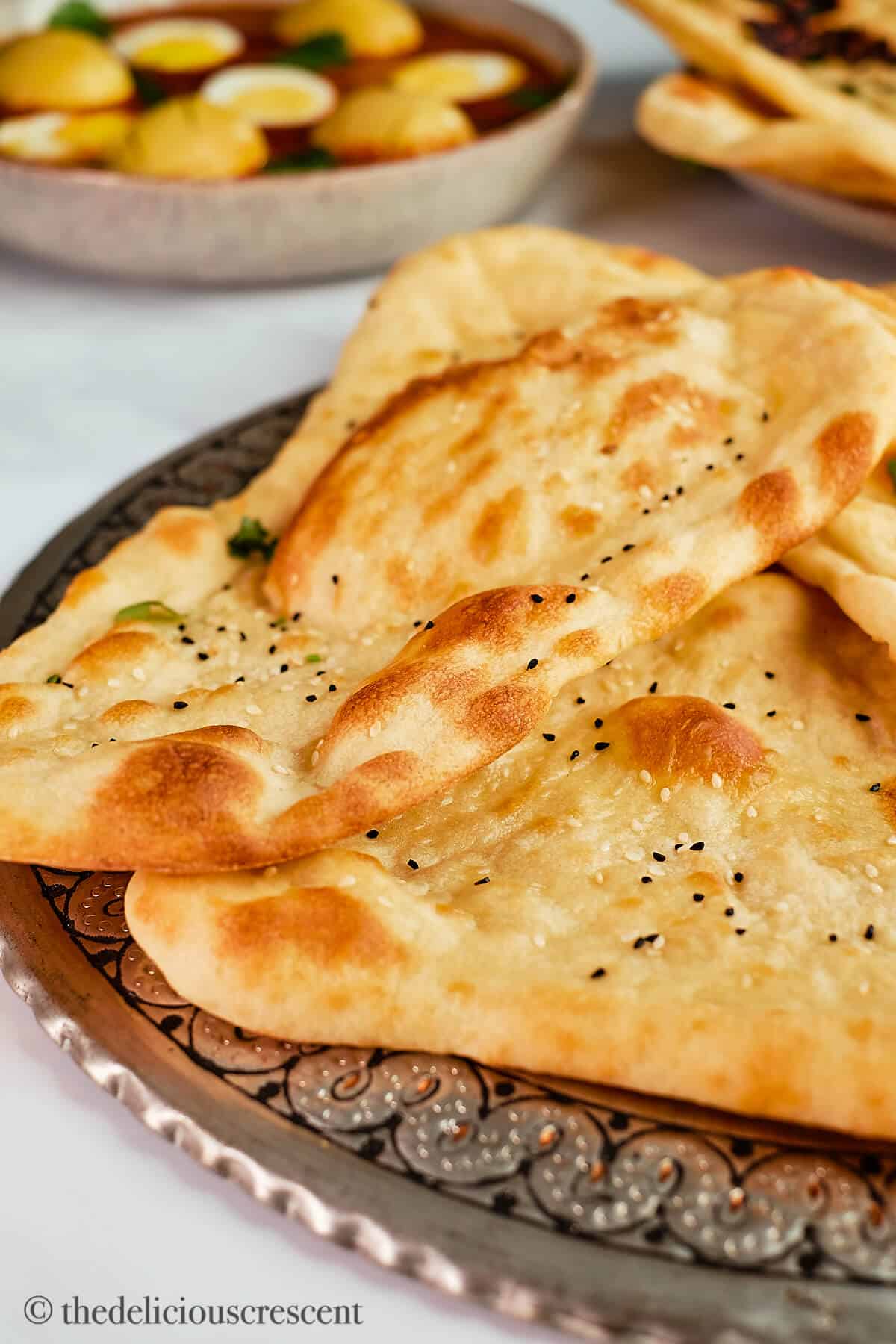 Variations
Just a few suggestions, but I haven't tried the following variations.
Vegan: Skip yogurt, milk, egg and butter or ghee. Try nut milk, coconut yogurt, flax eggs and coconut oil or olive oil.
Dairy Free: Skip yogurt, milk, butter or ghee. Try nut milk, coconut yogurt and plant based oils.
Egg Free: Skip egg and increase the amount of yogurt and/or milk.
Healthier: We always share healthier substitutions and healthy makeovers when possible. For this recipe, we felt that the whole wheat naan recipe deserves its own separate post.
What to Serve Along?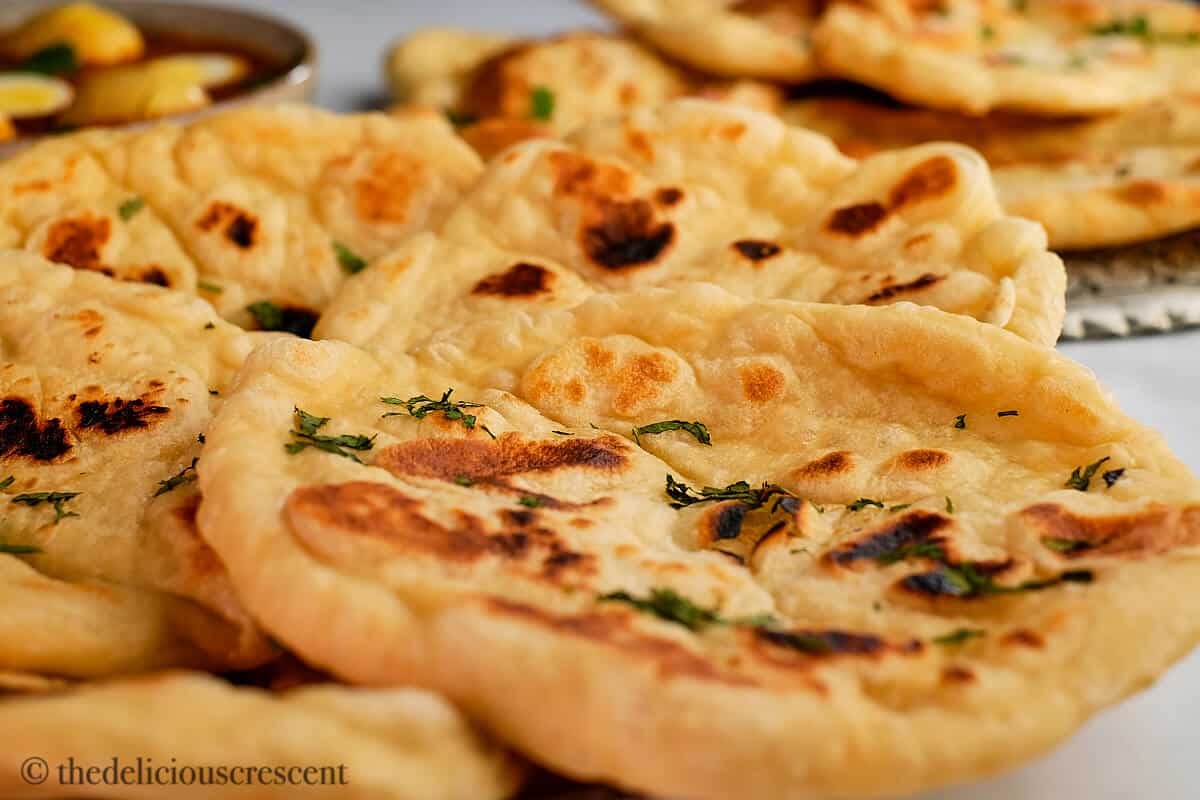 Storage
Wrap fresh baked naan in kitchen towels or paper towels and store in ziploc bags. They will be good for 1 to 2 days at room temperature. In refrigerator they will be okay for 2 to 3 days. Do not leave them exposed to air for hours.
These flatbreads do not have a long shelf life. They are best, fresh out of oven. If you don't plan on using it, freeze them as soon as possible. Frozen breads last a couple months. Wrap in aluminum foil and reheat in oven at 350 degrees Fahrenheit for 5 minutes and they turn out perfect.
Make Ahead
Make the dough up to couple days ahead and refrigerate. You may have to punch down the dough once during refrigeration, to prevent overflowing out of container.
More Flatbread Recipes
★ DID YOU MAKE THIS RECIPE? PLEASE COMMENT AND GIVE IT A STAR RATING BELOW!
Naan (Restaurant Style)
The perfect restaurant style homemade naan bread recipe after many trials! I share all my tips and tricks for this surprisingly easy recipe so you can start making them at home.
Print
Ingredients
⅓

cup

warm water

120 to 130 degrees F

⅓

cup

warm milk

120 to 130 degrees F

1½

teaspoons

yeast

dry, fast acting

2

teaspoons

sugar

2½

cups

bread flour

⅓

cup

plain yogurt

room temp

½

egg

large, whisked

1

teaspoon

salt

1

tablespoon

olive oil

plus more
Topping (optional)
2

tablespoons

butter

or ghee

2

cloves

garlic

minced

chopped cilantro
Instructions
Naan Dough
Combine water and milk in the bowl of a stand mixer fitted with a dough attachment. Scatter dry yeast and sugar on top and let it rest

five minutes

until the yeast foams up.

Add 2 cups of flour and stir it into a sticky mass and let it rest

15 minutes

to absorb the liquids.

With the mixer running at low speed, add yogurt, egg, salt and olive oil. Gradually add remaining flour, 1 tablespoon at a time, until the dough is soft and slightly sticky.

Knead the dough for 

6 to 8 minutes

 at medium-high setting. As the machine is running, the dough should pull away from the sides and hold on to the hook. Use flour as minimally as possible.

Properly kneaded dough should be soft, smooth, shiny and elastic. It should stretch without tearing. Check the window pane test.

Place the dough ball in an oiled bowl and roll it to coat with oil. Cover with cling wrap or a lid and let it rise in a warm place for about 

1 hour

(2 hours for active dry) and double in bulk (inside an oven that is not preheated works well).
Dough Balls, Rolling Naan and Baking
Preheat oven to the highest setting in your oven (550 degrees Fahrenheit in my oven). Place a baking stone, cast iron pan or an inverted baking sheet in the middle of oven.

On a lightly oiled surface, deflate the dough and divide it into 5 equal pieces. Roll the dough into smooth round balls, pulling the seams and tucking them underneath. Cover dough balls with kitchen towel or plastic wrap and allow to rest for 

20 minutes

.

Pat each dough ball. Holding a corner of the dough with one hand, press with fingertips and shape it out into a smooth triangle or oval naan, that is about ⅛ inch thick. Tip: It is not necessary to roll it out evenly or it will puff up.

Hold the wider side of naan and slap it on the hot baking stone. The side that was facing up on the working surface (exposed to air) should be facing up. Work with two naans at a time, depending on the size of the stone/pan.

Tip: If naans are puffing up, press indentations in the rolled out naan before baking.

Let it bake 

4 to 5 minutes

, until you notice few puffed up brown spots.

Remove from oven and then brush butter or ghee on top. Then wrap in kitchen towel and pack in zip lock bags, to keep them soft and prevent drying out.

Meanwhile, melt butter or ghee over medium heat in a small sauté pan.  Add grated garlic and cook for

1-2 minutes

until fragrant.  Strain the butter and set it aside. Discard the garlic.
Stove Top (Optional Method)
Preheat cast iron skillet for 

5 minutes

 at medium high setting. When you place your palm 3 inches above the skillet, you should feel the heat.

Place the naan on hot skillet and cook for 

2 to 3 minutes

, until you notice few puffed up spots and the bottom turns light brown. Flip the naan and cook the other side for 

2 to 3 minutes

until brown blisters appear. If needed, flip naan to finish cooking. Cool and store naan as mentioned above.
Notes
Dry Yeast: Use thermometer and check temperature recommendations. 110 degrees F for active dry yeast and 125 degrees F for rapid rise yeast.
Best Naan: Baked at highest possible temperature and in shortest possible time.
Dough by Hand: Stir all ingredients using a strong wooden spoon. Then simply knead for 8 to 10 minutes.
Storage: These naan will be good for 1 to 2 days at room temperature. And can be refrigerated for 2 to 3 days. Do not leave them exposed to air for hours.
Freeze: Frozen naan will last a couple months. Wrap in foil and reheat in oven at 350 degrees Fahrenheit for 5 minutes.
Leftover Dry Naan: Lightly spray dried naan with water and reheat at 350 degrees F for 2 to 3 minutes until warm.
Nutrition
Serving:
0.5
Naan
|
Calories:
146
kcal
|
Carbohydrates:
25
g
|
Protein:
5
g
|
Fat:
3
g
|
Saturated Fat:
1
g
|
Cholesterol:
10
mg
|
Sodium:
245
mg
|
Potassium:
72
mg
|
Fiber:
1
g
|
Sugar:
2
g
|
Vitamin A:
28
IU
|
Calcium:
25
mg
|
Iron:
1
mg
More Indian Recipes
This post was first published on August 14, 2020 and has been updated with video, process photos, formatting, tips, and additional enhancements.