Okra Stew with tender chunks of meat and crisp okra in aromatic tomato sauce, is an easy, comforting and delicious stew. No more mushy okra! Learn the secret.
We love lamb for flavorful stews such as Ghormeh Sabzi and Lamb Tagine with Mushrooms.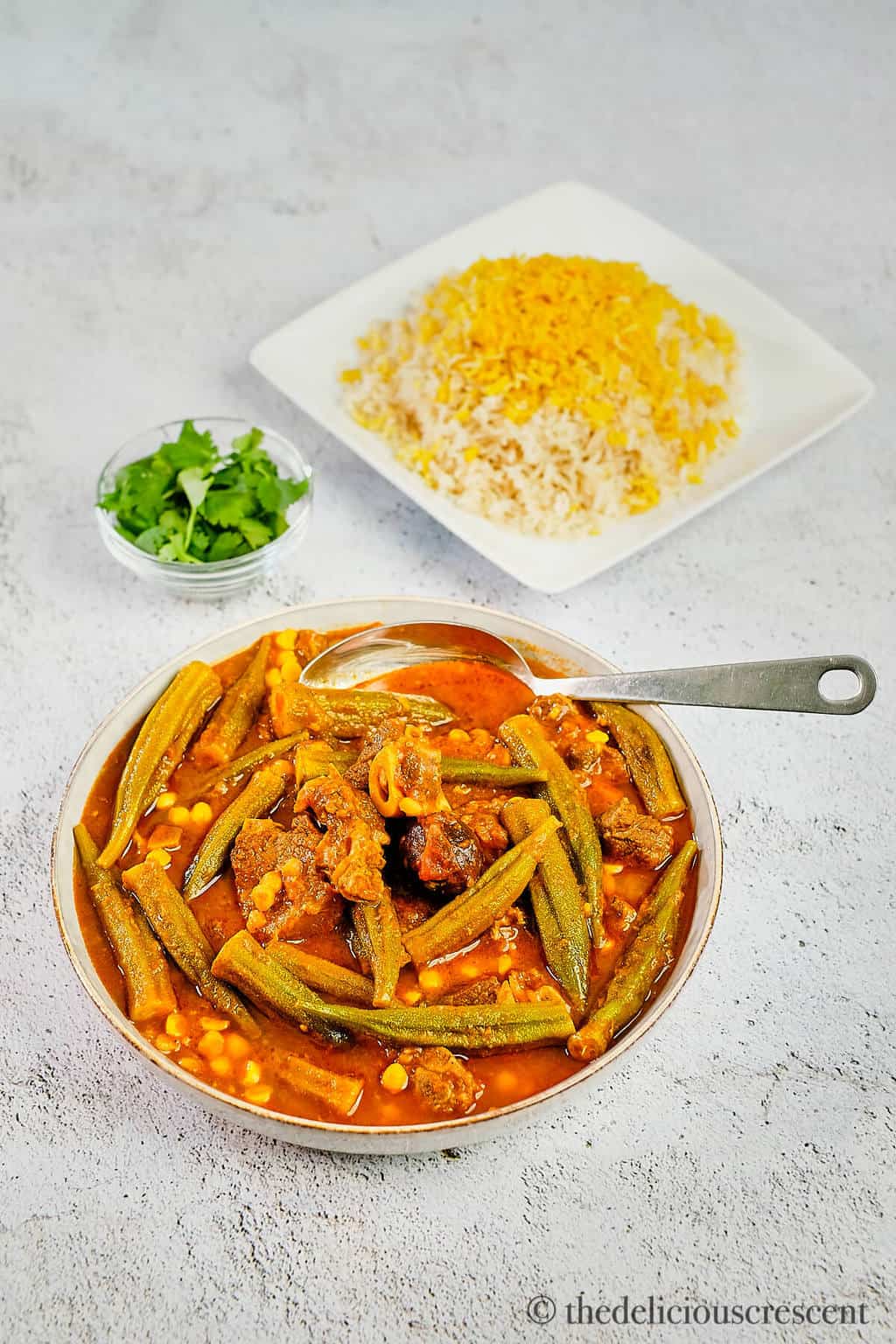 Okra Stew - Bamya, Bamia or Bamieh
This stew is popular across the mediterranean and middle east. It is known by various names such as bamya, bamia and khoresh bamieh. And is also prepared by some communities in North Africa and Indian subcontinent.
A simple gluten free stew, this is so comforting with a bowl of rice. And is great for winter time, but we also make it around the year.
The challenging part of making this stew is that okra can make it slimy. But I have a secret trick to overcome that.
This easy stew with melt-in-your-mouth tender meat, crisp okra that holds its shape well in a tomato gravy packed with flavor will become your go to recipe for a wholesome meal.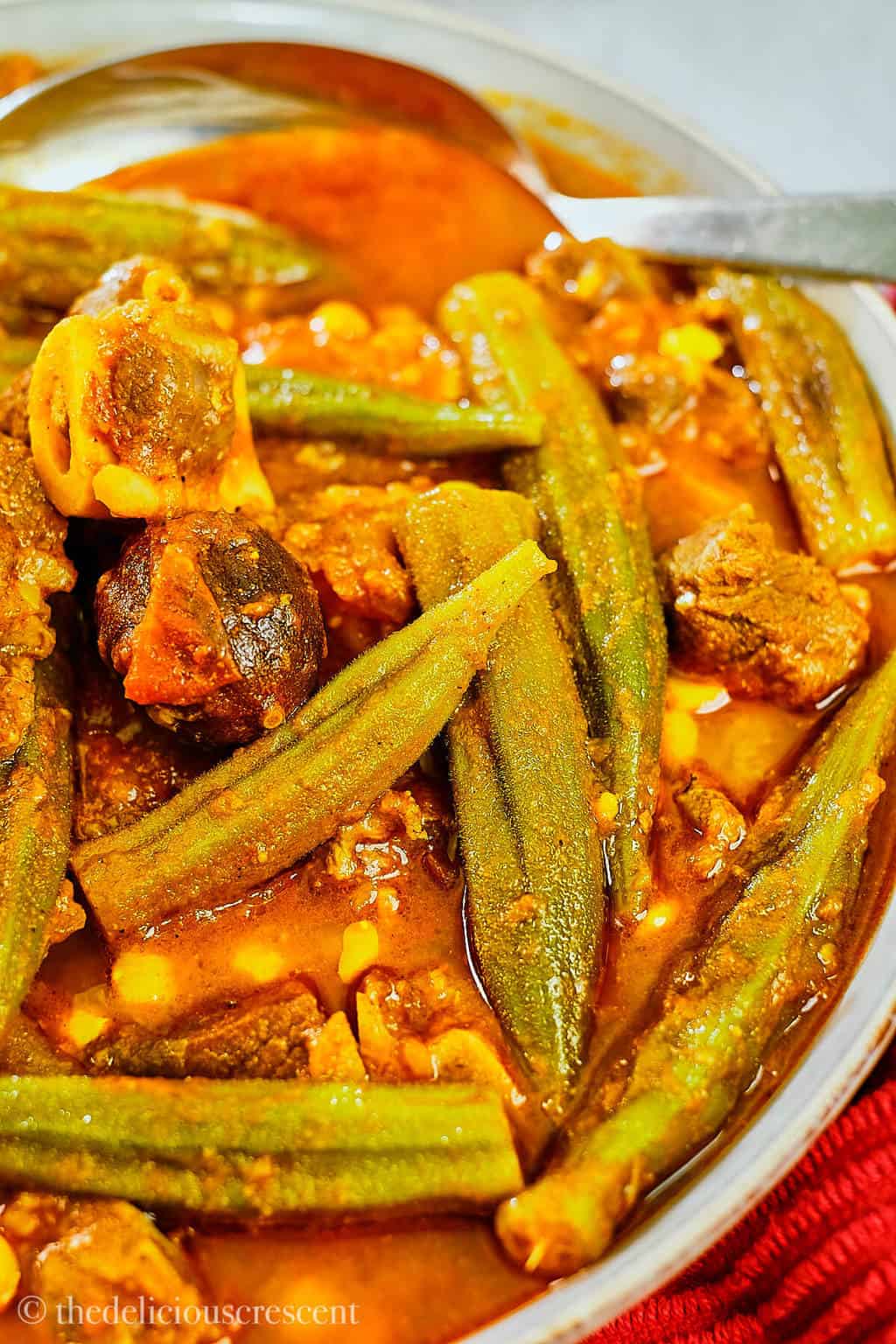 Ingredients
Meat - Lamb is traditional, but you can use beef, veal, goat or even chicken. I usually prefer stew meat from leg or shoulder of lamb, with some bones, as that adds a lot of flavor.
Okra - Fresh medium sized okra is the best. But you can use frozen okra too. Middle eastern stores sell frozen baby okra which is very popular. When buying okra, choose tender and smooth green pods without dried ends or brown spots. Avoid over mature, fibrous or large pods.
Yellow Split Peas - This is a unique ingredient I use for this stew recipe. And it enhances the texture, flavor, appearance and consistency.
Tomatoes - Choose a juicy variety. You can also substitute it with canned crushed tomatoes.
Other Ingredients - Onions, Garlic, Spices, Cilantro, Chili Peppers (optional), Olive Oil, Salt and Pepper.
How to Make It
Briefly the step-by-step process to make the stew. Full recipe at the end of post.
In a thick bottomed cooking pot, sauté onions and garlic and then brown the meat.
Add spices, tomato paste, chopped tomatoes, cayenne pepper, salt, water and stir.
Simmer until meat is half done. Then add split yellow peas and simmer again.
Toss okra with olive oil and salt. Roast it at 425 degrees F.
When the meat is well done, add roasted okra and lemon juice. Simmer for 5 minutes, adjust the seasoning and serve with steamed rice.
Roasting okra cooks it optimally while keeping it crisp. It looks prettier and tastes amazing. The slits made in the okra allow the vegetable to be infused with the aromatic gravy.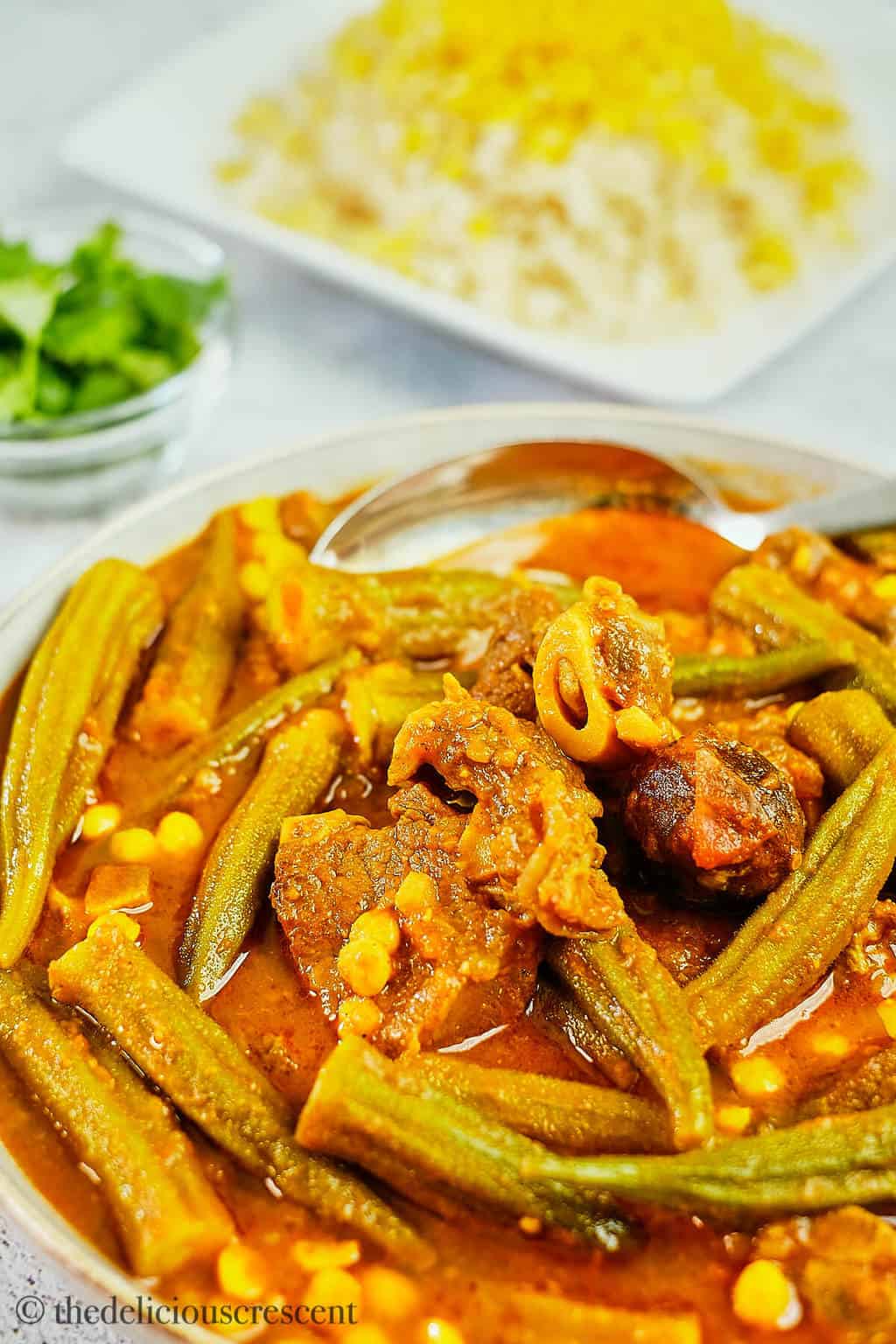 Variations
This stew is gluten free, dairy free, egg free, low carb, nut free and soy free.
Vegan - Skip the meat and increase the amount of split yellow peas. Replace meat with button mushrooms or sautéed tofu. Substitute meat and split peas with whole chickpeas or kidney beans.
Healthier - This stew is already quiet healthy. But depending on the fat content in your meat, you could skim off any excess fat collected on the top.
More Spicy - Season the cooked stew with garlic chili oil. Heat some oil in a small dish and sauté crushed garlic. Turn off the heat, stir in red chili flakes and chopped cilantro. Drizzle the oil on the stew.
Can I Cook Stew with Frozen Okra?
Yes, you can. Once the meat is well done, raise the heat until the stew starts bubbling. Add the frozen okra straight from the bag and lower the heat and simmer for 5 minutes.
How to Serve it?
The classic and comforting way is to serve it with a warm bowl of rice. I served it with brown rice seasoned with some saffron on the top.
You can also serve it with quinoa, couscous or flatbread like naan, barbari bread or pita bread.
In some of the middle eastern countries it is also served with a rice pilaf made with additional vermicelli and topped with crunchy pine nuts.
For a variation, you could serve it with a simple dill rice (without the Lima beans) or cauliflower rice (lower the spices and lemon).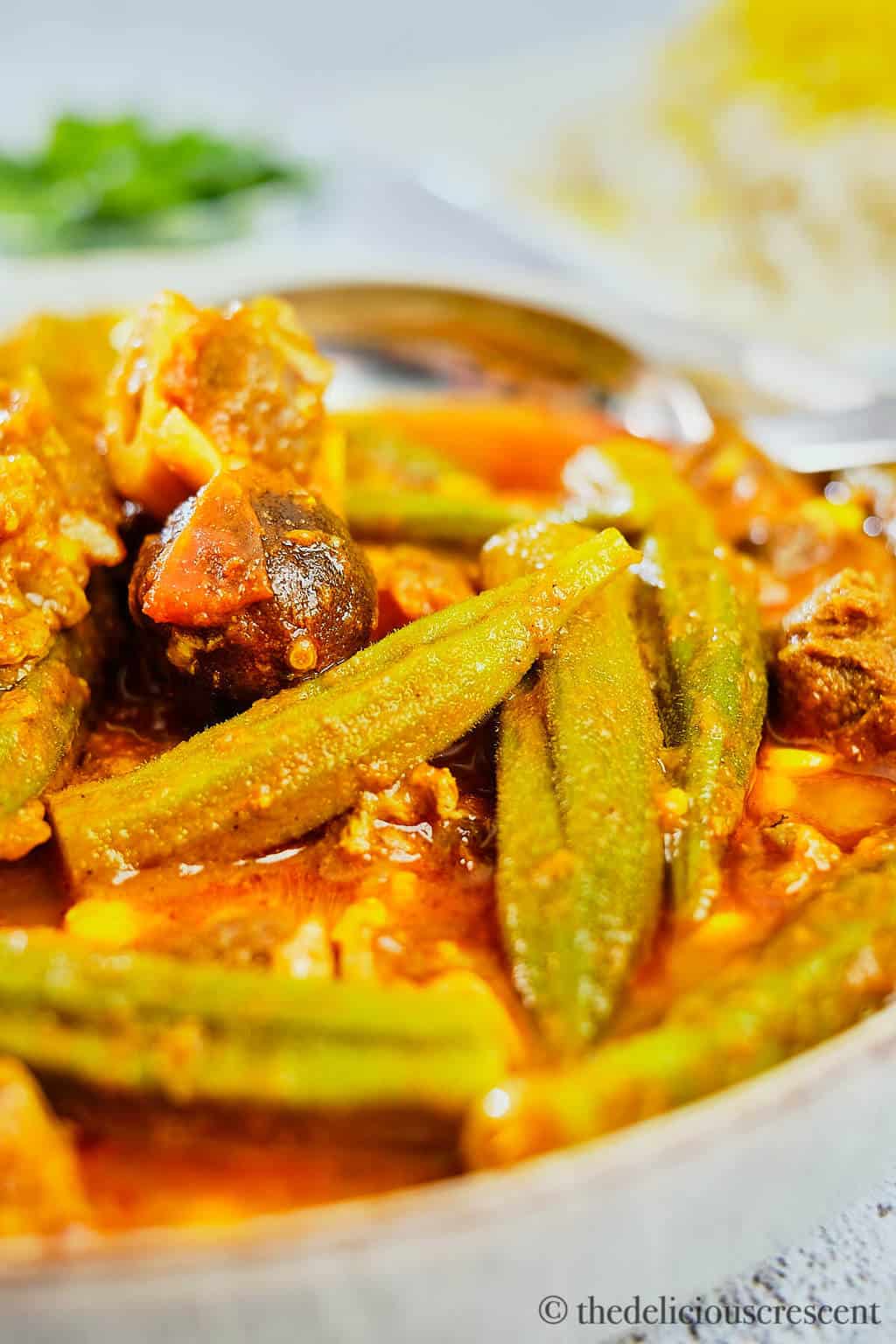 How to Store, Make Ahead and Freeze
Leftovers can be stored in the refrigerator for up to 5 days.
This stew freezes beautifully. You can make a lot at a time, portion it in containers and freeze.
You can also cook the meat stew ahead. Add the roasted okra just few minutes before serving.
Okra Health Benefits
Okra is a nutrient dense vegetable (although classified as a fruit) that is low in calories and carbs. It is a good source of fiber, magnesium, folate, vitamin A and vitamin B6. And an excellent source of vitamin C and vitamin K.
Interestingly, okra also provides some protein, which is not typical for vegetables and fruits. It is a good source of antioxidants — polyphenols (mainly flavonoids and isoquercetin), including vitamin A and C - that are all beneficial for heart and brain health.
The thick gel like mucilage in okra binds to cholesterol and is excreted from the body. Therefore, it may help lower blood cholesterol levels.
Beneficial effects of okra on blood sugar response and the cancer preventive potential of lectin, a protein in okra, are also being researched.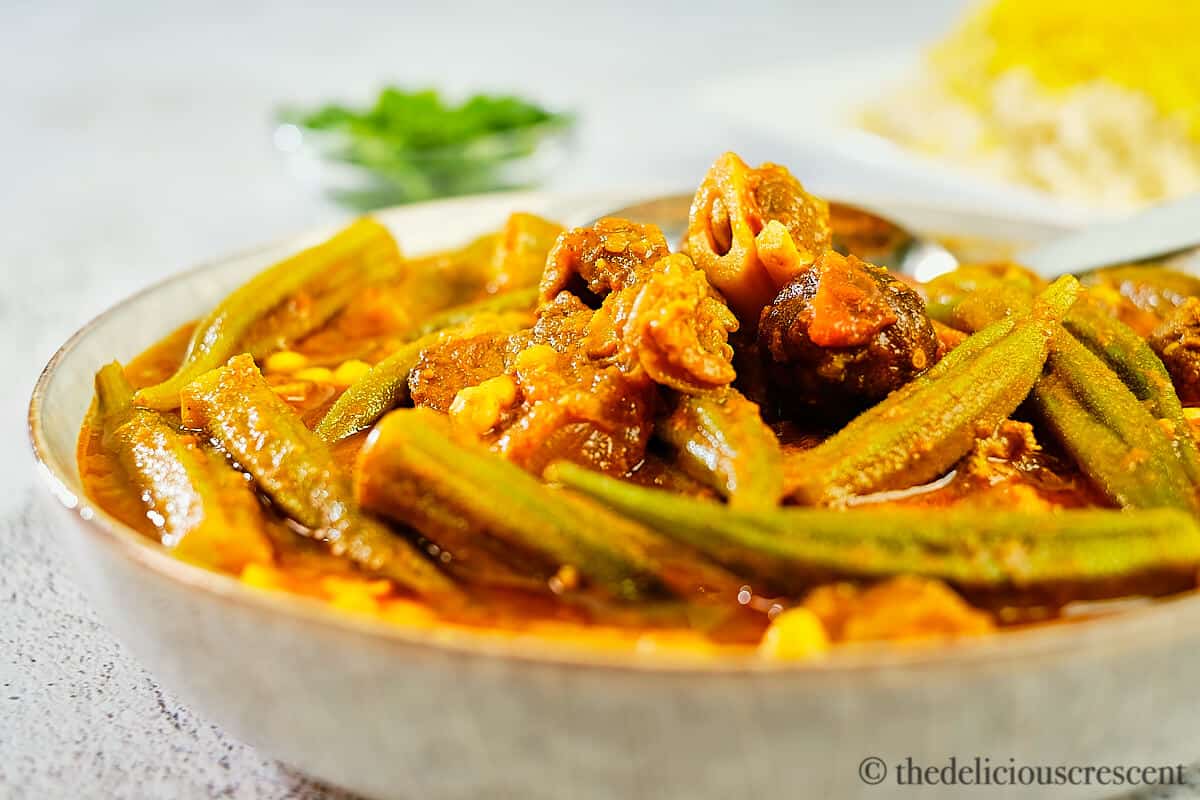 More Stew Recipes:
★ DID YOU MAKE THIS RECIPE? PLEASE COMMENT AND GIVE IT A STAR RATING BELOW!
Okra Stew with Lamb
Okra Stew with tender chunks of meat and crisp okra in aromatic tomato sauce, is an easy, comforting and delicious stew. No more mushy okra! Learn the secret to this gluten free middle eastern recipe. This bamya, bamia or khoresh bamieh can be made with lamb, beef, veal or chicken. Serve it with rice or flatbread for a weeknight dinner.
Print
Save
Saved!
Ingredients
3

tablespoons

olive oil

1

onion

large, yellow, thinly sliced

3

cloves

garlic

grated

1¼

lbs

lamb stew meat

leg or shoulder with some bone, or 1 lb boneless meat

1

teaspoon

ground coriander

1

teaspoon

ground cumin

1

teaspoon

paprika

1

teaspoon

advieh

or any middle eastern mixed spice, optional

½

teaspoon

turmeric

½

teaspoon

ground black pepper

¼

cup

yellow split peas

or chana dal, soaked in water half hour

3

tablespoons

tomato paste

2

tomatoes

large, vine ripe, chopped

1

cayenne pepper

chopped (optional)

1

teaspoon

salt

and some more, adjust to taste

1

pound

okra

fresh, see note for frozen okra

2

tablespoons

lemon juice

or 2 dried limes

¼

cup

cilantro

chopped
Instructions
In a thick bottomed cooking pot, heat 2½ tablespoons of olive oil at medium-high heat. Add sliced onions and sauté until translucent. Then add garlic and continue to sauté until light brown. Next, add the meat and brown it all together.

Stir in the spices — coriander, cumin, paprika, advieh (if using), turmeric and black pepper. Add tomato paste, chopped tomatoes, cayenne pepper, salt, 2 cups of water and stir.

Raise the heat and when the sauce starts bubbling, lower the heat and simmer for about

1 hour

until the meat is half done. Then add the drained yello split and let it simmer.

While the meat is cooking, roast the okra. Preheat the oven at 425 degrees Fahrenheit. Rinse the okra, wipe dry and trim off the stem end and tips — just the ends. Using a paring knife make small slits in each of the pods.

Drizzle ½ tablespoon olive oil and sprinkle some salt over the pods and toss to coat evenly. Spread the okra in a single layer over a baking sheet and roast for

10 minutes

until there is a slight change in color and nice sear on edges.

When the meat is well done and falling of the bone, then add okra and lemon juice. Simmer for

5 minutes

over low heat. Adjust the seasoning of the stew.Tip: Total time to cook lamb is usually between 1½ to 2hours.

Serve the okra stew hot with steamed rice.
Notes
Frozen Okra - Follow the package instructions or add it to the stew straight from the bag. Lower the heat and simmer for 5 minutes.
Meat - Lamb leg or shoulder cut into 1

½

inch cubes is the best. For chicken — use 1

½

to 2 lb chicken legs. You can also try 2 lbs of lamb or veal shanks. Use 1

½

cups water for chicken. If using beef, adjust amount of water as it takes longer to cook.
Nutrition
Serving:
1
portion
|
Calories:
182
kcal
|
Carbohydrates:
12
g
|
Protein:
15
g
|
Fat:
9
g
|
Saturated Fat:
2
g
|
Cholesterol:
37
mg
|
Sodium:
383
mg
|
Potassium:
523
mg
|
Fiber:
4
g
|
Sugar:
3
g
|
Vitamin A:
845
IU
|
Vitamin C:
20
mg
|
Calcium:
68
mg
|
Iron:
2
mg