Paratha is a delicious flaky layered Indian flatbread. Learn my secret to amazingly soft layers that stay good and fresh for a long time.
Quick and easy bread recipes like our versatile Skillet Flatbreads come in so handy.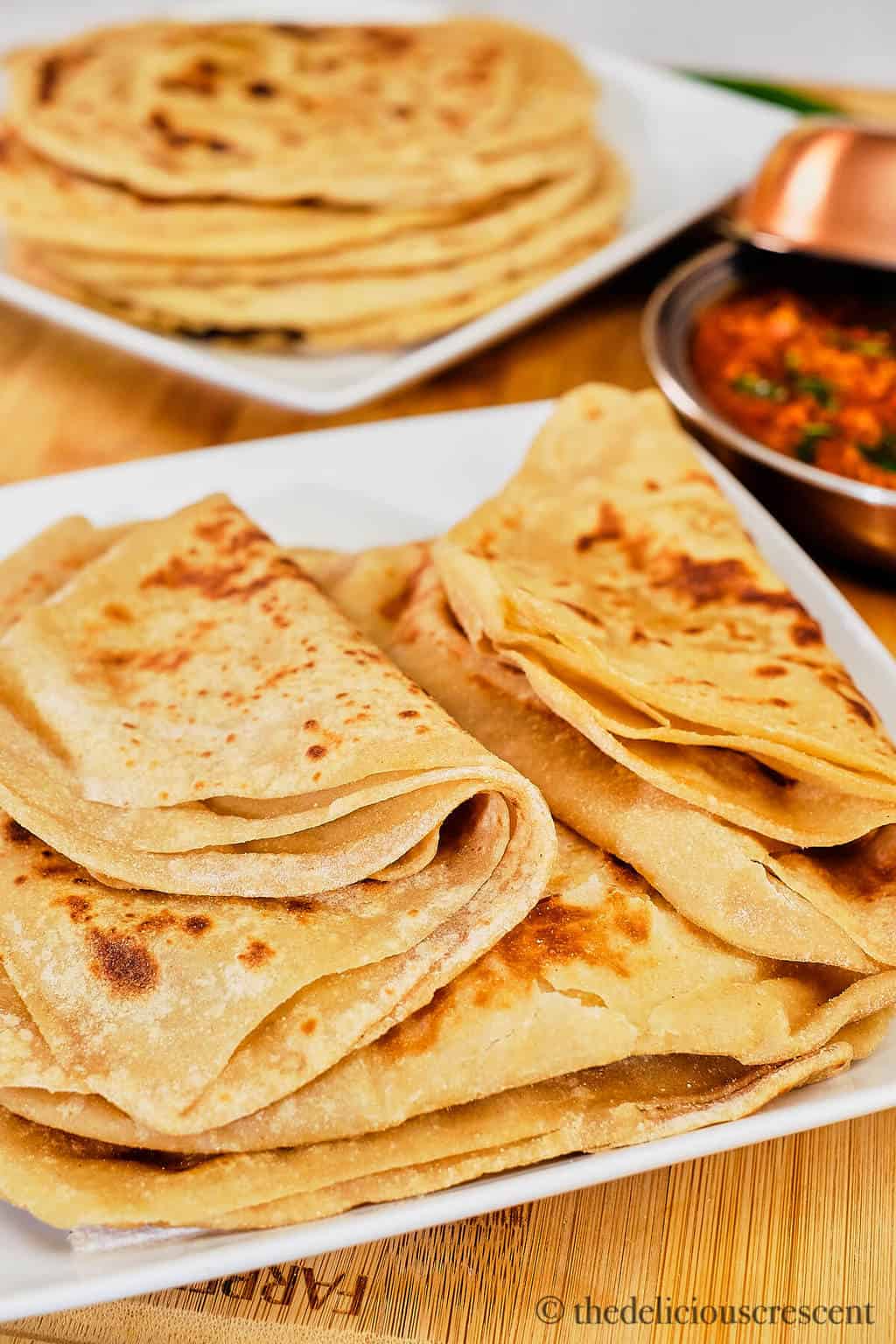 What is Paratha?
It is a world famous unleavened flaky layered flatbread that is an essential part of Indian menus. And is made with a double roll technique similar to the one used for puff pastry. Here I share a plain paratha recipe with a variety of layering techniques.
Perfect paratha should have some crispness on the outside, with several layers inside that are fully cooked through and separate easily, while the layers retain certain moistness and are not dry. Often, parathas are dry, too greasy or improperly cooked.
A good paratha does not result simply with proper use of ingredients, rather the cooking technique is also extremely important. And I have a secret ingredient too!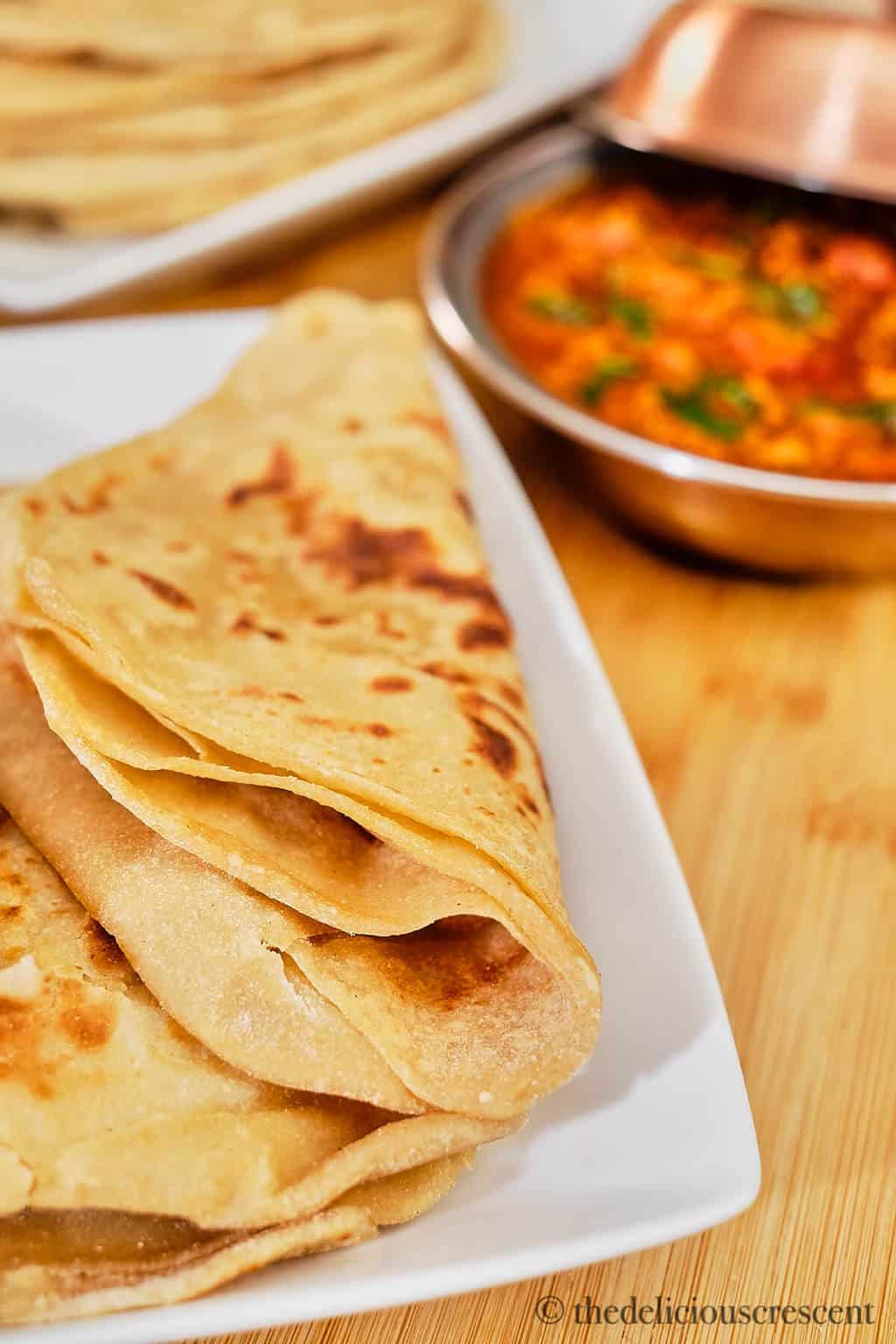 Ingredients
Durum Wheat Flour (Atta), Salt, Oil or Ghee, Milk, Water
Yes, my secret is to use some milk. And that makes the paratha layers amazingly soft and will also keep them like that for much longer.
Good quality atta is essential too. There are many reliable brands available at Indian grocery stores and online. I used Sujata Gold Sharbati Atta.
Traditionally ghee has been used to make parathas. Ghee imparts a nutty flavor but the fat hardens if the parathas are not eaten fresh. Oil may not have the same flavor but works just fine.
Equal parts of melted ghee and oil works great. The healthiest way would be to use oil while layering the dough and just a touch of ghee on the top while cooking the parathas.
Step By Step Overview
Below is the brief process for making parathas but full recipe is at the end of the post.
Combine all ingredients and knead into a smooth dough.
Divide dough and roll into round discs.
Roll and fold dough few times to make triangle, square or round layered dough portions, making sure to oil and flour in between layers.
Then roll the layered dough evenly into flatbreads.
Preheat skillet at medium high setting.
Cook parathas applying oil, until golden brown spots appear on both sides.
Stack and wrap in towel to keep them soft.
Cool parathas and crack them slightly with flat hands.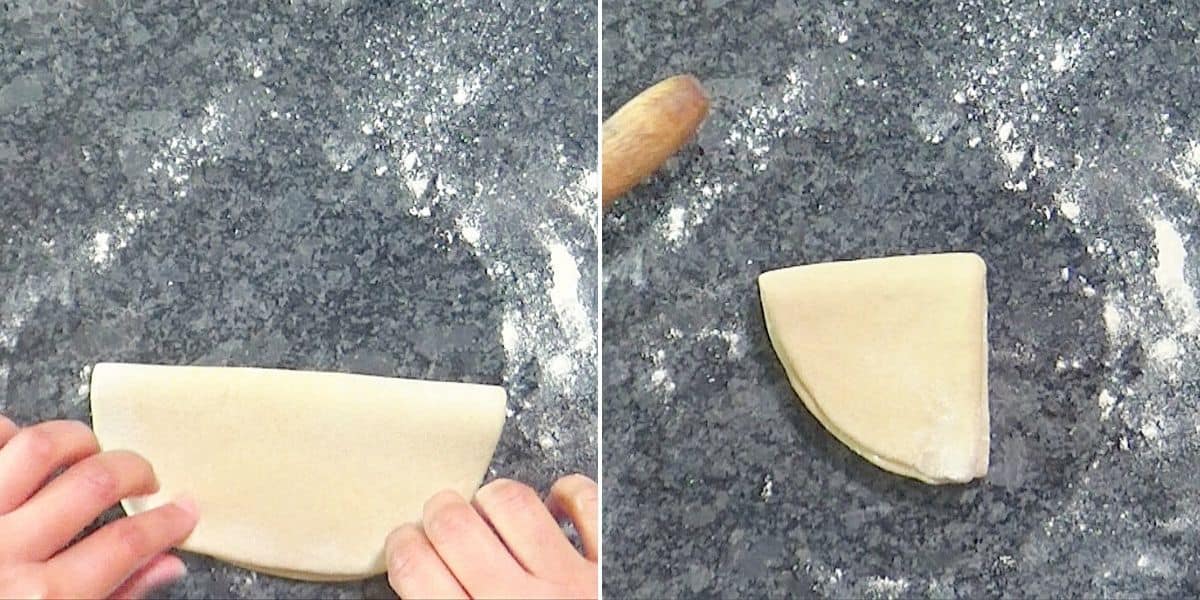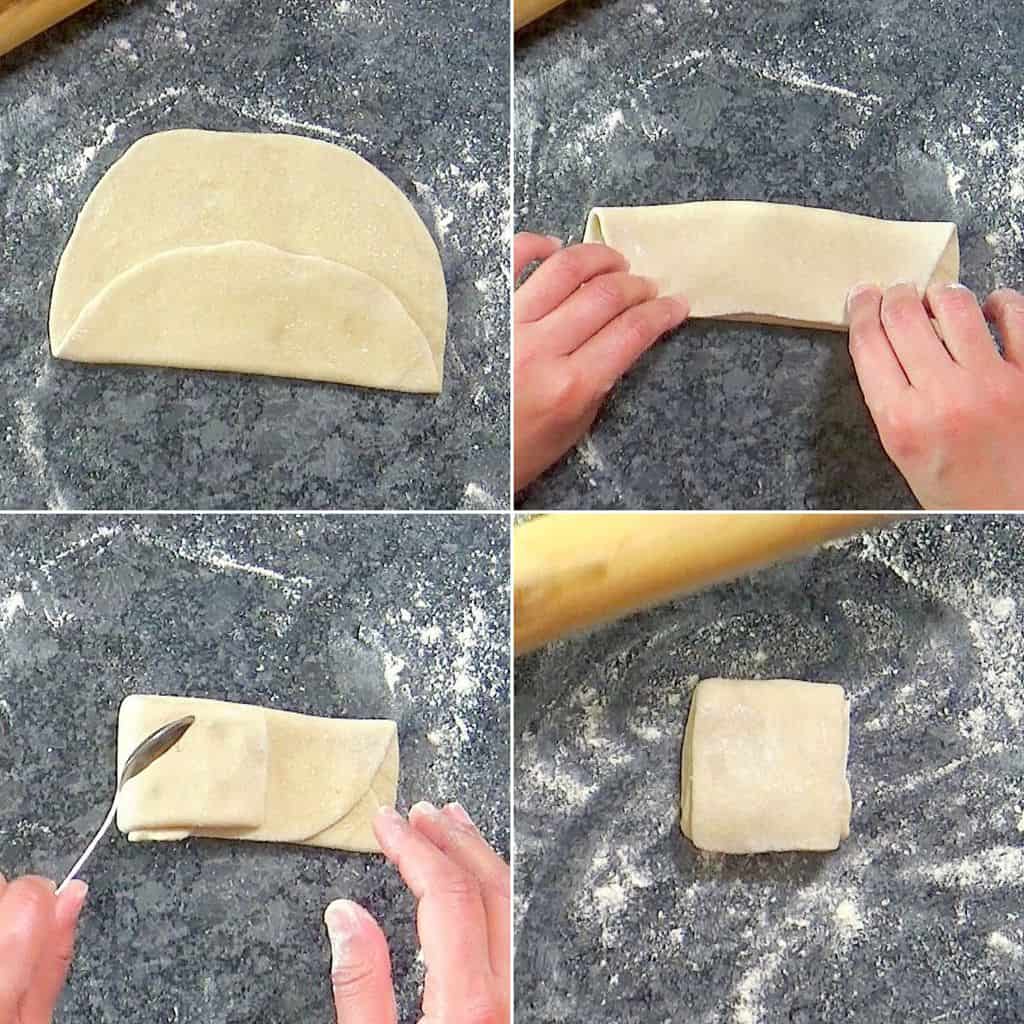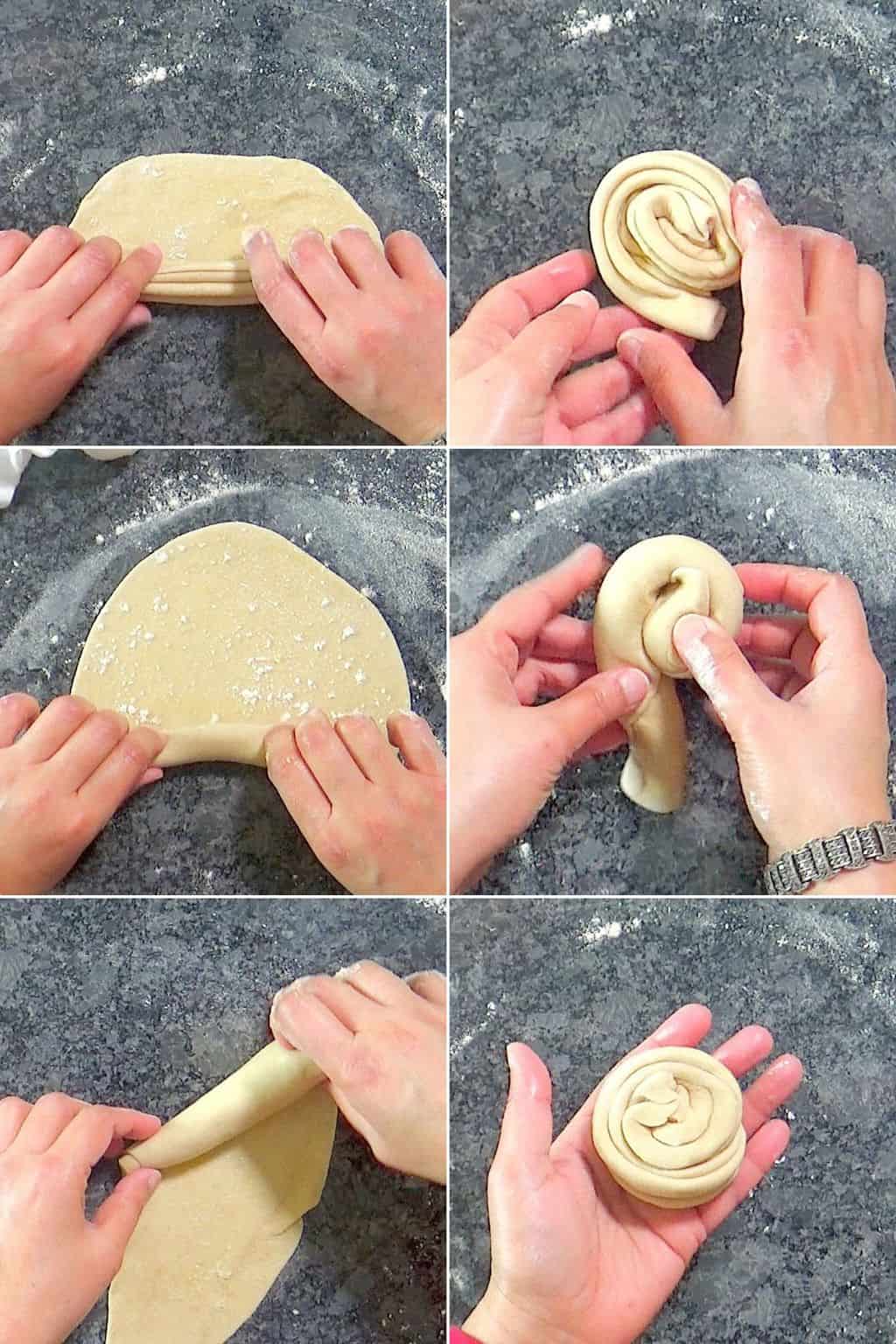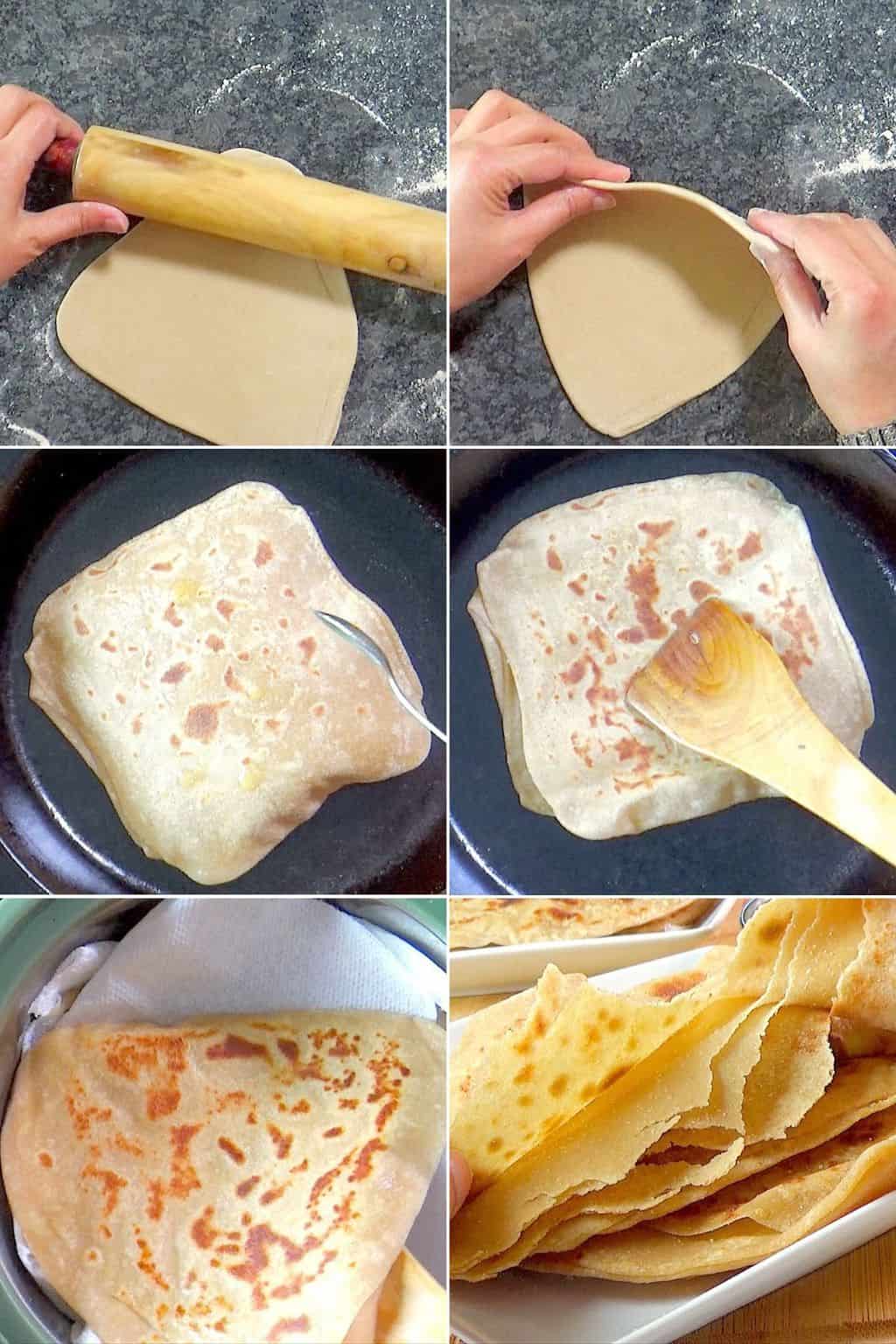 How to Serve it
How to Store, Freeze, Reheat
Storage: Wrap in kitchen towel right after cooking, stack and store in an insulated casserole hot pot. The steam from hot parathas helps to keep them warm and soft.
Freezing: Place a parchment paper between parathas and freeze in bags.
Dough: It can be refrigerated and used for couple days. Thaw and use.
Lunch Box: To pack parathas for lunch, wrap in paper towel first and then with aluminum foil.
Leftovers: Refrigerate them wrapped in paper or kitchen towel and stored in a container or ziplock bags.
Reheating Leftovers: Place a damp paper towel over paratha and microwave it. Or spray some water lightly and reheat on skillet.
Partially Cook and Freeze: Parathas can also be partially cooked on either side for a minute, without developing much color and then frozen. Thaw and complete the cooking process.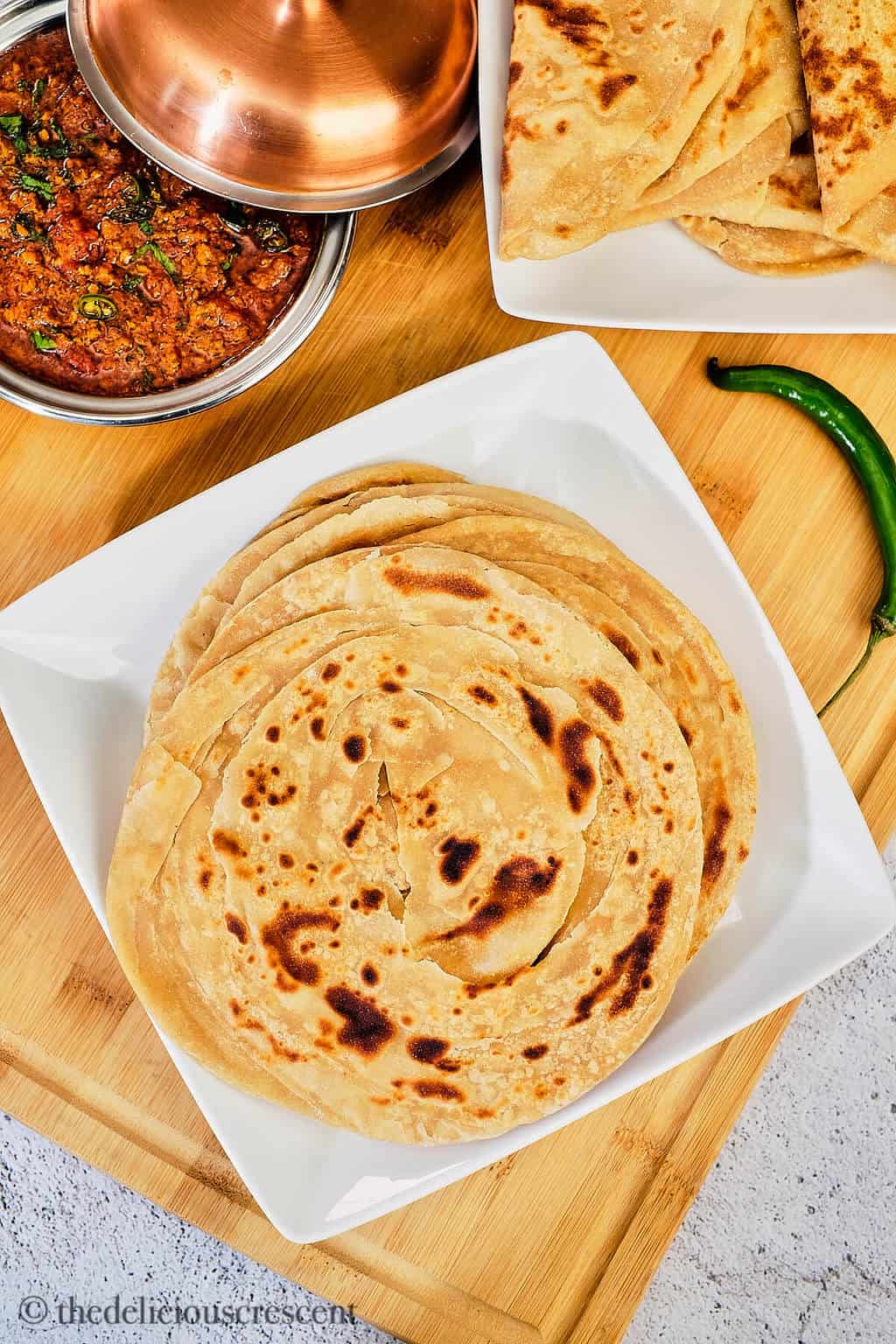 Are Parathas Healthy?
It depends on the ingredients. If made with whole wheat flour (atta) using minimal oil, they can easily be part of a healthy diet. With proper cooking technique you can make perfect parathas without a ton of grease.
Often though, people think that they must use 100 percent refined flour and ghee to make the most delicious paratha. And that is far from true.
In fact, these flaky Indian flatbreads made with whole wheat actually taste great because of the whole grain. For special occasions, you can add a touch of ghee on top for flavor.
If you have a family member who is a hardcore refined-flour loyalist, then try mixing it with some atta (durum whole wheat flour).
Variations
These plain parathas are egg free, nut free, soy free and vegetarian.
Low Sodium: Skip the salt to make them low sodium.
Vegan/Dairy free: Use only plant based oil and milk.
Flavor Add-Ins: Add some cooked and ground spinach, finely chopped herbs, spices or some mashed avocados to the dough. Sprinkle sugar and cinnamon or cardamom between layers.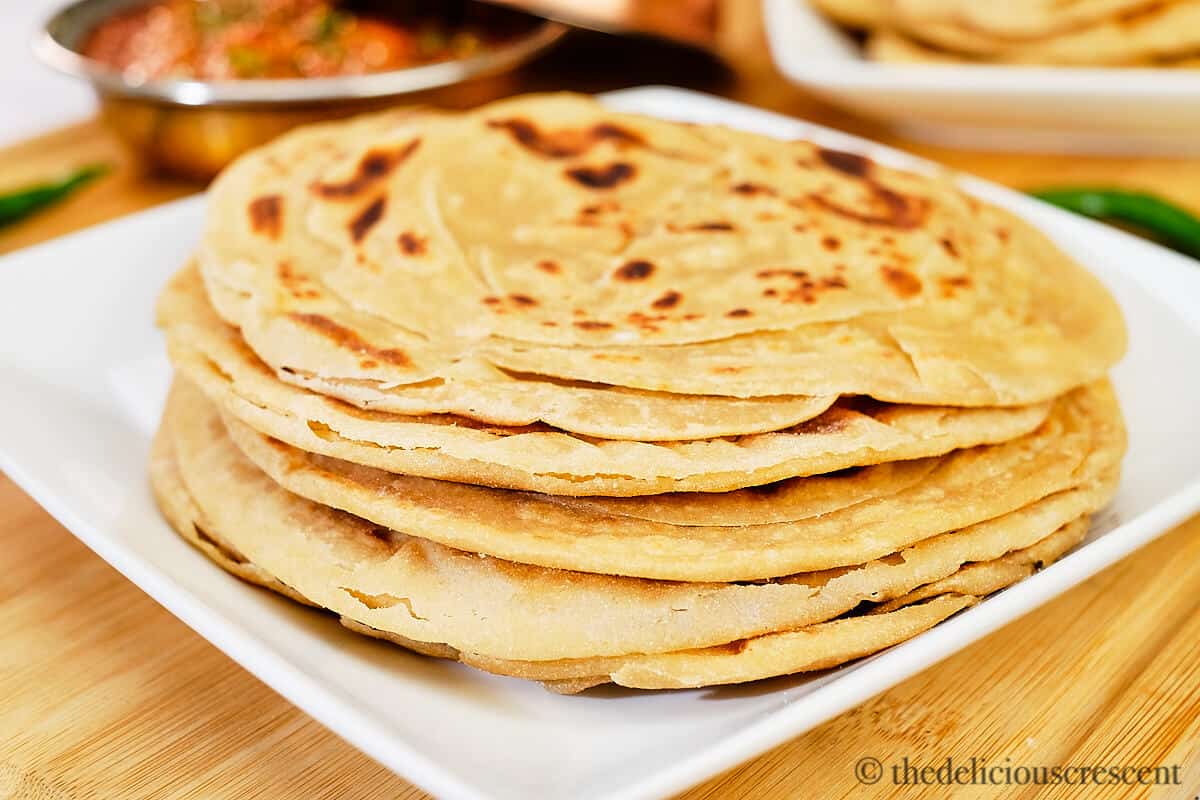 More Flatbread Recipes:
★ DID YOU MAKE THIS RECIPE? PLEASE COMMENT AND GIVE IT A STAR RATING BELOW!
Paratha (Layered Indian Flatbread)
Paratha is a delicious flaky layered Indian flatbread. Learn my secret to amazingly soft layers that stay good and fresh for a long time. This recipe shows you how to make the unleavened bread using three different layering techniques.
Print
Instructions
Notes
Heat: Cook parathas at medium heat. High heat will burn the surface, while leaving the center undercooked.
Flour: Atta (durum wheat flour) is available at Indian stores and online. I used Sujata Gold Sharbati Atta.
Fat: Equal parts of melted ghee and oil works great in between layers.
Dairy Free/Vegan: Use peanut/avocado or coconut oil. And plant based milk.
Storage: Dough keeps well in refrigerator for 1 to 2 days - thaw and use. Store leftovers wrapped in towel. Use parchment paper in between parathas and freeze them.
Nutrition
Serving:
1
Paratha
|
Calories:
187
kcal
|
Carbohydrates:
30
g
|
Protein:
6
g
|
Fat:
6
g
|
Saturated Fat:
1
g
|
Cholesterol:
2
mg
|
Sodium:
204
mg
|
Potassium:
173
mg
|
Fiber:
4
g
|
Sugar:
1
g
|
Vitamin A:
20
IU
|
Calcium:
37
mg
|
Iron:
1
mg