Pineapple cupcakes made with fresh cream and yogurt are decadently delicious. The thick yogurt lightens up a traditional favorite, enhancing the nutrition, and is absolutely lip smacking (video below).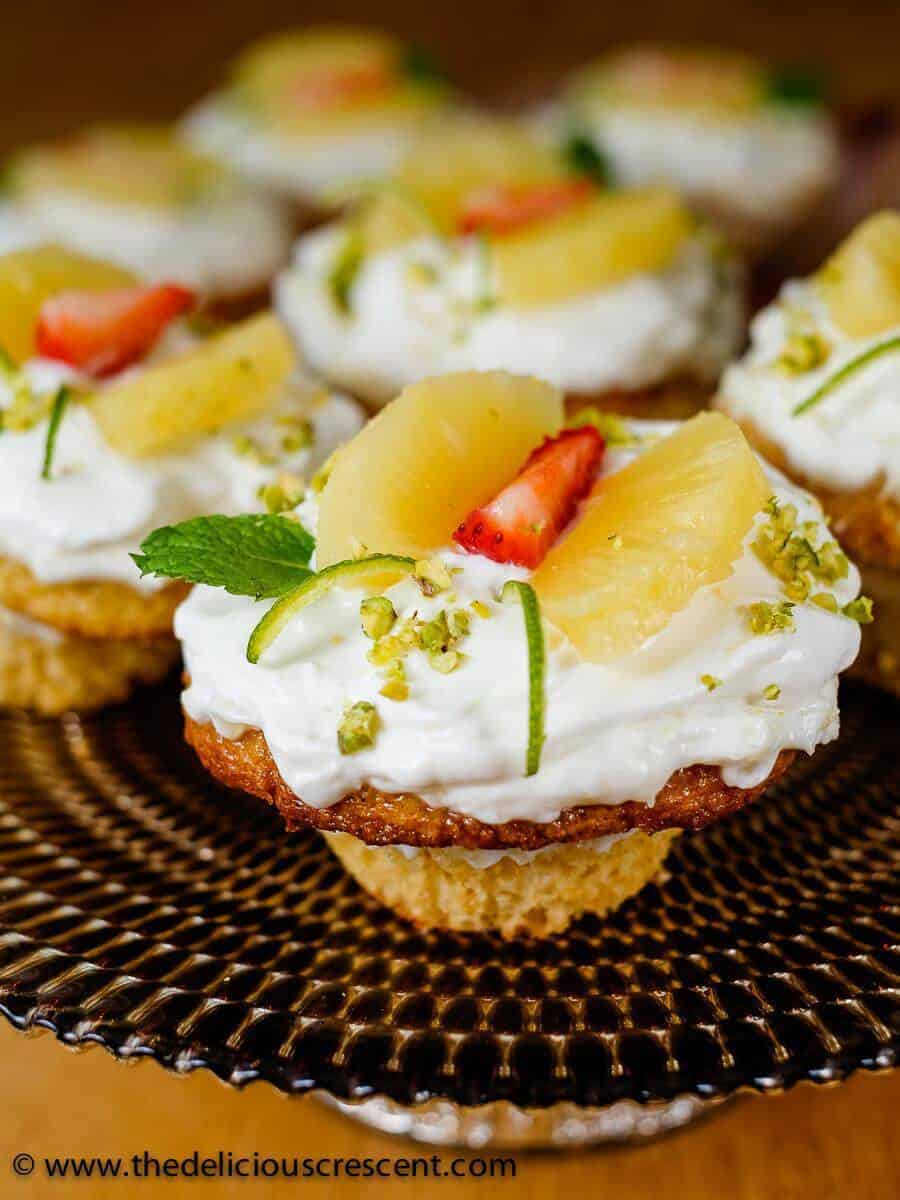 PINEAPPLE CUPCAKES
Fresh cream pineapple cake is a favorite in the Indian subcontinent and many parts of the world. I first learned to make it from my German mother in law. German cuisine has a wide variety of fresh cream based cakes and this happens to be one of my favorites.
So many years ago, I learned to make this and have made it many times in different forms. The first time it was a traditional layered cake. Then I also made it as a large wedding cake a few times.
And now I decided to minify it and made it here as cute pineapple cupcakes. But, other than the size changes, I have made some nutritionally relevant modifications about which I elaborate in the next section below.
Some other German and inspired cake recipes on the blog are – German apple cake, Orange chocolate marble cake, Apricot almond marzipan stollen, Moist maple sweet potato walnut butter cake.
NUTRITION FACTS – YOGURT CREAM CUPCAKES
So, the main changes I made to the traditional recipe are that I lowered the refined sugar quantity and added banana. The overall sweetness was unaltered and the banana flavor was not noticeable at all. I wanted to make sure that the pineapple flavor stayed dominant.
Next, I used some Greek yogurt instead of all heavy cream. And this, my friends, worked so well. The overall texture, flavor and taste were fantastic. You must absolutely try these pineapple cupcakes!!
Refined sugar is a source of empty calories and improper use of it has been tied to inflammation and the promotion of disease. Substituting banana, lowers the amount of refined sugar and the total added sugar in the recipe.
Apart from being sweet, bananas come along with a bunch of nutrients, such as fiber, potassium, vitamin C, vitamin B 6, magnesium etc.
Using the Greek yogurt lowered the amount of total fat and saturated fat in the recipe. And yogurt is a great source of high quality protein and calcium. I talk more about the awesome health benefits of yogurt in this post – Persian cucumber yogurt salad.
Of course, we eat desserts for pleasure. But how good is it when that pleasure can become more affordable with these lightened up pineapple cupcakes that taste terrific!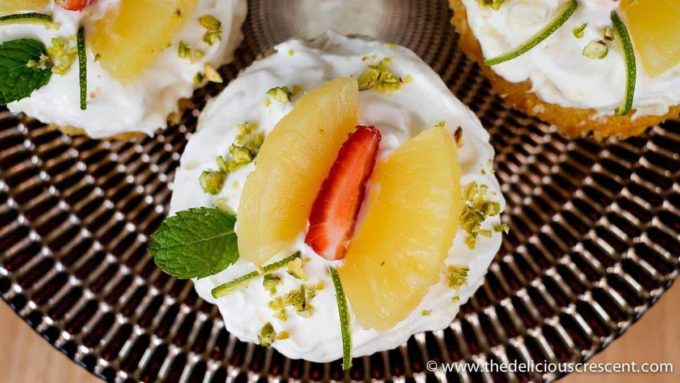 PREPARATION TIPS FOR PINEAPPLE BUTTERFLY CUPCAKES
Choose plain Greek yogurt that is not tart……not even mildly tart!
Make sure to squeeze the juices out of the crushed pineapple as well as you can. This will ensure that the pineapple cupcakes don't turn soggy later.
The baked and cooled cupcakes should be somewhat moist, but not too delicate or overly moist. As the cream and fruits will gently moisten the cakes further after refrigerating overnight.
Warming up the mashed banana will increase the sweetness of the fruit before it is added to the cupcake batter.
Make sure that the filling ingredients – such as – cream and yogurt are chilled very well before use. And after they are whipped together, leave it in the refrigerator if it is not going to be used immediately.
The amount of hot water to be added to the eggs will vary with the egg size. Adjust it according to the size as per the notes. If less water is used, the batter will be too thick and cupcakes will be dry.
Do make sure to refrigerate the pineapple cupcakes overnight before serving.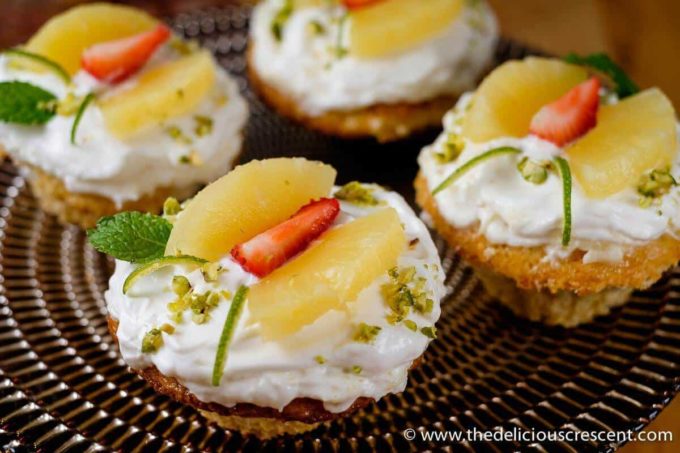 Photography above: bijansviewfinder.com
★ DID YOU MAKE THIS RECIPE? PLEASE COMMENT AND GIVE IT A STAR RATING BELOW!
Tag a photo of your creation at #thedeliciouscrescent on Instagram.
Pineapple Cupcakes (Butterfly Cupcakes, Video)
Pineapple cupcakes made with fresh cream and yogurt are decadently delicious. The thick yogurt lightens up a traditional favorite, enhancing the nutrition, and is absolutely lip smacking.

INGREDIENTS
Cupcakes
3

eggs

large

4

tablespoons

water*

(hot)

1/2

cup

sugar

(100 g)

1

banana

, large (100 g)

2

tablespoons

olive oil

, light

1

packet

vanilla sugar

(or 2 teaspoons vanilla extract)

2

teaspoons

baking powder

1 ¼

cups

all purpose flour

(150 g)
Filling and Icing
1

cup

Greek yogurt

(reduced fat or full fat)

1

cup

heavy cream

3 to 4

tablespoons

honey

(adjust per taste)

1

packet

vanilla sugar

(or 2 teaspoons vanilla extract)

12

ounces

crushed pineapple

(canned in pineapple juice)
Decoration
10

ounces

pineapple slices

(approx 6 slices, canned in pineapple juice)

3 to 4

strawberries

, organic

1

lime

, organic

1

tablespoon

crushed pistachios

Mint leaves

(preferably lemon mint)
INSTRUCTIONS
CUPCAKES
Mash the banana very well and warm it up in the microwave or stove top and set it aside.


In a deep mixing bowl, whisk the eggs with the hot water at full speed until foamy.


Add sugar, vanilla and whisk it further for couple more minutes to achieve a fine foamy mixture that becomes more stable after addition of sugar. Also it will become pale in color and increase in volume.


Mix the baking powder into the flour.


Sift half of the flour into the egg mixture and fold it in carefully. Add rest of the flour and repeat.


With the help of a ice cream scoop, transfer the cake mixture into a muffin pan that has been lined with paper cups.


Bake in a preheated oven at 350 degrees F for about 15 to 20 minutes, until a tooth pick or cake tester inserted comes out clean.


Allow the cupcakes to cool completely.

FILLING
Take a deep, dry and cool mixing bowl. Add the Greek yogurt, cream, honey and vanilla and whip it up. Start at low speed and gradually increase it to full speed and whip the mixture until stiff.


Drain the crushed pineapple and squeeze out the juices as well as possible. Mix the drained pineapple into half of the whipped cream. Save the rest of the cream for icing.

DECORATION
Drain the pineapple slices very well. Pat dry with a paper towel if necessary.


Cut each pineapple slice into four. You may cut out couple of notches on the circular side of the quartered pineapple slices to create a winged appearance. These will be used for making the wings of the butterflies.


Snip off the green tops from the strawberries. Cut strawberries into halves. Take each strawberry half and slice it into approximately three long pieces, and these will be used for the center body of the butterfly.


Using a sharp paring knife shave off thick and long portions of the lime peel. Cut the shaved peel into thin long strips and these will be used for the antennae of the butterflies.

ASSEMBLY OF BUTTERFLY CUPCAKES
Carefully peel the paper off the bottom of the cupcakes. Cut each cupcake into two layers.


Spread the pineapple cream filling over the bottom layer of the cupcake. The filling should be a thick layer of about 1/2 inch. Place the top layer of cupcake over the filling and press it down gently.


Spread a thick layer of the plain cream evenly over top of the cupcakes.


Decorate with pineapple butterflies, by placing the quartered pineapple slices on either side of a strawberry wedge and sticking thin strips of lime peel as antennae.


Randomly place some mint leaves over the icing and sprinkle the crushed pistachios. Alternatively you may sprinkle the pistachios before placing the butterflies.


The cupcakes taste best after refrigerating overnight. This allows the juices and flavors to nicely meld together.

RECIPE NOTES
Be sure to check out the preparation tips in the blog post above.
I prefer to use vanilla sugar for white whipped cream. I use Dr. Oetker brand.
The amount of hot water needed will differ with the size of eggs. More water for small eggs and less water for jumbo eggs.
NUTRITION FACTS
Servings: 12
Serving Size: 1 cupcake
Calories 256, Total Fat 11 g (Saturated Fat 6 g, Polyunsaturated Fat 1 g, Monounsaturated Fat 4 g), Cholesterol 76 mg, Sodium 117 mg, Potassium 186 mg, Phosphorus 105 mg, Total Carbohydrate 33 g, Dietary Fiber 1 g, Sugars 21 g, Protein 6 g
Nutrition Facts
Pineapple Cupcakes (Butterfly Cupcakes, Video)
Amount Per Serving (0 g)
Calories 256
% Daily Value*
Total Fat 0g 0%
Cholesterol 0mg 0%
Sodium 0mg 0%
Potassium 0mg 0%
Total Carbohydrates 0g 0%
Protein 0g 0%
* Percent Daily Values are based on a 2000 calorie diet.