These sweet and savory roasted party nuts with cardamom, saffron and maple syrup are simply divine and irresistible. They are so addictive, that you won't be able to stop with a handful. Everyone just loves these nuts!
Now, this treat is going to join my other holiday favorites — Baklava and Date Bar Cookies.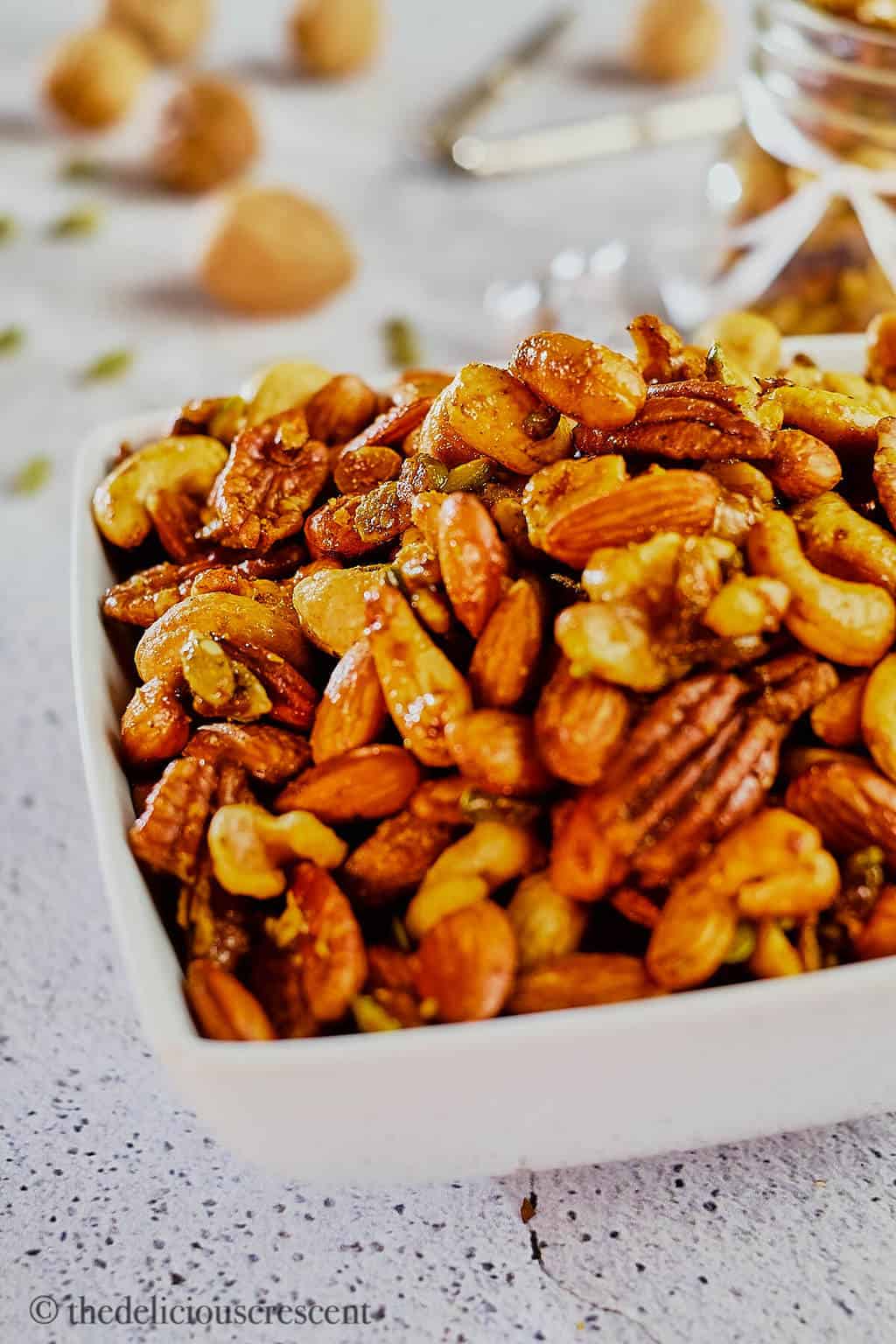 Maple and Cardamom Roasted Party Nuts
Roasted nuts are universally popular and such a healthy snack too. They are so easy to source and have them around for your family, parties and for holidays.
The usual flavoring for holiday or party nuts tends to be rosemary, cinnamon, vanilla, etc. While those taste great, have you ever tried cardamom? Pair that with saffron and maple, and you have a divine combination that is truly mouth watering.
I made two big jars of these. And my husband took one of those to share with his colleagues. They were gone in couple days. It's that good! Also makes great holiday gifts.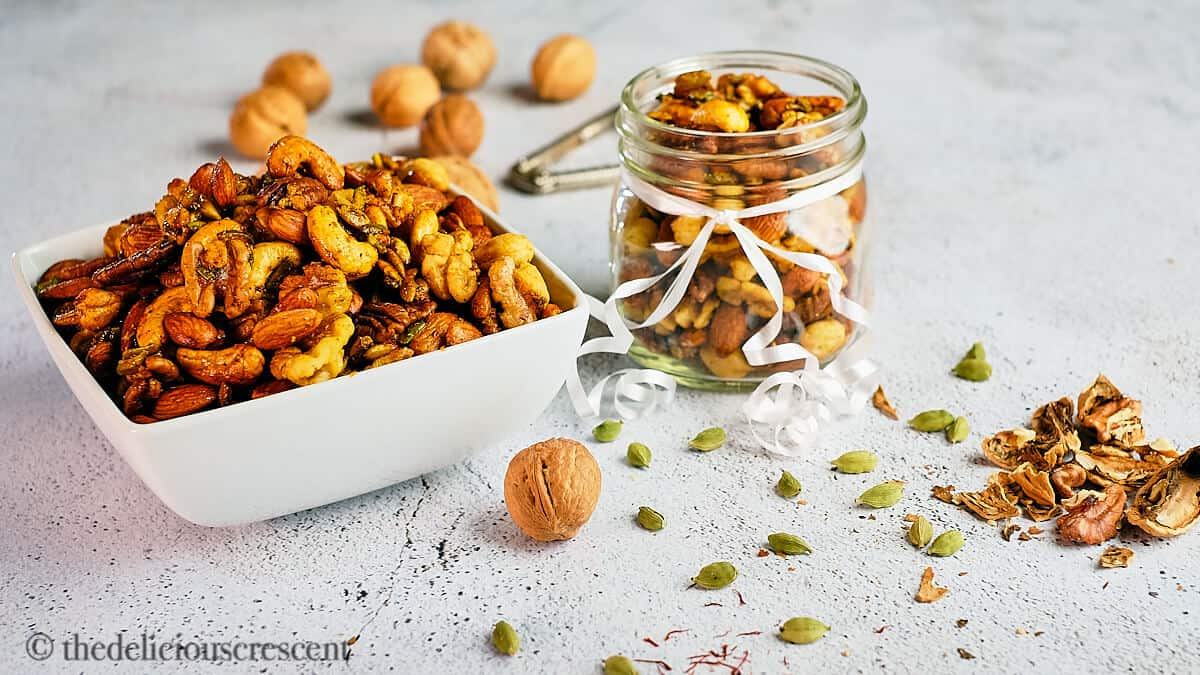 Ingredients
Nuts - Choose a variety of raw unsalted nuts. Sam's club or Costco would be a good place to buy nuts in bulk. I chose almonds, cashews, pecans, walnuts, some pumpkin seeds and bright green pistachio pieces. The smaller nuts clump together. Although cashews are a softer nut, I had no trouble getting them to turn crisp and nice.
Maple Syrup or Honey - I used maple syrup, as it flavors and crisps the nuts very well. Honey worked okay too, but maple syrup is what I prefer, especially for the cashews.
Butter, Brown Butter, Ghee or Avocado Oil - Just a little bit of butter gives your simple mixed roasted nuts flavored with cardamom and saffron a festive flavor that is truly incomparable. Brown butter or ghee would be great too. The butter and maple syrup cook together with the spices and create a magical and delicious coating on the nuts. For regular days, you can just use avocado oil.
Cardamom - Make sure to choose a fresh stock of green cardamoms. Buy from grocers or brands that sell high quality spices. Fresh green cardamom has an intense sweet aroma that makes a big difference. Stale spices will ruin your recipe.
Saffron - You only need a small amount of this expensive ingredient that will take your party or holiday nuts to lofty heights. Be sure to choose high quality saffron. I have written more about saffron in this post about saffron recipes.
Cayenne pepper or Chili powder - Use a hint of this for spiciness. Kashmiri chili powder is milder than regular chili powder. But cayenne is a great option. If not, use paprika or just skip it. Be careful adding the amount of this spice. A little goes a long way!
Salt and pepper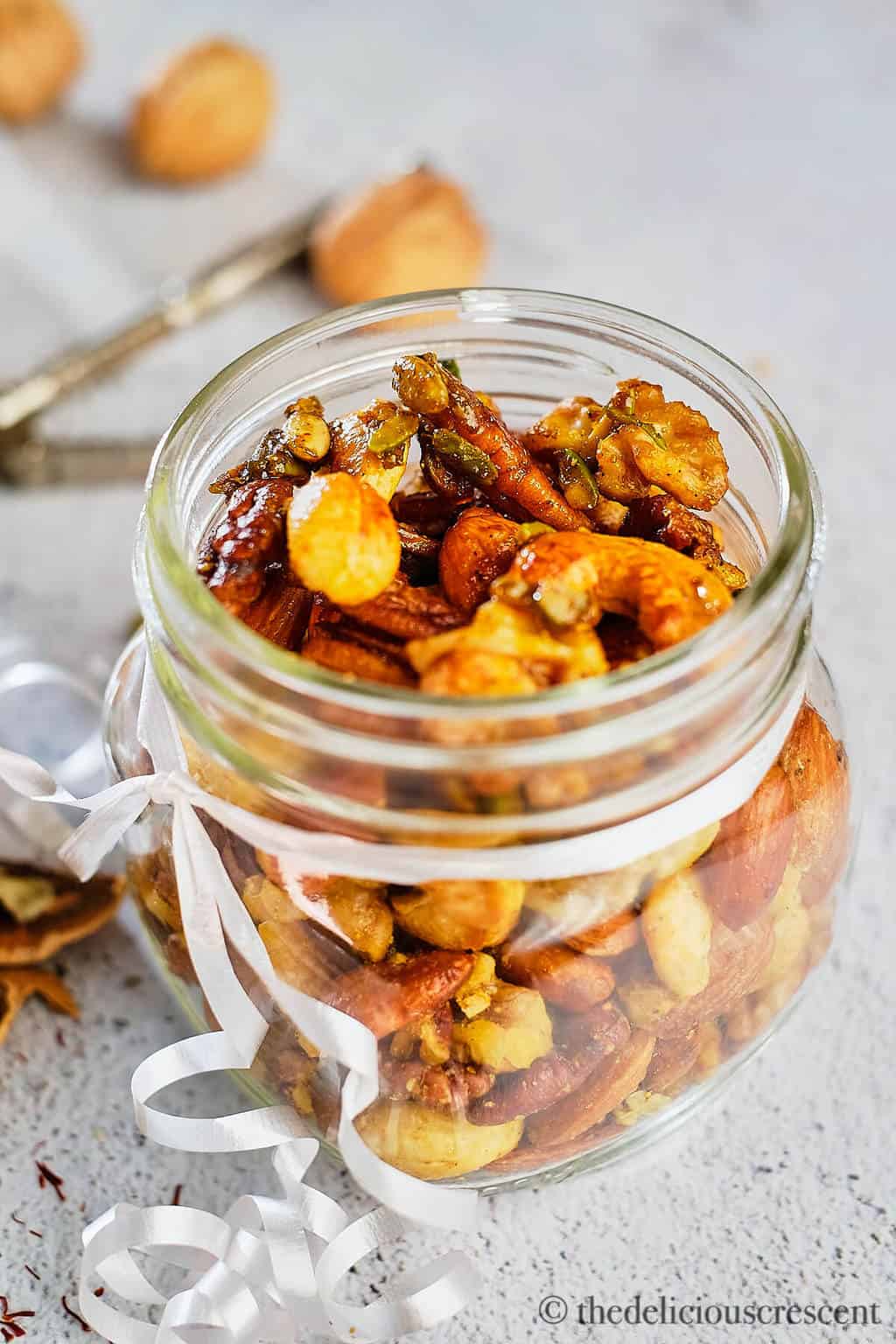 Tips and Variations
These roasted holiday nuts are gluten free, low carb, egg free and soy free.
Dairy Free: Use avocado oil and skip butter or ghee.
Flavors: Try adding a hint of nutmeg, dash of cinnamon or vanilla.
More Sweet: Use double the amount of maple syrup and roast at 315 degrees Fahrenheit and for 30 minutes.
Brown Butter or Ghee: Because these are more intense in flavor than plain butter, you may be able to use it in combination with any neutral oil. That would give flavor, while lowering the saturated fat a bit.
Choose grass fed butter or ghee.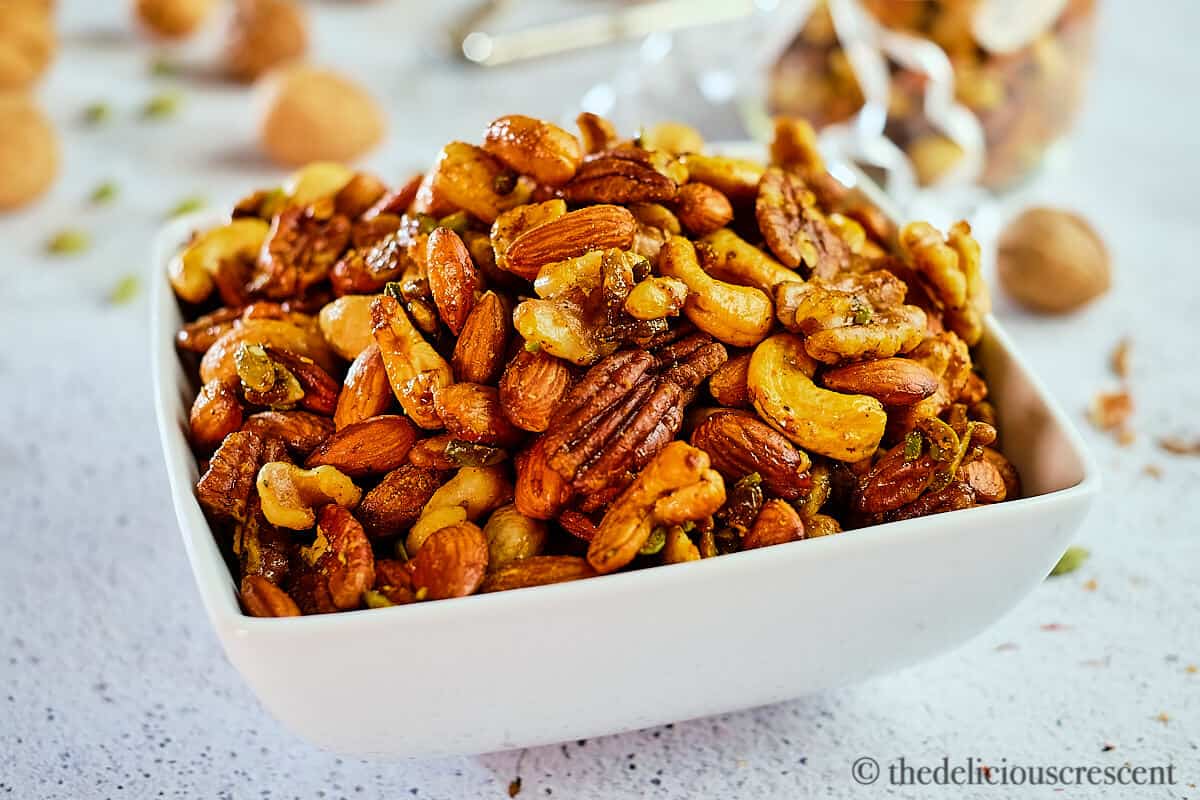 Health Benefits of Nuts
Cashews are a good source of heart healthy unsaturated fats, plant protein, magnesium, zinc, iron, copper and several other minerals. They also contain high levels of the antioxidant nutrients — lutein and zeaxanthin. As a good source of zinc, these nuts can help strengthen your immune system.
Almonds are a good source of unsaturated fats, protein, fiber, magnesium, vitamin E and other antioxidant nutrients. Being an especially rich source of vitamin E, almonds are a great option to include in your diet to support good heart health and fight inflammation.
Pecans are a very satisfying snack, rich with unsaturated fats and fiber. As a good source of phytonutrients and zinc, these nuts can support your immune system. Regular consumption of such flavonoid rich nuts can help lower the risk of chronic disease. Full of monounsaturated fats, beta carotene and vitamin E, pecans are heart healthy.
Walnuts are best known for their rich content of omega 3 fats, that are full of great health benefits. These nuts are high in monounsaturated, polyunsaturated fats, polyphenols and antioxidants.
Along with a good amount of protein and fiber, walnuts are delicious and satisfying. They are also a good source of manganese, copper, magnesium, phosphorus, vitamin E, vitamin B6 and iron. Due to their nutrient content, walnuts are very heart healthy and regular consumption of handful of these nuts may lower inflammation.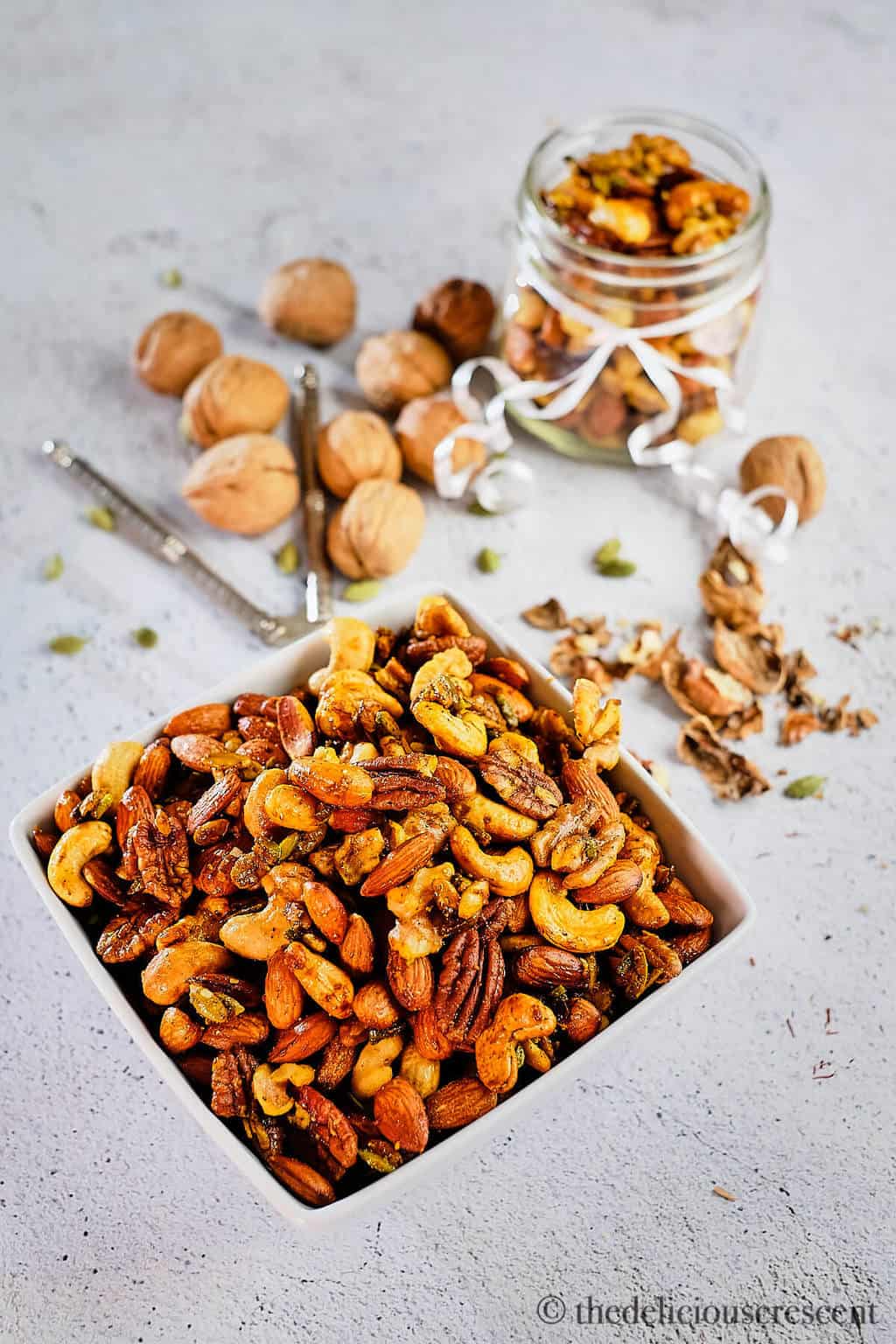 More Holiday Recipes:
★ DID YOU MAKE THIS RECIPE? PLEASE COMMENT AND GIVE IT A STAR RATING BELOW!
Sweet & Savory Roasted Party Nuts
These sweet and savory roasted party nuts with cardamom, saffron and maple syrup are simply divine and irresistible. They are so addictive, that you won't be able to stop with a handful. Everyone just loves these nuts!
Print
Save
Saved!
Instructions
Preheat the oven to 325 degrees Fahrenheit.

In a small sauce pan, heat the butter and maple syrup just until the butter is melted. Dont let it cook beyond that.

In a large mixing bowl, add the maple butter and whisk it together with ground cardamom, saffron water, cayenne pepper, black pepper and salt.

Add all the nuts and seeds to the bowl. Using a wooden spoon, stir together the nuts until they are coated well with the spiced maple butter.

Spread the mixed nuts in a single layer on a parchment paper lined baking sheet and bake for about

25 to 30 minutes

. Check at 25 minutes to make sure the nuts are not getting over roasted.

While baking, stir the nuts every

10 minutes

. Once done, remove the pan and let the nuts cool completely. The nuts and the outer coating will dry and harden as they cool.

Store roasted nuts in an airtight container, in a cool, dark place at room temperature for up to 1 month.
Notes
If using brown butter or ghee, you may also try combining 1 tablespoon of that with 1 tablespoon of any neutral oil.
Saffron water: Dissolve and soak ¼ teaspoon ground saffron in 2 tablespoon hot water. Save the leftover saffron water for other recipes.
Cardamom can have an intense aroma. If its new to you, then start with 1 teaspoon and adjust it up to 2 teaspoons based on your taste.
If using fine salt, then try ¾ teaspoon salt.
Dairy Free: Use avocado oil
More Sweet: Use double the amount of maple syrup and roast at 315 degrees Fahrenheit for 30 minutes.
Pistachio pieces and pumpkin seeds result in nice clusters and did not burn at 325 degrees F. However, ovens may vary, and if burning the smaller nuts is a concern, then add them later or try baking at a lower temperature or skip them.
Nutrition
Calories:
240
kcal
|
Carbohydrates:
9
g
|
Protein:
7
g
|
Fat:
21
g
|
Saturated Fat:
3
g
|
Cholesterol:
4
mg
|
Sodium:
147
mg
|
Potassium:
237
mg
|
Fiber:
3
g
|
Sugar:
3
g
|
Vitamin A:
109
IU
|
Vitamin C:
1
mg
|
Calcium:
46
mg
|
Iron:
2
mg