Saffron tea with a hint of cinnamon, cardamom, lemon, rose, mint or ginger, along with white tea is a refreshing and mood boosting beverage. Hot or cold, this amazingly delicious tea is sure to soothe you.
Now this joins our wildly popular homemade tea blend.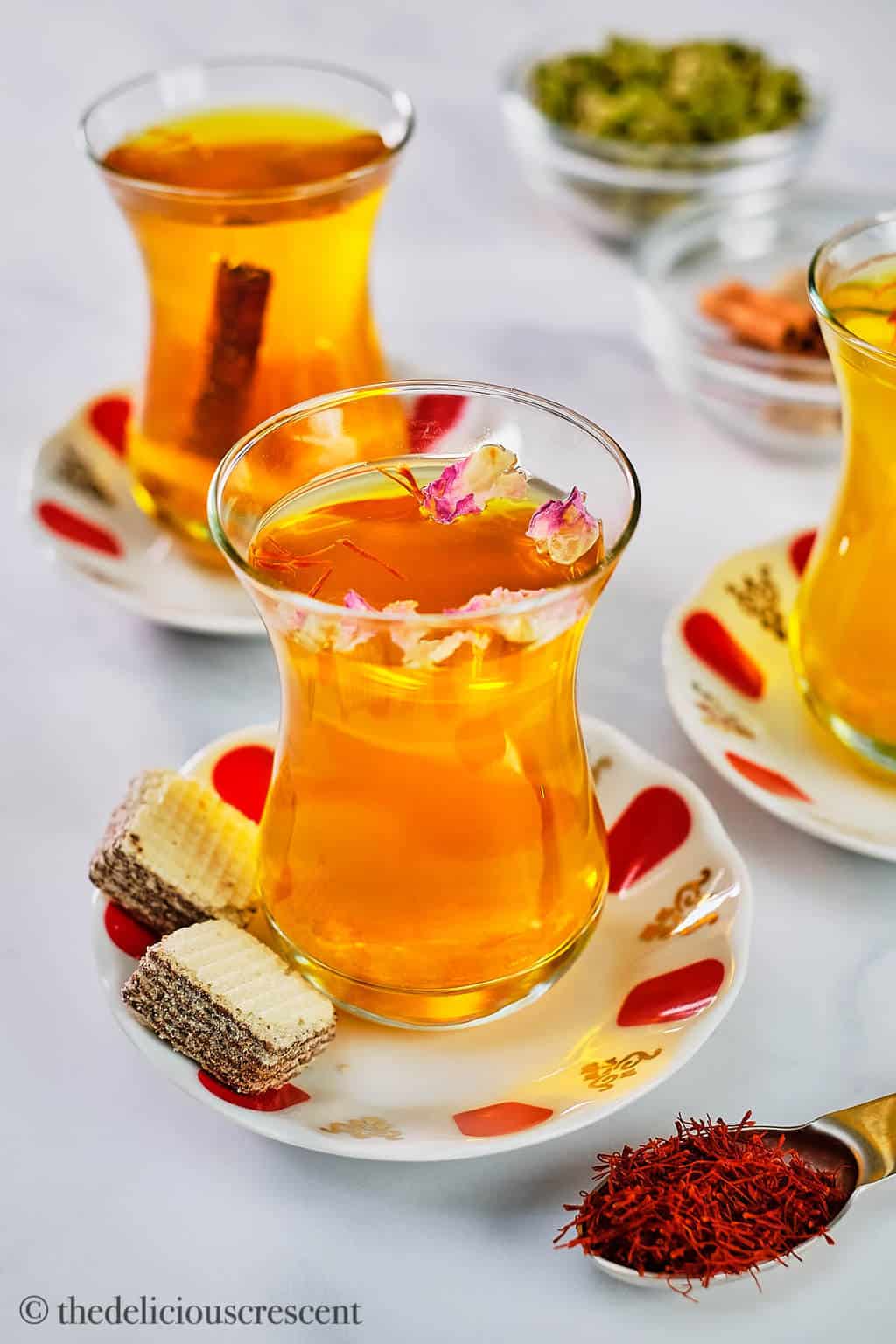 Saffron Tea
Saffron, the golden spice with good health benefits, is a great choice to pamper your guests or yourself.
Make a large pitcher of this special tea and enjoy it for days. It tastes amazing hot or cold.
And to boot, we have three different flavor choices for you to try. The rest is left to your own imagination, of course!
One of the flavor options has some elements in common with the famous Kashmiri Kahwa.
Saffron Tea Ingredients
Saffron, cardamom, cinnamon, rose petals, fresh ginger, lemon slices, fresh mint, white or green tea and honey. You will need only some of these depending on the flavor option you pick.
How to Make It
Below is a brief overview of the process. The full recipe is at the end of post.
The most important thing is how you extract saffron.
Grind dry saffron threads into a fine powder with a pinch of sugar, using a marble or stone mortar and pestle.
Steep white tea, spices, lemon slices, mint or ginger in hot water for few minutes. Add powdered saffron and steep further and sweeten it with honey.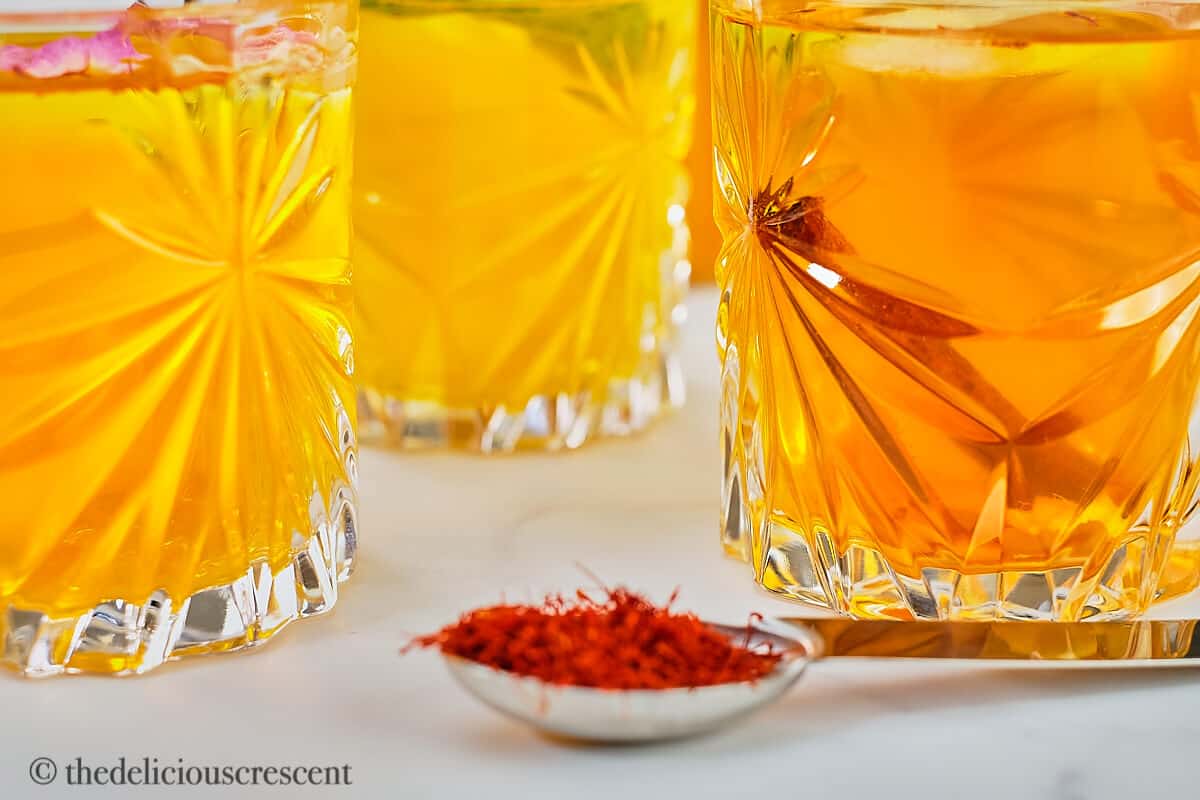 Extra Tips
Store saffron in a dry, cool and dark place or in the freezer.
Be sure that your hands are very dry when working with saffron.
Don't steep saffron for too long or it will become bitter.
It is better to use white tea than green tea. As it is milder in flavor and will let the aromatic ingredients take center stage, while providing its invigorating benefits.
This tea can be stored in the refrigerator for about a week. Enjoy it cold or hot.
How to Buy Saffron and Spices
It is important to buy high quality saffron from reputed sellers. Look for saffron that is deep red in color with orange tips. The darker the color, the higher is the quality.
We buy Persian saffron, which is often amongst the best in the market. You can buy it at Persian, Middle eastern, Indian, Mediterranean and gourmet grocery stores, as well as online.
Also, watch out for adulterated products. And stay away from readymade saffron powder.
Likewise, buy fresh spices from reliable sellers. Stores with high turnover are a good choice. It makes a world of difference when spices such as cardamom and cinnamon are purchased before they have gone too old and stale — the aroma is profoundly different.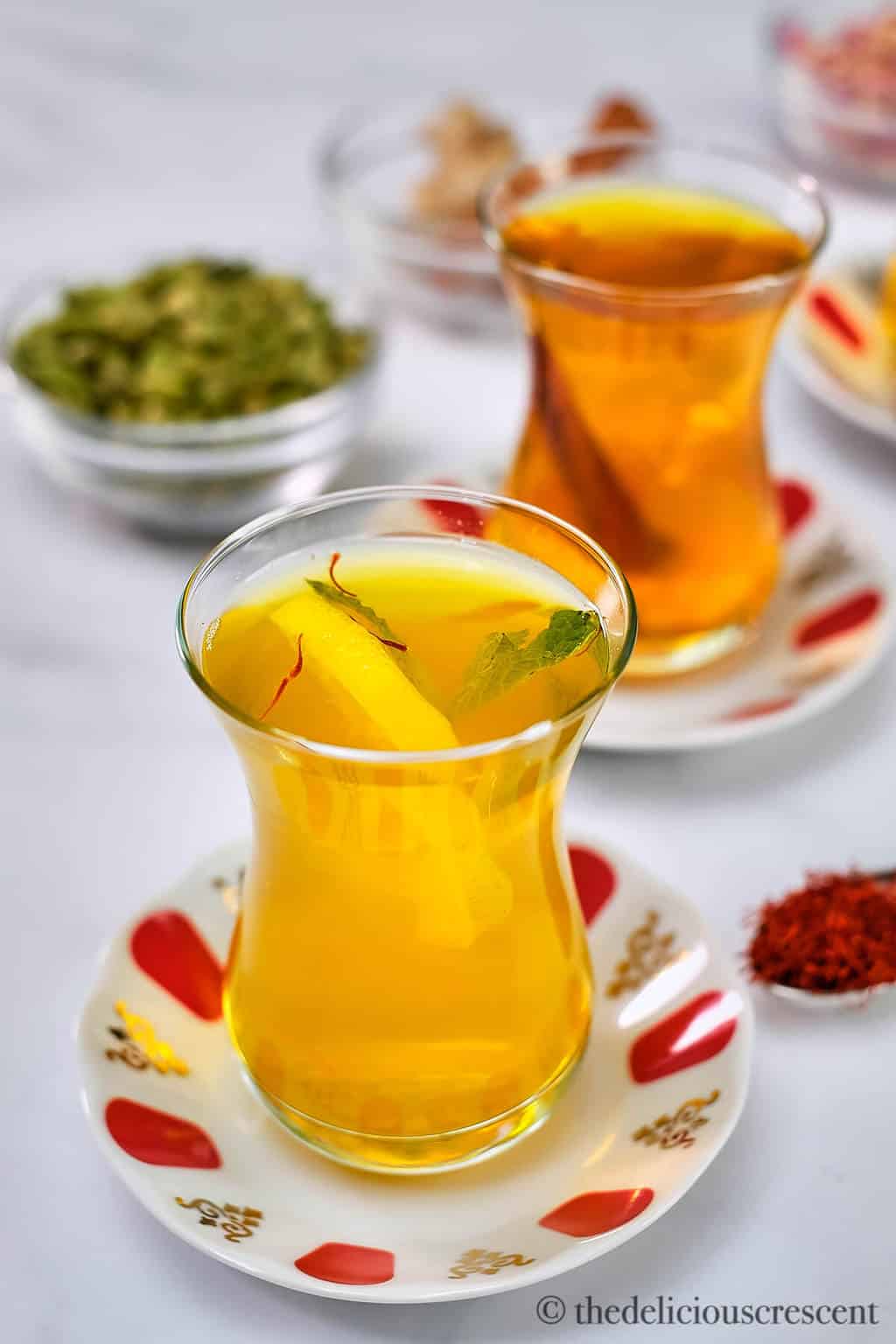 Saffron - Health Benefits
Saffron is a source of compounds known to have antioxidant, antidepressant, anti-carcinogenic and anti-inflammatory properties — namely crocin, crocetin, safranal and kaempferol.
Preliminary research has indicated that it may be useful in the treatment of mild to moderate depression. Also, studies have found that taking 30 mg of saffron daily was as effective as other conventional treatments of depression.
Several studies have demonstrated anti-carcinogenic potential of saffron and also improved sensitivity to a few chemotherapy drugs.
Saffron supplementation studies have revealed anti-adiposity effects, such as improvement in lipid profile & central obesity and lowering of appetite.
Of particular interest is research indicating that regular consumption of this spice may help relieve certain PMS symptoms.
In addition to that are other beneficial pharmacological effects on memory and learning, neurodegenerative diseases such as Alzheimer's disease, etc.
To learn more about white tea benefits check out the post on Homemade Tea Blend.
How Much Saffron Tea Should I Drink?
Reviews of research studies and recommendations by the European commission have indicated that a daily dose of 1.5 grams has been consumed by people with no documented risks. However, there may be potential toxic effects at high doses of 5 grams or above.
A daily dose of 30 mg of saffron has been shown to provide health benefits in several studies. One teaspoon of saffron is about 700 mg. The recipe below uses ¼ teaspoon for four cups of tea.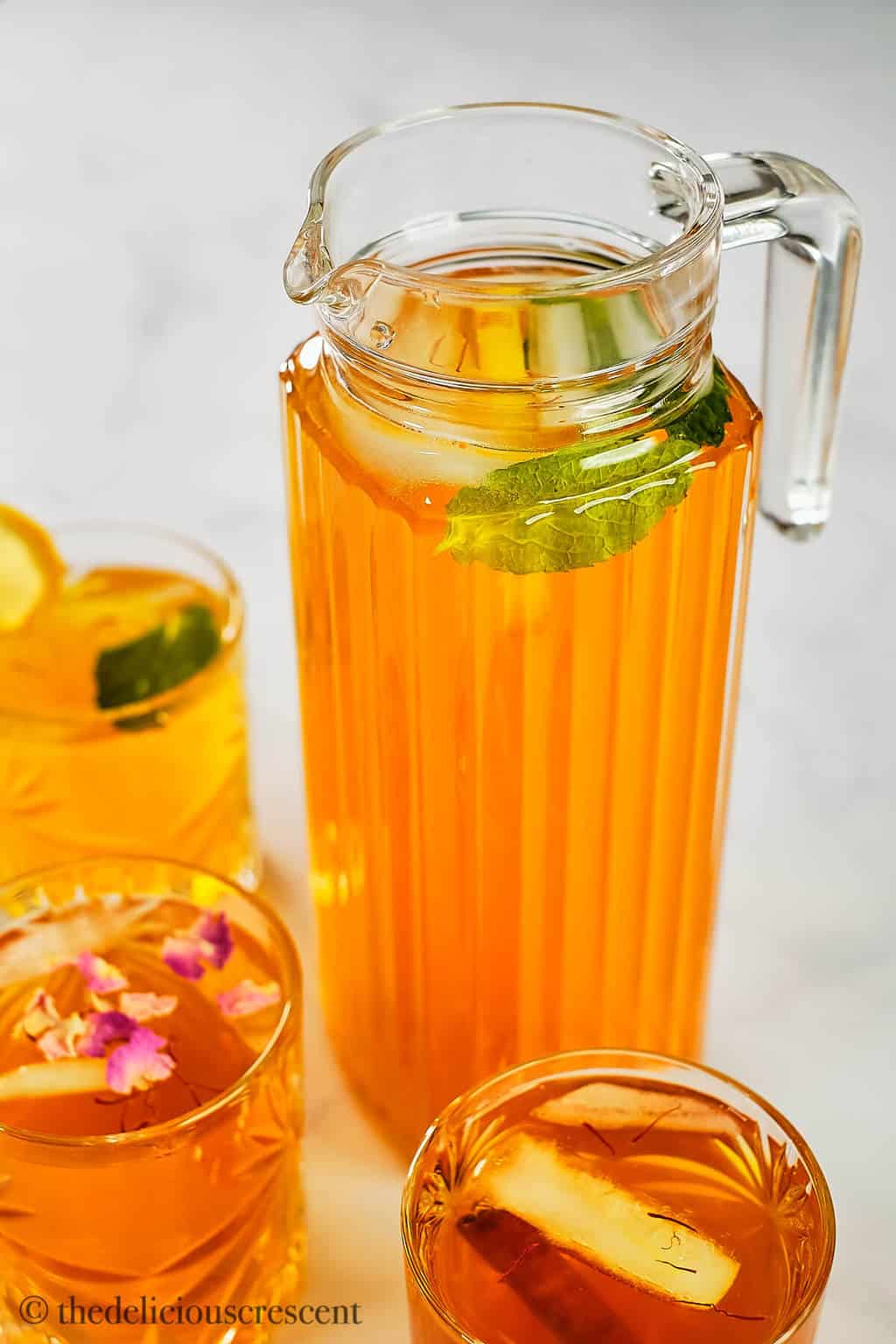 Can I Drink Saffron Tea Everyday?
You surely can consume saffron daily, as long as it does not exceed the toxic levels. People have been consuming saffron for centuries.
Traditional cuisines of the middle east, India, eastern and southern Mediterranean, North Africa, etc., have plenty of saffron based dishes. In some cultures, saffron is consumed on a daily basis.
What are the Side Effects of Saffron?
It is generally considered safe to take saffron in standard culinary amounts, with no known side effects. Toxic effects have been seen only when a daily dose of 5 grams was exceeded. Pregnant women should especially avoid high doses.
Moreover, choose pure saffron and stay away from adulterated products. When it comes to saffron, a little goes a long way. You only need a very small amount of this exclusive spice.
Be sure to consult a healthcare professional before choosing any food for therapeutic or health benefits, as they will be able to advice you looking at your health history. And despite the known benefits of saffron, there is still ongoing research.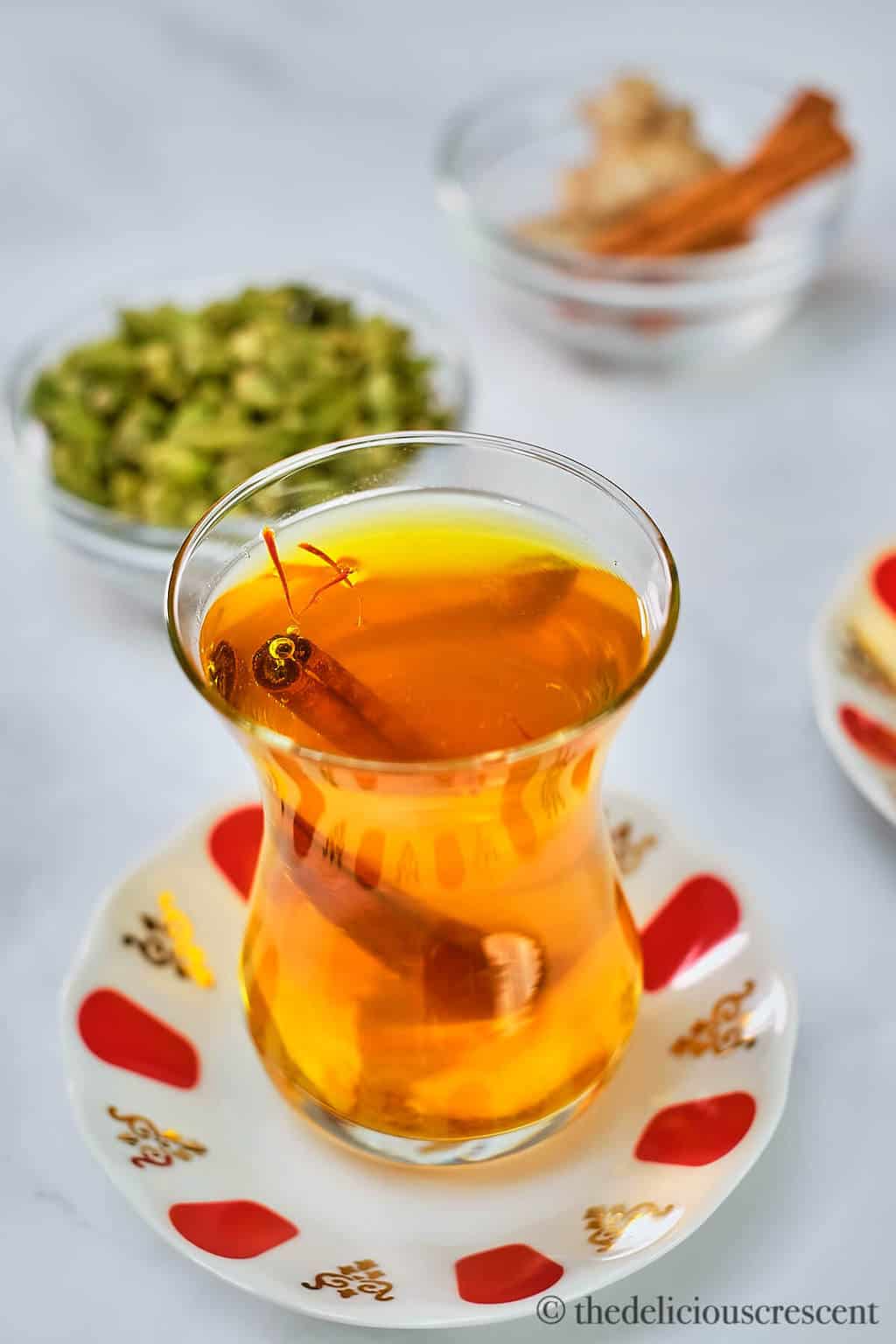 More Delicious Beverages:
More Saffron Recipes:
★ DID YOU MAKE THIS RECIPE? PLEASE COMMENT AND GIVE IT A STAR RATING BELOW!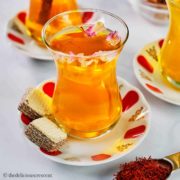 Saffron Tea (Three Ways) & Benefits
Saffron tea with a hint of cinnamon, cardamom, lemon, rose, mint or ginger, along with white tea is a refreshing, and mood boosting beverage. Hot or cold this amazingly delicious tea is sure to soothe you.
Print
Save
Saved!
Ingredients
Lemon Mint
3

lemon slices

organic

8

fresh mint leaves
Instructions
Preliminary Steps
Take ¼ teaspoon dry saffron threads in a small marble or stone mortar and pestle. Add a pinch of sugar and grind saffron into a powder.

In a saucepan, boil water and add white tea. Then proceed with any of the three flavor options below.
Choose Flavor Option
Mixed Spices: Add cardamom, cinnamon and rose petals.

Ginger Cinnamon: Add cinnamon sticks and fresh ginger slices.

Lemon Mint: Add lemon slices with the skin and the fresh mint leaves.
Final Steps
Turn off the heat and let it all steep for

5 minutes

.

Next, add the powdered saffron and steep for an additional

3 to 4 minutes

and add honey to taste. Don't steep saffron for too long or it may become bitter.

This beverage can be refrigerated for about a week. Enjoy it hot or as iced tea.

Decorate with extra saffron threads, cinnamon stick, ginger slices, lemon wedges or mint leaves.
Notes
Try it with milk or milk and water, except for the lemon mint flavor option, as that would curdle the milk.
Saffron is available at Persian, Middle eastern, Indian, Mediterranean and gourmet grocery stores, as well as online.
Store this spice in a dry, cool and dark place or in the freezer and keep your hands dry when working with it.
Nutrition facts are approximate.
Nutrition
Serving:
1
Cup
|
Calories:
17
kcal
|
Carbohydrates:
5
g
|
Protein:
1
g
|
Sodium:
12
mg
|
Sugar:
5
g
|
Calcium:
7
mg