Pan Seared Cod Fish with Tamarind Sauce is an easy recipe that gives you a tasty flaky fish with a spicy crust in a tangy sauce. It is low in calories and carbs, high in protein and healthy fats!
Spices and fish make a great dish like our spicy tuna salad with chipotle.
Pan Seared Cod Fish
Pan searing is a classic technique of cooking fish, in which the surface of the fish is cooked at a high temperature which results in a caramelized crust, improving the taste, texture and appearance.
The seared fish recipe below pairs well with Tahini Creamed Yellow Squash with Caramelized Shallots, a tasty low carb alternative to mashed potatoes. These are quick and easy recipes with a strong influence of Mediterranean and Middle eastern flavors. They are a great combo for weight management, diabetic/heart healthy or even a general healthy diet.
For more Fish and Seafood recipes checkout these creations with the red jewel like barberries - Almond Herb Crusted Baked Fish, Easy Masala Shrimp Fry and Persian Shrimp Quinoa Herb Rice.
Is Pan Seared Fish Healthy?
Searing fish in a pan using minimal but optimal amount of oil is a quick and healthier way of frying fish, that results in a flavorful seared fish that is also relatively lower in calories.
Make sure to sear the fish only when the pan and oil are hot, but before reaching the smoking point. An iron skillet works great for this. It heats very well and gives a nice quick sear using minimal oil.
Health Benefits
Fish is a low calorie source of good quality protein. Additionally, it is low in saturated fat but high in the heart healthy unsaturated fats. Especially the cold water fatty fish such as Salmon, Herring, Tuna, Sardines, Mackerel etc. are great sources of long chain omega 3 fatty acids. There is strong evidence that eating fish at least two to three times a week can be good for the heart and blood vessels.
The omega-3 fatty acids have been found to be protective against deadly cardiac rhythm disturbances; improve blood vessel function; lower blood pressure and heart rate; lower triglycerides and may ease inflammation; optimal development of the brain and nervous system in babies.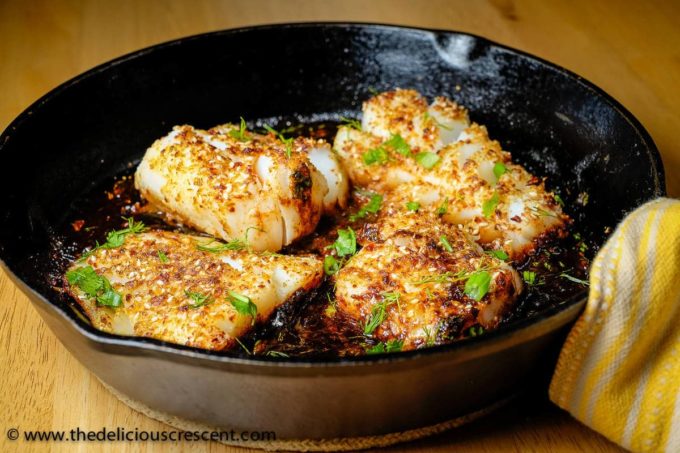 However, when it comes to fish consumption it is important to be cognizant of the pollutants such as mercury. A good resource for choosing fish with low levels of mercury is Seafood Watch which provides consumer guides and also has an app that can be downloaded on your phone.
The Alaskan Cod that I have chosen to prepare this Spicy Seared Fish with Tamarind Sauce is a low fat flaky white fish. It is a good source of protein, phosphorus, niacin, selenium and vitamin B 12 - this last nutrient keeps the homocysteine levels low, thereby protecting your heart. A significant portion of the fat in this fish are the omega 3 fatty acids.
About Tamarind Sauce
Oh and the lovely tangy tamarind! I grew up with that. It literally means "date of India", that has been well known in ancient medicine and folklore.
Tamarind is a pod like fruit that has high levels of tartaric acid, which is a well known powerful antioxidant. In addition, tamarind contains other phytochemicals with healing properties.
Several research studies have pointed to the hypolipidemic, antidiabetic, antimicrobial and antioxidant properties of this tasty food condiment.
What to Serve Along
★ DID YOU MAKE THIS RECIPE? PLEASE COMMENT AND GIVE IT A STAR RATING BELOW!
Pan Seared Fish with Tamarind Sauce
Pan Seared Fish with Tamarind Sauce is an easy recipe that gives you a tasty flaky fish with a spicy crust in a tangy sauce. It is low in calories and carbs, high in protein and healthy fats!

Print
Servings:
4
(4 oz fish with 1½ tablespoon sauce)
Instructions
Clean the dry tamarind and remove any seeds. Soak in ½ cup warm water.


Clean, rinse and pat dry the fish fillet.


Mix the coarsely ground cumin seeds, coriander seeds, sesame seeds, red pepper and ⅓ teaspoon salt. Sprinkle the spice mix on both sides of the fish fillet and gently press so it sticks well. Set it aside.


Meanwhile, once the tamarind softens nicely, squeeze it a few times to obtain the thick juices. Squeeze out the pulp completely and discard.


Heat one teaspoon oil in a small sauce pan and sauté grated garlic for a minute but do not let it brown. Then add the tamarind pulp and stir. When it starts to bubble, add pomegranate molasses, advieh and remaining salt.


Lower the heat and simmer until the sauce is thick. Stir it occasionally. In the end add most of the chopped herbs, saving just a little for garnish.


Next, heat 3 teaspoons of the oil in an iron skillet at medium high heat. Place the fish fillet on the hot skillet and sear it to a golden brown on both sides until it flakes and is well done. The time will vary with the fish and thickness of the fillet.


Pour the tamarind sauce all around the fish in the skillet. Let it sizzle for a minute and turn off the heat.


Plate the well done seared fish on a serving plate and dot the tamarind sauce over it along with a garnish of herbs.

Notes
May substitute dry tamarind with ready made tamarind paste. Follow package instructions for appropriate amount of substitution. Alternatively you could try using tomato paste.

I normally double the amount of cumin and coriander seeds listed in this recipe and coarsely grind them in the spice blender. I use half of it and save the rest for another time.
Aleppo red pepper is not too pungent (hot) but very flavorful. You may substitute it with red pepper flakes that are more pungent (hot) and adjust the quantity as per your taste.
Advieh is a Persian mixed spice blend. You may substitute with a mixed spice blend of preferably Mediterranean or middle eastern style.
Dry tamarind, pomegranate molasses and other spices are available at middle eastern and Indian stores or online.
Check for any added salt in spice mixes and other ingredients and adjust.
Nutrition
Serving:
1
4 oz fish with 1 ½ tablespoon sauce
|
Calories:
182
kcal
|
Carbohydrates:
12
g
|
Protein:
21
g
|
Fat:
6
g
|
Saturated Fat:
1
g
|
Cholesterol:
49
mg
|
Sodium:
375
mg
|
Potassium:
533
mg
|
Fiber:
1
g
|
Sugar:
8
g
|
Vitamin A:
357
IU
|
Vitamin C:
2
mg
|
Calcium:
46
mg
|
Iron:
1
mg
More Fish Recipes