This roasted sweet potato soup is so creamy, delicious and perfect for holidays. Rich in taste with coconut milk, ginger, cardamom, nutmeg, rosemary and topped with parmesan crisps. So festive and comforting!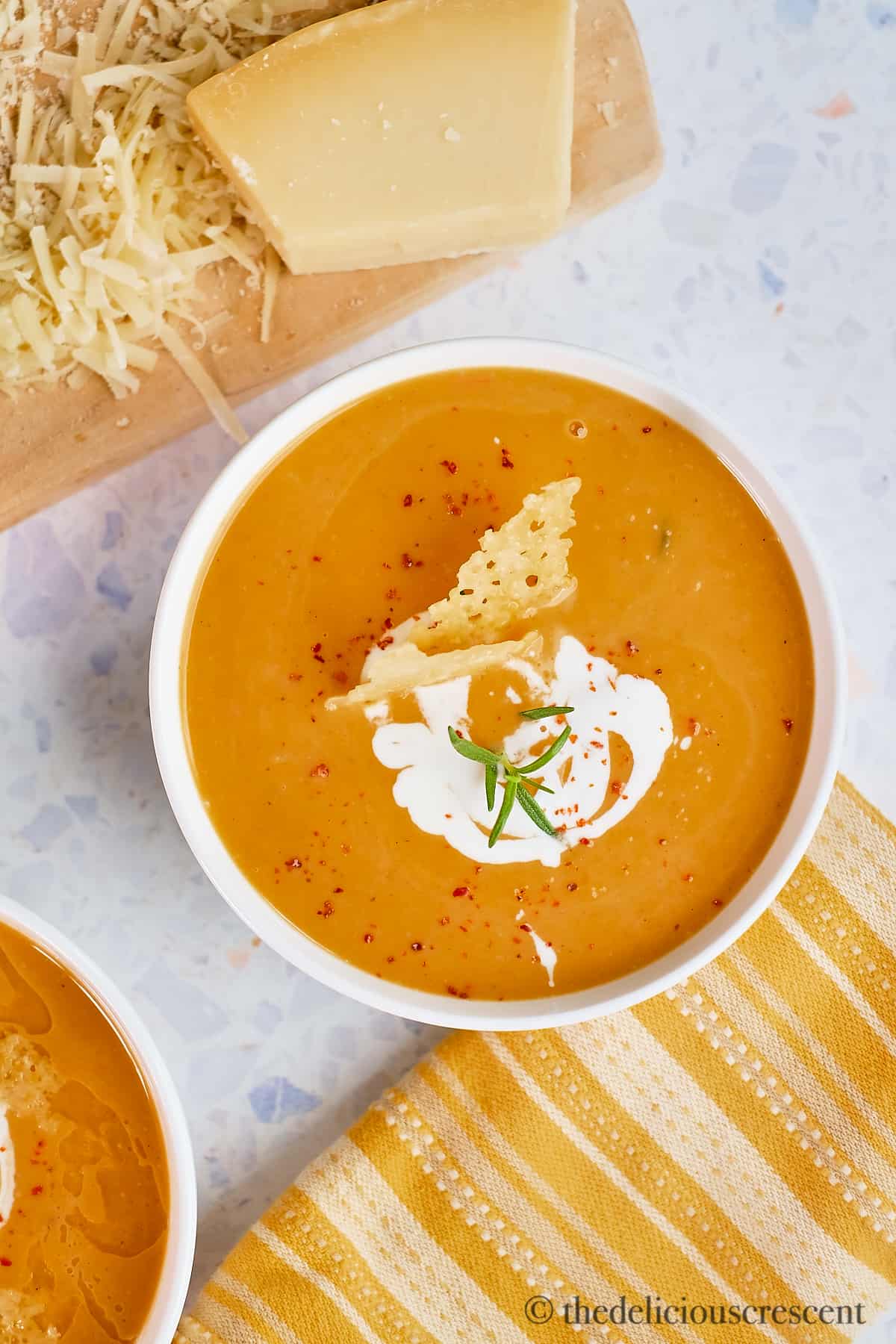 Roasted Sweet Potato Soup
Whether it is fall, winter or the holidays, this sweet potato soup will be perfect for a festive menu. Lighten it up if you wish for an everyday meal.
This delectable soup is reminiscent of a slice of sweet potato pie turned into a luscious bowl of savory soup with coconut milk, rosemary, ginger, cardamom, nutmeg and other aromatics.
Top it off with some parmesan crisps and/or brown butter for those buttery and nutty flavors, and it will be completely holiday worthy, like our spiced butternut squash soup.
Years ago I had a similar soup at a restaurant. I didn't have the recipe, just a memory of the flavors. I experimented and here you have a luxuriously silky and savory soup.
Creamy, sweet, salty, with a hint of spice, this is comforting and irresistible. Great for a holiday menu or make it a satisfying lunch with crusty bread.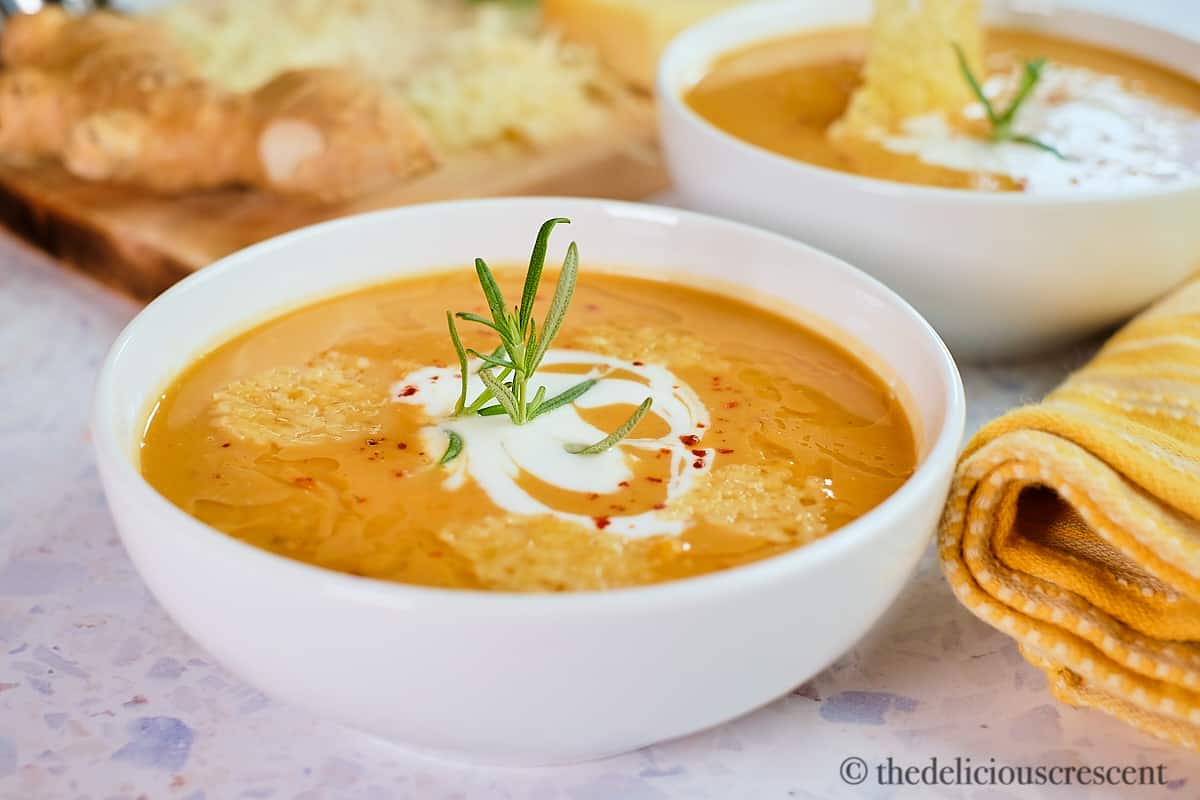 Ingredients for Sweet Potato Soup
Sweet Potato, Shallots, Coconut Milk, Olive Oil, Cardamom, Nutmeg, Rosemary, Ginger, Cayenne Pepper, Parmesan Cheese
Sweet Potato: Get the red skinned or orange potatoes, that are firm, medium sized, with smooth skin and no discolorations or soft spots. These will cook to be more moist and sweet.
Here in the USA, sweet potatoes may sometimes be labeled as "yams" but they are actually not yams, which are a different type of tuber with a dark brown skin. For more on selection of this root vegetable, check this.
Shallots: These are mellow and cook easily. But you can substitute with regular onions too.
Coconut Milk: Even half a cup of this rich milk will make the soup creamy.
Spices and Aromatics: Use fresh ground cardamom and nutmeg, fresh rosemary and fresh ginger. The combination of all these flavors is so magical and so reminiscent of other holiday favorites.
Cayenne Pepper: You only need a very small amount of this, otherwise it won't balance well with the sweet and salty flavors.
Parmesan Cheese: The parmesan crisps are so easy to prepare and make the soup look so elegant. The nutty and salty crisps also pair perfectly with this amazing holiday soup.
Brown Butter or Ghee: Just a drizzle of this will be terrific for festive times.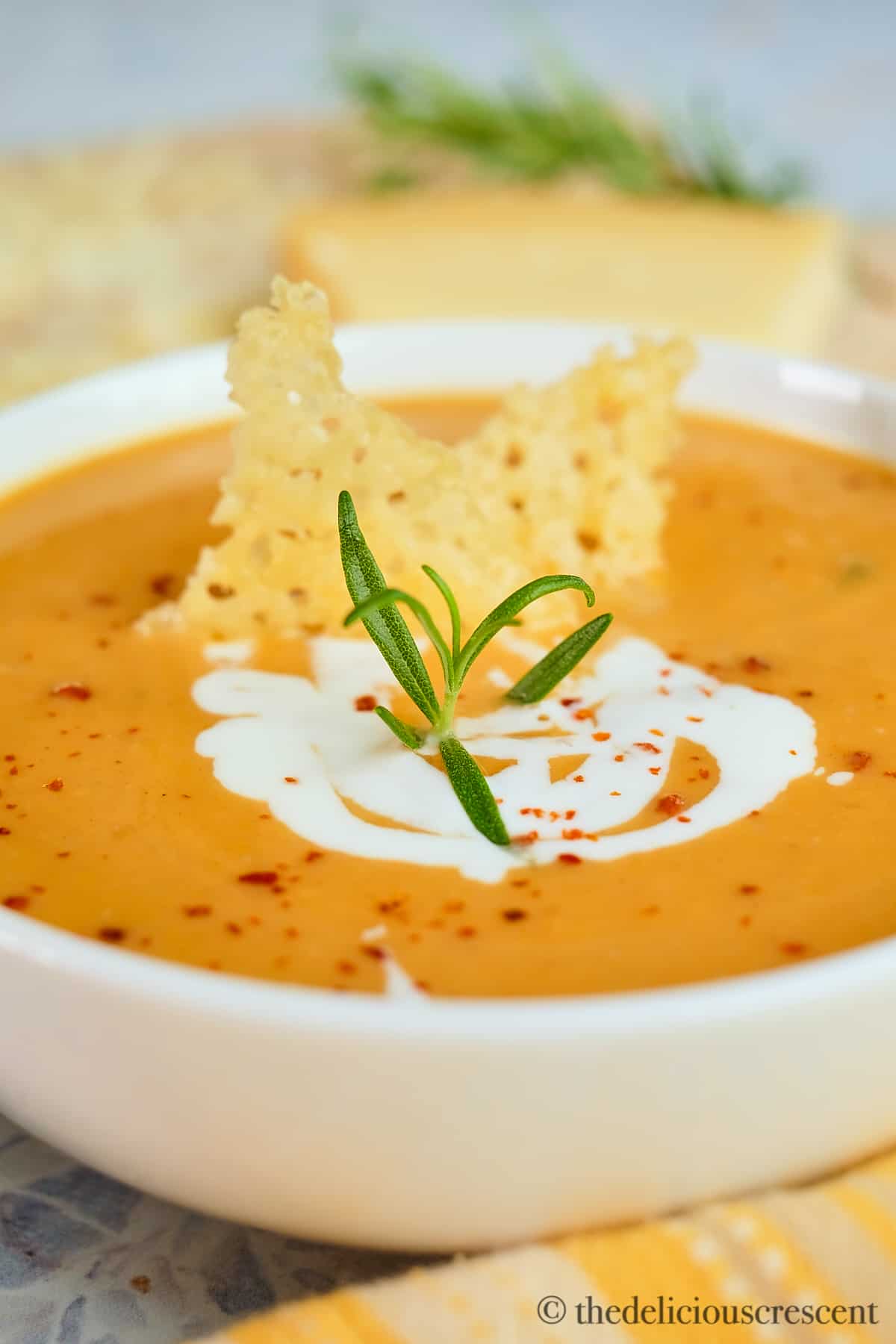 How To Make Sweet Potato Soup
**Below is a brief overview. Full recipe at end of post.
Roast sweet potatoes at 400 degrees F for 40 minutes until fork tender.
Mash or blend roasted sweet potatoes until smooth. For an ultra creamy soup, use an hand blender or high speed blender. Food processor will not give you the same result, but will work.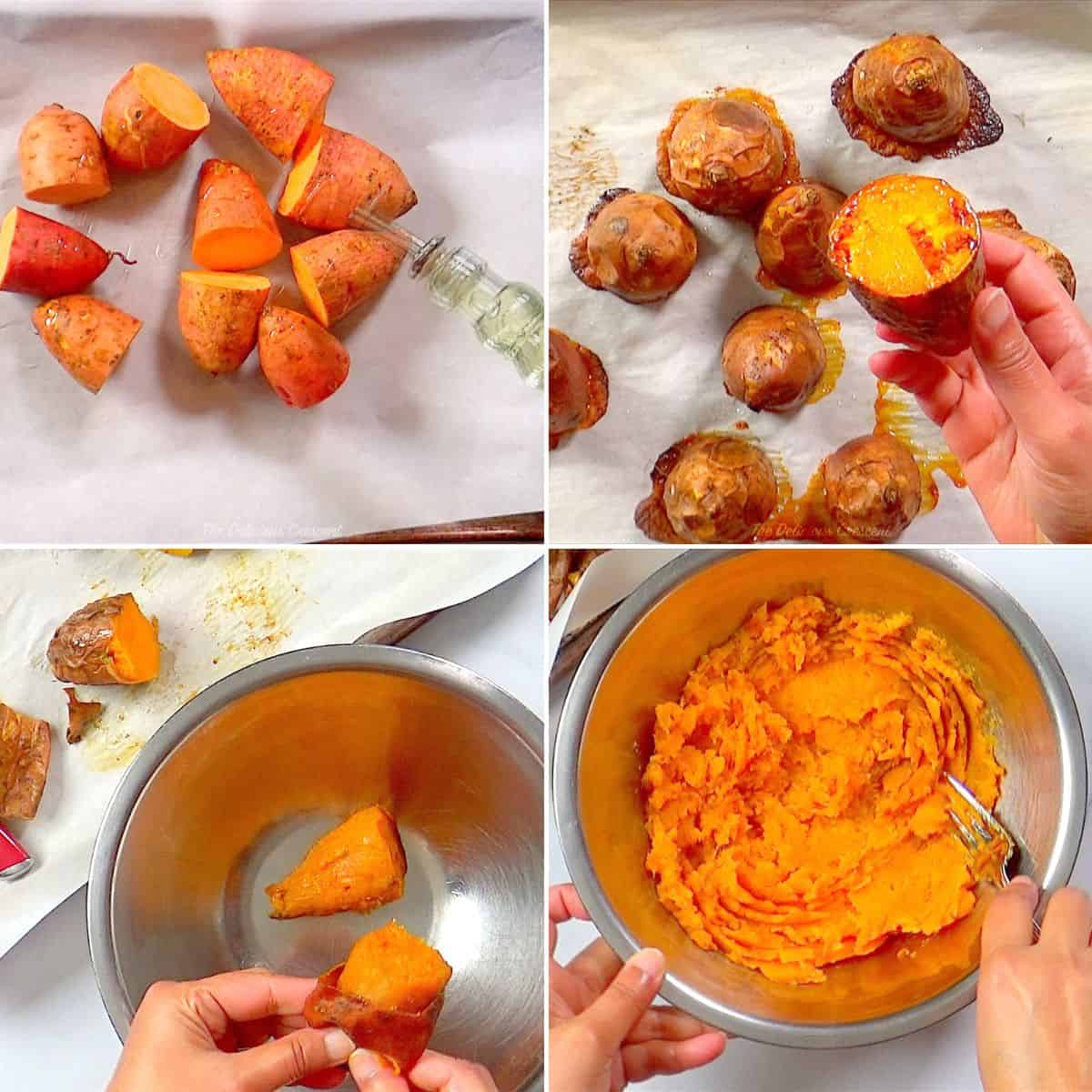 Sauté shallots over medium heat until translucent. Add ginger, cayenne pepper, cardamom, nutmeg, salt, pepper and stir.
Make Soup: Combine mashed sweet potatoes with aromatics and spices. Add water, rosemary, bring it to a boil and simmer. Stir in coconut milk. Adjust soup consistency and seasonings to taste.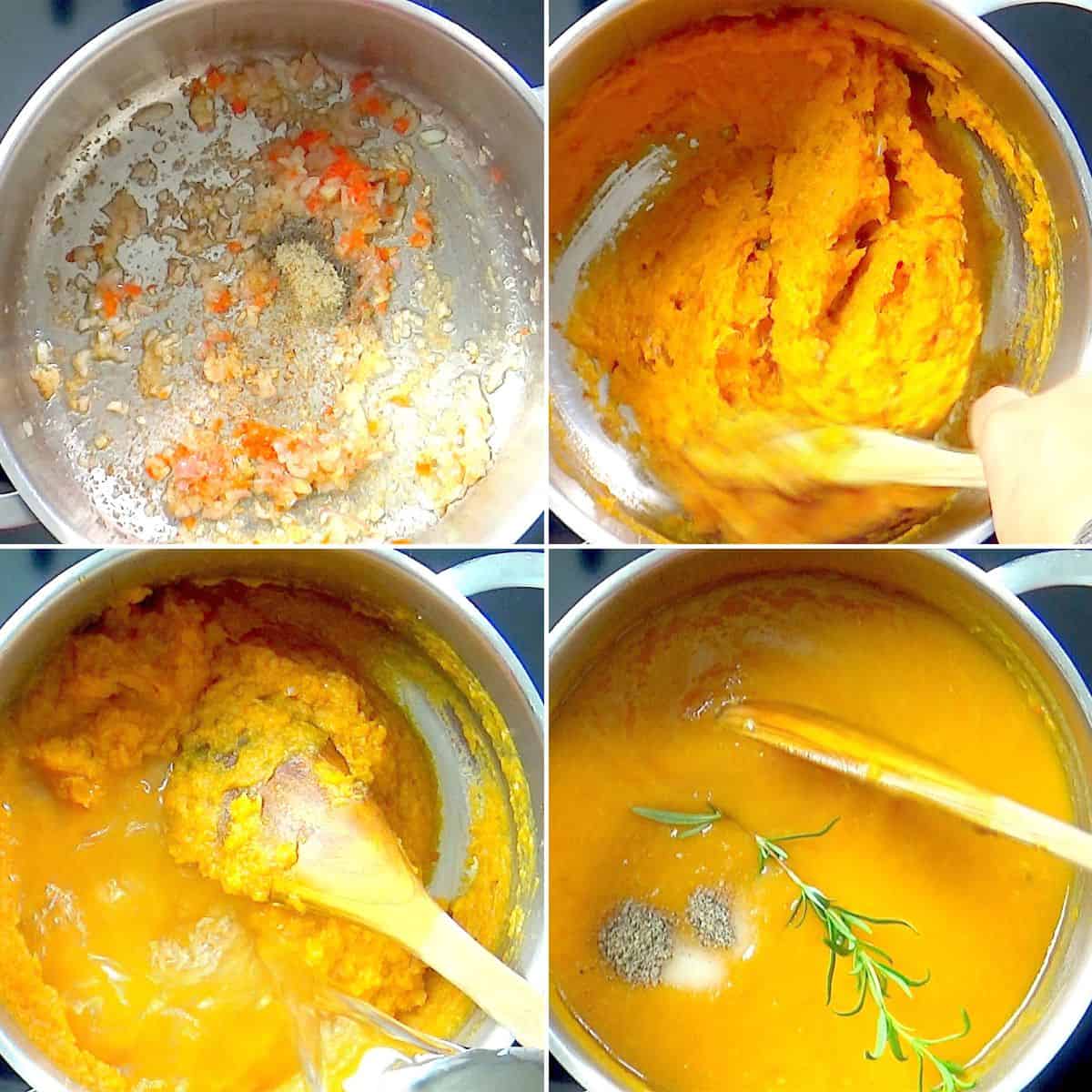 Parmesan Crisps: Bake a thin layer of Parmesan cheese on a parchment paper lined baking sheet for 6 to 8 minutes until melted. Let cool and crisp up.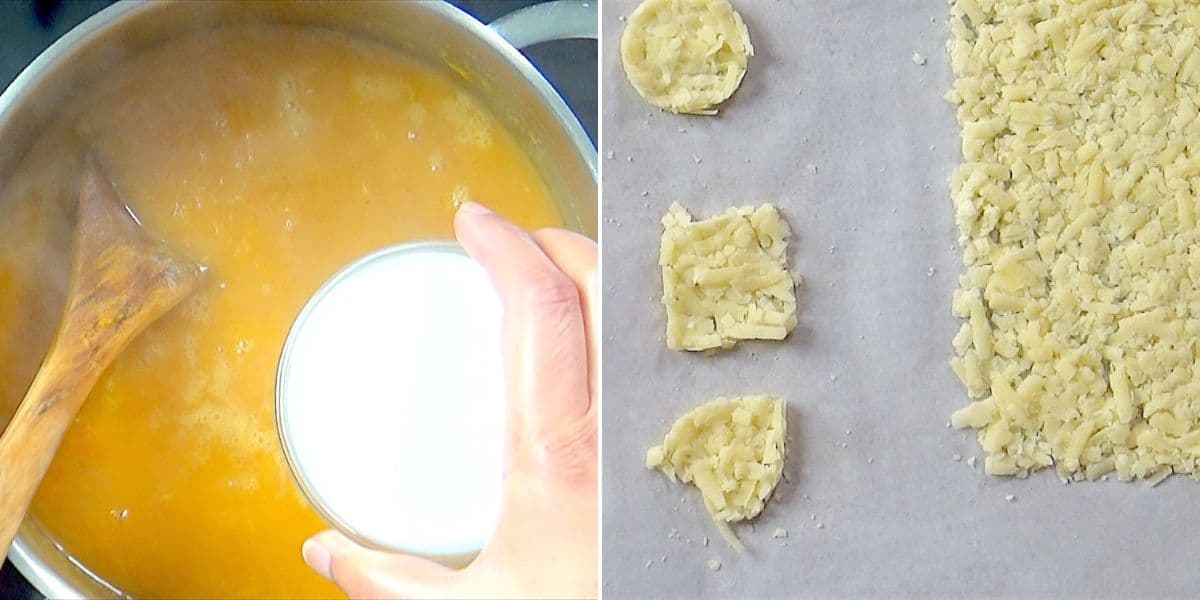 Serve the warm soup topped with rosemary and parmesan crisps.
Expert Tips
Make sure to roast the sweet potatoes until soft and fork tender.
To make it very creamy, you may blend the roasted potatoes after peeling. Be sure to let the steam release from the blender, in between pulses.
Roasting makes the sweet potatoes sweeter, but if you want to enhance the sweetness even further, add a touch of maple syrup.
Variations
This sweet potato soup recipe is vegetarian, gluten free, egg free, soy free, nut free and grain free.
Vegan and Dairy Free: Skip the parmesan crisps and do not add brown butter.
What to Serve With Sweet Potato Soup?
This is a great soup for holidays, but will make an awesome lunch.
Make Ahead / Meal Prep
You can roast the sweet potatoes ahead of time. You may also mash them and have it ready. Make the parmesan crisps and store them in an airtight container to use later.
Storage
Store leftovers in the refrigerator for about 4 to 5 days. To make the soup well ahead of time, you could make it up to the step before adding coconut milk. Thaw and complete the rest of the steps.
Is Sweet Potato Good for You?
Sweet potatoes provide more nutrients than potatoes, for the same calories. Also, they are naturally sweet and have a lovely taste and flavor.
They are a rich source of beta carotene, an antioxidant that also gives this root vegetable its vibrant color. In the body, beta carotene is converted to vitamin A, and has been associated with a lower risk of heart disease, certain cancers and in slowing the process of aging.
These nutritious potatoes also provide fiber, vitamin C, manganese, vitamin B6 and potassium. And are known to support eye health, immune system and gut health.
More Holiday Recipes 
★ DID YOU MAKE THIS RECIPE? PLEASE COMMENT AND GIVE IT A STAR RATING BELOW!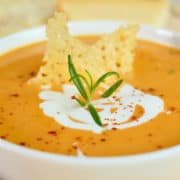 Sweet Potato Soup With Coconut Milk
This sweet potato soup is so creamy, delicious and perfect for holidays. Rich in taste with coconut milk, ginger, cardamom, nutmeg, rosemary and topped with parmesan crisps. So festive and comforting!
Print
Save
Saved!
Ingredients
2½

lbs

sweet potatoes

cut in half

1

tablespoon

olive oil

plus extra

½

cup

finely chopped shallots

or onions

1

teaspoon

grated ginger

fresh

½

teaspoon

cayenne pepper

or any mild red pepper, finely chopped

½

teaspoon

ground cardamom

freshly ground, preferably

¼

teaspoon

nutmeg

freshly ground

⅔

teaspoon

salt

½

teaspoon

ground black pepper

4

cups

water

1

sprig

rosemary

fresh

1

cup

coconut milk

1

tablespoon

maple syrup

optional

Additional salt and black pepper to taste

2

teaspoons

brown butter or ghee

optional

3

tablespoons

Parmesan cheese

optional
Instructions
Preheat oven to 400 degrees F. Cut the sweet potatoes into halves, drizzle some oil and coat well. Place them cut side down, on a parchment paper lined baking sheet and roast for 35 to

40 minutes

until fork tender.

Meanwhile, heat olive oil in a large cooking pot over medium heat. Add shallots, sauté

5 minutes

until translucent, stirring in between. Add ginger, cayenne pepper, cardamom, nutmeg, salt and pepper. Continue to cook for a minute, stirring often, making sure not to let the spices burn.

Take the potatoes from the oven, let cool, peel and remove any brown ends. In a medium bowl, mash the roasted sweet potatoes using a potato masher until really smooth with no lumps.

Add the mashed sweet potatoes and stir in all the aromatics and spices. Then add water, rosemary sprig and bring it to a boil. Let it simmer for

5 to 10 minutes

.

Stir in coconut milk. Add maple syrup if you prefer. Adjust salt, pepper and seasonings to taste. Add more water or coconut milk to adjust the consistency of the soup, as per preference.
Parmesan Crisps (Optional, Recommended)
While the soup is simmering, you can make parmesan crisps if you like. Using large cookie cutters as a guide, pack Parmesan cheese as a thin layer on a parchment paper lined baking sheet. You may also spread it as thin layer in a rectangular shape. Bake it for about

6 to 8 minutes

until nicely melted. Remove from oven, let cool and crisp up.

Ladle the warm soup into bowls. Top with mild red pepper flakes (like Aleppo pepper), Greek yogurt or sour cream. Decorate with rosemary, parmesan crisps or candied pecans.
Notes
Adjust heat of the soup with cayenne pepper or mild red pepper as per preference.
Add maple syrup only if you need it more sweet, because the sweet potatoes are already sweeter after roasting.
Start with 3 cups of water and adjust the thickness after adding the coconut milk.
For Holidays: Drizzle strained brown butter or ghee on top for a richer taste.
If you prefer the soup consistency to be perfectly smooth, blend it using a hand blender, high speed blender or food processor.
Check blog post above for more tips, variations, and ingredient details.
Nutrition
Calories:
195
kcal
|
Carbohydrates:
30
g
|
Protein:
3
g
|
Fat:
8
g
|
Saturated Fat:
6
g
|
Sodium:
282
mg
|
Potassium:
540
mg
|
Fiber:
4
g
|
Sugar:
6
g
|
Vitamin A:
20162
IU
|
Vitamin C:
4
mg
|
Calcium:
51
mg
|
Iron:
2
mg
More Sweet Potato Recipes
This post was first published on 18 November 2020 and has been updated with video, process photos, formatting and additional enhancements.