Vanillekipferl or Vanilla Crescent Cookies are buttery, nutty, melt-in-your-mouth German cookies that are rich, made with ground nuts and covered with fine vanilla sugar. So mouthwatering, pretty and festive! Classic, healthy makeover, vegan options.
What are Vanillekipferl or Vanilla Crescents?
Vanillekipferl mean "vanilla crescents" in German. Although, considered to have originated in Austria, they are popularly made in Germany and other eastern European countries.
Traditional recipes use ground walnuts and no eggs. However, there are now modern recipes in Germany that also use ground almonds or hazelnuts and egg yolks. Working with the vanillekipferl dough can be a bit difficult, so adding the egg yolks makes it easier.
I had my first taste of these delicious holiday cookies when my mother-in-law made them so many years ago. Since then I have baked them several times. Below I share both the classic recipe and a healthier makeover.
Tips for Making Vanillekipferl (Crescent Cookies)
Chill the dough when using butter to make the classic version of vanillekipferl.
The dough may be a bit difficult initially, but when you begin to work with it you will be able to figure out when it is most pliable to make the crescent shapes.
Take equal portions of the dough and compact it into small cylindrical rope shapes before shaping it into crescents. That helps to shape them more easily.
Use finely ground nuts. If using unblanched ground nuts, the cookies will have a dotted appearance. You may also use ground almond meal.
For the healthier option, use only "light" tasting olive oil, not extra-virgin or regular olive oil.
Do not over bake the cookies. They should just turn a light golden at the ends, which should take between 10 to 14 minutes.
Right out of the oven they are fragile, dust with the sugar and let them cool before handling.
Healthy Makeover
Vanilla crescent cookies are rich shortbread cookies made with butter and ground nuts. But I also tried a modified recipe without butter and had great results.
I substituted butter with a mixture of creamy cashew butter and light olive oil. Believe it or not, it gave me really buttery shortbread texture and was quite tasty.
So if you prefer to skip butter or have loved ones on a restricted saturated fat diet, this will work very well. Cashew butter works great as it is so creamy. But you may try other "ultra" creamy hazelnut or almond butters.
The dough may be a bit more difficult to shape, but it works well and I was successfully able to make cookies and the proof is in the pictures.
Sugar is critical to get a good texture for these baked cookies. So it is not really possible to skip that. Honey is not going to work very well. Whole wheat pastry flour works well and can be used instead of all purpose flour.
For a hint of butter flavor, you may lightly brush or spray some melted brown butter on top of the oven-fresh hot cookies.
Brown butter or butterschmalz (used in Germany) hasa more intense nutty flavor. And you might think that this step may drench the cookies, but it will absolutely not, if you do it carefully!
Try to use grass fed butter.
Vegan Option: Just use cashew butter and light olive oil. Use sugar that is appropriate for vegan cooking. Don't use any dairy butter for brushing on the top. Skip the egg yolks and use couple more teaspoons oil if needed.
What is Vanilla Sugar?
German vanilla crescent cookies are covered with an aromatic vanilla sugar, which is simply vanilla flavored sugar and is commonly used in European baking. One sachet of vanilla sugar can be replaced with 1 to 2 teaspoons of vanilla extract in suitable recipes.
Where to Buy Vanilla Sugar?
Here in the US, I have found Dr. Oetker brand vanilla sugar in international aisles of supermarkets or at European markets. It is also available online on Amazon or Walmart. Try to get the one that is flavored naturally.
How to Make Vanilla Sugar?
Scrape out the seeds of a vanilla bean with back of a knife and mix it well with one cup sugar. Transfer it to an airtight glass container. Insert the scraped out vanilla bean into the sugar and let it sit 1 to 2 weeks.
Alternatively you may mix a teaspoon of natural vanilla extract with half cup sugar and give it a quick pulse in a food processor. Spread this mixture on a tray and let it dry and run it through the food processor before storing it.
If you prefer the flavor to be more intense, just use more seeds from another vanilla bean or more vanilla extract.
More Cookie Recipes:
★ DID YOU MAKE THIS RECIPE? PLEASE COMMENT AND GIVE IT A STAR RATING BELOW!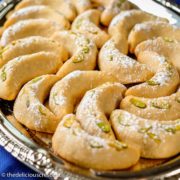 Vanillekipferl (German Crescent Cookies)
Vanillekipferl or Vanilla Crescent Cookies are buttery, nutty, melt-in-your-mouth German cookies that are rich, made with ground nuts and covered with fine vanilla sugar. So mouthwatering, pretty and festive! Healthy makeover and vegan options in notes section.
Print
Instructions
Combine the flour, baking powder, salt and sift into a mixing bowl.

Add the remaining ingredients and process it all together with a hand held mixer.

Alternatively you could use a stand mixer with a paddle attachment; try it in a food processor with short pulses or just combine it manually.

At first, mix the ingredients at low speed. Then knead it at medium speed into a smooth dough. If necessary you may finish the kneading process manually on a work surface.

Chill the dough if it is sticky. Divide the dough into four portions, wrap and refrigerate.

Take each portion out and roll it into a 10 inch cylindrical rope and cut into 10 portions.

Shape a small dough portion into a 2 to 3 inch rope form and taper at the ends, shaping them into crescents.

Place the crescents spacing 1 to 2 inches apart on a parchment paper lined baking sheet.

Bake at 350 degrees F for about

10 to 14 minutes

until the ends turn a light golden.

Mix the powdered sugar with vanilla sugar and sift it all over the hot cookies right after baking.

Let the cookies cool completely before transferring to cookie jars.

Store them in airtight containers up to 2 weeks.
Notes
Healthy Makeover: Use a mixture of ½ cup cashew butter (100 g) and ½ cup light olive oil (100 g) instead of butter.

Add an extra egg yolk if needed. If the dough is not very pliable at one to two teaspoons olive oil and mix it into the dough.

To make your own vanilla sugar -

combine the seeds of a vanilla bean with one cup sugar, mix it well and let it sit for 1 to 2 weeks.

Alternatively you may mix a teaspoon of natural vanilla extract with half cup sugar, let it dry and pulse it in a food processor.

For vegan option, use the oil plus nut butter combination above and skip egg yolks. You may have to use a couple teaspoons more oil if the dough is not workable.

Check the full blog post above for more tips.
Nutrition
Serving:
1
cookie
|
Calories:
91
kcal
|
Carbohydrates:
9
g
|
Protein:
1
g
|
Fat:
5
g
|
Saturated Fat:
2
g
|
Polyunsaturated Fat:
1
g
|
Monounsaturated Fat:
2
g
|
Cholesterol:
20
mg
|
Sodium:
8
mg
|
Potassium:
26
mg
|
Fiber:
0
g
|
Sugar:
3
g
|
Vitamin A:
135
IU
|
Calcium:
9
mg
|
Iron:
0.4
mg