Warm Turkish potato salad made with baby potatoes, red cabbage, herbs, roasted red peppers, all of it tossed together with a tasty dressing is so good and something different!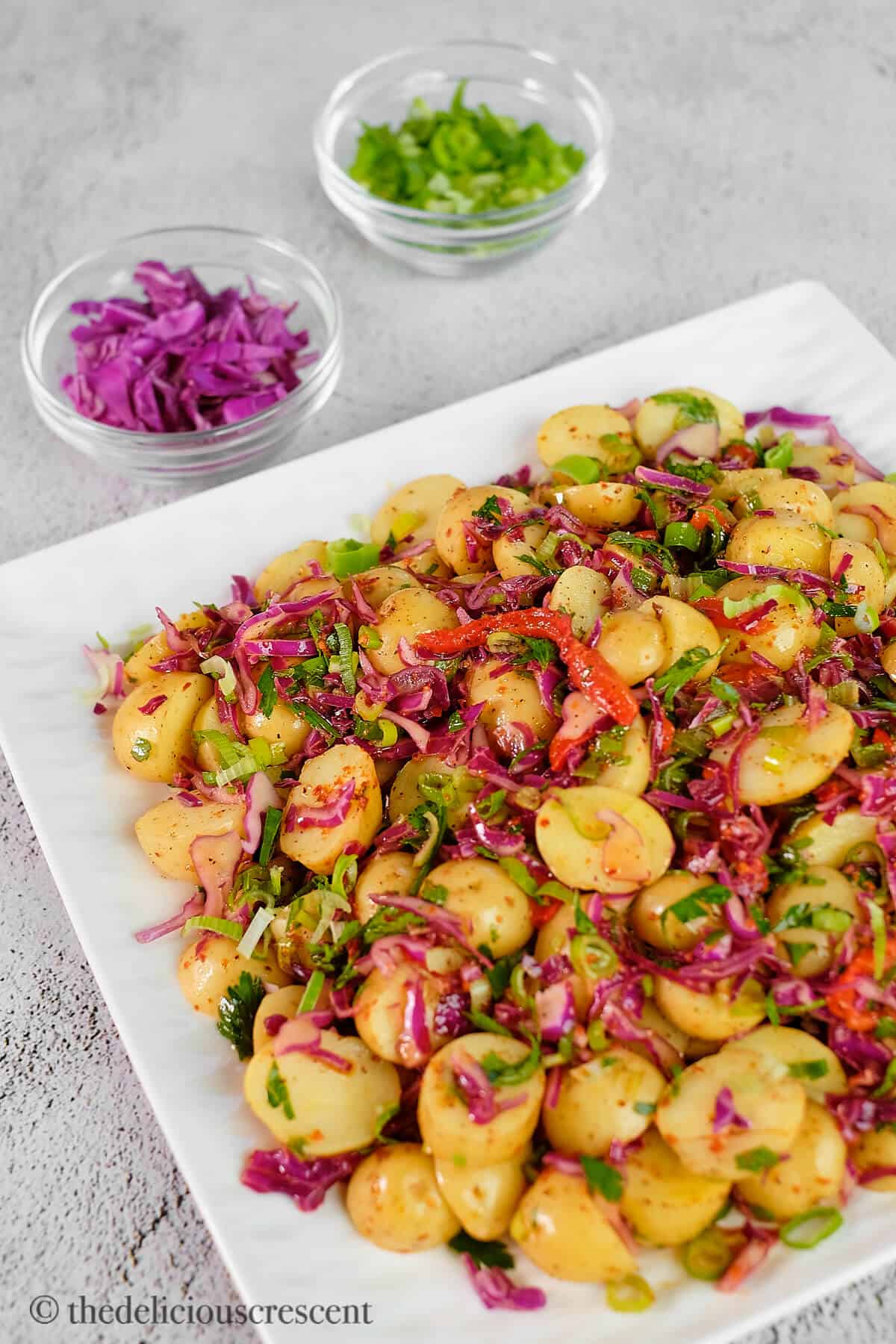 Warm Potato Salad (Turkish Style)
I love warm potato salads. They are refreshingly different from the cold salads, that are often made with mayonnaise.
They have a bolder flavor and take on warm spices very well. And are especially great to have around the colder months of the year. Perfect for lunch or as a side dish.
This Turkish potato salad is something I had tried about 20 years ago at a party hosted by some Turkish women. I found the combination of potatoes with shredded red cabbage, red peppers, herbs and spices so unique. Ever since then I have been making it at home and wanted to share it with you.
Various colors, textures and flavors come together to make this warm potato salad a good-looking and good-tasting salad.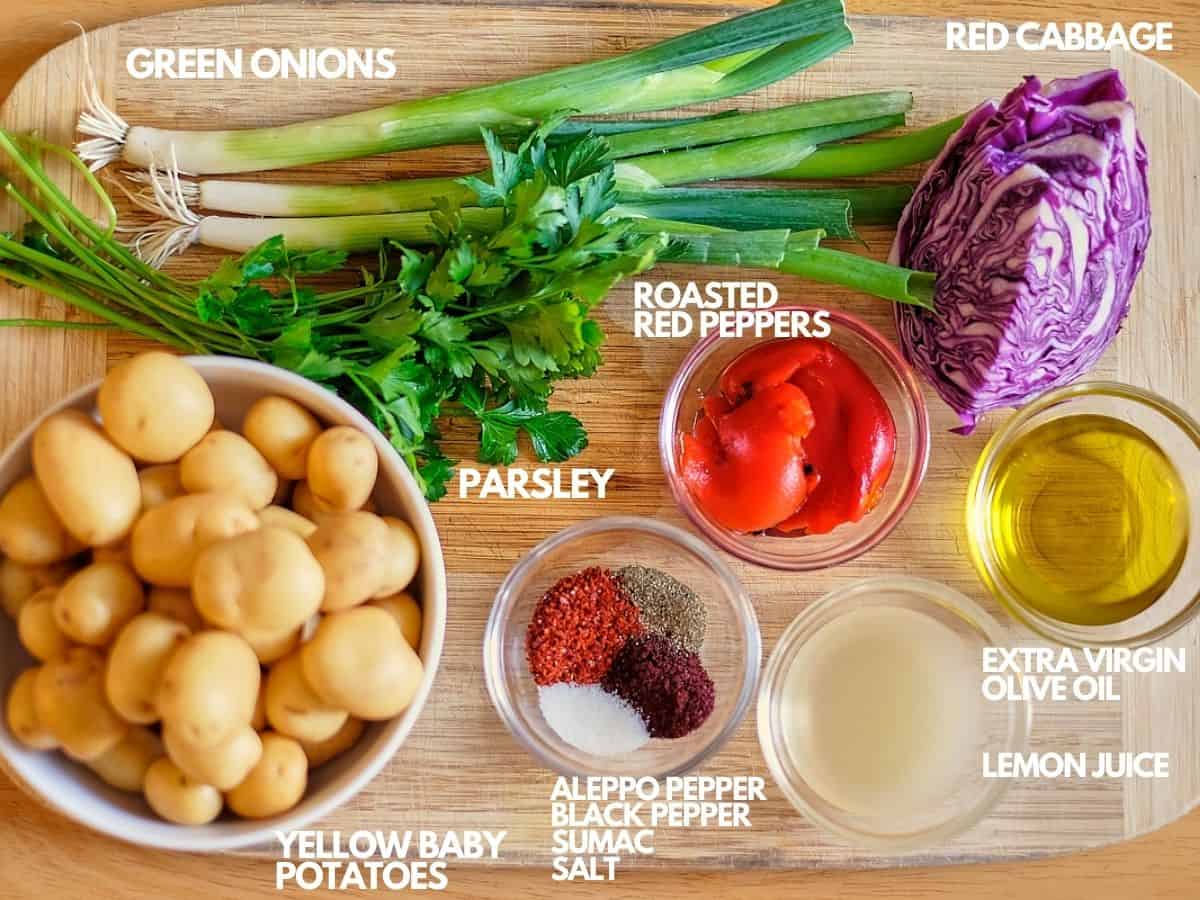 Recipe Ingredients
Potatoes: I like using yellow baby potatoes. They are easy to cook, have a nice bite and contrast well with the red cabbage. The texture of these potatoes is also better suited for salads. Don't use starchy potatoes such as russet potatoes.
Red Cabbage: This is easily available so definitely do not substitute with green cabbage. That is what I have seen my Turkish friends use. It makes for a vibrant pairing with yellow potatoes. You only need some cabbage, so save the rest for another recipe.
Green Onions: It adds a mild onion like flavor and goes perfectly with potatoes. You may try finely chopped shallot if you don't have green onions.
Parsley: This herb adds some more flavor. Go for Italian parsley rather than curly parsley. You can add or substitute with fresh mint.
Roasted Red Peppers: You can easily roast red bell peppers at home as I did for this Muhammara recipe, but you may also easily buy roasted red peppers at the grocery store.
Lemon Juice: We need fresh lemon juice for this salad.
Vinegar: I had some Tarragon vinegar so I used that, but you can also try white vinegar. Darker and intensely flavored vinegars will not work for this recipe.
Extra Virgin Olive Oil: Use the best quality olive oil you can find.
Chili Flakes: For this I used Aleppo pepper flakes which are mild but flavorful.
Sumac: This adds a nice tangy taste.
Salt and Pepper: For seasoning the salad according to your taste.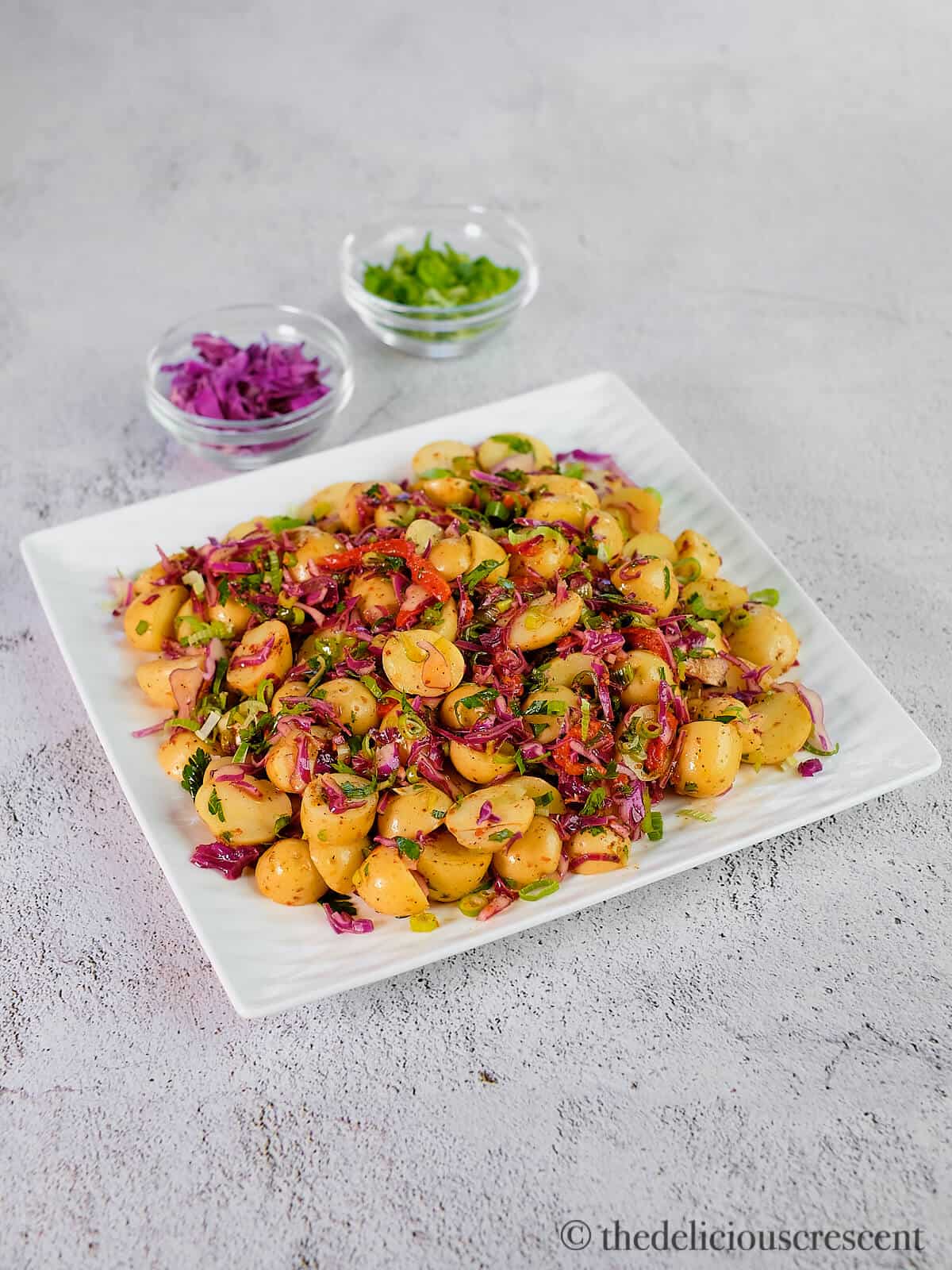 How to Make Warm Potato Salad
*Full recipe at the end of blog post.
Boil the potatoes in salted water.
Whisk the dressing.
Toss potatoes and other vegetables with the dressing.
What to Serve Along
Try this refreshing, flavorful and healthy no-mayo potato salad.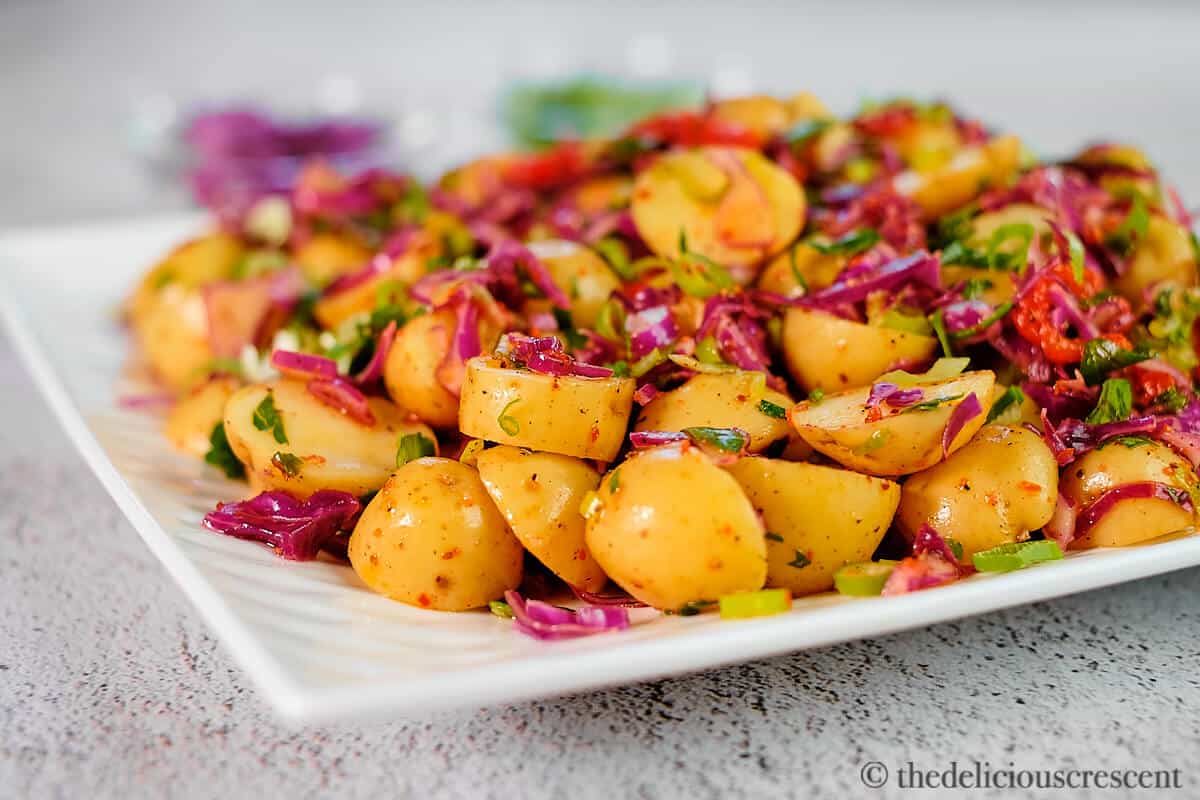 Variations
This mediterranean potato salad is vegan, gluten free, dairy free, egg free, nut free and soy free.
Add Protein: You may try adding some boiled eggs. Cut in halves and place it on the top of salad.
Low Sodium: Lower the amount of salt used. Make sure to use sufficient quantity of lemon juice and/or vinegar, herbs and spices, as these other ingredients enhance the flavor and taste.
Lower Carb: It will not be a potato salad anymore if you do this, but cauliflower is a popular substitute for potatoes in recipes. So you can try using lightly steamed or roasted cauliflower instead of potatoes.
Make Ahead and Leftovers
You can boil the potatoes ahead of time. Just warm it up before using in the salad. The cabbage can be shredded and dressing made earlier as well. Refrigerate leftovers for up to 3 to 4 days. Warm it up before serving.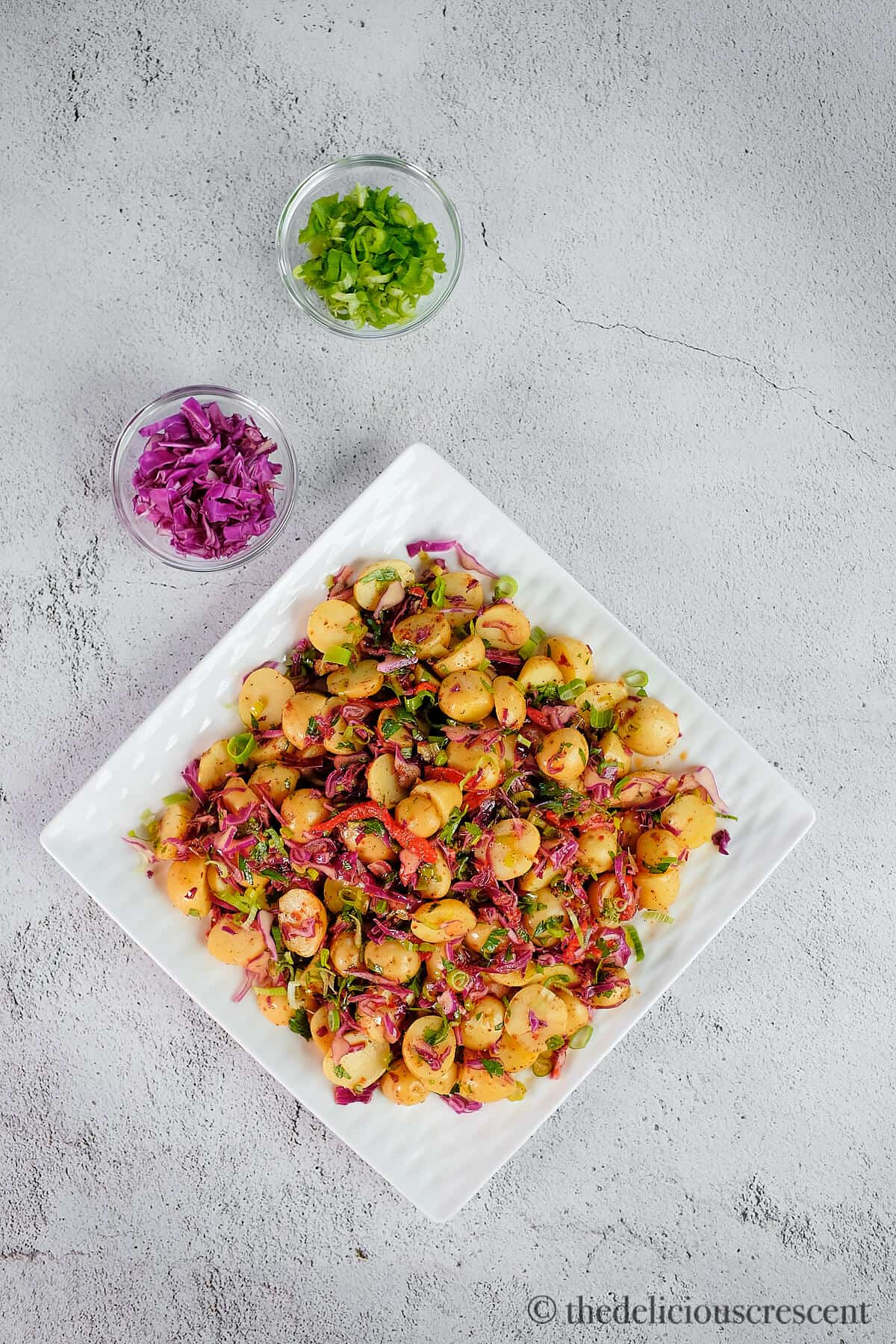 Can You Freeze Potato Salad?
Cooked potatoes don't freeze very well. The texture is altered and it is not as palatable. So I would not freeze leftover potato salad. And the red cabbage also may not hold very well.
Nutrition Facts
This warm Turkish potato salad is healthy and filling. Add boiled eggs and it becomes a meal.
Potatoes are packed with nutrients and are a good source of complex carbohydrates, fiber, vitamin C, vitamin B6, potassium, manganese, magnesium, phosphorus, niacin and folate. Especially when cooked with the skin it retains more nutrients as well as fiber. They are also rich in antioxidants such as carotenoids, phenolic acids and flavonoids.
Red cabbage is low in calories but is a good source of fiber, vitamins A, C, K and B6. It is a great source of health-promoting antioxidant nutrients such as vitamin C, carotenoids, anthocyanins and kaempferol.
Together these vegetables offer a lot of health benefits.
More Salad Recipes
★ DID YOU MAKE THIS RECIPE? PLEASE COMMENT AND GIVE IT A STAR RATING BELOW!
Warm Turkish Potato Salad
Warm Turkish potato salad made with baby potatoes, red cabbage, herbs, roasted red peppers, all of it tossed together with a tasty dressing is so good and something different!
Print
Ingredients
2

lbs

yellow baby potatoes

halved

1

tablespoon

salt

1

cup

shredded red cabbage

¼

cup

chopped green onions

¼

cup

chopped parsley

flat leaf

2

tablespoons

roasted red pepper

strips
Instructions
Take the potatoes in a large cooking pot and cover with an inch of cold water and add one tablespoon salt. Bring it to a rolling boil, lower the heat and let it simmer until tender but still with a bite, about

5 minutes

. Drain the water well.

Meanwhile, in a large salad bowl combine olive oil, lemon juice, white vinegar, Aleppo pepper, sumac, salt and pepper. Whisk it well and adjust the seasoning as per taste.

Into the salad bowl, add the boiled and drained warm potatoes, shredded cabbage, roasted red pepper strips, green onions and parsley. Gently toss it all together.

Serve the warm salad immediately.
Notes
Potatoes: Don't use starchy potatoes such as russet potatoes. You can also steam the potatoes instead of boiling. Be sure to not overcook the potatoes.
Spices: Aleppo red pepper and sumac are available online and at Mediterranean or middle-eastern stores.
Make Ahead: Boil the potatoes, shred the cabbage and make the dressing ahead of time. Warm up potatoes before tossing it all together.
Leftovers: Refrigerate leftovers for up to 4 days. Warm it up before serving. Do not freeze leftovers.
Nutrition facts do not include salt absorbed while cooking potatoes.
For more information on ingredients, variations and serving suggestions, scroll up the page to the blog post.
Nutrition
Serving:
1
Cup
|
Calories:
156
kcal
|
Carbohydrates:
22
g
|
Protein:
3
g
|
Fat:
7
g
|
Saturated Fat:
1
g
|
Polyunsaturated Fat:
1
g
|
Monounsaturated Fat:
5
g
|
Sodium:
216
mg
|
Potassium:
543
mg
|
Fiber:
3
g
|
Sugar:
2
g
|
Vitamin A:
484
IU
|
Vitamin C:
35
mg
|
Calcium:
28
mg
|
Iron:
1
mg
More Potato & Sweet Potato Recipes