Zaalouk is an amazingly delicious Moroccan salad or dip made with roasted eggplants. Easy to make, it tastes great with toasted bread. And gets even better the next day.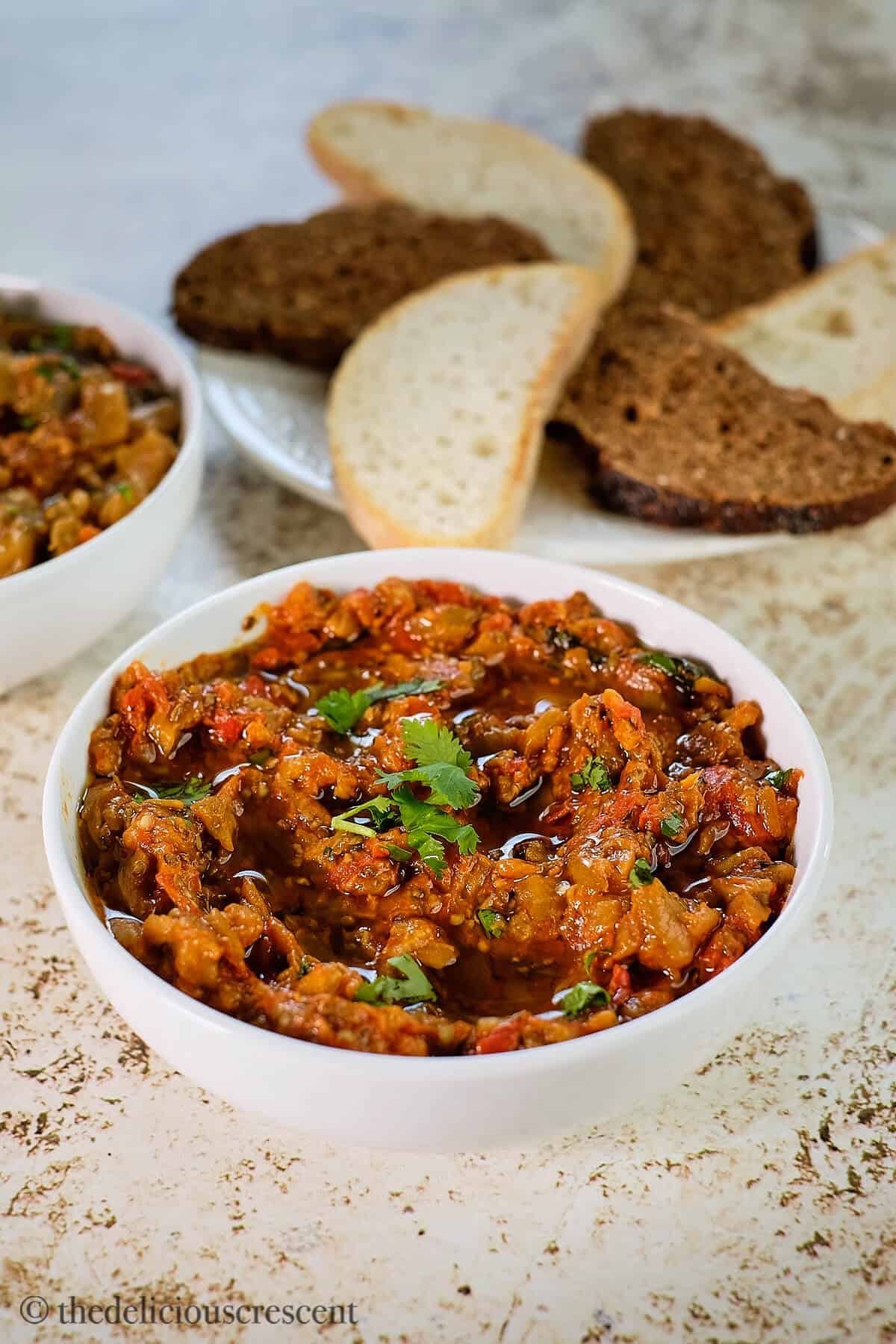 Moroccan Zaalouk
A few fresh ingredients are all you need to make this incredibly tasty dip. And it is famous for good reasons — easy to make, tasty and versatile. This can be a salad or a dip depending on the texture you opt for.
Mash it up to a smooth texture as is done traditionally, then it turns into a lip smacking dip. Or chop the roasted vegetables to make a chunky warm salad reminiscent of the French ratatouille. But the latter style is not so typical.
Recipe Ingredients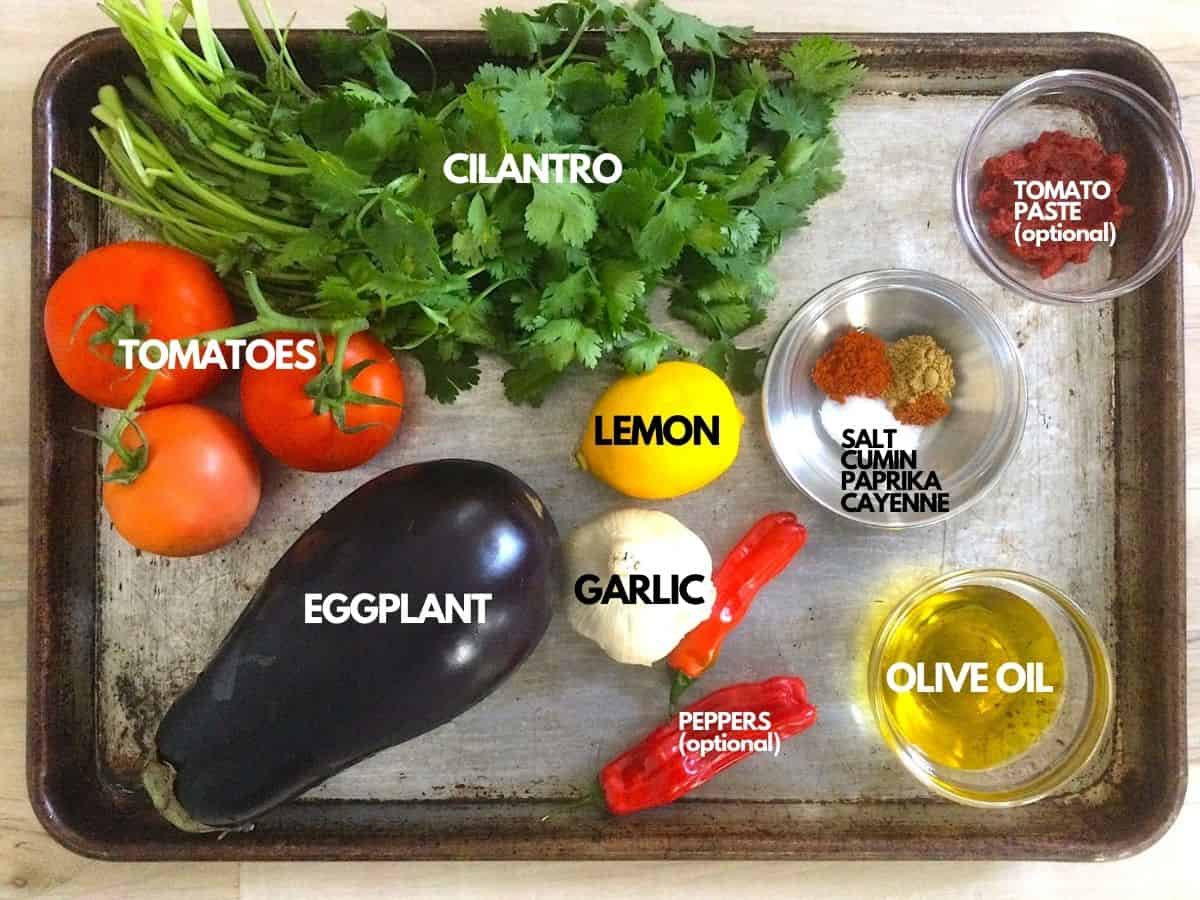 Eggplant:

The globe/American eggplants are best suited for this recipe. Avoid smaller Indian, Italian or Chinese eggplant varieties.
Choose fresh, firm, medium size eggplants that are heavy for its size and with a smooth, shiny and vibrant purple skin. Make sure that the stem is still green.
Male eggplants have fewer seeds and are less bitter. To find one, look at the indentation at the bottom. If it is round it is a male, if it is like a dash, then it is a female.

Tomatoes: Pick the fresh and juicy variety. I chose vine ripe tomatoes. You can blanch the tomatoes, peel and deseed them if you wish.
Garlic: Fresh garlic is a must for this recipe. Peel and mince them fine.
Olive Oil: I use best quality extra virgin olive oil for this eggplant dip
Spices: As much as possible use freshly ground spices for optimal flavor. For this recipe we need cumin, sweet paprika and cayenne. You can use a pinch of chili powder instead of cayenne.
Herbs: Here I used fresh cilantro, but you can use a combination of cilantro and parsley or only parsley if you don't like cilantro.
Lemon: We need fresh lemon juice to make this dip. Be careful when using lemon juice with eggplant. A little goes a long way.
Smooth like a dip or chunky as ratatouille, this recipe is sure to please eggplant lovers.
How to Make Zaalouk
*Full recipe at the end of blog post.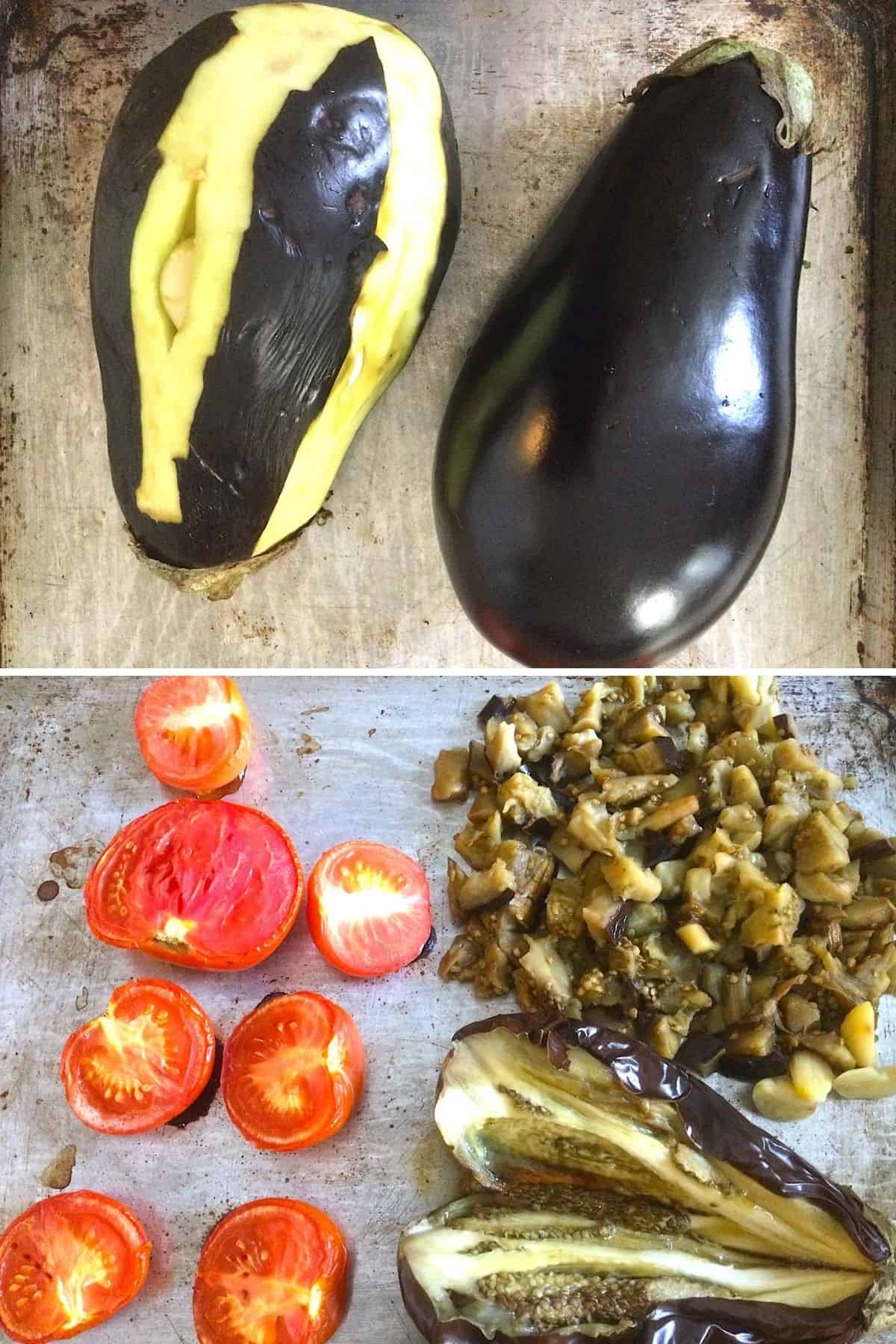 Cook Eggplants: Roast, broil or grill the whole eggplant until cooked through. Scoop out the cooked eggplant and mash it well.
Cook with Tomatoes: Cook chopped tomatoes with olive oil, garlic, spices, and salt until softened.
Mash it up: Stir in mashed eggplants and cilantro. Cook until thick dip-like consistency, mashing and stirring in between.
Serve: Add lemon juice and salt as per taste. Refrigerate it overnight and serve at room temperature.
Chunky zaalouk variation in recipe card below.
Roast eggplants on charcoal grill for amazing smoky flavor.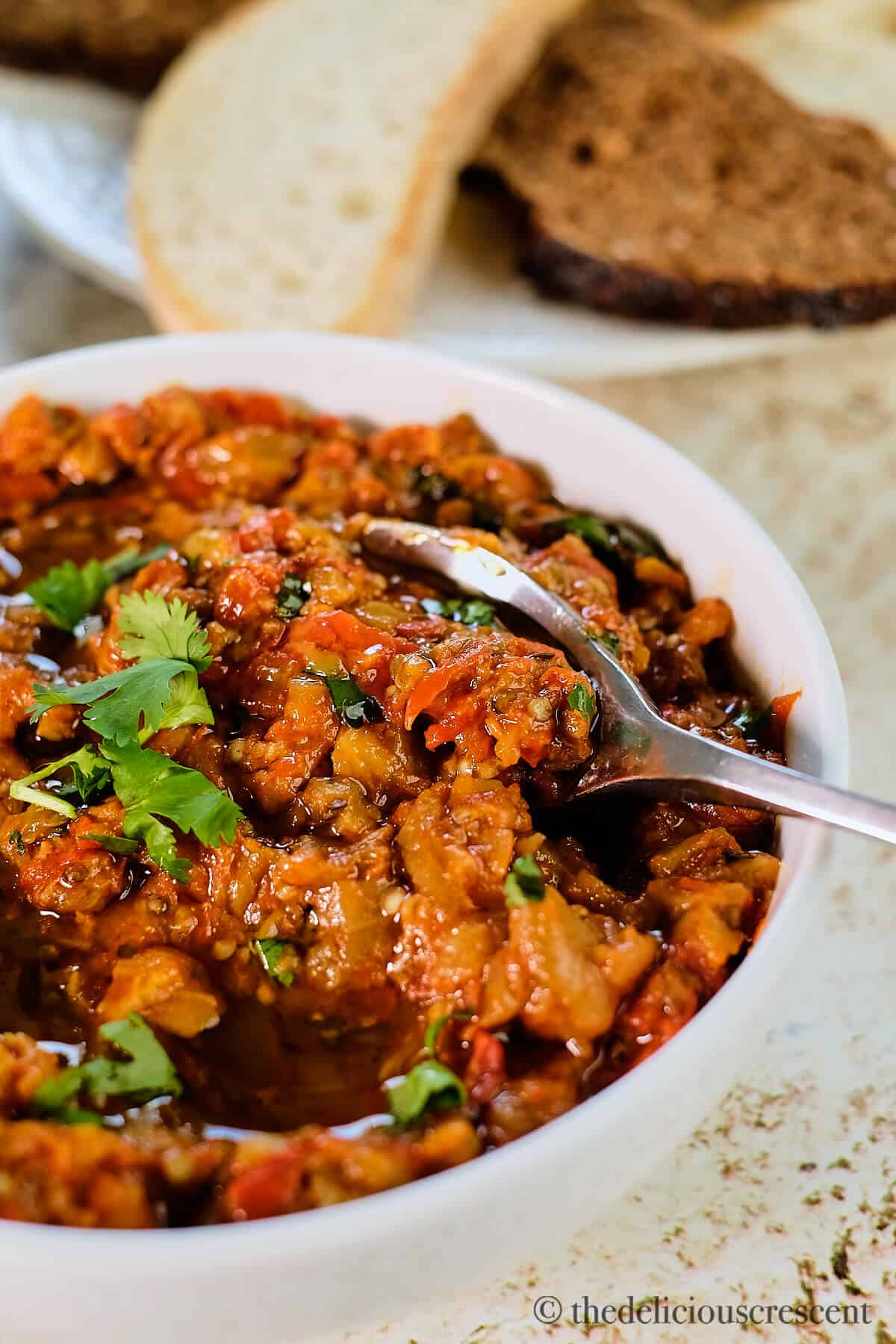 How To Serve
Serve the smooth textured or chunky zaalouk with crusty or toasted bread. A few non-traditional ideas below.
Spread some whipped yogurt or goat cheese on bread and top it with the smooth dip. Or layer the bread slice with chunky zaalouk and top it with some crumbled feta cheese.
Try the smooth eggplant dip topped with sour cream, and toasted pita chips on the side.
You could make sandwiches or wraps with too.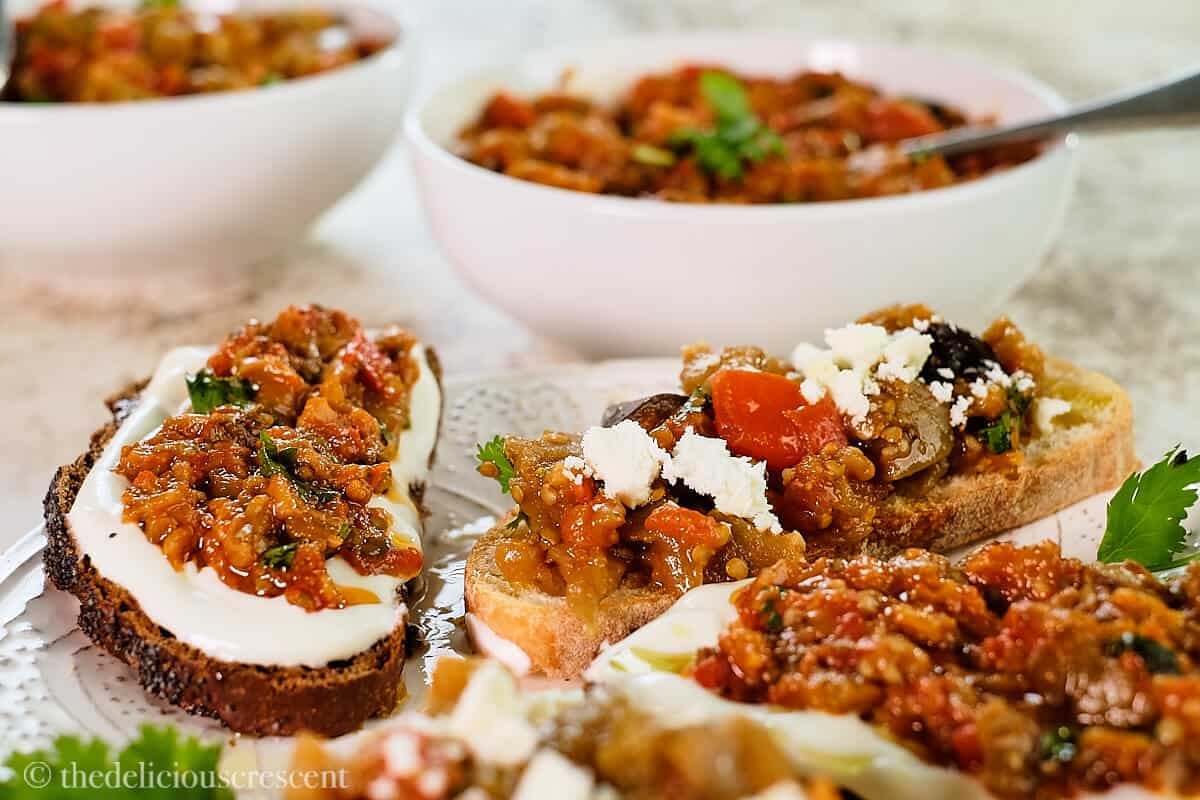 Nutrition Facts
This is a very healthy dip recipe. It is vegan, low carb, gluten free, egg free, dairy free, nut free and soy free. To make it low sodium, reduce the salt and use more lemon juice.
Eggplants are low in calories and carbohydrates but high in fiber. This makes it a great choice for those on low carb diets and for diabetics.
They are also a good source of potassium, folic acid, manganese and phytochemicals. The vibrant purple skin of eggplants is rich in anthocyanins which have potent anti-inflammatory and antioxidant properties.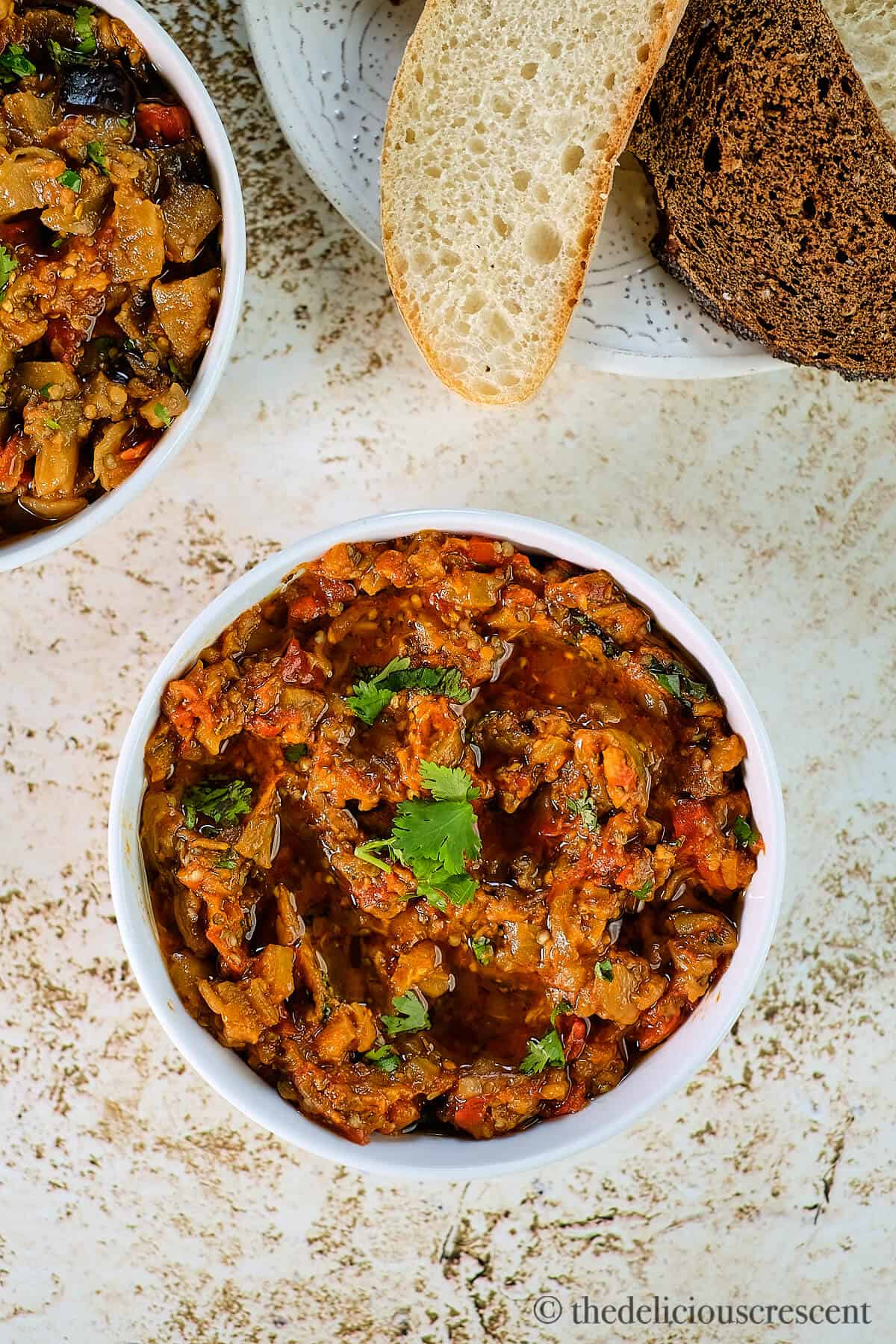 More Dips and Spreads
★ DID YOU MAKE THIS RECIPE? PLEASE COMMENT AND GIVE IT A STAR RATING BELOW!
Zaalouk (Moroccan Eggplant Dip)
Zaalouk is an amazingly delicious Moroccan salad or dip made with roasted eggplants. Easy to make, it tastes great with toasted bread. And gets even better the next day.
Print
Save
Saved!
Instructions
Preheat oven to 400˚F. Prick the eggplants with a fork in couple spots and place them on a parchment paper lined baking sheet. Bake for

35 to 45 minutes

until the skin turns darker and shrinks. Check foot notes for grilling, broiling or stove top options.

The eggplants should be cooked through completely in the center. To check, press the back of a fork on the eggplant. It should compress easily all the way into the center without any resistance.

Cut through the eggplant skin and scoop out the soft cooked flesh and mash it with a fork and set aside.

Chop the tomatoes into small pieces, discarding some seeds if you wish. See note below for peeled and deseeded tomatoes.

Heat 2 tablespoons olive oil in a saucepan at medium setting. Add the chopped tomatoes, minced garlic, paprika, cumin, cayenne or chili powder, ⅓ teaspoon salt and cook until tomatoes are softened, stirring in between, about

15 to 20 minutes

.

Add the mashed eggplants and cilantro. Continue to cook over low heat for another

10 to 15 minutes

, stirring occasionally, mashing it if needed, into a thick but slightly textured dip like consistency.

Stir in lemon juice and salt. Adjust as per taste, let it cool and transfer to a bowl, cover and refrigerate it overnight before serving.

Take the zaalouk from the refrigerator about

30 minutes

before serving and let it come to room temperature. Drizzle with remaining olive oil. Garnish with cilantro and red pepper flakes if you prefer.

Chunky Zaalouk: To make a chunkier but less traditional zaalouk, insert garlic cloves into eggplant and roast it in the oven at 400˚F, along with the tomatoes. Chop the eggplants and tomatoes. Add the spices, herbs, half the olive oil, salt and mash it up to desired consistency. Drizzle olive oil and serve.
Notes
Cooking Eggplants:

Grill: Roast eggplants on charcoal or gas grill for 20 to 30 minutes, turning them slowly in between, until skin turns darker and shrinks.
Broil: Cut eggplants lengthwise into halves and place the cut side down on a foil lined baking sheet. Place on the second rack and broil until skin turns darker and shrinks, about 20 minutes.
Stovetop: Peel the eggplants completely, only some stripes or leave the skin on if you don't mind it. Cut the eggplants into small pieces. Steam on high heat until soft or cook in a pan with some water until soft and mushy.

Easy Zaalouk: Combine all ingredients with ⅓ cup of water and cook it over stove top until softened. Mash it up well and drizzle olive oil.
Peeled and deseeded tomatoes: If you prefer, you can blanch the tomatoes. Cut a small cross on the surface of tomatoes and dump them in hot boiling water. After a minute, pick out the tomatoes and peel the skin, cut them into halves and deseed. Chop them into small pieces.
Use more tomatoes if you want the dip to be saucy. You may even try using a little bit of tomato paste to give it thickness.
Leftovers: Can be refrigerated for 4 to 5 days. You can freeze zaalouk for couple months. Thaw and reheat. Adjust the consistency, evaporating or adding water as needed. Check the seasoning as well.
Nutrition facts not including any added salt.
For other variations, tips and serving suggestions, scroll up the page to the blog post.
Nutrition
Calories:
77
kcal
|
Carbohydrates:
6
g
|
Protein:
1
g
|
Fat:
6
g
|
Saturated Fat:
1
g
|
Polyunsaturated Fat:
1
g
|
Monounsaturated Fat:
4
g
|
Sodium:
5
mg
|
Potassium:
280
mg
|
Fiber:
3
g
|
Sugar:
4
g
|
Vitamin A:
526
IU
|
Vitamin C:
9
mg
|
Calcium:
15
mg
|
Iron:
1
mg
More Eggplant Recipes