Zaatar and Parmesan Cheese Bread Rolls – a delightful savory brunch treat – with flaxseeds, healthy fats, fiber rich and a robust flavor!
Zaatar Bread Rolls
These bread rolls are inspired by the flavors of the Mediterranean. Importantly, it features Zaatar - a condiment that is a blend of herbs, sesame seeds, sumac and salt - which is ubiquitously used in the eastern Mediterranean cuisine.
To give it a cheesy flavor, I have used yet another popular Mediterranean ingredient – Parmesan cheese. The nutty and salty flavor of this cheese pairs quite well with the herby flowery notes of Zaatar. The wheat bran and flaxseed meal in this recipe further enhance the nutritional value.
Cheese Nutrition Facts
Cheese is often feared for its fat and calories. But there are certain types of cheese that can be effectively used to give a robust cheese flavor without compromising the nutrition value. And Parmesan cheese is among the top on that list. With this cheese, a little goes a long way, as it is big on boosting flavor.
Parmesan cheese is relatively low in calories and fat, when compared to other cheese varieties. It is packed with high biological value protein, highly bio available calcium as a lactate; and is a good source of vitamin A. Due to the high sodium content in Parmesan cheese, it would be important to balance the other ingredients in a recipe.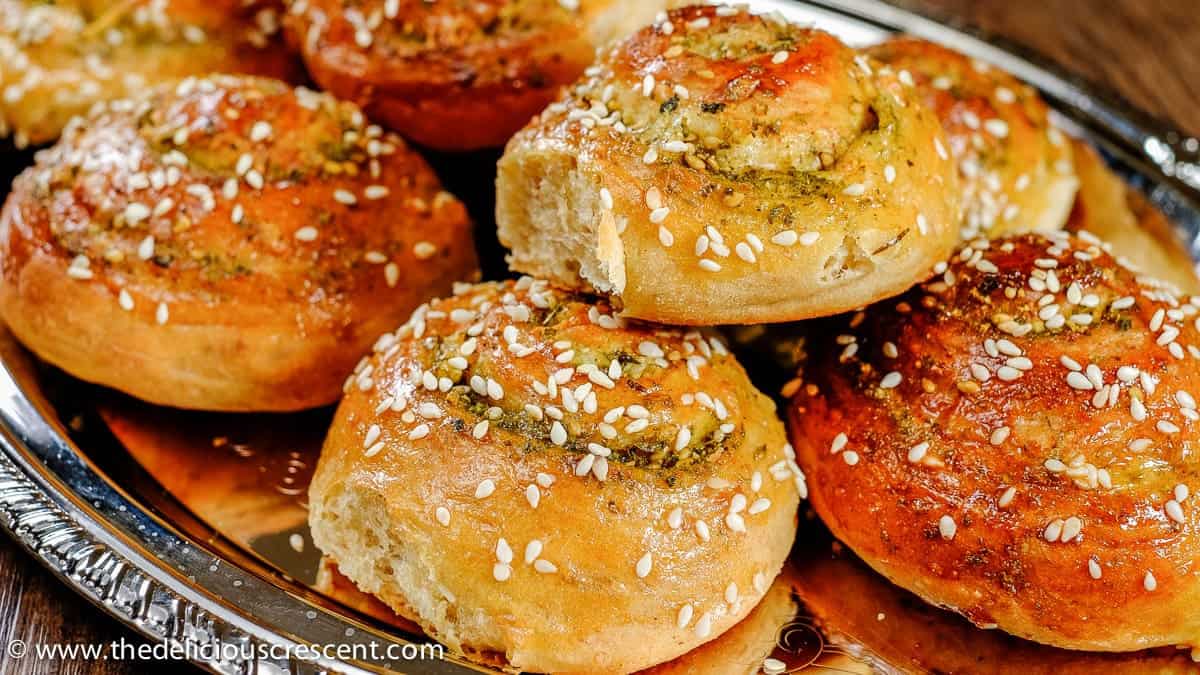 This cheese is also considered a lactose free product. It does have some oligosaccharides derived from the milk and the fermentation process. And these non digestible short chain carbohydrates have been speculated to have a prebiotic function.
One thing to remember while buying Parmesan cheese is that some of the brands can be loaded with fillers. So it is best to buy a block of cheese with Parmigiano - Reggiano imprinted on the rind and then grate it yourself. Alternatively it may be possible to buy grated versions that do not have any fillers. Make sure to check the labels.
Now who wouldn't want to wake up to some soft pillowy Zaatar and Parmesan Cheese Bread Rolls bursting with flavor on a bright weekend morning? Or for that matter any morning!
More Yeast Bread Recipes:
★ DID YOU MAKE THIS RECIPE? PLEASE COMMENT AND GIVE IT A STAR RATING BELOW!
Zaatar and Parmesan Cheese Bread Rolls
Zaatar and Parmesan Cheese Bread Rolls – a delightful savory brunch treat – with flaxseeds, healthy fats, fiber rich and a robust flavor!

Print
Course :
Breakfast, Brunch
Cuisine :
Mediterranean, Middle Eastern
Ingredients
Instructions
DOUGH
Sprinkle the yeast over warm milk. Then scatter sugar on top. Allow it to stand in a warm dark place for 10 to 15 minutes until the yeast bubbles up on the surface.

Next add 4½ tablespoons olive oil, 1½ tablespoons honey, 2 eggs, and approximately 3½ cups of the flour, salt and mix gently.


Also let it stand for a few minutes to allow the flour to absorb the moisture. And add the bran and flaxseed meal and mix. Then add another half cup flour or more, as needed to make a dough that is not too sticky.


Knead it rather well. It is alright if it is a little sticky. Try to use as little flour as possible to make the dough. Because it is important to make sure the dough is not very dense. I use a KitchenAid

Stand Mixer

to make the dough and it works great.

Allow the dough to rise and double in size. The time required for this may vary between 1 to 2 hours or more.

PREPARATION OF BREAD ROLLS
Preheat oven to 400 degrees F (200 degrees C). When the dough has doubled in size, punch it down. Divide the dough into 2 portions and let it rest.


On a floured surface, roll one portion into a 12 X 8 inch rectangle.


Lightly apply some olive oil. Sprinkle half the cheese and zaatar evenly over the rolled out dough. If you prefer you may scatter some red pepper flakes.

Starting from the longer end of the rectangle roll up tight. Make sure to pinch and seal the edges well. Cut into 8 slices.

Repeat with the other portion of dough. (Alternatively, the dough can be rolled out into a circle and cut triangles and make crescent shape rolls).

Place the Zaatar and Parmesan Cheese Bread Rolls over a parchment lined

baking sheet

. Make sure to space them apart by at least 2 inches to allow enough room for the rolls to rise until double the size. This may take up to 30 minutes or more.

Brush beaten egg on the surface of the Zaatar and Parmesan Cheese Bread Rolls. Sprinkle the sesame seeds on the top. Bake for 15 to 20 minutes until the rolls are nicely browned on the top.

Notes
Warm milk: 120 - 130 degrees F (50 - 54 degrees C), check yeast package instructions.
When you use oil in place of butter in a recipe, it is usually needed in a reduced amount than the butter that would be needed. Also I would only use light olive oil since the flavor is not so strong. For this recipe the oil replaces ½ cup butter.
When you use honey in place of sugar, it is usually needed in smaller quantity and adjustments are made to the amount of liquid added.
Important steps to ensure success with this recipe:

Make sure to let the yeast foam up well before adding other ingredients
Be sure to give enough time to let the dough double in bulk in the first rise. Allow it to rise in a warm environment
And give enough time to let the prepared rolls double in bulk once again in the second rise
Placing the dough or the rolls in an oven that has not been preheated and with a pan of hot water one level below the container/baking sheet can help the dough rise better.

This recipe can easily be halved
Nutrition
Serving:
1
Roll
|
Calories:
247
kcal
|
Carbohydrates:
32
g
|
Protein:
7
g
|
Fat:
10
g
|
Saturated Fat:
2
g
|
Cholesterol:
34
mg
|
Sodium:
264
mg
|
Potassium:
126
mg
|
Fiber:
3
g
|
Sugar:
3
g
|
Vitamin A:
195
IU
|
Vitamin C:
1
mg
|
Calcium:
120
mg
|
Iron:
3
mg