German Blueberry Kuchen is the best breakfast bread ever. Sweet and juicy blueberries with a streusel topping and toasted almonds on a soft cake like bread. Recipe in two ways - healthier and classic.
Sweet yeast breads are great for weekend brunches, such as this one, Soft Honey Wheat Rolls and Chocolate Hazelnut Rolls.
GERMAN BLUEBERRY KUCHEN
In Germany this treat is called Blaubeeren Kuchen, which actually translates to Blueberry cake. But it is a yeast based cake-like bread and more akin to the yeast based breakfast breads that are popular here in the US.
If you are looking for a baked blueberry treat that is made from scratch and without using baking powder or baking soda then this is the one for you.
A large soft yeast based rich dough is rolled out and topped with juicy blueberries, streusel, nuts and baked to give you this delicious blueberry kuchen with streusel topping. The healthier version of this recipe works great for a weekend brunch. The classic version is delicious with evening tea or coffee.
TIPS AND TRICKS
Make sure to check yeast package instructions for suggested temperature.
Use light olive oil for baking this bread as the flavor is not so strong.
If using frozen berries, do not thaw them prior to use, to avoid bleeding and discoloration.
Blueberry yeast bread freezes very well. It can be packed in freezer safe bags and frozen.
You can make half the recipe in a smaller baking sheet.
The classic version of this German blueberry kuchen is also served as a dessert. Note the recipe ingredient list below in the recipe notes section.
Important tips for success with the blueberry bread dough:

Do let the yeast foam up well before adding other ingredients.
Allow the dough to rise in a warm environment and be sure to give sufficient time for the dough to double in bulk in the first rise.
Once again let the rolled out dough to double in bulk in the second rise
If you have trouble with the dough doubling in bulk, then place the dough or the rolled out bread dough in an oven that has not been preheated. Next place a pan of hot water one level below the dough container or baking sheet and this will help the dough rise better.
Nutrition Facts
The healthier version of this German blueberry bread includes many small changes to the original recipe.
The use of dates instead of sugar, olive oil instead of butter, addition of bran, flax seed, oats and whole wheat flour, together make this bread lower in added sugar, saturated fat; and higher in fiber.
The star ingredient though are the blueberries and we are using two pounds of those lovely berries, so I will further elaborate on their nutrition potential.
Blueberries contain anthocyanin, a flavonoid with powerful antioxidant effect, which gives these berries the characteristic blue color. The myriad health benefits of blueberries have been attributed to this flavonoid.
These berries are good for bone health as they contain phosphorous, iron, calcium, manganese, magnesium, zinc, and vitamin K. Blueberries are also great for heart health as they are a good source of fiber, folate, potassium, vitamin C, vitamin B6, and other phytonutrients.
Apart from the anthocyanins, vitamins, and minerals, blueberries contain a variety of phenolic compounds - quercetin, myricetin, kaempferol, and chlorogenic acid. Together they contribute to the antioxidant potential of blueberries. And so are beneficial for cancer prevention.
Studies have found that blueberries can help reduce the risk of cognitive damage, and improve short-term memory. And these fiber rich berries are great for maintaining regularity, intestinal health and weight management.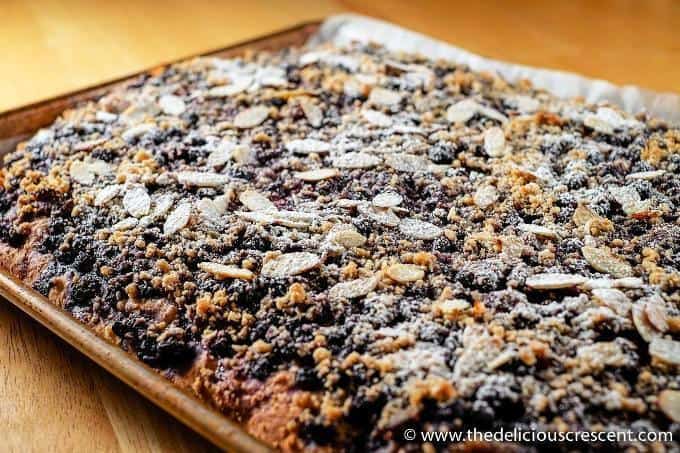 More German Baking Recipes:
★ DID YOU MAKE THIS RECIPE? PLEASE COMMENT AND GIVE IT A STAR RATING BELOW!
Zaalouk (Moroccan Eggplant Dip)
Zaalouk is an amazingly delicious Moroccan salad or dip made with roasted eggplants. Easy to make, it tastes great with toasted bread. And gets even better the next day.
Print
Instructions
Preheat oven to 400˚F. Prick the eggplants with a fork in couple spots and place them on a parchment paper lined baking sheet. Bake for

35 to 45 minutes

until the skin turns darker and shrinks. Check foot notes for grilling, broiling or stove top options.

The eggplants should be cooked through completely in the center. To check, press the back of a fork on the eggplant. It should compress easily all the way into the center without any resistance.

Cut through the eggplant skin and scoop out the soft cooked flesh and mash it with a fork and set aside.

Chop the tomatoes into small pieces, discarding some seeds if you wish. See note below for peeled and deseeded tomatoes.

Heat 2 tablespoons olive oil in a saucepan at medium setting. Add the chopped tomatoes, minced garlic, paprika, cumin, cayenne or chili powder, ⅓ teaspoon salt and cook until tomatoes are softened, stirring in between, about

15 to 20 minutes

.

Add the mashed eggplants and cilantro. Continue to cook over low heat for another

10 to 15 minutes

, stirring occasionally, mashing it if needed, into a thick but slightly textured dip like consistency.

Stir in lemon juice and salt. Adjust as per taste, let it cool and transfer to a bowl, cover and refrigerate it overnight before serving.

Take the zaalouk from the refrigerator about

30 minutes

before serving and let it come to room temperature. Drizzle with remaining olive oil. Garnish with cilantro and red pepper flakes if you prefer.

Chunky Zaalouk: To make a chunkier but less traditional zaalouk, insert garlic cloves into eggplant and roast it in the oven at 400˚F, along with the tomatoes. Chop the eggplants and tomatoes. Add the spices, herbs, half the olive oil, salt and mash it up to desired consistency. Drizzle olive oil and serve.
Notes
Cooking Eggplants:

Grill: Roast eggplants on charcoal or gas grill for 20 to 30 minutes, turning them slowly in between, until skin turns darker and shrinks.
Broil: Cut eggplants lengthwise into halves and place the cut side down on a foil lined baking sheet. Place on the second rack and broil until skin turns darker and shrinks, about 20 minutes.
Stovetop: Peel the eggplants completely, only some stripes or leave the skin on if you don't mind it. Cut the eggplants into small pieces. Steam on high heat until soft or cook in a pan with some water until soft and mushy.

Easy Zaalouk: Combine all ingredients with ⅓ cup of water and cook it over stove top until softened. Mash it up well and drizzle olive oil.
Peeled and deseeded tomatoes: If you prefer, you can blanch the tomatoes. Cut a small cross on the surface of tomatoes and dump them in hot boiling water. After a minute, pick out the tomatoes and peel the skin, cut them into halves and deseed. Chop them into small pieces.
Use more tomatoes if you want the dip to be saucy. You may even try using a little bit of tomato paste to give it thickness.
Leftovers: Can be refrigerated for 4 to 5 days. You can freeze zaalouk for couple months. Thaw and reheat. Adjust the consistency, evaporating or adding water as needed. Check the seasoning as well.
Nutrition facts not including any added salt.
For other variations, tips and serving suggestions, scroll up the page to the blog post.
Nutrition
Calories:
77
kcal
|
Carbohydrates:
6
g
|
Protein:
1
g
|
Fat:
6
g
|
Saturated Fat:
1
g
|
Polyunsaturated Fat:
1
g
|
Monounsaturated Fat:
4
g
|
Sodium:
5
mg
|
Potassium:
280
mg
|
Fiber:
3
g
|
Sugar:
4
g
|
Vitamin A:
526
IU
|
Vitamin C:
9
mg
|
Calcium:
15
mg
|
Iron:
1
mg
German Blueberry Kuchen (Two Ways)
German blueberry kuchen is the best breakfast bread ever. Sweet and juicy blueberries with a streusel topping and toasted almonds on a soft cake like bread. Recipe in two ways - healthier and classic. Healthier version with less sugar, less saturated fat, extra fiber and more goodness.
Print
Ingredients
Instructions
DOUGH PREPARTION
Sprinkle the yeast over warm milk. Then scatter sugar on the top. Let it stand for about 10 to 15 minutes in a warm dark place, making sure that the yeast bubbles/foams up on the surface.


Add olive oil or butter (melted and cooled), honey or sugar, 2 eggs, vanilla and then about 3½ cups of the flour, salt and mix lightly.


Let stand for a few minutes for the flour to absorb the moisture. If using wheat bran and flaxseed meal, then add and mix into the dough.


Next add about half cup of flour to make a soft dough. Knead well.


If the dough is slightly sticky its okay. As the moisture will get absorbed later.


It is very important to use as little flour as possible and not make the dough very dense.


Allow the dough to rise and double in size. This is a rich dough so it may take time. The time may vary from 1 to 2 hours or more.

BLUEBERRY KUCHEN WITH STREUSEL
Preheat oven to 425ºF (200ºC).


When the yeast dough has doubled in size, punch it down and lightly dust it with flour.


Transfer the dough to work surface and knead briefly. Roll the dough into a 15 x 11 inch rectangle. Using the help of a

rolling pin

transfer it to a parchment paper lined

baking sheet

.

Let the dough rise once again for about 20 to 30 minutes until it looks a bit puffed up. Lightly brush olive oil or melted butter all over the dough.


Take the fresh (rinsed and drained) or frozen (not thawed) blueberries in a

large mixing bowl

. Sprinkle corn starch over the berries and stir.

Evenly spread the blueberries all over the dough. Next scatter the sugar and chopped dates (if using).


Place the oats (healthier version), flour, sugar, butter and cinnamon in a food processer. Pulse a few times and process until the mixture is like coarse breadcrumbs. Sprinkle this topping all over the dough followed by the sliced almonds.


Bake for 25 minutes until the bread is nicely browned on the edges and blueberry juices are bubbling on the top.


Remove from the oven and allow to cool well before cutting the blueberry bread.

Notes
Nutrition facts are for the healthier version.

For more tips and serving suggestions check out the

blog post

above.
INGREDIENTS FOR CLASSIC GERMAN BLUEBERRY KUCHEN:
DOUGH
1 cup milk reduced fat, warm (120 to 130 degrees F*, 240 ml)

1 packet dry yeast fast acting (or one tablespoon)

1 teaspoon sugar

¼ cup butter (50 g)

¼ cup sugar (50 g)

2 eggs small or medium

2 teaspoons vanilla extract (or sugar, Dr. Oetker brand)

3½ to 4 cups bread flour (400 g approx)

¼ teaspoon salt

Bread flour for dusting
BLUEBERRY TOPPING
¼ cup butter (50 g)

2 lbs blueberries (wild, fresh or frozen, 1 kg)

1 tablespoon corn starch

¼ cup sugar (50 g)
STREUSEL TOPPING
½ cup all purpose (65 g)

¼ cup sugar (50 g)

¼ cup butter (softened, 50 g)

1 tablespoon cinnamon, ground (or lemon zest/vanilla)

2 tablespoons almonds, sliced (20 g)
INSTRUCTIONS
Same as above
Nutrition
Serving:
1
piece
|
Calories:
214
kcal
|
Carbohydrates:
35
g
|
Protein:
5
g
|
Fat:
7
g
|
Saturated Fat:
2
g
|
Cholesterol:
20
mg
|
Sodium:
43
mg
|
Potassium:
137
mg
|
Fiber:
3
g
|
Sugar:
12
g
|
Vitamin A:
99
IU
|
Vitamin C:
4
mg
|
Calcium:
35
mg
|
Iron:
2
mg