Easy Hyderabadi Chicken Biryani, famous authentic Indian delicacy with succulent chicken in layers of fluffy rice, fragrant spices and caramelized onions.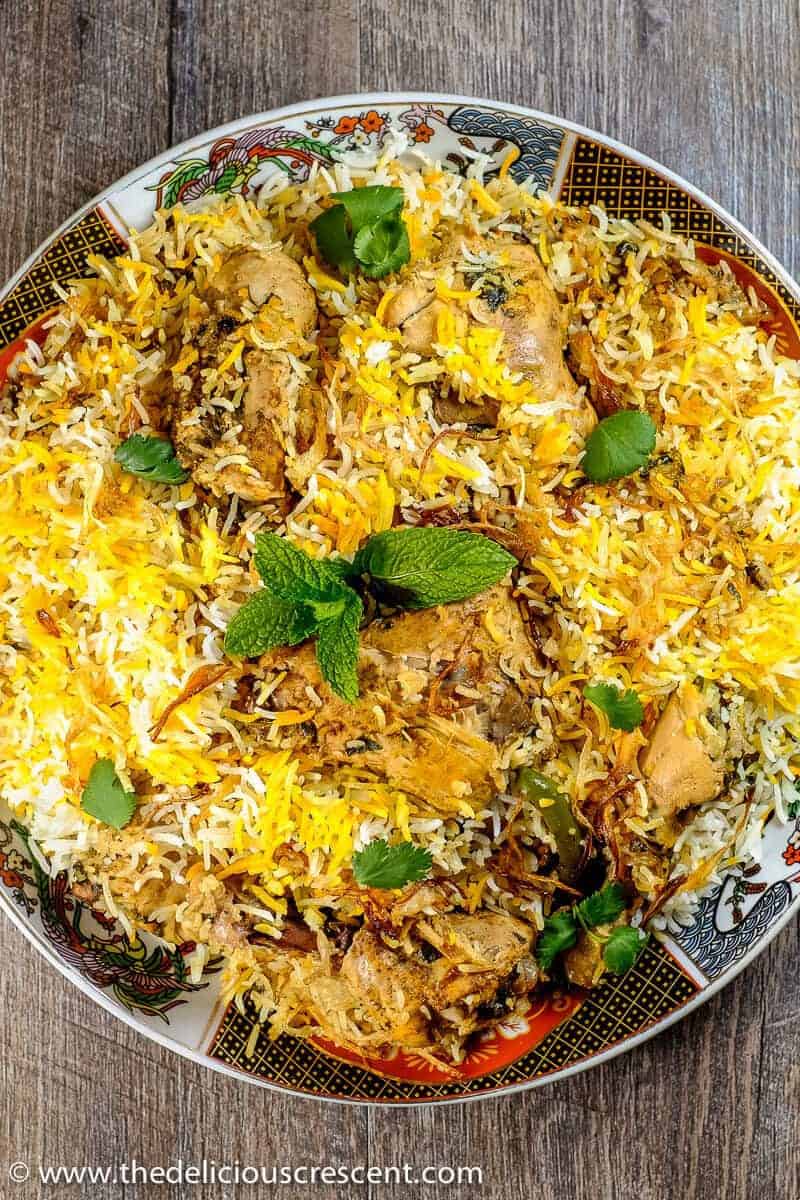 This blog features healthy and delicious recipes, but as detailed in my food philosophy, there are some special times to enjoy our food cravings. Save this rich and delicious step by step biryani recipe prepared in dum style for a festive time!
This Easy Hyderabadi Chicken Biryani dish, can of course be prepared with brown basmati rice, supplemented with quinoa and such.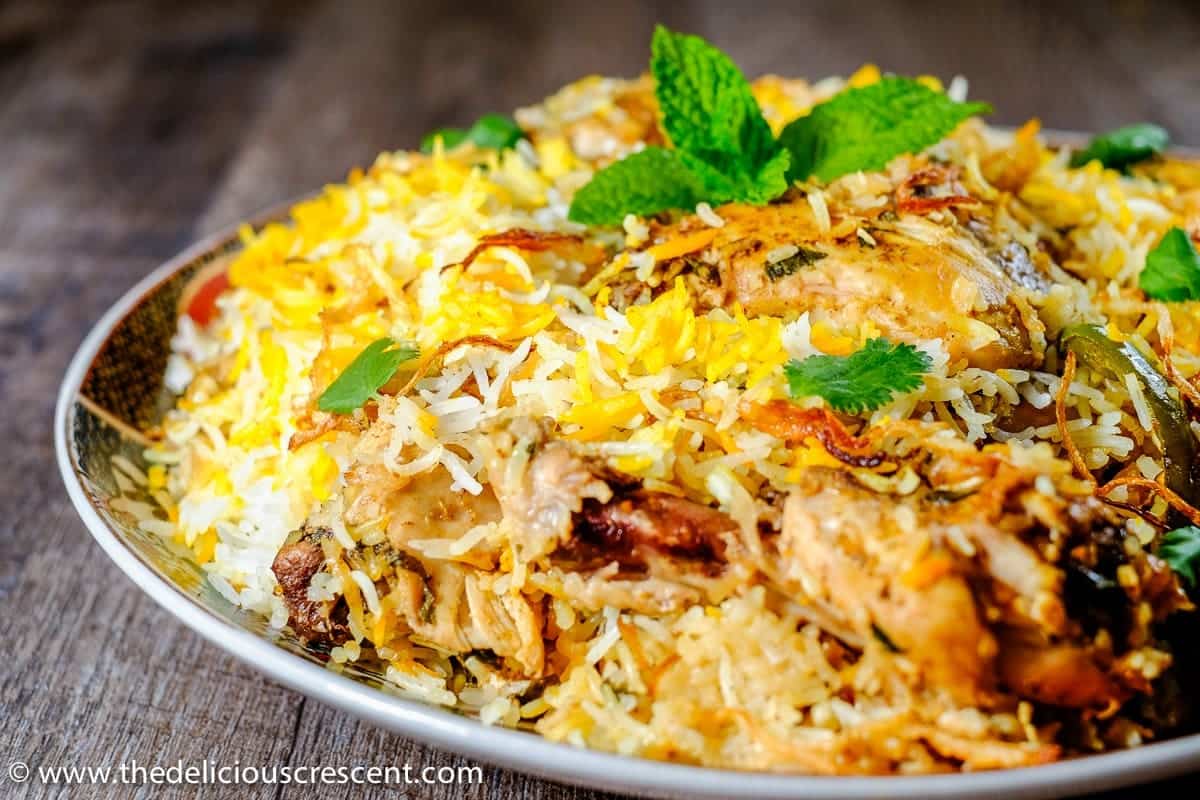 Biryani is typically served at festive occasions and considered a complete meal, along with a gravy side dish such as Hyderabadi Tomato Egg Curry and a small yogurt salad prepared with yogurt, sliced red onions, cilantro and such. You could check out a slightly different Persian version with shallots. Another simpler and nutritious recipe is my Vermicelli Chicken Biryani.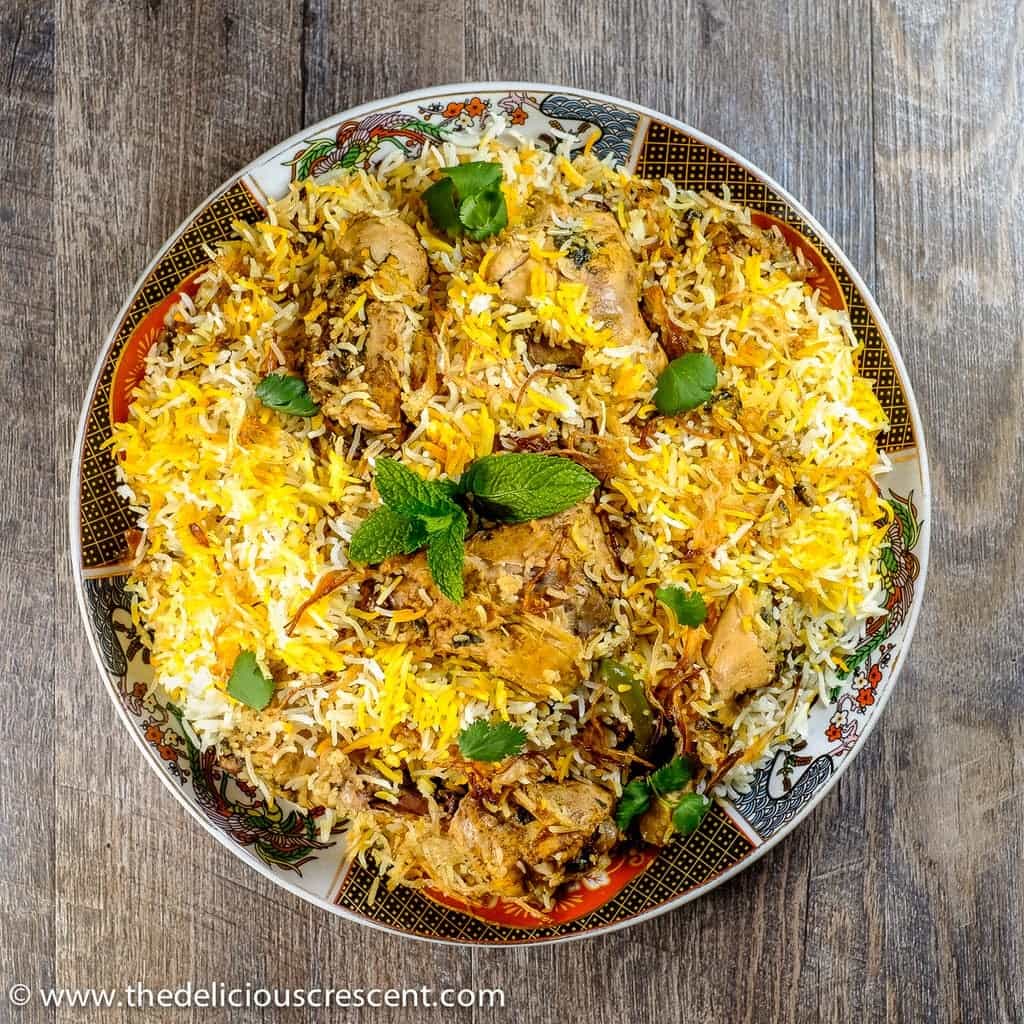 WHAT IS HYDERABADI CHICKEN BIRYANI?
Hyderabad, the city of my childhood, is justly famous for its biryani – a rice and meat/chicken dish.
There are two versions prepared there – one called a "pakki" biryani, where the meat or chicken is fully cooked before layering it with the rice and the final steaming.
The other is the "kacchi" biryani, where the raw marinated meat or chicken is placed in one single layer in the bottom of the cooking pot and then topped with partially cooked rice and steamed together.
It is the latter kind that I am presenting here, which has been further simplified for ease.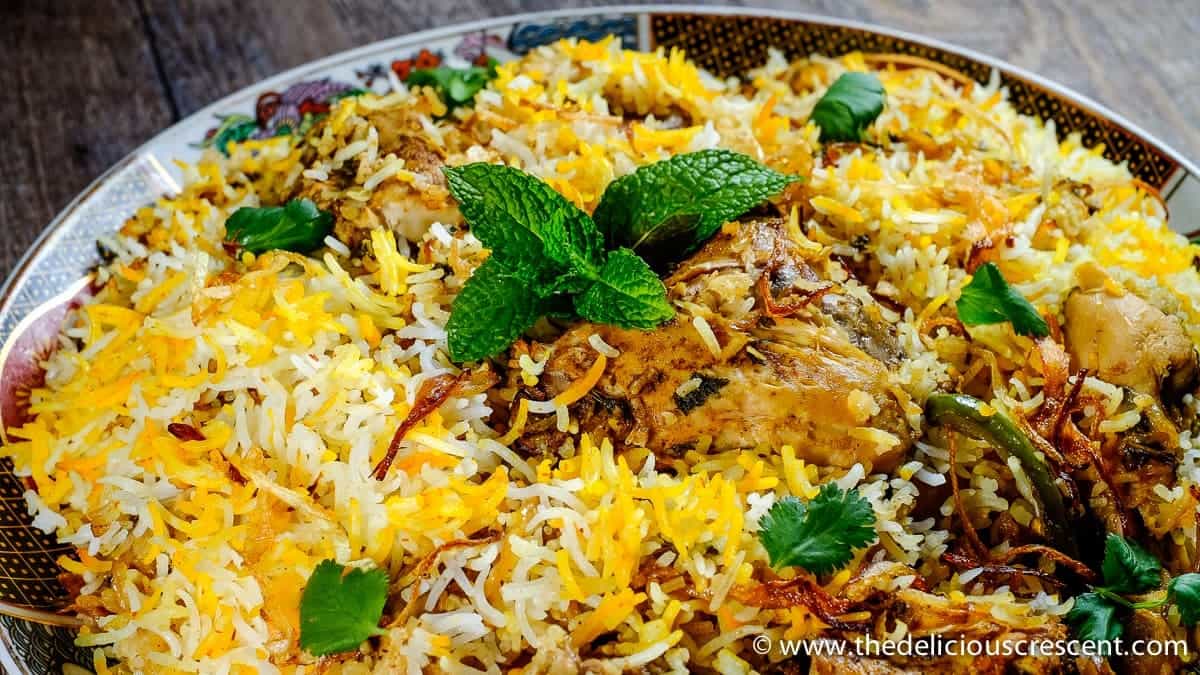 HOW TO MAKE EASY HYDERABADI CHICKEN BIRYANI
Cooking of the rice grain to perfection is essential for the taste of biryani. And in traditional methods, the rice is boiled in a large quantity of salted water and strained when it has been partially cooked. This requires skill and attention from the cook.
Here, I am using a rice cooker to do that part, but it is important to use minimal water to cook the rice* (see note below). I typically use a ratio of 1 ¼ to 1  ½ cups water for 1 cup rice. And that can differ slightly with the age of the rice. Checkout more in the notes section of the recipe below.
The idea is to cook the rice just enough, to be fluffy, retain its shape and be firm. Another rice dish where I have used a similar technique is a Persian recipe – Saffron Yogurt Rice with Chicken, Spinach and Prunes.
This Easy Hyderabadi Chicken Biryani is an absolutely stunning dish and must be included in the repertoire of any Indian food enthusiast!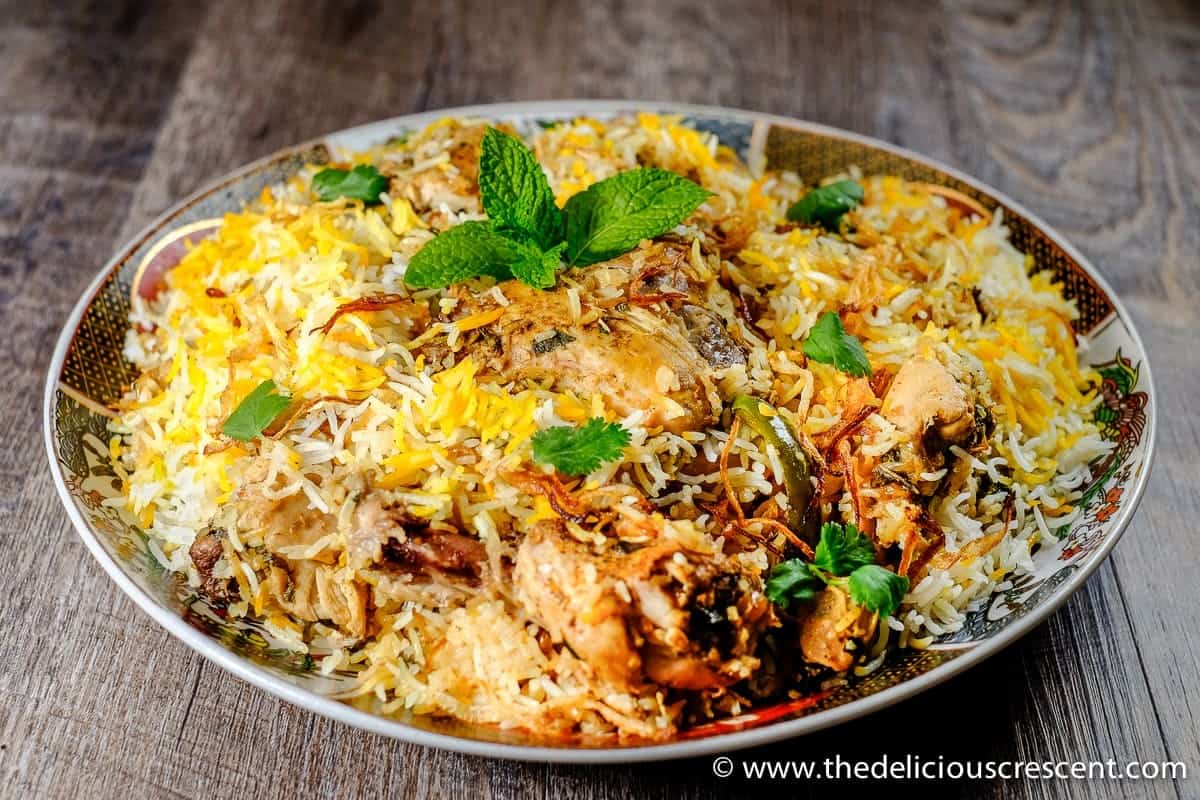 Photography: bijansviewfinder.com
SHARE YOUR THOUGHTS
What are your favorite Indian dishes? Have you heard of the famous Hyderabadi Biryani?
Did you try this Easy Hyderabadi Biryani Recipe?
Do you have any questions about it? Or any suggestions?
Let me know by leaving a comment below, rating it, and tagging it with a photo at #thedeliciouscrescent on Instagram.
And if you liked this post, do share it with your friends!
Easy Hyderabadi Chicken Biryani
Easy Hyderabadi Chicken Biryani, famous authentic Indian delicacy with succulent chicken in layers of fluffy rice, fragrant spices and caramelized onions.
Course:
Entree, Main Course
INGREDIENTS
FRIED ONIONS
3/4

pound

onions

yellow, sliced vertically*

1 ½

cups

peanut oil
CHICKEN MARINATION
1 ½

pounds

chicken

cut and clean

1/2 to 3/4

cup

yogurt

reduced fat, thick, adjust as needed

1 ½

tablespoons

ginger garlic paste

3/4 to 1

teaspoon

salt

adjust as needed

1

teaspoon

chili powder*

1/2

teaspoon

ground turmeric

1

jalapeno

, serrano or cayenne pepper, adjust as needed

Biryani masala*

(ground from 1 cinnamon stick, 1 black cardamom, 5 green cardamom, 5 cloves, 1 large bay leaf, 1 teaspoon black caraway seeds (shahjeera), 1/2 teaspoon black pepper)
BIRYANI
2

cups

basmati rice

long grain, rinsed* and soaked

1/2 to 3/4

teaspoon

salt

adjust as needed

2

tablespoons

olive oil*

(extra 1/2 tablespoon oil or ghee if needed)

Whole spices

(1 black cardamom, 2 green cardamom, 3 cloves, 1 small bay leaf, half cinnamon stick) - optional

2

tablespoon

lemon juice

3

tablespoons

chopped cilantro

1 1/2

tablespoons

chopped fresh mint

1/2 to 1

teaspoon

saffron

ground and dissolved in 2 tablespoons hot water
INSTRUCTIONS
Heat the oil at medium high in a wide frying pan/kadai. If you place your palm about 3 inches over the surface of the oil, you should feel the heat. Or use a candy/fry thermometer. Fry the onions in about 3 batches, depending on the size of the pan. Do not crowd the pan. Fry until a crisp light golden brown. Set aside.




Mix the chicken with all the ingredients for the marinade and about 1/3 of the fried onions. For yogurt, start with 1/2 cup and increase as needed to 3/4 cup. The mixture should be thick and not runny. Marinate for about 3 to 5 hours.




Soak 1/3 cup basmati rice in water for about one hour. Bring 2 ¼ cups of water to a rolling boil in a rice cooker. Add 3/4 teaspoon salt, 1 ½ tablespoon olive oil and whole spices if preferred. Then add the remaining 1 ⅔ cups basmati rice and stir. Let it cook just until all the water is absorbed*.




It is important to NOT let the rice steam until it is fully done. Just when all the water is well absorbed, transfer the cooked rice immediately to another wide open pan. In my rice cooker the whole process takes about 15 to 20 minutes.




Transfer the chicken with the marinade to a 4 to 5 quart wide thick bottomed oven proof cooking pot (about 9 to 10 inch diameter). Make sure there is not too much marinade around the chicken pieces and that it is not runny.




Sprinkle the cilantro, mint, half the lemon juice and 1/2 tablespoon olive oil over the chicken/marinade. Spread most of the remaining fried onions over the chicken.




Drain the soaked basmati rice thoroughly well. Spread this rice over the fried onion layer. (This raw soaked rice will get cooked with the moisture/juices from the chicken).




Next, layer the rice that was cooked in the rice cooker. Sprinkle, the remaining lemon juice, fried onions and saffron water. If needed, sprinkle an extra 1/2 tablespoon olive oil or ghee over the rice.




Place one to two sheets of aluminum foil over the cooking pot. Place the lid tight over it. Bake this Easy Hyderabadi Chicken Biryani in a preheated oven at 350ºF for one hour, until the steam builds up well.




Alternatively, this Hyderabadi Chicken Biryani can be cooked on a stove in an appropriate thick bottomed cooking pot. Heat the biryani at medium high for about 10 to 15 minutes and then reduce the heat to the low setting and simmer for at least one hour until the steam builds up well.




Let cool 5 minutes and gently mix the rice and chicken. Serve this Hyderabadi Chicken Biryani with Hyderabadi tomato egg curry and/or a yogurt salad prepared with yogurt, sliced red onions, cilantro and such.



RECIPE NOTES

I used the 7.5 mm setting on my mandolin slicer to slice the onions finely.
I used Kashmiri chili powder as it is mild. If you prefer it hot, then use regular chili powder.
Rinse the basmati rice several times, until the water is clear and not starchy.
If using whole spices for the marinade, just double the amount of spices in the recipe. When the spices are ground, the flavors are more intense. You may choose to use a ready made spice mix, but make adjustments for chili and salt accordingly.
Adjust the oil as needed. If directions are followed well with the frying of onions, then the oil absorbed by the onions should be about 1 ½ tablespoons. But if proper technique is not followed, then more oil will be absorbed and the remaining oil used should be adjusted.
The amount of water added while cooking the rice is very important to the final texture of this Easy Hyderabadi Chicken Biryani. And it differs with the age of the rice. Basmati rice typically will need less water than other long grain rice varieties to yield a light fluffy cooked rice. With any batch of rice purchased, I usually use trial and error to determine the right amount of water needed for cooking. It may range from 1 ¼ to 1 ½ cups water per cup of rice.
It is important to keep in mind the additional moisture from the other ingredients added to this dish, such as the chicken, herbs and yogurt. Therefore, in the first step, the rice should be cooked in a way to yield a fluffy rice, but holds its shape well and is not too wet and delicate. The soaked rice should be drained well and not be too wet. The chicken should be just lightly coated with the marinade. If the marinade is excessive it can result in the rice becoming soggy.
NUTRITION FACTS
Servings: 12              Serving Size: 1 cup
Calories 287, Total Fat 8 g (Saturated Fat 2 g, Polyunsaturated Fat 2 g, Monounsaturated Fat 4 g), Cholesterol 51 mg, Sodium 489 mg, Potassium 282 mg, Phosphorus 179 mg, Total Carbohydrate 31 g, Dietary Fiber 1 g, Sugars 3 g, Protein 19 g
*The sodium value may vary. The suggested amount of salt is just a guideline and may need to be adjusted. Check for any added salt in spice mixes and other ingredients and adjust.