Hyderabadi chicken biryani is an aromatic, mouth watering and authentic Indian dish with succulent chicken in layers of fluffy rice, fragrant spices and fried onions. It is easier than most recipes while retaining the original taste and presented step by step. Cook like a native but with more ease!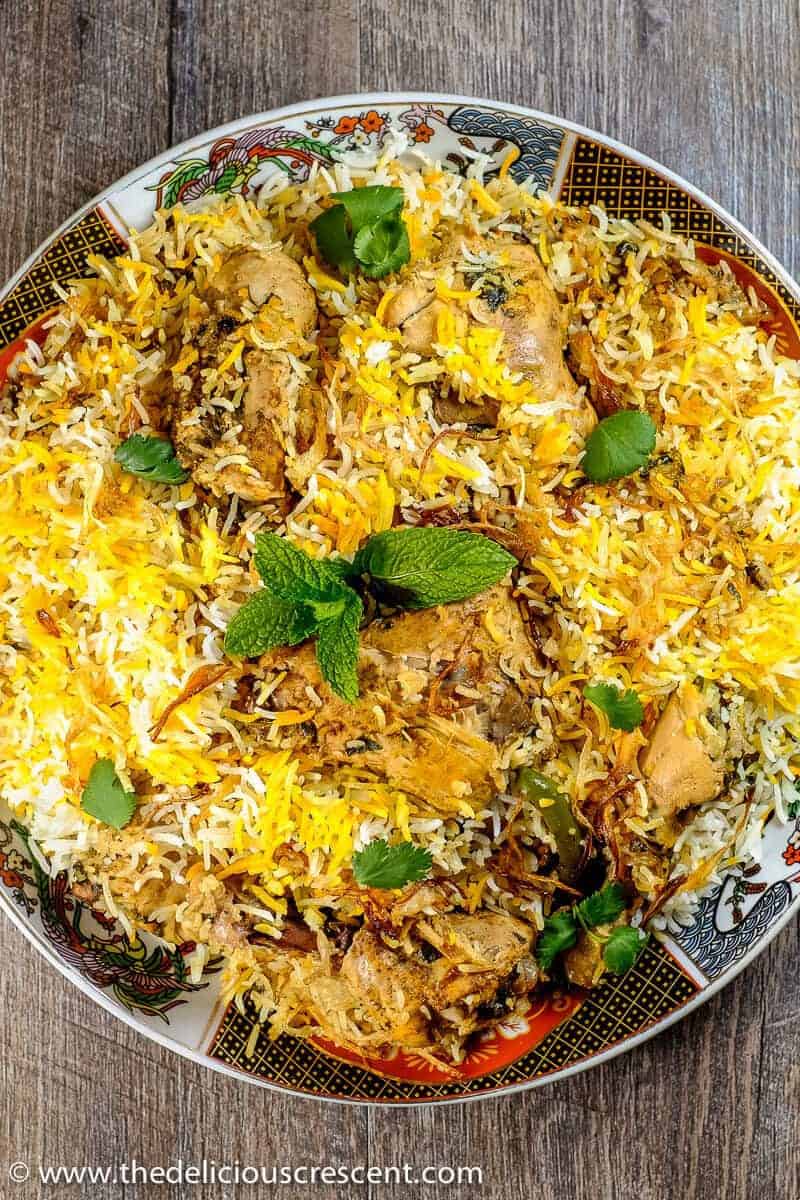 What is Biryani?
Biryani is a classic Indian mixed rice dish that is part of the Indian Mughlai culinary tradition, which traces its roots to central Asian cuisine and a rich fusion with Indian flavors and techniques. It is prepared with layers of fluffy basmati rice and exquisitely spiced meat or chicken.
Classic biryani can justly be called the crown jewel of Indian cuisine, a dream dish that should not be missed.
If you take a fistful of biryani and throw it on a plate, the rice should scatter as fluffy grains and not clump together. The meat or chicken should be well done, juicy and falling off the bone.
Table of Contents
Hyderabadi Biryani
Hyderabad, the city of my childhood, is justly famous for its biryani - an addictive delicious rice and meat/chicken dish. And Hyderabadi biryani is by far the most favored among the other regional versions.
There are two versions of Hyderabadi biryani:
Pakki biryani - cooked meat or chicken is layered with parboiled rice and steamed together.
Kacchi biryani - raw marinated meat or chicken is placed in a single layer in the bottom of cooking pot and topped with partially cooked rice and steamed together. This is the easier method.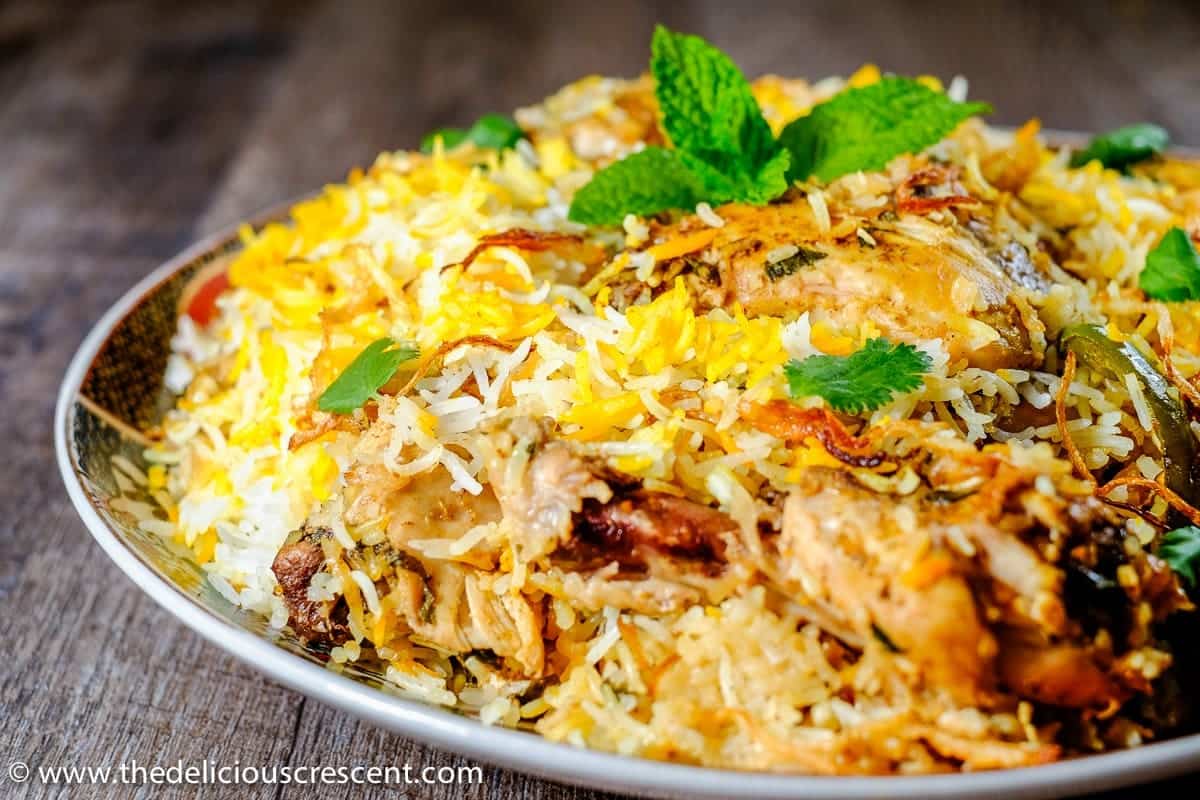 What sets apart biryani is the texture of the rice grains - fluffy and separate, they almost scatter like pearls. With this recipe you will get that perfection every single time!
Why This Recipe Works
One Step: You don't have to cook the chicken separately before layering it with the rice.
Perfect Rice: Reliable and easy rice cooking technique for fluffy rice.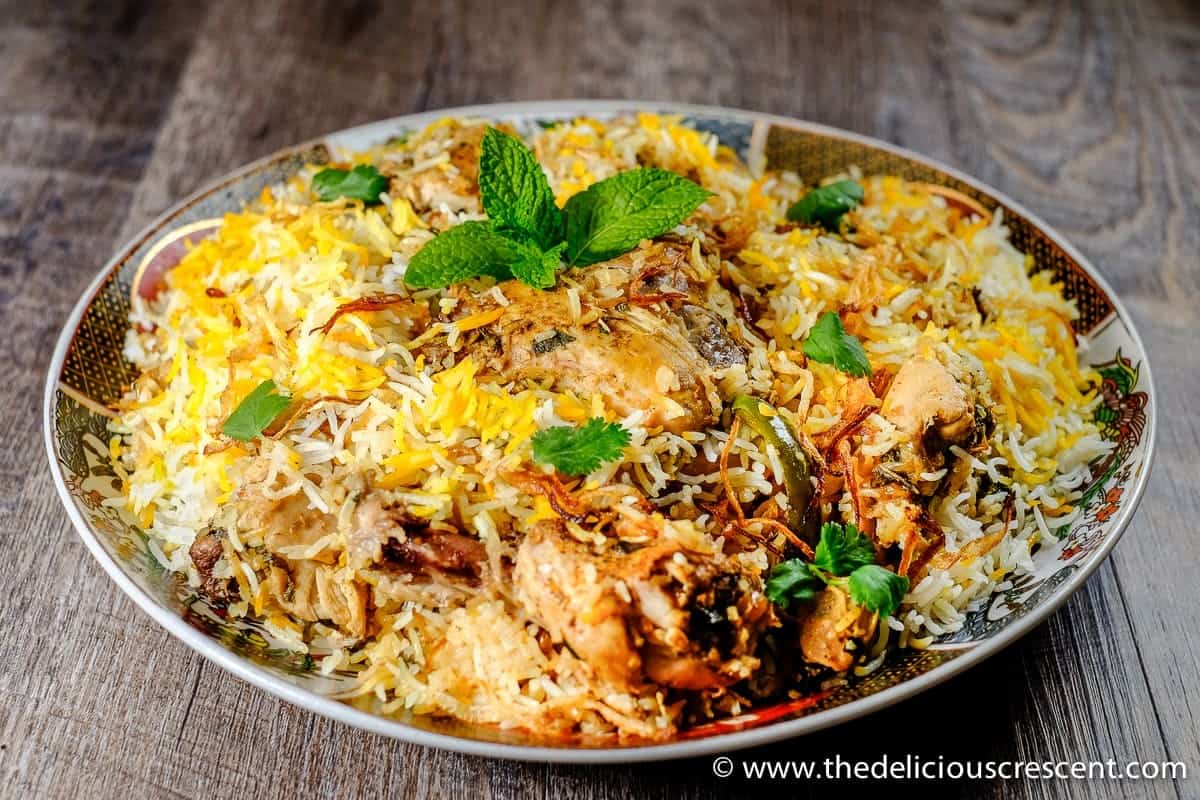 Ingredient Notes
Basmati Rice: Use the highest quality aged long grain basmati rice from a popular brand. Ask your local Indian grocer for the best variety in any brand, which is typically the most expensive.
Chicken with bone: It is best to use whole chicken, with bone, cut and clean. Chicken leg quarters or thighs will work too. Avoid chicken breast as it will be too dry. For boneless option, use chicken thigh meat.
Yogurt: A key ingredient, this should neither be too thick nor too runny. For a dairy-free option, try coconut yogurt.
Spices:

You will need whole spices and ground spices. They are available at Indian grocery stores for a good price or online.
Whole spices can be wrapped in muslin cloth or a metal mesh cooking infuser.
A bulk biryani masala recipe is below. For a store-bought option, try Shaan Sindhi biryani masala, but adjust the salt and chili powder in the recipe.

Herbs: Use fresh herbs when you can. Frozen cilantro and dried mint can also work for the marinade.
Ginger and Garlic: Use these fresh for amazing taste.
Saffron: Choose best quality saffron. For more on that, check the post on Saffron Tea.
Onions: Slice the onions very thin. I use my mandolin slicer. Sprinkle some flour on the onions before frying, to make them fry quicker and crisper. For gluten-free, try corn starch or rice flour plus corn starch.
Ghee: A drizzle of ghee on the top will take your biryani to the next level.
How To Make Easy Biryani
**Step-by-step brief overview below. Full recipe with ingredient amounts is at the end of post.
Fried Onions: Slice onions very finely and fry until crisp and light golden brown.
Chicken Marination: Combine chicken with all marinade ingredients, ⅓ fried onions and ground biryani spice blend.
Rice Preparation: Rinse basmati rice until clear. Soak ⅓ cup rice in water. Cook remaining rice in rice cooker. For alternative traditional cooking method check our lamb biryani recipe.
Assemble Rice and Chicken Layers: Transfer chicken with marinade to a cooking pot. Top with chopped cilantro, mint, half lemon juice, some olive oil and most of the remaining fried onions.
Add Soaked Rice: Drain and spread it over the chicken.
Final Rice Layer: Layer all cooked rice. Top with remaining fried onions, lemon juice, saffron water and ghee over the rice.
Steaming: Cover with parchment paper, followed by aluminum foil and fit the lid tight over it. Bake in oven for one hour, until steam builds up well.
On Stove top: Alternatively, heat biryani at medium high for 10 to 15 minutes and then simmer at low for one hour until steam builds up well.
Cool biryani for five minutes. Gently mix rice and chicken and serve.
What to Serve Along
Biryani is typically served at festive occasions and considered a complete meal, along with a saucy side dish such as baghare baingan (eggplants in rich sauce), mirchi ka salan (chili peppers in creamy sauce) or Hyderabadi tomato egg curry and a yogurt salad called raita.
For a more elaborate festive menu, you can add other dishes such as:
Biryani Masala
Grind all the spices below into a fine powder and store in airtight container. One fourth of this blend will be enough for the biryani recipe in this post. To make it more spicy, use extra spice blend.
4 cinnamon sticks
4 black cardamom
20 green cardamom
1 teaspoon cloves
4 large bay leaves
4 teaspoons black cumin seeds (shahjeera)
2 teaspoons black pepper
⅛ teaspoon nutmeg (optional)
⅛ teaspoon mace (optional)
The most important spices are cardamom, cloves and cinnamon. There are regional variations to the above mix which also include some coriander seeds, cumin seeds etc., but the list of spices above are the dominant ones in traditional biryani spice blends.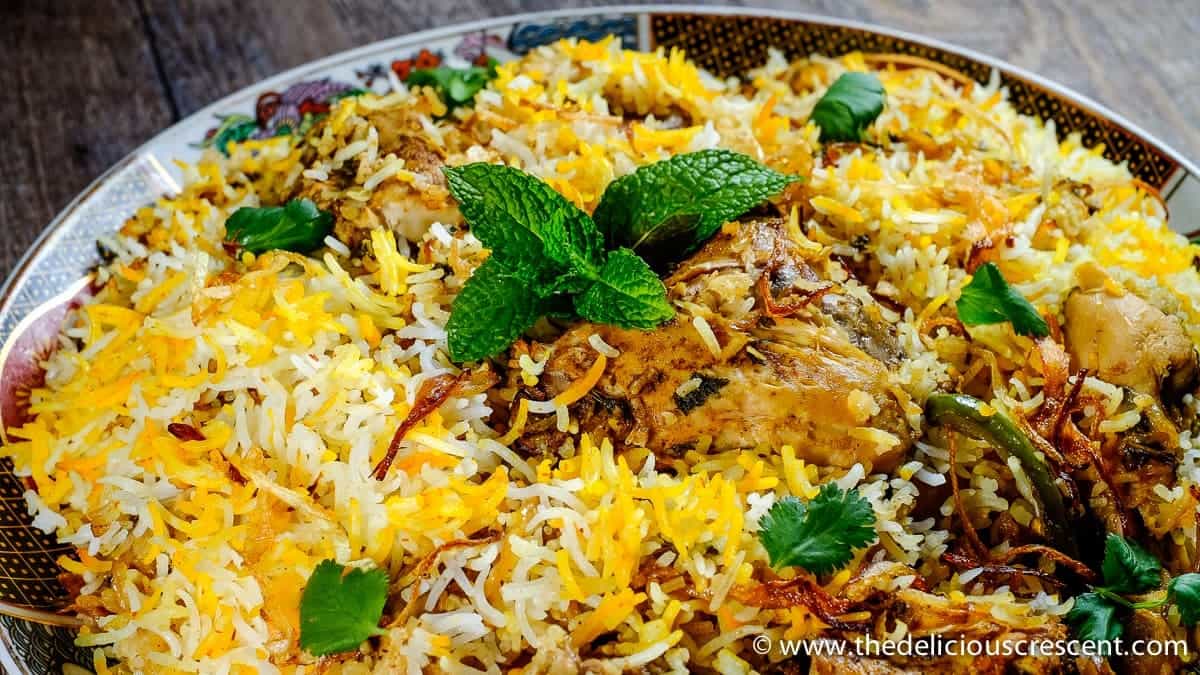 Frequently Asked Questions
What is the best rice to use?
Choose highest quality aged long grain basmati rice from a popular brand. Most brands offer varieties from standard to ultra special. Check out large Indian grocery stores or online.
How to make crispy fried onions?
Use thinly sliced onions. Sprinkle some flour. Fry them in batches using fresh oil, until crisp and light golden brown. Don't let it turn soggy or dark brown. Drain on paper towels.
What type of cooking pot should I use?
Use a wide and thick bottomed cooking pot over the stove. A dutch oven that is 5 to 6 quart will work well. Very deep and tall pots are not suitable.
What is the ideal rice to water ratio?
For traditional method, boil rice in lots of salted water, using a ratio of 3 cups of water with 2 teaspoons of salt and 1 cup of rice. And for rice cooker method test a ratio of 1¼ to 1½ cups water for 1 cup rice.
What is the ideal time for parboiling basmati rice?
If using the traditional boiling method (cooked like pasta), it will take between 4 to 5 minutes for perfect doneness. Drain the rice on time.
What is the best rice to chicken ratio? 
Rule of thumb is to use equal amounts of rice and chicken by weight, which is 1:1 (one pound rice to one pound chicken). For more chicken, use a ratio of 1:1½ or 1:2.
How to prevent rice sticking or getting burnt in the bottom?
If cooking on stove top, place the cooking pot over a flat griddle or heat diffuser. This will help prevent the rice getting burnt in the bottom.
How to fix dry biryani?
Use chicken on bone. Cook with enough yogurt and juices but don't overcook the meat. Use optimal amount of water for the rice. And if rice is undercooked before steaming, then sprinkle some water all over before placing the lid.
How to fix wet biryani?
Scoop out juices collected over marinated chicken and discard. Do not use too much yogurt. Evaporate excess juices, while stirring on high heat and without lid. Do not overcook rice, but if it get's overcooked then spread it on a large plate and aerate a bit before layering.
How to make sure biryani is not sticky?
If using traditional method then cook rice in plenty of salted water just for 4 to 6 minutes until it is parboiled, making sure the grains don't get overcooked. Soak rice prior to cooking to make the grains stronger. Use optimal amount of water. And cook biryani in a wide cooking pot.
How can I make it healthier?
Make it with brown basmati rice, or supplement with quinoa and such.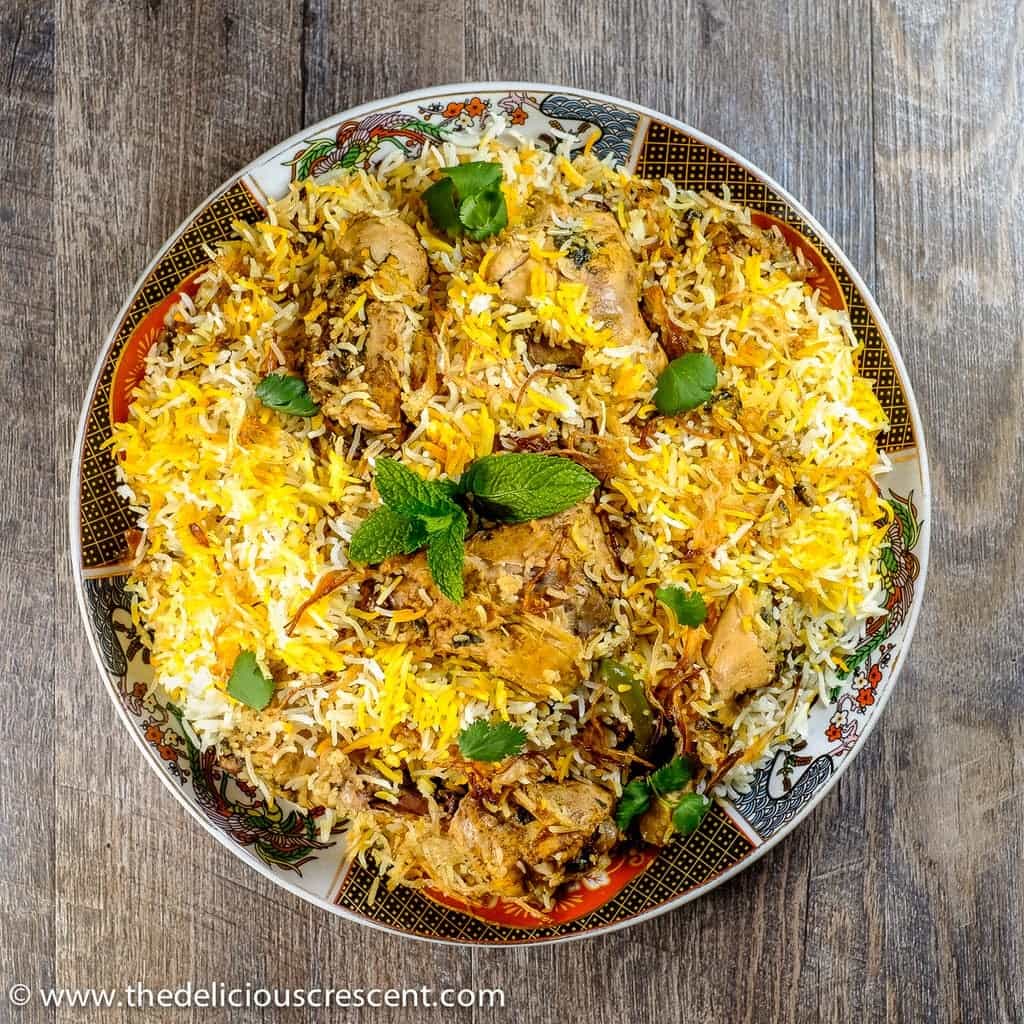 What is the difference between biryani and pulao?
Biryani is prepared by layering parboiled basmati rice, marinated or cooked meat/chicken, fried onions, fresh herbs, lemon juice, saffron water, etc., and then steaming it together. The final dish will have fluffy rice grains in a variety of colors from the absorption of spices, juices and saffron.

Indian pulao (pilaf) is prepared as a one pot dish. Sauteed onions, spices, meat or chicken, herbs and measured amount of water or stock are all cooked together until well done. The rice grains will have a uniform color from the mixture of spices and juices.

The mouthfeel and taste of biryani and pulao are expected to be quite different.
More Rice Recipes:
★ DID YOU MAKE THIS RECIPE? PLEASE COMMENT AND GIVE IT A STAR RATING BELOW!
📖 Recipe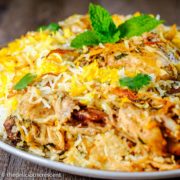 Hyderabadi Chicken Biryani
Chicken Biryani is an aromatic, mouth watering and authentic Indian dish with succulent chicken in layers of fluffy rice, fragrant spices and fried onions. It is easier than most recipes while retaining the original taste and presented step by step. Cook like a native but with more ease!
Print
Ingredients
Instructions
Fry Onions
Fry onions in batches. Do not crowd the pan. Fry until crisp light golden brown. Set aside.
Marinate Chicken
In a large mixing bowl, combine chicken with all marinade ingredients and ⅓ of fried onions. Tip: Add yogurt, starting with ½ cup and increase as needed to ¾ cup. The mixture should be thick and not runny.

Grind biryani spices in a spice grinder. Add to chicken marinade and combine. Marinate for about 

3 to 5 hours

.
Cook Rice
Rinse rice 4 to 5 times in lots of water until it is clear. Drain well. Soak ⅓ cup basmati rice in water for

one hour

. Save the rest.

Bring 2¼ cups of water to a rolling boil in a rice cooker. Add ¾ teaspoon salt, 1½ tablespoons olive oil and whole spices (see note). Then add remaining 1⅔ cups basmati rice and stir. Let it cook just until all the water is absorbed (see notes).

It is important to NOT let the rice steam until it is fully done. Just when all the water is well absorbed, transfer cooked rice immediately to another wide open pan. In my rice cooker the whole process takes about

15 to 20 minutes

.
Assemble
Transfer chicken with marinade to a 5-quart, wide, thick-bottomed and oven-proof cooking pot (9 to 10 inch diameter). Make sure there is not too much marinade around chicken pieces and that it is not runny.

Scatter cilantro, mint, half the lemon juice and ½ tablespoon olive oil over the chicken and marinade. Then scatter most of the fried onions.

Drain the soaked basmati rice very well and spread it over the fried onion layer. (This raw soaked rice will get cooked with the juices from chicken).

Next, layer all the cooked rice. Top with remaining lemon juice, saffron water, fried onions and ghee.

Tip: If you prefer, you may pick out the whole spices from cooked rice before steaming.
Steam
Oven Method: Place one sheet of parchment paper, followed by one to two sheets of aluminum foil over the cooking pot. Place the lid tight over it. Bake biryani in a preheated oven at 350ºF for one hour, until steam builds up well.

Stove-Top Method (Alternative): Heat the biryani at medium high for about

10 to 15 minutes

and then reduce to low and cook for one hour until steam builds up well.
Serve
Remove from oven or stove. Let it cool

five minutes

and gently mix rice and chicken. Using a spatula, mound the biryani on a serving plate, making sure to present the rice in various colors - white, yellow, orange and brown. Place some chicken pieces on the top. Scatter fried onions, herbs and extra saffron rice on top. 
Notes
Rinse basmati rice

several times until the water is clear and not starchy. 

Rice cooker: Use minimal water to cook rice. Test 1¼ to 1½ cups water per cup of basmati rice and check.
Aged basmati rice is more fragrant and will give the best results.
Additional moisture: Keep in mind moisture from chicken, herbs and yogurt. Cooked rice should be fluffy, separate, retain shape, not too wet and delicate. Drain soaked rice very well. Chicken should be just lightly coated with marinade. Too much marinade can make rice soggy.
Slice onions finely: I use 7.5 mm setting on my mandolin slicer.
Adjust oil as needed: If frying directions are followed, then oil absorbed by onions should be about 1½ tablespoons. Otherwise, more oil will be absorbed, so adjust oil for recipe.
Alternative to frying onions: If you are unable to fry onions then saute them until crisp golden brown like in this 

Persian noodle soup recipe

 and adjust oil used for rice and chicken.
Branded biryani spice mixes may include salt and chili powder. If using that, then adjust salt and chili powder. 
Chicken: Best is whole chicken with bone, cut and clean. You may use chicken leg quarters or thighs, but avoid chicken breast as it will be too dry.
Optimal amount of salt and oil is very important. If everything else is perfect and you don't use right amount of salt, that alone can ruin the taste of biryani. I use a minimum of 2 tablespoons of oil per cup of raw rice, as there are additional ingredients - chicken, onions, etc.
Whole spices can also be cooked wrapped in a muslin cloth (like boquet garni) or in a metal mesh cooking infuser. If using whole spices for marinade, then double the amount of spices. Ground spices are more intense. 
Meal Prep: Combine chicken with marinade and fry onions a day before. 
Storage and Freezing: Leftovers can be stored in refrigerator for 3 to 4 days or frozen for later.
Scale Recipe: Click on number of servings and slide. Adjust the cooking pot size.
Shajeera: These are referred to as black cumin or black caraway seeds in Indian stores. The labeling is not consistent. Ask your Indian grocer for "shahjeera".
Nutrition
Serving:
1
cup
|
Calories:
287
kcal
|
Carbohydrates:
30
g
|
Protein:
16
g
|
Fat:
10
g
|
Saturated Fat:
3
g
|
Polyunsaturated Fat:
3
g
|
Monounsaturated Fat:
4
g
|
Cholesterol:
43
mg
|
Sodium:
408
mg
|
Potassium:
280
mg
|
Fiber:
1
g
|
Sugar:
2
g
|
Vitamin A:
170
IU
|
Vitamin C:
4.7
mg
|
Calcium:
52
mg
|
Iron:
1.1
mg
More Indian Recipes:
This post was first published on May 1st 2016 and has been updated with improvements in recipe formatting, tips, FAQs and additional enhancements.