Saffron rice with chicken, yogurt and spinach is a classic Persian rice referred to as Tahchin e Esfanaj. It is a beautiful, delicious and perfectly fluffy rice. Healthy, gluten free and can be prepared in a rice cooker, on stove or in oven. So festive too!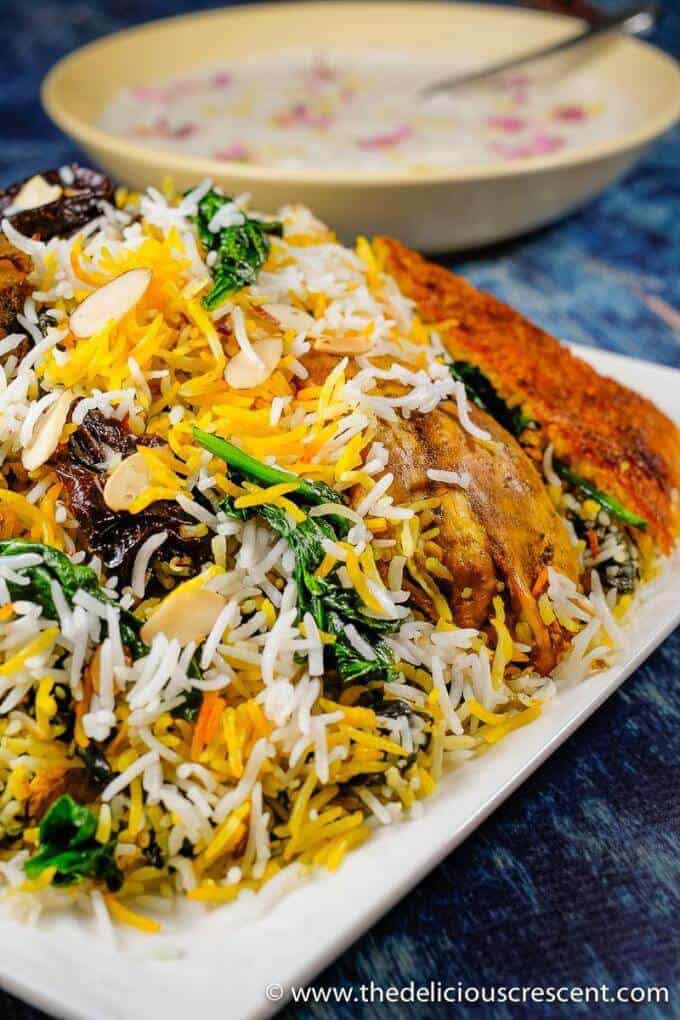 What is Tahchin?
Tahchin is a saffron flavored Persian baked rice cake, also known as Iranian rice cake and is mainly prepared with rice, yogurt and saffron. Variations of this recipe are made with lamb, chicken and vegetables.
For the recipe here, layers of saffron yogurt rice are placed with marinated chicken, vegetables and steamed together. The characteristic part of this dish is a crispy rice crust known as tahdig, that is formed in the bottom of the dish.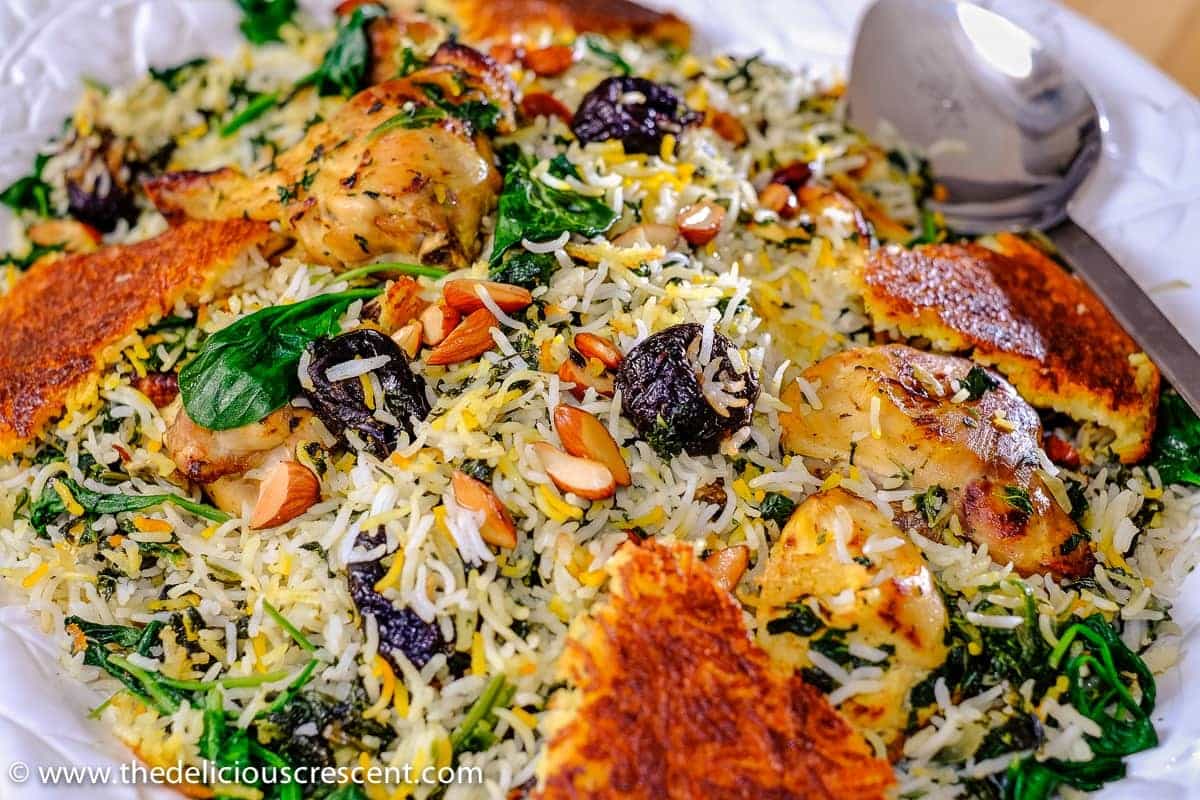 Pro Tips: Saffron
How to use saffron: Store dry saffron in an airtight container away from sunlight, moisture and heat. Use a pinch of salt or sugar and grind the saffron to a fine powder using a mortar and pestle. Soak it in hot water for about 15 minutes and use. You can store this for a few days in the refrigerator.
Where to buy saffron: You can buy it online on Amazon or at Persian/Middle Eastern/Indian/Mediterranean grocery stores. Make sure to look for high quality saffron (Persian or Spanish).
How to buy saffron: Check the expiration date. Most sellers will guarantee optimal flavor and potency for about 2 years after production date.
Variations
Dairy free: I have not tried it but you could try using coconut yogurt instead of dairy yogurt. And use olive oil.
Vegan: Use tofu and/or chickpeas instead of chicken. Try coconut yogurt instead of dairy yogurt. Choose olive oil and skip egg yolk.
Grain free: Use cauliflower rice in place of rice. Check the instructions for making cauliflower rice. Cauliflower will not crisp up like rice to make the tahdig (rice crust), but you may place thin potato slices at the bottom of the dish before steaming it together.
Nutrition Facts
One serving of this main course dish provides 225 calories and beautifully combines the five food groups!
This saffron rice with chicken uses basmati rice, a flavorful long grain rice variety. Studies have indicated that this rice variety ranges between low to medium glycemic index. And chicken provides good amount of lean protein and alternative to red meat.
Spinach is an excellent source of vitamin K, vitamin A (as carotenoids), vitamin C, potassium and folic acid. This leafy green is a source of alpha-lipoic acid, an antioxidant that has been shown to help with blood glucose control.
The high amount of potassium is beneficial for maintaining a healthy blood pressure. The chlorophyll present in spinach is known for its anti carcinogenic properties. And vitamin K helps support bone health. The vitamin A and vitamin C contribute to healthy skin and hair.
Prunes add some nuggets of sweet flavor and nutrition. They contain phenolic compounds – antioxidants that help prevent free radical damage. And they are a good source of dietary fiber and associated with better glucose control, fullness, bowel regularity, lower blood cholesterol and intestinal protection.
Is Saffron Rice Gluten Free?
Yes, it is absolutely gluten free and can be made vegan, grain free or dairy free as mentioned above.
Health Benefits of Saffron
Saffron is supposed to benefit cardiovascular health, alleviate PMS symptoms, possess anti-carcinogenic properties, treat erectile dysfunction, depression and anxiety. As with most foods, the benefits accrue with consistent use.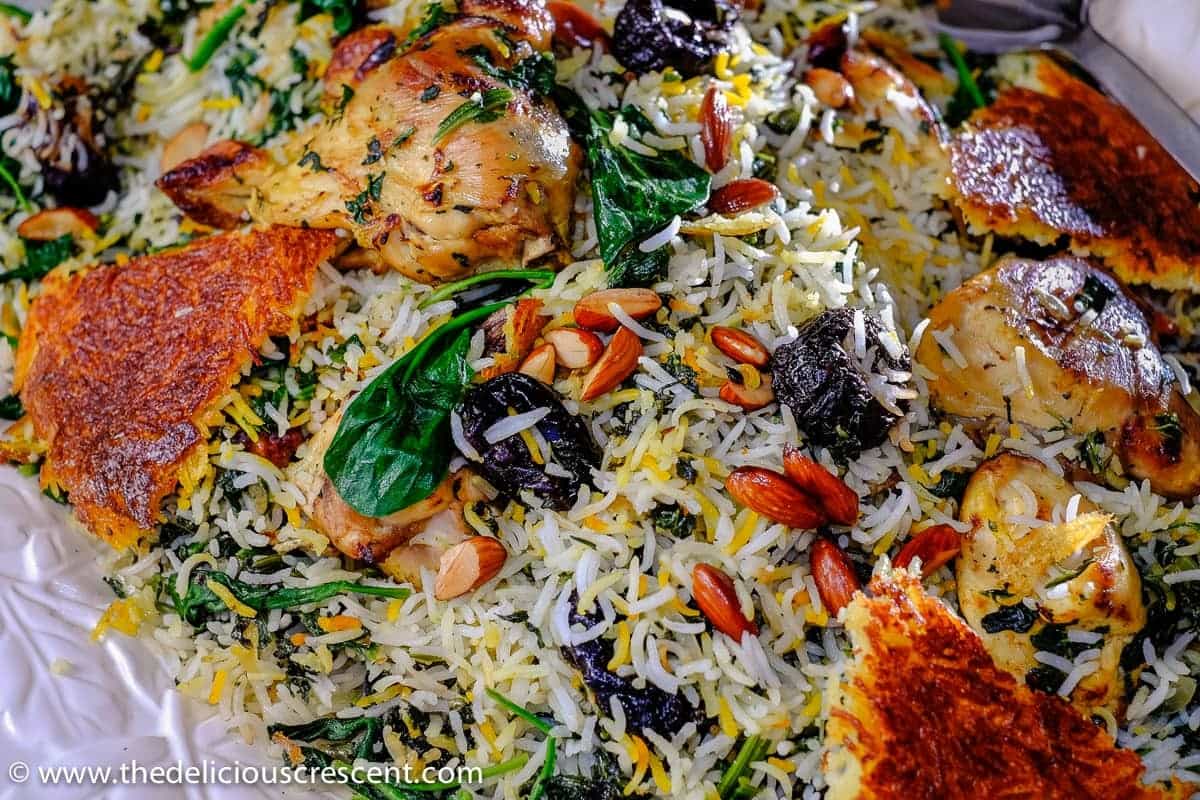 More Rice Recipes:
★ DID YOU MAKE THIS RECIPE? PLEASE COMMENT AND GIVE IT A STAR RATING BELOW!
Saffron Rice with Chicken, Yogurt and Spinach (Tahchin Esfenaj)
Saffron rice with chicken, yogurt and spinach is a classic Persian dish referred to as Tahchin e Esfanaj. It is healthy, gluten free and can be prepared in a rice cooker, on stove or in oven. Elegant, festive and delicious!
Print
Servings:
14
(1 cup each)
Ingredients
1½

lbs

chicken thigh

pieces

1

onion

large, thinly sliced

2

cloves

garlic

grated

½

teaspoon

Advieh

(Persian spice mix, see note 9)

½

teaspoon

turmeric

½

teaspoon

ground black pepper

1½

tsps

salt

¾

cup

yogurt

thick

½

teaspoon

saffron

ground, dissolved in 3 tbps hot water

2

lbs

spinach

fresh, chopped or 1 lb frozen

¼

lb

spinach

fresh, optional garnish

4

tbsps

olive oil

1

egg yolk

optional

2

tbsps

butter

optional, for rice crust

1

tablespoon

lemon juice

1

cup

prunes

pitted

2

cups

basmati rice

white or brown

Roasted sliced almonds

optional
Instructions
Notes
The amount of water used for cooking rice is very important for final texture of the dish. And it differs with age of the rice. Basmati rice typically will need less water than other long grain rice varieties.
I use trial and error to determine the right amount of water needed for cooking. It may range from 1¼ to 1¾ cups water per cup of rice.
The amount of moisture in the various ingredients is important for the final texture.
In the first step, rice should be cooked to yield well done fluffy rice, holds its shape well but is not too wet and delicate.
The spinach should be well drained. The chicken should be lightly coated with the marinade. If the marinade is excessive it can result in the rice becoming soggy.
Adjust added fat or salt as needed.
Tip for garnish: Heat one teaspoon of oil and sauté ¼th pound of fresh spinach lightly, and do not overcook. Make sure to retain the color and shape of spinach and let the juices evaporate quickly. Spread it over a plate and set aside or garnish.
You can also prepare this recipe on the stove using a non stick cooking pot.
Persian spice mix (advieh) recipe is on the blog or available on Amazon or Persian grocery stores. A middle eastern or Mediterranean mixed spice blend could be a substitute.
For more tips and serving suggestions check out the blog post above.
Nutrition
Serving:
1
cup
|
Calories:
280
kcal
|
Carbohydrates:
34
g
|
Protein:
12
g
|
Fat:
12
g
|
Saturated Fat:
3
g
|
Cholesterol:
41
mg
|
Sodium:
344
mg
|
Potassium:
610
mg
|
Fiber:
3
g
|
Sugar:
6
g
|
Vitamin A:
6212
IU
|
Vitamin C:
20
mg
|
Calcium:
107
mg
|
Iron:
2
mg
This post was first published on 7th February, 2016
More Spinach Recipes