Cast iron pan pizza makes the best crunchy pizza crust ever! With a delicious spinach and feta topping, this pizza with mediterranean flavors makes a satisfying dish.
Add a fresh tomato cucumber salad and watermelon juice to complete your summer meal.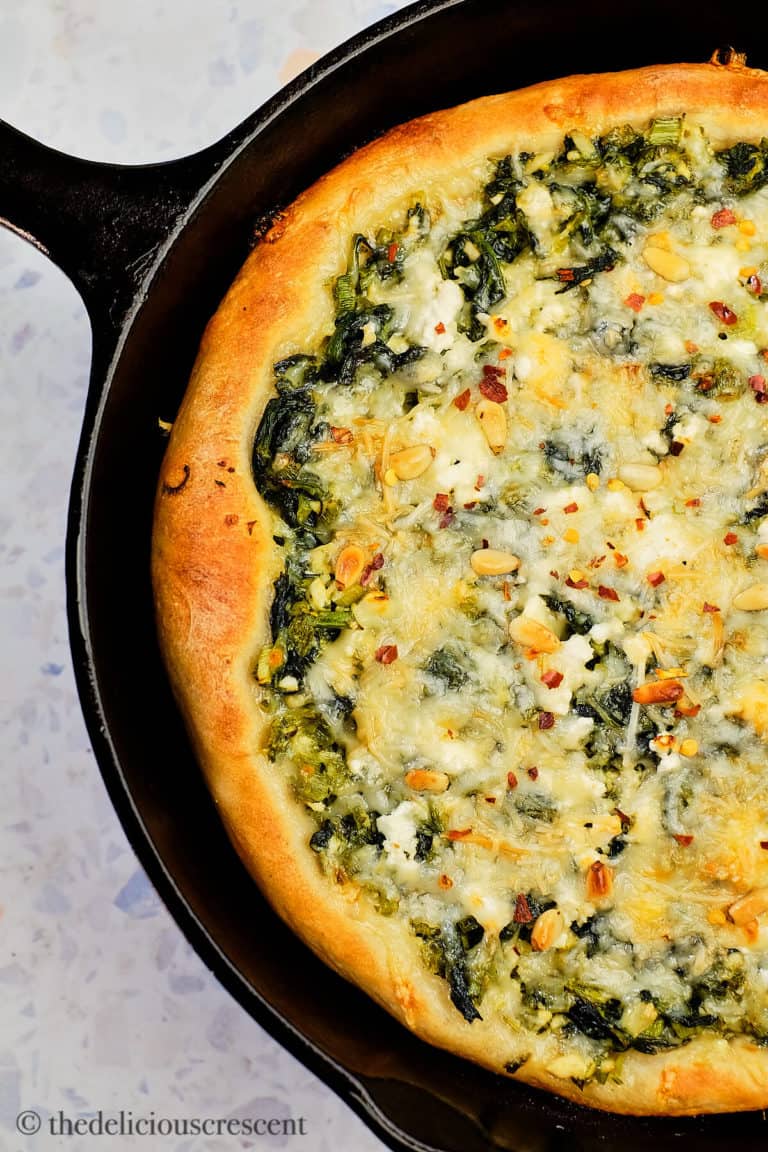 Cast Iron Skillet Pizza
With this recipe you can make pizza that tastes and looks professional in your good old cast iron skillet. The crust is AMAZING and tastes like it came out of a wood fired oven.
I top that with an equally amazing spinach and feta filling made in a Mediterranean style. The end result is that it tastes like a spinach pie. Except that it is a lot easier and lighter.
A crunchy crust with a thick cheesy spinach topping.
Chicago style pizzas are a nice change to the routine, but this recipe is real easy and you only need one pan to make it. Call it deep dish pizza or pizza pie, this one will become your go-to recipe for a quick fix.
I love cast iron skillet and use it almost everyday to turn out our family favorites such as seared cod fish and zucchini frittata. It is one piece of equipment that is so versatile and a must-have around the kitchen.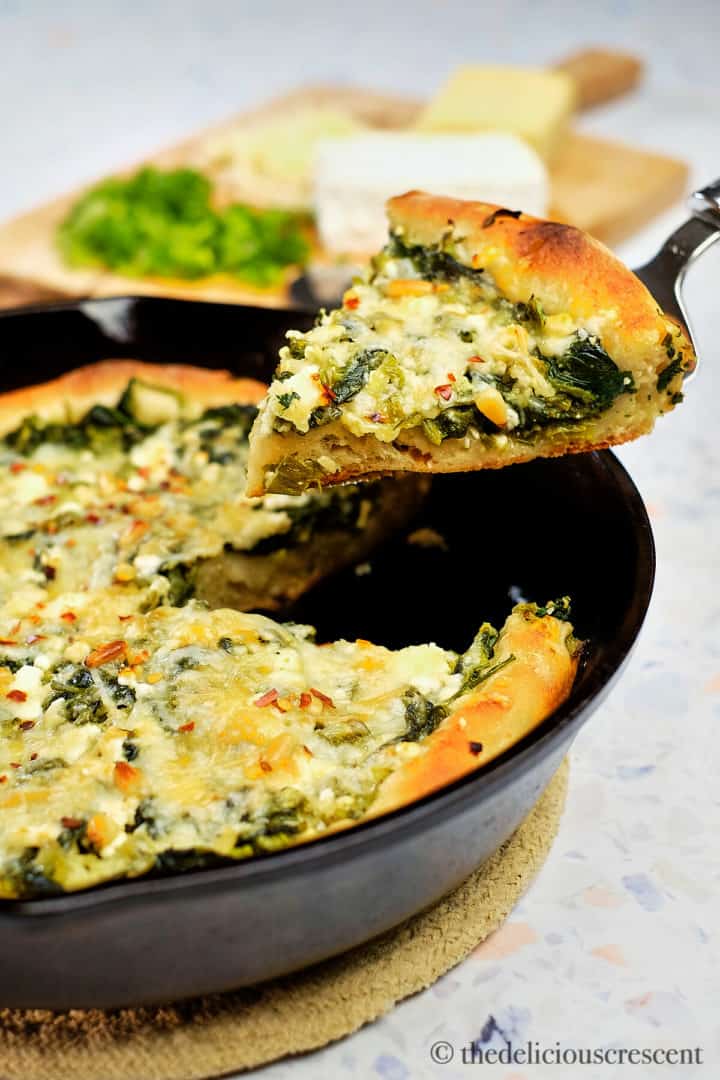 Ingredients
Bread flour, Dry yeast, Spinach, Green Onions, Garlic, Dried herbs, Feta Cheese, Cheddar Cheese, Parmesan Cheese, Red Pepper Flakes, Salt, Olive oil
Flour: I mix whole wheat flour with bread flour to make it more hearty and increase the fiber in the dough. You could try readymade pizza dough too.
Spinach: I prefer to use fresh greens. But you can also use about 5 ounces frozen spinach. Just squeeze the water out and evaporate the juices a bit.
Cheese: Because this recipe uses a variety of cheese, you will not need to add salt. Adjust it per your preference.
Step By Step Overview
Combine warm water, yeast, sugar, flour, salt and olive oil and knead it into a smooth dough. Let it rise until double in bulk.
Sauté garlic, spinach and green onions. Stir in dried herbs, crumbled feta and some cheddar cheese.
Roll the dough and transfer to skillet and coax it to the edges. Spread the spinach filling and top with remaining cheese.
Cook few minutes on stove top and then transfer to oven and bake until golden brown on edges.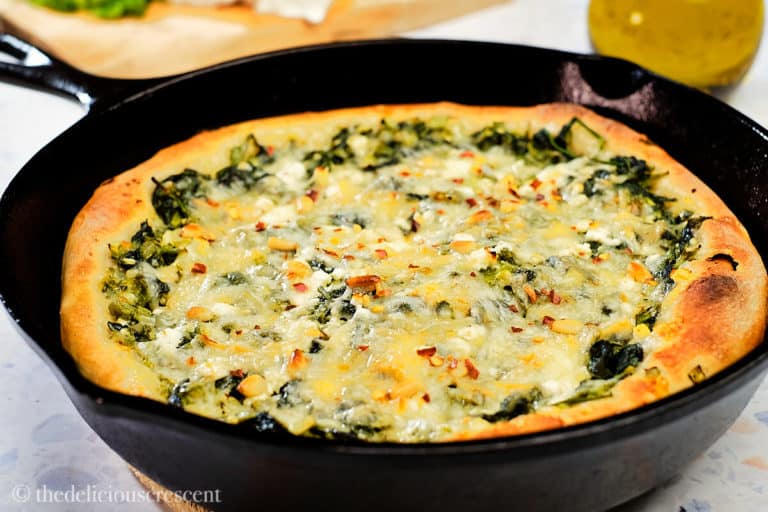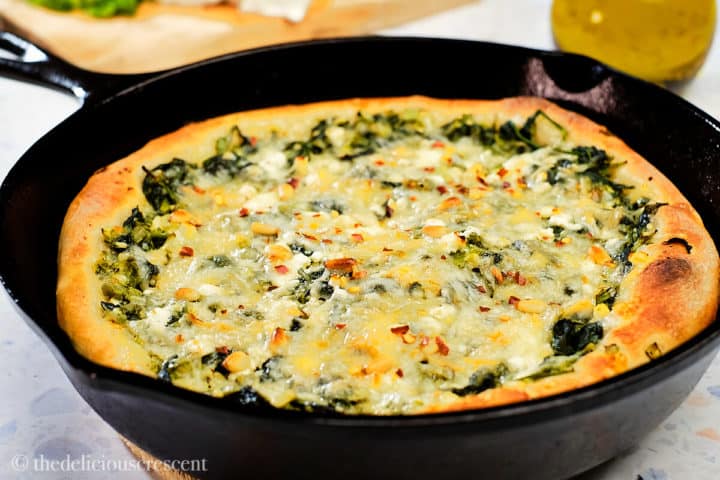 How to Serve
This is a one pan dish from cooking to serving. You can use a cast iron skillet to make the spinach feta filling, to cook the pizza and also to serve it.
Cut it into wedges and the pizza will remain warm for a long time in the skillet. Be careful handling the hot skillet.
The pizza also slides off easily from the pan. So you could serve it on a different serving platter too.
Store and Freeze
The leftovers can be stored in containers for 3 to 4 days. Reheat in cast iron skillet either on stove with a lid or in oven. And it will magically revive the crunchy crust.
Leftovers can be frozen for up to 2 months. Thaw and reheat as above.
Make Ahead
The spinach filling and pizza dough can be made ahead. The recipe makes dough for two crusts. The remaining dough can be refrigerated for couple days or freeze for later.
Variations
This is a vegetarian, egg free and soy free recipe.
Dairy Free and Vegan: Skip the cheese and replace with crumbled and seasoned tofu. Add nutritional yeast for flavor.
Gluten Free: Use a gluten free pizza dough.
Low Carb Pizza: Try this low carb pizza crust. But make sure the spinach filling is not wet.
Nut free: The pine nuts are optional.
Nutrition Facts
Spinach is a great source of vitamin C, vitamin K, vitamin A, potassium and folic acid. These greens, if included in your diet regularly, can support health benefits such as better diabetes management, bone health, intestinal health, cancer prevention, lower blood pressure, good hair and skin.
The cheese used in this recipe are some of the healthiest, giving you more flavor for the amount of calories and fat.
More Pizza Recipes
★ DID YOU MAKE THIS RECIPE? PLEASE COMMENT AND GIVE IT A STAR RATING BELOW!
Zaalouk (Moroccan Eggplant Dip)
Zaalouk is an amazingly delicious Moroccan salad or dip made with roasted eggplants. Easy to make, it tastes great with toasted bread. And gets even better the next day.
Print
Instructions
Preheat oven to 400˚F. Prick the eggplants with a fork in couple spots and place them on a parchment paper lined baking sheet. Bake for

35 to 45 minutes

until the skin turns darker and shrinks. Check foot notes for grilling, broiling or stove top options.

The eggplants should be cooked through completely in the center. To check, press the back of a fork on the eggplant. It should compress easily all the way into the center without any resistance.

Cut through the eggplant skin and scoop out the soft cooked flesh and mash it with a fork and set aside.

Chop the tomatoes into small pieces, discarding some seeds if you wish. See note below for peeled and deseeded tomatoes.

Heat 2 tablespoons olive oil in a saucepan at medium setting. Add the chopped tomatoes, minced garlic, paprika, cumin, cayenne or chili powder, ⅓ teaspoon salt and cook until tomatoes are softened, stirring in between, about

15 to 20 minutes

.

Add the mashed eggplants and cilantro. Continue to cook over low heat for another

10 to 15 minutes

, stirring occasionally, mashing it if needed, into a thick but slightly textured dip like consistency.

Stir in lemon juice and salt. Adjust as per taste, let it cool and transfer to a bowl, cover and refrigerate it overnight before serving.

Take the zaalouk from the refrigerator about

30 minutes

before serving and let it come to room temperature. Drizzle with remaining olive oil. Garnish with cilantro and red pepper flakes if you prefer.

Chunky Zaalouk: To make a chunkier but less traditional zaalouk, insert garlic cloves into eggplant and roast it in the oven at 400˚F, along with the tomatoes. Chop the eggplants and tomatoes. Add the spices, herbs, half the olive oil, salt and mash it up to desired consistency. Drizzle olive oil and serve.
Notes
Cooking Eggplants:

Grill: Roast eggplants on charcoal or gas grill for 20 to 30 minutes, turning them slowly in between, until skin turns darker and shrinks.
Broil: Cut eggplants lengthwise into halves and place the cut side down on a foil lined baking sheet. Place on the second rack and broil until skin turns darker and shrinks, about 20 minutes.
Stovetop: Peel the eggplants completely, only some stripes or leave the skin on if you don't mind it. Cut the eggplants into small pieces. Steam on high heat until soft or cook in a pan with some water until soft and mushy.

Easy Zaalouk: Combine all ingredients with ⅓ cup of water and cook it over stove top until softened. Mash it up well and drizzle olive oil.
Peeled and deseeded tomatoes: If you prefer, you can blanch the tomatoes. Cut a small cross on the surface of tomatoes and dump them in hot boiling water. After a minute, pick out the tomatoes and peel the skin, cut them into halves and deseed. Chop them into small pieces.
Use more tomatoes if you want the dip to be saucy. You may even try using a little bit of tomato paste to give it thickness.
Leftovers: Can be refrigerated for 4 to 5 days. You can freeze zaalouk for couple months. Thaw and reheat. Adjust the consistency, evaporating or adding water as needed. Check the seasoning as well.
Nutrition facts not including any added salt.
For other variations, tips and serving suggestions, scroll up the page to the blog post.
Nutrition
Calories:
77
kcal
|
Carbohydrates:
6
g
|
Protein:
1
g
|
Fat:
6
g
|
Saturated Fat:
1
g
|
Polyunsaturated Fat:
1
g
|
Monounsaturated Fat:
4
g
|
Sodium:
5
mg
|
Potassium:
280
mg
|
Fiber:
3
g
|
Sugar:
4
g
|
Vitamin A:
526
IU
|
Vitamin C:
9
mg
|
Calcium:
15
mg
|
Iron:
1
mg
Spinach Feta Pan Pizza
Cast iron pan pizza makes the best crunchy pizza crust ever! With a delicious spinach and feta topping, this pizza with mediterranean flavors makes a satisfying dish. More tips above in blog post.
Print
Ingredients
Instructions
Dough
In a stand mixer bowl, fitted with a dough hook, pour warm water. Then scatter yeast and sugar. Wait 

couple minutes

 until foamy. Stir in 3 cups bread flour. Cover with a lid and let it rest for 

20 minutes

.Tip: Try using all or part whole wheat flour for more fiber. In which case, you will need slightly less flour for the dough.

With the mixer running at low speed, add salt and olive oil. Gradually add remaining flour, little at a time, until the dough is soft and slightly sticky.

Knead the dough for 

6 to 8 minutes

 at medium-high setting. The dough should pull away from the sides and should be soft and elastic. It should stretch without tearing. Check the window pane test.

Place dough in an oiled bowl, cover with a lid and let it rise in a warm place for about 

1 hour

until double in bulk (inside an oven that is not preheated works well).
Spinach and Feta Topping
While the dough rises, make the spinach and feta topping. In a cast iron skillet (or sauté pan) heat olive oil and sauté shallots and garlic. Then add spinach and let it wilt.

Push the spinach to the edges and make a well in the center to let the juices collect. Increase the heat and let the juices evaporate. Dont overcook the spinach, just get rid of the excess juices.

Then stir in chopped green onions, dried herbs, crumbled feta cheese and ⅓ of grated cheddar cheese. Transfer the filling to another bowl.
Make the Pizza
Preheat the oven to maximum setting (in mine it is 550° F).

Turn the dough out onto a well-floured or lightly oiled work surface. Cut the dough in half and refrigerate one portion to use later.

Roll the dough into a ball, flatten it and let it rest

five minutes

. With your finger tips or using a rolling pin, flatten the dough into a 8-inch disc.

Heat the skillet. Once preheated, carefully transfer the pizza round to skillet and coax it to the edges using your fingertips. Tip: Be careful not to burn your fingers. You could try placing a small piece of parchment paper over the dough and coaxing it.

Dollop the spinach and feta topping over the dough and spread it evenly. Top with remaining grated cheddar cheese, parmesan cheese and pine nuts (optional).

Cook the pizza for

3 to 5 minutes

on the stove at medium-high.

Then transfer skillet to the oven, lower to 400 degrees Fahrenheit and bake for

10 to 12 minutes

until the edges turn golden brown.

Top with red pepper flakes. Let it rest

5 minutes

and cut it into wedges and serve.
Notes
Dough Alternative: You could try readymade pizza dough too.
Frozen Spinach: You may use about 5 ounces frozen spinach.
Store: Refrigerate leftovers in containers for 3 to 4 days. Reheat in skillet either on stove with a lid or in oven.
Freeze: Pizza can be frozen for up to 2 months. Thaw and reheat as above.
Make Ahead: The filling and dough can be made ahead. This recipe makes dough for two crusts. Refrigerate the rest for couple days or freeze for later.
Variations: You can make this pizza vegan, gluten free, low carb and nut free. Tips in blog post.
Nutrition
Serving:
1
Wedge
|
Calories:
205
kcal
|
Carbohydrates:
27
g
|
Protein:
11
g
|
Fat:
7
g
|
Saturated Fat:
2
g
|
Cholesterol:
10
mg
|
Sodium:
439
mg
|
Potassium:
301
mg
|
Fiber:
3
g
|
Sugar:
3
g
|
Vitamin A:
2879
IU
|
Vitamin C:
12
mg
|
Calcium:
94
mg
|
Iron:
2
mg
More Spinach Feta Recipes