The creamiest and most flavorful Rice Kheer you will ever have! This comforting Indian rice pudding, scented with the aromas of cardamom, saffron and rose got a nice upgrade with few simple secrets.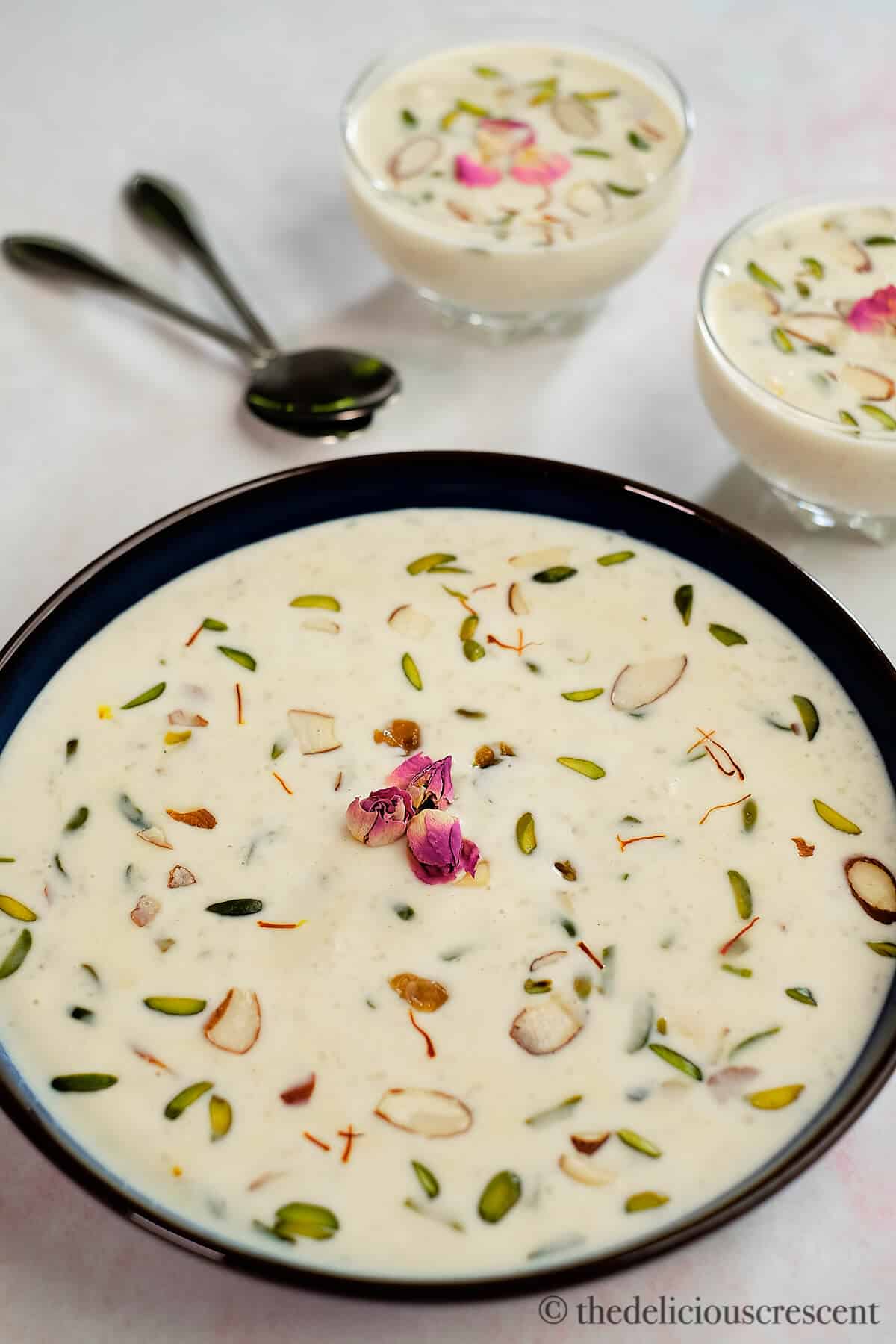 Creamy Rice Kheer
Kheer is a popular rice pudding that is ubiquitous in the Indian subcontinent. Indian rice pudding differs a bit from the western style rice pudding in texture and flavors.
More milk and less rice is used for this dessert. And it is cooked for a longer time, making the milk thicker, intense and sweeter. The rice grains are cooked very soft until they meld into the milk sauce.
Then the rice pudding is scented with exotic flavors such as cardamom, saffron and/or rose water. I prefer it chilled but you can have it warm too.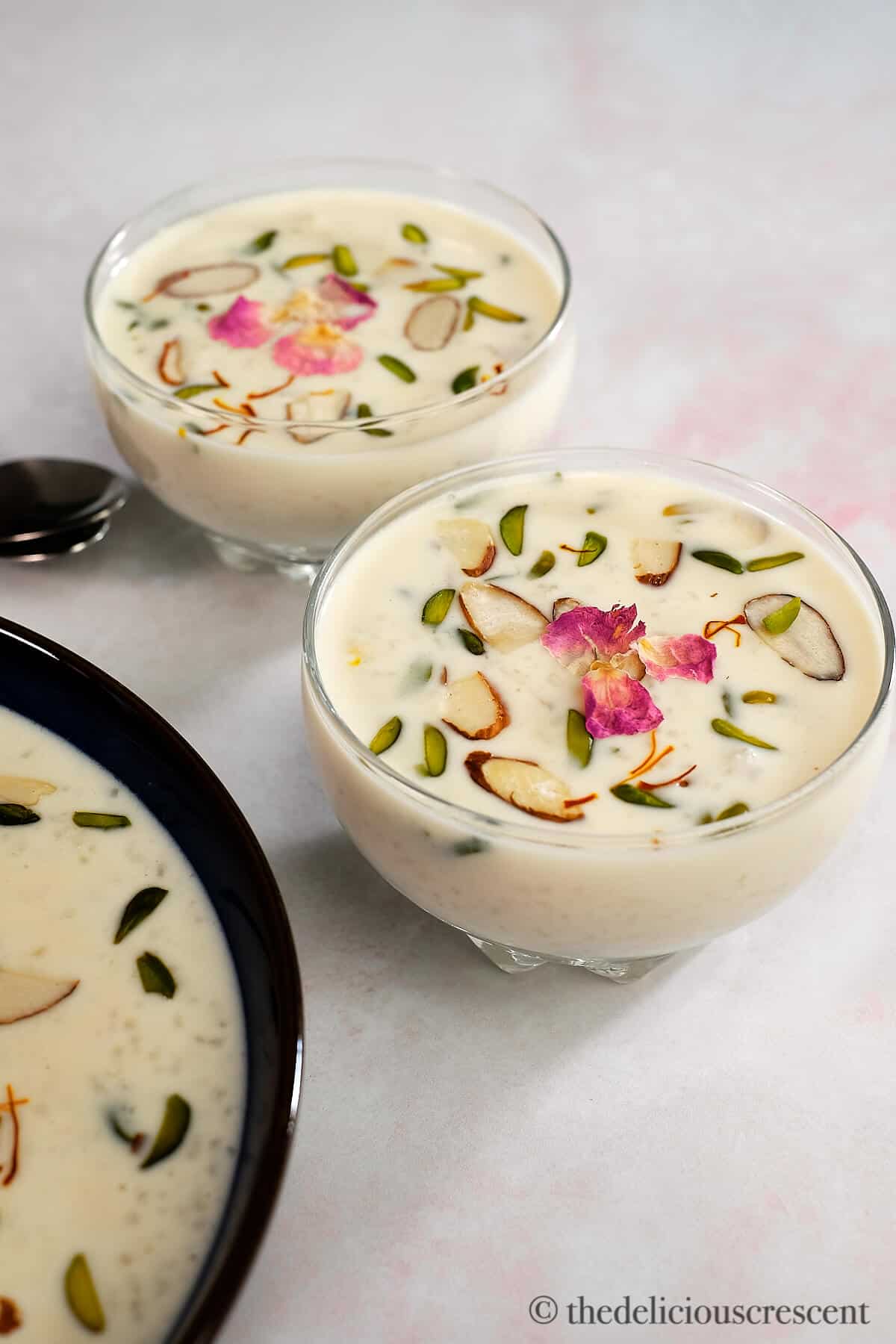 Ingredients
Rice, Milk, Sugar, Cardamom, Nuts, Raisins
Rice: Typically basmati rice or short grain rice are used. Here, I use a combination of basmati rice and arborio rice (Italian short grain rice). Basmati or jasmine rice have a floral aroma. Whereas, arborio rice makes the pudding more creamy. Use organic if you can.
Even though the rice grain sizes of basmati and arborio differ, it will not matter, as this kheer is cooked for a longer time and the grains will all cook to an even size. More about types of rice here.
If you want to make a western style rice pudding with Indian flavors, then just double the amount of rice.
Milk: Use whole milk. You can use reduced fat milk but it will be less creamy.
Sugar: White sugar is more commonly used. But you can try brown sugar, adding it at a later stage. You may try honey or maple syrup but honey will alter the flavor a bit, depending on the variety you choose.
Cream: Some versions of kheer use ghee and some don't. If you wish to add extra fat, then choose cream rather than ghee. Much richer flavor! The calories and fat are lower too.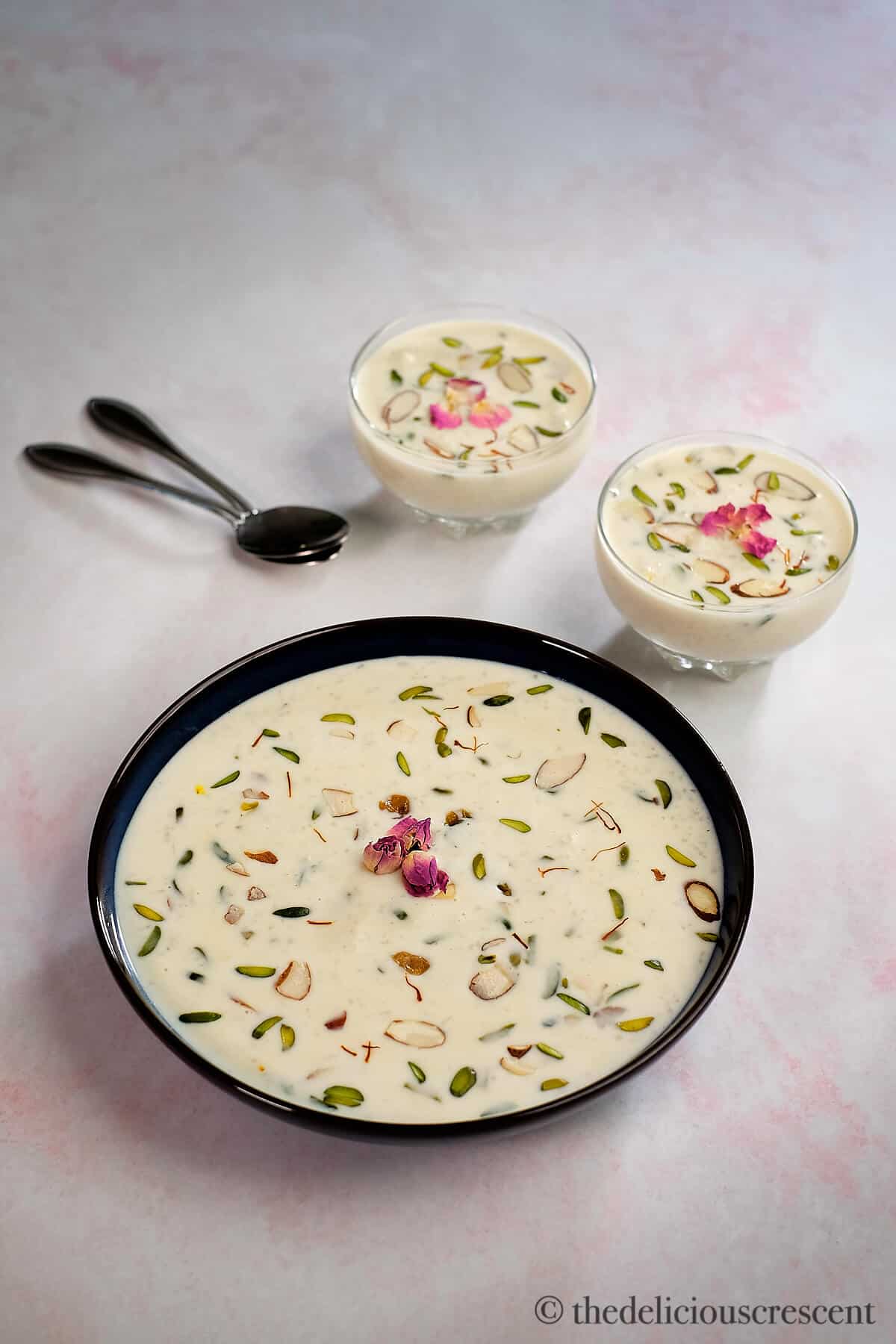 Flavors: I use a combination of rose water, ground cardamom and a hint of saffron for a rich and complex flavor. You can choose any of them or a combination. You can try a dash of cinnamon or nutmeg too.
Dried fruits and Nuts: Usually blanched almonds, toasted cashews or raw pistachio slivers are used. I prefer sultanas (golden raisins), but regular raisins or chopped dates can be used.
Rice flour: This is yet another secret that will quickly and magically transform your pudding to a creamy and dreamy dessert.
Rich, thick and creamy, the Indian rice kheer is an experience to be relished.
Brief Overview
This is a really easy recipe for a creamy comfort dessert.
Just boil milk, add soaked rice and cook.
Then add sugar and cook more until thick.
Make rice flour paste, add to it and cook.
Finally add raisins, flavors and nuts.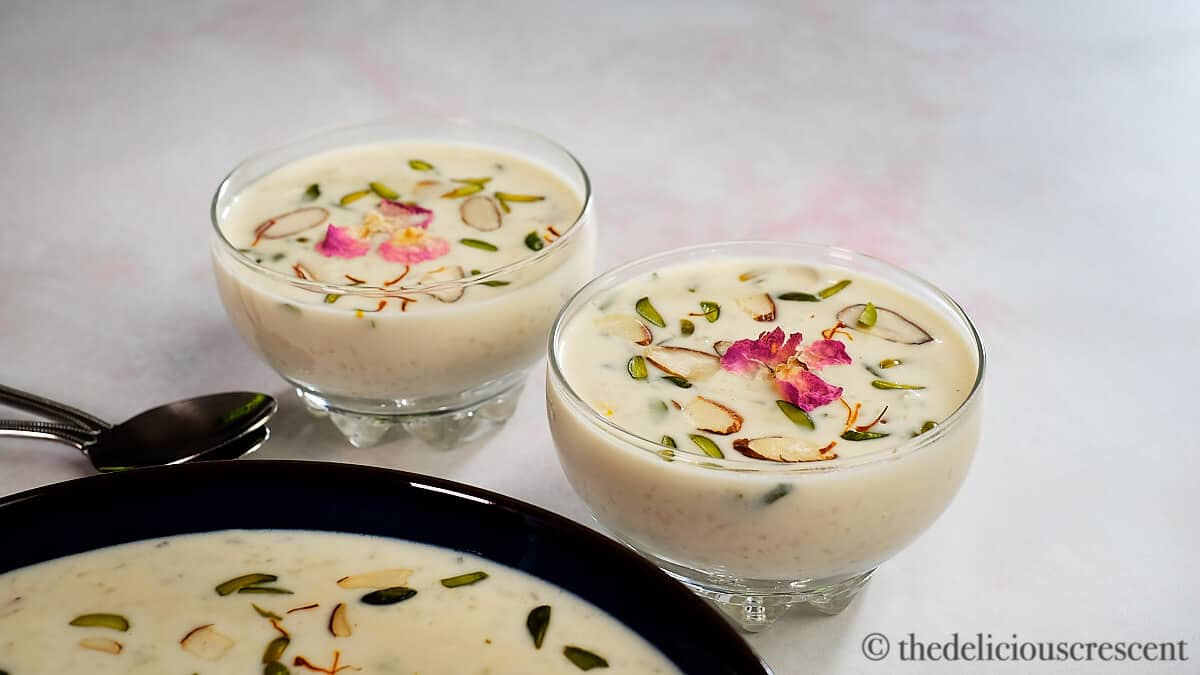 Variations
Kheer is gluten free, vegetarian, egg free, low sodium and soy free.
Vegan/Dairy free: You may use coconut milk or thick nut based milk. Substitute cream or ghee with cashew butter. You could also try using a smooth nut paste made with nuts soaked in water.
Nut free: Skip the nuts and use melon seeds.
No added sugar/less sugar: Cook the milk with more chopped dates or raisins and skip the sugar or lower it. You could stir in puree of fruits such as mango, banana, sweet apples or peaches etc, at the end.
Healthier: Make it with soaked brown rice. But it will take much longer to cook and will be more chewy and nutty. Sweeten the rice pudding as above. Maple syrup or honey may be used for refined sugar free versions. And try using cashew butter or nut paste instead of cream, as explained under "vegan/dairy free".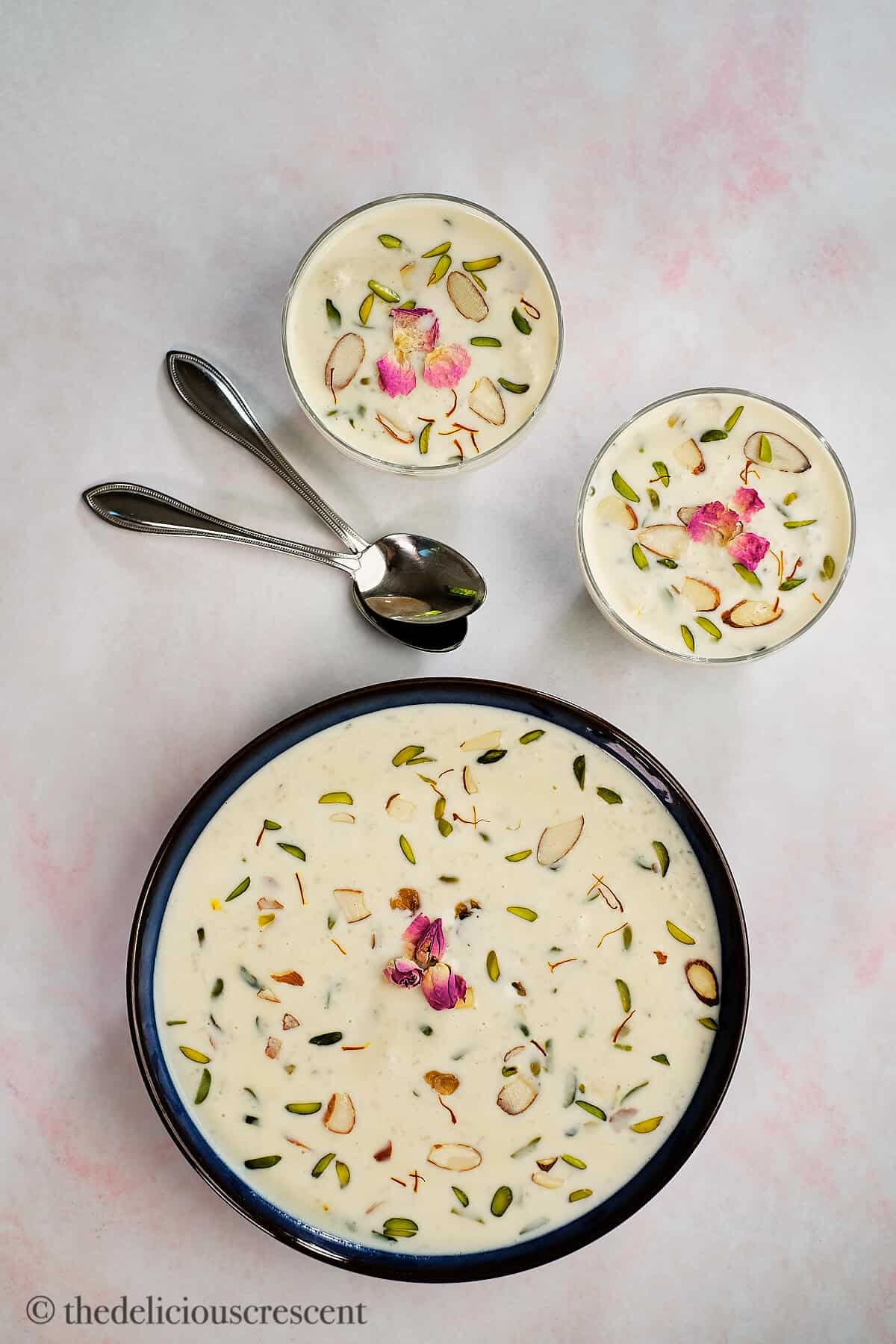 More Dessert Recipes
★ DID YOU MAKE THIS RECIPE? PLEASE COMMENT AND GIVE IT A STAR RATING BELOW!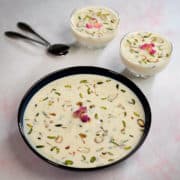 Kheer (Indian Rice Pudding)
The creamiest and most flavorful Rice Kheer you will ever have! This comforting Indian dessert, scented with the aromas of cardamom, saffron and rose got a nice upgrade with few simple secrets.  
Print
Save
Saved!
Instructions
In separate bowls, soak basmati rice and arborio rice in water for one hour. Drain the rice well. Crush some of the basmati rice randomly, but do not overdo it.

Bring milk to a boil at medium high, in a wide and heavy bottomed cooking pot. This should take about

8 to 10 minutes

.

Reduce the heat to medium low, add drained rice and cook for

30 minutes

. Keep stirring in between, making sure the milk does not boil over or stick at the bottom. Lower the heat if needed.

Add sugar and cook for

30 minutes

until rice grains are well cooked and start to meld into the milk, which should be thicker now.

Combine ¼ cup of cooked mixture with rice flour and make a paste. Stir it back into rice pudding and cook. It should now become more creamy.

Add raisins and let it simmer for

15 minutes

, stirring in between. Finally add the cream, cardamom, rose water, almond slices, pistachio slivers and simmer 10 minutes. Crush the saffron and sprinkle on top.Tip: Stop cooking teh pudding when it has reached 75 percent of the desired consistency. It will become thicker as it cools down.

Decorate with more nuts and rose petals. Serve it warm or chilled.
Notes
Rinsing rice: This is a common practice in India to get rid of impurities. Organic rice sourced from USA or countries with similar production practices may not need to be rinsed for making rice pudding. Check the package instructions.
Storage: Kheer can be stored in the refrigerator for 4 to 5 days. It can be frozen for couple months. Don't leave this dairy based dessert out at room temperature for too long.
Milk & dairy: Use grass fed milk or at least organic. The flavor is much better.
Nuts: If using larger pieces of nuts, pre-soak in water, drain and then add it to kheer.
Prevent milk boiling over: Especially in the first half hour don't place lid on the pot, stir kheer in between and keep a watch. Use a wide cooking pot.
Make it fast: Substitute milk with one quart evaporated milk (or combination of plain milk and condensed milk). Crush the soaked rice a bit, cook in small amount of water to swell the grains before adding milk and cooking further.
Make it creamy: Using cream to add richness to rice pudding works much better. But if you prefer ghee, then roast some nuts in that and add it to the kheer.
Slow cooker: You can make kheer using either high or low setting. It turns out amazing.
Rice cooker: Use a large rice cooker. Start with only half the milk. Add the rest gradually as the rice cooks and expands.
Instant pot: It is much easier to make it in this pot using the porridge button.
Nutrition
Serving:
0.5
Cup
|
Calories:
220
kcal
|
Carbohydrates:
31
g
|
Protein:
7
g
|
Fat:
8
g
|
Saturated Fat:
4
g
|
Cholesterol:
19
mg
|
Sodium:
83
mg
|
Potassium:
305
mg
|
Fiber:
1
g
|
Sugar:
20
g
|
Vitamin A:
307
IU
|
Vitamin C:
1
mg
|
Calcium:
220
mg
|
Iron:
1
mg
More Indian Recipes