Ghormeh Sabzi is a popular Persian herb stew with juicy lamb in intensely fragrant, rich and tangy herb gravy, packed with protein, fiber, phytonutrients and potassium.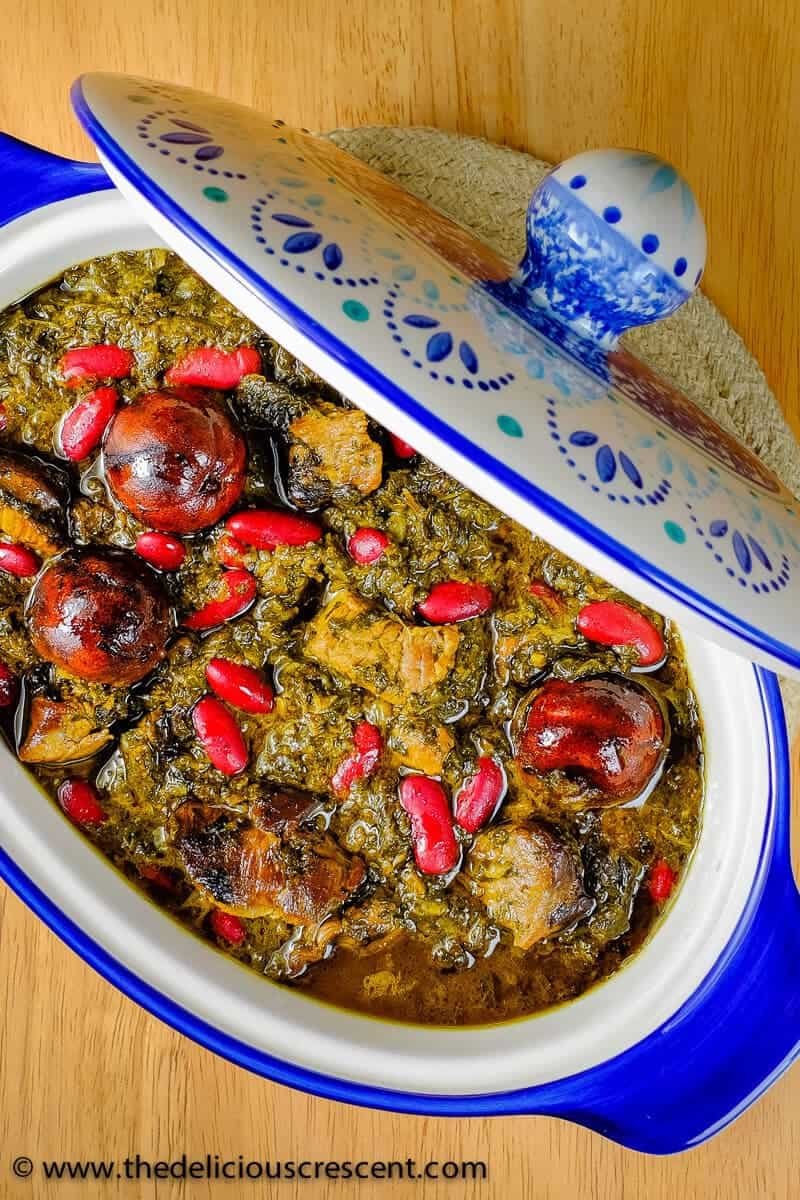 Photography: bijansviewfinder.com
WHAT IS GHORMEH SABZI?
Ghormeh Sabzi, has garnered the reputation of being one of the most beloved Persian stews. Call it the "King of Persian Stews" or the "National dish" – no Persian restaurant menu or buffet is ever complete without this well deserved star item.
There are certain things in life that are to be experienced in its pristine originality. And Ghormeh Sabzi is one of them. This ancient classic recipe involves the cooking down of a combination of greens and herbs into a rather characteristic aromatic mélange.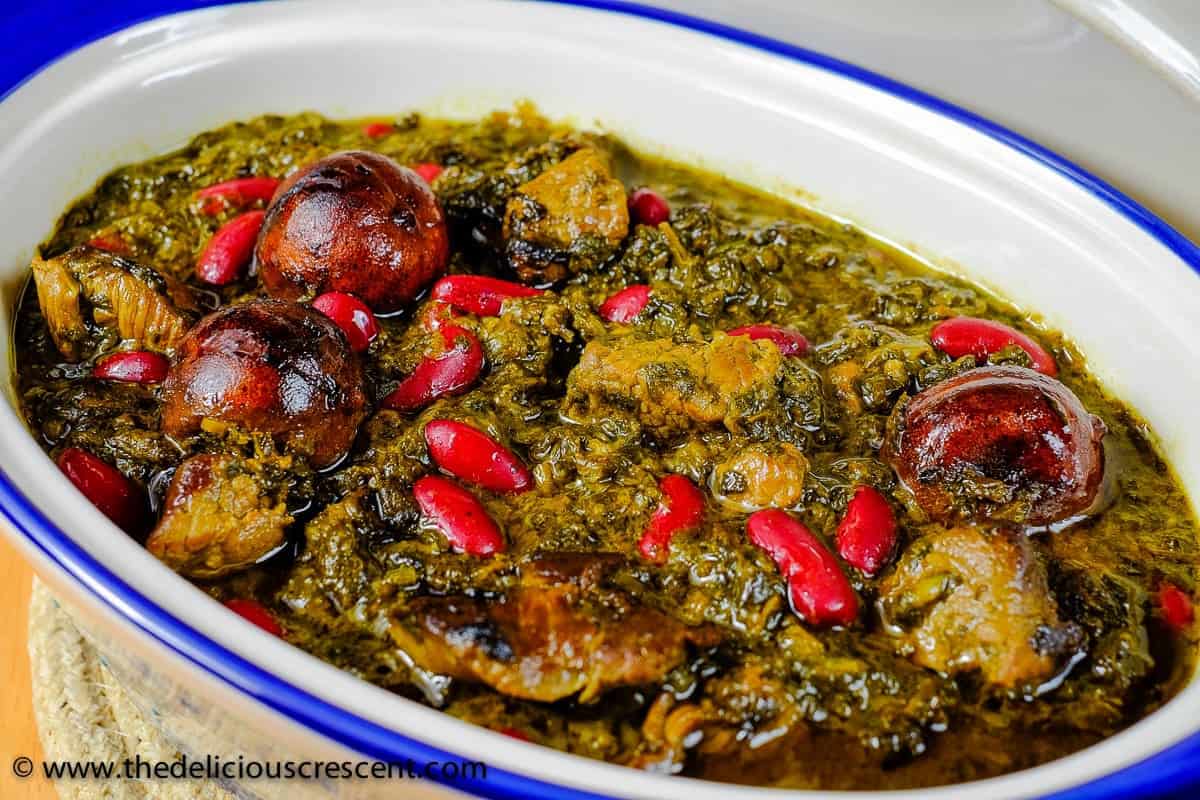 Photography: bijansviewfinder.com
HOW TO MAKE PERSIAN HERB STEW
Persian Herb Stew is traditionally prepared with lamb, beef or veal. And I am a proponent of eating all that one enjoys, while keeping the principles of moderation and balance in mind. However, if you are longing to eat more of this addictive stew, you can also try it with chicken, fish, more kidney beans or even a vegan version with tofu.
So what exactly goes into this fascinating stew? Parsley, Cilantro, Spinach, Fenugreek leaves, Green onions, Meat and Kidney beans. And it uses a LOT of the herbs and greens. But nothing to worry. Because you will be fine with chopping up all the fresh herbs and one of these days I will share with you how I prepare the herbs in advance and freeze them in bags.
An especially key step in the preparation of Ghormeh sabzi is the slow and adequate roasting of the greens and herbs, that works the magic of emanating an aroma that will lovingly wrap you back. Another essential ingredient is the Fenugreek, and like most recipes that use this herb, the dish tastes even better the next day after the flavors have had a chance to meld together. And whenever possible, I like to cook this dish with some bones along with the meat as I think that it imparts more flavor.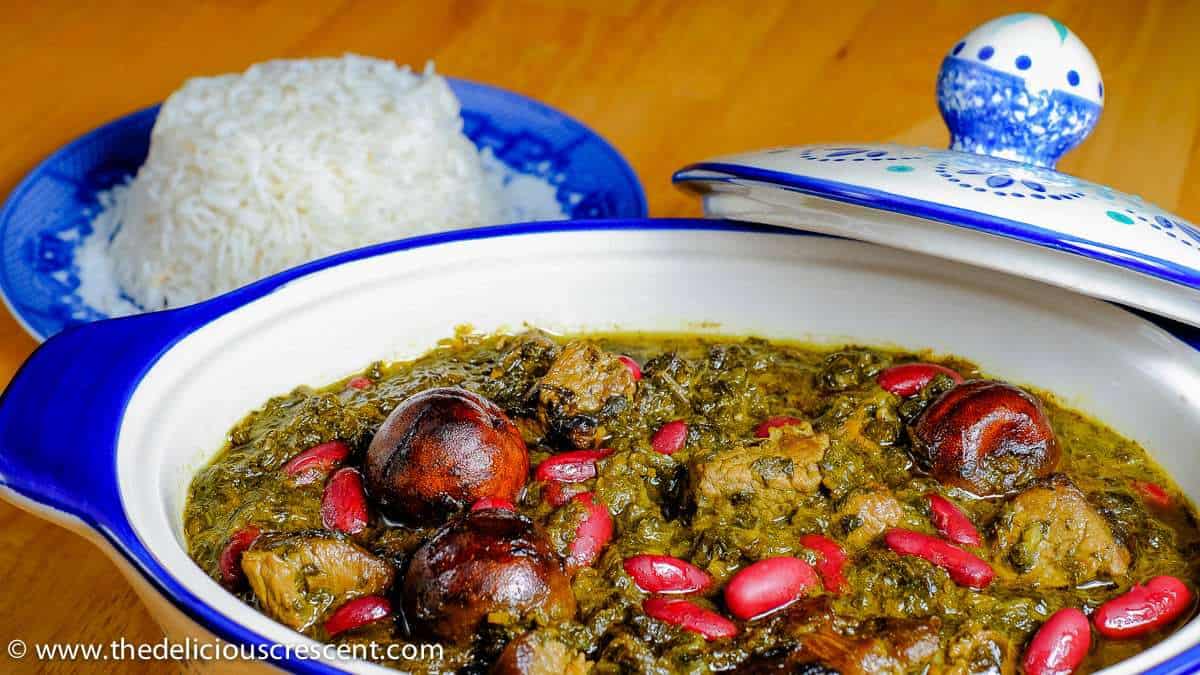 Photography: bijansviewfinder.com
HEALTH BENEFITS – GHORMEH SABZI (PERSIAN HERB STEW)
Since I typically write about the nutrition potential of an ingredient in my posts, today I am choosing to write about Parsley. For information about other ingredients, please follow the highlighted links above.
Parsley has often been relied upon in the form of a garnish to enhance the flavor or appearance of a dish. But here it is one of the star ingredients of this Persian Herb Stew. Parsley is a pretty nutritious herb. It is quite rich in Myricetin, a flavonol that has been known for its chemo preventive, anti-inflammatory effects and also for the lowering of blood sugar and insulin resistance.
This herb is also a good source of chlorophyll, which is effective in negating the carcinogenic effects of heterocyclic amines. Furthermore, Apigenin is a bioflavonoid found in parsley, that has shown promise in cancer treatment. And parsley is super rich in vitamin K and therefore supports bone health. It is also a good source of vitamin C and vitamin A.
Finally, all you would need to enjoy this much celebrated Persian Herb Stew – Ghormeh Sabzi – is some steamed rice, prepared with some saffron if you wish!
SHARE YOUR THOUGHTS
Have you heard of the hugely popular stew "Ghormeh Sabzi"?
Did you try this Persian Herb Stew recipe?
Do you have any questions about it? Or any suggestions?
Let me know by leaving a comment below, rating it, and tagging it with a photo at #thedeliciouscrescent on Instagram.
And if you liked this post, do share it with your friends!
Ghormeh Sabzi (Persian Herb Stew)
Ghormeh Sabzi is a popular Persian herb stew with juicy lamb in intensely fragrant, rich and tangy herb gravy, packed with protein, fiber, phytonutrients and potassium.
Course:
Entree, Main Course
INGREDIENTS
3 to 4

tablespoons

olive oil

1 ½

cups

onions

sliced thinly

1 ½

pounds

lamb

with bone* or 1 ¼ boneless lamb (cut in 2 inch pieces)

1/2

teaspoon

Advieh*

(Persian spice mix)

1/2

teaspoon

turmeric

1/4

teaspoon

black pepper

ground

salt

to taste

1/4

cup

kidney beans

dried, (soaked overnight)

3

limes

dried, whole

3

cups

parsley

fresh, chopped

1

cup

cilantro

fresh, chopped

1

cup

spinach

fresh, chopped

3/4

cup

green onions

or leeks, fresh, chopped

3/4

cup

fenugreek leaves*

fresh, chopped or 3 tablespoons dried leaves

1 to 2

tablespoons

dried lime powder

or 2 to 3 tablespoons lemon juice (as per taste)
INSTRUCTIONS
Heat 2 tablespoons of oil in a cooking pot. Next sauté the onions to a golden brown. Add the meat and brown it a little. Then add the spices, some salt, and 2 to 3 cups water and bring it to a boil. Lower the heat and simmer for approximately half hour.




Meanwhile, heat one tablespoon of oil in a ceramic nonstick skillet. Add the herbs/greens and sauté for approximately 20 minutes until you can smell the aroma of the roasted herbs. Make sure to stir as needed too.




Alternatively you may also mix the oil with the herbs/greens and spread it out on a parchment paper lined baking sheet and roast it in the oven at 375 degrees F for approximately 20 minutes. Stir in between.




Then add the sautéed herbs, drained kidney beans* and pierced dried lemons. Allow the stew to simmer for another 1 hour. Add the dried lime powder or lemon juice and cook another half hour until the meat and beans are tender.




Adjust the consistency, salt, lemon and other seasonings to taste. Furthermore, the stew should be thick and not runny.




Finally, serve the Persian Herb Stew hot with steamed rice.



RECIPE NOTES
If necessary, the kidney beans may be cooked separately for some time before adding to the stew.
Also, lamb leg or shoulder with some bone can work well for this Persian Herb Stew.
Frozen fenugreek leaves can be found in Indian and Middle Eastern stores. May substitute fresh Fenugreek leaves with 1/2 cup frozen leaves. Dried fenugreek leaves are available at Indian stores or online.
It is best to use fresh herbs but may substitute with dried herbs. There are ready made mixtures of these dried herbs available at online stores under the name "Ghormeh Sabzi".
NUTRITION FACTS
Servings: 6              Serving Size: 1 Cup
Calories: 251 kcals Fat: 13 g Saturated fat: 4 g Unsaturated fat: 9 g Carbohydrates: 11 g Sugar: 2 g Sodium: 181 mg Fiber: 4 g Protein: 20 g Cholesterol: 58 mg
* Not including any added salt. Check for any added salt in other ingredients and adjust.