Skillet flatbreads that are so soft and delicious. This easy versatile recipe will give you thick flatbreads, thin wraps or quick naan breads.
It goes so well with Chicken Korma, Shawarma or Kabob Koobideh.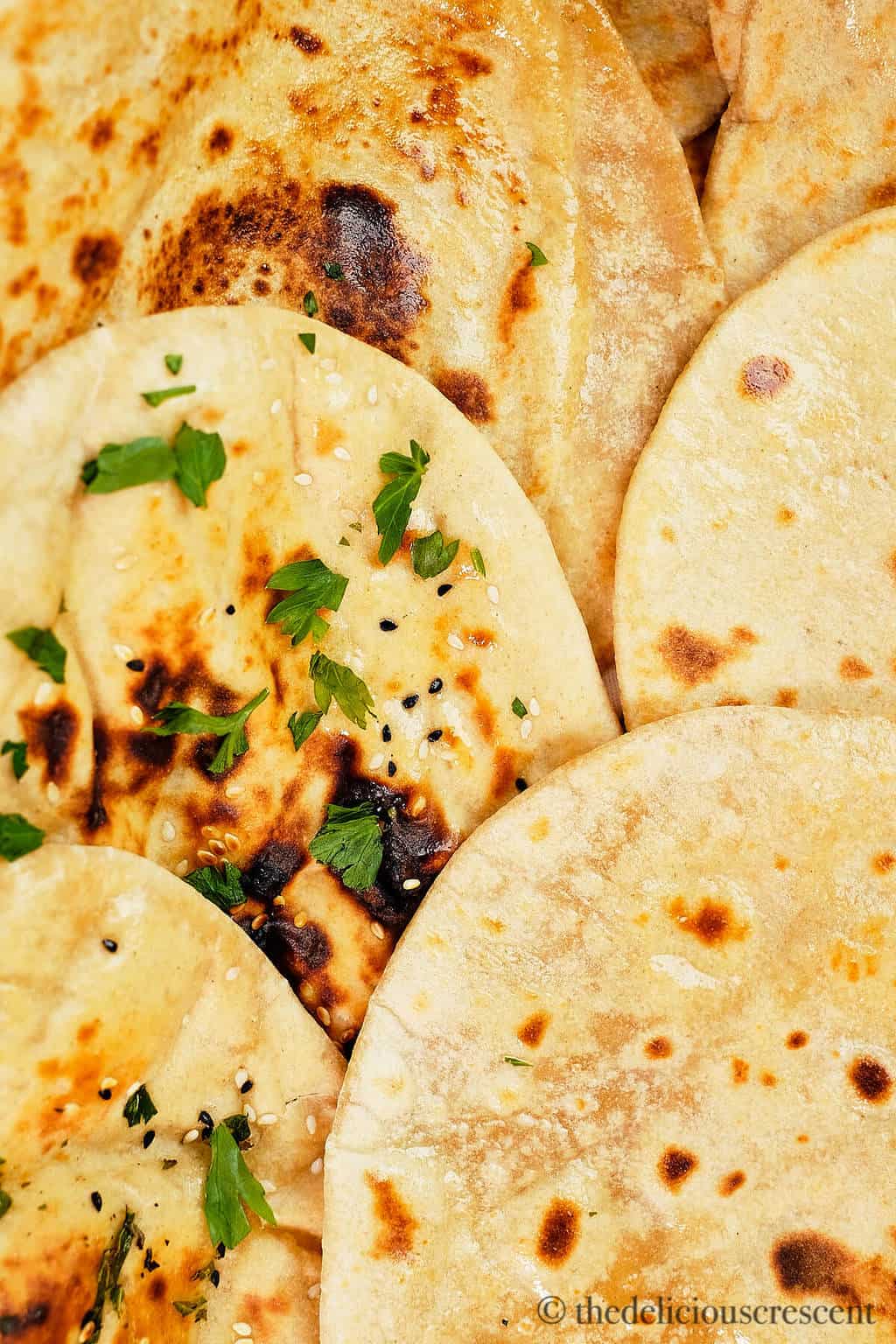 Homemade Skillet Flatbreads
There is nothing like fresh homemade bread. And skillet breads are so quick and easy to make.
This is a great recipe that will not take much effort or skill and can be made with just few ingredients. Besides, this one can be made without yeast. For those who like making flatbreads with yeast, we have a restaurant style Naan.
The recipe below has the right proportion of ingredients to give a dough that is versatile enough to make flatbreads for stews, wraps for sandwiches and also quick and delicious naan breads.
Ingredients
Whole Wheat Flour, Bread Flour, Baking Powder, Baking Soda, Salt, Olive Oil, Yogurt, Milk
Optional ingredients - Butter, Garlic, Sesame or Black Seeds, Cilantro
100 Percent Whole Wheat Bread - I have found that a combination of regular whole wheat flour and durum wheat flour (atta) to be the best. Just regular whole wheat flour alone is a bit stronger in flavor. Atta flour is milder. You may need extra liquid if using only whole wheat flour.
Another option would be to use white whole wheat flour, which is milder in flavor and lighter in color. Whole wheat flours will require to be kneaded a bit longer to make sure gluten develops well. Even though this is not a high rise bread, making a smooth dough with proper gluten formation will give a better result.
Using Vital Gluten for whole wheat flour based recipes, such as this Pita Bread Recipe, gives better results, especially if you are new to baking bread.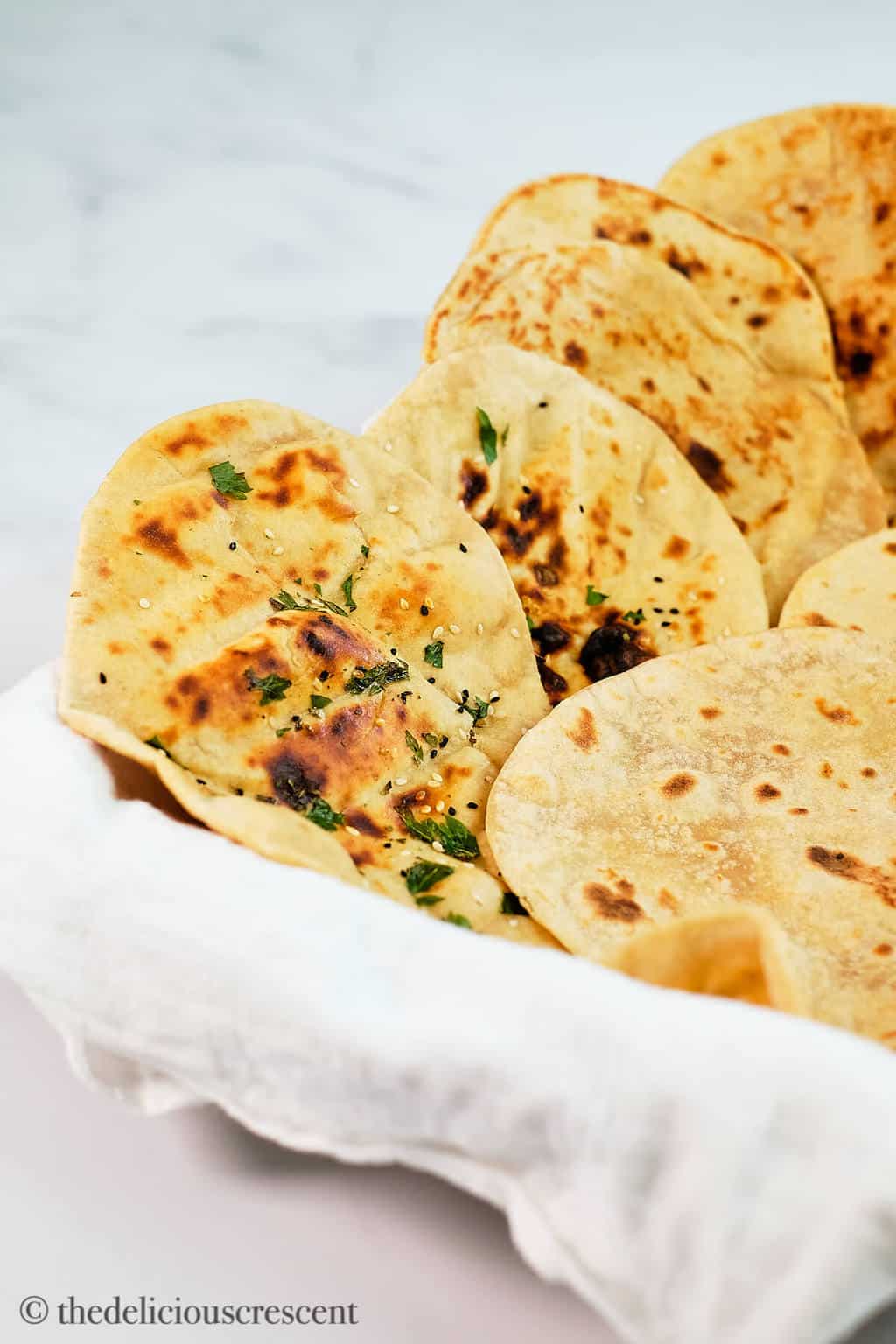 Step By Step Instructions
Below is the brief process for making the breads with the full recipe at the end of the post
Combine all the ingredients and knead it into a smooth and moist dough.
Preheat a cast iron skillet or a heavy bottomed skillet at medium setting.
Divide dough and roll it into circle or oval discs.
Cook flatbread on both sides, resulting in some golden brown spots on surface.
Make a variety — thick breads, thin wrap style or naan breads.
Stack and wrap in a towel to keep them soft.
How to Serve it
The thick flatbreads and naan can be used to serve with stews and gravy dishes such as - Braised Lamb Shanks and Kofta Curry. And also to make quick pizzas or sandwiches.
Thin flatbreads are perfect for wraps. Try it with our spicy tuna salad or Easy Persian Pan Kebab.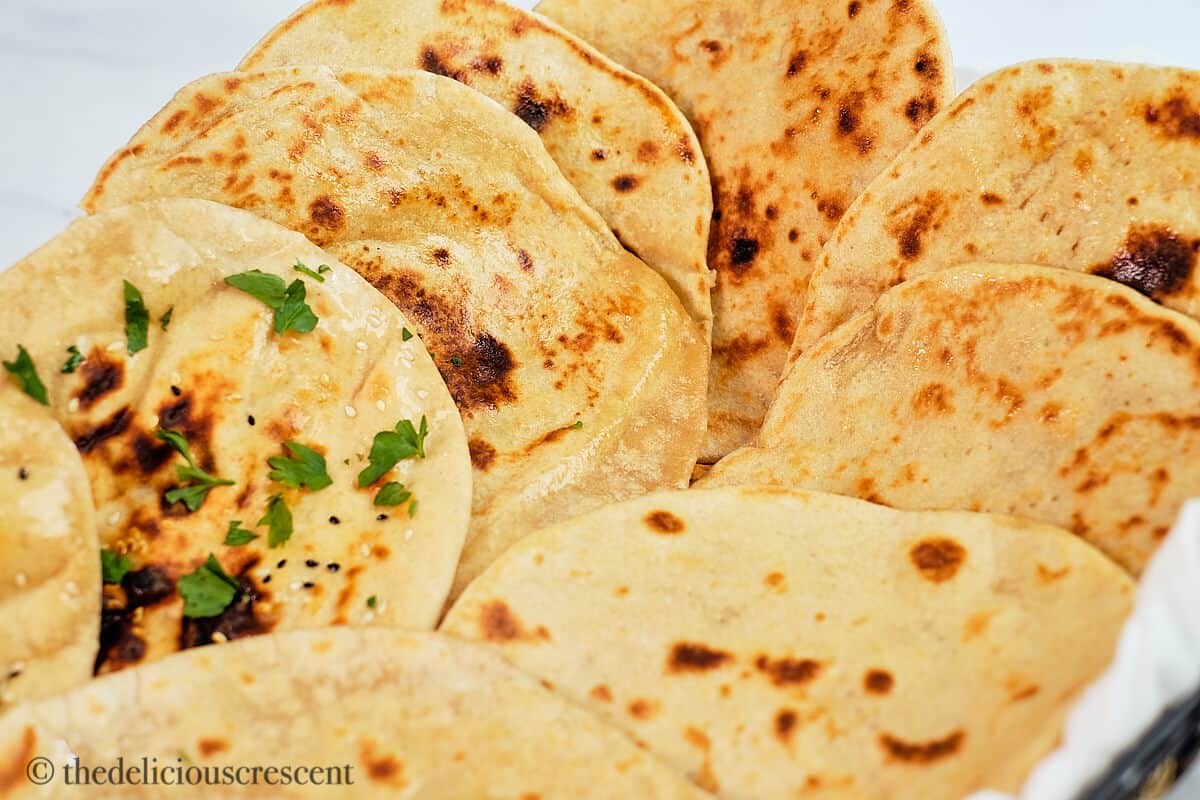 How to store and freeze
The breads should be wrapped in a kitchen towel right after cooking and then stored. The moisture from the steam helps to keep them warm and soft.
Store leftovers wrapped in paper towels and packed in ziplock bags. They keep well at room temperature for 2 to 3 days.
Place a parchment paper between the skillet breads and freeze in bags.
Nutrition Facts and Variations
These skillet flatbreads are egg free, nut free and soy free. They are half whole grain and combine the taste attributes of popular white flatbreads and some goodness of whole grains.
As mentioned in the post above, these are good even with all whole wheat flour if you would like to try. Check the recipe card notes for more variations.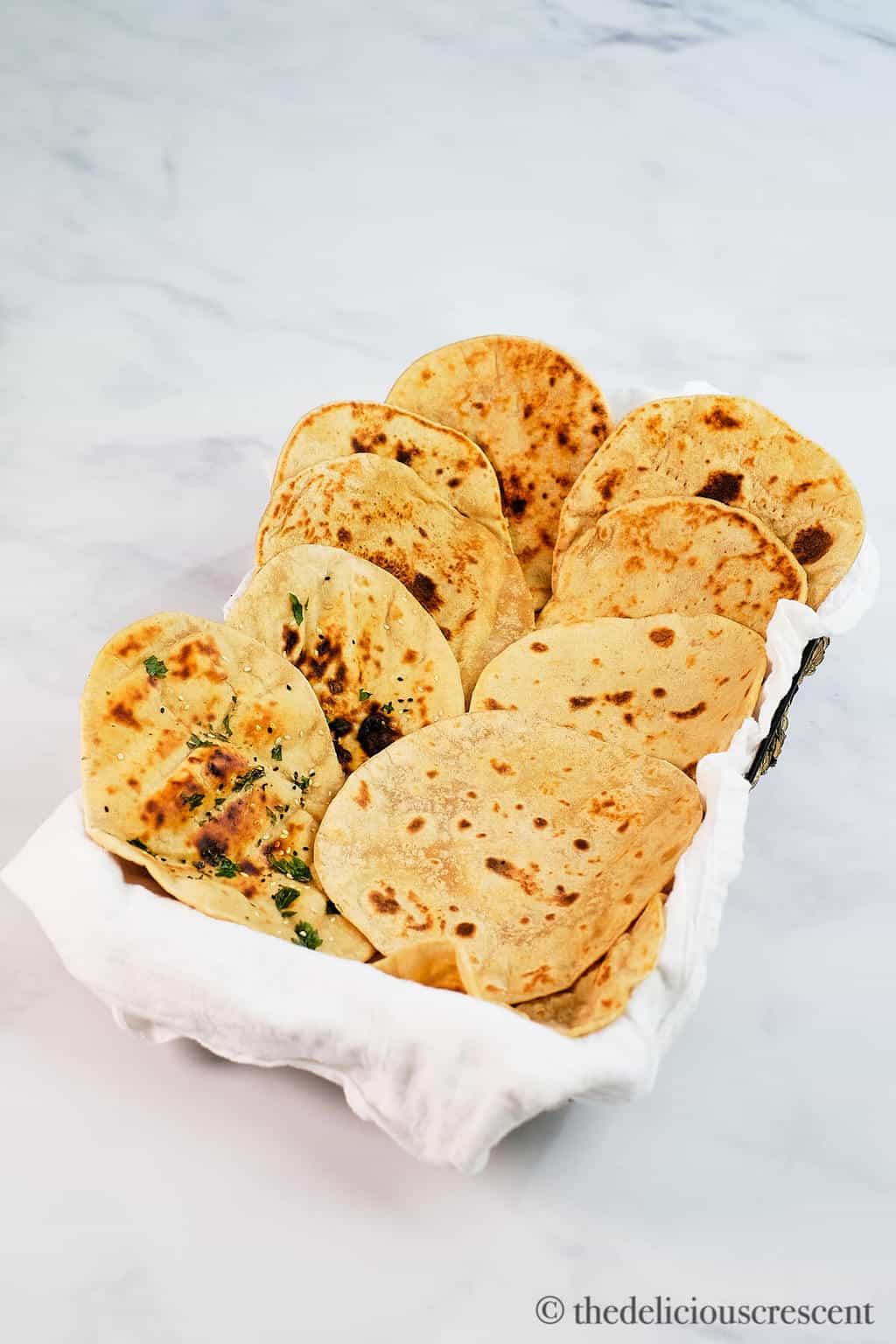 More Bread Recipes:
★ DID YOU MAKE THIS RECIPE? PLEASE COMMENT AND GIVE IT A STAR RATING BELOW!
Zaalouk (Moroccan Eggplant Dip)
Zaalouk is an amazingly delicious Moroccan salad or dip made with roasted eggplants. Easy to make, it tastes great with toasted bread. And gets even better the next day.
Print
Instructions
Preheat oven to 400˚F. Prick the eggplants with a fork in couple spots and place them on a parchment paper lined baking sheet. Bake for

35 to 45 minutes

until the skin turns darker and shrinks. Check foot notes for grilling, broiling or stove top options.

The eggplants should be cooked through completely in the center. To check, press the back of a fork on the eggplant. It should compress easily all the way into the center without any resistance.

Cut through the eggplant skin and scoop out the soft cooked flesh and mash it with a fork and set aside.

Chop the tomatoes into small pieces, discarding some seeds if you wish. See note below for peeled and deseeded tomatoes.

Heat 2 tablespoons olive oil in a saucepan at medium setting. Add the chopped tomatoes, minced garlic, paprika, cumin, cayenne or chili powder, ⅓ teaspoon salt and cook until tomatoes are softened, stirring in between, about

15 to 20 minutes

.

Add the mashed eggplants and cilantro. Continue to cook over low heat for another

10 to 15 minutes

, stirring occasionally, mashing it if needed, into a thick but slightly textured dip like consistency.

Stir in lemon juice and salt. Adjust as per taste, let it cool and transfer to a bowl, cover and refrigerate it overnight before serving.

Take the zaalouk from the refrigerator about

30 minutes

before serving and let it come to room temperature. Drizzle with remaining olive oil. Garnish with cilantro and red pepper flakes if you prefer.

Chunky Zaalouk: To make a chunkier but less traditional zaalouk, insert garlic cloves into eggplant and roast it in the oven at 400˚F, along with the tomatoes. Chop the eggplants and tomatoes. Add the spices, herbs, half the olive oil, salt and mash it up to desired consistency. Drizzle olive oil and serve.
Notes
Cooking Eggplants:

Grill: Roast eggplants on charcoal or gas grill for 20 to 30 minutes, turning them slowly in between, until skin turns darker and shrinks.
Broil: Cut eggplants lengthwise into halves and place the cut side down on a foil lined baking sheet. Place on the second rack and broil until skin turns darker and shrinks, about 20 minutes.
Stovetop: Peel the eggplants completely, only some stripes or leave the skin on if you don't mind it. Cut the eggplants into small pieces. Steam on high heat until soft or cook in a pan with some water until soft and mushy.

Easy Zaalouk: Combine all ingredients with ⅓ cup of water and cook it over stove top until softened. Mash it up well and drizzle olive oil.
Peeled and deseeded tomatoes: If you prefer, you can blanch the tomatoes. Cut a small cross on the surface of tomatoes and dump them in hot boiling water. After a minute, pick out the tomatoes and peel the skin, cut them into halves and deseed. Chop them into small pieces.
Use more tomatoes if you want the dip to be saucy. You may even try using a little bit of tomato paste to give it thickness.
Leftovers: Can be refrigerated for 4 to 5 days. You can freeze zaalouk for couple months. Thaw and reheat. Adjust the consistency, evaporating or adding water as needed. Check the seasoning as well.
Nutrition facts not including any added salt.
For other variations, tips and serving suggestions, scroll up the page to the blog post.
Nutrition
Calories:
77
kcal
|
Carbohydrates:
6
g
|
Protein:
1
g
|
Fat:
6
g
|
Saturated Fat:
1
g
|
Polyunsaturated Fat:
1
g
|
Monounsaturated Fat:
4
g
|
Sodium:
5
mg
|
Potassium:
280
mg
|
Fiber:
3
g
|
Sugar:
4
g
|
Vitamin A:
526
IU
|
Vitamin C:
9
mg
|
Calcium:
15
mg
|
Iron:
1
mg
Quick and Easy Skillet Flatbreads
Skillet flatbreads that are so soft and delicious. This easy versatile recipe will give you thick flatbreads, thin wraps or quick naan breads.
Print
Ingredients
Optional
sesame or black seeds

cilantro

grated garlic

butter
Instructions
Combine wheat flour, all purpose flour, baking powder, baking soda and salt in a

large mixing bowl

.

Add 2 tablespoons olive oil and yogurt. Mix well and let it rest

five minutes

. Then knead it for

five minutes

until smooth, moist and elastic, dusting with flour as needed. Cover with moist kitchen towel or a lid and let it rest for

10 minutes

.Tip: The dough should be easy to work with, slightly sticky and not dense.

Heat a

cast iron skillet

or a heavy bottomed skillet at medium setting. It is ready for cooking when you can feel the heat while holding your palm 3 inches above the 

skillet

.

On a work surface dusted with flour, cut dough into 6 pieces and roll them into balls. Roll each ball into a circle or oval disc that is about ¼ inch for thick flatbreads. Dredge the dough in flour as needed, but keep it minimal.

Place flatbread on the skillet and cook for

2 to 3 minutes

, until you see few bubbles. Flip it over and apply ¼ teaspoon olive oil. Then cook the other side for

2 to 3 minute

s, flip it and apply ¼ teaspoon olive oil. Tip: Cooked flatbreads will have golden brown spots on both sides.

Transfer breads to a container lined with kitchen towel and wrap them to preserve moisture and keep them soft.


Thin Flatbread
Divide the dough into 8 portions. Roll the dough to ⅛ inch thick and cook as above.
Naan Style
Roll the dough to ¼ inch thickness and sprinkle sesame or black seeds and chopped cilantro. Roll it once more to press it in. Cook on both sides

2 to 3 minutes

. Brush with a mixture of melted butter and grated garlic.
Notes
Cook the flatbreads at medium heat. High heat will burn the surface, while leaving the center undercooked.
Storage: Dough keeps well in the refrigerator for about 3 days. Cooked flatbreads keep well at room temperature for 2 to 3 days. Store leftovers wrapped in paper towels and packed in ziplock bags. Use parchment paper in between flatbreads and freeze them.
Gluten free flour: You may need to adjust amount of flour. The texture may be a bit different.
Dairy free/Vegan: Use coconut yogurt. Skip butter and use olive oil or coconut oil.
All purpose flour can be used instead of bread flour.
Atta (durum wheat flour) is available at Indian stores and online.
Nutrition
Calories:
231
kcal
|
Carbohydrates:
32
g
|
Protein:
7
g
|
Fat:
9
g
|
Saturated Fat:
2
g
|
Cholesterol:
5
mg
|
Sodium:
499
mg
|
Potassium:
258
mg
|
Fiber:
3
g
|
Sugar:
2
g
|
Vitamin A:
40
IU
|
Vitamin C:
1
mg
|
Calcium:
103
mg
|
Iron:
1
mg