Moroccan Lamb and Vegetable Stew with Cauliflower Couscous is a flavorful, comforting, healthy, complete meal, full of herbs and spices. Loaded with protein, fiber and potassium.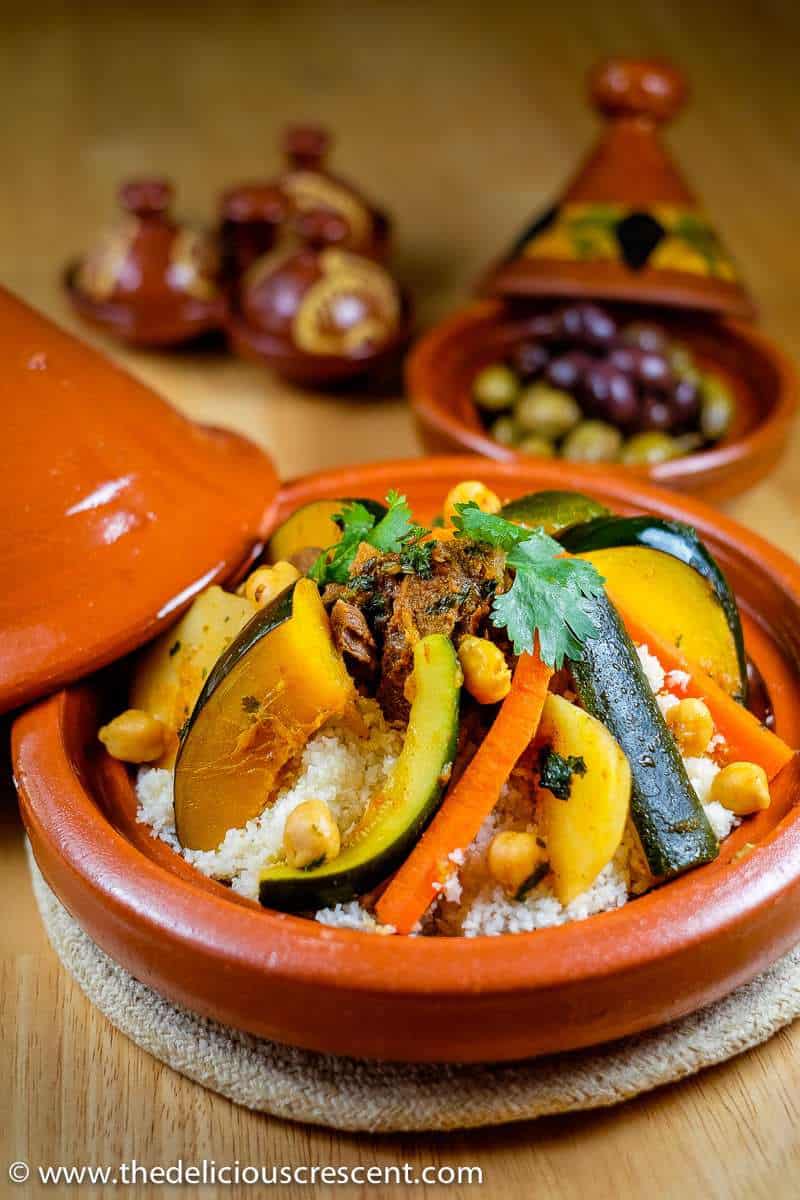 Moroccan Lamb Stew
I have devoured this delectable Moroccan lamb stew during many a visits to Moroccan homes and a journey to fascinating Morocco. And over the years I have prepared it several times, only to fall more in love with it.
Just a look at the variety of vegetables, spices and herbs used in this - Moroccan Lamb and Vegetable Stew with Cauliflower Couscous - and you can already start feeling the flavors and get hungry.
Don't let the long list of ingredients deter you from making this. Once you gather all the ingredients and quickly chop up the veggies, the rest of it does not take much time.
With this "Moroccan Lamb and Vegetable Stew with Cauliflower Couscous", you will not need to make a bunch of side dishes to complete the meal. And you could even double the stew recipe and freeze it for later.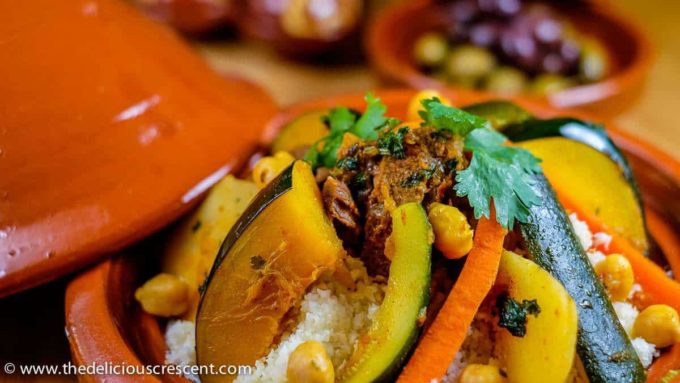 How To Use Cauliflower Couscous
Here, I mix regular couscous with "cauliflower" couscous. Especially when you combine the two, you can easily pass the test with the pickiest of eaters. And why would you want to add the cauliflower? To lighten up the calories and carbs, to make it more filling and to add some extra veggies.
These tips come in handy when you are trying to cook a meal for someone who is a diabetic or is trying to lose weight and needs to manage the carb intake, and to sneak in some veggies for your kids or to serve a balanced meal to your family. All the while keeping it tastefully healthy!
In the recipe and notes section below, I detail the different ways to make "cauliflower" couscous. You could even make it gluten free if you skip the regular semolina based couscous. By the way, cauliflower tastes great in a creamed version too.
Trust me, this Moroccan Lamb and Vegetable Stew with Cauliflower Couscous recipe will become a keeper in your growing repertoire.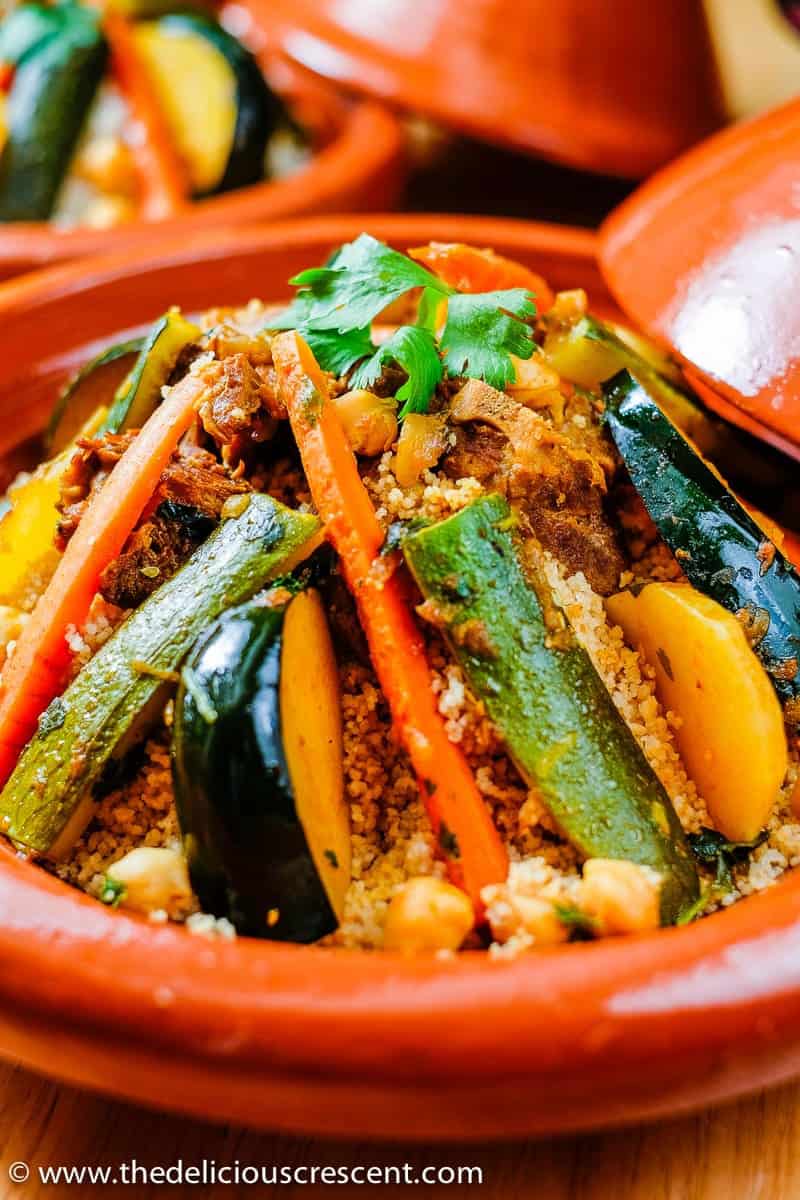 Health Benefits
Lamb is an excellent source of the vitamin B-12. It provides high quality protein with all the essential amino acids for growth and maintenance. It is also a very good source of niacin and selenium. And is a good source of zinc, phosphorus and Iron.
However, lamb is a red meat and therefore should be eaten in moderation. Because, a diet rich in red meat can increase the risk of cancers, heart disease etc.
Grass fed lamb is the most desirable option as it is a better source of omega - 3 fatty acids and conjugated linoleic acid, which is associated with favorable health benefits.
Apart from the lamb, this stew also has an excellent plant protein source - the chickpeas. And so you will not need a whole lot of meat and in fact I prefer to use lean lamb with "bone", to add to the taste and flavor.
While I start out with lean lamb, I add a little bit of ghee right at the end of cooking, when its rich and nutty flavor can still linger and hit the palate right away. Besides, when it comes to grass fed ghee, a little goes a long way.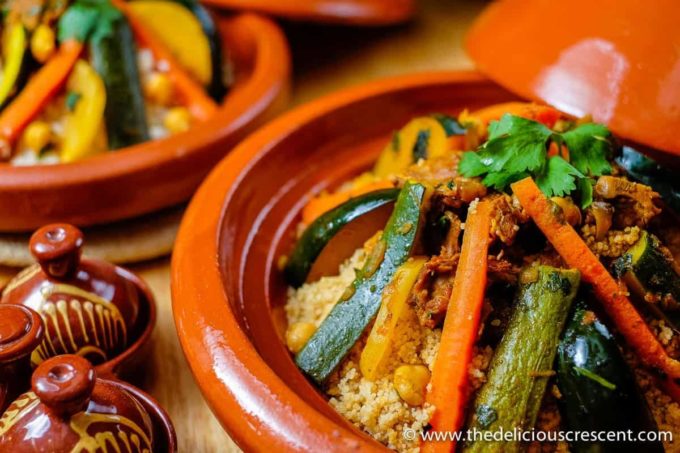 More Lamb Recipes:
★ DID YOU MAKE THIS RECIPE? PLEASE COMMENT AND GIVE IT A STAR RATING BELOW!
Moroccan Lamb Stew With Cauliflower Couscous
Moroccan Lamb and Vegetable Stew with Cauliflower Couscous is a flavorful, comforting, complete meal, full of herbs and spices. Loaded with protein, fiber and potassium.

Print
Ingredients
MOROCCAN LAMB AND VEGETABLE STEW
¾

cup

dried chickpeas

soaked overnight

2

tablespoons

olive oil

1

onion

large, chopped

1

pound

lamb shoulder

lean, with bone, 2 inch pieces

1

tablespoon

ginger

grated

2

teaspoon

ras el hanout

Moroccan spice blend

1

teaspoon

paprika

1

teaspoon

turmeric

1

teaspoon

cumin seeds

ground

1

teaspoon

coriander seeds

ground

1

teaspoon

ground black pepper

ground

2

roma tomatoes

chopped

2

teaspoons

tomato paste

2½

to 3 cups water

⅓

pound

acorn squash

organic, sliced

⅓

pound

zucchini

organic, sliced

⅓

pound

carrot

organic, sliced

¼

pound

turnip

sliced

2

tablespoons

cilantro

chopped

2

tablespoons

parsley

chopped

Salt

to taste

1

tablespoon

raisins

optional

2

teaspoons

ghee

or brown butter, optional
CAULIFLOWER COUSCOUS
Instructions
MOROCCAN LAMB STEW
Drain the water from the soaked chickpeas and cook it until soft.


Meanwhile, heat the olive oil in a 4 to 5 quart

cooking pot

at medium high setting. Add the chopped onions and sauté until golden brown.

Add the lamb and brown it for a few minutes. Next add the ingredients from grated ginger through black pepper and stir.


Then add the chopped tomatoes, stir and cook about five minutes. Stir in the tomato paste. Add water, bring to a boil and allow it to simmer for about an hour.


Next add the cooked chickpeas and cook for about 10 minutes. And then add the vegetables (I use organic and retain the peel), herbs and salt to taste. Add raisins (soaked in water) if you prefer.


Let it simmer for about 20 minutes until all the ingredients are well cooked.

Add one to two teaspoons ghee in the end, right before serving.

CAULIFLOWER COUSCOUS
Preheat the oven to 350 degrees F.


Prepare the cauliflower couscous about 20 minutes before the stew is done.

Cut the cauliflower into small pieces and pulse it in a food processor until it turns into couscous sized granules. Spread it out on a foil or parchment paper lined baking sheet and bake for about 10 to 15 minutes.

Meanwhile, in a medium saucepan, bring about 1¾ cups water to a boil with 2 pinches of salt (or as per taste).

Add olive oil or butter and stir in the couscous. Remove the saucepan from the heat source and allow it to stand for about 5 minutes or more until the water is absorbed.


Using a fork fluff the couscous to break any lumps.


Combine the cooked grated cauliflower with the couscous, using a fork to fluff it up.


Serve this Moroccan lamb stew with cauliflower couscous immediately. I arrange the vegetables and lamb over the couscous and serve the remaining sauce on the side.

Offer some marinated olives and harissa or a ground red chili paste (like sambal oelek) on the side.

Notes
Ras el Hanout is a specialty Moroccan spice blend available at Moroccan or Middle Eastern stores and online.
For this stew, you may also use butternut squash or sweet potato instead of acorn squash.
Generally the cooking time for lamb may vary from 1

½

to 2 hours. Add chickpeas and vegetables accordingly, about 20 minutes prior to when lamb should be well done.
Follow package instructions for cooking any commercially available couscous.
Alternatively the grated cauliflower may be sautéed with 1 to 2 teaspoons of oil for about 5 to 7 minutes.
Nutrition facts not including salt. Check for any added salt in spice mixes and other ingredients and adjust.
Nutrition
Serving:
1
Serving (1 cup stew with 1 cup couscous)
|
Calories:
336
kcal
|
Carbohydrates:
46
g
|
Protein:
17
g
|
Fat:
10
g
|
Saturated Fat:
2
g
|
Cholesterol:
26
mg
|
Sodium:
94
mg
|
Potassium:
845
mg
|
Fiber:
8
g
|
Sugar:
7
g
|
Vitamin A:
3652
IU
|
Vitamin C:
50
mg
|
Calcium:
84
mg
|
Iron:
3
mg