Mediterranean chickpea salad is a super tasty, protein rich and heart healthy salad loaded with monounsaturated fats, fiber and potassium. Delicious could not get any more nutritious than this!
MEDITERRANEAN CHICKPEA SALAD
This Mediterranean chickpea salad is inspired by the flavors of the eastern Mediterranean. The aromatic notes of cumin and paprika combined with the tartness of sumac and lemon juice with the pungency of garlic and red pepper flakes results in a piquant salad that is so characteristic of the eastern Mediterranean cuisine. Besides, chickpeas are a popular ingredient in that region.
The key is to use fresh salad vegetables. So, the soft cooked garbanzo beans with the firm tomatoes, red onions, red bell peppers and herbs along with a delicious salad dressing will have you yearning for more. Serve it on a bed of fresh salad leaves and sliced radish to elevate it further.
Other healthy and tasty salads are:
Mixed Sprouts Salad with Coconut, Eggplant Yogurt Salad with Pita Chips (Fatteh), Spiced Herbed Lentil Salad with Avocado, Yogurt Chickpea Salad with Veggie Chips.

HEALTH BENEFITS – GARBANZO BEAN SALAD
Chickpeas, the main ingredient in this salad are a great vegetarian and gluten free source of protein. The quality of the protein is better than most other pulses and it provides all the amino acids except the sulfur-containing amino acids. A piece of toasted pita bread with this salad would complement the protein very well.
The high fiber content and low glycemic index of this bean helps with better regulation of blood glucose. Therefore, it makes an excellent choice for diabetic people. The short chain fatty acids that are produced from the consumption of chickpeas are considered to be very beneficial for colon health.
The generous content of vitamin C, potassium, monounsaturated fat and some B vitamins make this Mediterranean chickpea salad very heart healthy. The high dietary fiber, and adequate fat content in this salad provides for good satiety, satiation and fullness, thereby making it an ideal choice for weight management.
The other ingredients in this salad, add to the flavor profile of the salad. And further enhance the nutrition quality of it with the additional cancer preventive phytochemical boost.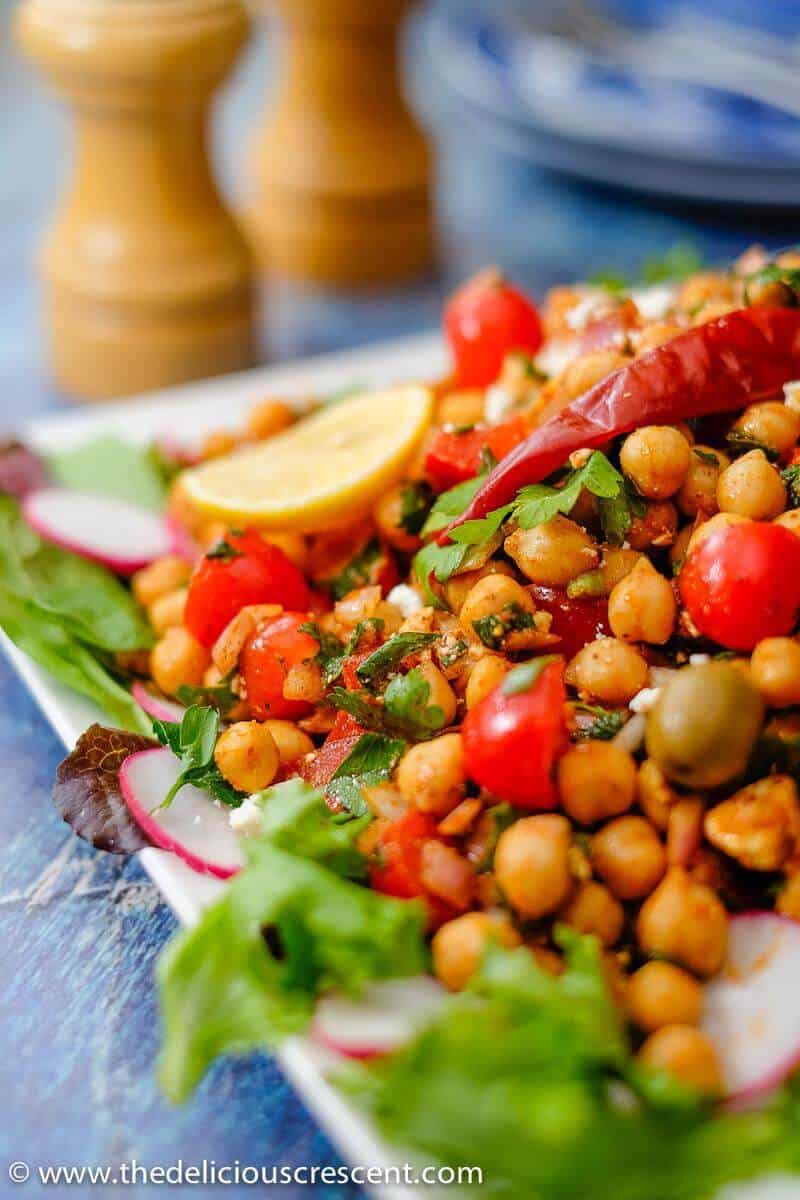 A HEALTHY CHICKPEA SALAD
This Mediterranean chickpea salad makes a great filling and satisfying lunch. It could also be served as a side at dinner or a buffet. The leftovers keep well in the refrigerator.
If you would like to prepare it ahead, you may also set aside the dressing and mix it just half hour prior to serving. You could add some grilled chicken, avocado and such for a variation. The salad can be filled into a pita pocket and enjoyed too!
It is a simple, gluten free, vegetarian salad. If you like chickpeas and spices, you are going to love this Mediterranean chickpea salad! Bring on some flavors and good nutrition with this easy and hearty salad!
Photography above: bijansviewfinder.com
SHARE YOUR THOUGHTS 
What kind of salads do you make?
Did you try this "Mediterranean Chickpea Salad"?
Do you have any questions about it? Or any suggestions?
Let me know by leaving a comment below, rating it, and tagging it with a photo at #thedeliciouscrescent on Instagram.
And if you liked this post, do share it with your friends!
This post was first published on 1st February, 2016
Mediterranean Chickpea Salad
Mediterranean chickpea salad is a super tasty, protein rich and heart healthy salad loaded with monounsaturated fats, fiber and potassium. Delicious could not get any more nutritious than this!
Print
Pin
Ingredients
1.5

cups

chickpeas

dry (or 4.5 cups cooked chickpeas)

1.5

cups

Roma tomatoes

diced

1/2

cup

red bell pepper

diced

1/2

cup

red onion

diced

1/2

cup

Italian parsley

chopped

2

tablespoons

scallions

chopped

2

cloves

garlic

grated

1.5

teaspoons

cumin

ground

1.5

teaspoons

paprika

1

teaspoon

sumac

1/4

tsp

red pepper flakes

3

tablespoons

lemon juice

3

tablespoons

olive oil

extra virgin

1/2

teaspoon

salt

1/4

teaspoon

black pepper

2

tablespoons

feta cheese

(optional)

pickled olives

(optional)

2

cups

salad leaves

(spinach, arugula etc., optional)

1/2

cup

radish

sliced (optional)
Instructions
Soak the chickpeas overnight in 3 to 4 cups of water. Drain the water, and rinse the soaked chickpeas.


The chickpeas may be cooked with 2.5 to 3 cups of water. Turn the heat to medium high and bring it to a boil. Then turn it to a lower setting and simmer for an hour or more, until soft and well done. (Adjust the amount of cooking water as needed.)

Any leftover water may be drained, or saved to add to other soups and stews.


Prepare the salad dressing with the grated garlic, cumin, paprika, olive oil, lemon juice, salt, pepper.


The red pepper flakes may be added if preferred.


Mix all the salad dressing ingredients well.

Once the chickpeas have cooled down a little, place it in a wide salad mixing bowl. Add the tomatoes, red bell pepper, onion, scallions and parsley.


Stir the salad dressing with all the other ingredients and toss well. Adjust the seasoning as per taste.


Let it rest at room temperature or in the refrigerator for 20-30 minutes.


The salad may be served over a bed of spinach, arugula or romaine lettuce and radish slices.


Garnish with crumbled feta cheese, lemon slices and olives if preferred.


Serve with some toasted pita bread on the side.

Notes
Sumac, cumin, pickled olives etc are available at middle eastern grocery stores. For more tips and serving suggestions check out the
blog post
above.    
NUTRITION FACTS
Servings: 6
Serving Size: 1 cup
Calories 259, Total Fat 10 g (Saturated Fat 1.4 g, Polyunsaturated Fat 2.2 g, Monounsaturated Fat 6.3 g), Cholesterol 0 mg, Sodium 209 mg, Potassium 530 mg, Phosphorus 205 mg, Total Carbohydrate 35 g, Dietary Fiber 10 g, Sugars 8 g, Protein 10 g * The suggested amount of salt is just a guideline and may need to be adjusted. Check for any added salt in spice mixes and other ingredients and adjust.  
Nutrition
Serving:
0
g
|
Calories:
259
kcal
|
Carbohydrates:
0
g
|
Protein:
0
g
|
Fat:
0
g
|
Saturated Fat:
0
g
|
Polyunsaturated Fat:
0
g
|
Monounsaturated Fat:
0
g
|
Trans Fat:
0
g
|
Cholesterol:
0
mg
|
Sodium:
0
mg
|
Potassium:
0
mg
|
Fiber:
0
g
|
Sugar:
0
g
|
Vitamin A:
0
%
|
Vitamin C:
0
%
|
Calcium:
0
%
|
Iron:
0
%