Hyderabadi lamb biryani is an amazingly delicious Indian dish with tender chunks of lamb in layers of fluffy rice, fragrant spices and fried onions. A much easier and authentic recipe presented step by step.
Pair it with Mirchi Ka Salan to make a great meal.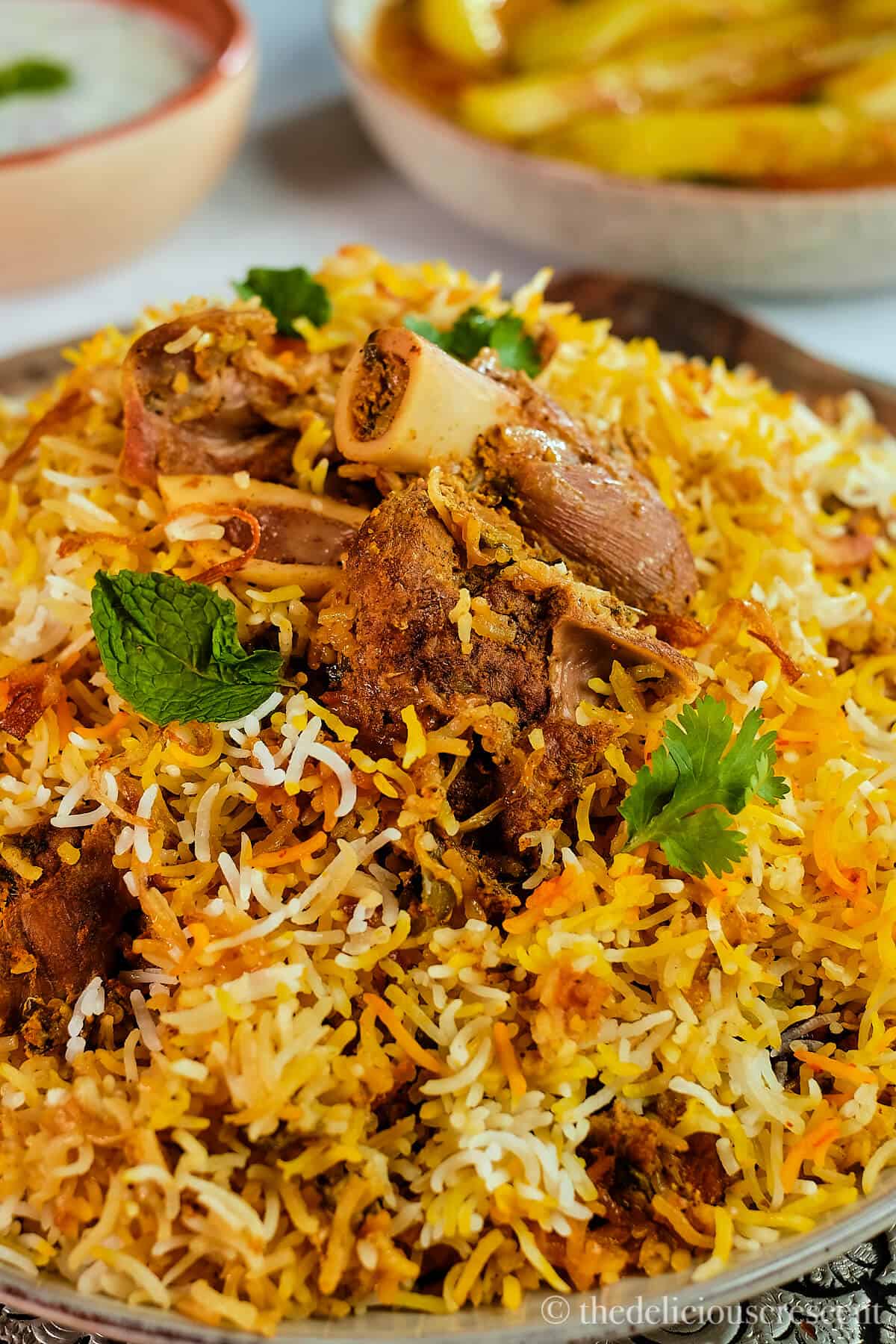 Lamb Biryani
This is a classic Indian mixed rice dish that is part of the Indian Mughlai cuisine, with its roots in a fusion of Central Asian and Indian flavors and techniques.
A wildly popular dish, this is served at major feasts, weddings, banquets and is a must-try for all food connoisseurs.
Why Is Hyderabadi Biryani So Special?
It is one of the most famous regional variations because of the combination of ingredients and technique used.
Lamb biryani can be prepared in two ways: (1) pakki biryani by cooking the meat fully before layering it with the rice and then steaming it. (2) kacchi biryani, where the raw marinated meat is placed in one single layer in the cooking pot and then topped with partially cooked rice and steamed together.
Kacchi biryani is so unique to Hyderabad, and is often the choice of chefs at important occasions.
Sometimes, initially there may be some adjustments to be made to suit your own appliances and kitchen. But once you master this recipe, you will realize how easy and tasty it is. And will be able to dish out an amazing biryani quickly, as you don't have to cook the meat separately.
Fluffy and separate, the cooked rice grains should scatter like pearls. And with chunks of flavorful lamb that are well done, juicy and falling off the bone.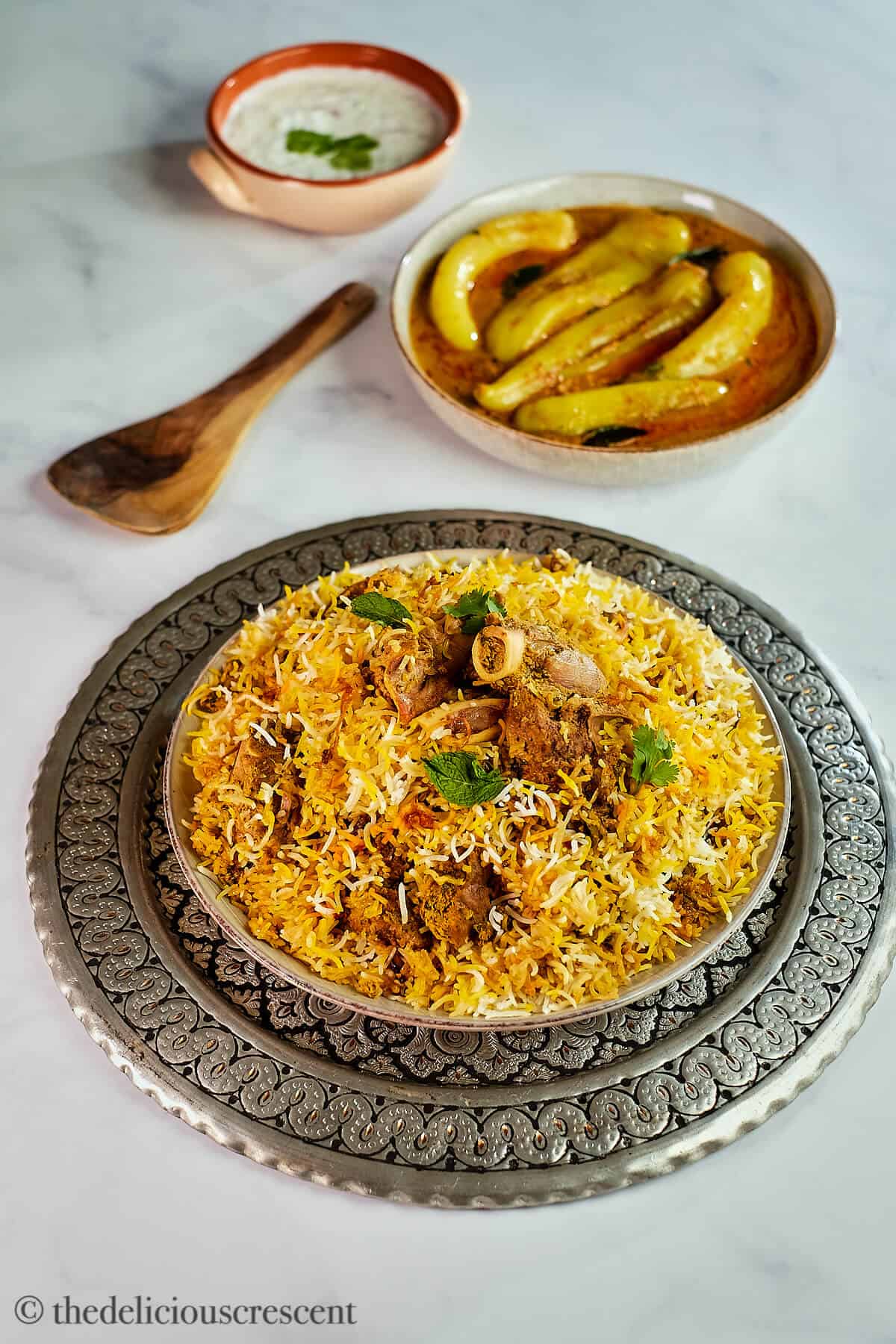 Ingredients
basmati rice, lamb meat, raw papaya paste, yogurt, spices, cilantro, mint, saffron, ginger, garlic, lemon juice, chili peppers, fried onions
Basmati Rice: Choose the highest quality aged basmati rice from a popular brand. Check in your local Indian grocery store or online for the different varieties offered for each brand and get the best, which is often the most expensive.
Lamb Meat: It is very important to use meat from young lamb. Meat from overly mature livestock will not work for this recipe (see recipe notes if you use this). Choose shoulder or leg meat, with bone, and cut into large chunks. Add marrow bones and lamb chops for good taste and variety.
Raw Papaya Paste: This works as a meat tenderizer and is mandatory for the recipe. The papaya should be raw and green in color. Process it with the skin into a fine paste.
Yogurt: It should be neither too thick nor too runny.
Spices: This recipe uses both whole spices and ground spices. The latter can be made in bulk and stored for multiple uses. Spices are available at Indian grocery stores for a good price or online.
Herbs: Use fresh herbs when you can. Frozen cilantro and dried mint can also work for the marinade.
Saffron: Choose best quality saffron. For more on that, check the post on Saffron Tea.
Onions: Slice the onions very thin. I used the 7.5 mm setting on my mandolin slicer. Sprinkle some flour on the onions before frying, to make them fry quicker and crisper. Check recipe notes for gluten-free tips.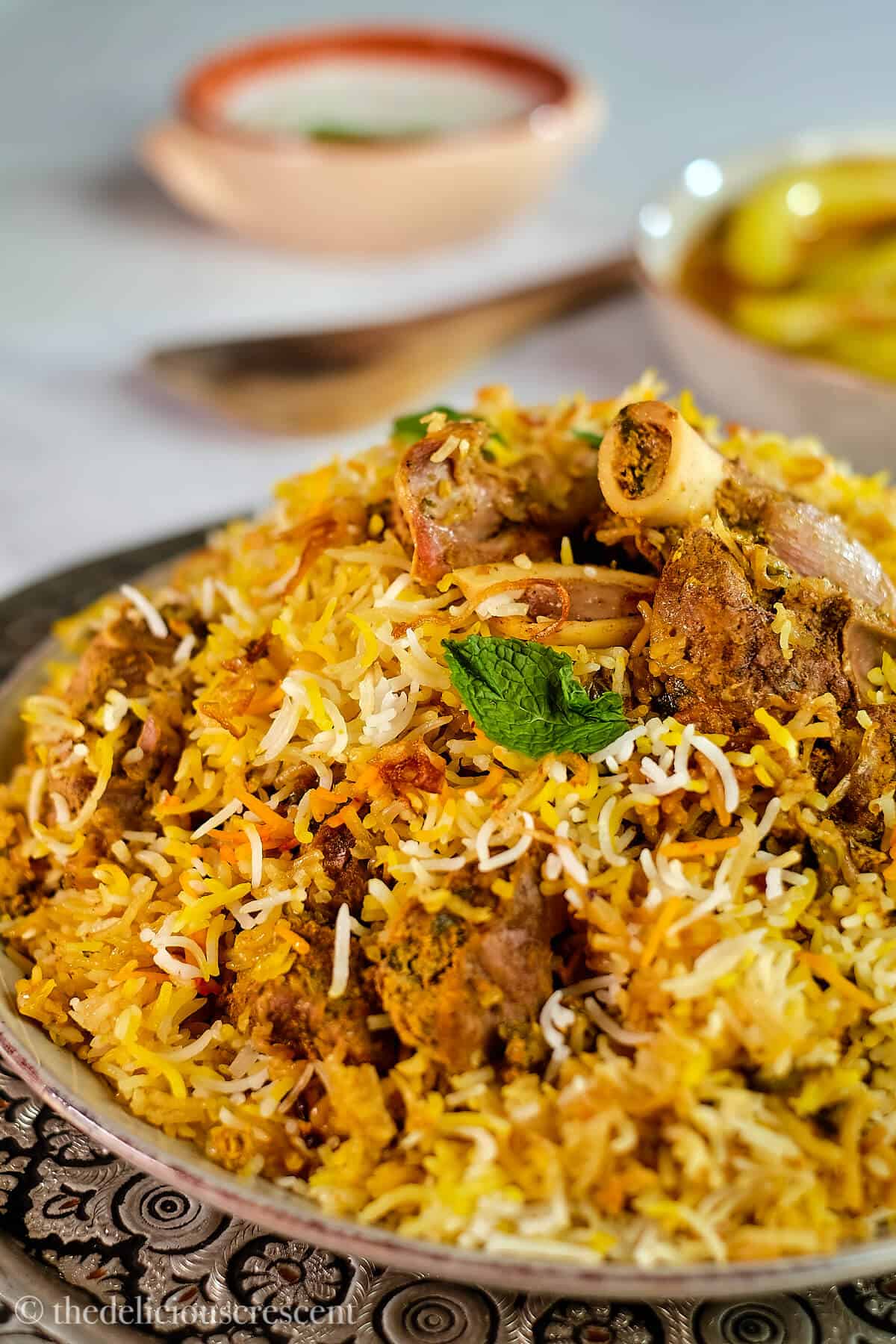 Step By Step Overview
**Full recipe at the end of post.
Fried Onions
Fry thinly sliced onions until light golden brown.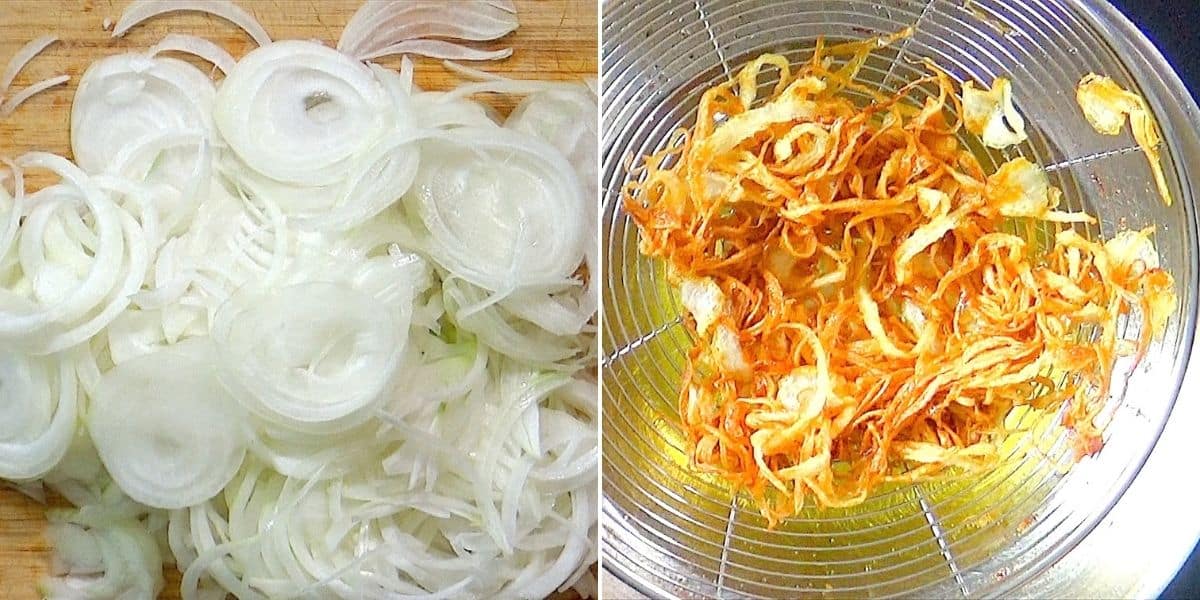 Meat Marination
Grind the biryani spices, add to meat and marinate overnight.
Combine meat with marinade ingredients and fried onions.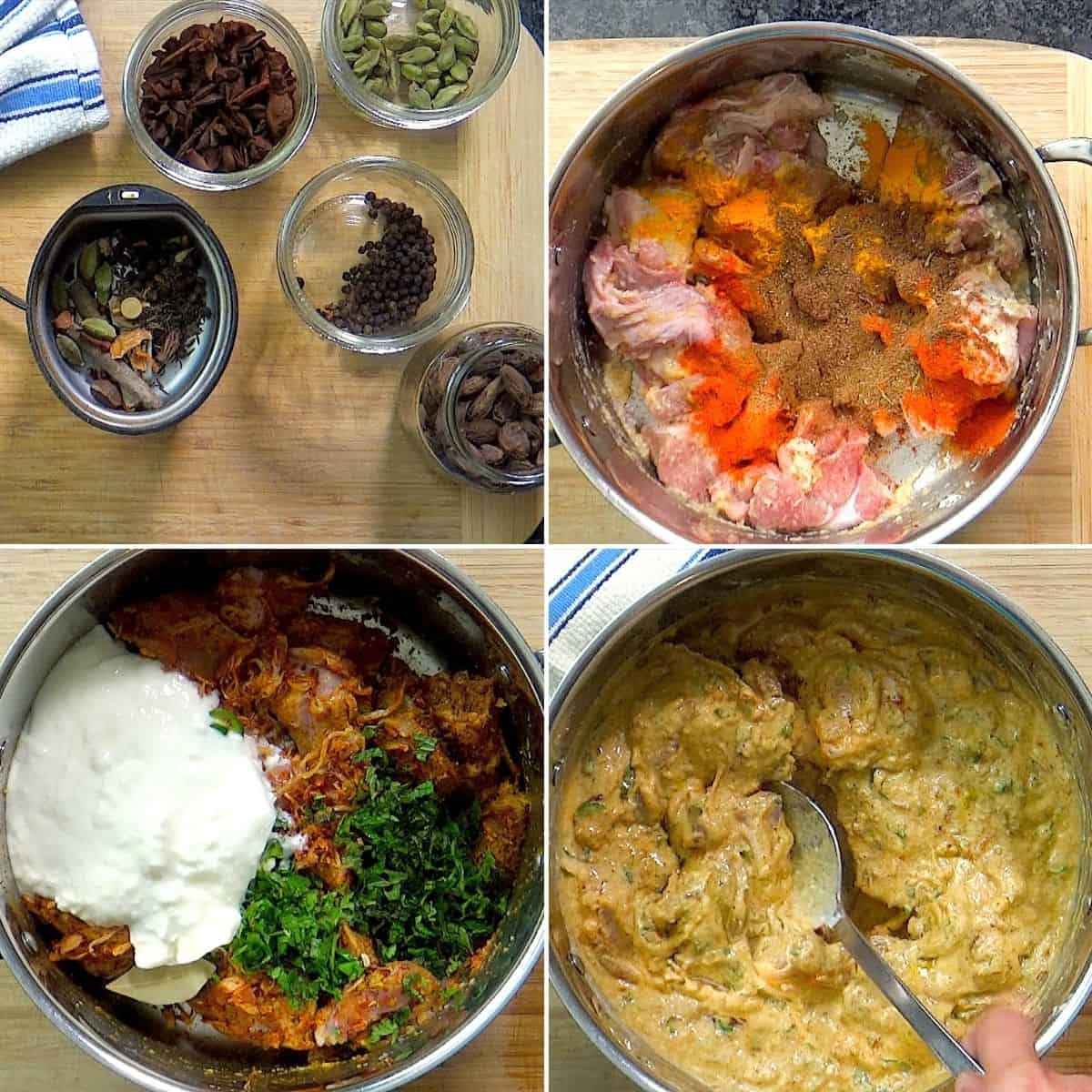 Rice Preparation
Rinse the basmati rice very well and drain. Soak ½ cup basmati rice in water and save the rest.
Boil water with salt, onion oil and whole spices in a large cooking pot. Cook rice until the grains are soft and drain in a colander.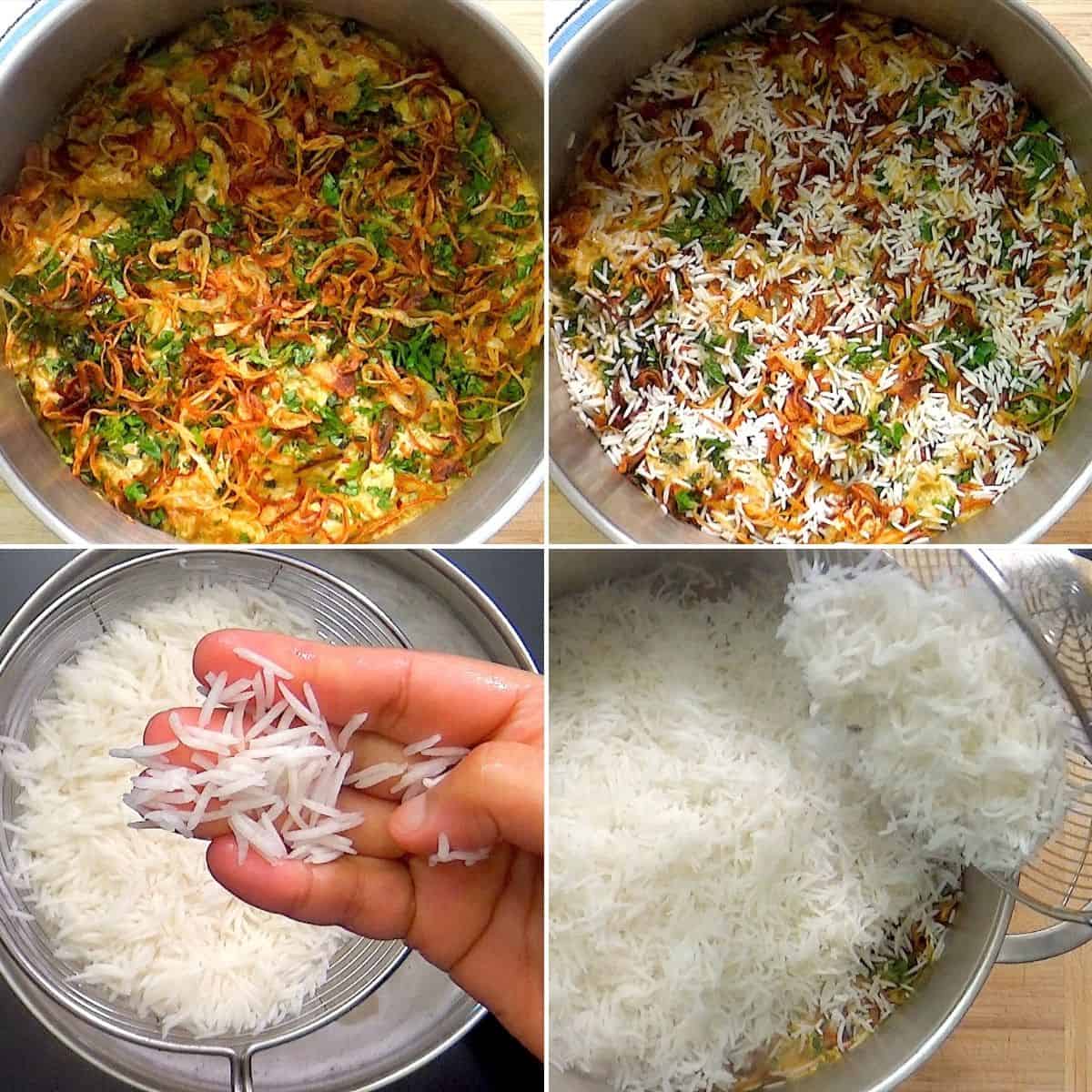 Assemble The Layers
Transfer the meat with marinade to a large wide thick bottomed oven proof cooking pot.
Spread remaining herbs and most of the fried onions over the marinade.
Drain the soaked basmati rice and spread it over the fried onion layer.
Then layer all the cooked rice. Sprinkle remaining fried onions, lemon juice, saffron water and ghee over the rice.
Final Steaming
Oven: Cover with parchment paper, aluminum foil and fit the lid tight over it and bake until the steam builds up well.
Stove Top (alternative): In a thick bottomed cooking pot, first heat the biryani at medium high for few minutes, then reduce the heat and simmer until the steam builds up well.
Cool the biryani, gently mix the rice and meat, garnish with herbs, fried onions and serve.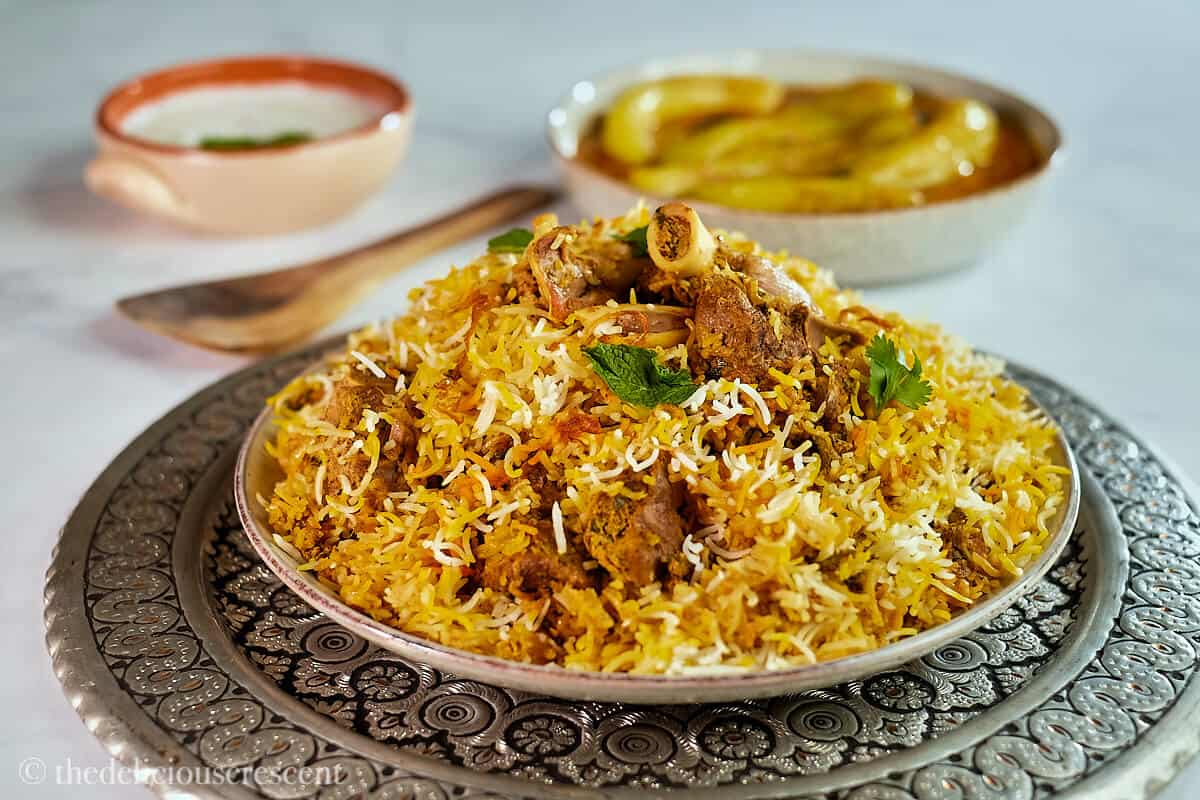 Extra Tips
When boiling the rice, make sure to watch the time (4 to 5 minutes) and the rice should be soft at the tips and have a white dot in the center. It should still hold its shape well.
Adding a pinch of salt or sugar to the saffron is helpful to grind it fine.
Stove top: Use a non stick cooking pot or a conventional heavy bottomed pot.
For a variation, add some boiled eggs on top of the meat/marinade before assembling with rice.
You can try using brown basmati rice, brown + white basmati rice or basmati rice + quinoa to enhance its nutrition value.
For more troubleshooting tips and frequently asked questions, check our popular Chicken Biryani.
What To Serve With It?
To make a festive meal serve it with baghare baingan (eggplants in rich gravy) or mirchi ka salan (chili peppers in creamy gravy) or Hyderabadi Tomato Egg Curry and raita (made with yogurt, sliced red onions, cilantro).
More Rice Recipes
★ DID YOU MAKE THIS RECIPE? PLEASE COMMENT AND GIVE IT A STAR RATING BELOW!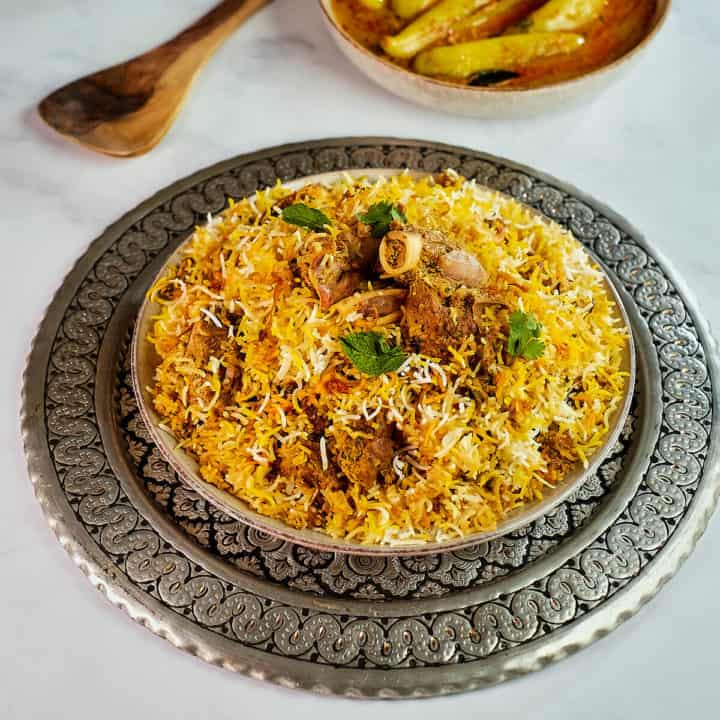 Lamb Biryani
Hyderabadi lamb biryani is an amazingly delicious Indian dish with tender chunks of lamb in layers of fluffy rice, fragrant spices and fried onions. A much easier and authentic recipe presented step by step.
Print
Ingredients
Instructions
Notes
Fried Onions:

I used the 7.5 mm setting on my mandolin slicer to slice the onions finely.
Sprinkle some flour on the onions before frying, to make them fry quicker and crisper. If you use all purpose flour, then it will not be gluten free. Try corn starch or rice flour plus corn starch instead.
If you are unable to fry the onions as described in the recipe, at the very least make sure to sauté them until crisp golden brown like it is done in this Persian noodle soup recipe and adjust oil used for the recipe.

Chili Powder: I used Kashmiri chili powder as it is mild. If you prefer it hot, then use regular chili powder.
Basmati Rice:

Rinse it several times, until the water is clear and not starchy.
The idea is to cook the rice just enough, to be fluffy, be separate, retain shape and be firm.
The soaked rice should be drained well and not be too wet.

Marinade:

The meat should be optimally coated with the marinade.
If the marinade is excessive it can result in the rice becoming soggy.

Branded spice mixes may include salt and chili powder. If they are used to substitute the biryani spices in the recipe, then the salt and chili powder should be adjusted accordingly.
Whole spices can be cooked wrapped in a muslin cloth, like the one used for bouquet garni or a metal mesh cooking infuser. If using whole spices for the marinade, just double the amount of spices in the recipe. When the spices are ground, the flavors are more intense.
Using the optimal amount of salt and oil is very important. If everything else is right and you don't use appropriate amount of salt, that alone can ruin the taste of the biryani.
Lamb:

It is very important to use young lamb shoulder or leg, with bone, cut and clean. You can add some marrow bones and lamb chops as well.
If you use meat from mature lamb, it will need more cooking time. So, you could first cook the marinated meat at low medium setting, until 50% done and then top with rice and steam it.

Make Ahead: The onions can be fried ahead, wrapped in paper towels and packed in airtight containers or ziplock bags. Spice mixes can be made in bulk and stored in airtight glass containers for one to two months.
Storage and Freezing: Biryani freezes very well. Leftovers can be stored in refrigerator for 3 to 4 days or frozen for later.
Ghee is available at regular supermarkets and Indian grocery stores. Make it at home from butter following the instructions in this chickpea cookie recipe notes section.
Shajeera: These may be referred to as black cumin or black caraway seeds in Indian stores. The labeling is not consistent. Ask your Indian grocer for "shahjeera". You can make this in a slow cooker as well.
Nutrition
Serving:
1
Cup
|
Calories:
306
kcal
|
Carbohydrates:
44
g
|
Protein:
12
g
|
Fat:
9
g
|
Saturated Fat:
3
g
|
Cholesterol:
31
mg
|
Sodium:
354
mg
|
Potassium:
280
mg
|
Fiber:
2
g
|
Sugar:
3
g
|
Vitamin A:
177
IU
|
Vitamin C:
5
mg
|
Calcium:
76
mg
|
Iron:
2
mg
More Indian Recipes