Lamb Tagine with Mushrooms and Olives is a delicious Moroccan style recipe with succulent lamb stewed in earthenware. It is rich in flavor, high protein and potassium, low carb and calories, healthy fats, good fiber!!
Moroccan Tagine
During a visit to Morocco, I got fascinated by earthenware known as Tagine, that had a circular rimmed base and a dome shaped cover. The stews prepared in this pot are also referred to as a "Tagine".
I am accustomed to using earthenware in the oven. But a Moroccan Tagine can be used on the stovetop as well, with a heat diffuser over electric cooking ranges.
The way earthenware acquires and retains heat is one aspect of cooking with these pots. But another interesting characteristic is in design of the cover, which allows for the condensation to return to the bottom.
This concept allows cooking of meat with its own juices and minimal water, resulting in an amazingly succulent meat dish. There are certain rules to be followed when using earthenware. And several online resources offer detailed information regarding the "use and care of Tagine".
Lamb Tagine With Mushrooms
Along with the succulent lamb, there is much more to look forward to in this lemony lamb tagine. The meaty mushrooms and tasty olives, all steeped in a nicely spiced lemon tomato sauce topped off with fragrant herbs.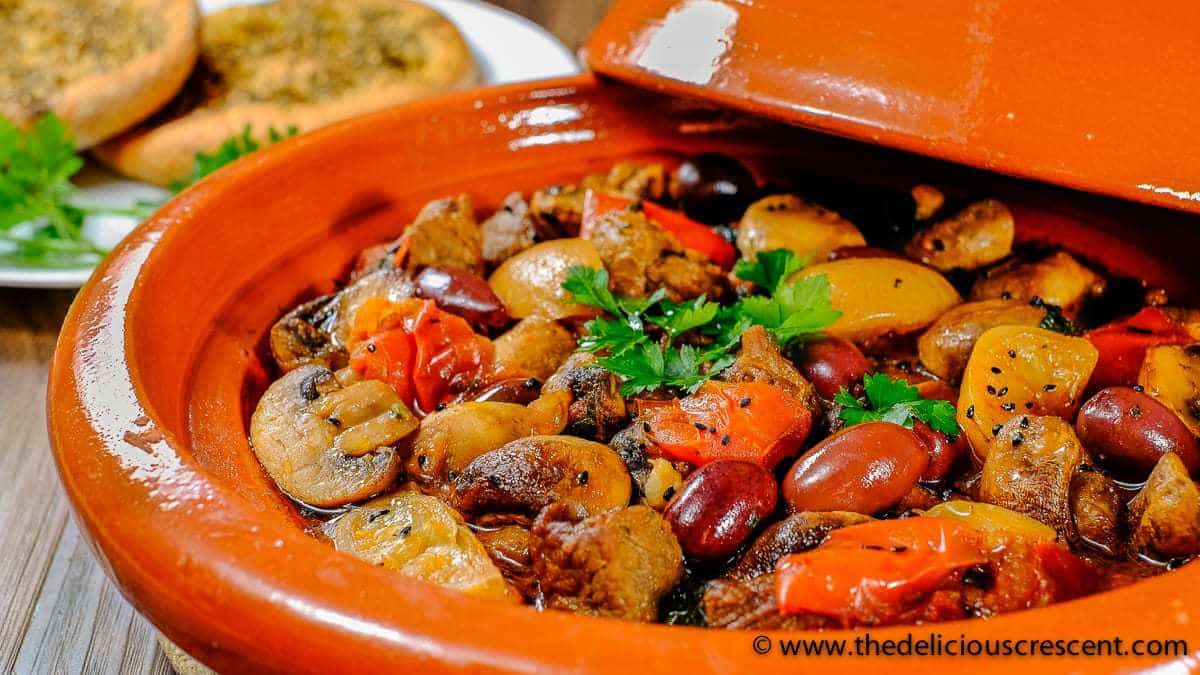 Health Benefits
Mushrooms are packed with nutrients and flavor. So you may love reading more about their nutrition potential in this post about Mushroom Spinach Frittata.
Aren't olives such a wonder fruit?! Apart from being a source of flavorful wholesome oil, they are enjoyed as a snack, pizza topping and much more.
The bazaars and markets across the Mediterranean are abundant with proud displays of the beautiful varieties of olives. In Morocco, this plentitude of olives has been also harnessed into myriad kinds of olive based tagines.
Olives are very nutrient dense and a rich source of heart healthy monounsaturated fats. The fermented olives are also a source of the gut friendly bacteria - lactobacillus. And phytochemicals are abundantly present in olives.
Research studies with olive tree polyphenols such as oleuropein, oleacein and oleocanthal indicate that they may have some medically pertinent properties. Those include: anti-atherogenic, antihepatotoxic, antioxidant, hypoglycemic, antiviral, antitumor, anti-inflammatory and immunomodulator activities. Which implies that olives may be protective and preventive against a wide range of chronic diseases.
Now, if you want to cook some tagine in a Moroccan earthenware, then try it with this healthy lamb tagine. Or you may still enjoy it with your same old cooking pot!
OTHER LAMB RECIPES:
★ DID YOU MAKE THIS RECIPE? PLEASE COMMENT AND GIVE IT A STAR RATING BELOW!
Lamb Tagine with Mushrooms and Olives
Lamb Tagine with Mushrooms and Olives is a delicious Moroccan style recipe with succulent lamb stewed in earthenware. It is rich in flavor, high protein and potassium, low carb and calories, healthy fats, good fiber!!
Print
Instructions
The instructions below are for either cooking with a Tagine (Moroccan earthen pot) or a regular

cooking pot

.

Take the tagine base and place it on a heat diffuser set over a stove. Put 2 tablespoons olive oil and heat it over medium to low medium heat for about 10 to 15 minutes, or more, until the oil is heated well.


Add the sliced onion and sauté for 10 to 15 minutes. Then add one grated garlic clove and stir.


Next add the lamb pieces and let it brown a little. The juices released will evaporate as the meat browns.


Then add all the ingredients from ginger through parsley. Sprinkle some salt as per taste and about ½ cup hot water. Place the tagine top and let the meat simmer for about 1½ to 2 hours until the meat is tender.


Half the way through the process check and add some hot water as needed to ensure that the sauce does not thicken too much and burn in the bottom of the pan.


If using a regular

cooking pot

, the steps will be the same except that the heating times for the oil and sautéing of onions will be shorter. And the amount of water added for cooking the meat would be more - about 1 to 1½ cups.

During simmering, make sure to place the

tagine

top or lid as applicable.

While the lamb meat is simmering, toss the sliced mushrooms with one tablespoon olive oil, red pepper flakes, one grated garlic clove, a pinch of salt and spread it on a foil lined rimmed

baking sheet

.

Roast the mushrooms for about 15 minutes or more until the juices are released, in an oven that has been preheated to 400ºF.


When the lamb is well done, check the consistency of the sauce and evaporate it if too thin or add some hot water if needed.


Then add the roasted mushrooms, black olives, quartered preserved lemon, lemon juice and stir. Adjust the salt, lemon juice and seasoning as per taste. Cover the dish with the tagine top or lid and let it simmer for about 10 minutes.


Garnish with chopped cilantro. Transfer the dish to a dry wooden surface.


If using a tagine to prepare this dish, remember that the heat from the hot tagine (earthen pot) will continue to cook and evaporate the sauce even after removing the dish from the stove.

So you may turn off the stove and transfer the dish before it reaches your preferred final thickness for the sauce.

Serve the lamb tagine immediately. It goes well with some fresh baked flat bread.
Notes
The Moroccan spice mix (Ras el hanout) used for this tagine recipe should be available at Mediterranean or Middle Eastern specialty stores.

 

Nigella seeds are also known as black seeds.

Nutrition Facts: The sodium value does not include the extra salt. Check for any added salt in spice mixes and adjust.
Nutrition
Calories:
210
kcal
|
Carbohydrates:
9
g
|
Protein:
15
g
|
Fat:
14
g
|
Saturated Fat:
3
g
|
Cholesterol:
37
mg
|
Sodium:
217
mg
|
Potassium:
548
mg
|
Fiber:
2
g
|
Sugar:
4
g
|
Vitamin A:
713
IU
|
Vitamin C:
13
mg
|
Calcium:
36
mg
|
Iron:
2
mg