Chicken Pastilla, a scrumptious Moroccan delicacy, made easy in a skillet. Tender shredded chicken with aromatic spices wrapped in perfectly crisp pastry layers.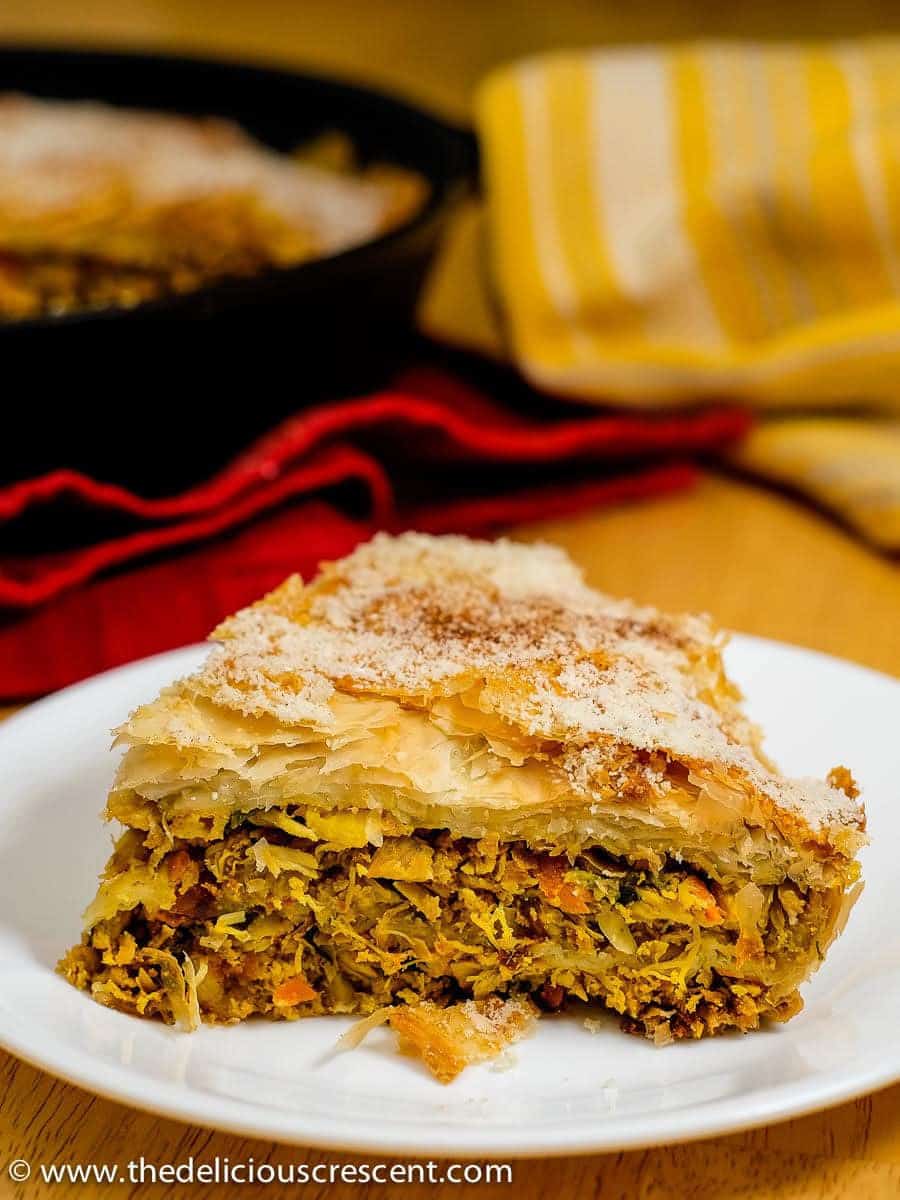 What Is Pastilla Or Bastilla?
Pastilla is a hugely popular Moroccan preparation, the traditional version of which can be labor intensive and time consuming to make.
In some parts of Morocco it is typically made with pigeon meat. And it is quite rich and intricately prepared with pastry layers known as warqa.
The version here uses phyllo dough. Often, people are wary about working with phyllo pastry sheets. But, really, it is not that hard at all.
Once you figure it out, it is easy and you can make a variety of pastries and even crispy samosas using this dough and freeze it for later.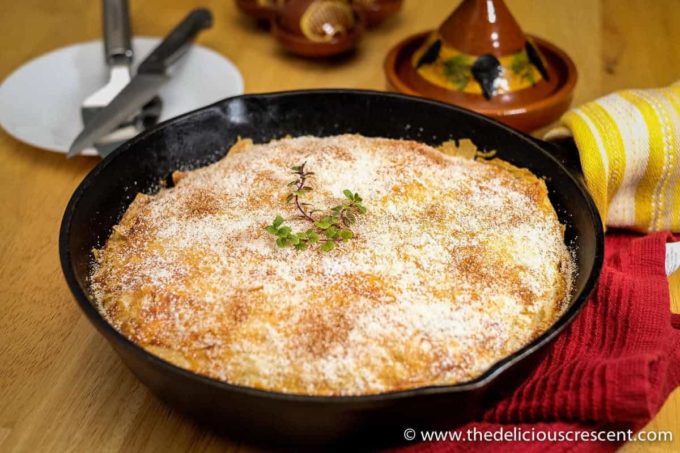 Like Persian cuisine, Moroccan food uses a combination of sweet and savory flavors in several preparations. So it is not uncommon to see fruits and dried fruits in savory dishes.
And traditional versions of this pastry, particularly also use some sugar in it. So yeah, spices, onions, herbs, cinnamon and some sugar with chicken!
But my husband would not eat a chicken pie with sugar. So I made this version, which still combines savory and sweet flavors. Besides, why not reserve the sugar for the sweet treats!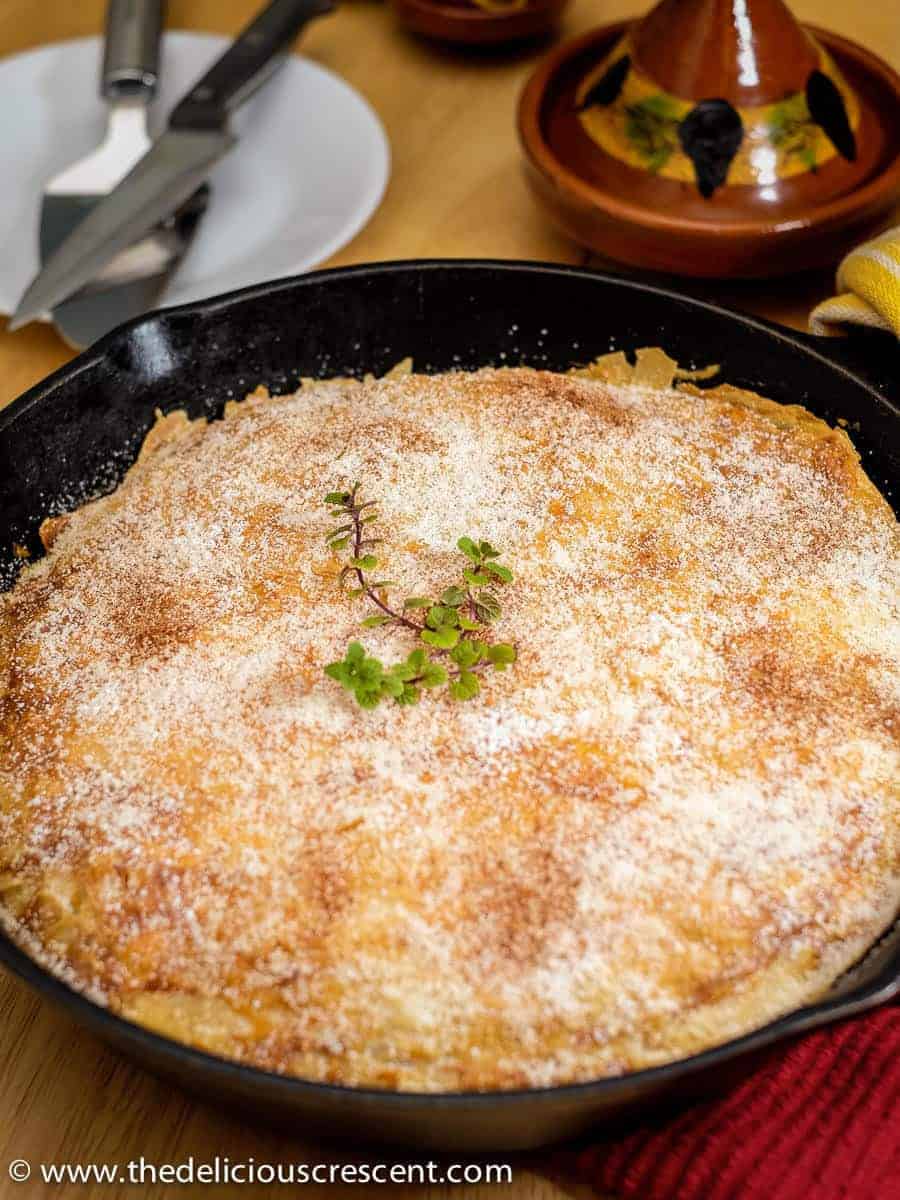 Tips And Tricks
I substituted the sugar (used in the traditional version) with some moist dried prunes. But you could also try dried apricots or dates. Make sure to choose dried fruit that is still moist, not too dry and hard.
In addition, what keeps the filling moist is the use of tender curdled eggs.
Also, the chicken thigh meat is a lot more softer than the chicken breast, which I think would be too dry for a Pastilla recipe.
The trick to working easily with phyllo dough is to thaw the frozen dough properly. Once each layer separates out easily and not sticking to each other, then it is so easy to work with.
Be sure to buy a good brand and from a store with a high product turnover, so that the stock is fresh.
Sometimes using the microwave for just a few seconds can help separate sticky sheets, but it is tricky. If you overdo it, then the sheets will become dry and crumbly.
Traditionally, butter is used to brush the warqa (pastry leaf) layers, which makes it quite rich. But I tried this recipe using olive oil to brush the phyllo sheets, then drizzled some ghee on the top and baked it. It was quite flaky and had a rich flavor.
If you desire to have the full richness of the traditional version for special occasions, you may substitute some of the oil with brown butter or ghee (richer flavor than regular butter).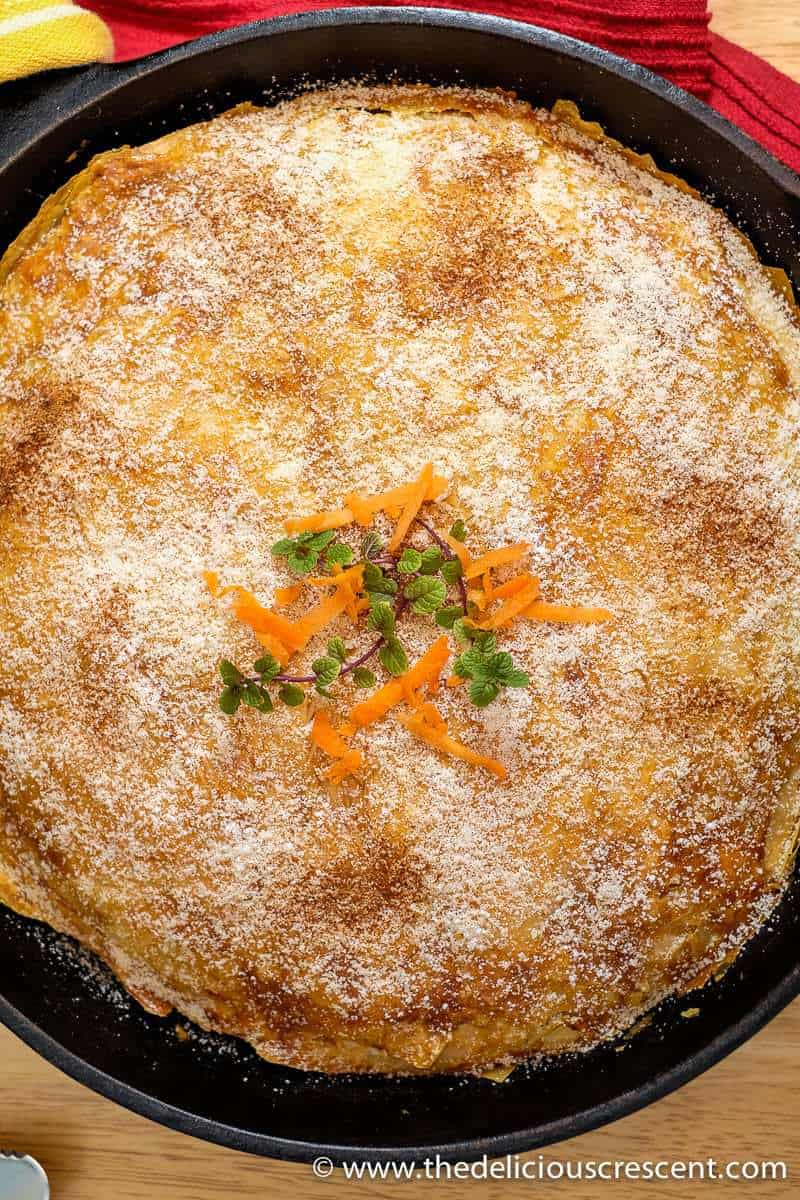 How To Serve It
One serving of this pastilla has a substantial amount of high quality protein and a good dose of healthy fats from the olive oil. So you can have it with some green salad for your lunch. It could be part of dinner menu with a light entree and of course any party menu too.
Storage, Freezing, Meal Prep
You can make ahead the filling.
The pastilla can be assembled and frozen before or after baking. Thaw and bake or reheat in oven.
Leftovers can be refrigerated for 3 to 4 days and reheated in oven or toasted oven to crisp it up.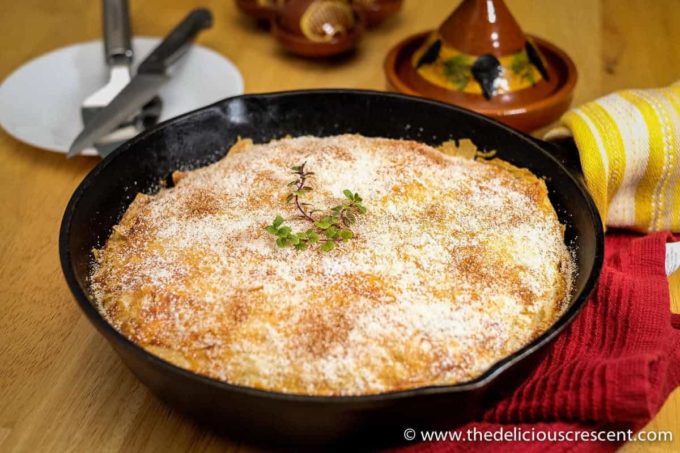 More Recipes You May Like:
★ DID YOU MAKE THIS RECIPE? PLEASE COMMENT AND GIVE IT A STAR RATING BELOW!
Zaalouk (Moroccan Eggplant Dip)
Zaalouk is an amazingly delicious Moroccan salad or dip made with roasted eggplants. Easy to make, it tastes great with toasted bread. And gets even better the next day.
Print
Instructions
Preheat oven to 400˚F. Prick the eggplants with a fork in couple spots and place them on a parchment paper lined baking sheet. Bake for

35 to 45 minutes

until the skin turns darker and shrinks. Check foot notes for grilling, broiling or stove top options.

The eggplants should be cooked through completely in the center. To check, press the back of a fork on the eggplant. It should compress easily all the way into the center without any resistance.

Cut through the eggplant skin and scoop out the soft cooked flesh and mash it with a fork and set aside.

Chop the tomatoes into small pieces, discarding some seeds if you wish. See note below for peeled and deseeded tomatoes.

Heat 2 tablespoons olive oil in a saucepan at medium setting. Add the chopped tomatoes, minced garlic, paprika, cumin, cayenne or chili powder, ⅓ teaspoon salt and cook until tomatoes are softened, stirring in between, about

15 to 20 minutes

.

Add the mashed eggplants and cilantro. Continue to cook over low heat for another

10 to 15 minutes

, stirring occasionally, mashing it if needed, into a thick but slightly textured dip like consistency.

Stir in lemon juice and salt. Adjust as per taste, let it cool and transfer to a bowl, cover and refrigerate it overnight before serving.

Take the zaalouk from the refrigerator about

30 minutes

before serving and let it come to room temperature. Drizzle with remaining olive oil. Garnish with cilantro and red pepper flakes if you prefer.

Chunky Zaalouk: To make a chunkier but less traditional zaalouk, insert garlic cloves into eggplant and roast it in the oven at 400˚F, along with the tomatoes. Chop the eggplants and tomatoes. Add the spices, herbs, half the olive oil, salt and mash it up to desired consistency. Drizzle olive oil and serve.
Notes
Cooking Eggplants:

Grill: Roast eggplants on charcoal or gas grill for 20 to 30 minutes, turning them slowly in between, until skin turns darker and shrinks.
Broil: Cut eggplants lengthwise into halves and place the cut side down on a foil lined baking sheet. Place on the second rack and broil until skin turns darker and shrinks, about 20 minutes.
Stovetop: Peel the eggplants completely, only some stripes or leave the skin on if you don't mind it. Cut the eggplants into small pieces. Steam on high heat until soft or cook in a pan with some water until soft and mushy.

Easy Zaalouk: Combine all ingredients with ⅓ cup of water and cook it over stove top until softened. Mash it up well and drizzle olive oil.
Peeled and deseeded tomatoes: If you prefer, you can blanch the tomatoes. Cut a small cross on the surface of tomatoes and dump them in hot boiling water. After a minute, pick out the tomatoes and peel the skin, cut them into halves and deseed. Chop them into small pieces.
Use more tomatoes if you want the dip to be saucy. You may even try using a little bit of tomato paste to give it thickness.
Leftovers: Can be refrigerated for 4 to 5 days. You can freeze zaalouk for couple months. Thaw and reheat. Adjust the consistency, evaporating or adding water as needed. Check the seasoning as well.
Nutrition facts not including any added salt.
For other variations, tips and serving suggestions, scroll up the page to the blog post.
Nutrition
Calories:
77
kcal
|
Carbohydrates:
6
g
|
Protein:
1
g
|
Fat:
6
g
|
Saturated Fat:
1
g
|
Polyunsaturated Fat:
1
g
|
Monounsaturated Fat:
4
g
|
Sodium:
5
mg
|
Potassium:
280
mg
|
Fiber:
3
g
|
Sugar:
4
g
|
Vitamin A:
526
IU
|
Vitamin C:
9
mg
|
Calcium:
15
mg
|
Iron:
1
mg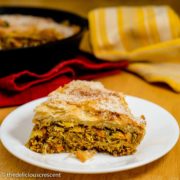 Chicken Pastilla (Moroccan Skillet Pie)
Chicken Pastilla, a scrumptious Moroccan delicacy, made easy in a skillet. Tender shredded chicken with aromatic spices wrapped in perfectly crisp pastry layers.

Print
Ingredients
3

lbs

chicken thighs

with bone, yield: approx 1½ lbs chicken meat

2

onions

medium, sliced

1

teaspoon

ras el hanout

Moroccan spice blend

½

teaspoon

turmeric

½

teaspoon

ground cumin

ground

½

teaspoon

ground coriander

ground

½

teaspoon

ground black pepper

ground

½

teaspoon

Aleppo red pepper

ground

1½

teaspoons

ginger

grated

5½

tablespoons

olive oil

¼

teaspoon

saffron

ground, soaked in 1 tablespoon hot water

⅓

cup

prunes

or dates/apricots, dried, chopped

¼

cup

cilantro

chopped

¼

cup

parsley

chopped

¾

teaspoon

salt

adjust per taste

6

eggs

large, whisked

¼

cup

almonds

roasted, coarsely chopped

8

ounces

phyllo dough

20 sheets - 9 X 14 size

½

tablespoon

olive oil

or ghee/ melted butter

almond flour or confectioners sugar with ground cinnamon

Optional
Instructions
PASTILLA FILLING PREPARATION
Take the cleaned chicken thighs in a

cooking pot

. Add ⅓ of the sliced onions to it.

Next combine the spices in a small preparation bowl - ras el hanout through Aleppo red pepper. Add ⅓ of that to the chicken and save the remaining spice mix. Then add ⅓ of the grated ginger to the chicken.


Add about ½ cup water to the chicken. Turn on the heat to high and let the water sizzle. Lower the heat and cook the chicken until it is well done.


The chicken will release its own juices. If needed, add a little more water. When the chicken is cooked, reserve two tablespoons of the spiced liquid, if remaining.


Debone the well cooked chicken using a fork. Shred the chicken meat.


Heat ½ tablespoon oil in a skillet and sauté the remaining sliced onions until golden brown. Stir the ginger.


Add the shredded chicken, remaining spices, ginger, saffron water, chopped prunes, salt, herbs and combine it all. Adjust the seasoning to your taste. Transfer the chicken mixture to a prep bowl.


Heat one teaspoon of oil in the

skillet

and add the whisked eggs (save one tablespoon for later) and scramble. Then add the two tablespoons of spiced liquid saved from previous step. Season with salt.

Next add the scrambled eggs and almonds to the chicken mixture. Combine it all gently and set aside.
ASSEMBLE PASTILLA
Thaw the Phyllo dough as per instructions – overnight in the refrigerator and an additional 4 hours or more at room temperature.

Preheat oven at 350 degrees F (adjust this as per oven, increase to 375 if needed).

Remove the phyllo dough sheets out of the package. Unwrap and cover it with a damp thin kitchen towel.

Grease a 10 inch iron skillet with oil. Unroll one phyllo sheet and lightly brush with oil. Carefully transfer the phyllo sheet on to the skillet making sure to center it and lightly press it into the base of the skillet.

Brush 8 more sheets, one at a time, and lay over the skillet in a similar fashion, making sure to rotate the placement slightly each time. After placing the 9 oil-brushed sheets, it should look like a fan, such that the sheets are layered uniformly in a circular fashion.

Spread half of the filling on to the layered phyllo sheets. Fold couple of phyllo sheets over the filling.

Layer 9 more oil-brushed phyllo sheets on the filling just like in steps 4 and 5. Spread the remaining filling over the phyllo sheets. Fold over all of the phyllo sheets on top of the filling, tucking the sides into the skillet.

Brush the remaining two phyllo sheets with oil and layer one at a time on to the chicken pie and tucking the sides into the skillet. Mix ½ tablespoon oil (or ghee/melted butter) with one tablespoon whisked egg and brush on the top.

Bake for about 25 to 30 minutes until nicely golden brown. Let it cool for 5 minutes and dust with almond meal or confectioners sugar + cinnamon mixture.
Notes
Ras el hanout

, the Moroccan spice blend is available at Moroccan/Middle eastern grocery stores or online.

I used olive oil for most of the chicken pastilla and drizzled some ghee on the top for flavor.

Traditionally the pie is dusted on the top with confectioners sugar and cinnamon. I used  finely powdered almond meal instead.
Nutrition
Serving:
1
Wedge
|
Calories:
383
kcal
|
Carbohydrates:
24
g
|
Protein:
26
g
|
Fat:
20
g
|
Saturated Fat:
4
g
|
Cholesterol:
182
mg
|
Sodium:
473
mg
|
Potassium:
396
mg
|
Fiber:
2
g
|
Sugar:
4
g
|
Vitamin A:
508
IU
|
Vitamin C:
7
mg
|
Calcium:
60
mg
|
Iron:
3
mg