Vegetarian Kotlet with Eggplant are Persian style chickpea patties that are so delicious, nutritious, low carb, gluten free, fiber rich and with healthy fats!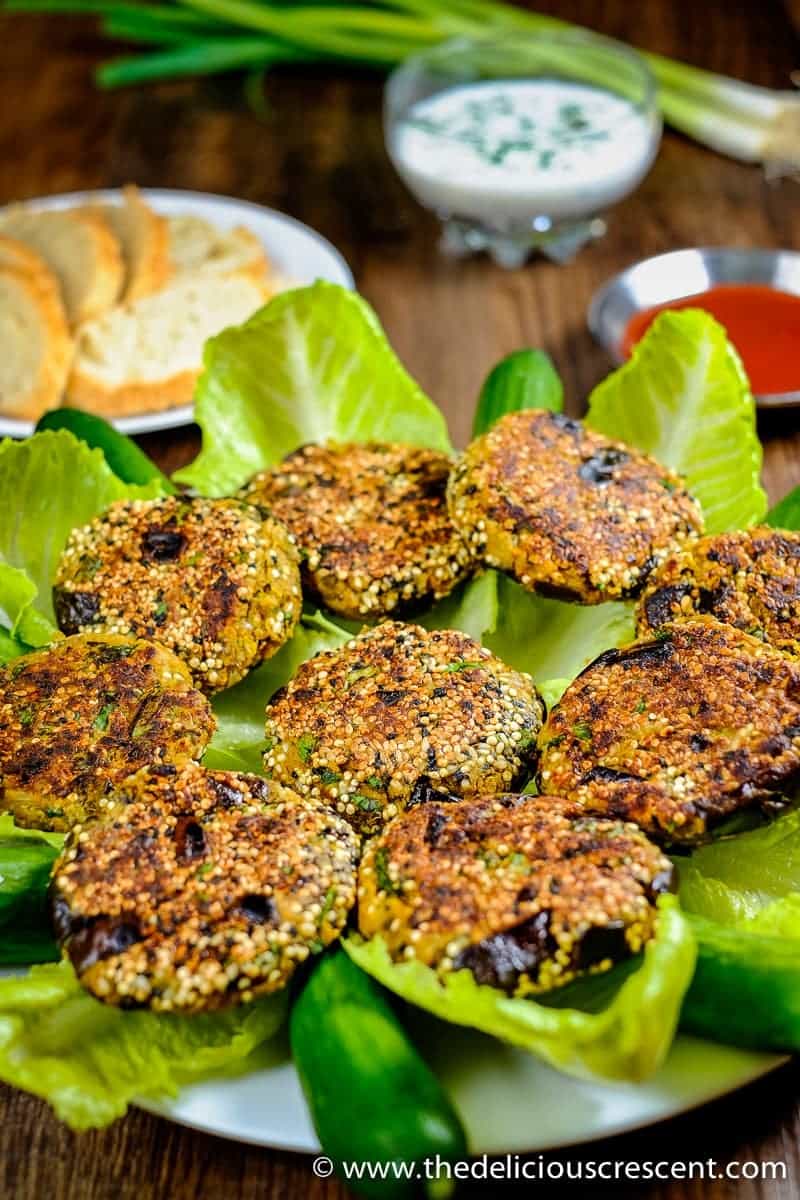 WHAT IS KOTLET?
Kotlet is a word used for Persian style patties. I wanted to create a vegetarian version using one of my favorite vegetables – eggplants. If you are fascinated with eggplants like me, then you may like my Moroccan Eggplant Salad with Chermoula and Eggplant Fatteh with Pomegranate and Walnuts.
Often I receive requests to create low carb recipes. And what is a better choice than the mighty eggplant!
HEALTH BENEFITS – EGGPLANT CHICKPEA PATTIES
Eggplant is a vegetable that is low in calories and carbs. Hence it is ideal for diabetic diets. It is also a good source of potassium, vitamin B-6, and fiber. The eggplant skin has phytochemicals that have antioxidant and anti-inflammatory properties.
Most Persian kotlet recipes use potatoes to bind the ingredients. Here I used chickpeas to add some plant protein. Instead of using bread crumbs, here I chose to use some nutritious super seeds – sesame seeds, black seeds, hemp seeds, chia seeds, quinoa etc. In my post about Healthy Persian Barbari Bread I have discussed the amazing nutrition potential of sesame and black seeds.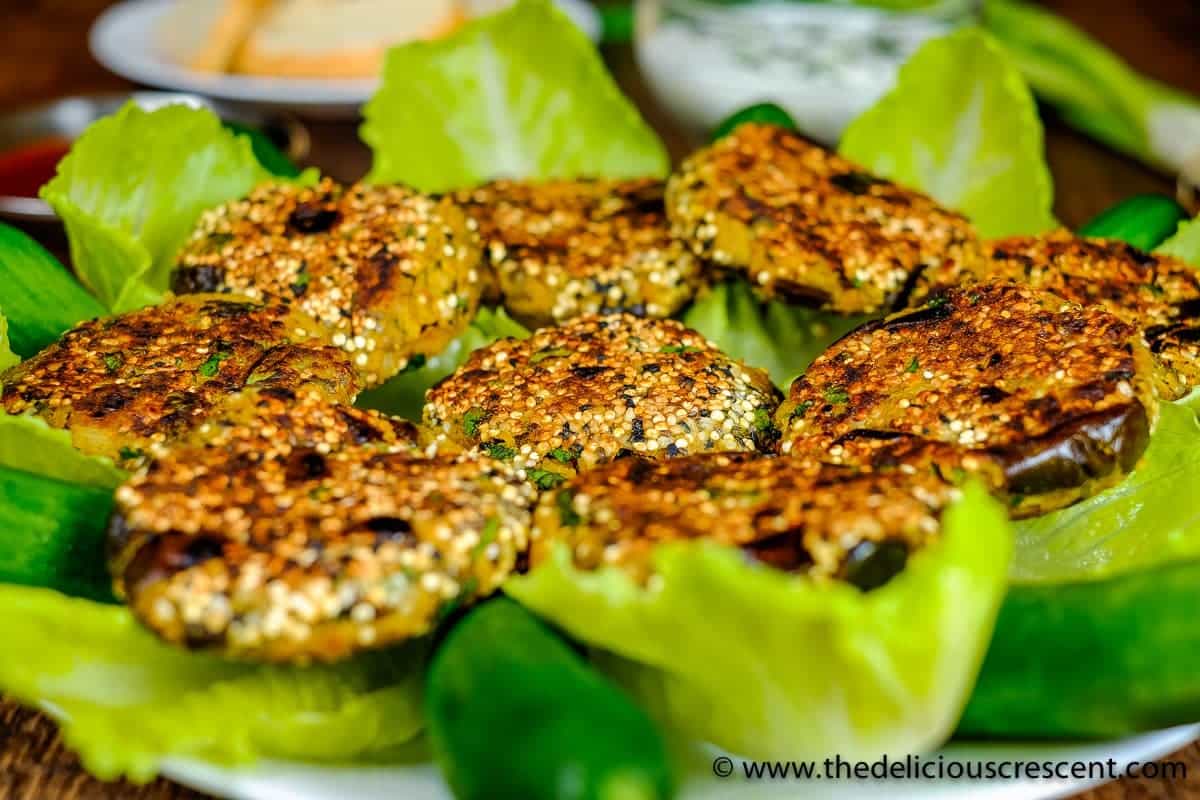 HOW TO COOK VEGETARIAN KOTLET WITH EGGPLANT
The eggplant with its skin on is first minced before adding to the mix. So it gives an appetizing meaty bite to the finished product. The spices, herbs and the chickpea base give it a scrumptious kebab like taste.
Quinoa and the other seeds give the patties a tasty and healthy crunch. Plus the sesame and black seeds impart a yummy flavor to the exterior too.
These chickpea patties will go well with lentil rice, in a sandwich or as a snack with a yogurt dip.
Photography above: bijansviewfinder.com
★ DID YOU MAKE THIS RECIPE? PLEASE COMMENT AND GIVE IT A STAR RATING BELOW!
Tag a photo of your creation at #thedeliciouscrescent on Instagram.
Join me on Pinterest, Facebook, Twitter, YouTube and Google+ for latest updates.
Vegetarian Kotlet with Eggplant (Chickpea Patties)
Vegetarian Kotlet with Eggplant are Persian style chickpea patties that are so delicious, nutritious, low carb, gluten free, fiber rich and with healthy fats!

Print
Ingredients
1

pound

eggplant

1 ½ to 2

tablespoons

olive oil

1/2

cup

chickpeas

soaked overnight

1/2

onion

medium, grated (1/4 cup)

2 to 3

cloves

garlic

large , grated

1

teaspoon

Persian spice mix

(Advieh) or any mixed spice

1 to 2

teaspoons

red pepper flakes

ground, adjust per taste

1/2

teaspoon

cumin seeds

ground

1/2

teaspoon

coriander seeds

ground, (optional)

1/2

teaspoon

turmeric

1 ½

tablespoons

cilantro

chopped

1 ½

tablespoons

flat-leaf parsley

chopped

1/2 to 3/4

teaspoon

salt

adjust per taste

1

egg

medium

1

tablespoon

peanut oil
Seeds
2

tablespoons

quinoa

1

teaspoon

sesame seeds

1

teaspoon

black seeds

1

teaspoon

hemp seeds

1

teaspoon

chia seeds
Instructions
Bring 3 cups of water to a boil in a small

cooking pot

. Add chickpeas and let it simmer until well cooked. Drain and let cool.

Wash the eggplant and wipe it dry. Cut it into 3/4 inch slices. Brush the eggplant slices lightly but evenly with about 1 ½ to 2 tablespoons olive oil.


Place the slices on a

baking sheet

lined with parchment paper or oiled aluminum foil. Bake until fork tender for about 20 - 25 minutes (time may vary with oven). Check at 20 minutes and adjust time accordingly.

Set aside the baked eggplant slices and let cool to room temperature. Chop the eggplant slices finely. Grind the cooked chickpeas into a nearly smooth mixture.


Mix the chopped eggplant, ground chickpeas, grated onions, grated garlic, spices, herbs and salt.


Using a 1/4 cup measure scoop out the mixture and form 10 round thick patties.


Whisk

the eggs. Mix the seeds and spread it out on a plate.

Dip the patties in whisked egg and coat with seeds on both seeds and lightly press.


Place 5 patties in the

skillet

, dipping one at a time in the oil coating and flipping immediately. Cook 3 minutes on each side until golden brown.

Set the oven temperature to 350 ºF. Transfer the patties to a parchment or foil lined

baking sheet

and bake for 5 to 10 minutes until done.

Repeat the cooking steps with the remaining 5 patties using another 1/2 tablespoon peanut oil. Serve these Vegetarian Kotlets hot.

Notes
Alternatively the chickpea patties may be shallow fried.
NUTRITION FACTS
Servings: 10                               Serving Size: One Patty
Calories 99, Total Fat 5 g (Saturated Fat 1 g, Polyunsaturated Fat 1 g, Monounsaturated Fat 3 g), Cholesterol 14 mg, Sodium* 126 mg, Potassium 184 mg, Phosphorus 77 mg, Total Carbohydrate 11 g, Dietary Fiber 3 g, Sugars 3 g, Protein 3 g
*The sodium value may vary. The suggested amount of salt is just a guideline and may need to be adjusted. Check for any added salt in spice mixes and other ingredients and adjust.
Nutrition
Keywords :
Chickpea Patties, Eggplant Patties, Veggie Patties