Moroccan eggplant salad smothered in chermoula is a stunningly lip smacking salad. The eggplant is creamy, fork tender and packed with flavorful herbs and spices. It is low in calories, low carb and yet is a pretty good source of phytochemicals and other nutrients.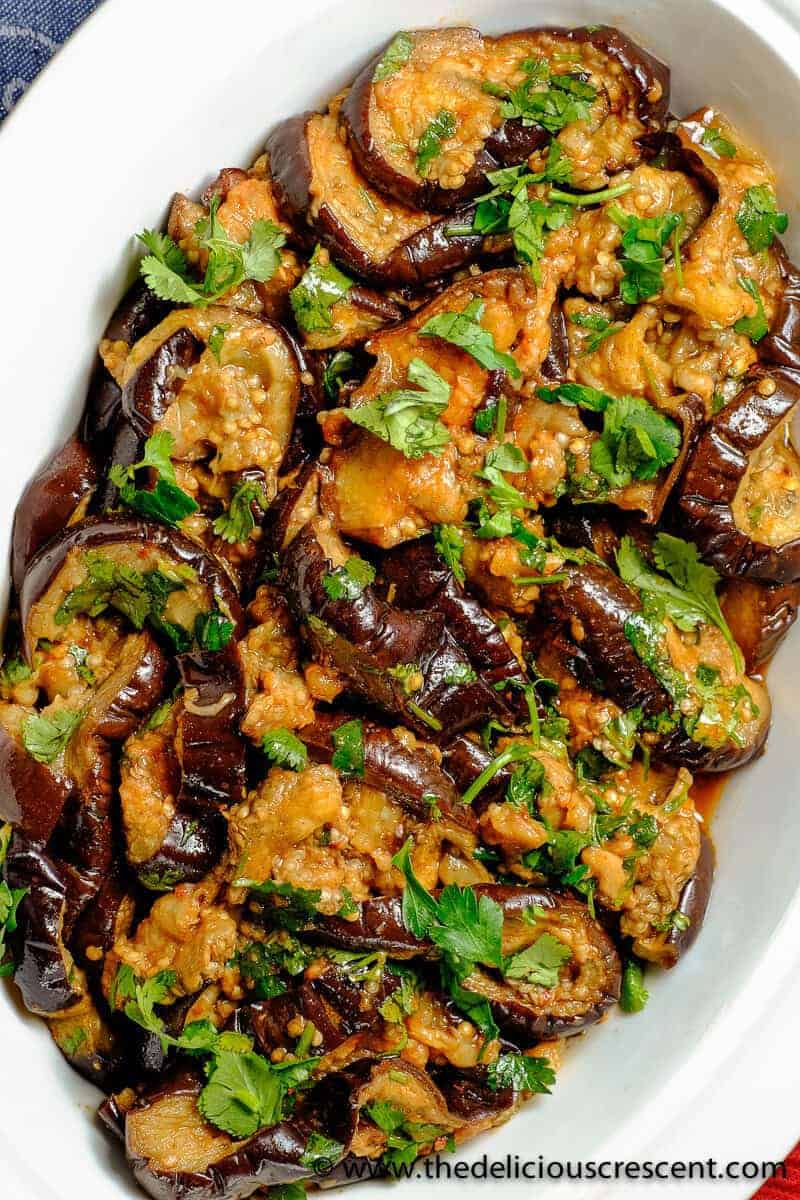 Inspiration for Eggplant Salad
I love eggplants. And it has something in common with me - it is also native to India! I have tried it in many forms, such as in these Eggplant Chickpea Patties, Zaalouk (Eggplant Dip) and a flavorful middle eastern salad - Fatteh (Eggplant Yogurt Salad with Pita Chips).
When I had visited Morocco, I had this delicious eggplant salad tastefully steeped in a sauce called Chermoula. It was often served as part of a medley of cooked vegetable salads prior to the main entrees.
I loved those vegetable salads so much that I wanted to order them all the time. Then I decided that I am going to go home, prepare and eat these salads. So much for my love of vegetables, that I needed this experience to boost it further.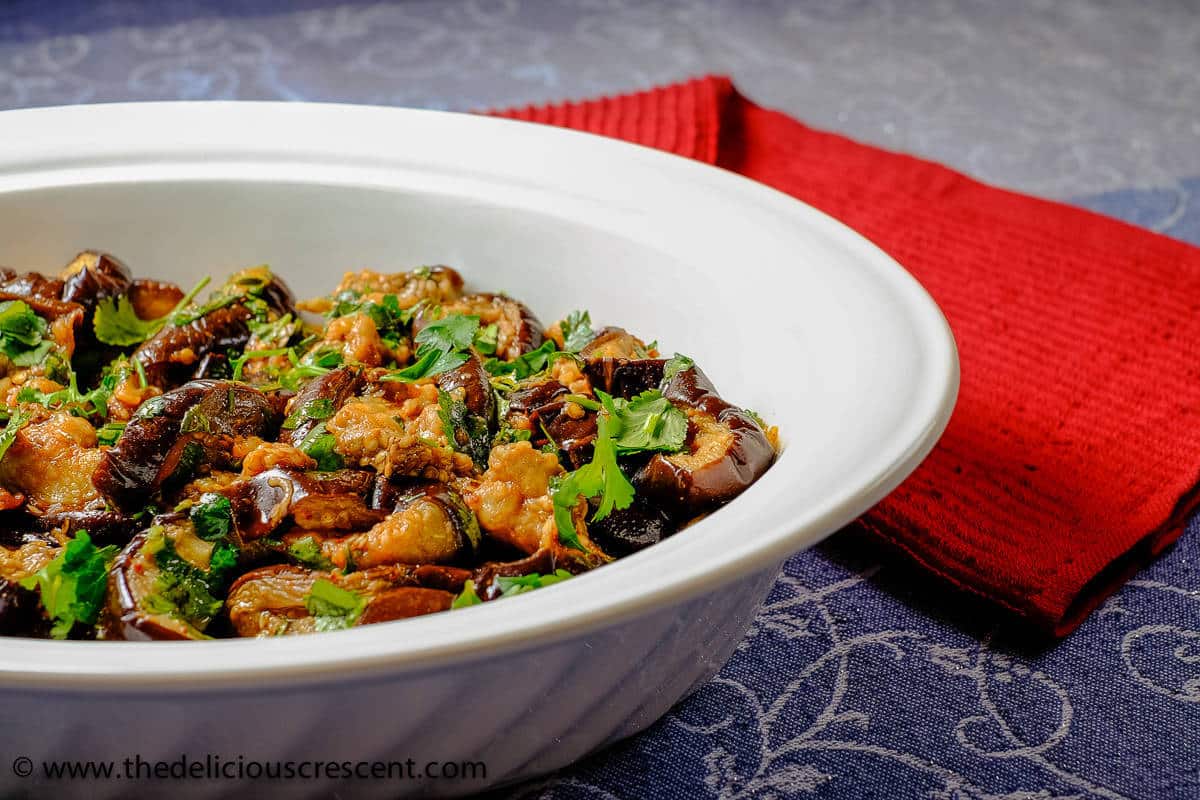 Pro Tips
Typically, for this recipe, eggplant slices are lightly shallow fried prior to adding the chermoula. But then eggplants can absorb a lot of oil in this process.
Many recipes suggest salting the eggplant slices as a way to prevent the oil absorption or remove the bitter juices. And some recipes will stick to the traditional way of shallow frying.
I have cooked eggplants for years and have never bothered to do that, but always had good results. I simply start with choosing fresh and firm eggplants.
Slice them and lightly brush with olive oil and bake them until fork tender and creamy in center. It is important to make sure that the slices are coated with oil evenly.
You may also grill or broil the eggplant, as I further explain in the notes section below.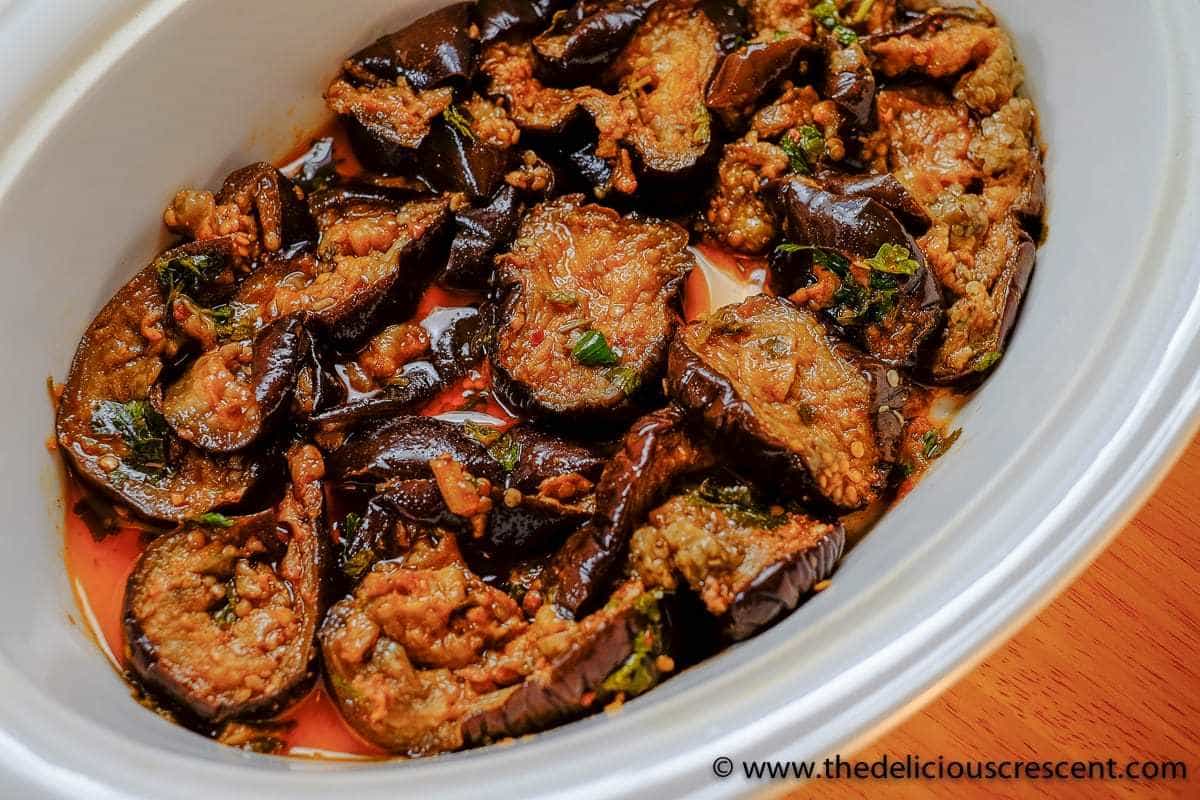 Health Benefits
Eggplant is a very low calorie vegetable. Due to its low carbohydrate and high fiber content, eggplant based diets have been recommended for management of type 2 diabetes by NIH, Mayo clinic and American Diabetic Association.
One study showed that the phenolic antioxidant activity of eggplants had the potential to reduce the pathogenesis induced by hyperglycemia via its effect on cellular oxidative stress.
Eggplants are a good source of potassium, vitamin B-6, fiber and phytochemicals. Have you heard of the slogan "Eat your colors" - That's right, eat colorful vegetables and fruits!
The eggplant's beautiful purple color comes from the anthocyanins. Studies have shown that anthocyanins, chlorogenic acid and other phytochemicals in eggplants have potent antioxidant and anti-inflammatory activity.
And a lot of the good nutrition is in that lovely skin. So don't peel it away.
More Eggplant Recipes
★ DID YOU MAKE THIS RECIPE? PLEASE COMMENT AND GIVE IT A STAR RATING BELOW!
Moroccan Eggplant Salad With Chermoula
Moroccan eggplant salad smothered in chermoula is a stunningly lip smacking salad. It is low in calories and yet is a pretty good source of phytochemicals and other nutrients.

Print
Ingredients
1

pound

eggplant

4

tablespoons

olive oil

1

clove

garlic

grated

1

teaspoon

ground cumin

1

teaspoon

ground coriander

optional

½

teaspoon

sweet paprika

Pinch

Aleppo red pepper

or ground red pepper

1

tablespoon

chopped cilantro

1

tablespoon

chopped flat-leaf parsley

1

tablespoon

chopped green onions

optional

1

tablespoon

lemon juice

or chopped preserved lemon, adjust per taste

½

teaspoon

salt
Garnish
finely chopped herbs or preserved lemon peel
Instructions
Preheat oven to 400 ºF


Wash the eggplant and wipe it dry. Cut it into ¾ inch slices.


Brush the eggplant slices lightly but evenly with about 2 tablespoons olive oil.

Place the slices on a baking sheet lined with parchment paper or oiled aluminum foil.


Bake until fork tender for about 25 minutes (time may vary with oven). Check at 20 minutes and adjust time accordingly.


Set aside the baked eggplant slices and let cool to room temperature.


Prepare the chermoula dressing by combining the remaining ingredients and whisk it well.


Drizzle it all over the eggplant slices. Combine gently and set aside for at least half an hour.


Plate the Moroccan eggplant salad with chermoula on a serving dish. Garnish with finely chopped herbs and/or preserved lemon peel.

Notes
The eggplant can easily pick up the tanginess with just a little of the lemon juice. Start with smaller amount and adjust the lemon juice to your taste.
The amount of spices and herbs in the baked eggplant salad with chermoula is just a guideline. It may be adjusted as per taste.
Eggplant slices may be grilled, fried on a hot non stick pan or broiled about five minutes each side.
Make sure to lightly brush oil on each side. And once done, flip it and brush the oil lightly on the other side and cook until done.
Checkout the cooking tips in the blog post above for more information.
Nutrition
Serving:
0.5
Cup
|
Calories:
90
kcal
|
Carbohydrates:
4
g
|
Protein:
1
g
|
Fat:
8
g
|
Saturated Fat:
1
g
|
Sodium:
169
mg
|
Potassium:
153
mg
|
Fiber:
2
g
|
Sugar:
2
g
|
Vitamin A:
142
IU
|
Vitamin C:
3
mg
|
Calcium:
8
mg
|
Iron:
1
mg
More Moroccan Recipes: