This Persian roasted eggplant dip cooked with eggs is the perfect weekend brunch. Mirza Ghasemi, prepared with plenty of garlic and tomatoes, is packed with flavor. It is filling and is great for a meal or side.
Roasted Eggplant Dip With Eggs
Mirza Ghasemi is a popular dish from northern Iran, by the Caspian Sea. This regional cuisine offers many simple, easy and delicious dishes of this kind, made with vegetables and eggs.
In this recipe, eggplant is roasted until soft and creamy. Then it is chopped and cooked with tomatoes, garlic, and spices. Finally it is cooked with some eggs, reminiscent of eggplant shakshuka.
Some people stir the eggs thoroughly into it. Others cook the eggs, stirring it minimally, and retaining a more discernible texture. This is the way I like to make Mirza ghasemi.
I want to enjoy the creamy and smoky eggplant, but still be able to taste the eggs. Also, I often poach couple more eggs in the sauce, for anyone who wants to eat the whole egg.
Smoky eggplant cooked with lots of garlic and tomatoes tastes awesome!
Recipe Ingredients
The following ingredients are what you will need for this delicious eggplant recipe.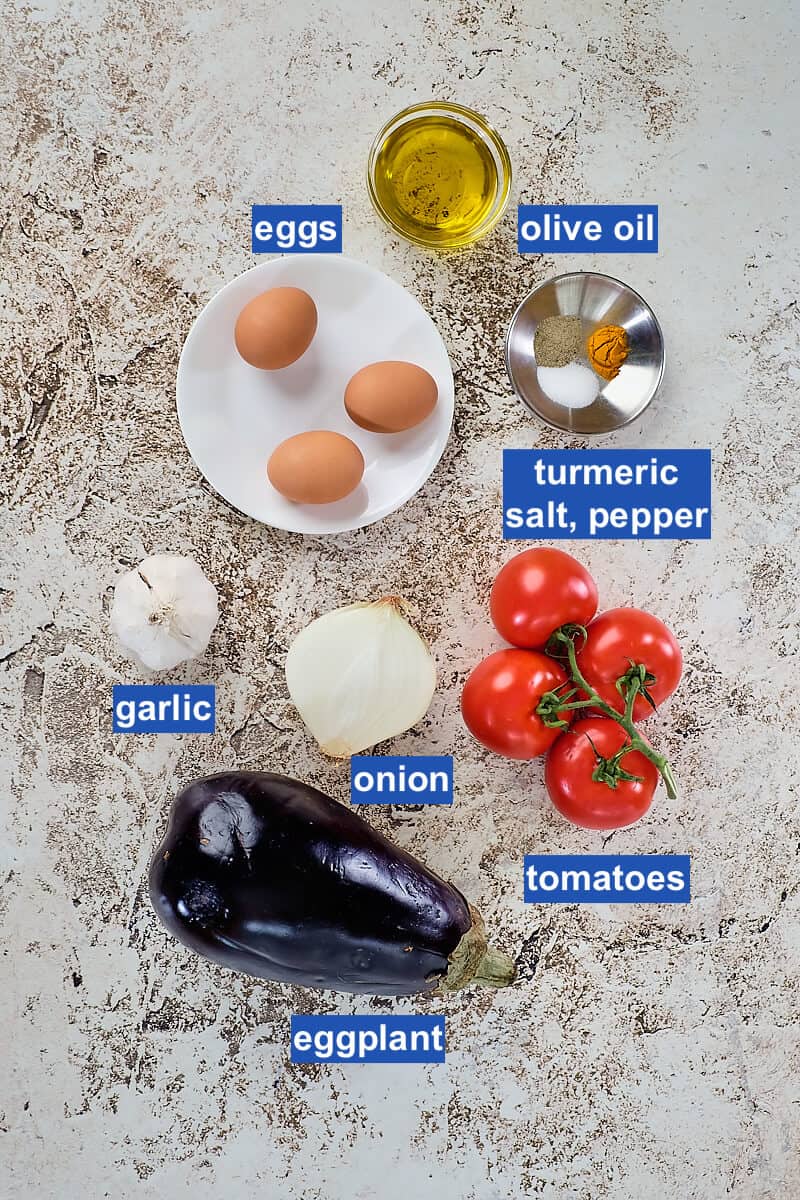 Eggplant: The globe/American eggplants are the best choice for this recipe. I prefer not to use smaller Indian, Italian or Chinese eggplant varieties. These other varieties do not have as much flesh, and you will have to discard a lot of skin.
Tomatoes: I use fresh and juicy vine ripe tomatoes. Some people blanch the tomatoes, peel and deseed them. If using juicy tomatoes, you may also not need tomato paste, because there will be sufficient sauce.
Garlic: You will need a LOT of this. The recipe handles the quantity of garlic very well. You can also roast a whole garlic bulb and use it as noted below.
Tomato Paste: This is optional and gives a thicker consistency to the dish. You will need it only if the tomatoes are not very juicy.
Lemon Juice: Be careful how much lemon juice you add, because cooked eggplant picks up sour taste very well. So you may need only a little bit.
Walnuts and Chives: I like to add a sprinkle of chopped chives and toasted walnuts on the top.
Extra Virgin Olive Oil
Yellow Onion
Turmeric, Salt, Pepper
Eggs
How to Make Mirza Ghasemi
*Full recipe with ingredient amounts is at the end of blog post.
Cook Eggplants: You can roast, broil or grill the whole eggplant until cooked very soft. Peel the eggplant and chop it up.
Cook with Tomatoes and Aromatics: Saute onions and garlic. Add tomatoes, eggplant, spices, lemon juice, salt and cook until soft.
Eggs: Crack the eggs and add to the dish. Stir in a little bit and allow to cook.
Serve: Adjust seasoning. Drizzle olive oil and top with walnuts and chives.
Expert Tips
For amazing smoky flavor, roast eggplants on charcoal grill.
You can also use readymade roasted eggplants in glass jars, available at mediterranean or middle eastern grocery stores.
Be sure to use very fresh vegetables.
How To Choose Eggplant?
Pick fresh, firm, medium size eggplant that are heavy for its size. The skin should be smooth, shiny and vibrant purple. Make sure that the stem is still green.

To find less bitter eggplants with fewer seeds, check the indentation at the bottom of the eggplant. Choose those with indentations that are round, and not shaped like a dash.
Meal Prep
You can roast the eggplant ahead. Chop onions and tomatoes a day earlier. To make it even easier for a weekend brunch, cook this dip without eggs and refrigerate. Warm it up, add eggs and cook just before serving.
Storage
Mirza Ghasemi will keep well in the refrigerator for 3 days. You can freeze it only partially prepared. Cook it without adding eggs. Thaw, warm it up, add eggs and cook.
How to Serve It
Serve Mirza ghasemi as a main meal with extra eggs or make it an appetizer with flatbreads.
Traditionally, Mirza ghasemi is served with fresh herbs, cheese and flat breads. The Persian cheese served is known as paneer, but feta cheese is a good substitute.
Some non-traditional ideas: Top it with whipped yogurt, goat cheese, sour cream or crumbled feta cheese. Be sure to drizzle some olive oil. Add a sprinkle of red pepper flakes.
More Eggs: You can also serve this dip topped with extra fried eggs.
Variations
This Persian eggplant dip with eggs is gluten free, dairy free, nut free, soy free and vegetarian.
Vegan: Substitute eggs with grilled or sautéed tofu, or vegan egg replacers.
Flavor Twist: Roast a whole garlic bulb, squeeze out the pulp and use that instead of crushed garlic.
Retain More Nutrients: To include the nutrient rich skin of eggplants, you can try steaming chopped eggplants until cooked very soft. Then mash it lightly.
Nutrition Facts
Mirza ghasemi is a very healthy and filling dip. Eggs are an excellent source of high quality protein, low in calories and contain mostly unsaturated fat. They are also a source of antioxidants lutein and zeaxanthin, that are protective for the eyes.
Eggplants are high in fiber and low in calories and carbohydrates. This makes it a perfect choice for those on low carb diets. They are also a good source of folic acid, potassium, manganese and phytochemicals. The skin of eggplants is a rich source of anthocyanins with potent anti-inflammatory and antioxidant properties.
More Eggplant Recipes
★ DID YOU MAKE THIS RECIPE? PLEASE COMMENT AND GIVE IT A STAR RATING BELOW!
Mirza Ghasemi (Roasted Eggplant With Eggs)
This Persian roasted eggplant dip cooked with eggs is the perfect weekend brunch. Mirza Ghasemi, prepared with plenty of garlic and tomatoes, is packed with flavor. It is filling and is great for a meal or side.
Print
Save
Saved!
Ingredients
2

lbs

eggplants

globe variety

⅓

cup

olive oil

plus extra

1

yellow onion

medium, chopped

10

cloves

garlic

peeled and crushed

4

tomatoes

large, vine ripe, chopped

1

tablespoon

tomato paste

optional, use if tomatoes not juicy

1

teaspoon

lemon juice

adjust per taste

1

teaspoon

turmeric

½

teaspoon

salt

adjust per taste

½

teaspoon

black pepper

freshly ground

6

eggs

4 for scrambling, 2 for poaching
Instructions
Preheat oven to 400˚F. Prick eggplants with fork and place on a parchment paper lined baking sheet and bake for about

45 to 60 minutes

until the skin turns darker and shrinks. Check notes below for other cooking options.

To check if eggplant is cooked well, press the back of a fork on the eggplant. It should compress easily into the center without resistance.

Transfer the cooked eggplant to a large dish and cover with a lid for about

10 to 15 minutes

. Peel the charred skin and chop finely.

Heat oil in a skillet at medium high. Add chopped onion and saute until golden brown. Then add crushed garlic and saute for

couple minutes

, but do not let it brown.

Add eggplant, chopped tomatoes, tomato paste (if using), lemon juice, turmeric, salt, pepper and stir to combine.

Cover and and cook at medium heat, until soft, about

10 to 15 minutes

. Remove the lid and evaporate excess juices, stirring in between.

Crack four eggs into the eggplant-tomato mixture and cook over medium low heat. Using a fork gently swirl the eggs but do not overmix. Allow the streaks of eggs to cook through before stirring into the mixture.

Make two shallow wells in the sauce and crack two eggs into it. Cover and simmer for about

3 minutes

, until the whites firm up and the yolks are soft cooked.

Top with a drizzle of olive oil, chopped fresh chives and walnuts. Serve it with fresh herbs, feta cheese and flat breads or saffron rice.
Notes
Cooking Eggplants:

Grill: Roast eggplants on charcoal or gas grill for 20 to 30 minutes, turning them slowly in between, until skin turns darker and shrinks.
Broil: Cut eggplants lengthwise into halves and place the cut side down on a foil lined baking sheet. Place on the second rack and broil until skin turns darker and shrinks, about 20 minutes.
Stovetop: Peel the eggplants completely, only some stripes or leave the skin on if you don't mind it. Cut the eggplants into small pieces. Steam on high heat until soft or cook in a pan with some water until soft and mushy.

Peeled and deseeded tomatoes: To blanch tomatoes, cut a small cross on the surface and drop them in hot boiling water. After a minute, pick out the tomatoes and peel the skin, cut into halves, remove seeds and chop.
Oil and Butter: Some recipes use butter instead of oil, or a combination of the two.
Fried Eggs: You can also serve this dip topped with extra fried eggs instead of poaching in the sauce.
Meal Prep: Roast the eggplant and chop other vegetables a day earlier. Cook the dip without adding eggs and refrigerate. Warm it up, add eggs and cook just before serving.
Storage: You can refrigerate this for 3 days. Freeze it only partially prepared. Cook it without adding eggs. Thaw, warm it up and cook with eggs.
For other variations, tips and serving suggestions, scroll up the page to the blog post.
Nutrition
Serving:
1
Portion
|
Calories:
240
kcal
|
Carbohydrates:
17
g
|
Protein:
8
g
|
Fat:
17
g
|
Saturated Fat:
3
g
|
Polyunsaturated Fat:
2
g
|
Monounsaturated Fat:
10
g
|
Trans Fat:
0.02
g
|
Cholesterol:
164
mg
|
Sodium:
286
mg
|
Potassium:
687
mg
|
Fiber:
6
g
|
Sugar:
9
g
|
Vitamin A:
998
IU
|
Vitamin C:
18
mg
|
Calcium:
62
mg
|
Iron:
2
mg
More Egg Recipes