Mixed sprouts salad with coconut, infused with spices, has a scrumptious earthy flavor. Sprouting makes the beans super nutritious and more digestible.
Here, I used mixed legumes, which include beans and lentils, to add variety in taste and texture. And further sprouted them. You can see below why sprouting is SO beneficial. This sprouts salad is also vegan and gluten free.
Legumes are a great source of plant protein, minerals, phytochemicals and fiber. The soluble fiber in legumes is especially valued for its effect in lowering LDL cholesterol levels.
When beans and lentils replace other carbohydrate rich foods, they have been found to lower post prandial glucose elevations.
Pro Tips
I know, a lot of people are worried about the food safety risks associated with sprouts. Yes, it is true that the conditions of sprouting - warmth and moistness - means also a good situation for bacterial growth. But worry not!
First, we are cooking the sprouts in this recipe and so it will be perfectly safe. And it is important to clean and rinse as suggested in the recipe. If the conditions of warmth and moistness are optimal, then the beans and lentils will sprout in just some hours. But if it takes a bit longer, do rinse the legumes in between. You can check out more step by step pictures.
Make sure to discard the water after the beans and lentils have soaked well. This is yet another way to get rid of those pesky oligosaccharides.
Health Benefits
Sprouted legumes are nutritionally superior to their non-sprouted cousins. The process of sprouting deactivates certain non-nutritional factors in legumes and makes the nutrients more bioavailable. It also leads to an increase in certain minerals and antioxidants such as vitamin C, but a slight reduction in the amount of carbohydrates.
Furthermore, sprouting of beans causes an increase in certain enzymes, sulphoraphane, sulphoraphene, isothiocyanates, glucosinolates and such, which have all been associated with cancer prevention.
However, eating beans does not seem too desirable to some people because of a side effect - increase in gas production, which is caused by oligosaccharides. And legumes have a lot of those. But no worries, sprouting is a great way to lower oligosaccharides and get rid of the big bloat!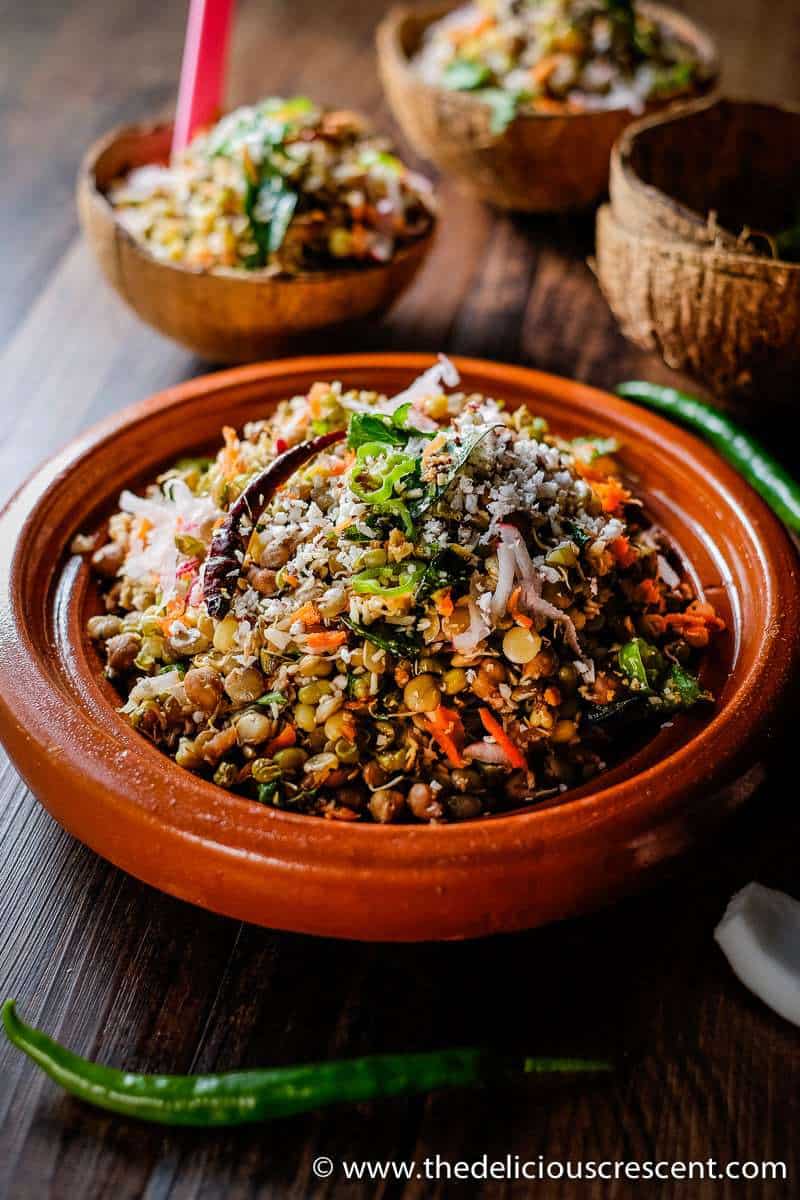 ★ DID YOU MAKE THIS RECIPE? PLEASE COMMENT AND GIVE IT A STAR RATING BELOW!
Sprouts Salad With Coconut
Mixed sprouts salad with coconut, infused with spices, has a scrumptious earthy flavor. Sprouting makes the beans super nutritious and more digestible.
Print
Save
Saved!
Instructions
SPROUTING THE LEGUMES
Clean and rinse the lentils, mung beans, and chickpeas. Then soak in 2 to 3 times of water in volume - overnight and in separate bowls.

Discard the water, rinse and drain well.


Transfer each of the drained legumes to a separate cheese cloth. Gather the cloth ends and loosely bundle it, making sure to allow air to enter.


Place the legume bundle in a colander and then in a warm dark place. I place it in the center of a oven that is not preheated. Sometimes I do turn on the oven at 350 degrees F, only for 1 to 2 minutes and turn it off. This is just to make sure the temperature inside is warm (above 75 degree F, like summer), but not HOT.




Let the legumes sprout for about 8 hours or more. Check every 3 to 4 hours and sprinkle some water. Sprouting requires warm and moist conditions.


Mung beans usually sprout quicker - 6 to 8 hours. Chickpeas may take longer, 12 hours or more.

SPROUTS SALAD PREPARATION
Take the sprouted legumes and cook them in 3 times water in volume, until soft and well done, but not mushy. Drain any leftover liquid (may use it in other stews/soups).

Let the cooked legumes cool a little and transfer to a salad preparation bowl. Then add the coconut, carrots, shallots, radish, cilantro and jalapeno* (or green chilies).

In a small sauce pan heat the oil. Then add the mustard seeds. Once they start popping (make sure to not let burn), add the dry red chilies*, curry leaves and stir couple minutes.

Then add the grated ginger and stir. Next add the lemon juice and salt to taste. Add the red chili flakes* if you prefer.

Add this seasoning mixture to the salad ingredients and combine well. Adjust the seasonings, salt and lemon juice. Garnish with fresh herbs, shredded carrots and coconut.

Enjoy this "Mixed Sprouts Salad with Coconut" just as a salad or as a side dish.
Notes
I use jalapeno or mild green chilies, mild dry red chilies and Aleppo red pepper flakes. All of these add flavor and are pungent. Adjust these according to how hot/pungent you like the salad. Aleppo red pepper flakes are relatively mild but flavorful.

Traditionally, mustard seeds are used to season this salad. If you do not like mustard seeds, you may try using cumin seeds.

Asafoetida is an Indian spice used in the traditional recipes and it can be an acquired taste for some. If you do not like it, you may skip it.

Mustard seeds, curry leaves, dry red chilies and asafoetida are available at Indian grocery stores. You may check online too.
* Not including added salt.
Nutrition
Serving:
1
Cup
|
Calories:
233
kcal
|
Carbohydrates:
32
g
|
Protein:
11
g
|
Fat:
7
g
|
Saturated Fat:
4
g
|
Sodium:
27
mg
|
Potassium:
588
mg
|
Fiber:
12
g
|
Sugar:
5
g
|
Vitamin A:
2409
IU
|
Vitamin C:
35
mg
|
Calcium:
58
mg
|
Iron:
4
mg
More Lentil and Bean Recipes: