Homemade tea blend with citrus, berries, apples, roses and white tea is an invigorating infusion of sweet fruity flavors and the lively taste of antioxidant rich white tea.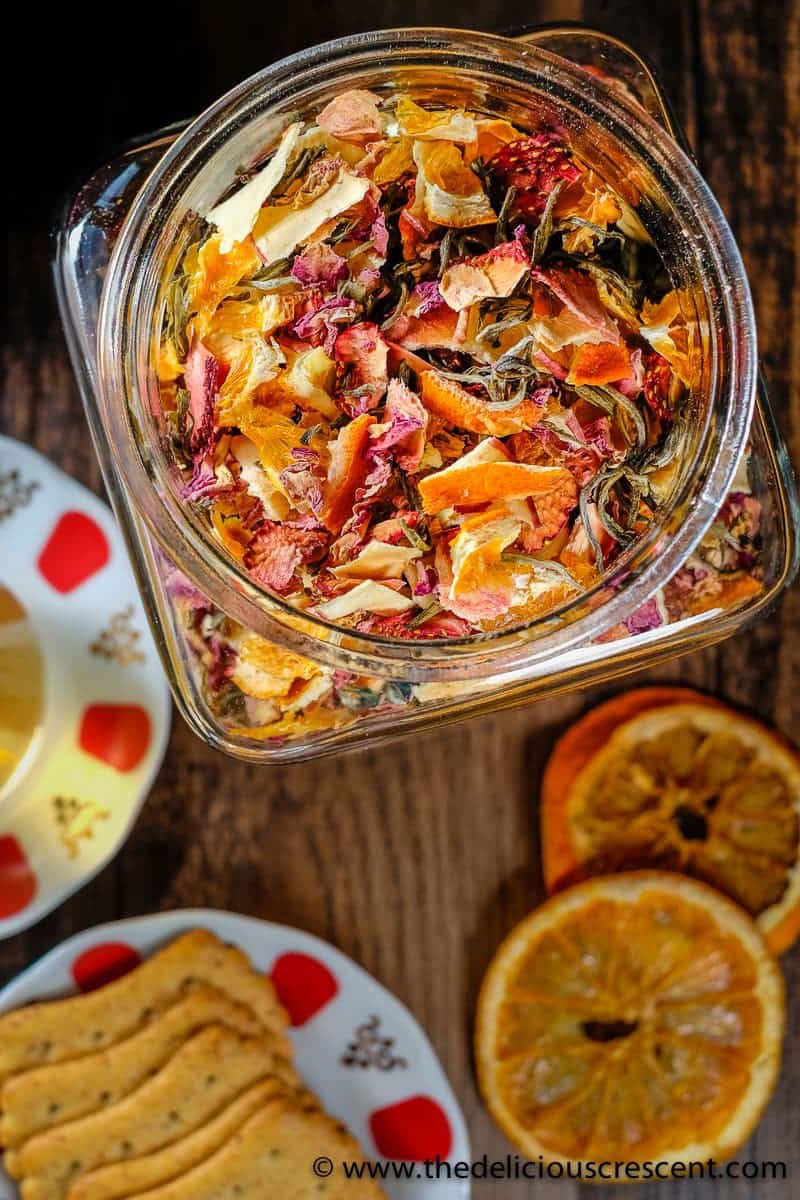 HOMEMADE TEA WITH FRUITS, FLOWERS AND HERBS
The idea of this tea actually comes from my husband, who is an ardent aficionado of all kinds of tea. A while back he had made a great concoction using fruits dried in our food dehydrator and combined with some white tea, dried herbs and flowers.
It was so soothing and refreshing. So, I wanted to recreate that. And if you have been following this blog, you may remember another easy treat made with chocolate and dried fruit (oranges).
There are many varieties of commercially available teas of this kind. But if you have a food dehydrator at home, you can easily make your own creations – all for a fraction of the cost and it is so much fun.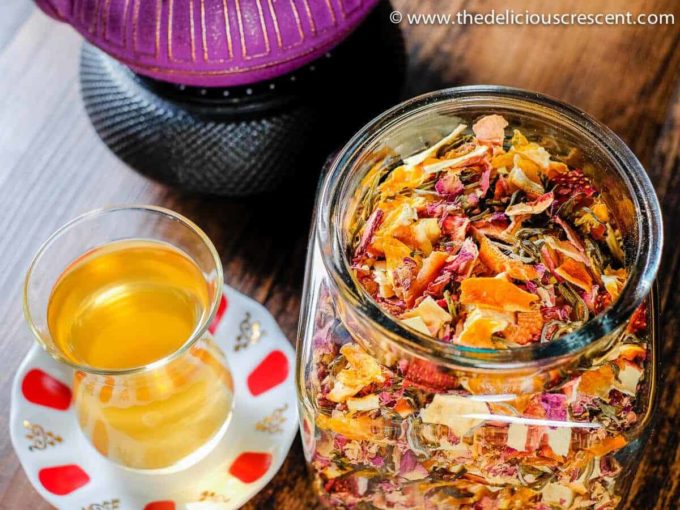 Photography: bijansviewfinder.com
HEALTH BENEFITS – DRIED FRUIT TEA
The best thing about this is that you will not need to use added sugar, as the dried fruits will release their sweetness during the tea infusion. Besides, that perception of sweetness is further heightened due to the sweet fruit flavors.
Have you tried white tea? It is much lighter in taste and color than black or green tea. Rather it results in a beverage that is pale yellow in color.
White teas are typically made from young or minimally processed leaves of the plant. It comes mostly from China and some parts of northern India. So, during my trips to India, I make sure to bring back some of it!
White tea is rich in polyphenols with antioxidant properties. In fact, some research suggests that it may have more antioxidant potential than even green tea! It has been lauded for its anti-aging benefits and role in disease prevention. Some studies have shown that it may be beneficial in lowering blood pressure as well.
Drinking white tea regularly has also been associated with greater bone density, healthier teeth and skin. And the good thing is that white tea will not stain the teeth like the darker teas!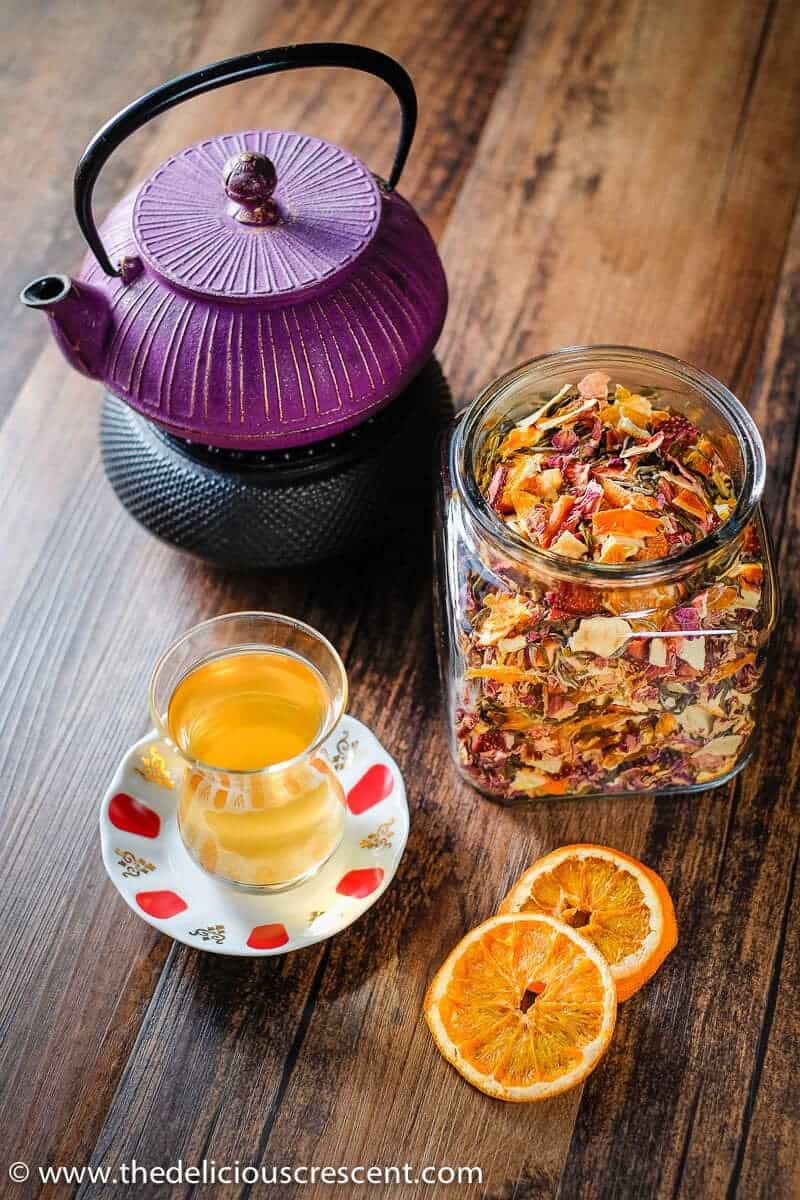 Photography: bijansviewfinder.com

HOW TO MAKE HOMEMADE FRUIT TEA OR HERBAL TEA
It is important to choose fruits that are in the peak of the season. This will optimize the flavor and sweetness you can derive from the fruits. So pick fresh, ripe and sweet fruits.
Make sure to not let the fruits over-dehydrate. Otherwise they may turn dark and have more of a caramelized flavor, rather than a fresh fruity flavor. If you do not have a dehydrator, here is a resource for drying fruits in the oven (but I have not tried it myself).
Try to choose fruit, floral and herb flavors that will blend well together. Here, in this homemade fruit tea recipe I have used white tea, but you could also try green tea. When using white tea, you can use more of it in the blend as it is much milder and it can also be be steeped longer.
You can enjoy this tea with my crispy potato edamame samosa rolls or tasty cardamom chickpea cookies.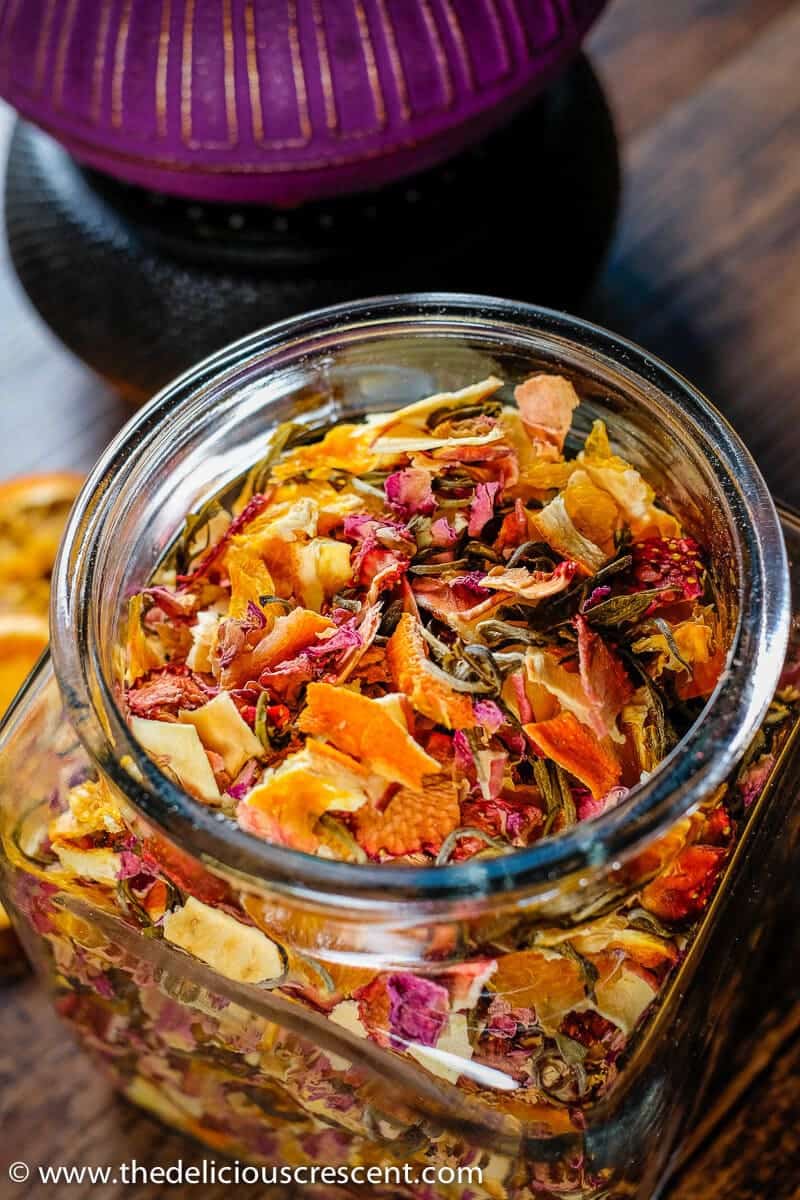 Photography: bijansviewfinder.com
SHARE YOUR THOUGHTS
What are your thoughts about herbal or fruit teas? Have you made a tea blend at home?
Did you try this homemade tea recipe?
Do you have any questions about it? Or any suggestions?
Let me know by leaving a comment below, rating it, and tagging it with a photo at #thedeliciouscrescent on Instagram.
And don't forget to share this post with your friends
Rose And Dried Fruit Homemade Tea
Homemade tea blend with citrus, berries, apples, roses and white tea is an invigorating infusion of sweet fruity flavors and the lively taste of antioxidant rich white tea.
INGREDIENTS
1 ½ lbs each fresh fruit (apples, oranges, strawberry)

for dehydrating and save the rest

1 ½

cups

orange

dried, organic

1 ½

cups

apple

dried, organic

1 ½

cups

strawberry

dried, organic

1 ½

cups

roses

dried, organic*

2

cups

white tea

1/2

cup

dried herbs

optional, (absinthium or wormwood, mint or your choice)
INSTRUCTIONS
DRIED FRUIT PREPARATION
Scrub the surface of the oranges and apples with a vegetable brush and rinse well. Rinse the strawberries very well and drain. Wipe the fruit surface dry using a paper towel.




Slice the fruits crosswise using a mandolin slicer or a sharp knife. Retain the peel and cut fruit into uniform 1/4-inch thick slices. Discard the end slices.




Then place the fruit slices on the food dehydrator trays. Stack the trays into the dehydrator and turn it on.




Next, let the fruit slices dehydrate until the fruit center is dry. Depending on the number of trays stacked, this may take six to eight hours or more.




To allow uniform drying of the slices, do remember to switch the order of the trays.




Once the fruit slices are dried well and crisp, break them into smaller pieces.



HOMEMADE TEA PREPARATION AND INFUSION
Using the suggested ratio, combine the dried fruits with the white tea and dried roses (sources below). You may add some dried herbs if you prefer.




Use hot water (but not boiling) as the tea may turn bitter due to the longer steeping time.




You may use two tablespoons of the homemade tea blend per 1 cup hot water. Adjust as per your taste.




White tea can be steeped longer than black tea. It is recommended to steep the tea for 7 to 10 minutes.



RECIPE NOTES
Do check out my homemade tea preparation tips above.   You can buy dried roses (culinary grade) from Persian/ middle eastern/other ethnic grocery stores or online.   Here is a detailed tutorial for white tea preparation.
NUTRITION FACTS
Servings: 60                   Serving Size: 1 cup tea  
Calories - 5 kcals *  
The calories are an approximation based on similar commercial tea preparations, as it is difficult to estimate the amount of calories from the fruit sugars released. Nevertheless, they are minimal.